Donald Trump is a former U.S. president with a very distinctive personality, who not only left behind a number of funny emojis that have gone viral, but his unique speaking style and New York accent have made him the subject of many parodies online. Whether it's shows like Saturday Night Live or social media platforms like TikTok, YouTube and Instagram, Trump's voice has been imitated one after another.
With the rise of AI voice generators, more and more voice generation apps and software have appeared on the market. So, do you know how to make Donald Trump AI voice with Trump voice generator? Today, we are going to introduce you to the best Donald Trump AI voice generator to help you create ultra realistic Trump AI voice! Read on!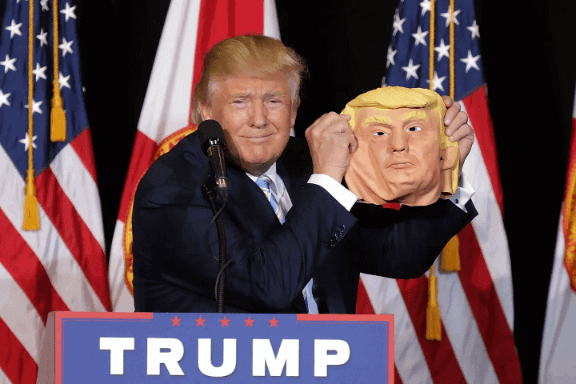 3 Best Donald Trump AI Voice Generator:
No.1 Donald Trump AI Voice Generator - VoxBox
You can't talk about voice generator without mentioning VoxBox, one of the most popular AI voice generators available today. It uses advanced AI text to speech and AI voice cloning technology that allows you to quickly generate a life-like Donald Trump voice.
VoxBox is way ahead of the curve with its super huge library of over 3,000 realistic AI voices, including celebrities, singers, cartoon characters, and more from around the globe. Whether you want to have your words spoken through the voices of Trump and Biden, or make a voice of Beyoncé or Taylor Swift, VoxBox can help you do it in high quality.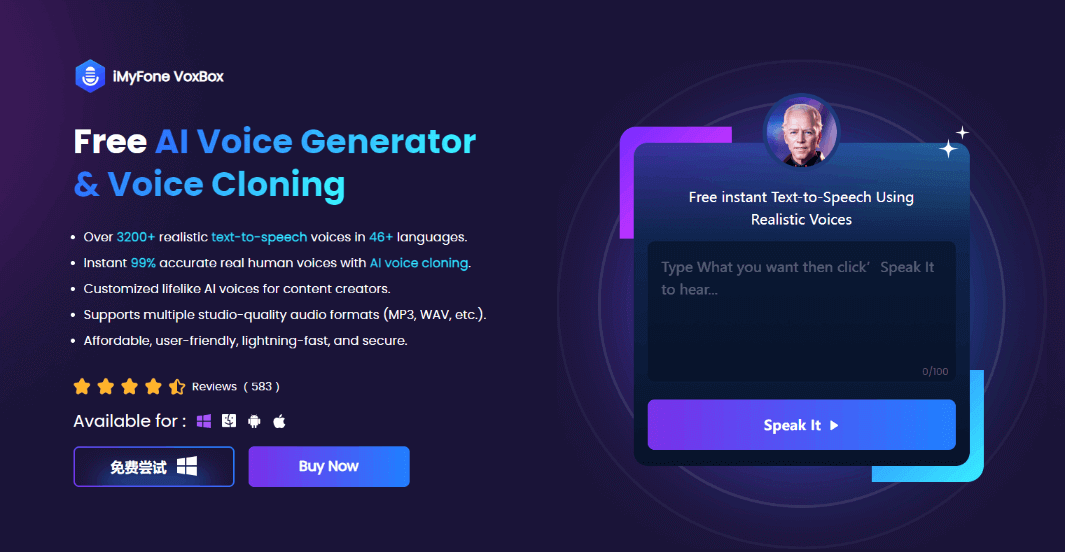 Pros of VoxBox
Huge voice library: Provides over 3000 AI voices, such as presidents, celebrities, singers, YouTubers, cartoon characters.
Multi-language support: About 50 global languages are available, including English, Spanish, Italian, French, Arabic, Japanese, Chinese and more. Over 100 accents to choose from, such as British and Australian.
All-in-one voice toolkit: Provides multiple functions such as text-to-speech, speech-to-text, AI voice cloning, recording, video conversion, and audio editing.
Adjust voice parameters: Allows customized adjustment of various voice parameter settings, such as speech rate, pitch, volume, and emphasis.
Multiple output formats: Allows downloading voice and exporting to many common file formats, including MP3, WAV, and more.
Easy to use: Convert text to speech in just a few simple steps, no specialized skills required, friendly to newbies.
Fast Speed: Process TTS very fast, easily generate any voice you want in minutes.
Cons of VoxBox
Need to download and install the software first, can't generate online.
The trial version has limited features.
How to Generate Donald Trump AI Voice with VoxBox?
Step 1. Go to VoxBox Official Site. Download and install VoxBox on your computer.
Step 2. Launch VoxBox, click "Change Speaker" and select the voice of Donald Trump.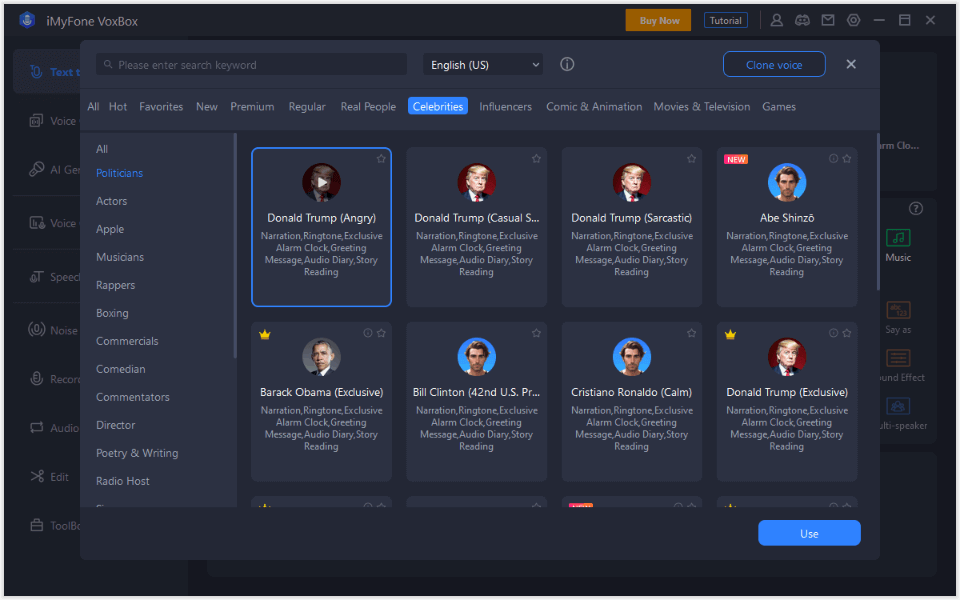 Step 3. Enter text in the text box or import text directly, then click "Convert" to convert text to speech.
Step 4. Adjust the voice parameter settings according to your preferences, and export in the desired audio file format.
No.2 Donald Trump AI Voice Generator - FakeYou
FakeYou is an online voice generation tool. It uses deepfake technology and deep-learning algorithms to generate text or voice into a natural and realistic voice. With just a few simple clicks, you can quickly convert your text into the voice of Donald Trump or any other favorite character.
FakeYou offers a wide variety of different AI character voices for you to use in your text to speech, including quite a few funny and well-known voices such as Obama, Kanye and even SpongeBob SquarePants. As a community-supported online platform, you can also share the voiceovers you've created with your Twitter and Discord friends in a single click, perfect for content creators.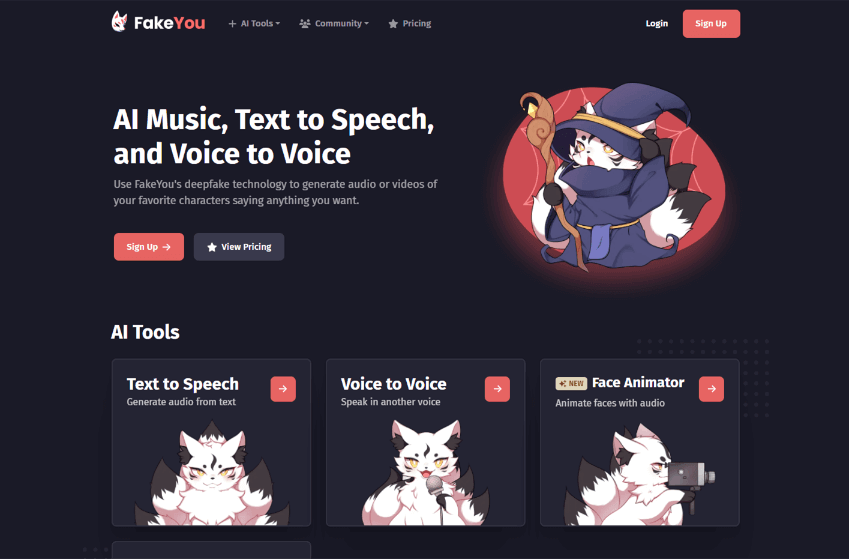 Pros of FakeYou
Supports Text-to-Speech and Speech-to-Speech, which allows you to convert text or speech to the voice of your favorite character.
Supports community sharing and provides Discord leaderboard for viewing.
Allows to upload your own voice to the voice model.
Friendly interface, easy to use.
High quality audio output.
Cons of FakeYou
For free users, the processing time of voice generation is very long.
The paid version is relatively expensive.
Audio duration is limited.
How to Generate Donald Trump AI Voice with FakeYou?
Step 1. Go to fakeyou.com.
Step 2. Select "Text to Speech". Search for Trump in the voice selection field and select the Donald Trump AI voice you want.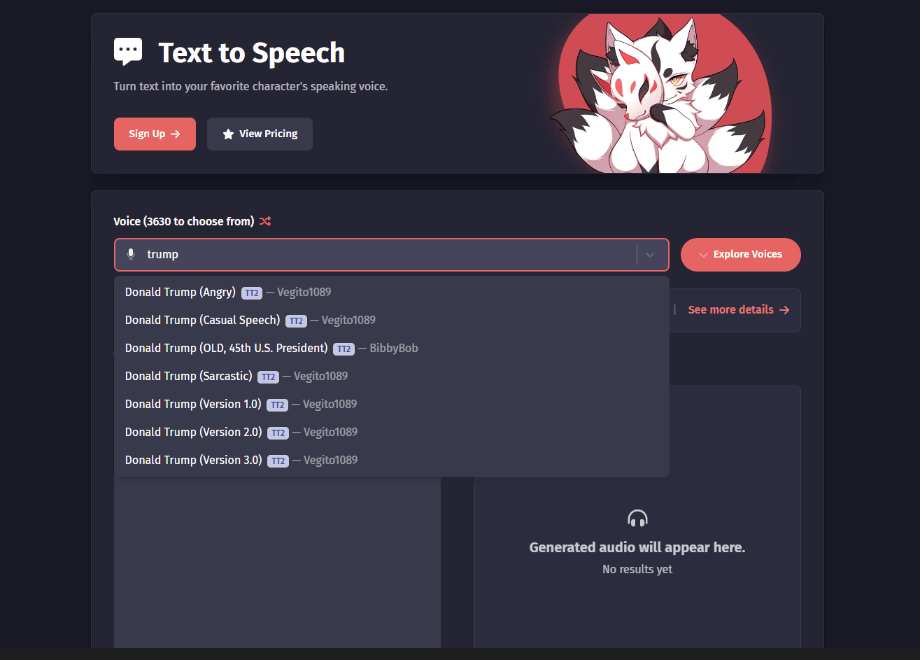 Step 3. Type your text content in the text box.
Step 4. Click "Speak" to generate your text into Trump voice. You can also listen, share or download the generated audio.
No.3 Donald Trump AI Voice Generator - Trumped
Trumped is an easy-to-use text-to-speech online tool that specializes in generating Donald Trump AI voice.
The site utilizes artificial intelligence technology to generate realistic Donald Trump voice online. All you need to do is enter the text you want to speak and it will be quickly converted to Trump's voice online.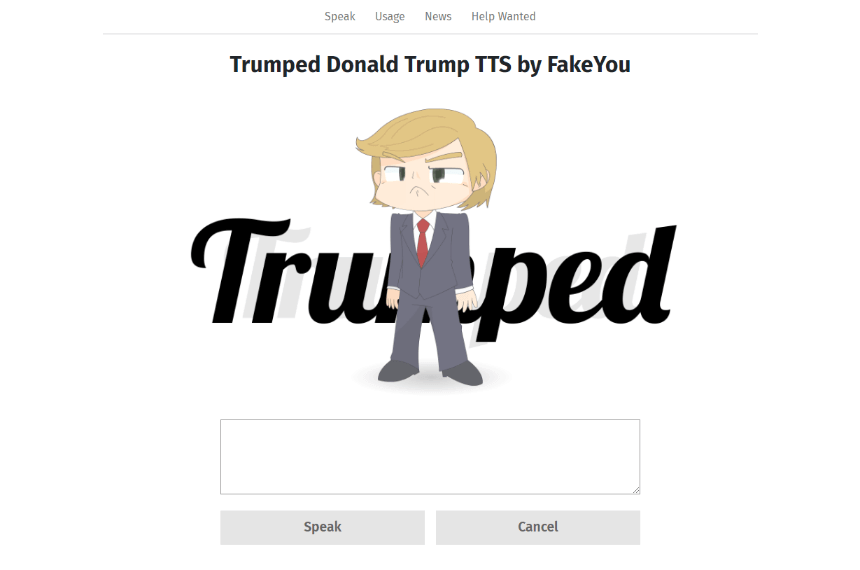 Pros of Trumped
Generate Trump AI voice online without downloading and installing any third-party software.
There is no limit to the number of times.
The speed of generating voice is extremely fast, making converting text to speech very efficient.
Cons of Trumped
Can only generate Trump's voice, no other voices to choose from.
Limited characters for text-to-speech.
Personalization of voices is not supported.
Server busy times can cause errors.
How to Generate Donald Trump AI Voice with Trumped?
Step 1. Go to trumped.com.
Step 2. Enter your text in the text box.
Step 3. Click "Speak" to convert it to Trump's voice.
Conclusion
As you can see, this article details a few of the best Donald Trump voice generator and their pros and cons. Regardless of any reason you want to imitate Trump's voice, these tools can help you create an authentic Trump AI voice very well.
However, we have to say that this amazing text to speech software VoxBox without a doubt must be your best choice. Not only does it have more than 3000+ AI character voices, but it also supports 50+ languages and can help you generate super realistic celebrity voices very quickly. Just give it a try now!