If you are a fan of horror movies, then you must get a kick out of seeing zombies scare the crap out of people!
If you want to terrify your pals by dressing up as a zombie, then I have a way for you to make your plan more realistic.
A graveyard at night, zombie costumes, and the corpse voice changer are the perfect recipe for a well-planned fright show.
The strategy is quite simple, so there is no need for any additional fancy gadgets when your very own smartphone can do the trick.
All you have to do is simply download and install the corpse voice changer on your phone, and you are good to go.
This article will walk you through every step you need to take to get the scary voice of a corpse.
Can I Use a Voice Changer to Sound Like a Corpse?
A corpse voice changer can come in handy if you want to troll your online friends during a broadcast on discord or while gaming.
Changing the tone of our voice can also help us disguise our identity when playing online games. If you're wondering where you can get a voice changer that would make your voice realistically horrifying, we've got you covered! Let us introduce you to some of the most widely used voice changers of all time.
1. WooTechy SoundBot
WooTechy presents a voice changer called SoundBot that offers the corpse voice and thus you can use it to reduce the pitch of your voice to give your friends a death scare.
It features over 200 distinct sound effects and voice memes, making it one of the most highly recommended voice changers. Its most unique feature is that it has its own voice studio, making editing much easier and more fun.
Key Features of SoundBot
75.000.000+
Downloads
Record your voice and apply voice-changing effects to it. Support audio files voice changing ,too.

Tamper with the pitch, vocal length, and width of your voice to add as much gravity as you like.

Change your voice and use the effects while live streaming, in games and other chat programs in real-time.

It has a sound library with over 300 different sounds that can be played in the background of a live stream.

Enhance the quality of your sound and give your audio a professional feel.

Remap the keyboard to assign a key to any effect and extract the audio clip from any video.
Pros
All of the voice changers and effects are realistic.

It is user-friendly.

It provides step-by-step instructions to the user.

You can customize your own voice effect however you may like!

Even without the subscription, you can get 5 free voice effects that change every day.
Cons
The voice studio and other premium effects cannot be accessed without the subscription.

Only supports Windows version now.
How do I use the voice changer to make my voice sound like a corpse?
Step 1 Download the setup
The first step is to visit the official site and download the application named "WooTechy SoundBot". It is available for Windows temporarily and the macOS is coming soon.
Step 2 Install the application
Once the setup is downloaded, install the application on your computer.
Step 3 Adjust the settings
Open the app and go to the voice changer section; the settings window will pop up.
It will require you to select your input as well as output sources, i.e., the microphone's input while the speakers' output.
Step 4 Use the zombie voice changer:
Once this setting is done, you can access any of the available voice changers.
To use the corpse voice changer, you should go to the Horror bar of the VoiceBox tab and search for the Zombie sound effect and turn it on.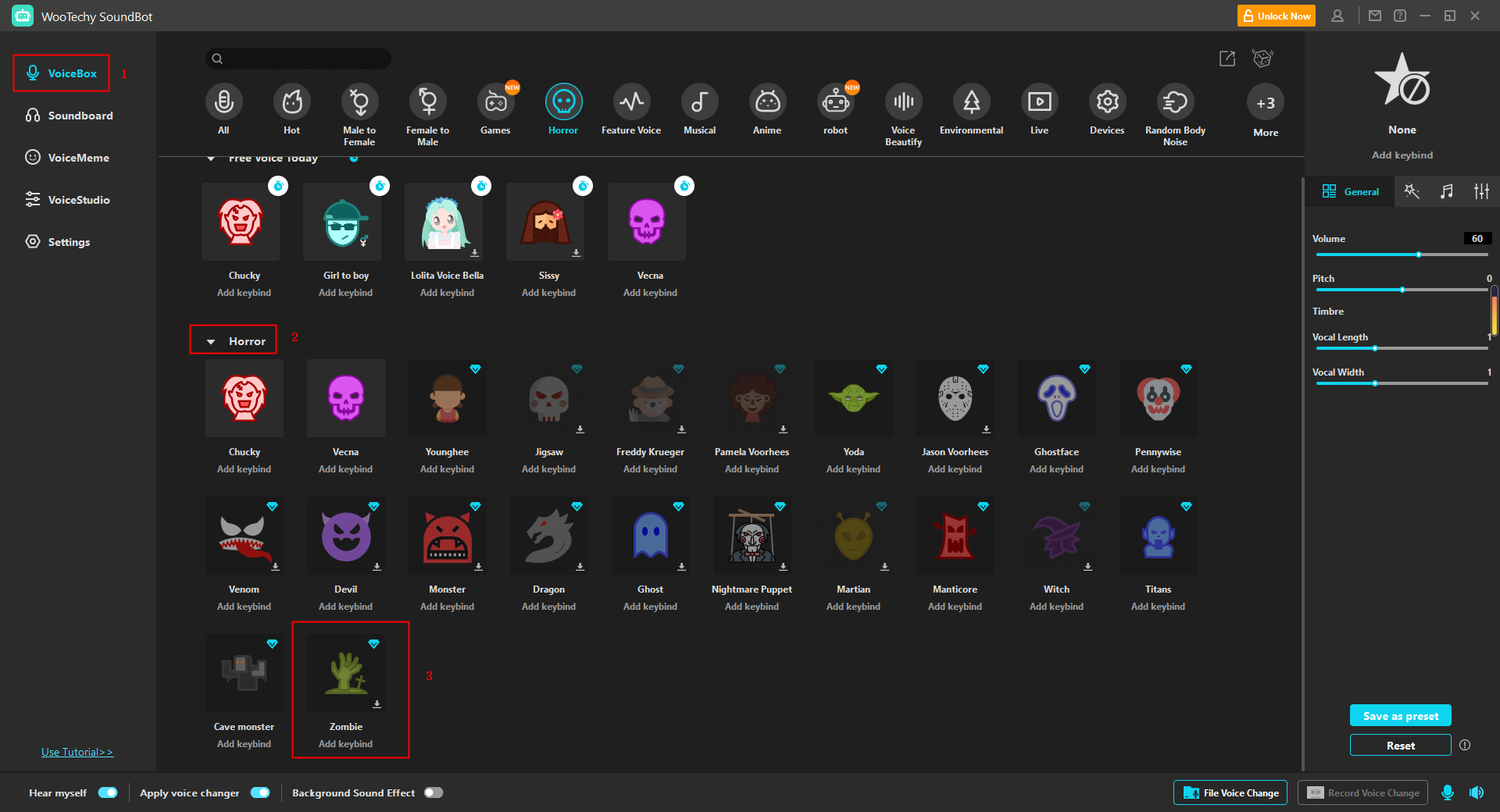 Speak into your microphone and it will automatically change your voice into the corpse sound.
You can use it to record your voice in a spooky tone, and it can also be applied during live streams on discord or while playing games. 
2. Voice Changer.io
If you are looking for a voice changer that can be accessed online and free of cost, then voicechanger.io is the one for you. All you have to do is go to the official site, and you can use almost 50 available voice effects to make your broadcast spookier.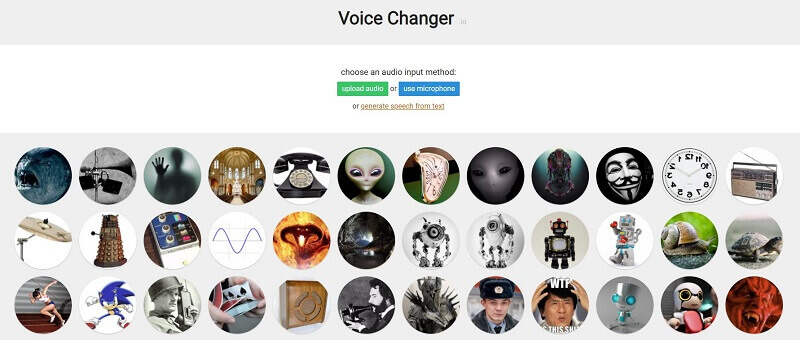 Key features
You can also customize your voice however you like through the voice maker.

It also allows you to combine different voice effects to create a unique voice tone.

You can either upload a prerecorded audio clip or can use the microphone to record on the spot.
Pros
Voice changer .io can be easily accessed online through the website.

It is free of cost, and you don't have to pay anything.

It has different cool effects that can be merged together to create something new.
Cons
The voice effects are limited.

Most voice effects don't sound much realistic and require manual editing.
Steps to change your voice with Voice Changer.io: 
Step 1 Record and upload your audio file
Use your smartphone phone's or PC's voice recorder to record your audio clip. Upload it to the voicechanger.io website by clicking on the upload audio option. You can also record on the instant using the microphone button if you do not have the recorded file.
You can use the generate speech from the text feature if you do not want to record your voice. In this feature, Voice Changer.io will generate the voice for you.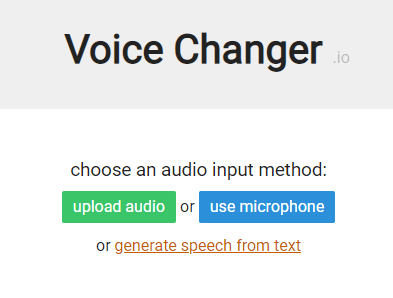 Step 2 Choose the voice effect:
Once you are done recording the Audio file, you will see a notification saying, "success! now you can play or download a voice effect by clicking on the icons below"
Select the effects you would like to apply to your audio from the icons on the website.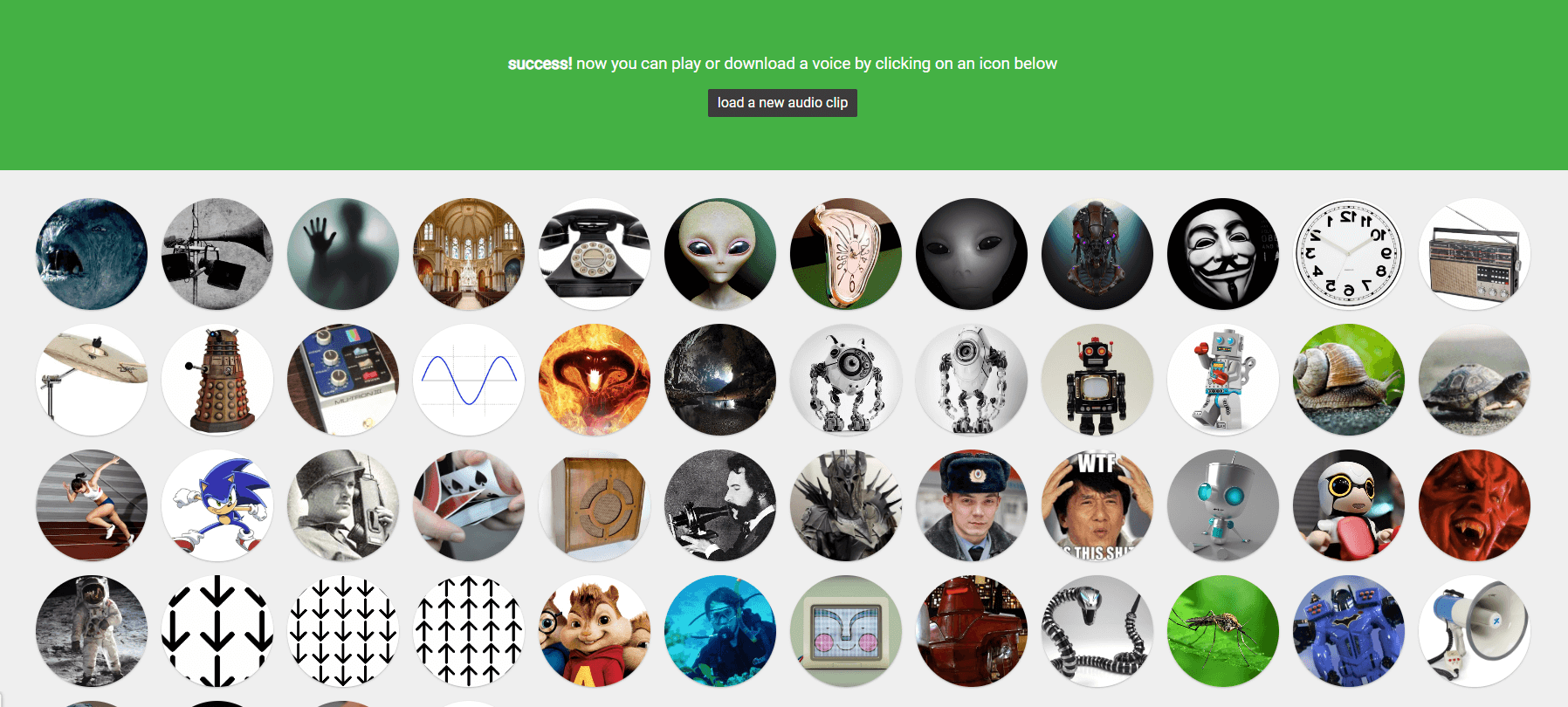 Step 3 Download the audio with voice effects:
After choosing a voice effect, a pop-up window with the recorded audio clip will be displayed. You can hear your audio with the effect applied to it, if you play the clip.
If you like this voice effect, you can save it by clicking the three-dot symbol and then downloading it.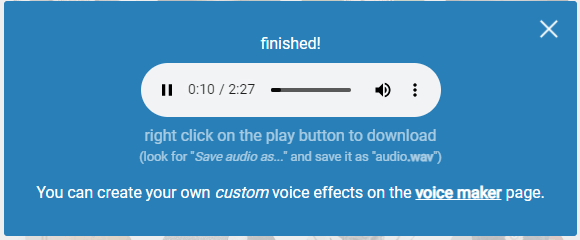 However, if you do not like the effect you selected, and it does not seem realistic, you may choose another one or create your own that is frightening enough for you!
Note
There is no corpse effect available in the voice changer.
3. Voice Changer with Effects
"Voice changer with effects" is an application supported by both Android and Apple software. This application has a simple interface that even kids can understand easily.
The voice effects are attractive and entertaining, and you can literally alter your voice in a second through dozens of effects available.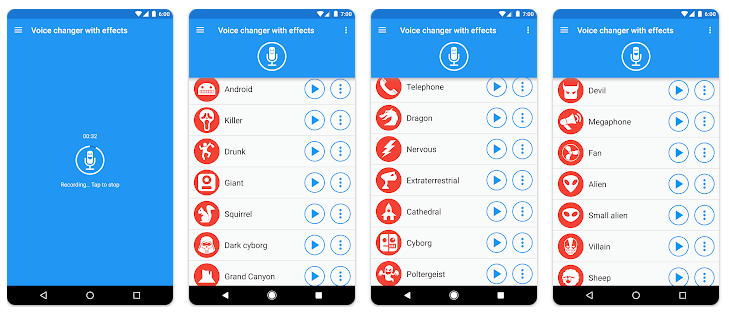 Key features:
Record your voice using a single tap.

Save your recordings in the app for future use.

You can also use the piano feature to compose the tunes if you have a basic knowledge of the keynotes.

The app has over 40 effects on its interface, and many more can be added by either watching the ads or upgrading to the premium version.
Pros
All the effects available can be applied to the audio almost instantly.

There is no lag time for processing.

There is no cost needed to buy the effects.
Cons
The app displays a lot of ads which can be irritating.

We would have to pay to have the advertisements removed from the interface.
Guide to use the voice changer with effects:
Install the app from Playstore/Apple store. Open it and record your voice clip through the microphone.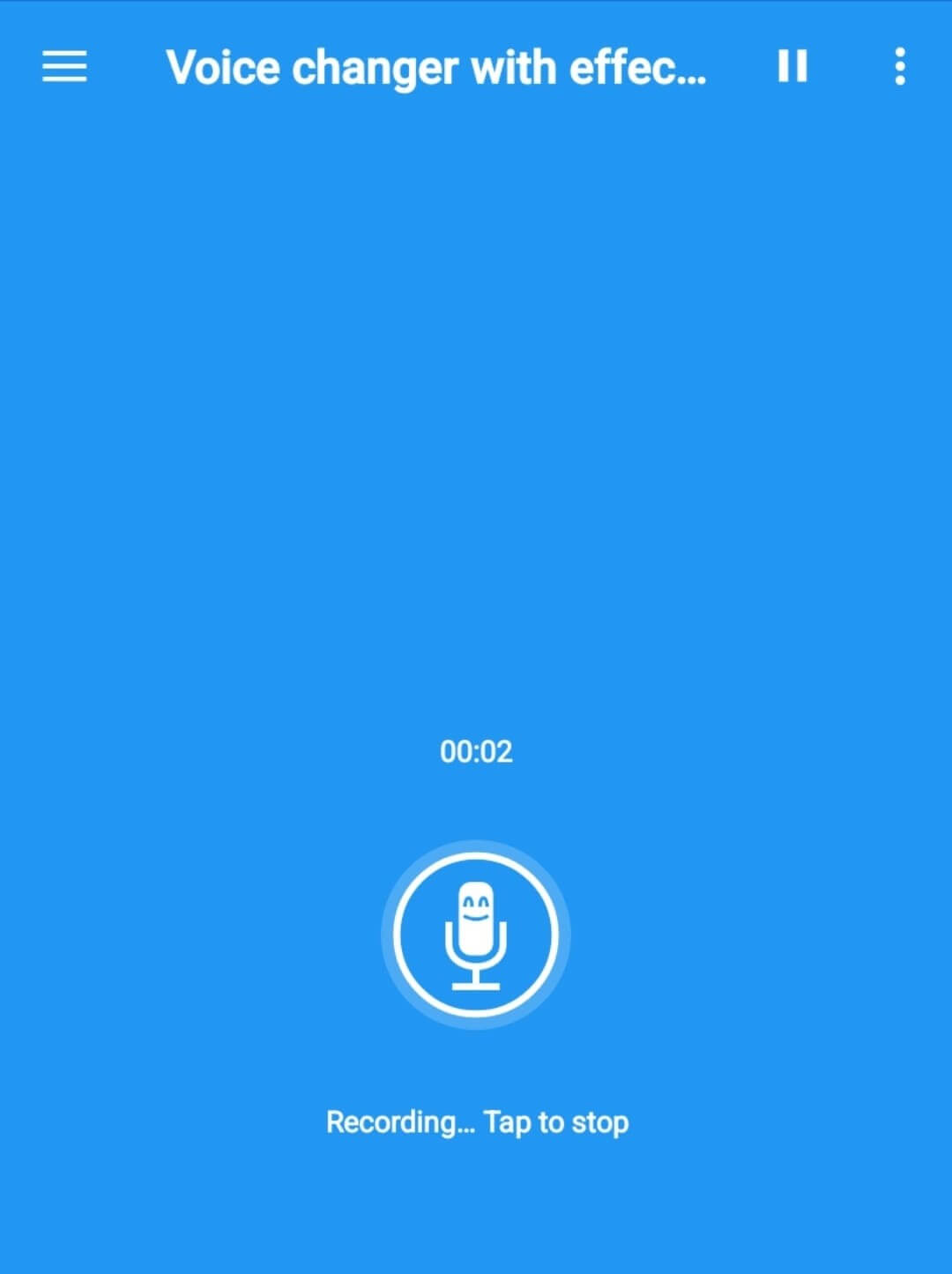 You can see the zombie effect if you scroll down a little bit. Play the audio clip through the zombie effect.

The zombie effect will not only make your sound grave, but it will also slow it down, giving you the ultimate corpse impression.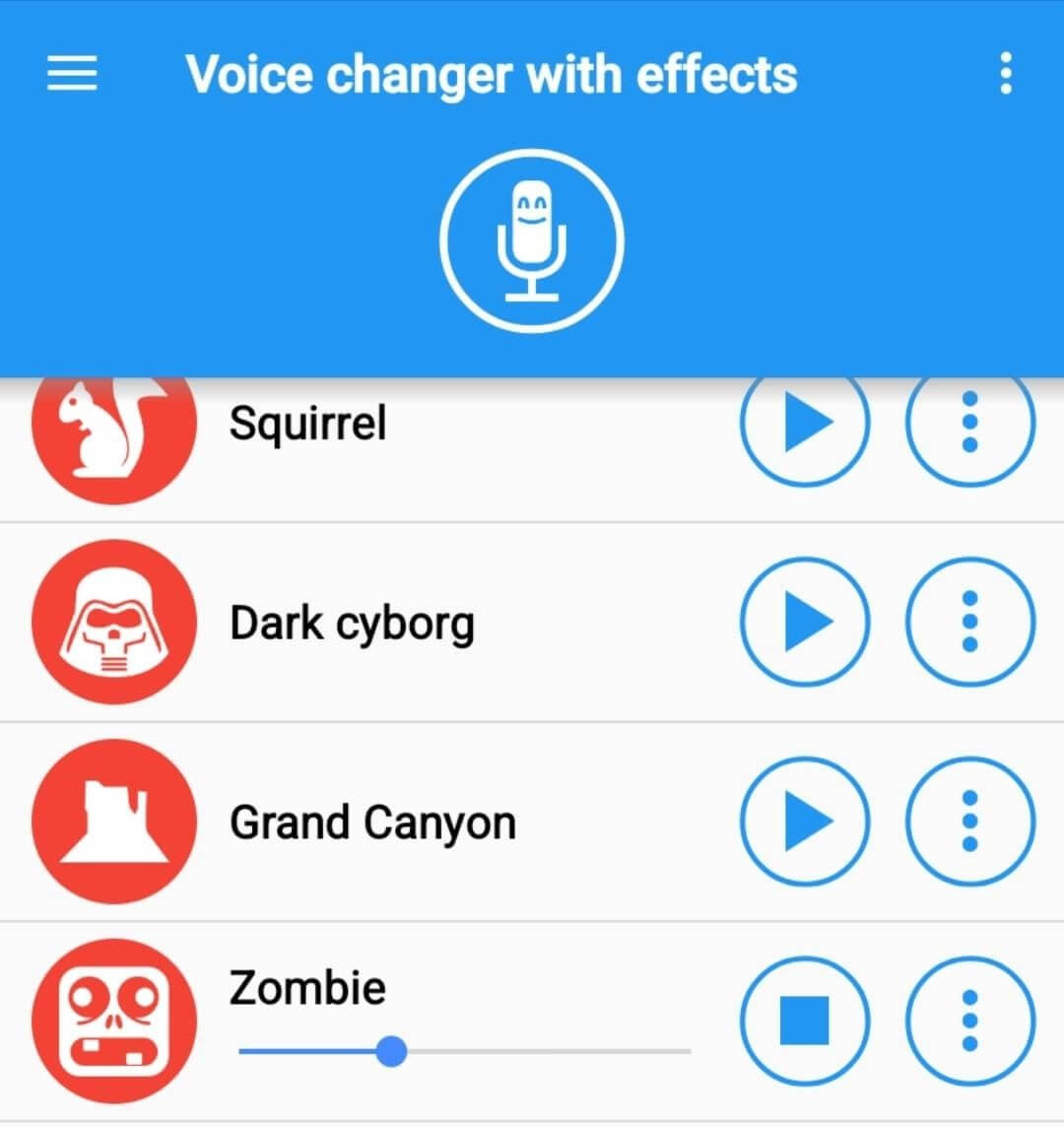 Conclusion:
Hopefully, you now understand how to alter your voice to that of a corpse by using any of the voice changers that appeal to you.
As zombies are getting quite popular these days, they are often used as the theme for horror plays in schools.
Whether you require sound effects to create a creepy scene or you want to record anything, these corpse voice changers especially the WooTechy SoundBot will surely help you score the goal!
In this age of horrors, let zombies be your fiction!