Whether it's a personal chat, group conversation, video call, or voice message, WhatsApp is now being used and trusted for all sorts of communication. While people use WhatsApp more frequently nowadays, deleting photos and videos by accident becomes more of a trouble for many users.
However, don't worry if the same thing has happened to you because the photos are not lost forever. In this article, we'll be discussing five different ways to recover deleted photos and videos from WhatsApp on Android - even if you don't have a backup.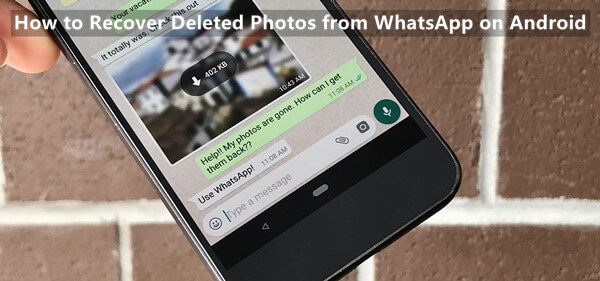 Method 1. How to Recover Deleted WhatsApp Photos/Videos from Gallery
If you have enabled the auto-download feature for photos/videos in WhatsApp, your deleted photos and videos should be present in your Gallery app - the default storage location for WhatsApp.
Even if you haven't enabled it, WhatsApp by default automatically downloads images over cellular connections until you change the preferences. So, if you're lucky, your deleted WhatsApp photos and videos may still be stored in the Gallery app of your phone.
Here's how to recover deleted photos/videos from WhatsApp using the gallery app on your phone:
Open the Gallery app on your Android phone and go to the Albums tab.
Now, check if the deleted WhatsApp photos and videos are present in the WhatsApp album. If they are, simply move them to any other location on your phone.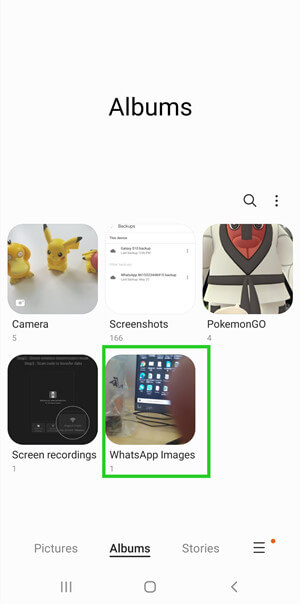 If you can't find them in the gallery, check the Recently Deleted album as an extra precaution. The Recently Deleted album stores all the photos and videos that you have deleted in the last 30 days from your gallery.
Method 2. How to Recover Deleted WhatsApp Photos/Videos from Your Contacts
If you accidentally delete an important photo or video from a particular WhatsApp chat, there is a good chance that your contact will still have them on their phone.
To retrieve your photos and videos that were accidentally deleted from your WhatsApp account, simply ask your contact to send them back to you through WhatsApp, email, or another way. Hopefully, they still have stored them on their phone and haven't yet deleted them.
Method 3. How to Recover Deleted WhatsApp Photos/Videos Without Backup
Above, we have mentioned two of the simplest ways to help you retrieve deleted photos and videos from WhatsApp on your Android phone. If none of these methods worked for you and you also have not enabled WhatsApp's backup feature, then recovering your lost WhatsApp photos can be tricky.
In such a case, you'll need to take the help of some professional data recovery software like iSeeker WhatsApp Recovery that can scan your phone's internal storage for any deleted WhatsApp data and then extracts it for easy recovery.
This software is a powerful Android data recovery tool that can recover any kind of data directly from your device, even if you don't have a backup. Not only that, but it also allows you to preview the content and selectively choose which files to recover.
Some other key features of iSeeker WhatsApp Recovery
100.000+
Downloads
Be able to recover lost WhatsApp data without backup and without rooting/jailbreaking.

Supports both Android and iOS devices, including iOS 16 and Android 12.

Allows you to preview and select specific chatbox to restore.

Provides a free trial to all users.
Follow the below steps to learn how to recover WhatsApp photos/videos using iSeeker WhatsApp Recovery:
Step 1. Select Recover WhatsApp Data from Device Storage.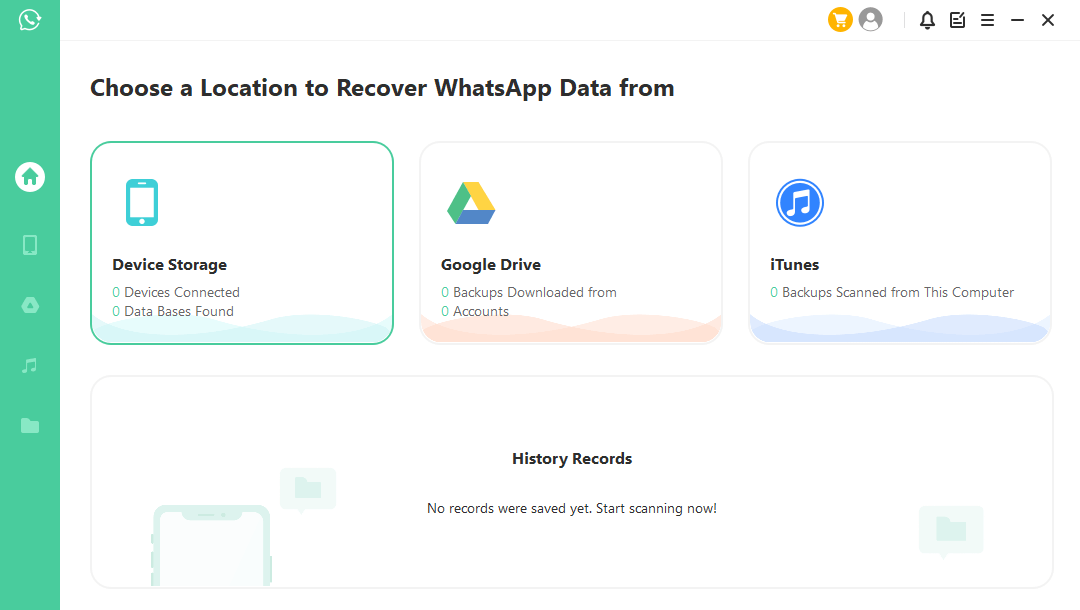 Step 2. Connect your phone to the computer. Allow USB debugging on your Android or tap Trust this computer on your iOS device. Choose a place to store restored data and click on Start.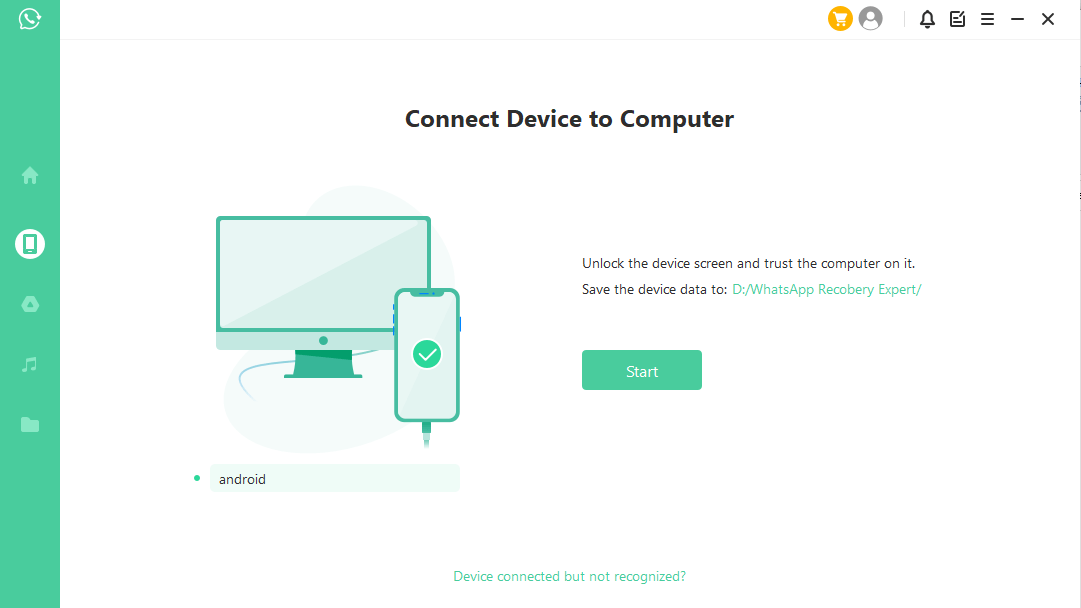 Step 3. iSeeker will then scan your device for the WhatsApp data. After scanning is completed, click Next to continue.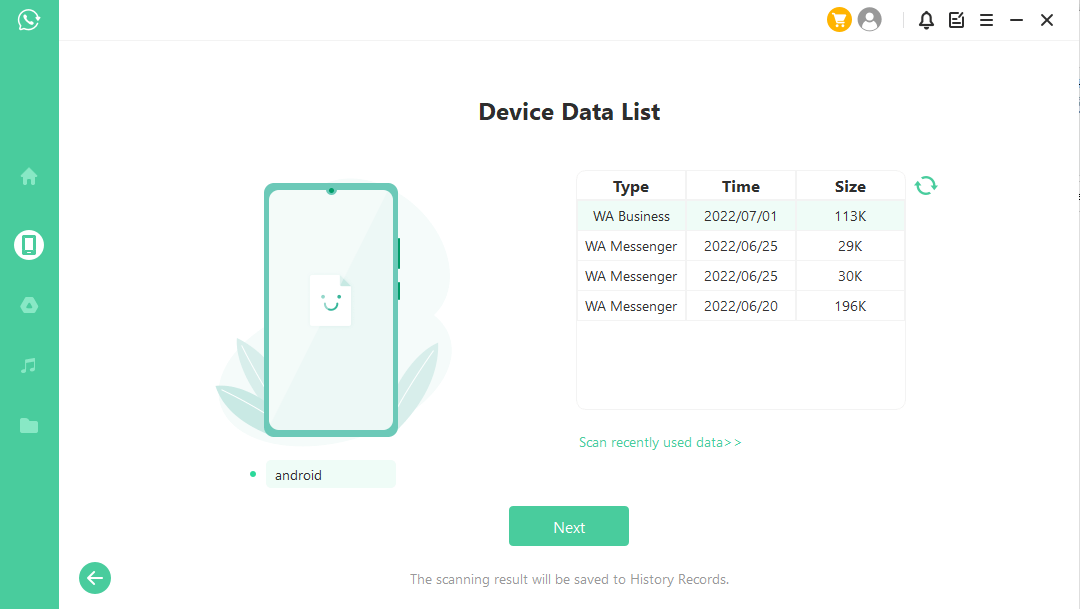 Step 4. Enter your phone number and veritify your account accroding to the prompt on the screen. Then iSeeker will display all the chats on the screen, preview and choose the chats you want to restore and then click Recover to Device or Recover to PC.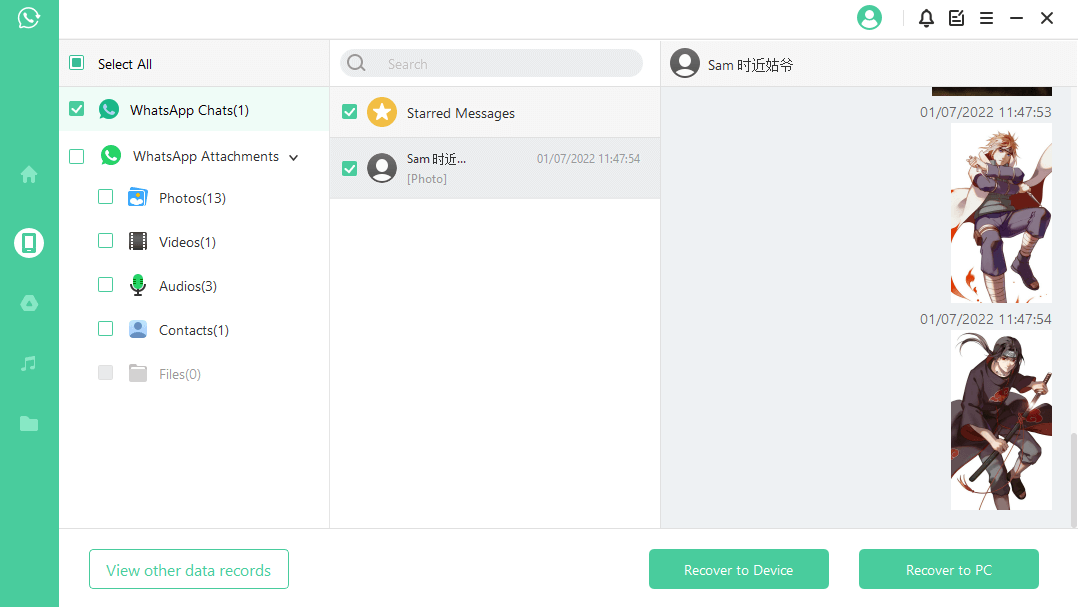 Method 4. How to Recover Deleted WhatsApp Photos/Videos from WhatsApp Backup
If you have previously enabled WhatsApp backup before deleting the photos and videos, then you can easily recover them by restoring your WhatsApp chats from the backup.
However, keep in mind that this will overwrite your current WhatsApp data with the data from the backup. So, to make sure whether the backup contains your lost data or not, must check the time and date of the backup before continuing.
Here are the steps to check and restore a backup:
On your Android phone, open the WhatsApp app and go to Settings by tapping on 3 vertical dots. After that, you'll see the Chats option which you should tap. Then go to Chat Backups to view when the last backup ran.
If you're sure that the backup does contain your lost data, uninstall and reinstall WhatsApp from the Google Play Store.
Open WhatsApp and follow the steps to verify your phone number. Once that's done, it will ask you to restore chats from backup. Tap Restore and WhatsApp will start restoring your chats (including photos & videos) from backup.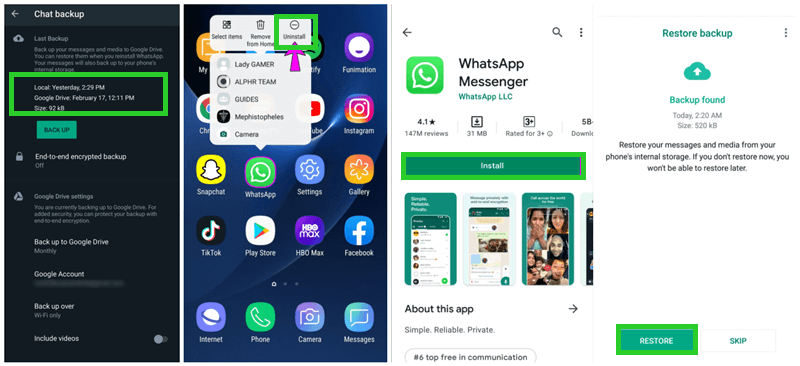 Method 5. How to Recover Deleted WhatsApp Photos/Videos from Internal Storage
For Android users, WhatsApp offers one more perk over iPhone users: They can recover their deleted photos/videos from WhatsApp's default storage.
This is because whenever you send or receive a photo/video on WhatsApp, they are by default stored in your phone's internal storage to a specific folder. Therefore, even if you have deleted them from WhatsApp chat, you can still access their cache files in your phone's internal storage by opening your file explorer app.
Here's how to recover deleted WhatsApp photos and videos from internal storage:
Open the File Manager app (if you don't already have one, download it), and then search for the WhatsApp folder.
Open the Databases find msgstore.db.crypt12, rename it as msgstore_BACKUP.db.crypt12; and find msgstore-YYYY-MM-DD.1.db.crypt12, rename it as msgstore.db.crypt12.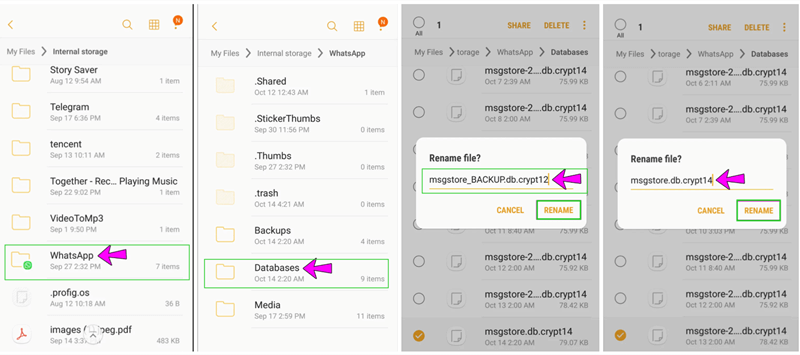 After that, uninstall WhatsApp from your phone and re-download and install it. After you installed WhatsApp again, log in to your account and you will be asked to restore the backup. Tap on Restore to confirm.
Conclusion
While WhatsApp has become a necessity in our everyday lives and has changed the way we communicate with each other, we must also be prepared for mishaps that may cause us to lose important data. Hopefully, this article has helped you learn 5 different ways that you can use to recover deleted photos and videos from WhatsApp on your Android device if you ever need to.
However, if you're not too tech-savvy or just want to be on the safe side, we recommend you use WooTechy iSeeker WhatsApp Recovery. It's one of the most reliable data recovery programs available that can help you recover lost or deleted data from WhatsApp without any hassle. So, give it a try today!