If you have the need to remove the activation lock on your iPhone, then you must have noticed that there are some third-party websites or applications provide the activation lock removing service by taking your IMEI number. Despite how powerful they claim themselves to be, this kind of service still look like scams for a lot of people.
So are these IMEI unlocking services real? Is it worth the risk to provide the IMEI number of yours just to let them unlock the device? And most importantly, is there any way to bypass activation lock without IMEI number? We will talk all about that in today's article.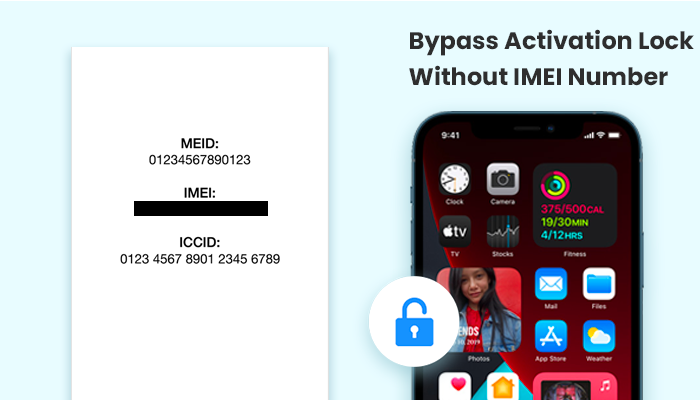 Part 1: How to Check IMEI Number of Your Phone?
First of all, IMEI a serial number that all cell phones and smartphones have. IMEI number of a phone can be found at the back of your device. Apple later stopped imprinting IMEI number at the back of the phone when iPhone 6s came out. If you want to check your IMEI number, here is how to do it:
1. Open the "Phone" app on your device.

2. Click Keypad.

3. Enter *#06# in your keypad. Your IMEI number will automatically appear on the device screen.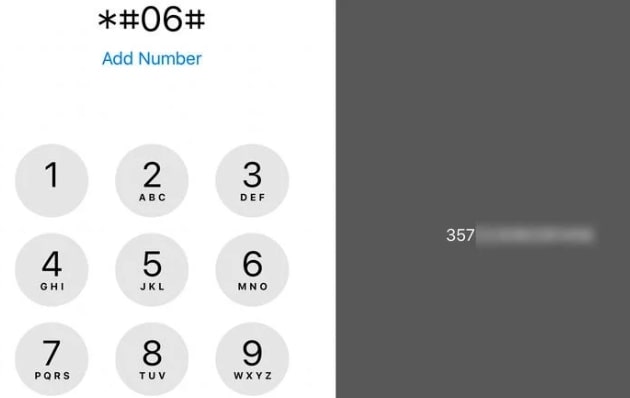 You can also find the IMEI number in iTunes. To do that, just open iTunes, connect your device and go to Summary, then you should be able to see the IMEI number on the right.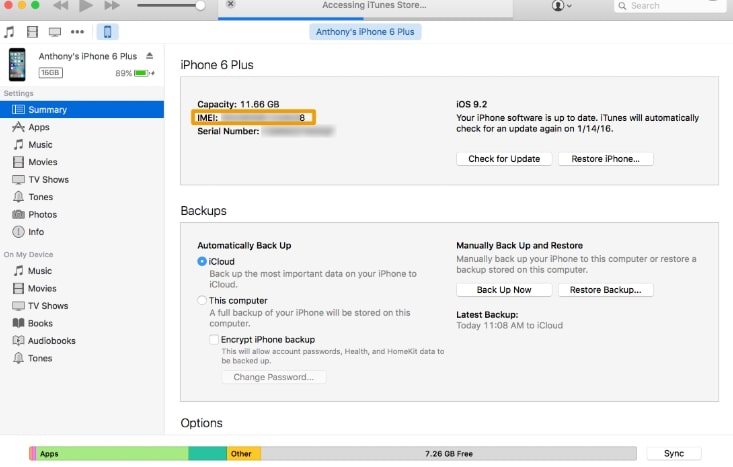 Part 2: Are IMEI Activation Lock Bypassing Systems Real?
How do IMEI Activation Bypassing Systems Work?
If you go through the internet and search about this, you will find a lot of solutions that will provide you several options to bypass the lock with IMEI number. Most of these services are paid, and you need to pay money for that. They claim to have access to the Global Service Exchange or GSX. GSX is Apple's single service, repair, and order management tool that permits a third party to provide service business with Apple worldwide. Most of IMEI activation bypass systems or services are technically, or claim to be based on the the GSX service, which has the access to a deeper level of the system of a device.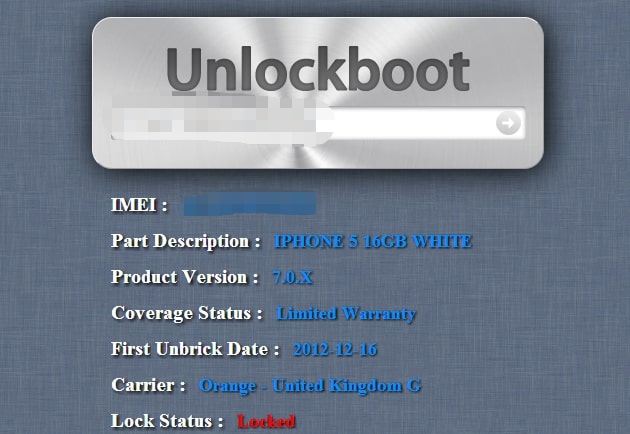 Are IMEI Bypassing Tools Real?
But GSX is not a tool designed by Apple to bypass iCloud, let alone allow anyone to do so. Though many of these IMEI unlocking services claim to have GSX, this is actually a false hope. Because the third parties need to meet a lot of criteria that surely those fishy services do not meet.
Apple always is keeping an eye open for these scammy services. Still, they are so many in number that it is not always possible for them to track down all of the services of this kind. Meanwhile, these fake websites and applications are luring you into their trap, intending to scam you. Just think about it: Why would Apple cause a compromise inside its own system?
Because of the many cons that the IMEI unlocking system has, we can easily infer that these websites or applications that offer this kind of service are mostly scams and can lead you into risky situations.
Part 3: Why You Should Never Leak Your IMEI Number?
So now we know that most IMEI activation lock removal services are fake. If that doesn't stop you from giving your IMEI number away, then you should definitely keep reading and know more about how risky it is to give your IMEI number away.
IMEI number can be used in illegal activities. In the worst cases, criminals can use the IMEI of a victim in a crafty way to make illegal cellular activities. They will be in the safe zone, but you will be the victim because the law enforcement agency will find that the IMEI number was assigned to you. An intruder may unblock stolen cell phones and make it a legal handset for second-hand phones in the white market simply using the IMEI number from whitelist.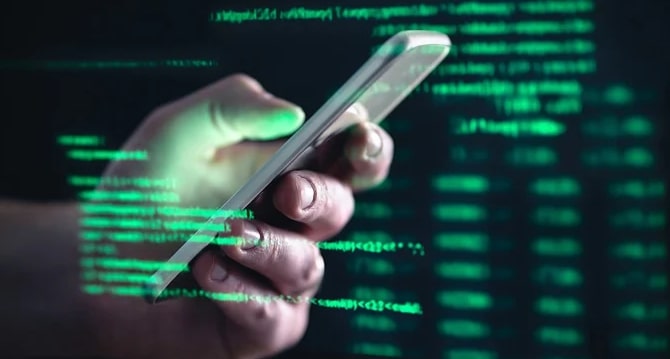 Not only that, exposed IMEI number increases the vulnerability of your device, which may lead you to get hacked. IMEI unlocking services can put bugs or spywares on your phone, which is the last thing you want to have on your device. And as nowadays we are more into online financial transactions and all, these bugs or spywares can record your transaction pattern. In some cases, they can even get your passwords to your bank and other accounts.
For all these reasons, you should think twice before leaking your IMEI number to any third party website or application. You may think of IMEI as a simple number, but the scammers have the capability to rip you off with it.
Part 4: How to Bypass Activation Lock Without IMEI Number?
We have told you about the two types of activation lock bypassing systems other than the risky use of IMEI number. Here we will talk about the procedures to bypass the activation lock.
Bypass Activation Lock with WooTechy iSalvor (iOS 15 Supported)
This system includes the use of a professional activation lock removing product iSalvor developed by a company that is working on iPhone unlocking for years, WooTechy. This tool can bypass the activation lock on iPhone 5S to iPhone X running iOS 12.3 and later versions. In contrast to the services that you need to get by spending money, you can avail of a free trial version of iSalvor that allows you to check how the system runs and whether the tool supports your device or not.
Features of Wootechy iSalvor
Enables your device to bypass the lock screen without using Apple ID or password.

Upon bypassing, access your iOS system and use most common features in iPhone

Enables you to log in to download apps using another Apple ID.

Disables tracking or erasing of past Apple ID.

Compatible with almost all iOS devices and versions including the latest iOS 15.
Now let's see how to bypass activation lock without IMEI with WooTechy iSalvor.
Step 1: Download the tool from the link above. Install and launch it on your computer. Click on the "Start" button and connect the iOS device to the computer with a USB cable.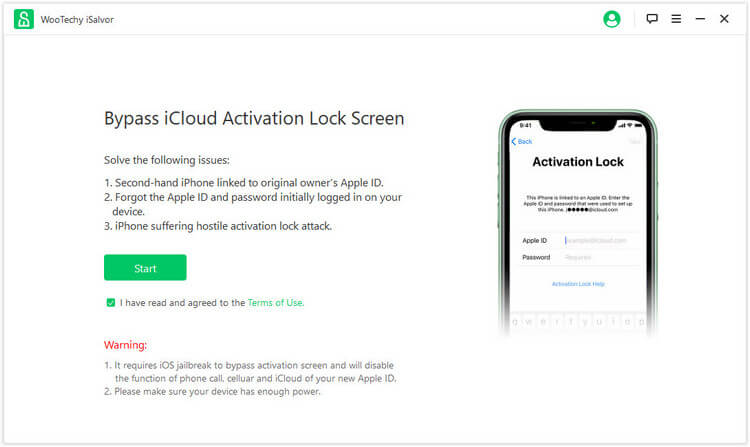 Step 2: Then the software will start to download a jailbreak package on your computer. Follow the on-screen instruction and the jailbreak package should be downloaded in no time.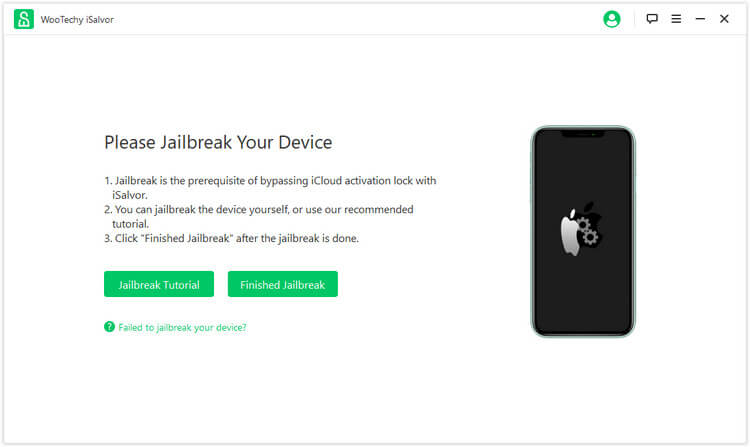 Step 3: After jailbreaking, click on the "Start Bypass" button to let the program start the activation lock bypass process. It will not take too long untill the bypass finishes.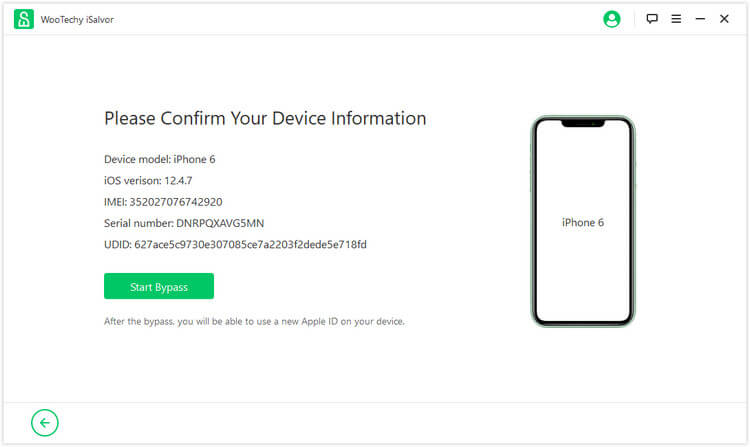 Step 4: After the bypass finishes, you should receive a notification telling you that your iPhone is now unlocked. Meanwhile your iPhone will reboot and you should be able to enter the system without any problem.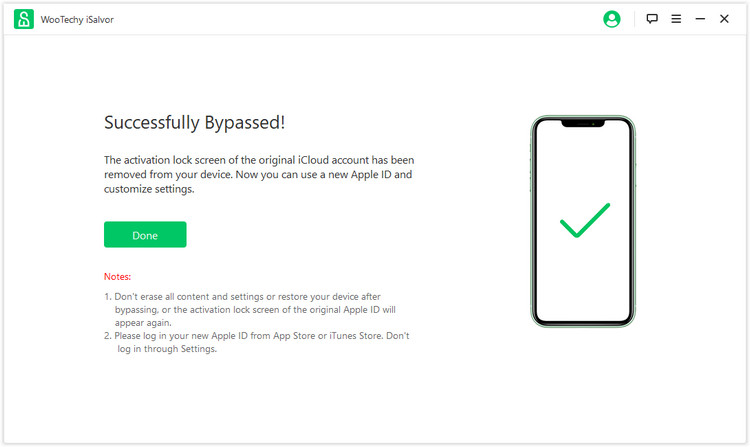 Bypass Activation Lock with DNS Server
Besides using WooTechy iSalvor, there is actually another trick that can give you access to some of the functions of your iPhone without IMEI. This method acts by changing the activation path. It actually diverts the request path to an iCloud DNS server from the Apple server, which allows the device to be activated. Here is how to do it:
1. Insert a SIM card in your phone then select your country and language.

2. On the Wi-Fi settings page, tap the "i" button and enter "More Wi-Fi Settings".

3. Go to "Configure DNS > Manual > +Add Server". Enter the address of the server that matches your location below:

USA: 104.154.51.7
Europe: 104.155.28.90
Asia: 104.155.220.58
Rest of the world: 78.100.17.60

4. Tap "Save" > "Back" > "Join this Network" tabs and choose your network. Enter the password and click "Join."

5. When asked to activate iPhone, tap "Activation Help", then you should have access to some of the functions of your iPhone.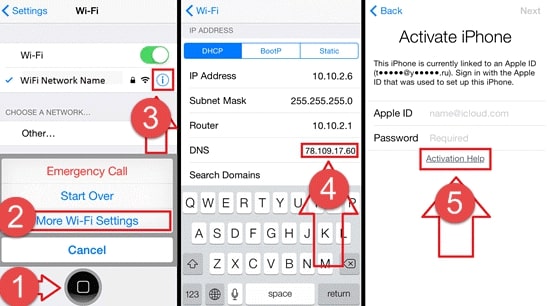 This method doesn't want to work for the newer model of Apple devices. Also, you can only have a very limited functions in your iPhone available.
Conslusion
You may need to bypass the activation lock on your Apple device, and the most common solutions you will find on the internet will be the ones that will require your IMEI number. However, most of the time, those paid services are kind of a scam that goes away with your IMEI number. Exposing your IMEI number in this way can create many risky situations for you, and this is not safe at all. If you want to bypass the activation lock in a safer way, there is no doubt that WooTechy iSalvor is one of the most practical and helpful solutions for you.It is safer, faster and definitely more promising that the online services that take your IMEI number. It now supports iOS 15! Just download and give it a try!