As you turn on the location services on your device and allow Google maps to access the location data, it can keep your location history, which can help track your travel details. It can also come in handy for security reasons when you want to know where your loved ones are going. Google location history can be tracked in several ways, and here is all you need to know.
Part 1. How to Check Google Location History with Google Maps Web
Some users find it easier to use a computer when checking minor details because of the more screen real-estate and the dedicated user interface of the web applications. So, if you want to check Google maps location history using your laptop or computer, you must open the Google Maps website on any browser and sign in with your account.
Now you will expand the left-side menu and go into the Your Timeline section. It will take you to the map indicating all the locations you have been to with your smartphone having the same Google account and location tracking active. Now you can go through this information in 2 ways:
Use the timeline feature and select the date, day, month, or year to track the location history. An alternate method is to hover your cursor over the timeline bars and select the time you want the location tracking details.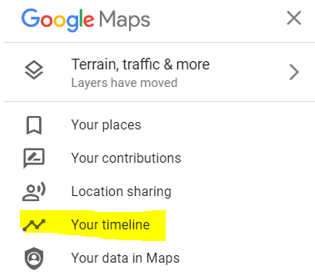 For the second method, you will get the details depending on the places you have visited. You can apply several filters, including most visited, recants, etc.
Using any of these methods, you can check the location history of all the places you have been to with location tracking enabled on your device.
Part 2. How Do You See Someone's Location History on Google Maps Mobile App
Alternatively, you may want to get the location history details on the go, and using the Google Maps mobile application can be your way of finding the details. If you have access to the account on someone else's smartphone and they have their location tracking features enabled, you can also see their location history. For some users, this method might be easier as you only go through the following steps:
Open the Google Maps application on your smartphone or tablet
Tap on the profile picture/account icon to go into the application options
Tap on the See & delete activity option, and you will get the location history details. These options may vary if you have an android or iPhone.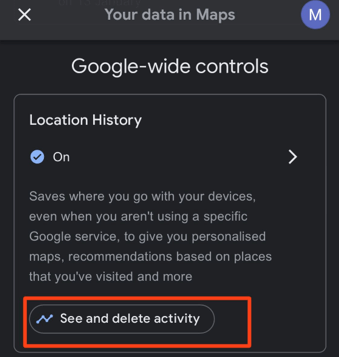 Tap on different trips to get the trip details or places. You can also track location history depending on the day and time.
Remember that this method may work on all devices, but the ease of usage and the number of details you see with the mobile interface will be much lesser than those of the web application.
Part 3. How to Delete Location History on Google Maps
If you don't want to maintain a history of all the locations you visited, you can delete all of this saved data. There are 2 ways, including a manual deleting way, while there is an automated removal method that will ensure that nothing stays saved that you don't want on your account. So, here are the steps for both these methods:
Manual deleting
Open Google account management in a web browser and sign in.
Go to the Data and privacy section.
In the history settings, go to Location history.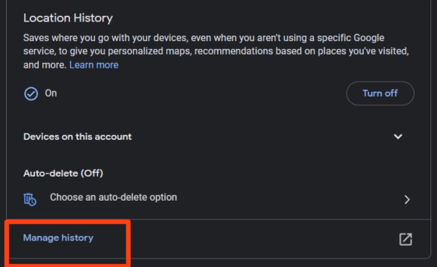 Scroll down to Manage history, and then you can delete any data you want. There is also an option to delete all the data.
Automatic deleting
Follow the first 3 steps for manual deletion.
Go to the Auto-delete option.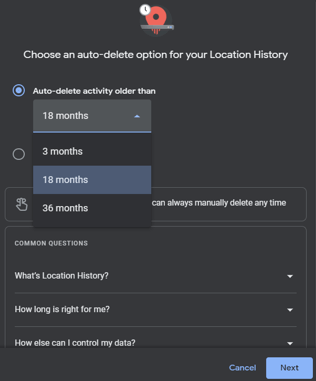 Select a time limit for automatically deleting your location data. Click on confirm, and you will be done.
Part 4. How to Turn Off Google Location Tracking
Deleting the location data manually or automating it may not be the right solution for you. So, you may turn off the Google location tracking feature to stop creating and keeping a record of the places that you visit. Doing so gives you complete peace of mind that even if someone has access to your Google account, they may not be able to see your location history. Follow the steps below to turn off the location tracking feature on your Google account:
Sign in with your Google account in any browser and go to account management and settings.
From the left pane, go to Data and Privacy option and scroll down to find the Location History option.
Click on it to open further settings, and under the Location history section, click on Turn off.
Click on Pause, and your location tracking will pause unless you resume it.
To know what type of experience you may get as you turn off this feature, read all the details you see before pausing.
Bonus: Can I Avoid Google Maps Location Tracking?
If you don't want to turn off the Google location tracking feature and don't want to share your real location either, then using iMoveGo will be the best decision. Using this GPS location spoofing tool, you can easily avoid location tracking in real time without turning off the location. So, if anyone asks for your real-time location, you can send any location with this tool.
The following are some of the best features of iMoveGo:
75.000.000+
Downloads
It lets you simulate GPS movements with complete control of the route, speed, and destination.

Supports both iOS and Android smartphones and tablets

Works on Windows PC and Macs

Compatible with the latest Android and iOS versions

You can customize your cycle times to create fake location history
Creating fake GPS locations on your smartphone in real-time with iMoveGo is effortless. You will begin with installing the tool on your computer, and as the installation is complete, you may follow these steps:
Step 1 Launch the tool and connect it to your smartphone and click Get Started. Allow or Trust the computer if your smartphone asks.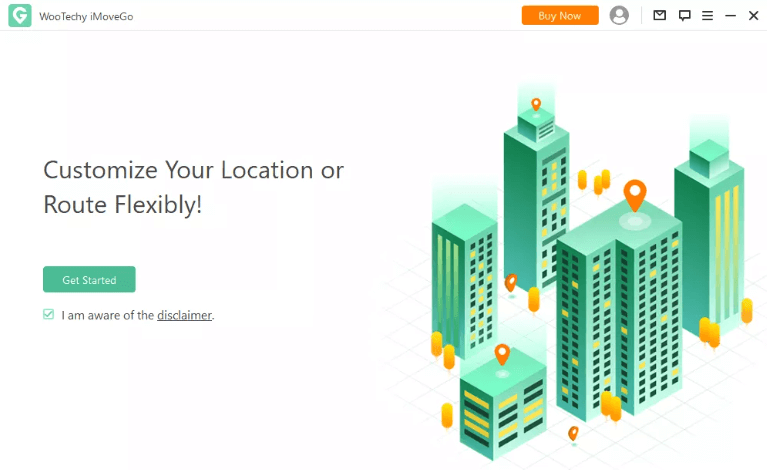 Step 2 After the maps has loaded, select Teleport Mode from the right top.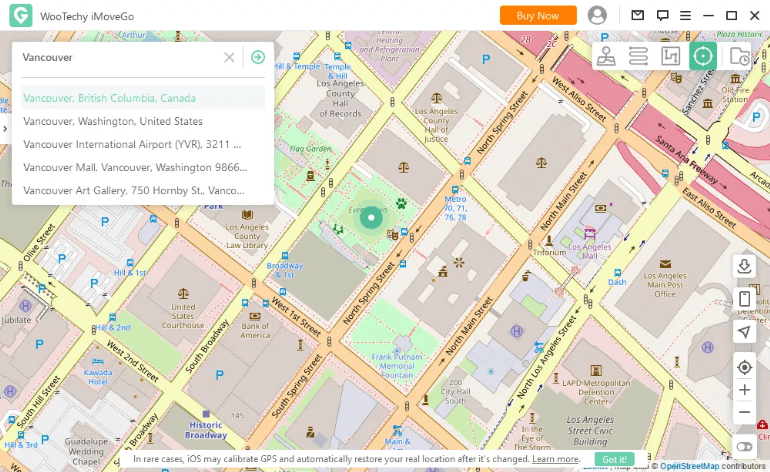 Step 3 Search for the location where you want to move, and after checking all the details, click Move.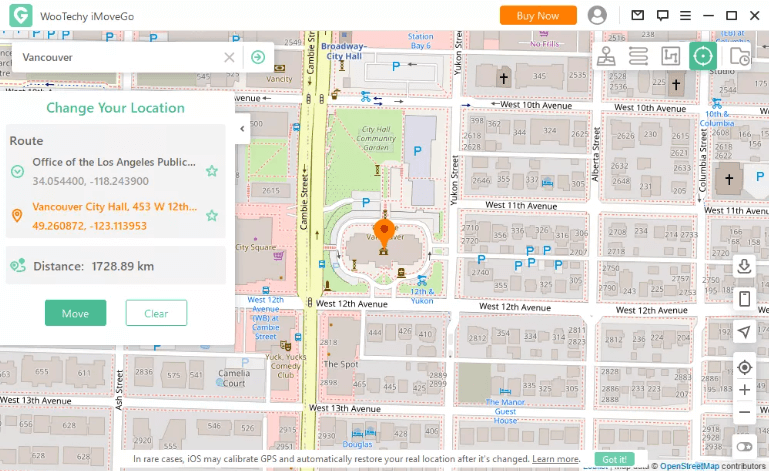 Wait for a short while, and your real-time location on the smartphone will change.
Conclusion
The location history feature from Google saves all the details of every place you visit. It saves time, location, road, and even place details. So, you can use that data to get any type of information. However, sometimes you need Google to stop tracking and in that case, go for iMoveGo without having to turn off the location feature on your device.