The iPad boasts one of the most cutting-edge technologies in the world. But Apple users have reported that, sometimes, the iPad keeps shutting down itself.
If your iPad repeatedly keeps turning off on its own, steps like rebooting the device, updating the iOS/iPadOS, and updating apps might help. Also, if these don't work, try to clean your device storage, hard reset, repair iPad system. Sometimes draining out the battery and then recharging can also help.
Even after the basic remedies, the problem may still exist. In that case, you have to get your iPad to Apple iCare. Before that, try to find out why this issue occurs and what you can afford to do to resolve it.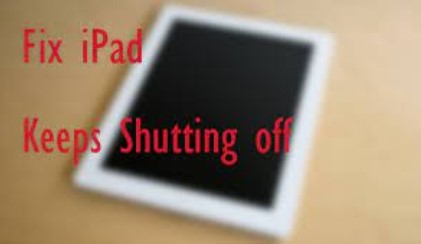 Part 1. Why Does Your iPad Keep Turning Off by Itself?
There could be numerous causes behind why your iPad keeps shutting down. If your iPad iPad keeps shutting down, then it's probably caused by after effect of damaged storage, which is the main reason.
Your iPad sets itself to a sandbox when iOS tries to recover something from the damaged memory. It's a safety feature that Apple has decided to implement into their devices.
Then again, it may be a bug or error that caused all the havoc. The issue may even result from a dead battery.
Part 2. How Do You Fix an iPad That Keeps Turning Off?
You should have at least some ideas about how you could possibly resolve the iPad keeps turning off itself issue without going to the Apple store or iCare. However, fixing the device is pretty simple if there is no apparent damage to your battery or some other internal problem.
Before going to the Apple store, attempt these tips & tricks. We believe that these strategies will get your gadget back to working flawlessly in no time!
1

Force Restart iPad

Force restarting may assist with fixing an iPad that continues to switch off. Restarting your iOS gadget is not like a factory reset. It doesn't affect any saved information. Thus, there's no reason to worry about data loss.

The following steps may help you to force restart your iPad:

For iPads with the Home button: Press and hold the Home button and the Top button simultaneously for a few moments until the Apple logo pops up.

For iPads with Face ID feature or the Top button with Touch ID: press and let go of the Volume Up and the Volume Down buttons successively, then hold the Top button until the Apple logo pops up.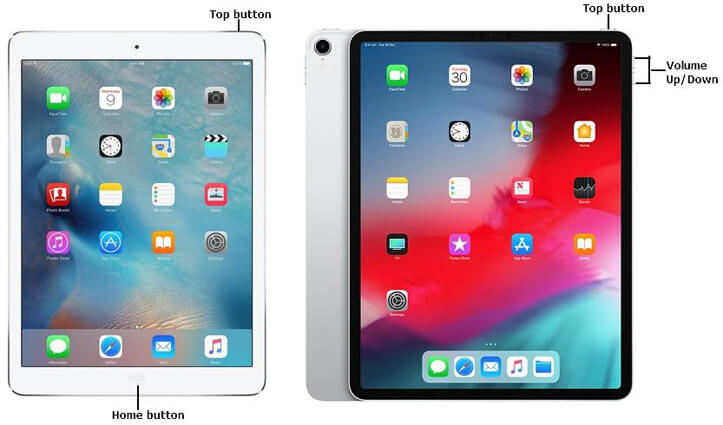 Assuming that a similar issue persists, move on to trying out the following solutions.
2

Check If You Have Set a Particular Gesture to Turn Off the iPad

The iPad has a few settings that can end up turning off your gadget without warning you. To avoid abrupt shut-offs, you may have to check for those settings.

One of the changes that might cause the shutdown of your gadget is turning off Lock/Unlock. You can find that in Settings followed by General. Also, look at other options. If you observe any irregularity, you can switch off that setting.

Ideally, this can tackle your concern assuming as it has been proven workable by a user from the Apple support forum.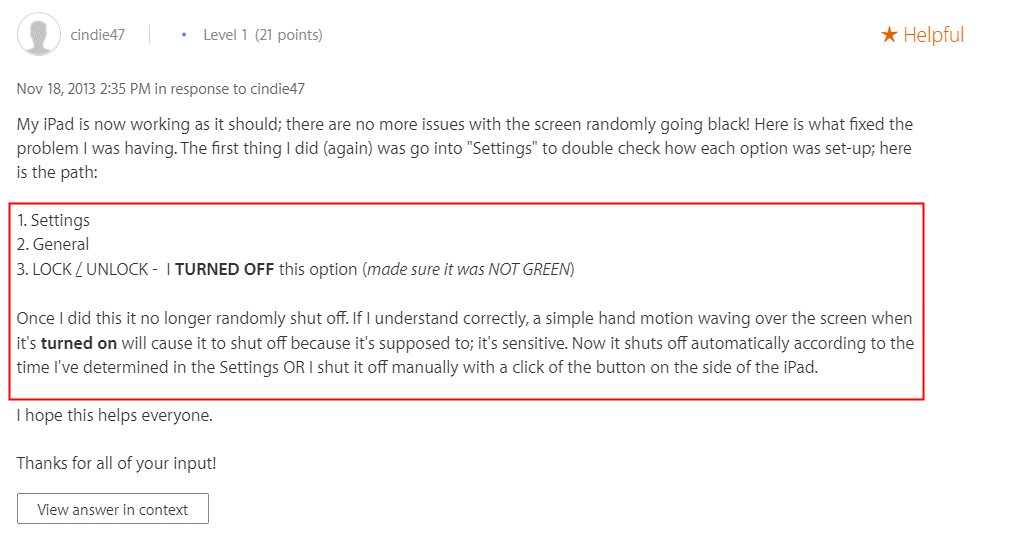 3

Clean Up iPad Storage

In the event that your iPad continues to turn off suddenly, it might be an ideal time to clean up the storage as piled-up memory can make your iPad keep shutting down frequently.

Head to iPad Settings > General > iPad Storage.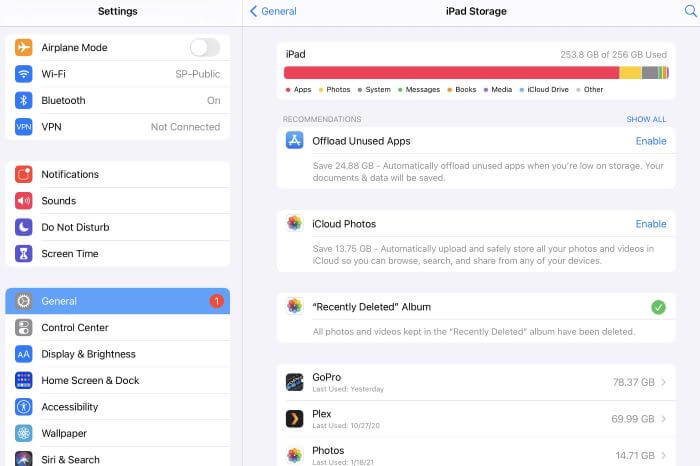 Remove unnecessary files or apps to get some free storage.
4

Delete Faulty/Infectious Apps

Shady apps can make your gadget malfunction too. Your iPad's whole operating system is associated with the apps you install. Thus, assuming something is off about one app, then, at that point, the odds are that the whole OS will be impacted.

To stop this issue, simply uninstall the app. If your iPad switches off or crashes unexpectedly when using a particular app, that piece of software is the probable trigger.
5

Update Apps

One more possible answer for solving restart issues is to install any new app updates. Here are the steps to do so:

Go to the Apple Store and click your profile icon.

Tap on the Update button to install each new app update.
You may tap the option Update All at the top right corner to update everything automatically at once. When you're done updating the apps, reboot your iPad.
6

Reset iPad

You might have tapped on a specific OS setting without proper understanding. This could prompt your iPad to shut down arbitrarily. An ideal way to fix this issue is to reset the settings. It is an easy procedure to conduct with the following steps:

Go to Settings. Choose General from the available options.

Tap on the Reset and then Reset All Settings option.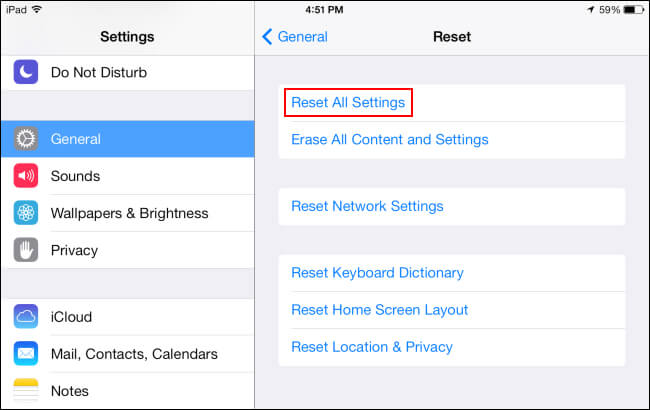 Enter your password to confirm that you need to start the reset.
7

Update iPad in Settings/via iTunes (Data Loss)

Refreshing the iPad with another version of iOS/iPadOS can resolve the iPad shutdown issue. This is a straightforward procedure. Here are 2 ways for you.

If you cannot operate your iPad normally, you can update it through iTunes:

Firstly, make sure that you got the latest version of iTunes installed on your PC. Then make a connection between the device and your PC using your data cable.

After the connection, click the iPad icon in iTunes and select Check for Update.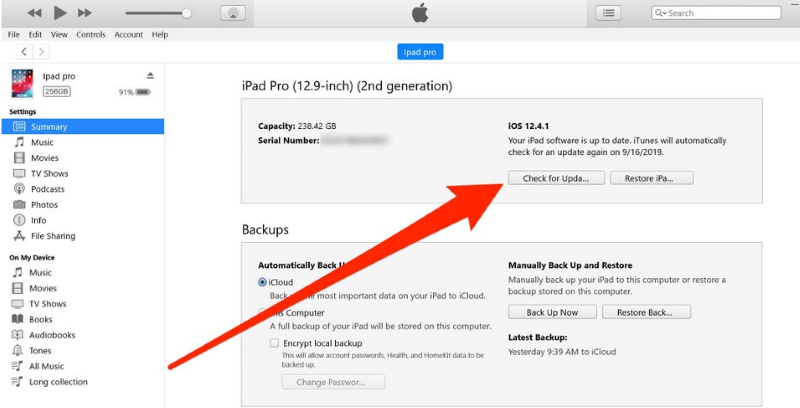 If you can use your device without trouble, update it by following these steps:
Click on Settings on iPad and select the General option.
Later, click on Software Update and the Download and Install options. Input password if necessary.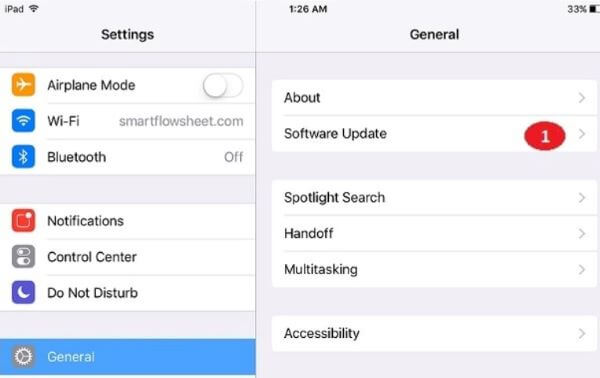 8

Perform iPad System Repair with A High Success Rate (No Data Loss)

Repairing your iPad system is also a viable option. If any system glitch occurs, this can help you restore your iPad to its working state. Whatever the issue, the system repair feature will fix it without damaging your gadget and the existing data.

Many issues that appear in iPads, like a frozen screen, keeping turning off, stuck on Apple logo, etc., can be fixed later with iPad system repair.

WooTechy iPhixer is a powerful iOS/iPadOS system repair tool that can resolve over 50 various iOS /iPadOS issues on iPad. It supports all iOS/iPadOS versions and the newer iPad models impeccably.
WooTechy iPhixer – The iPhone and iPad Repair Software That You Can't Miss
75.000.000+
Downloads
Fix iPad keeps shutting down, iPad boot loop, stuck on Apple logo, and more with no data loss.

Compatible with all models of iPad and all system versions including the latest iOS/iPadOS 15.

Unlike iTunes, you will not worry any possible errors like 4013/4014 occurred by using iPhixer to restore your iPad.

In 3-4 clicks, you can get rid of iPad problems with a user-friendly interface.

You can also use other features of iPhixer like resetting iPad and entering or exiting recovery mode with one click.
Following this guide, you can use the tool to fix any problems with your iPad. Follow the steps to use WooTechy iPhixer.
Download iPhixer on your PC or Mac. After connecting your iPad to your computer, launch the app and select the Standard Mode.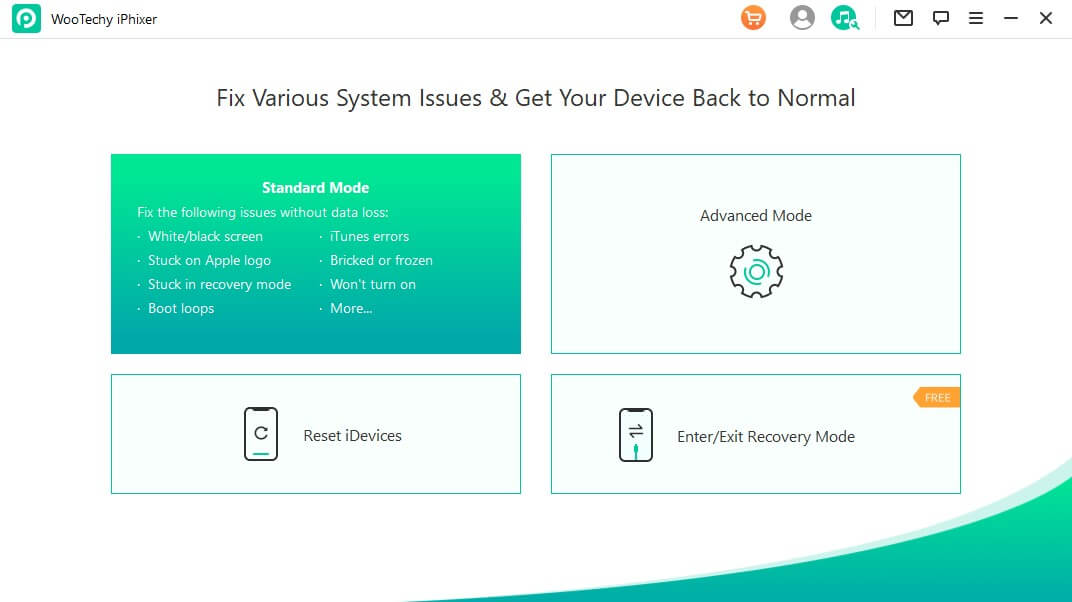 Put your iPad on the Recovery Mode.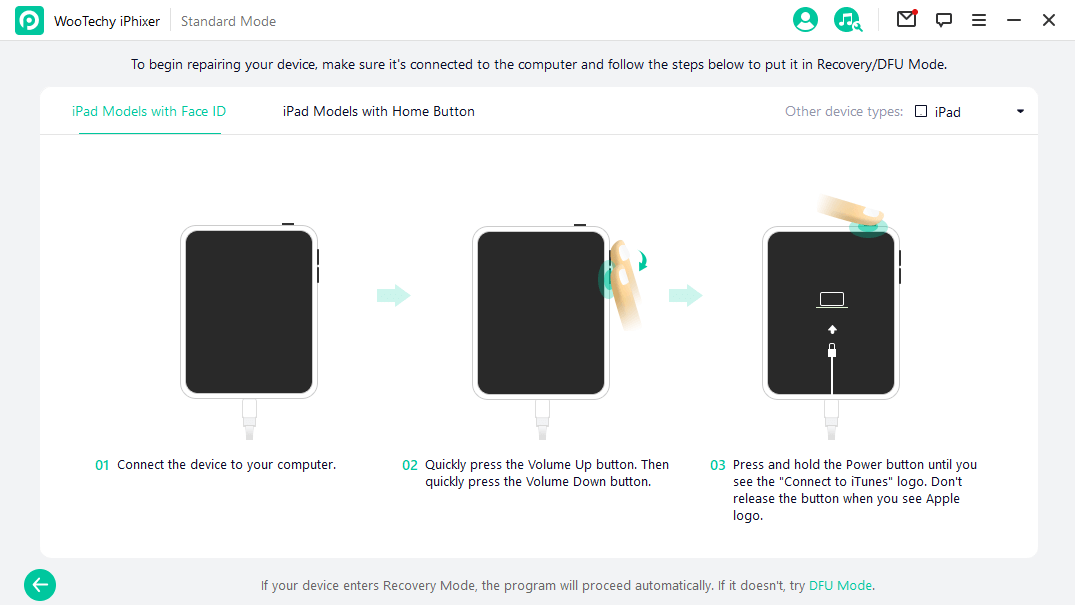 Hit the Download button. This will get you the required firmware for your iPad.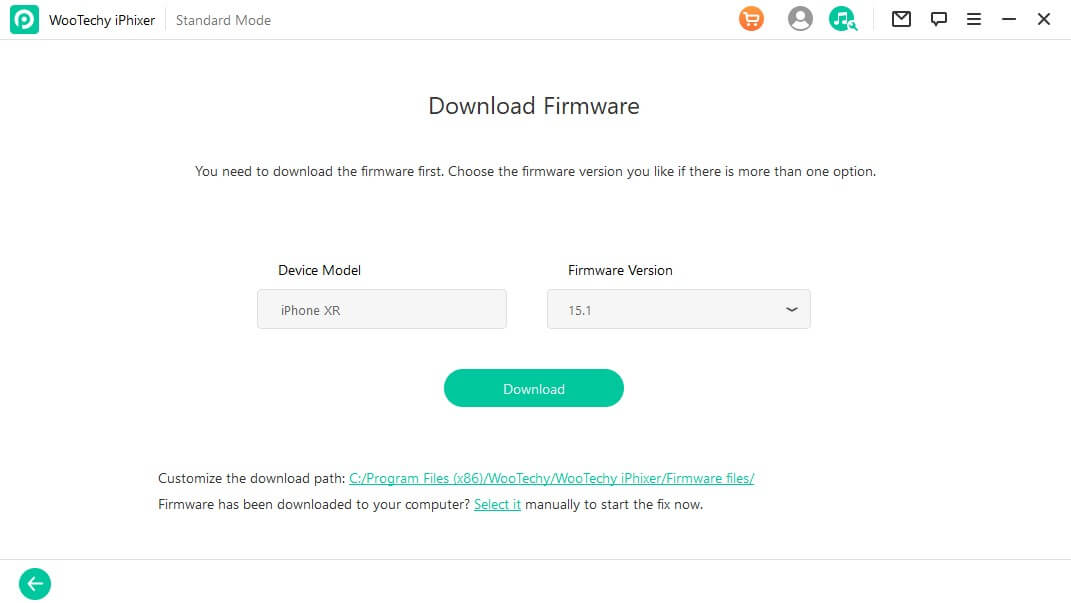 The WooTechy iPhixer should automatically detect any problem with your iPad. After detection, it will automatically repair it.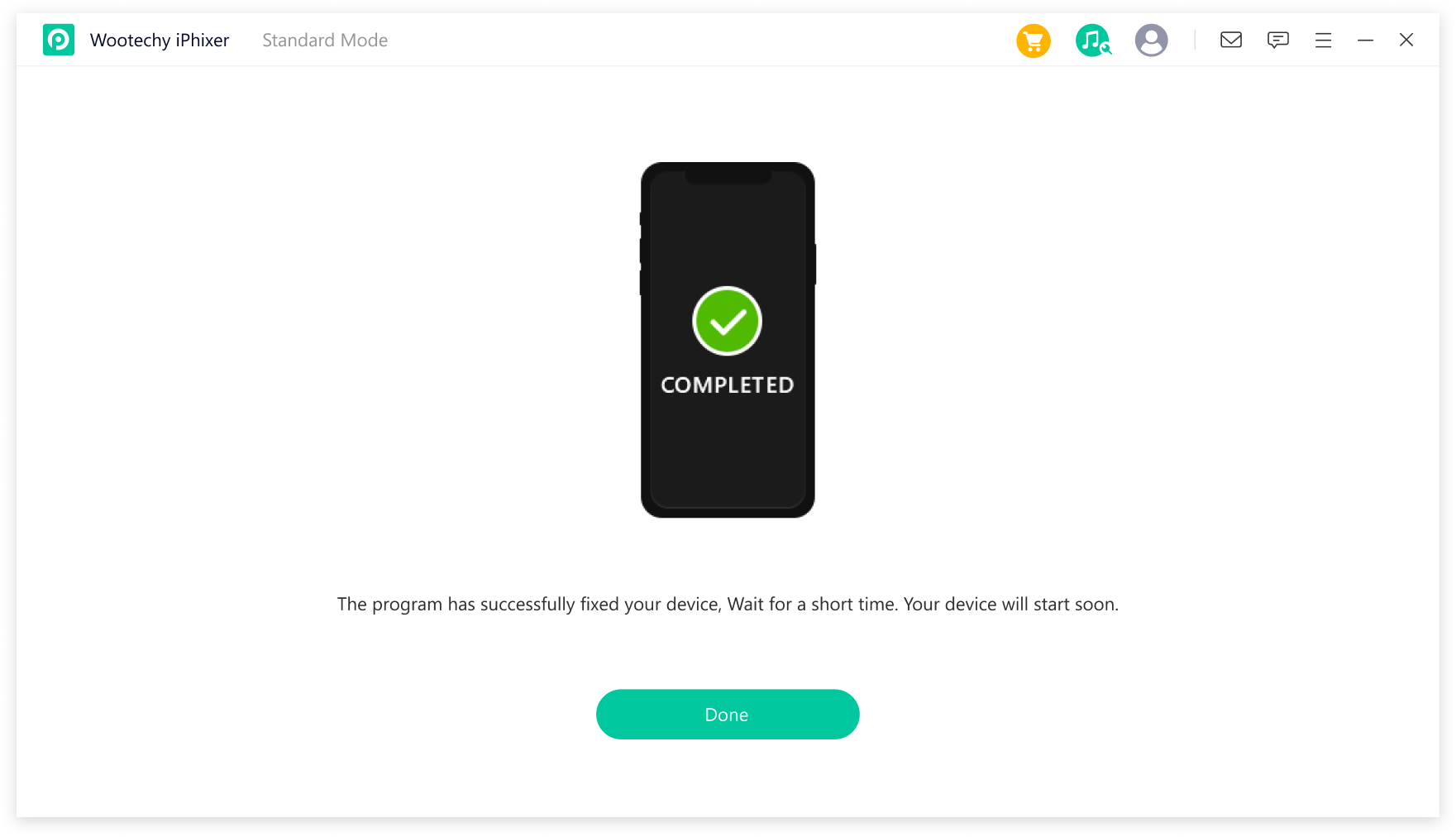 With the WooTechy iPhixer solving your iPad issue is hassle-free. Once all set up, you will not have to worry about identifying the problem yourself. Sit back and relax as the issue resolves itself!
9

Drain iPad's Battery and Recharge It

Sometimes the simplest solutions deliver the most effective results in fixing a problem. Without proceeding to a difficult solution for an iPad that keeps turning off, you can opt to go for a very easy method.

Attempt to deplete your iPad's battery totally. It might happen that some faulty memory in your gadget has caused the issue.

For this, clear out the system memory and recharge your iPad battery once more. When your iPad is fully charged, simply attempt to turn it on, and your device should be good as new.
10

Repair Faulty Motherboard

Motherboard fixes are exceptionally complicated since it includes different parts like ICs, resistors, capacitors, diodes, etc. People who are very experienced with iPad repairs can perform fixes on the logic board since it requires a lot of precise equipment.

Assuming you have any issue requiring a motherboard fix, we recommend getting the gadget to a professional as soon as possible. They will determine the problem and tell you how much time is needed for carrying out the fixes. iPad motherboard fixes usually require about 5-7 days since they are insanely complex.
Final Words
Even though the iPad rarely faces malfunction issues, you can't simply ignore them. Some at-home solutions can save you a significant amount of money. So, it is always ideal to know what to do if the iPad keeps shutting down itself.
We hope this guide was more than enough in explaining some of the basic fixes that you can do to resolve the iPhone keeps shutting down issue. All the fixes are applicable for older versions like the iPhone 6 all the way up to the latest iPhone 13. So, rest assured that they are given a try and tested!