I have recently updated my iPad device to the iPadOS 16/17, but the iPad stuck in boot loop after I entered the password. No matter how many times I tried it, still my iPad won't turn on. So what can I do to fix this iPad restart loop problem?
iPad reboot loop issue, also known as iPad boot loop, is rare but can often occur on old iPad models or the devices which have been used for a long time or which are dealing with issues such as viruses and out-of-date software. Letting a boot loop run its course can create damage to your iPad's system and even result in lost data.
Fortunately, here can help you fix the iPad boot loop problem with 100% success rate. So, just keep reading to find out the possible reasons causing iPhone reboot loop and how you can fix the issue. We'll show you top 12 useful methods to fix iPad stuck in boot loop problem quickly and without too much hassle here.
Video Guide to Fix iPad Boot Loop Immediately Without Any Data Loss
Part 1. Why Does My iPad Keep Boot Looping?
iPad boot loop can be caused by a few different issues. The most common cause of this iPad stuck in boot loop problem is the age and wear on your device. When an iPad gets older it becomes more prone to occur memory problems and system breakdowns.
Another reason for iPas boot loop could be device software bugs. If you didn't fully update your newer iPads devices or the devices in the correct way, it can lead to data corruption of the iPad. In this case, iPad reboot loop can happen from time to time.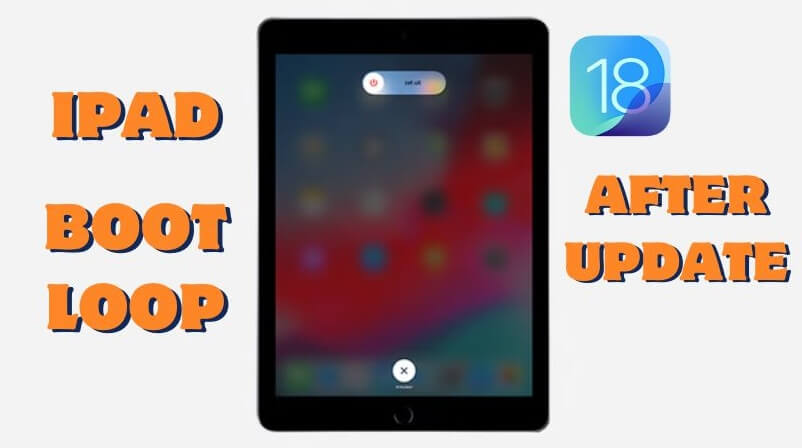 In addition, apps and software that are not meant to be used on the iOS/iPadOS system can create iPad boot loop issue. So, you don't want to download anything that is not created for the iPad.
Finally, if your iPad device is invaded by some virues accidently when updating iPad OS 15/16/17, then it can cause your iPad boot loop problem.
Part 2. Advanced Solution to Fix iPad Boot Loop in Root (100% Success Rate)
As we mentioned above, the most possible reason causing the iPad boot loop is the system problems on the device, so you had better use a professional iPad repair tool to fix the iPad boot loop issue in root. No matter your iPad reboot loop problem is caused by which software issue or error, you can use this kind of tool to fix them done.
The first method flashing into my mind is using an official and professional tool -- WooTechy iPhixer, which is an increasingly popular iPad system repair tool with a large number of users from around the world. This tool can help you fix your iPad boot loop with 100% success rate and without any data loss.
Besides, it won't cost much of time and the instructions included with the app are also easy to follow.
Key features of WooTechy iPhixer: Fix iPad Boot Loop Without Any Data Loss [iPadOS 17 Supported]
Fix iPad boot loop (iPad looping on Apple logo), frozen screens, black screens, iPad ghost touch problem and many other issues without causing any data invaded.

Support all models of iPhone/iPad/iPod Touch and iOS/iPadOS versions including the latest iOS/iPadOS 16/17.

Solve all software problems including iPad boot loop issue that iTunes can't resolve without causing various types of iTunes errors like 4005/4013/4014.

iPhixer is a pretty trustable iPad repair tool, which can save tons of time and efforts for you. It can fix a variety of iPad issues, including iPad keeps freezing, no sound on ipad games, iPad screen flickering, iPad shows battery with red line, iPad volume button not working and so on.

Enter/exit recovery mode for 100% free with one click and able to reset your device with different modes.
4 Easy Steps to Fix Your iPad Boot Loop Without Data Loss:
Step 1: Download and install iPhixer to your Windows/Mac computer. Open the program, then choose the Standard Mode to repair your device.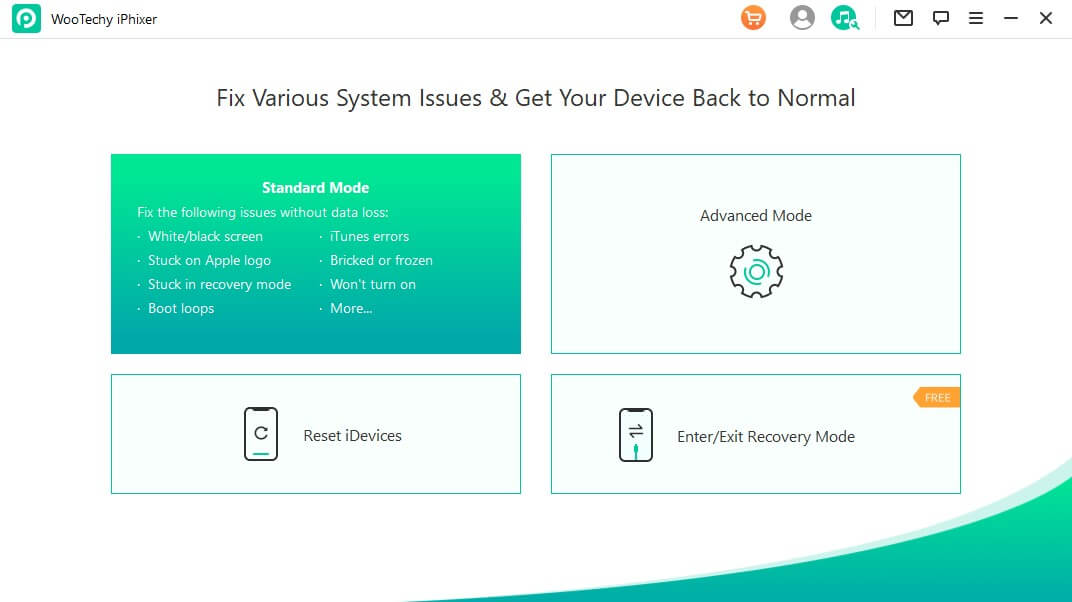 Step 2: Then you will have to plug your iPad into your computer. If iPhixer detects your iPad which is stuck in reboot loop, then proceed with the Next option. Otherwise, follow the on-screen instructions to put the iPad into recovery/DFU mode.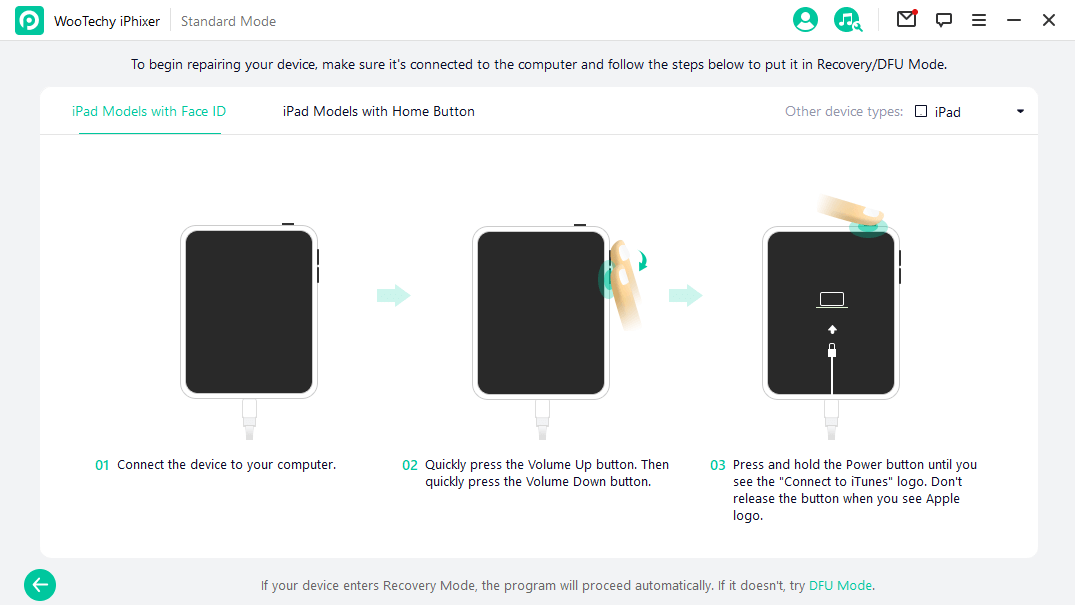 Step 3: The program will choose firmware software that will help repair your iPad. Click on the Download button.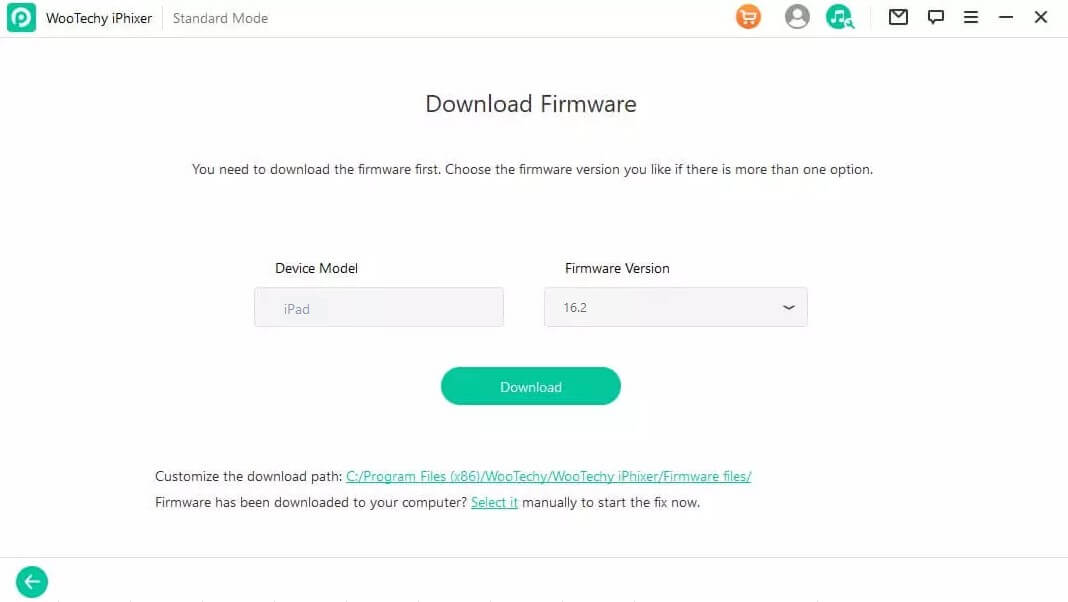 Step 4: Once it downloads, click Start option and the tool will fix your iPad device. Soon your iPad will restart automatically and will no longer get stuck in boot loop.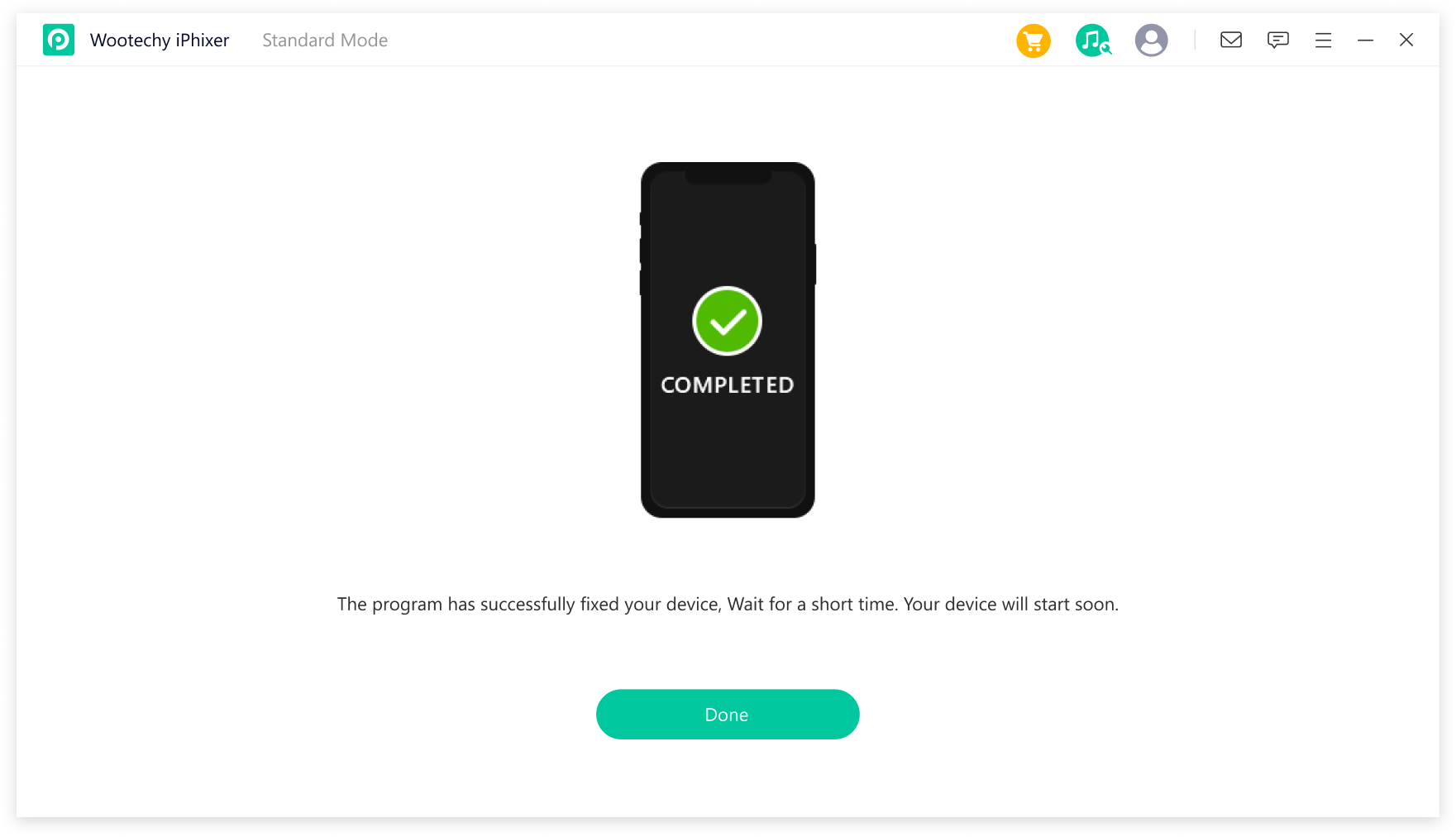 That's WooTechy iPhixer, a really smart iPad repair tool. Now your iPad should stop boot loop and can be used as normal. Don't worry, all the data on your iPad device must be protected with 100% security.
Actually, iPhixer is more than a iPad repair tool, you can also use this tool to fix any kind of iPhone system bugs, such as iPhone blinking Apple logo, iPhone firmware corrupt, iPhone call volume low problem and so on. Thus if you have any other problems on iPhone devices, you can try using this tool without hesitation.
Part 3. (11 Common Solutions) How Do You Get Your iPad Out of Boot Loop?
There are many ways you can fix your iPad boot loop problem. In this section of the post, there are also 11 common methods that can help address the iPad boot loop problem. But these 11 methods cannot make sure the 100% certainty to fix the problem done like WooTechy iPhixer.
1

Fix iPad Reboot Loop While Charging/in Low Battery

In some cases, your iPad stuck in boot loop because your device is either has a low battery or while it is charging. We suggest using this method to fix your iPad reboot loop without computer.

Step 1: First, you want to plug your iPad into your charger. Then plug the charger into the wall. You will notice that your device will reboot again and that the apple logo has popped up.

Step 2: When you see the apple appear on your screen this is when you need to unplug your charger as quickly as possible.

Step 3: Get ready to plug in the charger again. Watch the screen carefully, your home screen will pop up briefly. When you see it, plug your charger in right away. After this, your screen will go black. This means that your device has powered down.

Let it charge for at least 30 minutes then try to turn on your iPad again and see if the iPad boot loop error has stopped.
2

Change Another Charging Cable

If your iPad boot loop problem happens when the device is charging, then the charging cable used may is uncompatiable with your iPad device. So you had better change another charging cable. And then check if the iPad reboot loop problem is gone.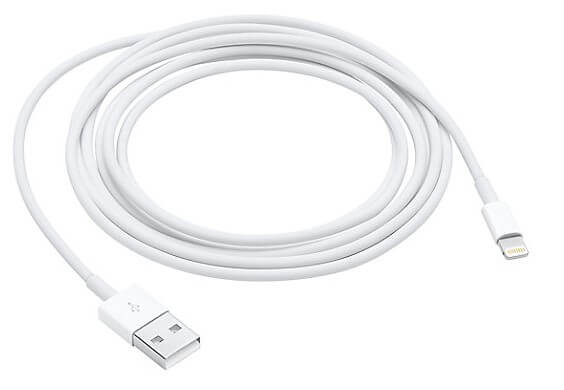 3

Re-Seat the SIM Card

If your iPad Sim Card isn't located in the proper location on your iPad device, then it may lead to several problems, such as iPad restart loop. So check your SIM card to fix the iPad boot loop problem.

Step 1: Turn off your iPad.

Step 2: Prepare a paper clip or a SIM Card removel tool , use then to remove your SIM Card from the iPad SIM Card tray.

Step 3: Then place the card back in the device after removing and make sure it's in prope position.

Step 4: Finally, turn on your device to check if the problem has gone.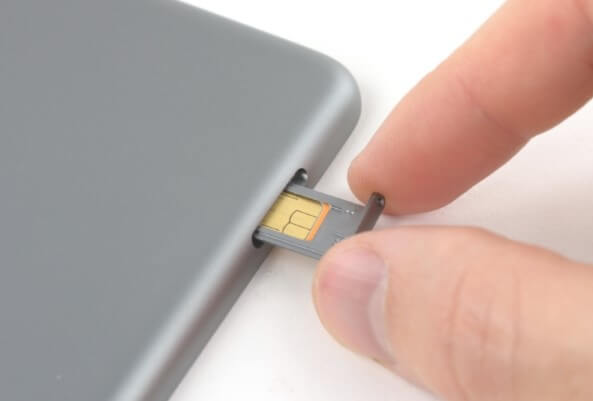 4

Hard Reset iPad That to Fix the Stuck in Boot Loop

If the first option doesn't work, or your iPad is rebooting with a full battery, try this next fix. A hard reset will help with most iPad issues. This is also true when your iPad boot loop. It is a very simple way to get your iPad working again. You won't have to lose any data and just follow the easy steps.
For an iPad with a Home button: Simply hold down the Power (Top) button on your device. At the same time, press down the Home button. Hold both buttons down for at least thirty seconds then let your iPad restart.

For an iPad without a Home button: First respectively press down and release the Volume Up button and Volume Down button, then hold the Power button until the Apple logo is visible.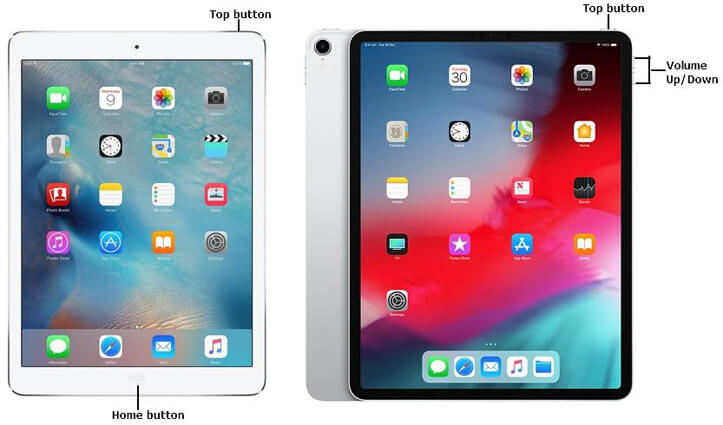 4

Update All iPad Softwares

Generally speaking, if there are several softwares with old version running on the iPad device, then your iPad will possibly stuck in boot loop. Thus you should update your iPad software in time. Make sure your iPad has enough storage and connect the device with a stable WiFi environment.
Open the App Store on your iPad device. Then find the Updates button on the bottom of screen.

Here's a quick fix, you can tap the Update All button on the upper-right corner of the screen. Wait for a while, you can finish updating all the software on the iPad device.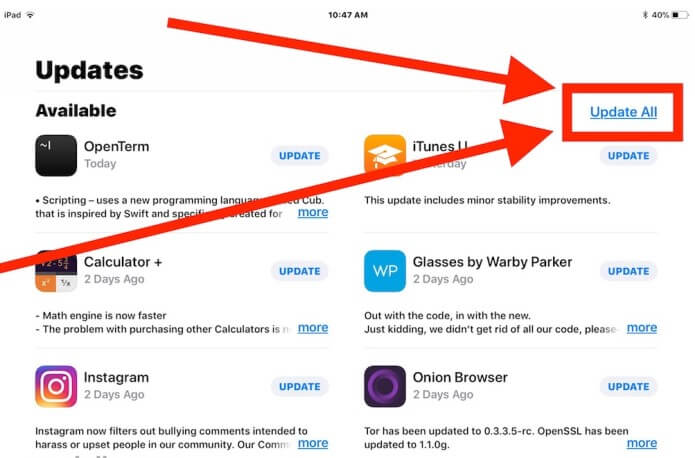 6

Restore iPad Stuck in Boot Loop via iTunes/Finder

Another method you can try out when your iPad is stuck in reboot loop is using iTunes or Finder. You will end up losing data with this option, but try it out if you are an iTunes/Finder picker.

Step 1: You want to launch your iTunes/Finder app on your computer first, then plug in your iPad to get the process started.

Step 2: Your iPad will be recognized by iTunes. If you cannot find your device, then you have to follow the steps of hard resetting iPad to put it into recovery mode. Remember to hold the buttons in the final step until you see the recovery mode screen.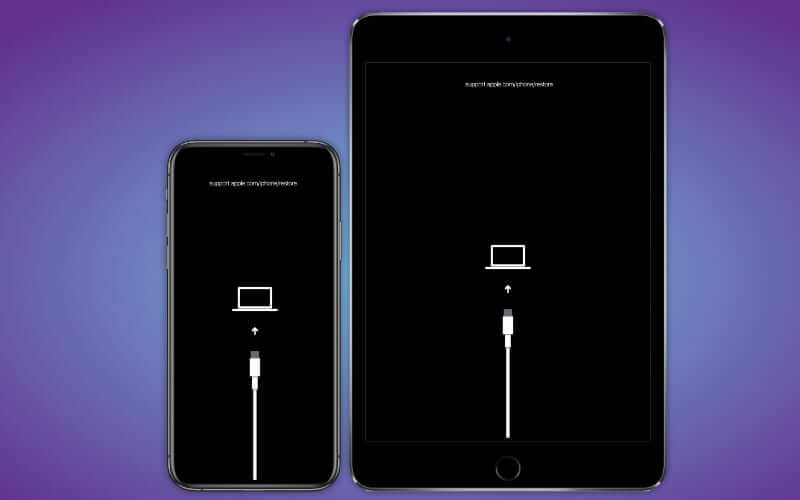 Step 3: Click Restore option. This will fix the boot loop issue by restoring your iPad to factory settings.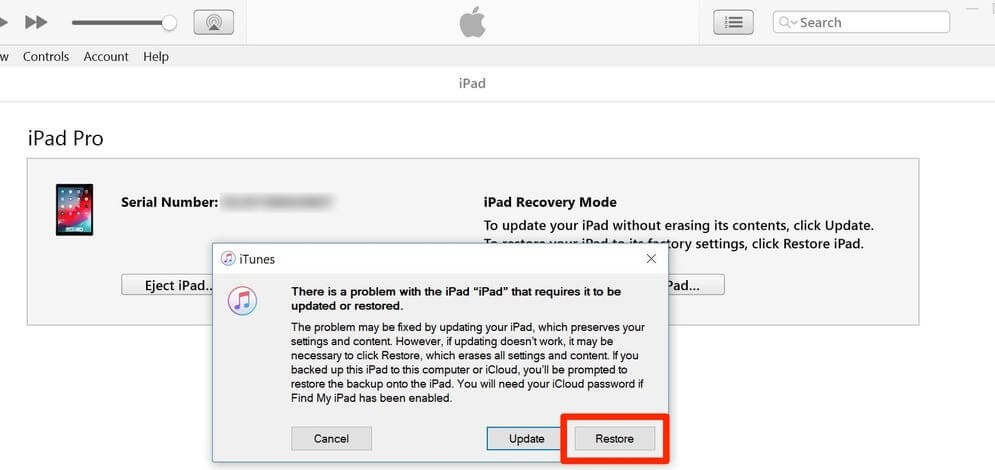 7

DFU Restore iPad in Boot Loop

To fix your iPad boot loop problem, you cab also try using DFU mode to repair your iPad restart loop issues. You will need to use iTunes/Finder for this option as well, and make sure to connect your iPad to your computer.

Step 1: Once your iPad has been connected to your computer, boot up iTunes/Finder and then start to put your iPad into DFU mode.

Step 2: You can enter DFU mode for an iPad without the Home button by pressing the Volume Up button then the Volume Down button. After that, you will hold down the Power button until the screen gets black.

Step 3: As soon as the screen turns black, press the Volume Down button, but make sure you are still holding down the Power button as you do this. Keep holding the Power button and Volume Down button for another solid five seconds. After that, let go of the Power button but keep your finger on the Volume Down button for 5 seconds.

To put an iPad with a Home button into DFU mode, press down the Home button and the Power button for 10 seconds, release the Power button yet continue holding the Home button for at least 5 seconds.

Step 4: If your iPad screen is still black, then it is successfully into the DFU mode. At this point, you can click the OK button on the message shown in iTunes/Finder, further click Restore iPad button. This will finish the process and fix your device.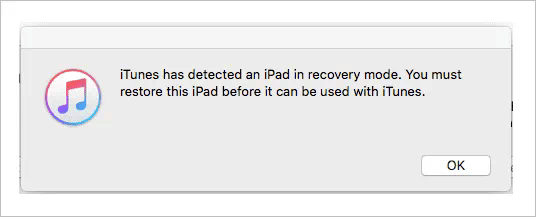 This method also deletes all information on your iPad. So please back up your device before operating the above steps.
8

Reset All Settings on iPad Device

This is also a great way to fix your iPad software glitches, such as software stucks. Try resetting all settings to fix the iPad boot loop issue.
Tap on Settings > General > Reset.

Then select Reset All Settings.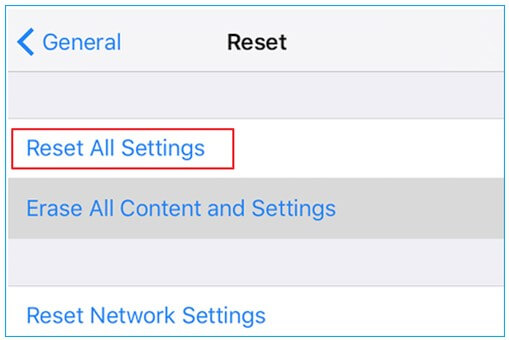 Wait for a while, check if your iPad will stuck in boot loop again.
9

Factory Reset iPad Device

If all the 8 methods above fail to fix your iPad restarting loop issues, then try factory reset your iPad device to fix iPad boot loop issue. But don't forget to back up your iPad data first to avoid any data loss.
Click iPad's Settings > General > Reset.

Then you will see an option called Erase All Content and Settings, click it.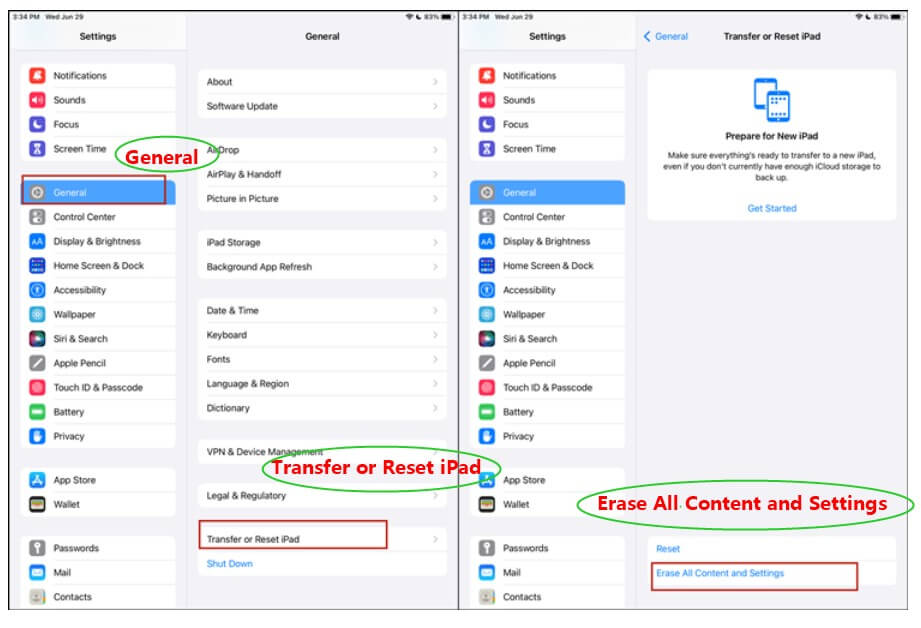 10

Inspect the Battery

If you have tried all the methods even using WooTechy iPhixer to fix your iPad Apple logo loop, but none of them works, then it is possible that your iPad gets hardware damages.you also need to check your iPad's component, such as iPad battery.

In this case, you can check the iPad battery on your own, but please be careful. Check if your iPad battery get damages including physical damges and water damages.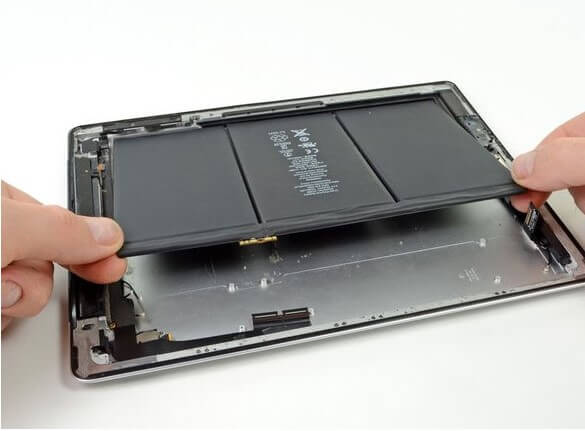 11

Go to Apple Support Center for Help

You should also ask yourself whether your iPad has encountered water damages or phisical damages. If the answer is Yes, then send your iPad device to the Apple Support center or the local iPad/iPhone repair store should be a good choice, since maybe some iPad components is broken.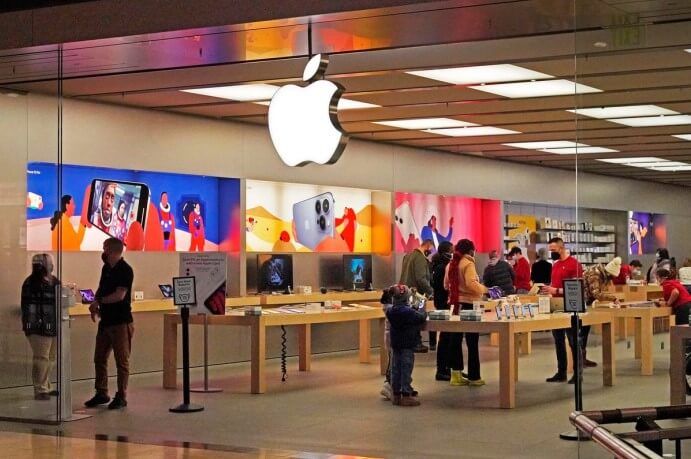 Conclusion
The iPad has much to offer its users, but if you notice that your device is not working right, you need to fix it right away. iPad boot loop can be a serious issue, so read through our post again if you want to learn exactly how to deal with this iOS/iPadOS malfunction.
We went over top 12 methods you need to know in detail above. Finally, if you would like to resolve the iPad stuck in boot loop problem with the highest success rate and the fastest speed, the iPad repair software from WooTechy called iPhixer is definitely your best choice.