Firmware file corrupt iPhone issue is common when your iPhone's operating software and iTunes have gone through multiple updates. As a result, the old codes become incompatible. Therefore, your iPhone could not be restored because the firmware file is not compatible or corrupt.
This problem cannot be solved by simply updating your device. Because in these cases, the iPhone could not be updated because the firmware file is not compatible. The following discussion is going to tell you how you can fix this problem.
What Is A Firmware File on iPhone and Why Do the Errors Appear?
The iPhone firmware corrupt error generally occurs because the firmware file is not compatible with the device for some known or unknown reason.
A firmware has become a broader and interchangeably used term in the world of iPhone and Apple devices. Commonly, firmware refers to the phone codes that deal with the cell tower communication for voice and data. It also includes the boot Read-only memory which is essentially a chip that holds start-up information.
Many people use the terms firmware and operating systems interchangeably. However, a more detailed understanding of these matters finds that the two are different. And operating systems can exist independently from firmware.
Usually, the firmware of a phone remains unchanged during use. Whereas, the operating software is updated frequently. Plus, the firmware operates mainly on a low level and has a single purpose. Meanwhile, the operating software works on high-level interfaces and has general purposes.
If your device shows that iPhone firmware is corrupt, then it might mean that you got the wrong IPSW file for your iPhone.
Other causes of this error have to do with an incompatibility between an updated iTunes or iOS. When the iTunes or iOS from your device has gone through several rounds of updating it fails to recognize the old codes because the firmware file is not compatible with the new software.
5 Fixes-Could Not Update/Restore iPhone Because the Firmware Is Corrupt/Not Compatible
When you experience the firmware file corrupt iPhone error, the device cannot be restored normally because the firmware file is not compatible. In such cases, you can try some true and proven fixes to solve the issue.
1

Turn Antivirus Software Off and Restart Computer

Sometimes the antivirus software of your computer might fail to recognize the firmware of the connected device. And when that happens, your PC would show the firmware file corrupt error. Because it is identifying the firmware as malicious software that might harm your computer.

If this is the case, the solution is very simple. You simply find the antivirus software from the Settings < Software and Applications from your PC and turn it off. This may slightly vary according to the computer and operating system you are using. After turning off the antivirus software, restart your computer and continue.
2

Restore iPhone with New Firmware (Without iTunes)

The best way to correct "the iPhone could not be restored because the firmware file is not compatible" error is to use fixer software. Otherwise, you put your device at risk of mishandling. Because when you read different solution tips on the internet and keep trying them one by one on your phone, you wreak havoc on its delicate system and internal machinery.

So, it's best to use a renowned iPhone fixing tool like WooTechy iPhixer. You can treat your device's problem with no data loss and only a few clicks. The whole process is very much secure and you don't have to worry a thing about the invasion of privacy.

You can download the tool for free for your Windows/Mac computers. When you open the program it will present you with four options. From there you can very easily solve your firmware error and restore your iPhone firmware with the highest success rate and the fastest speed. It takes just 4 steps:

Steps to restore iPhone firmware without data loss:

Choose the Standard Mode for repairing your device.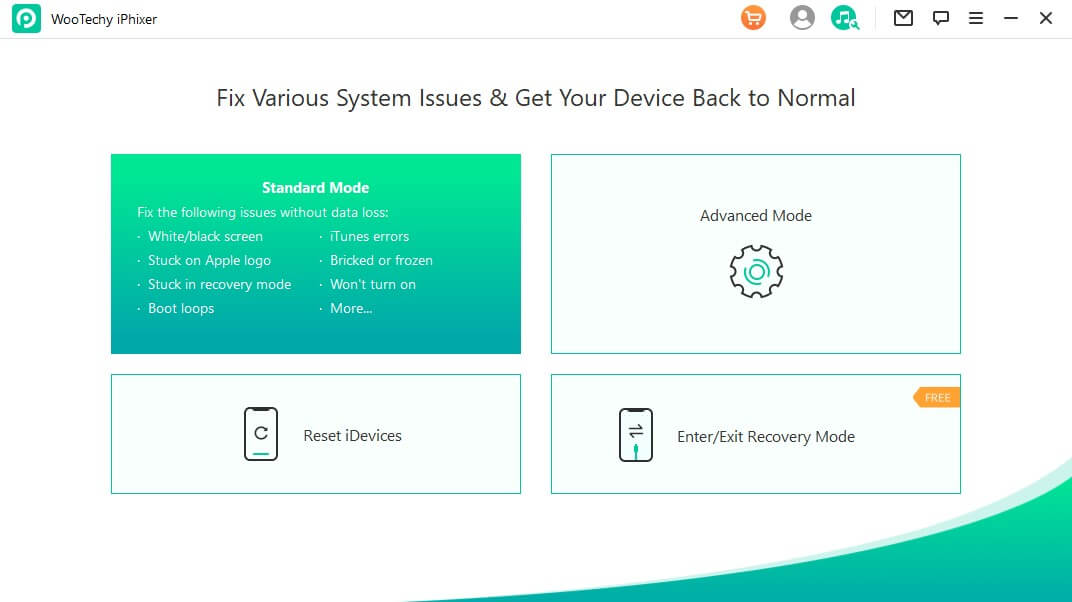 Connect your iPhone and put it into recovery/DFU mode.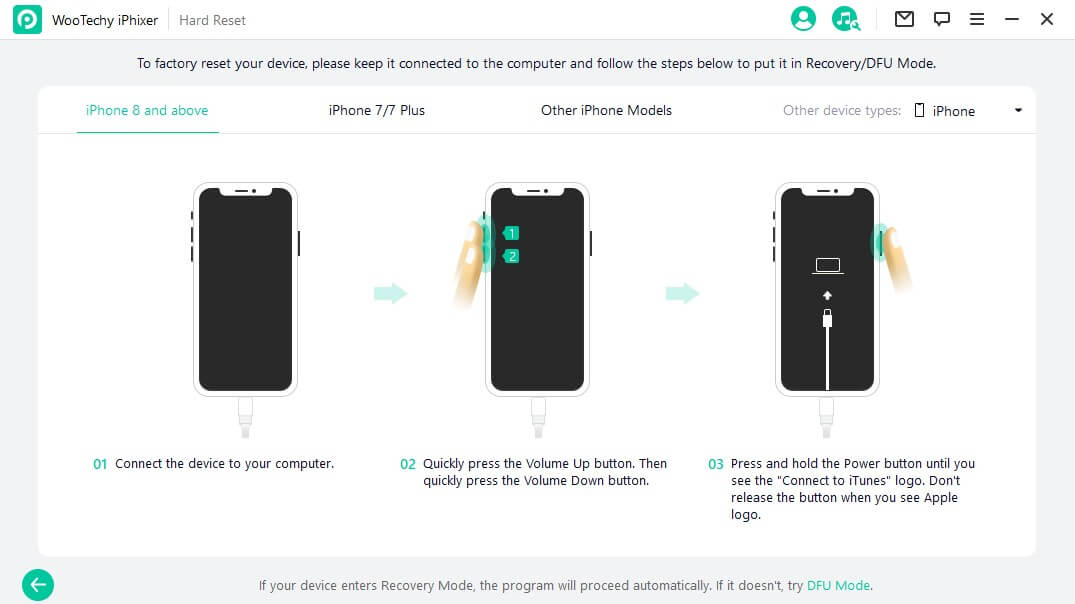 Select to download a new firmware.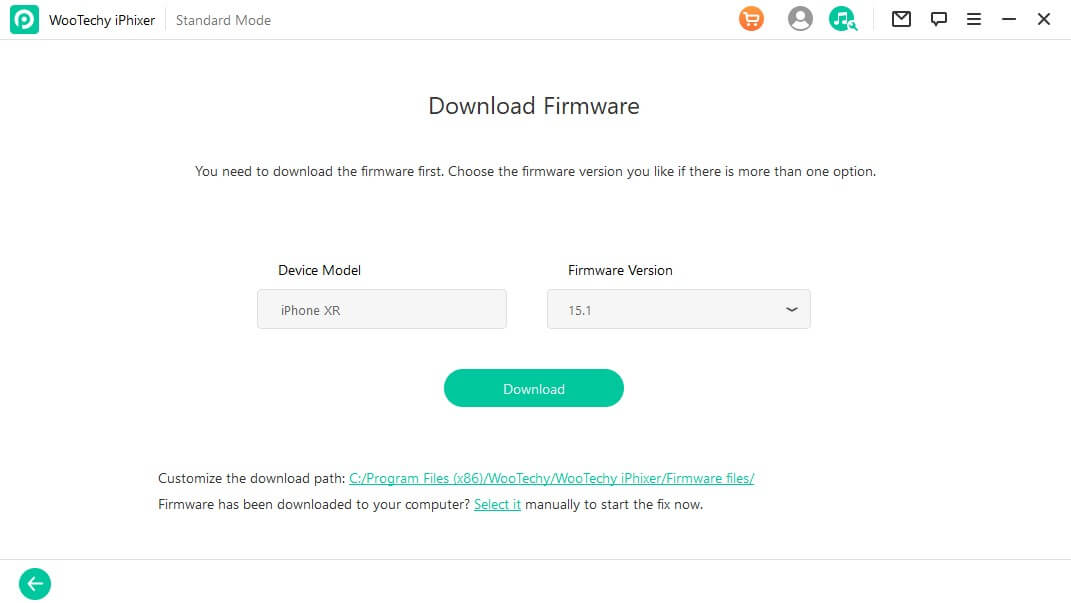 Repair and restore the operating system of your iPhone.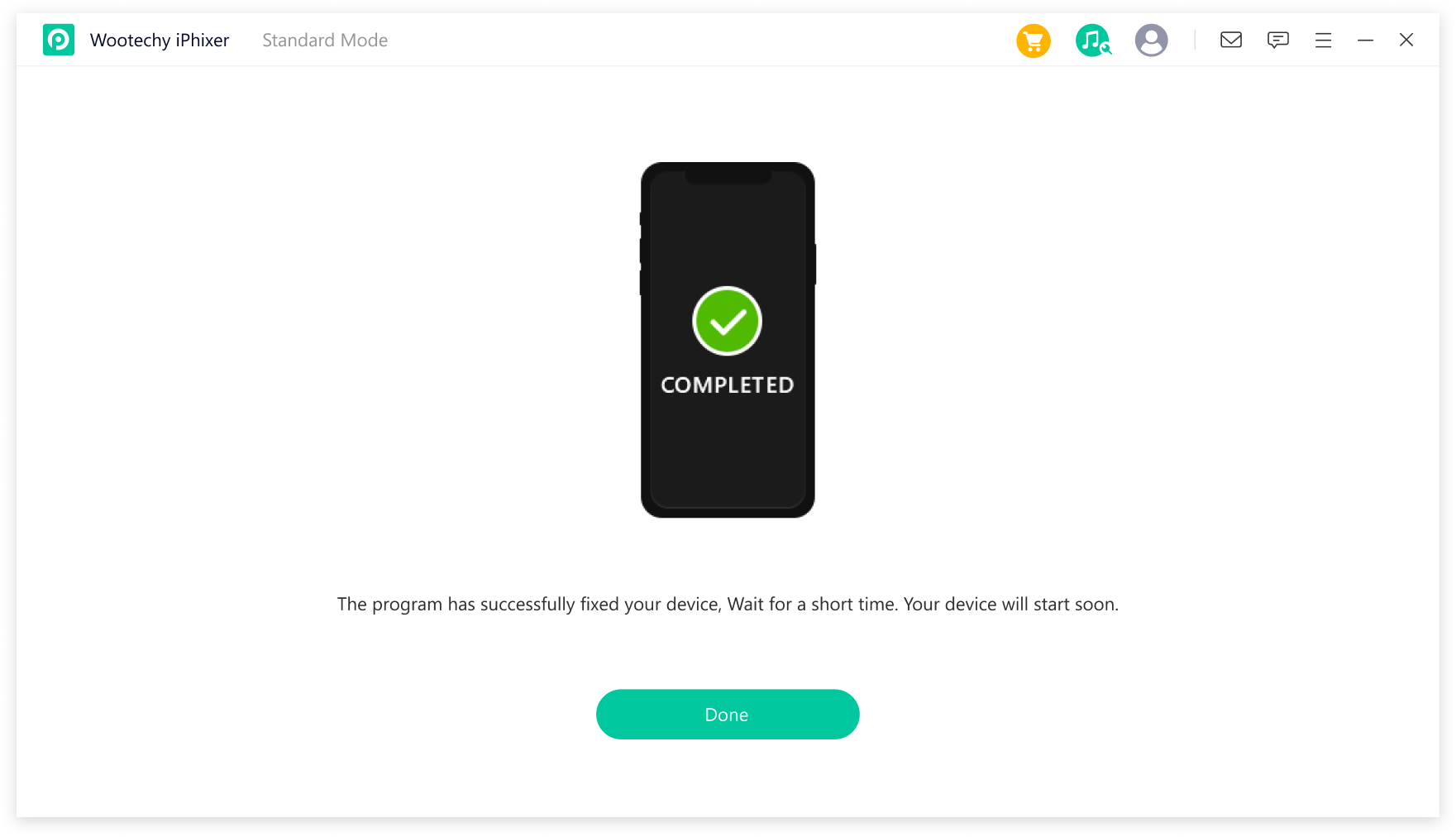 Pros of iPhixer
Fix all iPhone could not be restored issues such as the firmware is not compatible or corrupt, and device not found.

Compatible with all iPhones and all iOS firmwares including the latest iOS 16.

You are essentially free from the risk of damaging your device's system.

Compared with iTunes, it restores your iPhone firmware without data loss and without causing other unknown iTunes errors.

Plus, you will save a lot of money compared to other methods of fixing your iPhone professionally.
3

Update or Reinstall iTunes and Restore iPhone Again

If you cannot update/restore your iPhone because the firmware is corrupt or not compatible, then try to update or reinstall iTunes and restore your device. This will solve any minor software glitches you are experiencing and put you back on track.

First, make sure that you installed iTunes on your computer. You can download iTunes from the Microsoft store or get the latest version from Apple's website. If you had already downloaded iTunes from the Microsoft store, you probably won't need to update it. Because it would have gone through and auto-update if a new version had been available.

In case you got your iTunes from Apple's store then, you can update it in three very simple steps:

Open iTunes. Choose Help from the top menu bar of the iTunes window.

From there select Check for Updates and follow the prompts that appear on the screen.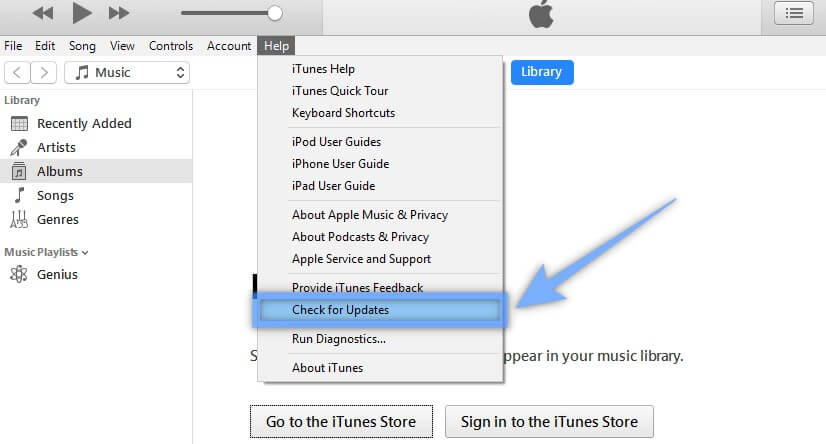 You might also try reinstalling iTunes on your computer. For that, you have to uninstall the existing software first.
Go to the Start-up Menu. Select Control Panel in the right column.
Find Programs and then Uninstall a Program underneath it.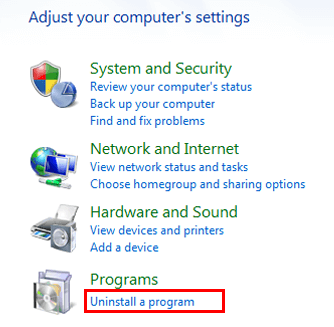 From there select the iTunes files and right-click on them to uninstall them. You have to uninstall all the relevant files. Such as iTunes, software update files, 32 and 64-bit application support files.
Go to My Computer and select the local disk (C:) to check for any remaining folders.
Restart your computer.
To complete your re-installation of iTunes you have to install iTunes again after completely uninstalling it from your computer. Let's see how you can do it.
Download the iTunes installer from the Apple Store.
Save the installer at a location of your choice on your hard drive.
Run the installer on your system. This will open a dialogue box on the screen.
Click Next and eventually you will reach the Terms and Agreement option. Agree to these terms and select Next again.
You will then have to go through a series of installation and setup options. You will determine language, folder location, and default player options during these steps.
Eventually, you will come to Finish Installing. Select this to complete the process.
Restart your computer.
After that, you can solve your firmware corruption error by restoring your iPhone from iTunes again.
4

Download IPSW and Update iPhone with iTunes/Finder Again

If you still get the "iphone could not be restored because the firmware file was corrupt" error after updating and restoring your iPhone, then you might have to get the new firmware. You can download the files from IPSW and then manually install them on your iPhone.

Download the suitable firmware files for your iPhone form IPSW.

Setup connection between your phone and PC.

Open iTunes/Finder on your PC.

You will get a prompt on your iPhone screen. Tap on Trust.

Press and hold the Shift key (Windows) or Option key (MAC) when iTunes detects your phone.

Select Check for Update from your PC screen.

Find the folder for the downloaded IPSW firmware files and select them.

Click the Update button and the process will continue and finish itself. You will see a message on the iTunes dashboard that confirms your "Success" and your iPhone will restart.
5

Restore iPhone in DFU Mode

Restoring your iPhone in the Device Firmware Update mode is the most intense type of restoration. And you can try it when all the major update/restore/restart tricks fail to solve the corrupted firmware file error.

iPhone 7 And Below

Set up a connection between your iPhone and PC. Open iTunes.

Press and hold the Sleep button and Home button together if your iPhone is 6s or below. If you have an iPhone 7, hold the Volume Down button along with the Sleep button. Keep holding for eight seconds. Then just hold the Sleep button for another 5 seconds. The screen of your mobile device will be completely black if you have entered the DFU Mode.

Now restore your iPhone using iTunes by clicking the OK option from the message shown on the screen. Finally click Restore iPhone.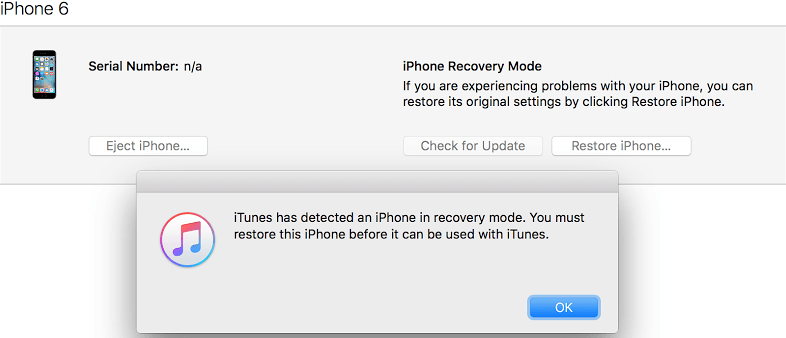 iPhone 8 and Above
There is a slight difference in these models. After setting up a connection and opening iTunes follow these steps:
Quickly press then release the Volume Up button and do the same with the Volume Down button.
Press and hold on to the Side button (Sleep button) until the screen darkens.
Keep holding the Side Button. At the same time, press and hold the Volume Down button. Hold the two buttons together for five seconds.
When five seconds is over, take your finger off the Side button. But don't release the Volume Down button yet. Release the Volume Down Button after another 5 seconds.
If the screen still goes black, your iPhone is now in DFU mode. Follow the previously mentioned steps to restore your device using iTunes.
Conclusion
The firmware file corrupt or not compatible error can be very annoying. And it will further frustrate you when the different tips you find on the internet don't come to your aid in solving the issue. This is why it is best to use a professional fixer like WooTechy iPhixer. Best of luck to you all.