Apple Community
"Hi, when I plug my iPhone in the wall charger the apple sign appears for a few seconds then goes off and keeps flashing Apple logo. Can anyone help me with this ? Please."
This user uploaded his question under the title iPhone blinking Apple logo. Many users purchase Apple products because of their ease of use, high-tech security, and less to no proximity for developing an issue.
Though Apple gadgets like Mac, iPad, iPhone rarely develop problems, some users still have complained about them. One of these complaints is that iPhone keeps flashing Apple logo. This glitch usually occurs after booting your device. First, it will take a long time to appear, then iPhone keeps flashing Apple logo.
Some users have mentioned restoring the phone to its normal functions through natural means. They claimed to have given it a good shake or a slap, but they may cause further physical damages to your iPhone. To avoid such damages, this article will show you 5 solutions to fix the iPhone flashing Apple logo.
Part 1. Why Is the Apple Logo Flashing?
This errro may frastrust you so much, especially it occurs when you are checking something important imformation with your iPhone device. But before you get the solution to fix Apple logo flashing, you need to understand which reason causes the issue on your iPhone.
Below is the 5 possible reasons causing Apple logo flashing:
1. Restoration Stucks via iTunes
Sometimes, restoring your iPhone data with iTunes can cause your Apple logo flashing, since iTunes can not promise a great restoration process without any limitation.
Therefore, if your need to make a restoration on your iPhone, you are recommended to use more professional third-party tool -WooTechy iPhixer to restore your iPhone without any data loss.
2. Update Errors
As we all know, iOS 16 has been released, suppose most of users would like to update your iPhone devices to the latest iOS version.
However, if you made mistakes during the iOS 16 update process, it could affect your iPhone flashing Apple logo.
3. Hardware Water Damage or Broken Screen
If your iPhone device gets water damage or broken on sudden, it may also cause your iPhone flashing Apple logo, and even turn to be a black screen.
4. Jailbreak Your iPhone
It's common some errors on iPhone appears when you jailbreak your device. Even though jailbreak can bring big benefits to us, it can also cause some issues like iPhone keeps flashing Apple logo.
5. Hardware or External Device Malfunction
The last possible reason may be there is malfunction on your hardware or external device, which often occurs after your device has been used for a certain time.
Part 2. What Do I Do When My iPhone Is Flashing the Apple Logo?
1

Charge Your iPhone

Sometimes your iPhone keeps flashing Apple logo and then turning off is due to the lack of battery. Thus, the iPhone doesn't have enough power to boot up.

So, just charge your iPhone for a while and then turn it on. If you have charged your iPhone for a long time but the Apple logo flshing issue still exists, then proceed to the following methods.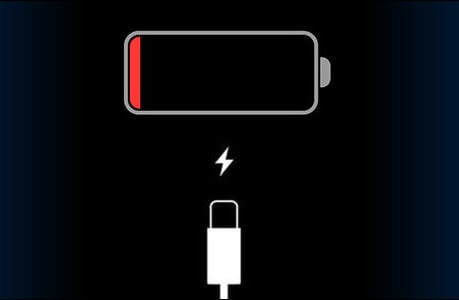 2

Force Restart iPhone

The default prescription by Apple for situations when the iPhone is not responding, such as the case of the iPhone flashing Apple logo, is to force restart the iPhone. The force restart process depends on your iPhone models.

For second-generation iPhones and models after them (iPhone 8/SE, X, XS, XR, 11, 12, or 13)
Press the Volume Up button and release it quickly.

Press the Volume Down button and release it quickly.

Hold down the Side button until it shows the Apple logo.

Now, remove your finger from the button.
For iPhone 7 that keeps flashing Apple logo
Press the Volume Down and Side buttons simultaneously.

Keep holding them down until it shows the Apple logo.

Then, remove your fingers from the buttons.
For first-generation iPhones (iPhone 6s or SE)
Press the Side/Top and the Home buttons simultaneously.

Keep holding them down until it shows the Apple logo.

Then, remove your fingers from the buttons.
Then you can check if the iPhone blinking Apple logo error has been removed.
3

Restore iPhone with iTunes/Finder

In case you find your iPhone blinking Apple logo, you can try restoring it to factory settings. This action will erase all settings and data from your iPhone. The step will also install the latest version of iOS for your iPhone. To use iTunes/Finder for this process, ensure that its version on your computer is updated to the newest one.

Step 1: On your computer, open the iTunes/Finder app. Connect your iPhone that blinking Apple logo to the computer.

Step 2: Follow the on-screen instructions to ascertain that you Trust This Computer. (You might also need to enter your passcode.)

Step 3: Select your iPhone from the list of devices that the app will display. Click on Restore iPhone. Click on the Restore button again to confirm the process. Your iPhone will be restored to factory setting and then restarted.

If your device can't be recognized due to the problem of iPhone flashing Apple logo on and off, repeat the above steps of force restarting iPhone to put it into recovery Mode.
Remember to keep holding the buttons in the final step until the recovery mode screen appears. Then click the Restore button on the message shown on iTunes screen.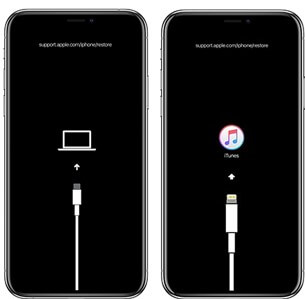 4

Fix iPhone Flashing Apple Logo Without Data Loss

If the above solutions do not work and you don't want to fix iPhone blinking or flashing Apple logo with data loss risk, then trying out a professional and official iPhone fixing application is not out of place. The professional iPhone repair software that you can use is WooTechy iPhixer.

iPhixer is advantageous because one of the features of is that it can solve any iPhone/iPad/iPod issues. Above all, your iPhone will not suffer any data loss during repair. You can have your phone fixed in the comfort of your home without the aid of an expert.

WooTechy iPhixer -- The Best iPhone Fixer Tool to Remove iPhone Flashing Apple Logo Error
Fix all iPhone issues like iPhone stuck on Apple logo, iPhone flashing Apple logo, iPhone Power button not working and more without data loss.

Support all iPhone models, including the latest iPhone 14 with iOS 16 supported.

Better than other methods like using iTunes, iPhixer can repair the iPhone issue and bring it back to normal in several clicks with the highest success rate while not causing any errors.

Receive great support from worldwide users because of its proven usefulness and 100% security, which will not invade your data privacy.

Enter/exit recovery mode for 100% free with one click and able to reset your device with different modes.
Simple Steps to Fix iPhone Flashing Apple Logo Error:
Step 1: Download and install WooTechy iPhixer on your PC. Open the application after installation, then pick the Standard Mode because it helps secure your data from loss.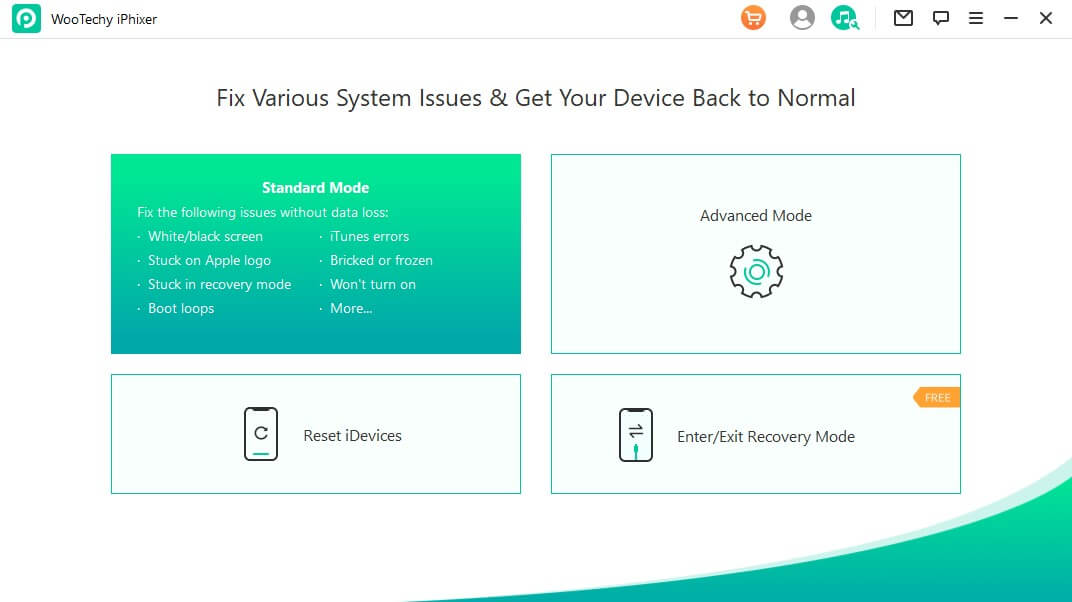 Step 2: Connect your phone to your computer, then follow the on-screen directives to put your iPhone into recovery/DFU mode.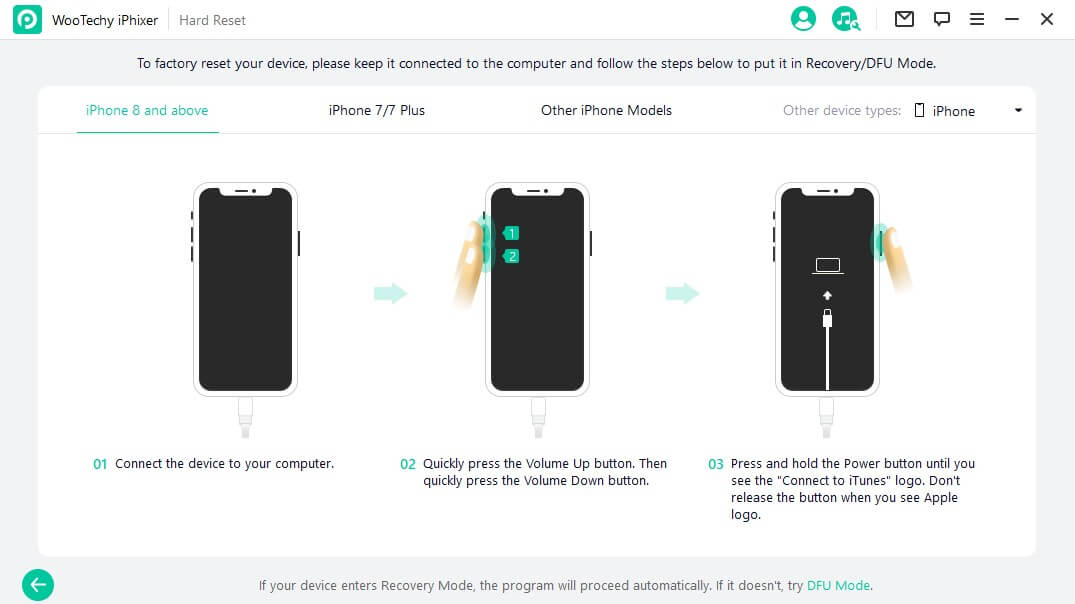 Step 3: After that, the program will download the firmware that will fix your iPhone after you click the Download button.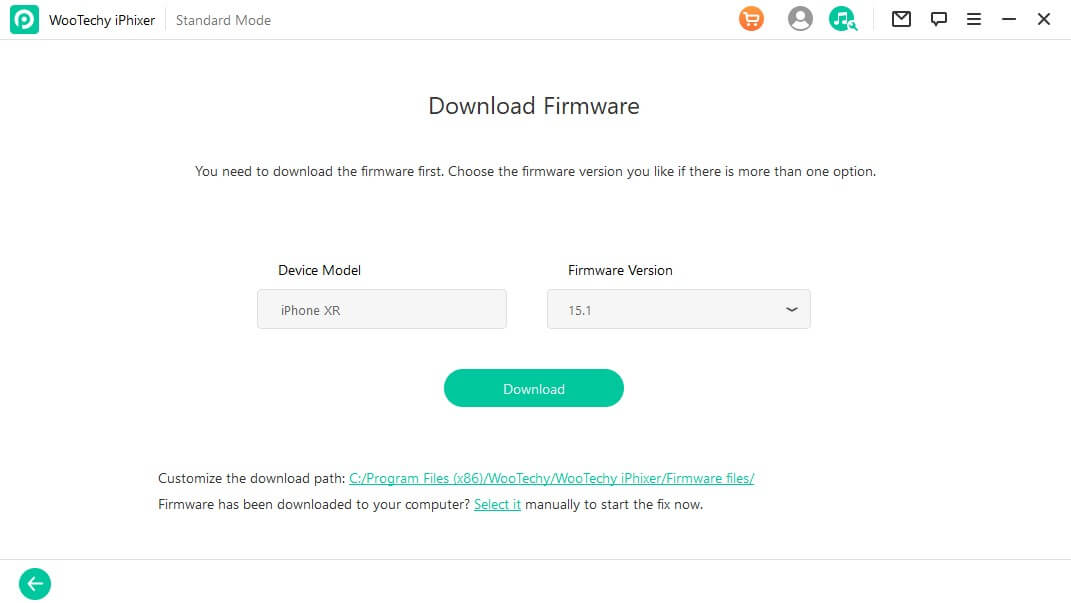 Step 4: Select the Start button, and your iPhone will begin to be repaired. After that, your device will reboot without no iPhone Apple logo flashing issue.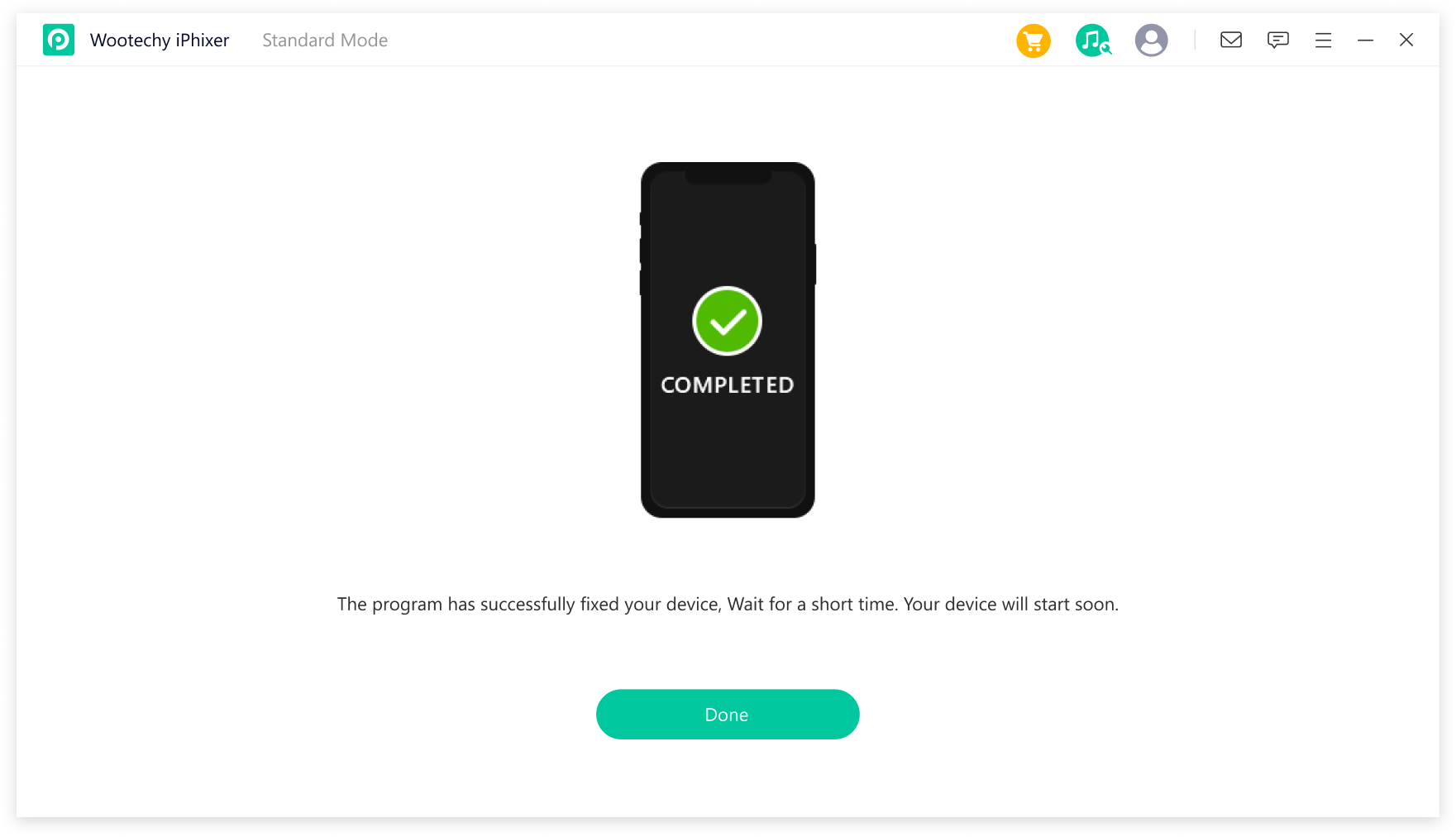 Video Guide to Fix iPhone Flashing Apple Logo with WooTechy iPhixer (iOS 16 Supported):
That's WooTechy iPhixer, sounds great, right? It is proven to be the most efficient iPhone repair tool with an inscreasing popularity among the users globally. Just try using this tool to fix your iPhone blinking Apple logo, which must be a 100% success rate.
5
Check iPhone Hardware
iPhone blinking Apple logo may be caused by your iPhone hardware. One of the first checks is to try charging your iPhone with another charger or cable. Also, you can try charging your iPhone with a computer instead of connecting it to the wall charger.
Now, you should check for liquid or other physical damages to the hardware. It is not unlikely that a wrongful exposure to liquid or other physical damage a long time ago is causing the predicament of the iPhone flashing Apple logo.
Conclusion
iPhone flashing Apple logo can be a frustrating experience, especially if there is an urgent use for your iPhone. You do not have to worry; it is fixable! If your iPhone 6/7/X/11/12/13, even the newly model -- iPhone 14, is blinking Apple logo, this article shows what to do.
We also highly recommend our official application, WooTechy iPhixer, to repair this iPhone and iOS issue with 100% success rate while not causing you any data loss.