Has this ever happened to you? You bought that latest iPhone series and were super excited and hoping that the phone will perform well for as long as it can, so it will be worth your well-spent money. But then, a few months later you discovered the iPhone screen is flickering or glitching like crazy or sometimes the screen is shaking or unresponsive.
You would feel so frustrated at the thought of buying a new iPhone again, but don't worry, what you experience is quite a common problem among iPhone users. This guide will show you how to fix the iPhone screen flickering issue with ease and without costing you any dime.
Symptoms of iPhone Screen Flickering/Glitching
Before we start, let's take a quick look at the symptoms of the iPhone screen flickering or glitching issue.
Distorted or overlapping/stretched image on the screen.

The image looks normal for a few seconds but then starts to distort again.

An area on the display shows up grey, white, black or some other solid colour like blue when you try to touch it.

Randomly shift the screen to different parts of the iPhone. The screen moves around as if something is under your finger when you try to swipe down or up on the display.

Touch ID and/or home button not working properly or unresponsive.
So now you know what the symptoms are, let's discuss what causes your iPhone screen to flicker and be unresponsive.
Why Is My iPhone Screen Flickering or Glitching?
Several reasons can cause your iPhone screen flickering or glitching:
The iPhone is getting heated up and when it gets too hot, the iPhone screen stops responding to your touch. If you've noticed that your phone has been getting warmer than normal, it's time to check if there are any app(s) or software running in the background that might be causing system conflicts which in turn generate the heat.

If your iPhone is having memory issues, for example, it has insufficient storage or is running low on RAM, your phone may have difficulties in terms of performance. iPhone screen flickering on and off, unresponsive displays, sluggish performance are just a few examples of problems of your iPhone that could be caused by insufficient RAM and storage.

The iPhone screen flickering issue is caused by corrupted software with your phone. The iPhone has an operating system (OS) installed on it which is responsible for the phone's smooth performance. If this software gets tampered with, like when you download a bunch of crap-ware rather than useful apps, or when you jailbreak your iPhone and install a lot of third-party software that doesn't go well with the phone's OS, then it can cause some issues, one of which is the flickering screen issue.

A recent iOS upgrade might have damaged or corrupted some of the screen files and in turn, caused the iPhone screen flickering or glitching issue.

The phone needs a factory reset because some strange behaviours are going on in the background and a reset will allow the iPhone to return to its normal state.
These are just some of the common causes of iPhone screen flickering. Now let's fix this glitch!
What to Do to Fix iPhone Screen Flickering/Glitching Issue?
Now that we've understood what causes an iPhone screen flickering or glitching issue, let's move on to how to fix it. This section will provide solutions (in order of how effective they are), that will surely help you resolve this issue.
1

Preparation Before Fixing iPhone Screen Flickering

Before fixing your iPhone screen flickering issue, please make sure that you are doing the following steps first:
Make sure you've backed up everything you deem valuable on iTunes, iCloud or Google before starting the process of fixing iPhone screen flickering or unresponsive.

Turn off "Find My iPhone" in "Settings" under the "iCloud" section or sign out of iCloud completely. If you've set up Find My iPhone on your phone, it can cause some difficult issues when trying to reset your iPhone back to factory state.

Also, turn off "Touch ID/Passcode" in "Settings" under the "Touch ID/Passcode" section. It's important to turn off the touch ID/passcode so that you will be able to access your phone when it is in Recovery Mode after a reset is completed.

Prepare a PC or Mac with iTunes installed on it and connect your iPhone with a USB cable, then open up iTunes on your computer.

And finally, reboot your iPhone.
2

6 Fixes for iPhone Screen Flickering or Glitching Issue
Solution 1: Adjust Some Settings on Your iPhone
Well, the first step you want to do is adjust some settings on your iPhone. To fix this annoying problem with your phone, try adjusting the followings:
1. Turn auto-brightness off. Check out if "Auto-Brightness" is turned off in "Settings" under "Display Accommodations". If it's turned on, then turn it off by tapping on the toggle and then exit Settings. Disabling this feature will help maintain accurate screen brightness levels and reduce the occurrence of screen flickering/glitching scenarios.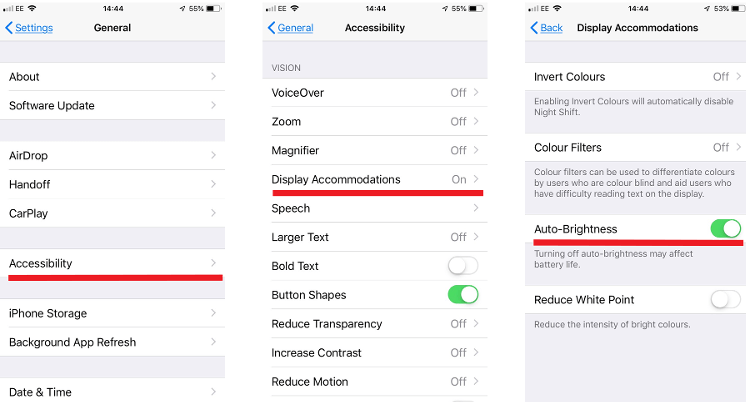 2. Check memory status. Go to "Settings", tap "General" and then go to "iPhone Storage" where you can see how much memory space there is left on your phone. If your phone is out of storage, it might result in some buggy issues or force quits apps so try to upgrade the memory by deleting some unnecessary files if possible.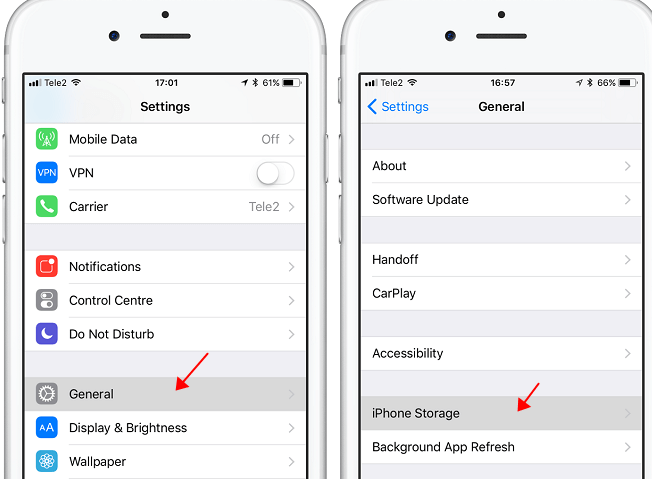 3. Turn Reduce Transparency on. If you're using an iPhone model that runs iOS 10 or below, then go to "Settings" > "General" and turn on "Reduce Transparency" under "Accessibility". It will help reduce your phone's transparency effects and it also helps with the touch recognition of your device which can be a reason for screen flickering/glitching issues.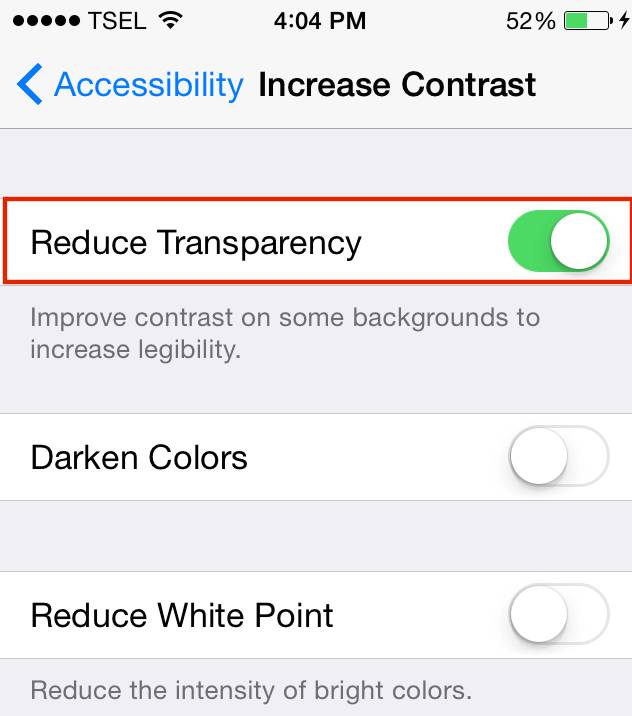 Solution 2: Force Quit a Particular App
If your iPhone screen flickers when opening a particular app, try to force quit the app first by double-clicking on the "Home" button or swiping up from the home screen of iPhone. This will bring up all your background apps, where you'll be able to see which specific app may be causing this issue. Then, just swipe that particular app up and off the screen to quit it. It's a quick way of force quitting apps that tend to cause iPhone screen flickering issues.
Solution 3: Hard Reboot iPhone
When your iPhone screen gets shaking when holding it, you can hard reboot your iPhone. There are multiple ways to do that, depending on the model you are using.
If your device is the iPhone 8 or a later version, you have to press and release the Volume Up button. Then press and release the Volume Down button. Finally, press and hold the Power button until the Apple logo is visible.
If your device is the iPhone 7/7 Plus, press down and hold the Volume Down and Power buttons until the Apple logo is shown.
If you have an iPhone 6s or earlier version, press and hold down the Power button with the Home button simultaneously until the Apple logo appears.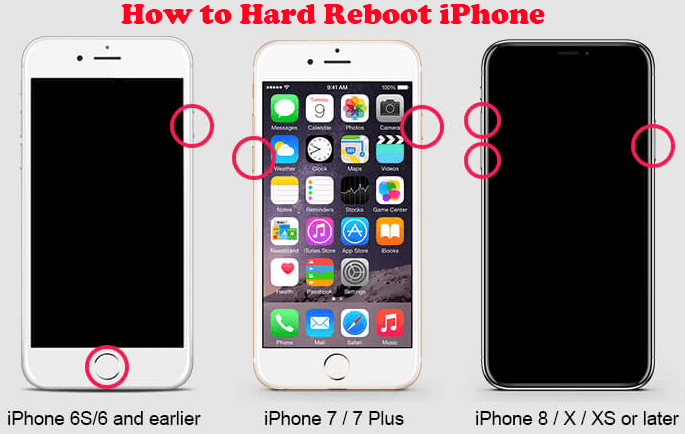 Solution 4: Fix iPhone Screen Flickering with WooTechy iPhixer
If you don't want to risk any data loss while fixing your iPhone screen flickering or glitching issue with the fastest speed and the highest success rate, you'll want to utilize third-party tools like WooTechy iPhixer. This program will restore your iPhone's firmware (iOS 15 included) to a functional condition without hassles.
Key Features of iPhixer:
Fix all iPhone screen issues such as iPhone screen flickering, black screen, grey screen, etc. without any data loss.

Support all models of iPhone and iOS versions like iPhone 13 and iOS 15.

The best alternative to iTunes to restore your iPhone back to normal without any other errors.

It has super user-friendly interface and easy-to-operate steps.
Here are steps on how to fix iPhone screen flickering using Wootechy iPhixer:
Step 1: Get iPhixer on your computer and launch it. Choose the "Standard Mode" on the main interface.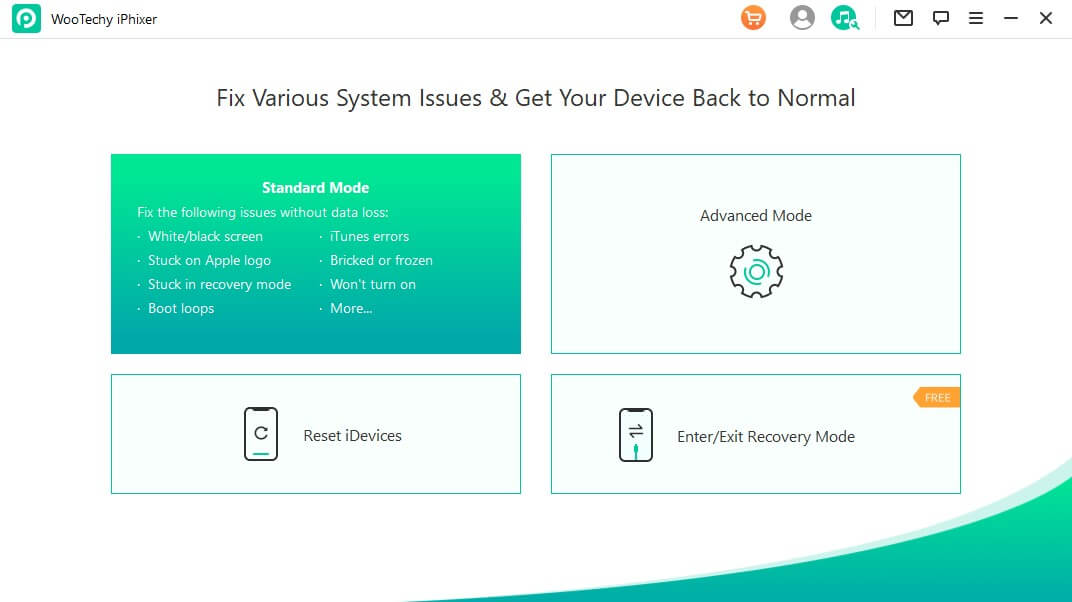 Step 2: Connect your iPhone to the computer via USB cable and tap on the "Next" button. If your iPhone isn't being detected, follow the on-screen instructions to put it into Recovery mode or DFU mode.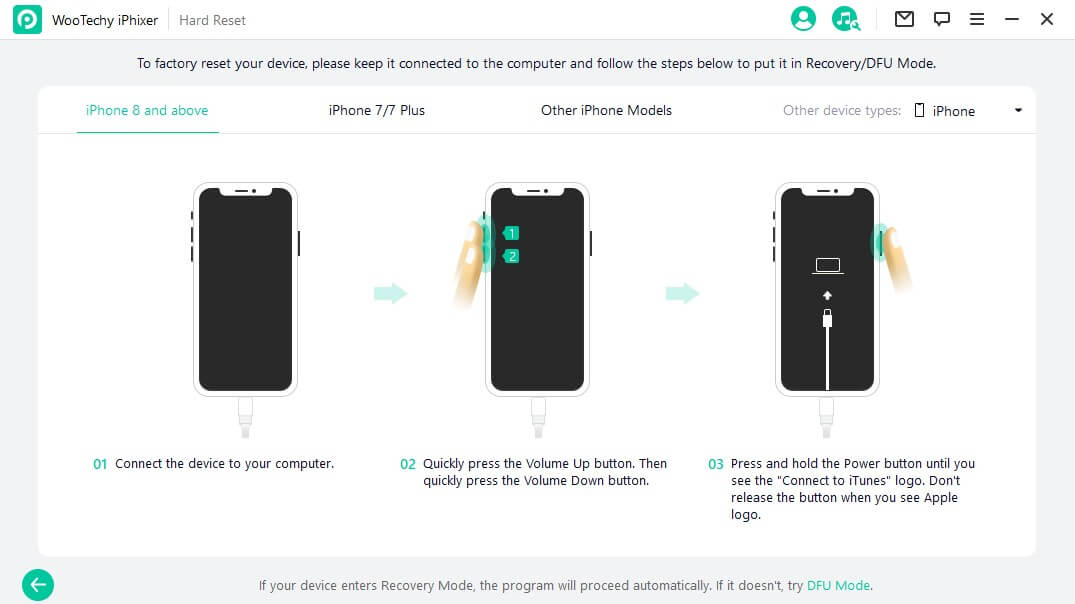 Step 3: Click the "Download" button to get the firmware the software provides.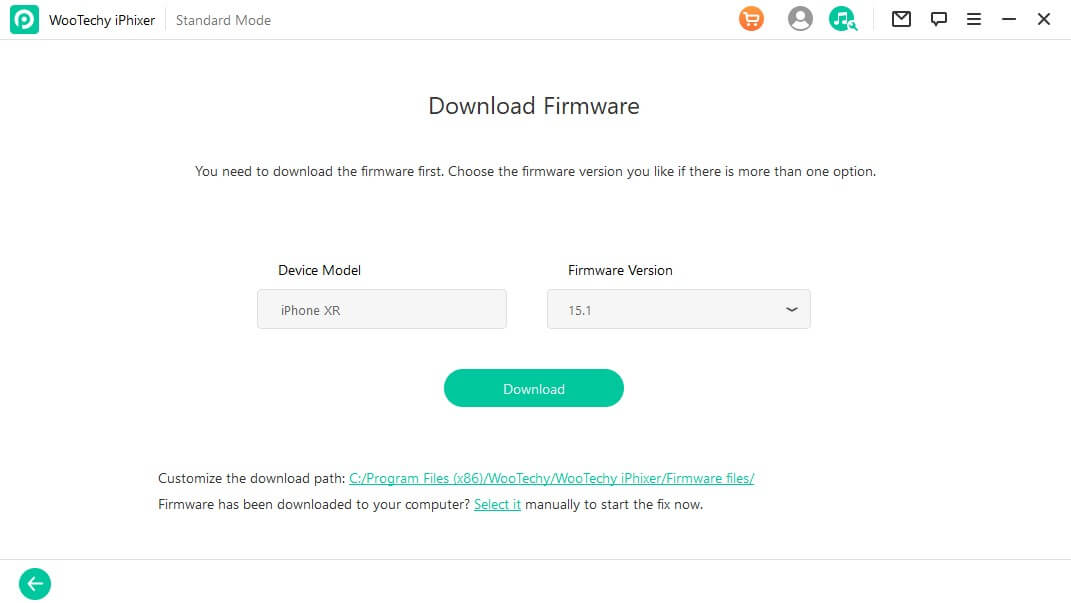 Step 4: Click the "Start" button. iPhixer will start fixing your iPhone screen flickering issue during the update. Do not unplug your iPhone or use it when this process is happening, as it could damage your iPhone. When you're finished, your iPhone will restart automatically.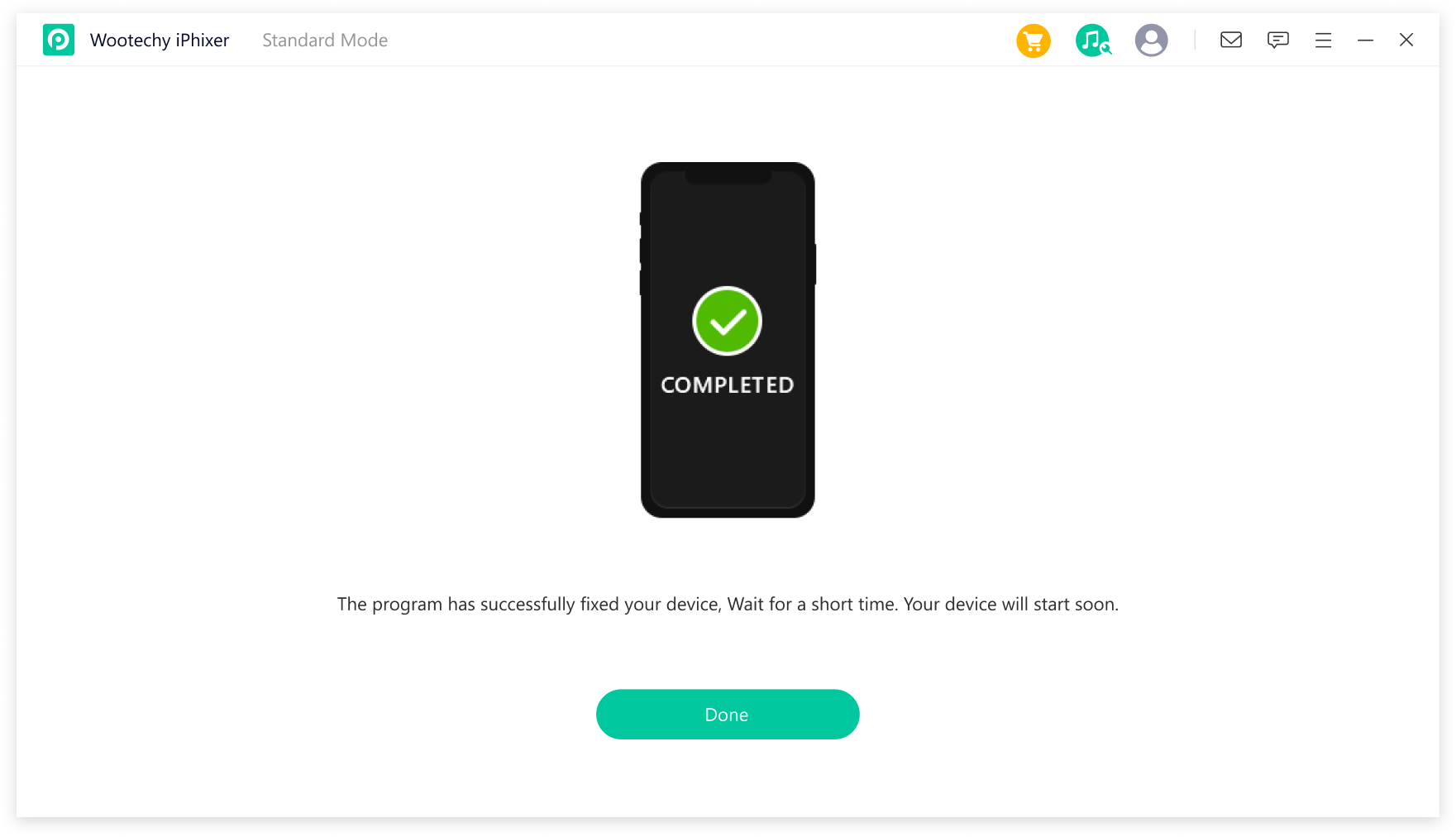 Solution 5: Put iPhone with Screen flickering into DFU Mode
If none of the above methods is working, you'll have to DFU restore your iPhone. DFU or Device Firmware Update restore is a complex process that helps to alter your device's operating system. If you don't know how to DFU restore your iPhone, these steps below will help you do just that. There are various ways to do this depending on your type of device:
For iPhone with Face ID feature: Connect your device to your computer with the iTunes or Finder opened. Then, press and release the Volume Up and Down buttons respectively. Then hold the Power button until the screen turns black. As soon as the screen becomes black, press the Volume Down button and the Power button. Hold both buttons for 5 seconds. After that, release the Power button yet keep holding the Volume Down button. After five seconds, you can release the volume button. If the screen is lit but blank, that means your iPhone has entered DFU mode.
For iPhone 7/7 Plus: Connect it to your computer with the iTunes or Finder opened. Then, press and hold the Side button and the Volume Down button of your iPhone for 8-10 seconds. Then, release the Side button but keep holding the Volume Down button for 5 seconds.
For iPhone 6s and lower models: Connect it to your computer with the iTunes or Finder opened. Then, press and hold the Side button and the Home button of your iPhone for 8-10 seconds. After that, you can release the Side button but continue holding the Home button for 5 seconds.
Then, a message will show up on the iTunes screen. Click OK and Restore iPhone options to fix the iPhone screen flickering issue.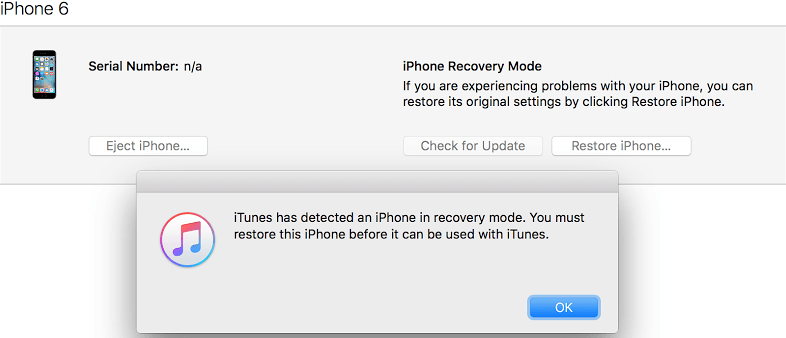 Solution 6: Use Apple Multi-Touch Repair Program
Some iPhone 6 Plus devices may occasionally experience touch issues due to a component that might fail on the device. This issue only affects some iPhone 6 Plus devices manufactured between September and October 2015. If you've experienced touch issues on your iPhone 6 Plus while your device is in warranty, contact Apple Support. They'll repair eligible devices.
Conclusion
As iPhone screen flickering or glitching is a common issue that can happen to any iPhone device, it's crucial to learn how to fix the touch screen. The methods above, the use of WooTechy iPhixer iOS repair software in particular, are all proven effective in resolving this problem on iOS devices. You should be able to achieve fast and easy fixes for your iPhone screen flickering, no matter what model you have. If you still need help, don't hesitate to contact our support centre.