Apple's iPads are one of the smartest pieces of gadget in the world. One of the most intriguing features that the iPad offers is multitasking easily. Using the Slide Over or Split View function, you can access multiple apps simultaneously. iPads are perfect examples of the generic understanding of having a "mobile-desktop."
iPads have another popular feature: The trackpad that works like that of a desktop. But all the main and esthetic features of the iPad can be less enjoyable and become frustrating if the screen flickers. iPad screen flickering would not be an issue to expect from such a smart gadget, but it happens often.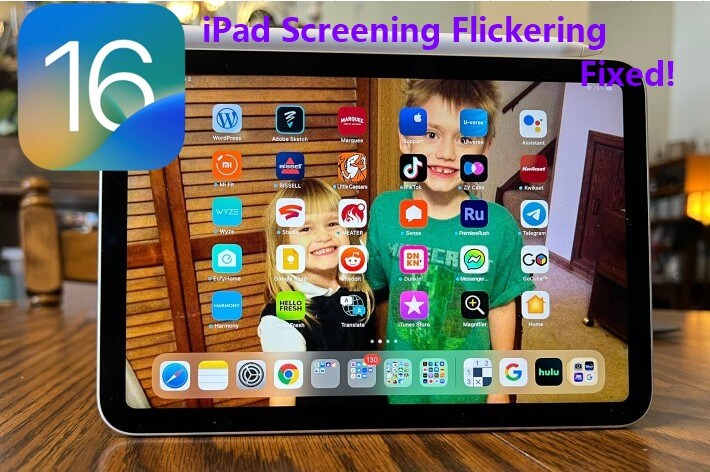 That is why some of the causes and solutions on iPad screen glitching are discussed in this article. After reading this article, you don't need to worry about your iPad screen flickering anymore.
Part 1. Why Is My Screen Flickering on My iPad?
iPad screen flickering can be caused by damage to the display hardware or settings. It could also be because of the iPad's incompatibility with an app. If your iPad has some software glitches, these glitches could lead to your iPad screen flickering occuer.
Another category of iPad screen flickering can be traced to some performance issues. If your iPad is low on RAM storage space or its memory is insufficient, such performance issues can lead to iPad screen flickering.
All these causes can be initiated if you drop your iPad on a hard surface. And for software issues, exposing your iPad to malicious third-party apps and other intermediate bugs can affect the software, causing iPad screen flickering.
Part 2. How Do I Stop My Screen Flickering on iPad?
Based on the causes identified above, this section of the article addresses the solutions for you to employ if your iPad screen isflickering.
1

Force Quit Apps

This tip addresses the iPad screen flickering condition caused by the incompatibility of an app. You will notice this issue because your iPad screen keeps flashing when you open the app(s).

For iPads with Home button

Press the Home button to start up the app switcher.

Then swipe away the particular application from the app switcher to force quit the application.

For iPads with no Home button

Slide your finger up from the bottom of your screen to open the app switcher.

Then swipe away the particular application from the app switcher to force quit the application.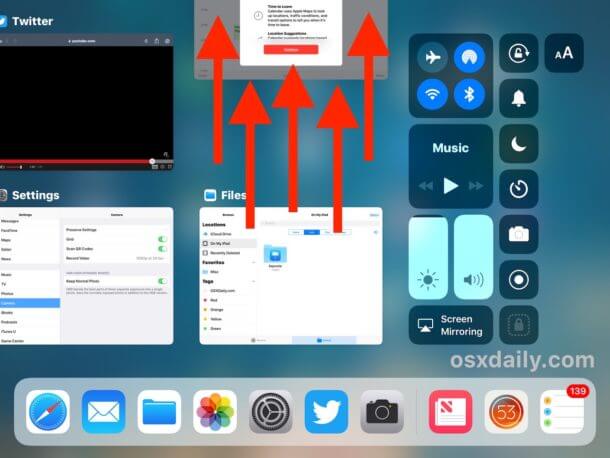 Once you have forced the app(s) to quit, you can relaunch it. But if the iPad flickering screen persists when you relaunch it, you can proceed to uninstall the application and install it later.
2

Force Restart iPad

Most smart devices respond positively to restarting. Restarting is a good way to refresh the device and clear its RAM storage. It forces every app, including those working in the background to stop working. That is why force restarting iPad will resolve minor software glitches causing iPad screen flickering problem.

For iPad with Home button

Put two fingers to press and hold the Home button together with Top button until the Apple logo appears, releasing both buttons.

For iPads with no Home button

Press and quickly release the Volume Up button.

Repeat the same prompt for the Volume Down button.

Press and hold the Top button until the Apple logo is presented, releasing the buttons.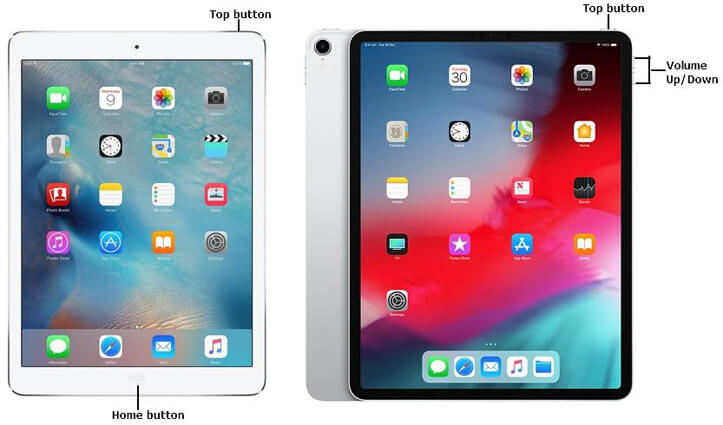 3

Turn the iPad Over and Press Its Back

As I mentioned in the cause of iPad screen flickering, some hardware components may be out of place. This tip will help you to correct loose hardware.

Start by removing any hard cases on the screen of your iPad. Switch off your iPad.

Place a soft thick cloth over a hard surface wide enough to accommodate your iPad.

Place the screen of your iPad on the soft thick cloth. Hold down your iPad with the tips of the fingers of one hand.

Use the other hand to knock on the back of your iPad numerous times across the surface. Continue for a while, then put on your iPad.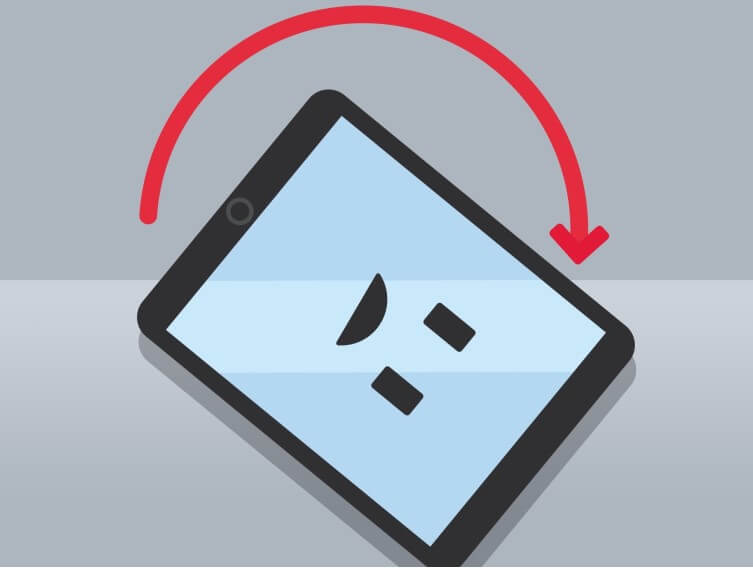 4

Disable Auto-Brightness on iPad

Another cause of iPad flashing screens is that your device settings may be out of place. One of those setting is the auto-brightness setting. The role of the feature is to adjust the brightness of your iPad using the intensity of the surrounding light. But when it is enabled, this feature can lead to your iPad screen glitching.

From your iPad main screen, open the Settings app. Select General among the settings options.

Navigate to the Accessibility option. Access the Display Accommodations on the Accessibility screen.

Toggle the Auto-Brightness option off.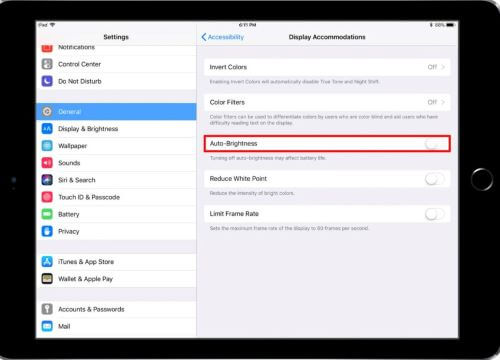 5

Enable Reduce Motion and Transparency

Another setting that may be out of place is the Reduce Motion setting. The feature is primarily for creating stunning imaging effects. But when your iPad screen is flickering, turning on this feature can also be useful.

Launch the Settings app from your iPad main screen.

Open the General settings option. Click on Accessibility.

Open the Increase Contrast option. Toggle the slider in front of Reduce Transparency to turn it on.

Return to the Accessibility settings screen. Toggle the slider in front of Reduce Motion to turn it on.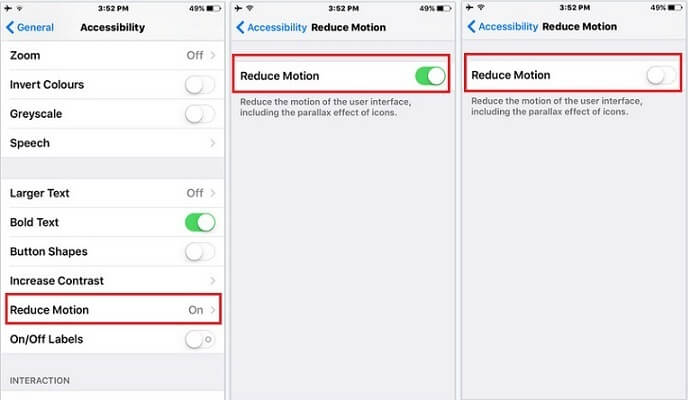 6

Update iPad to iOS 16

iPad update is the intermediate between the refreshment of forcing your iPad to restart and it being restored to factory setting. iPad update deals with software issues causing iPad screen flickering by replacing an old OS with a new one like the iPad OS 16.

Open the Settings app on your iPad. Click on the General option. Head to Software Update and tap on it.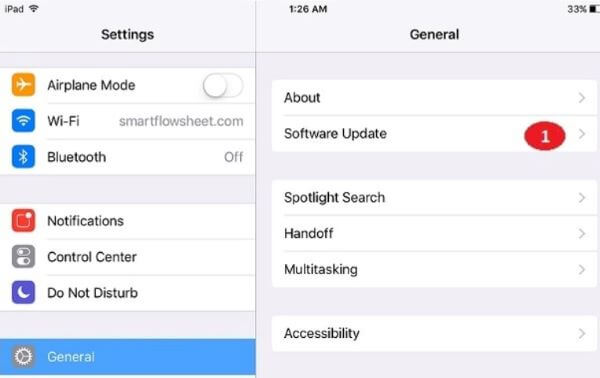 You will see the Download and Install option. Click on it to proceed. Click on Install Now.
You can enable the Automatic Updates option so that your device can update automatically overnight while it is charging.
7

Check iPad Storage

iPad screen flickering may be caused because of storage performance issues. In such cases, you need to optimize your storage.

Launch your device Settings app. Choose the General settings option.

From there you can check your iPad Storage.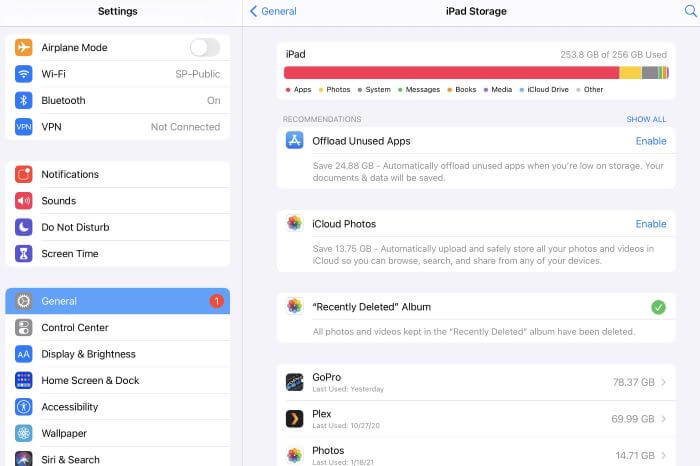 You will see the list of your applications and amount of storage they are consuming. You will also find recommendations on how to optimize your storage.
8

Fix iPad Screen Flickering with 100% Success Rate

If you find it troublesome to try every approach until you fix the iPad screen flickering issue, then you are recommended to directly use the professional iPad repair software, WooTechy iPhixer, to solve it with the 100% success rate.

This tool resolves all software glitches on your iPad without any data loss. As a reliable iOS/iPadOS system recovery tool, it brings your iPad back to normal with the working official system version.
Key Features of WooTechy iPhixer -- Fix iPad Screen Flickering At Once
75.000.000+
Downloads
Fix all issues on iPad including iPad screen flickering/glitching, iPad screen frozen, iPad boot loop, black screen, etc.

Support all iPad models and system versions, the latest ones such as iOS/iPadOS 15.5 and 16 included.

With several clicks, your iPad glitch screen will be resolved immediately with the fastest speed.

Solve all problems including what iTunes can't fix while not causing any errors and data loss.

Aside from fix iPad issues, you can also use this tool to troubleshoot any kind of iPhone isses, like stuck on extracting software, iPhone flashing Apple logo and more.
Open the software on your computer. Connect your iPad to the PC. Select the Standard Mode from the repair modes available on your screen so that there is no data loss.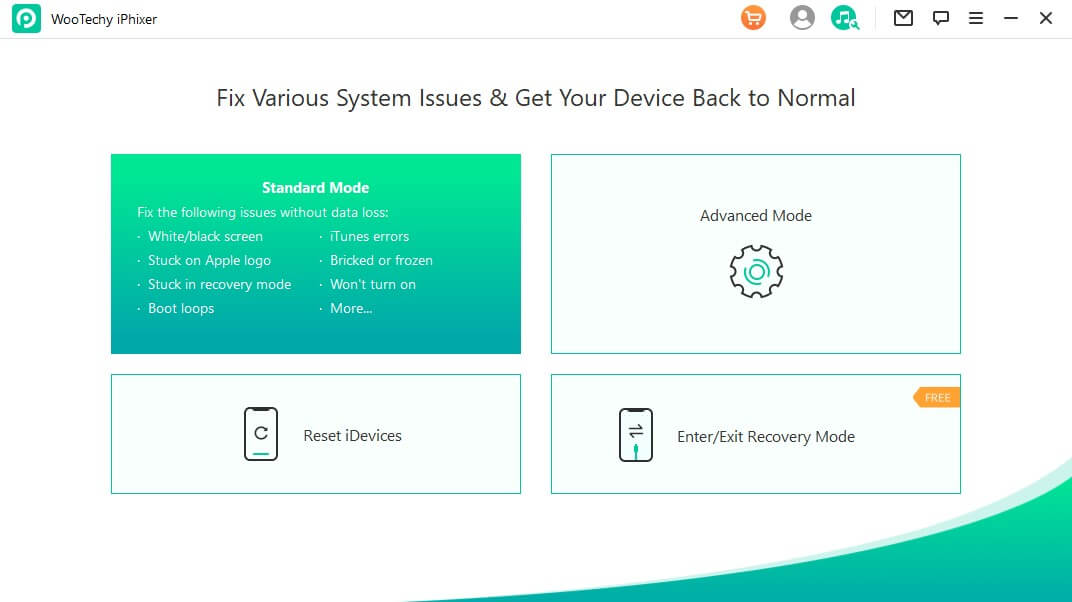 Click the Next button on the program's screen. Put your iPad into Recovery mode if needed.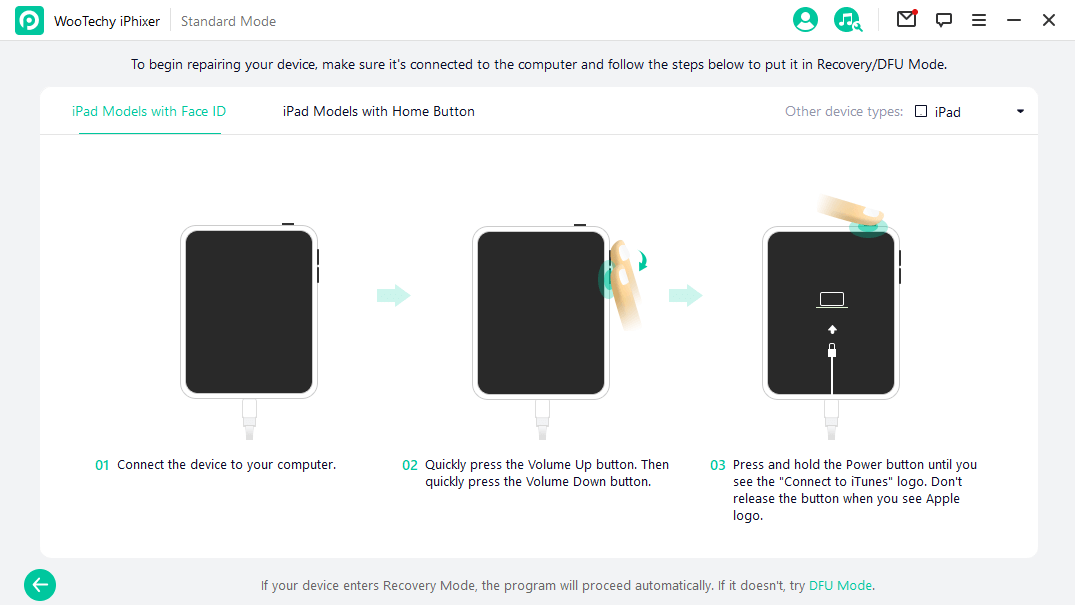 The model of your iPad will be displayed on the screen so that you can pick the firmware that suits it. Start downloading the firmware that your iPad will be repaired with.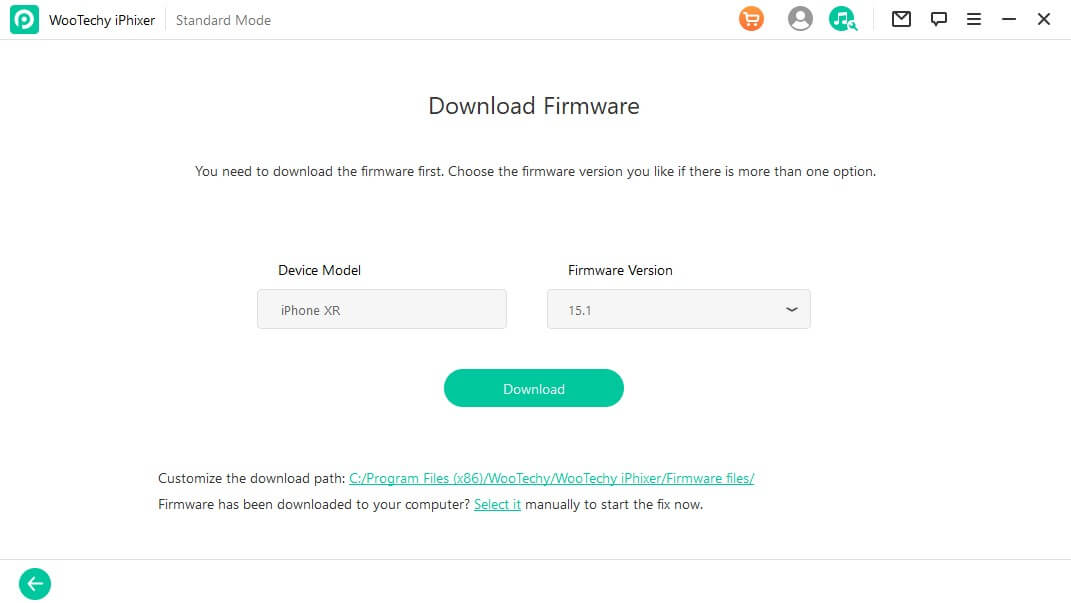 Once the download is done, tap on the Start button to fix your iPad screen flickering error.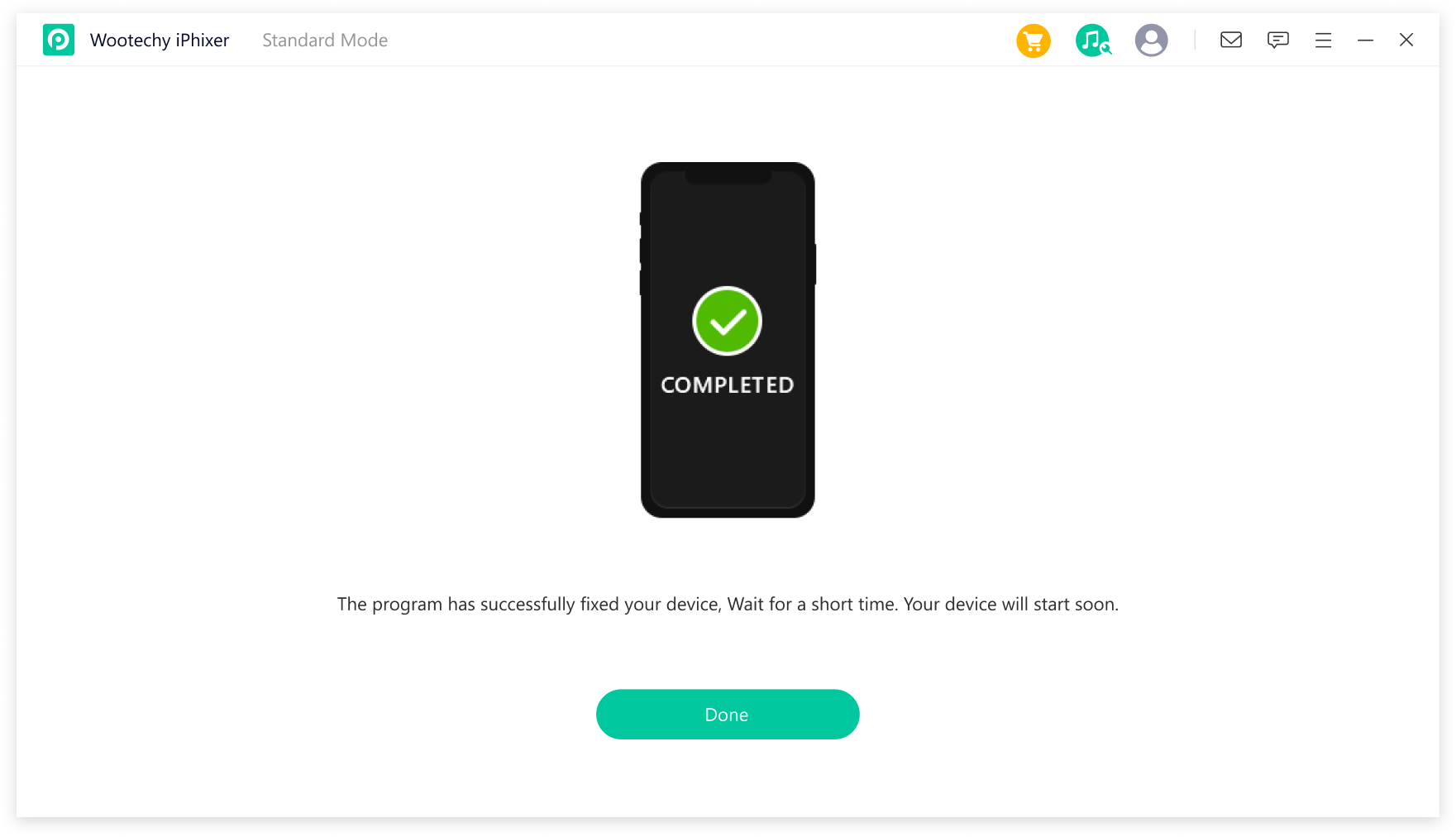 Now your iPad screen glitching error may be removed totally, that's thanks to the wonderful and efficient Apple device repair tool -- WooTechy iPhixer, which is worthy your possession if you are an Apple user.
9

Factory Reset iPad

A factory reset of iPad is the final resort. In this process, all the settings on your device will be corrected, and third-party apps as well as all data will be removed. Hence, your device's software will be as new as it was the moment you purchased it.

That is why it is often advised to back up your data in Settings iCloud before performing a factory reset.

Open your iPad Settings and go to General. Click Reset from the list of general settings.

Select Erase All Content and Settings to start the factory reset iPad process. However, your passcode and Apple details may be required.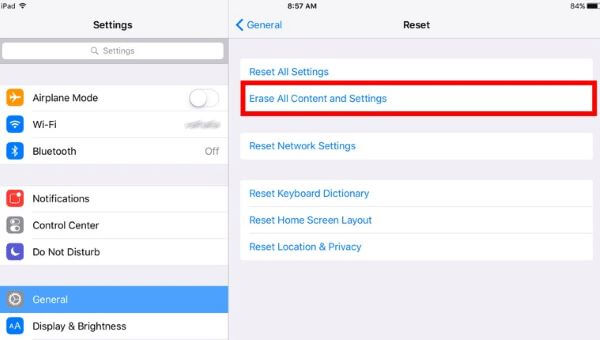 Tip
The all-in-one
iOS system repair software
-- WooTechy iPhixer can also help you reset your iPad more conveniently. It is also useful even when you sometimes forget your password.
Conclusion
iPad has a lot of impressive features, but these features can be less enjoyable or inaccessible if your iPad screen glitching error occurs. iPad flashing screen can signify that there are software and hardware issues in your iPad.
However, all of these issues can be addressed by you with the 9 solutions discussed above. If you want to quickly solve the problem with a 100% success rate, using WooTechy iPhixer is your top choice.