Perhaps you just updated your iPad to Apple's newly released iPadOS 16, but frustratingly, your iPad battery life no longer lasts after that. Perhaps you've noticed that your iPad battery is suddenly draining fast, even though it's not in use. Either way, you are reading this article for sure because of - iPad battery problems.
Why does my iPad die so fast? Why is my iPad battery draining fast suddenly? This article will help you find out why, and it will also give you some useful tips on fixing a fast-draining iPad battery, protecting iPad battery life, and more. Read on!
Part 1: Why Is My iPad Battery Draining So Fast?
Most times, the problem is either hardware-related or software-related.
When it's hardware-related, it means your iPad battery may be close to the end of its battery life. Usually, it is the natural aging. However, if your device suffered from physical damage, you need to replace a new battery.
On the other hand, several bugs within your iPadOS might be responsible for your iPad battery draining so quickly, such as the unstable iPadOS 16 version, malfunctioning apps, faulty settings and more.
Luckily, if your iPad has no physical damage, then this battery draining fast issue is certainly caused by software bugs. And it can be fixed with the methods in this article!
Part 2: 15 Methods to Fix iPad Battery Draining When Not in Use
1. Check Battery Health
Your iPad battery health is as vital as the device itself. Every time you find the iPad battery drains, the first thing is to check the battery health. You can check your battery health by opening the Settings app, tap on Battery, and then Battery Health.
There's a list for maximum capacity to measure battery capacity compared to when it was brand-new. If your battery capacity falls below 80%, it'd be wise to seek a replacement. Fortunately, Apple will replace a battery below 80% capacity under the 1-year warranty plan for free. You can purchase the battery yourself if it doesn't fall into this category.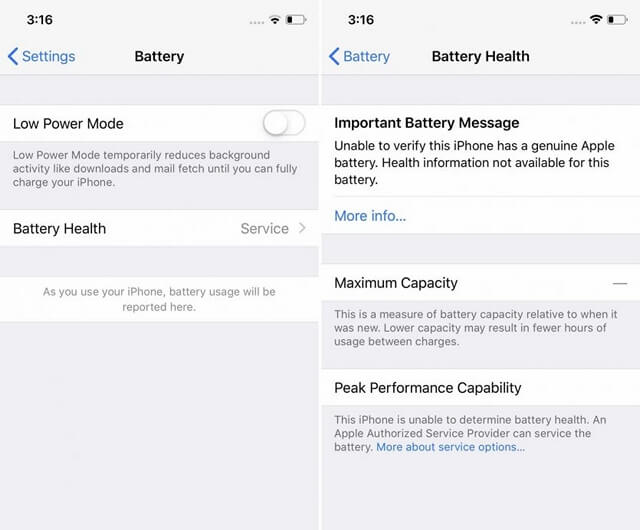 2. Stop Exposing iPad to Extreme Temperature
Extreme temperatures can lead to your iPad battery draining fast all of a sudden. Your iPad is expected to operate between 62-72 degrees Fahrenheit. If the temperature around your iPad exceeds or goes below this range, it might become faulty.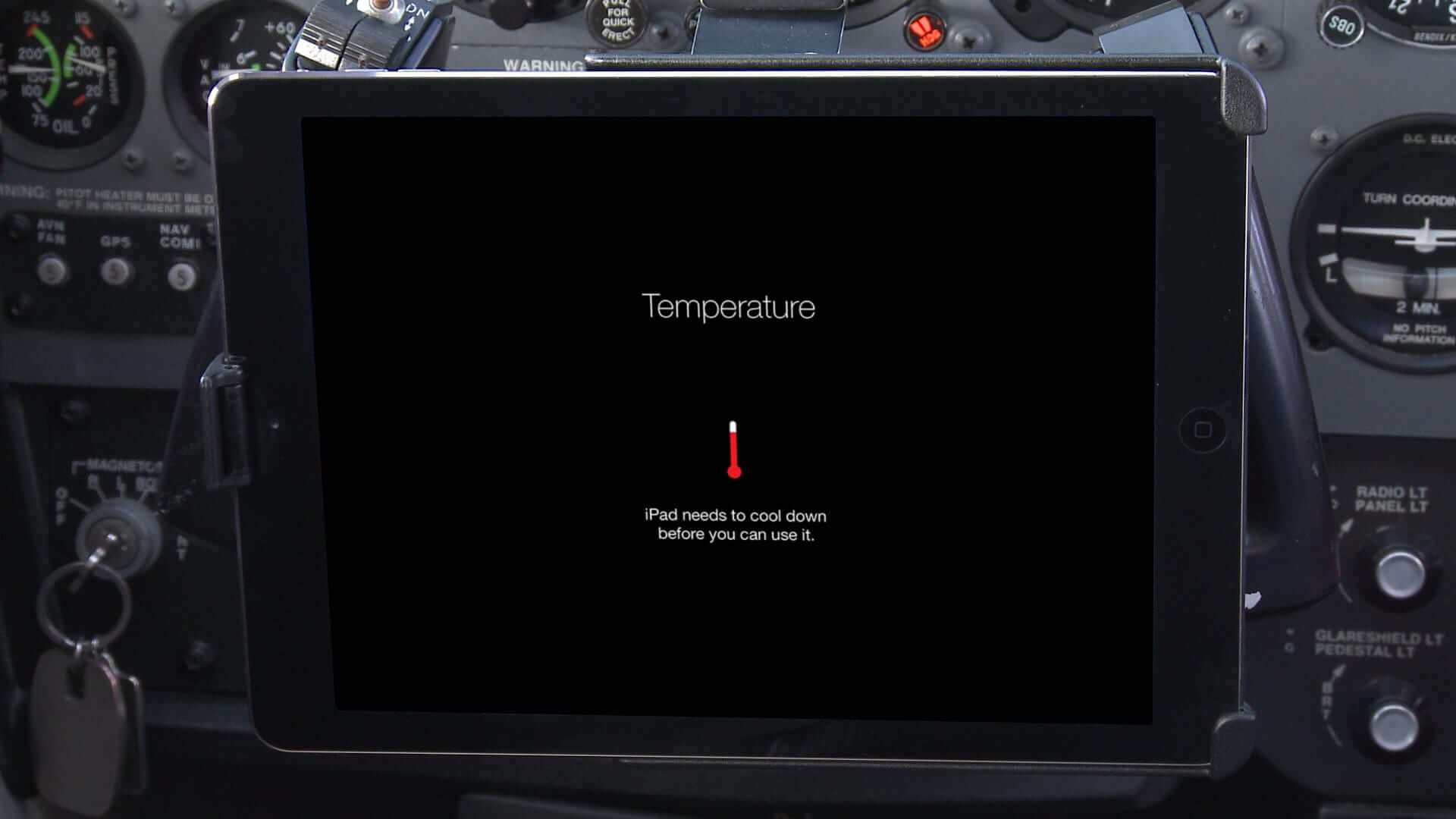 3. Turn on Reduce Motion
If your iPad battery is draining so fast, keep in mind that your iPadOS makes use of various kinds of animations to ensure the user interface is fun to use and sleek. You're probably not aware of these subtle animations drain your iPad battery.
Luckily, you can turn on Reduce Motion to cut down the animations displayed on-screen(when you close and open apps on your iPad). To switch on Reduce Motion, go to Settings, click on Accessibility, then Motion, and click Reduce Motion. The switch changes to green when Reduce Motion is on.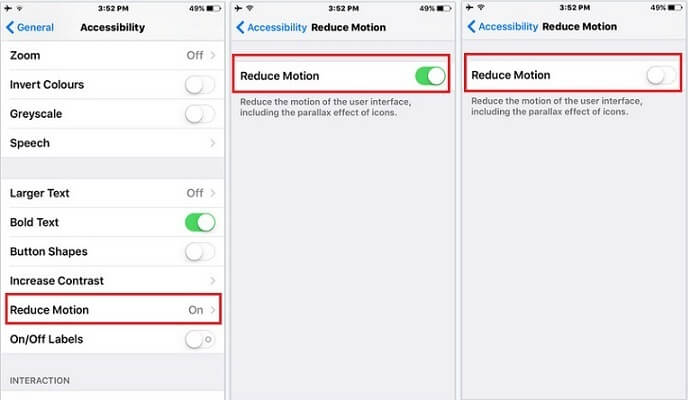 4. Turn on Auto-Lock
The Auto-lock setting automatically switches off your iPad's display after some minutes of activity. If this feature is turned off, your iPad battery will drain faster because the screen will keep active until you lock it.
To turn on Auto-Lock, go to Settings, then Display and Brightness, and tap Auto-Lock. Choose any option other than Never. For perfect results, you can set your iPad to lock automatically after five minutes.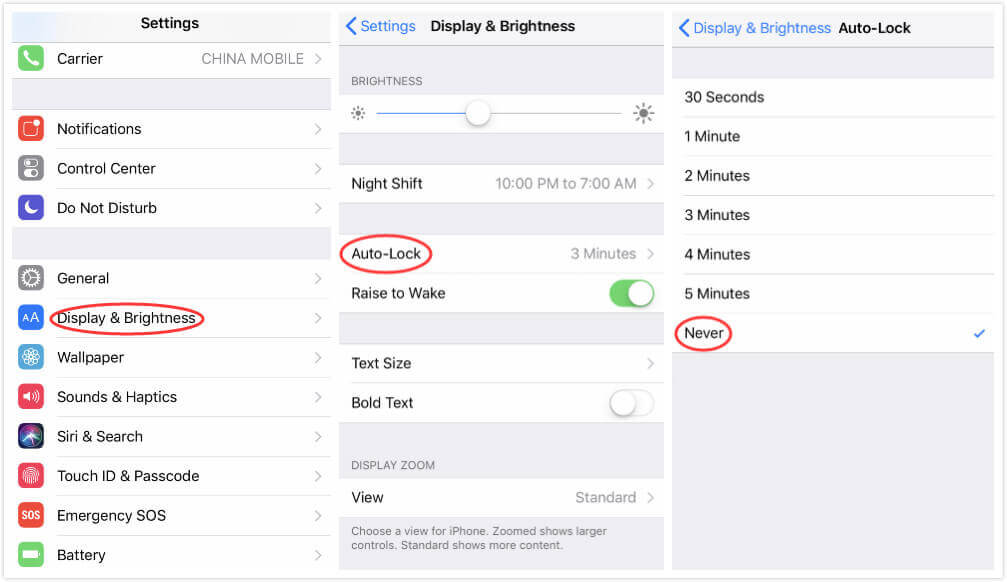 5. Stop Sharing iPad Analytics
The first time you set up your iPad, you may have agreed to share data analytics with Apple. It's normal since you're a first-time user—Apple probably knows better. You should know that when Share iPad Analytics is activated, it shares useful diagnostic information with Apple, which aids them in improving their products and services. Since Share iPad Analytics consistently runs in the background, your iPad battery drains fast.
To turn off this feature, go to Settings, click Privacy, and then Analytics, turn off the switch close to Share iPad Analytics.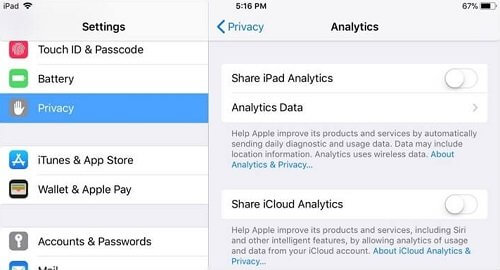 6. Turn off Background App Refresh
The Background App Refresh allows apps to download new data even when they're not in use. So every time when you open that app on your iPad, it is up-to-date. This might be a significant drain on your iPad's battery life because apps are constantly running and downloading new data in the background. To turn it off, go to Settings, tap on General, then click Background App Refresh. Turn off this feature totally or deactivate it only for unnecessary apps.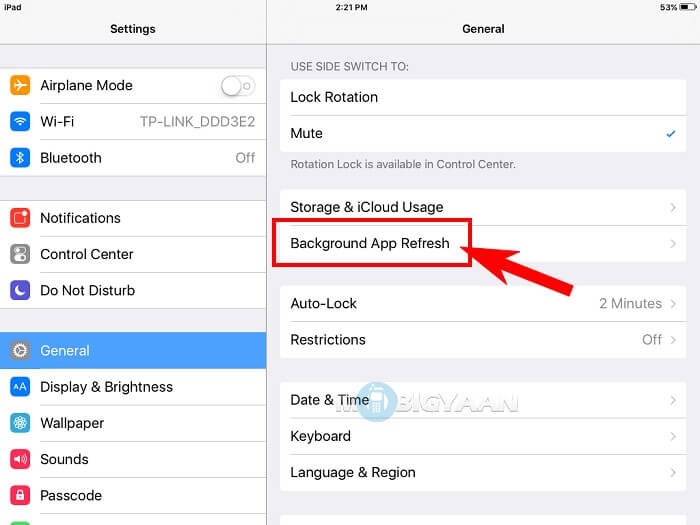 7. Turn off Unnecessary Location Services
Some apps require Location services to perform, like the Weather app. However, some apps on your iPad don't require Location Services for efficiency. To save your iPad battery from draining fast, you can turn off this setting. Go to Settings, click Privacy, and then Location Services, to see a rundown of all apps that support Location Services.
Instead of using the master switch, manually turn it off for the apps that don't require this service. To do this, click on the app, and tap Never.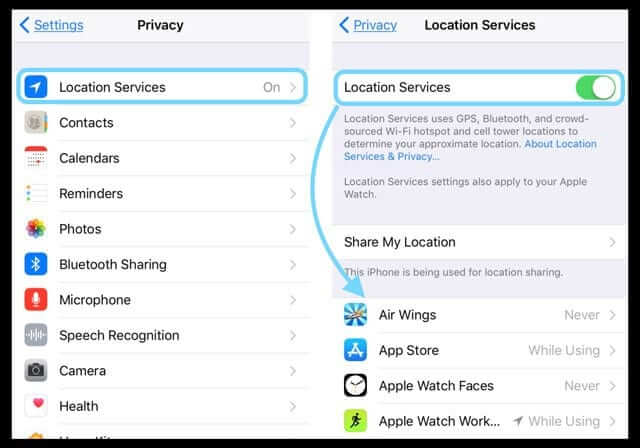 8. Stop Pushing Mail Notifications
If you receive lots of emails on your iPad, then your Mail settings could be the most significant reason why your iPad battery drains faster than expected. Your iPad sends you a notification as soon as new mail arrives when you activate the Push mail feature. It sounds like the easiest route to keep track of incoming mails, but it also means your iPad is constantly checking your email box for something new.
For those who set their iPad to Push rather than Fetch mail notifications, you'll need to change it by opening Settings, tap Mail, then Accounts, and click Fetch New Data. Turn off the icon next to Push. Then opt for a Fetch schedule at the bottom of the screen. You can select 15 minutes to create ample time for receiving while saving battery life.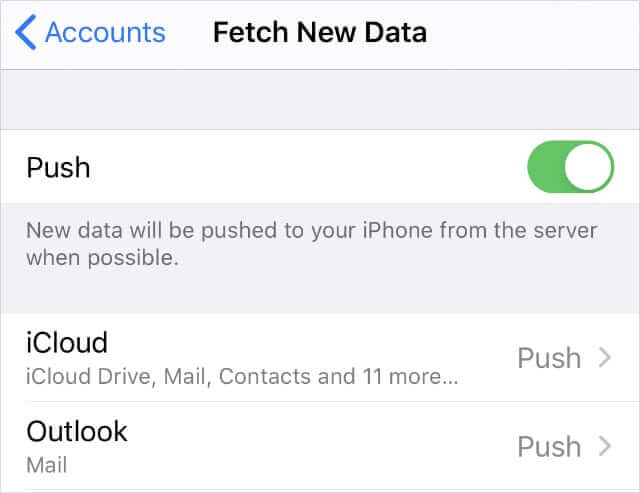 9. Force All Running Apps to Stop
It would help if you guessed that running apps contribute significantly to iPad battery draining fast. We all know it's not essential to keep all apps running in the background.
To force stop running apps, people with iPads that have no Home button need to swipe from the bottom of the screen and stop at the middle. You'll see all the apps running in the background. Swipe up to close them one by one. As for people whose iPads have Home button, just double press the Home button and all running apps will show up. Your iPad battery may end draining fast after this.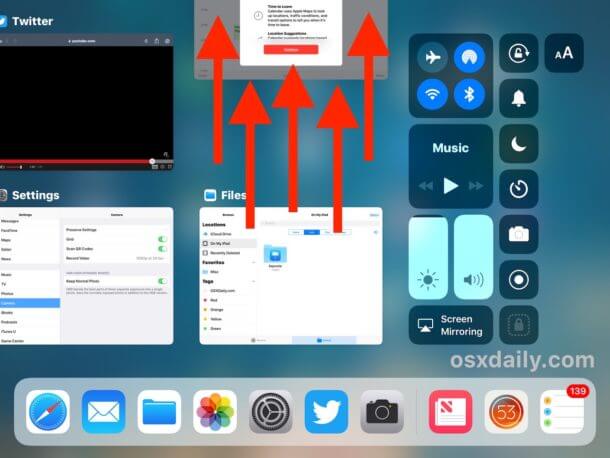 10. Force Restart the iPad
If your iPad drains fast, you may try this classic troubleshooting method: force restarting your iPad. It will solve all minor glitches of the iPhone. Follow these instructions to help you force restart your iPad with or without the Home button.
To update to the latest version of iTunes on your Mac,
For iPad with the Home button: Long press the Home button and the On/Off button at the same time. Keep holding them down until the screen turns off. When the Apple icon appears on the screen, you can let them go.

For iPad without the Home button: Press and release the Volume Up button, and then the Volume Down button. Finally, hold the Top button until the display turns off and the Apple icon displays.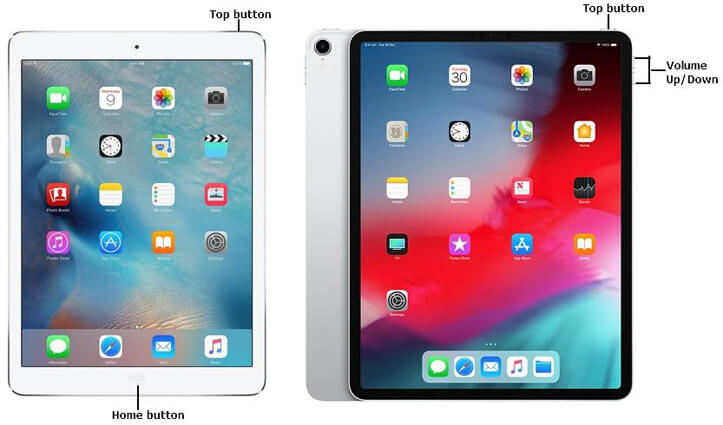 11. Delete Unnecessary Widgets
Widgets are fast and easy shortcuts to get information on specific things without having to open an app. However, it can drain your iPad battery just as fast because a widget needs to update its data constantly. To fix this, you need to remove all or some of the widgets, especially if you know you don't need them.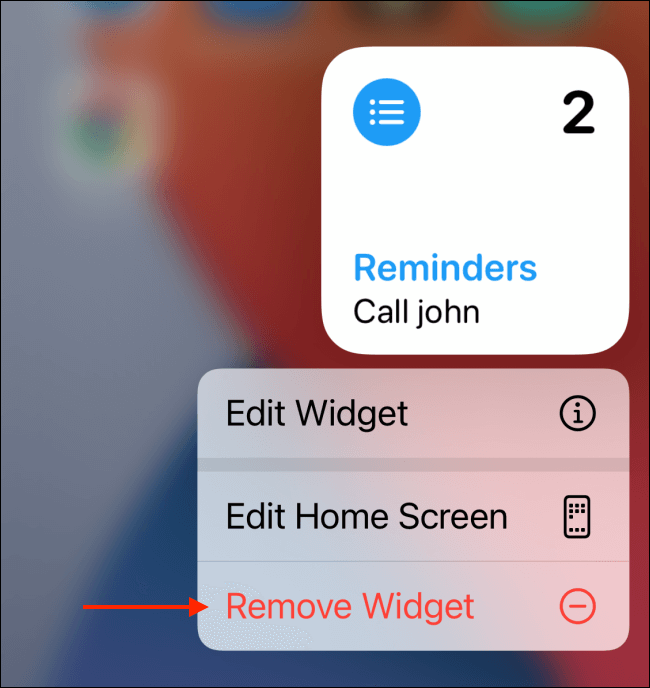 12. Update all Apps
App updates provide users with the latest improvements, which may improve the iPad's battery life and performance. If your iPad battery drains fast, you should consider updating all your apps. To do this, connect to WiFi, go to the App Store, and update all apps available.

13. Reset All Settings
As stated earlier, your iPad settings to some extent determine the strength of your iPad's battery life. Some users pointed out that resetting all settings can fix the issue of the iPad battery draining fast all of a sudden. Bear in mind that this reset procedure will not affect any data you've saved on your device(i.e there'll be no permanent loss of data). It's only your customized settings that will change.
It would be best if you give this a try. Go to Settings, locate General, tap Reset, then Reset All Settings. Your iPad will automatically reset all settings, before rebooting. Wait till it boots up, then try to use your device normally to see if the battery will still drain quickly.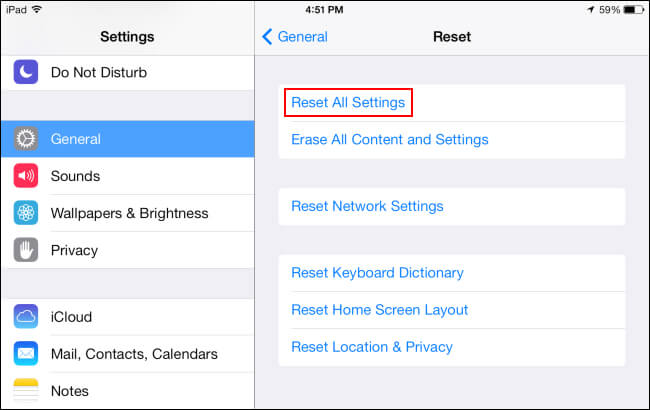 14. Update or Downgrade your iPadOS Using iMaster
Another subtle reason why your iPad battery drains fast is that your iPadOS software needs either an update or downgrade. In fact, many users report this issue after updating their iPad to the latest iPadOS 16. The software update or downgrade will eliminate bugs and restore a smooth performance and healthy battery life on your iPad.
For the iPadOS update, you can do it over the air or via iTunes. However, if you want to downgrade the iPadOS 16 to the previous version, you need some professional tools as there is no official way to do it. Luckily, WooTechy iMaster has made it easy for you to update or downgrade your iPadOS. And it enables data backup to save you from data loss.
            Prominent Features of WooTechy iMaster
Easily downgrade iPadOS to any supported versions without any data loss.

Upgrade iPadOS to the latest version without manual operation.

Safely back up all your iPhone/iPad data on any iOS/iPadOS version.
To downgrade your iPadOS using WooTechy iMaster:
Download and launch WooTechy iMaster on your PC. Connect your iPadOS device to the computer and trust this PC. Then choose the Downgrade iOS option.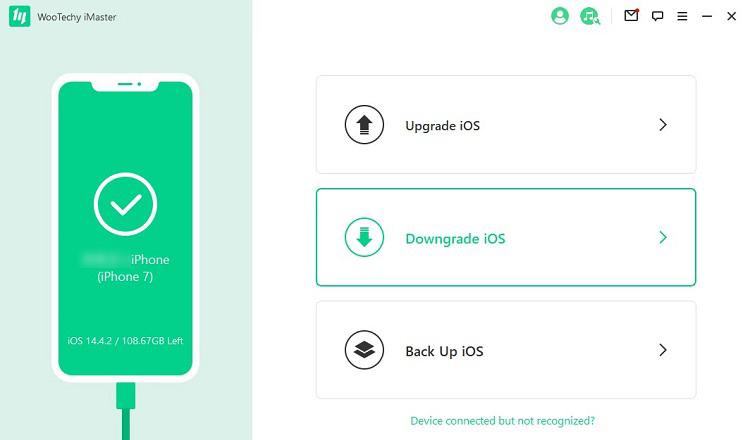 Choose the available firmware to download.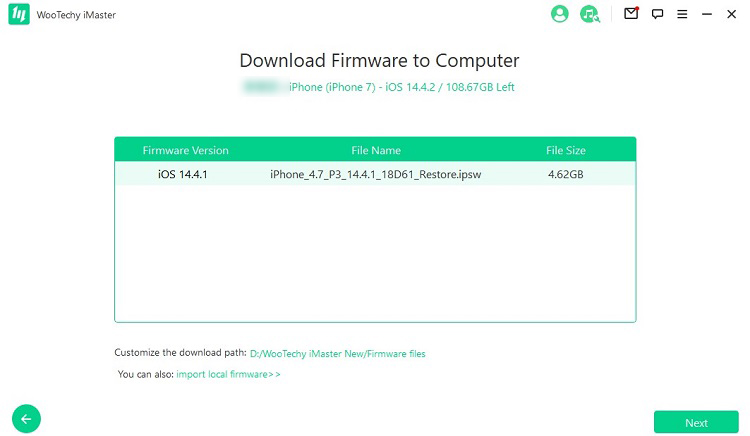 Click Start and wait until the whole process to complete. When you see the "Downgraded Successfully" message, select Done to complete.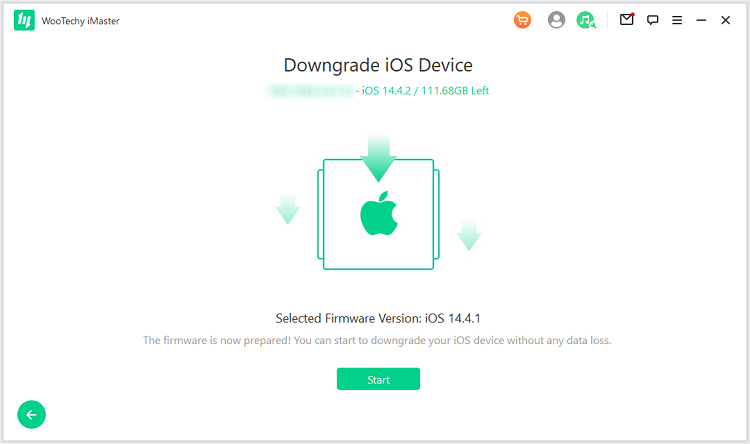 The process to update your iPadOS using WooTechy iMaster is almost the same with downgrading. And you can follow the prompt to finish it easily. It's worth mentioning that you can back up the device before any operation to avoid data loss. Just choose the corresponding option to do it. Thankfully, the updating and backing up functions of iMaster can be accessed
FREE
of charge. Just download and give it a try!
15. Restore iPad via iTunes/Finder
You're probably still here because you care to know all your possible solutions to the iPad battery draining fast all of a sudden. Now, you'll have to consider restoring your iPad as new. It's an extreme action and you need to think twice before leap. Make sure you have backed up your iPad, so you don't lose your device data. Go to iCloud, click iCloud Backup, and tap Back Up Now. You can also backup data using iTunes and Finder.
To restore your iPad to factory settings, connect the device to a computer and launch iTunes or Finder. Click the device icon on the top-left corner and your device's detail will display on the screen. Click Restore iPad and tap Restore again to confirm. Your laptop will wipe the iPad clean and restart the device. This should stop your iPad battery from draining fast.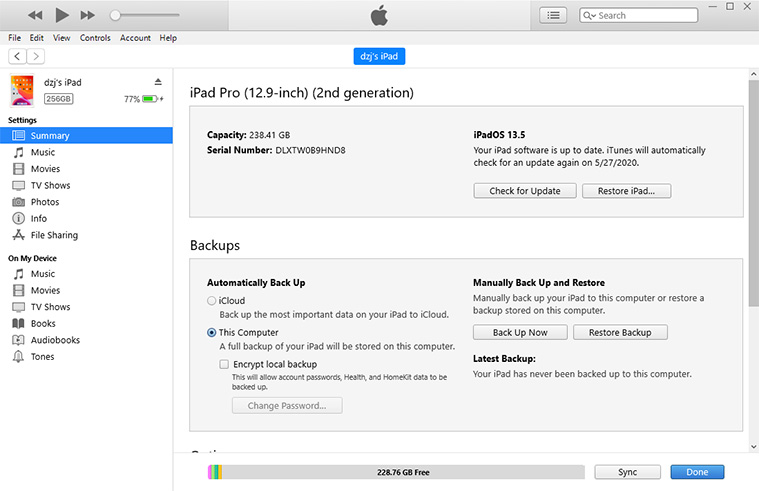 Conclusion
Why does my iPad battery draining when not in use? Why is my iPad dying so fast? Now worry no more! It's not that difficult to stop the iPad from draining fast. At least one or more of these solutions should work, with the safest method being WooTechy iMaster. It is the best way you can use to update or downgrade the iPadOS version. Now you can enjoy your iPad without battery drain issues. What a relief it must be!