As Apple releases new iOS software versions, it also stops signing some older versions. This means sooner or later, your current iOS version will no longer be supported, and you may have to upgrade to a newer iPhone firmware version.
But every iOS update comes with its downsides. While the 15.4.1 version update fixes some performance issues introduced by earlier versions, the update also caused new problems like short battery lifespan, iPhone freezes, charging issues and son on.
One way to solve update-related issues on iOS is to move back to a known stable version, in other words, downgrade to unsigned iOS version. But what if Apple has stopped signing a version you intend to move back to? You might be wondering whether it's possible to restore unsigned IPSW of that said version. Regardless of what you think, let's find out.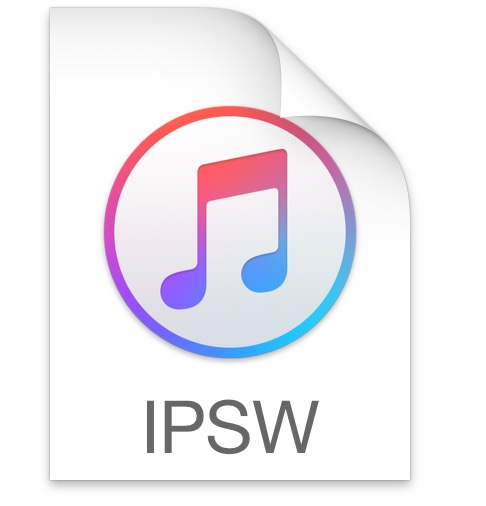 What is Unsigned IPSW?
IPSW is the file extension of Apple's iPhone mobile operating system. An unsigned IPSW means Apple has stopped supporting the iOS version. iOS users wouldn't be able to use iTunes to restore to an unsigned firmware.
Apple periodically unsigns iOS version because of security issues and encourages users to make use of additions newer updates have to offer.
New versions of iOS software often cause unpleasant experiences to device performance and features. To resolve firmware update bugs and issues, reverting to a previous stable iOS version might be the solution.
Is It Possible to Restore to Unsigned IPSW?
Yes, you can restore your iOS device to an unsigned IPSW firmware, but not in the traditional way. Usually, when you want to upgrade or downgrade to an iOS version using the IPSW restore file, you will do so through iTunes.
During the downgrade process, iTunes will make some verifications and checks with Apple servers to ensure you are restoring a signed IPSW file. Anyone trying to install unsigned IPSW firmware will only get an error message.
To downgrade to a previous iOS firmware that has stopped being signed by Apple, part of the requirements are a third-party restore app, the destination unsigned iOS IPSW file, and its SHSH blob file. You will learn more about these requirements in this blog. So keep reading.
Part 3: How to Restore Unsigned IPSW
1. Restore Unsigned IPSW Using SHSH2 Blobs
You learned earlier that it is possible to restore unsigned IPSWs with the help of SHSH2 Blobs. These blob files are the digital signatures that Apple places on each IPSW firmware file for each iOS device. When Apple stops signing a particular firmware, it removes the sign (signature) from the firmware so users won't be able to downgrade to it.

You must have saved a blob (digital signature) file of the iOS version you want to restore while the version is still being signed by Apple. Once Apple stops signing an iOS firmware version, the signature is removed, and then, you can't restore the firmware.
Online tools like TTS Saver can help with blob saving. You can start saving the digital signature of your current iOS firmware now for possible future use. For how to save and restore SHSH2 blob files, see the steps below. You'll find this useful when restoring iOS.
Step 1: Connect your iPhone to your Mac or Windows computer using a data transfer cable.
Step 2: Open iTunes on your PC and navigate to the iPhone device information page by clicking the mobile icon at the top screen. Keep clicking on Serial Number until ECID appears. Copy the value next to it.
How to Save SHSH2 Blob File Using TSS Saver
Step 3: Go to this website. Enter your ECID, choose your iPhone model and click Submit. The online tool will automatically save the blob of all available iOS firmware for your iPhone device and provide you with an option to download any of them.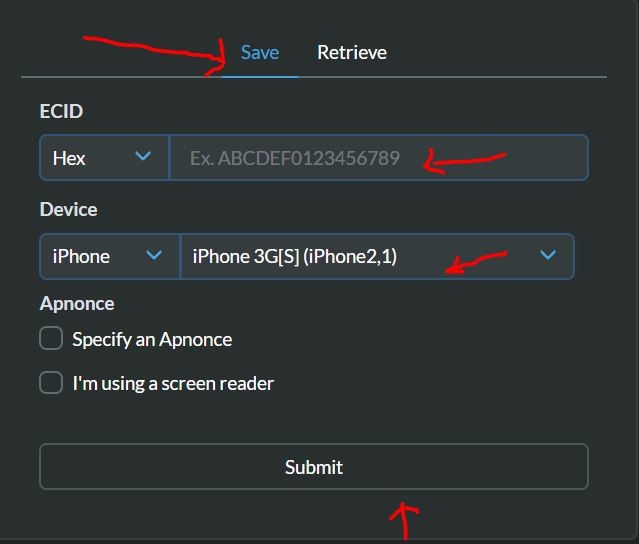 How to Retrieve a Blob File with TSS Saver
Step 4: Referring to the image below, insert your ECID value and click Submit to see all blob files you've previously saved.
With your blob files ready, you're only halfway through completing how to downgrade to unsigned iOS. That said, follow the instructions in the next section to discover how to use the unsigned ipsw restore tool-- FutureRestore to complete unsigned iOS restore.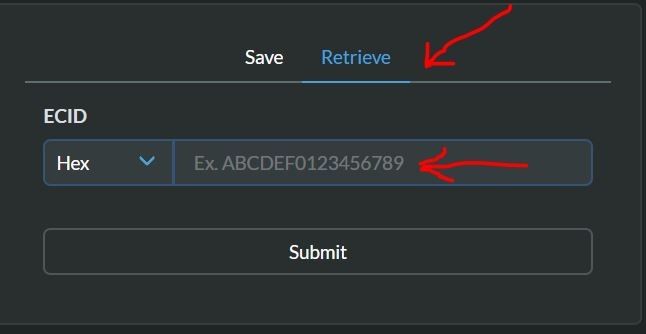 2. Restore Unsigned IPSW by FutureRestore
FutureRestore is a tool developed for iOS users who want to restore, upgrade, or downgrade to any iOS version that is no longer signed by Apple. But FutureRestore can't do the job alone. It needs the help of other files - the destination unsigned iOS IPSW file you're moving to and the blob file of that said destination iOS firmware.
To restore unsigned IPSW file using FutureRestore, follow the steps below:
Requirements:
A more recent version of the Futurerestore.

The IPSW file of the unsigned iOS you're restoring to.

The blob file of #2 (which you've learned how to save and retrieve in the previous section).
With all these requirements set, continue with the instructions below.
Step 1: Connect your iPhone to your PC, making sure your PC has an internet connection.
Step 2: Put all the 3 items listed in the requirements into one folder.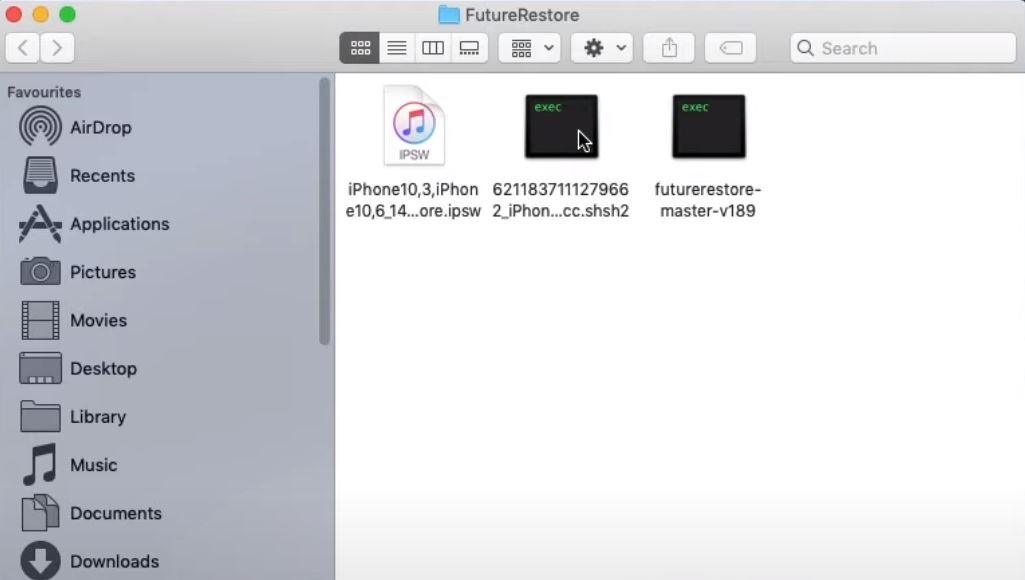 Step 3: Open up Terminal on your Mac computer or Command Prompt (for Windows users).
Step 4: Drag the unarchived FutureRestore file into Terminal and type -t.
Step 5: Next, drag the blob file into the Terminal interface and type --latest-sep --latest-no-baseband (if your iPhone is not sim-enabled) or --latest-sep --latest-baseband (if your iPhone uses sim).
Step 6: Drag the unsigned iOS firmware into the Terminal screen as well. After performing steps #4 through #6, your terminal or Command Prompt interface should look like the one in the image below.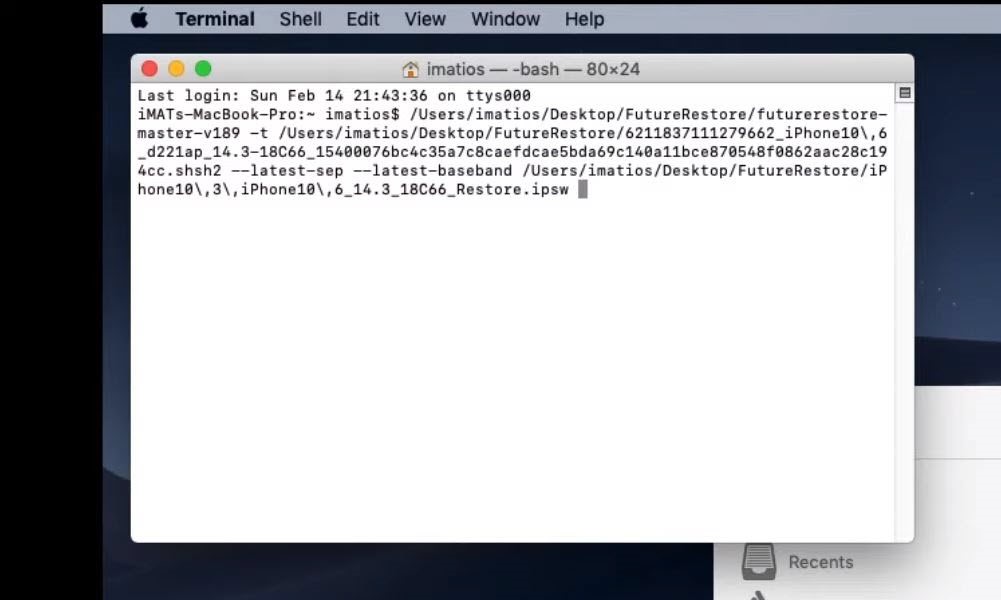 Step 7: Press Enter and let the downgrade process begin and complete.
Step 8: If the log on the Terminal screen indicated that the process is stuck and failed at recovery mode, simply reenter the line of codes and try it again.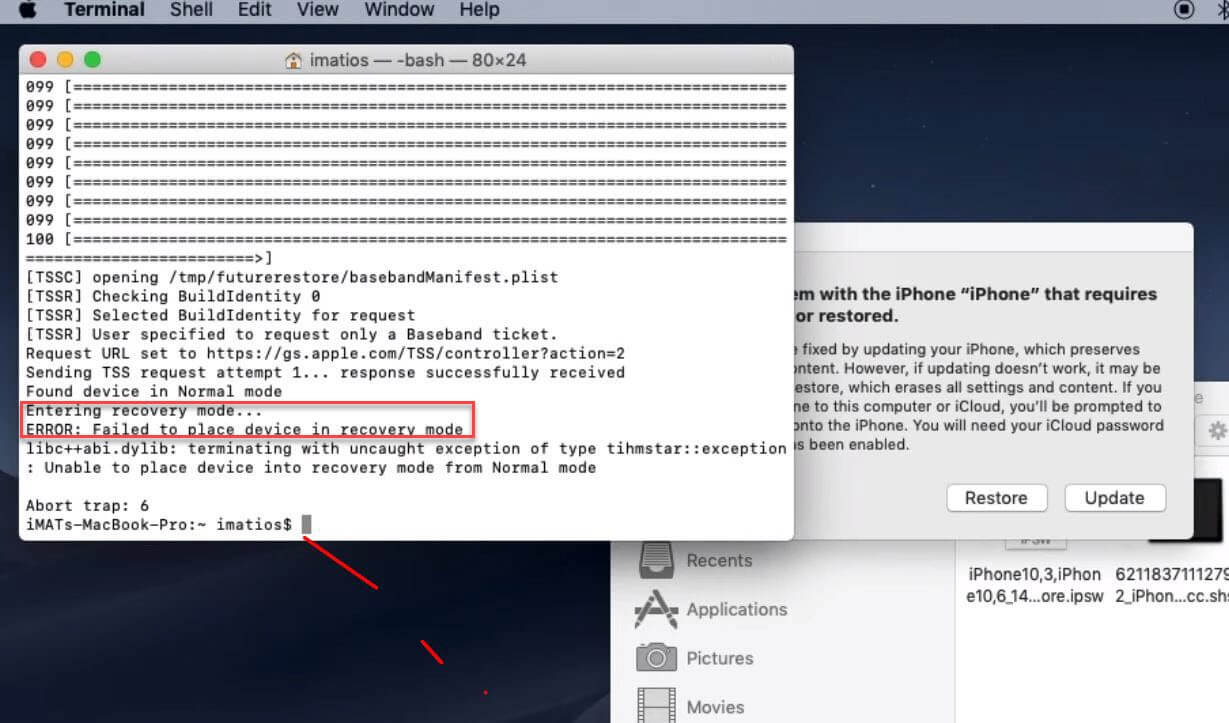 Bonus: How to Downgrade iOS with WooTechy iMaster
Although you can use methods above to downgrade iOS, its still risky and terribly complicated. If you don't want to deal with any technical process, you may turn to WooTechy iMaster, which offers a surprisingly easy solution to downgrade your iOS.
Great Features of WooTechy iMaster
Works on all iOS devices and iOS versions including the latest iOS 15.

User-friendly, without any technical knowedge or jailbreaking required to downgrade iOS.

Easy to downgrade and upgrade, with no risk of losing data at all.

Free to back up and upgrade, during which you can check the compability.

Able to downgrade your iOS versions in several clicks.
Video tutorial for iOS downgrade:
Here are the steps to downgrade iOS with iMaster:
Step 1: Download and launch WooTechy iMaster. Conect your iOS device to your computer via USB, and select Downgrade iOS mode.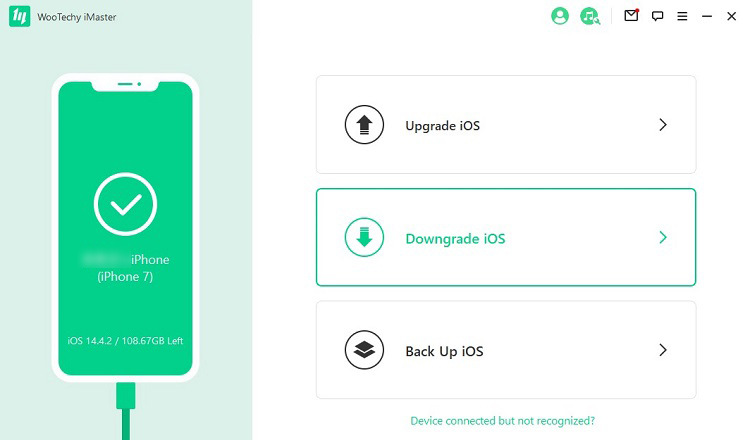 Step 2: The program will then prompt you to choose a firmware version you need. Note that you can customize the firmware download path here and import local firmware. Click Next to start downloading the firmware to computer.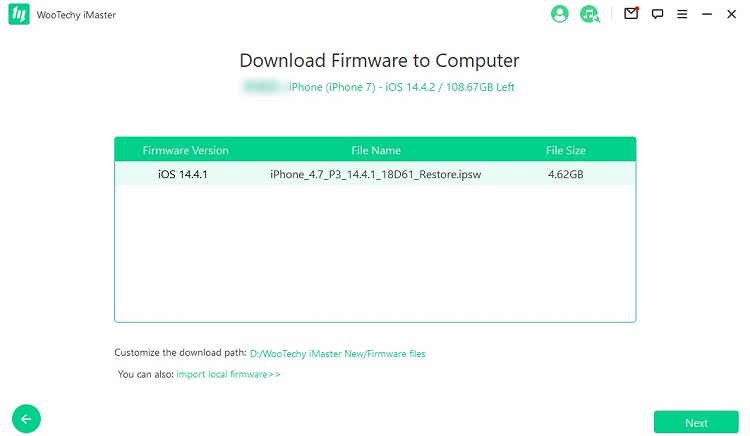 Step 3: Once the firmware is downloaded and verified, your device is then well-prepared for downgrade. Click Start to proceed.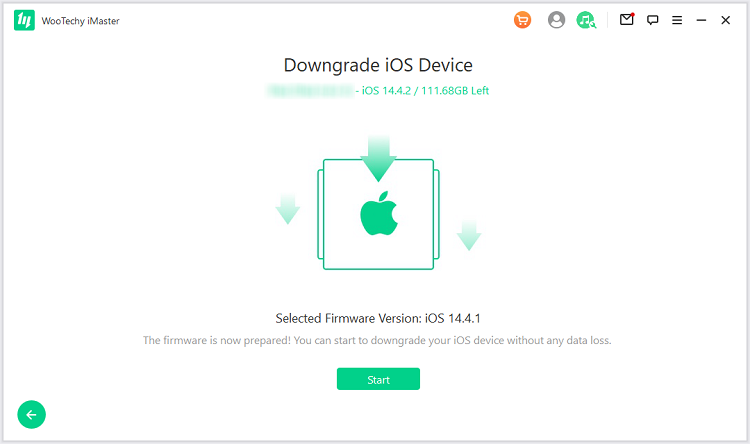 Step 4: You will see a prompt saying "downgraded successfully". Just click Done to finish the downgrade process.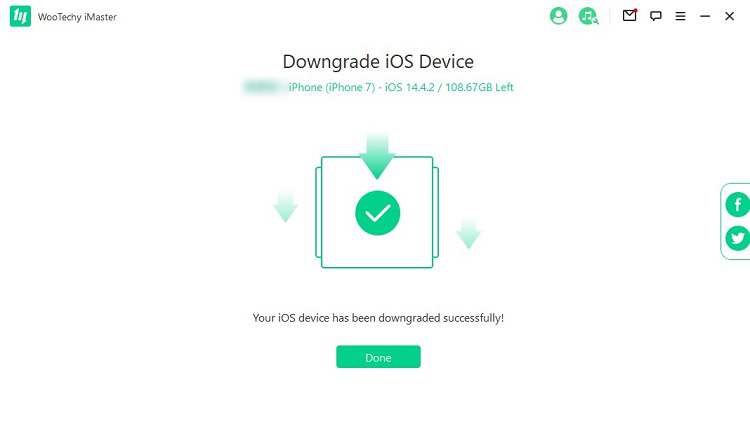 Conclusion
Apple periodically stops signing previous iOS versions when new versions are rolled out. This blog, however, has helped you see that you can still restore unsigned IPSW if you saved it with an online tool like TTS Saver. With your blob file and the unsigned iPSW ready, you can make use of the FutureRestore tool to move back to your favorite, buggy-free iOS version.
In addition, as a professional software designed for the iOS downgrade and upgrade, WooTechy iMaster can help downgrade your iOS device even from the newest iOS 15 to iOS 14 in a few clicks. If find this post useful, share it with those who might be looking for a resource like this. And don't hesitate to drop any questions or feedback you might have.