What is IPSW? How to download IPSW? How to install unsigned IPSW? Is ipsw.me legit? Your search ends here. This 2023 ultimate guide will answer all your questions one by one! Scroll down to read it!

Part 1: What Is IPSW?
IPSW stands for "iPhone Software" or "iPad Software" file. An IPSW file is a firmware update package that contains the operating system, system files, and firmware for Apple devices such as iPhone, iPad, iPod, and Apple TV. These files are used to update or restore the software on these devices.
When Apple releases a new version of its operating system (iOS or iPadOS), users can download and install the update directly from their devices. However, some users may choose to manually download the IPSW file from Apple's servers and then install it using iTunes or Finder on a computer. This can be useful for advanced users, developers, or for troubleshooting purposes.
IPSW files also come in handy when a device is experiencing issues and needs to be restored to its original factory settings. In such cases, the IPSW file can be used to perform a complete system restore, essentially wiping the device and reinstalling the operating system from scratch.
Overall, IPSW files are essential components for managing and updating the software on Apple devices and are particularly relevant for those who need more control over the update process or need to troubleshoot issues that might require a complete system restore.
Part 2: Is ipsw.me Legit?
Yes, ipsw.me is legit.
ipsw.me is a website that provided IPSW files for various Apple devices. Users could visit the website to find IPSW files for various iOS and iPadOS versions, allowing them to manually download the firmware and install it on their devices.
The website aimed to simplify the process of finding and downloading IPSW files by providing direct links and easy-to-follow instructions. It was particularly useful for people who wanted to download IPSW files for specific iOS versions or devices and might have been looking for alternatives to the official update process.
Part 3: How to Download IPSW?
New IPSW files will be released via iTunes or Finder. After some time, Apple will stop users from downloading older iOS versions. However, there are many third-party sites that offer downloads of older and even current versions of IPSW files for iOS. You can download and install IPSW to downgrade and upgrade your device or restore your device to default factory settings.
Way 1: Download IPSW from Apple
Downloading IPSW files directly from Apple's official servers is a reliable and secure way to obtain firmware updates for your iOS device. Here's how you can download IPSW files using iTunes or Finder:
Step 1: Connect your iOS device to computer. Open iTunes or Finder and select your device.
Step 2: In the device summary screen, look for the "Check for Update" button. If a new iOS version is available, iTunes will prompt you to download and install it.
Step 3: When prompted, click the "Download and Update" button. iTunes will automatically download the IPSW file from Apple's servers and install it on your device.
Way 2: Download IPSW from ipsw.me
If you decide to use a third-party source for IPSW files, here's how you can do it:
Step 1: Visit ipsw.me website.
Step 2: Find the correct IPSW file for your device and desired iOS/iPadOS version.
Step 3: Click to download the IPSW file to your computer.
How to Install IPSW Files?
After downloading the IPSW file, you can use iTunes or Finder to install IPSW on your device:
Step 1: Connect your iOS device to your computer. Open iTunes or Finder and select your device.
Step 2: In the device summary screen, look for the "Restore" or "Update" button while holding down the Shift key (Windows) or Option key (macOS).
Step 3: Browse to the location where you downloaded the IPSW file and select it. iTunes/Finder will use the IPSW file to update or restore your device.
Part 4: How to Install Unsigned IPSW?
To ensure the security and integrity of the device's operating system, Apple's devices are designed to only accept firmware updates that have been signed and verified by Apple's servers. Installing unsigned IPSW files on iOS devices is generally not possible due to security mechanisms put in place by Apple to prevent unauthorized software installations.
However, with the help of some tools, you do can downgrade your devices to earlier iOS versions using saved SHSH blobs (a kind of digital signature). This process is typically more complex. To install unsigned IPSW and downgrade to unsigned iOS, the basic requirements are:
a third-party restore software
the unsigned iOS IPSW file
SHSH blob file
If you want to install unsigned IPSW files but don't know how, we have a previous guide listing a detailed step-by-step tutorial on how to restore and install unsigned IPSW, which you can click for details.
Note
Before downloading an IPSW file, make sure it's compatible with your device model and the version of iOS or iPadOS you're aiming to install.
Manually installing IPSW files is an complicated process. The process of installing unsigned IPSW files involves exploiting vulnerabilities, which is inevitably risky and can lead to data loss or cause the device to become unstable.
If you want a safer and easier way to downgrade iOS, then you actually have a better option - WooTechy iMaster. It is one of the most popular iOS downgrade tools in recent years, which can safely and quickly downgrade iPhone/iPad to any supported iOS version in a few simple steps. What's more, the downgrade will not affect any data.
WooTechy iMaster - Best Tool For iOS Downgrade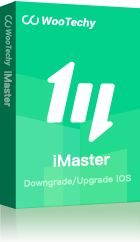 75,000,000+
Downloads
iOS Downgrade: Downgrade iOS to any supported iOS version without data loss

iOS Upgrade: Quickly update iPhone/iPad to the latest iOS version with ease

iOS Backup: Backup all iPhone/iPad data for free

Support almost all iOS versions and latest iPhone/iPad models

Easy steps, Fast speed, High success rate and Secure
How to Downgrade iOS without Data Loss?
Step 1: Download and install WooTechy iMaster on computer. Launch it and connect your iOS device with USB cable. Click Downgrade iOS.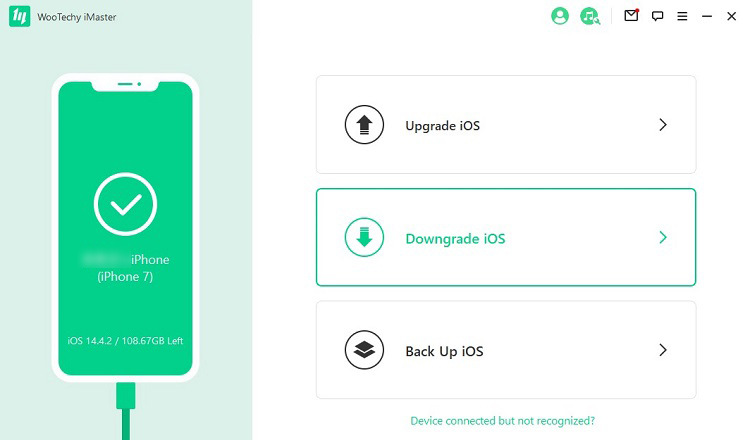 Step 2: Choose the firmware version you want to downgrade to, and click Next to download it. When the firmware is downloaded, wait until it's verified and extracted.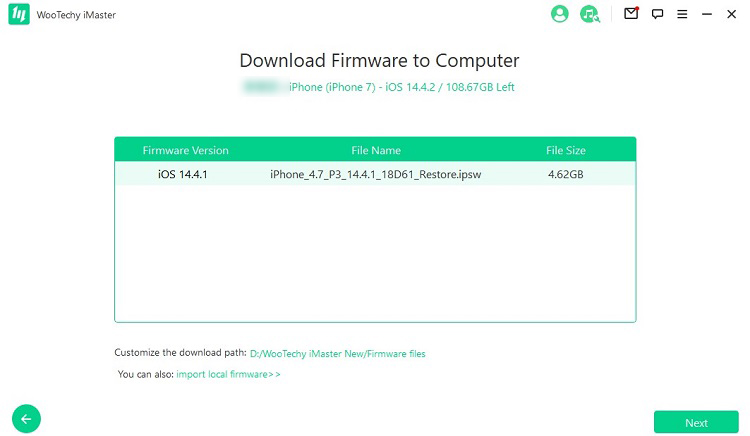 Step 3: Click Start to begin the downgrade process. When the downgrade is complete, click Done. Now your device has been downgraded successfully.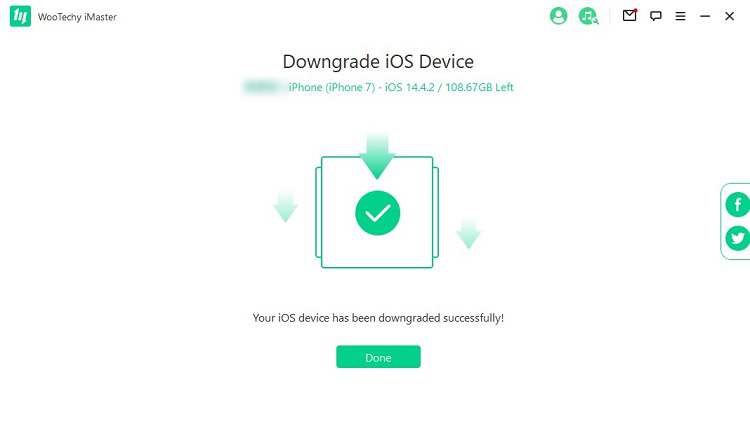 [Video Tutorial] How to Downgrade iOS on Windows?
Conclusion
Well, now you've learned some basic knowledge about IPSW and also know how to download and install IPSW. Undeniably, if you want to downgrade iPhone in the easiest and safest way, then your best choice still will be this professional iOS downgrade tool WooTechy iMaster. With just a few simple steps, you can downgrade iPhone/iPad safely and quickly without losing any data.
As an iOS management software designed for iPhone/iPad, it not only can downgrade iOS, but also performs well in iOS upgrade, iOS backup and iOS backup restore, which is favored by many Apple users. Try it now!