SHSH blob is a part of Apple's digital signature system, which is embedded in each iOS firmware for each iOS device. When an iOS user tries to restore their device, one of the functions of SHSH blob is to assist Apple to determine whether a signed IPSW firmware file is being used. In this article, you'll see why blobs are required when downgrading to any signed and unsigned iOS version, and how to downgrade to unsigned iOS IPSWs with/without SHSH Blobs. Without further ado, let's get started.
Part 1. Is It Possible to Downgrade to Unsigned iOS without SHSH Blobs?
It's not possible to move back to an unsigned iOS without an SHSH blob. Here's why. Once installed, any iOS firmware carries a piece of code (or digital signature) many users refer to as SHSH blob. Blobs are firmware and device specific. They also make up a critical part of the iOS Apple signing system.
If you want to move between two iOS versions, Apple with the help of iTunes will look for this piece of code (SHSH blob) to determine if you're switching between signed iOS firmware. If one of the firmware is no longer signed, meaning Apple has removed its signature, the downgrade process will fail. Simply put, you can't restore an unsigned iOS version with iTunes.
Restoring to an unsigned iOS version can only be done through unofficial means, such as the use of third-party tools like FutureRestore. To make the unofficial transition, however, you'll still need the SHSH blob for the unsigned firmware and for your device.
The blob file is required to fool Apple's server when restoring through unofficial restore methods, and it must have been saved while the particular unsigned iOS version is still being signed by Apple. Without the blob file, you can't downgrade to an iOS that is no longer signed by Apple.
Part 2: How to Downgrade to Unsigned iOS with SHSH Blobs
Wondering about how to restore unsigned IPSW? This section will walk you through the step-by-step process required to move back to an unsigned iOS.

For this process to work, understand that you must have saved the blob file of the particular iOS firmware you want to restore to when the firmware is still being signed by Apple. We always recommend an online tool called
TSS saver
to do the saving.    
Assuming you already have the SHSH blob file of the firmware you want to restore to, follow the steps below to downgrade to unsigned iOS IPSWs with the blob file.
Step 1. Put an unarchived FutureRestore file, the unsigned iOS firmware, and the blob file in one folder on your Windows or Mac Computer. With all three files in one place, move on to the next step.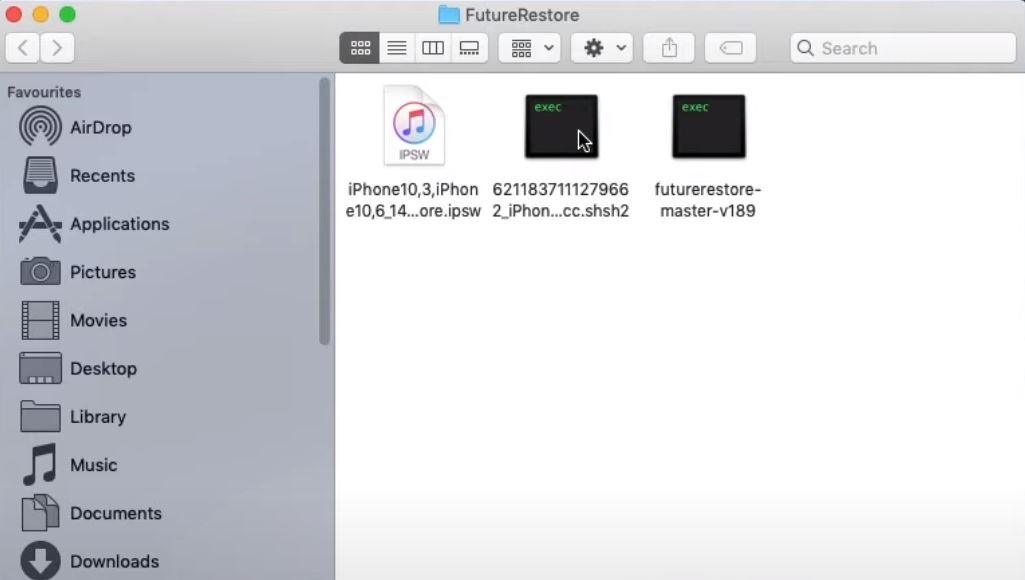 Step 2. Open Terminal (for iOS users) or Command Line (if you're using a Windows computer).
Step 3. Drag the unzipped FutureRestore file into Terminal and type -t.
Step 4. Drag the blob file into the Terminal interface and type either --latest-sep --latest-baseband or --latest-no-baseband. Use the former if your iPhone device uses a sim card or the latter if your iDevice does not support a sim card.
Step 5. Drag the final of the unsigned iOS firmware you're restoring to into Terminal. Your screen should look like the one in the image below if you followed steps #3 and #4 correctly.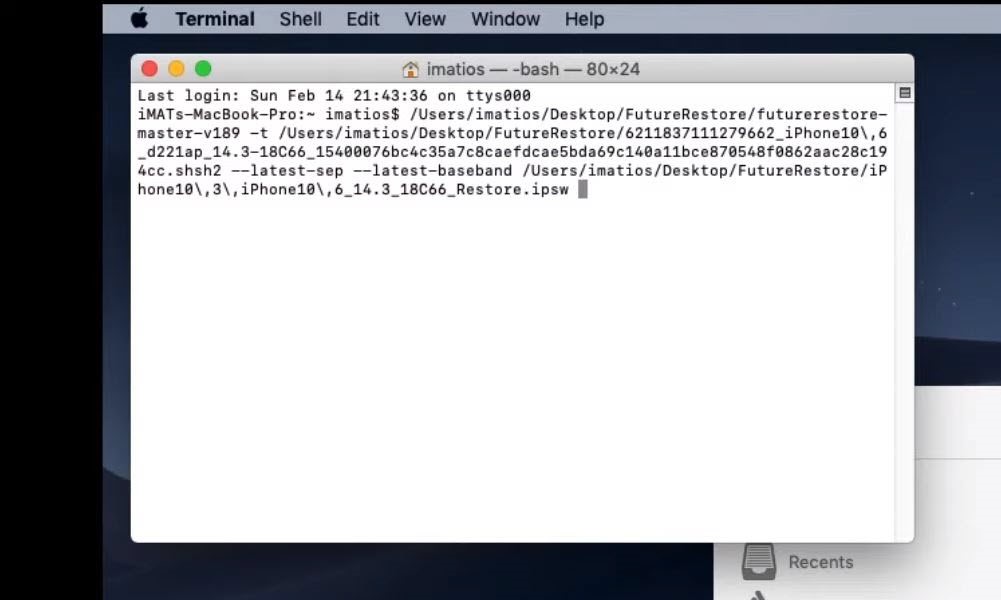 Step 6. Press Enter on your keyboard. Make sure your computer has an internet connection and is connected to your iOS device with a data transfer cable.
Step 7. Relax and let the downgrade process run and complete.

If you get a response that your device failed to get into recovery mode. Simply restart the process from step #3.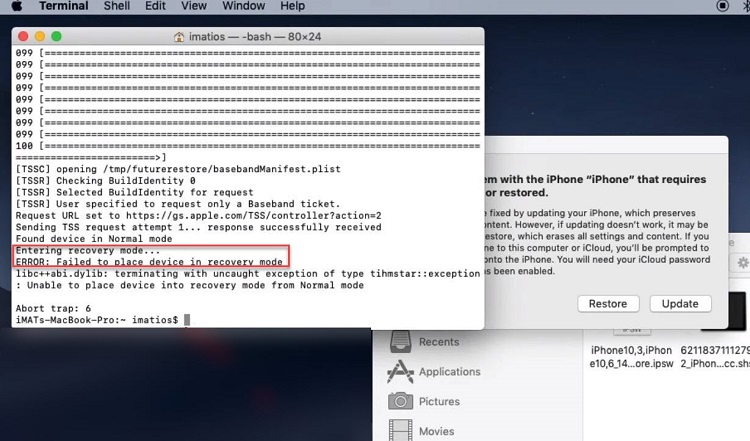 Before you commence a downgrade project, make a full backup of your iOS device to both iTunes and iCloud. We can't stress this enough. A backup will save all of your files and data, including saved passwords, game files, messages, so you can easily restore them after the downgrade is done.    
Part 3: How to Downgrade iOS with WooTechy iMaster
When restoring to an earlier version of iOS that Apple still signs, you could simply use one of the stand-alone iOS restore software available out there. One of these apps is iMaster developed by WooTechy. It is an app designed to backup as well as downgrade or upgrade an iOS version. That's to say, you can use it to downgrade your device from the newest iOS 15 to previous iOS 14 if you meet some issues with the latest iOS version.
Wonderful Features of WooTechy iMaster
The iOS restore tool has 3 modes: Upgrade iOS, downgrade iOS, and backup iOS.

It's built for the Windows operating system.

It works for all iPad mini, iPad Air, iPad Pro, and iPad models.

It comes with a free trial version that you can try out.
Watch this video to learn how to roll back iOS updates easily.
Now let's see how you can use iMaster to downgrade to an earlier and supported version.
Step 1. Go to the Wootechy download page and download iMaster.
Step 2. Install and launch the app.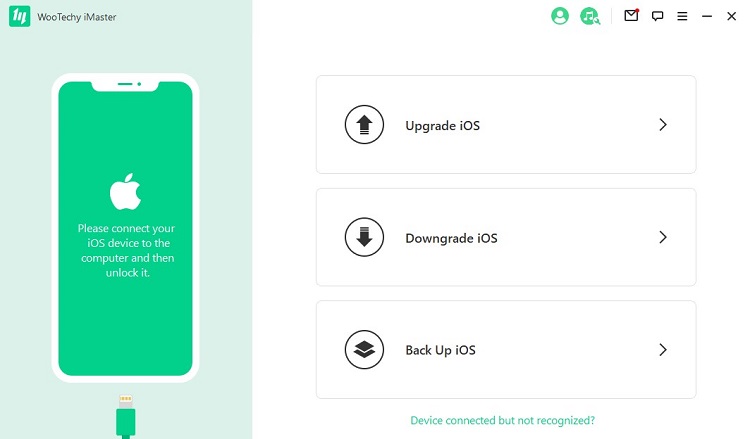 Step 3. Connect your iDevice to your PC. iMaster should immediately recognize the device. If iMaster says it can't recognize your mobile device, then click the Device connected but not recognized link and follow the instructions to fix the problem.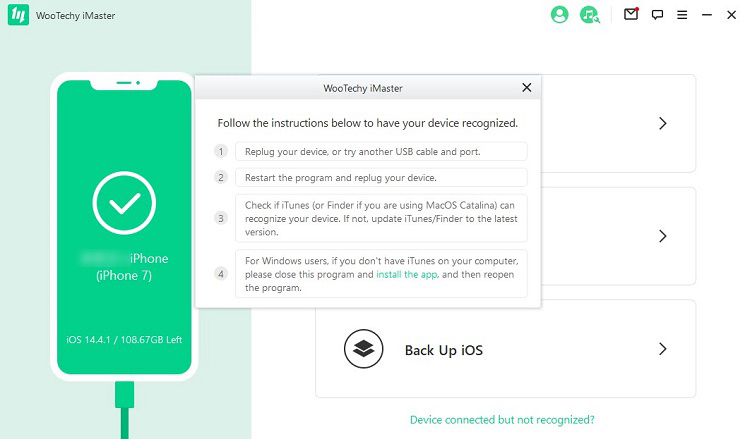 Step 4. With your device connected and recognized, click Downgrade iOS.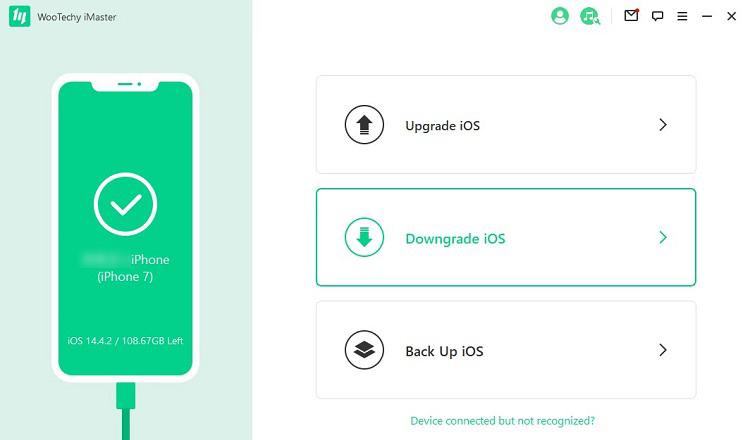 Step 5. The next screen will show available firmware for your mobile device and ask you to select which one you want to download. Choose one, specify a download path (if you wish), and click Next to start downloading the firmware to your device.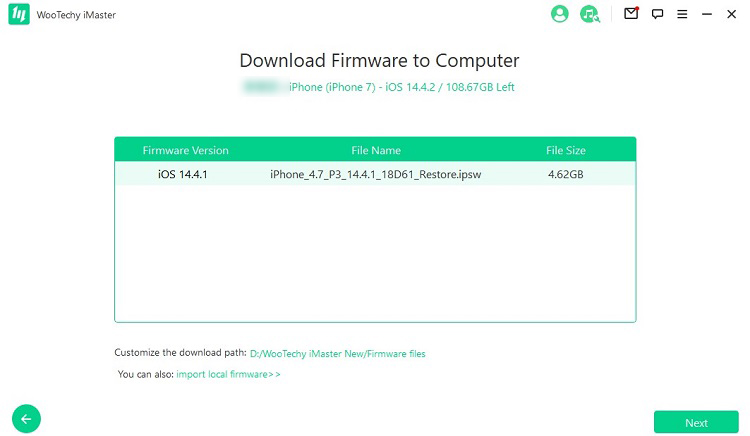 Step 6. On the next screen, your selected firmware version will be displayed for confirmation. Click Start to start downgrading your device from iOS 15 to iOS 14 for now. During the downgrade process, keep your device connected to your PC and set it aside.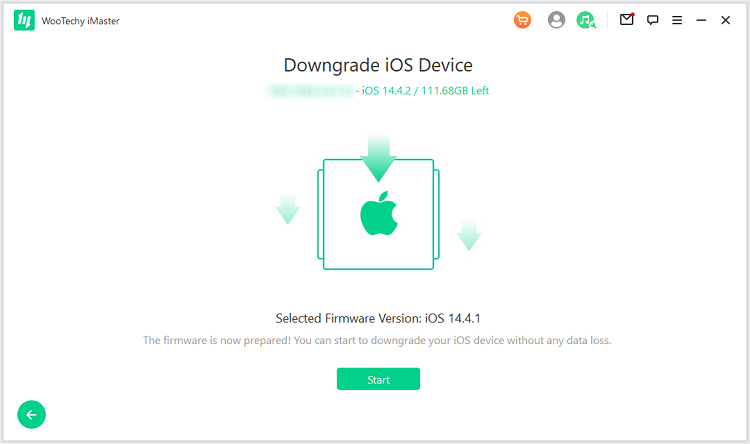 Step 7. After seeing a "downgrade success" prompt, click Done to finish the process.
FAQs section FAQs about Downgrading to Unsigned iOS
Q1

Is There A Way to Downgrade to an Unsigned iOS Version?
Yes, you can downgrade to an unsigned iOS version using FutureRestore, SHSH blob, and corresponding unsigned iOS firmware.
Q2

What Does It Mean If IPSW File Is Not Signed Anymore?
An unsigned iOS (IPSW) firmware is a version of iOS that Apple no longer supports or signs. Such versions will not receive security or feature updates.
Q3

Can I Go Back to iOS 13 from 14?
If you have any iOS 13 firmware blob saved, you can downgrade to that unsigned version of iOS using a tool like FutureRestore.
Q4

How Do I Revert Back to iOS 13 from iOS 14 without A Computer?
You can't revert back from iOS 14 to 13 without using a PC. This is because you'll need the help of third-party iOS downgrade tools like FutureRestore for the transition. Be wary, however, of some unofficial iOS apps that claim to help iOS users downgrade to unsigned iOS IPSWs without the use of a PC in any way whatsoever. Such iOS apps could waste your time by requesting you to complete unending online surveys or expose your device to cyberthreat.
Conclusion
This blog explained what SHSH blob is and how to use it to restore unsigned IPSW. If you want to move back to a more recent iOS version that is signed by Apple, and now it means the downgrade from iOS 15 to iOS 14, the section about WooTechy iMaster should have been useful. If you have questions, please leave them in the comments.