If you're looking to downgrade iOS running on your iPhone/iPad, then you're not alone. Many iPhone users update an unstable beta or any other corrupt iOS release, only to experience unexpected bugs and glitches later.
In order to get rid of this situation, users seek to downgrade the recently installed iOS and that's where 3uTools, a housename for managing iOS devices, comes in handy. This guide will walk you through what is3uTools, how to downgrade iOS using 3uTools and recommend a better alternative.
So, without any further ado, let's cut to the chase.
All about How to Downgrade iOS Using 3uTools
1. What is 3uTools?
In layman terms, 3uTools is an all-in-one software designed to help users manage iOS device data on the computer. One thing should be noted is that although this software work with Apple products, it is only compatible with Windows PCs, not Mac operating systems.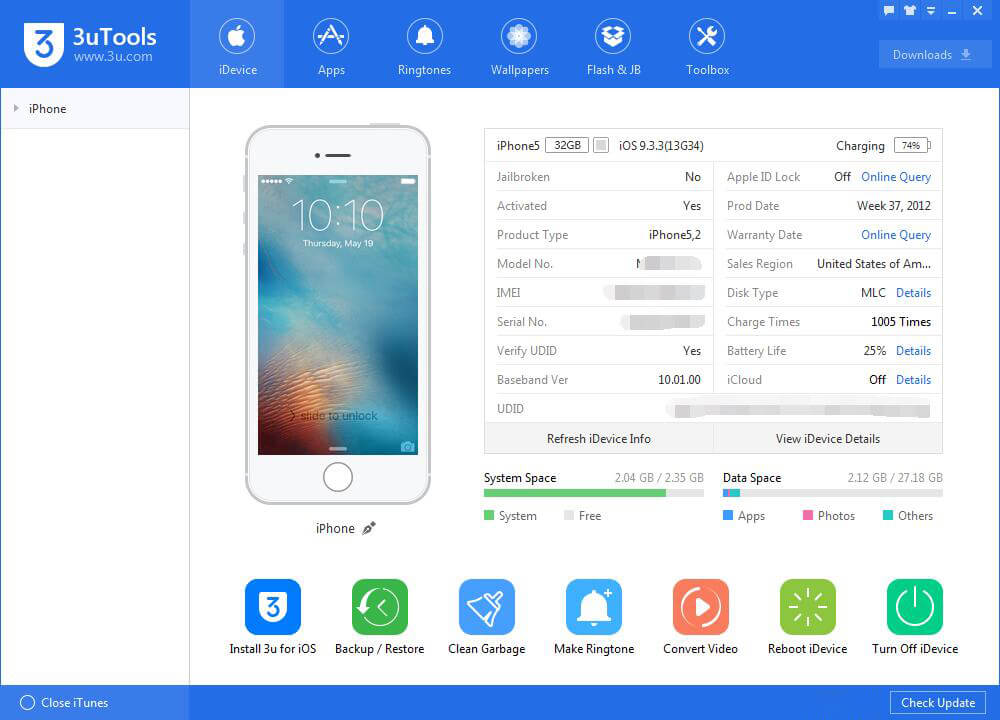 3uTools can perform a range of tasks like managing files, jailbreaking iOS devices, and downgrading iOS. Additionally, this powerful tool is equipped with data backup and apps download features. In short, the developers of 3uTools claim that users can fall back on this tool for every management task you need to do with your iOS device.
Compatibility
The biggest downside of 3uTools is that it's only compatible with a limited range of iPhones and iOS versions. What's worse is that the company doesn't provide clear instructions about which particular devices it supports – and it erodes its reliability.
2. What Can 3uTools Do?
As mentioned earlier, 3uTools is a multi-featured software that allows users to complete a range of functions pertaining to their iPhones or iPads. Some most sought-after features include:
1. Manage Files
3uTools has made it easier than ever to manage your dataon iOS devices. It offers a one-stop solution to manage apps, music, photos, videos, ringtones, music, and other multimedia files. You can see the storage space each category has taken.
What's more, it lets you delete unwanted files or add new ones, and rename, move, and create folders with just a few clicks.
2. Backup and Restore
Even though Apple has its own backup and restore feature in the form of iCloud, it isn't much efficient when it comes to storage capacity and ease of use. Thanks to 3uTools, you can backup unlimited data and restore either selected files or whole backup afterward.
The limitations of this backup feature is that some data, including Health reports, iCoud photos, iTunes media, etc. cannot be backed up.
3. Jailbreaking iOS Devices
Jailbreaking an iPhone is always a tough task since Apple has strict security protocols in place. But 3uTools allows users to jailbreak iOS devices without going through any technical hassle.
However, you need to make sure that your iPhone model and iOS running on it are compatible with this feature of 3uTools.
4. 3uTools Downgrade
Probably the most distinct feature of 3uTools is its ability to upgrade or downgrade your iOS device to your desired version. With this software, you can choose either the "Easy Flash" option or Pro Flash to change the iOS version running on your device.
3. Is 3uTools Legal?
For any software, its safety and legality is always the most concerned question to users.
According to Sofotnic, you can safely download and install 3uTools on your Windows computer (Windows Vista/7/8/10). And the 3uTools website claims that they don't sell, trade or transfer users' information to outside parties.
4. How to Downgrade iOS Using 3uTools
For downgrading iOS, you should ensure a healthy internet connection and an original lightning cable. Below is a step-by-step guide on how to downgrade iOS using 3uTools.
Step 1. Start by downloading 3uTools and installing it on your Windows PC or laptop. Launch it and connect your iPhone via an original lightning cable.
Step 2. From the top bar, select Flash & JB > Easy Flash. Here, the program will automatically show the matching firmware running on your device anddisplay the available firmware for your device.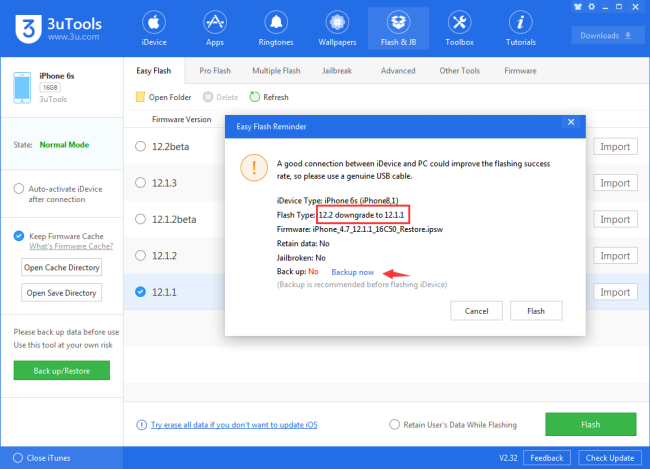 Step 3. Now, choose the firmware you want to downgrade to and click Flash. 3uTools will take some to time to download the file and downgrade your iPhone to it.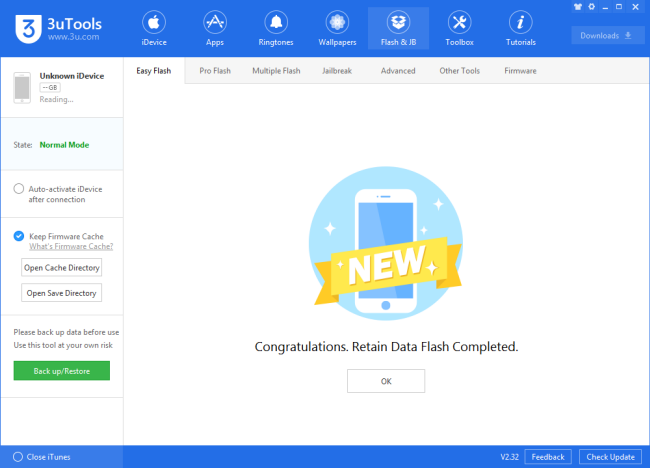 The process may result in
LOSS of DATA
so, backup your device to avoid the risk of losing data using 3uTools customized backup option.
And don't use your computer or iOS device during the downgrading process as it may cause the iOS device to become a bricked iPhone.
A Better Alternative to 3uTools Downgrade (iOS 15 Supported)
You have already know how to downgrade iOS using 3uTools, despite its disadvantages like leading to data loss or your iPhone becoming bricked during the downgrading process. Well, if you want to avoid any such unfortunate scenario, then WooTechy iMaster is your perfect companion.
iMaster is the most reliable and efficient tool to downgrade your device's firmware to any desired iOS version in just one click – and that too without any data loss.
Downgrade iOS with WooTechy iMaster
Downgrade to any supported iOS version, even the iOS 15, without data loss.

Downgrade your iDevice like iPhone/iPad without manual operation.

Upgrade your firmware to the latest or any iOS version you want – this feature is FREE.

Backup all your data on any iOS version safely and quickly.
Watch the video on how to downgrade iOS quickly and with no data loss.
Or you can follow the text instructions below to downgrade iOS using WooTechy iMaster.
Step 1. Head to the official site and install iMaster on your computer, it's available for both Windows and Mac. Launch the program and connect your iPhone to via a lightning cable.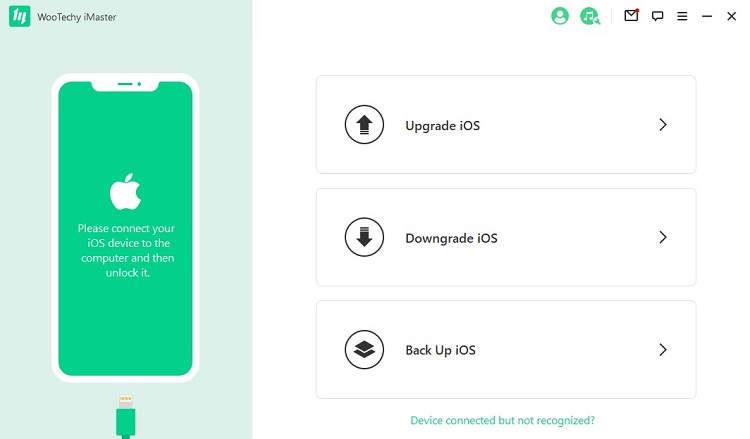 Step 2. When the program detects your device, hit on Downgrade iOS on the main interface.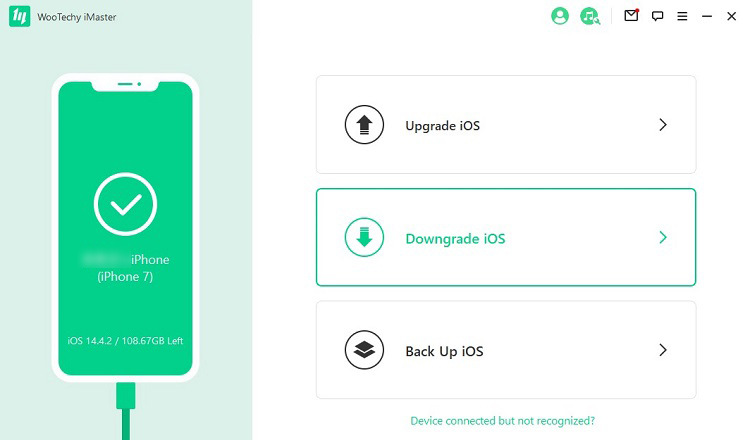 iMaster will ask you to choose a firmware you need to downgrade to and show its details. Click on Next to proceed.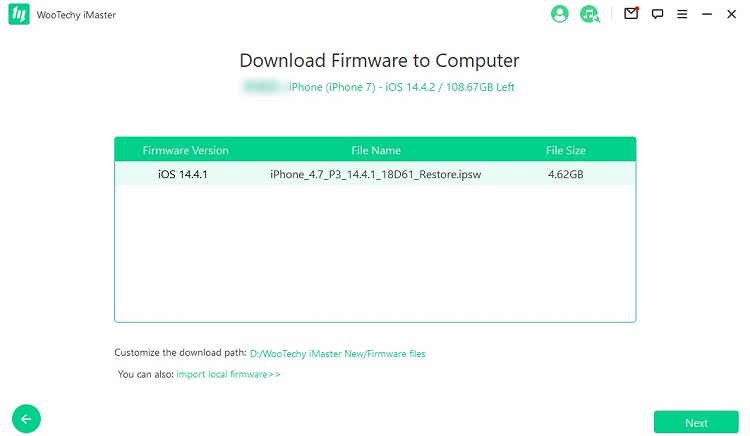 Step 3. Depending on size of the firmware file, iMaster will take some time to download it on your computer. When it's done, click on Start to begin the downgrading process.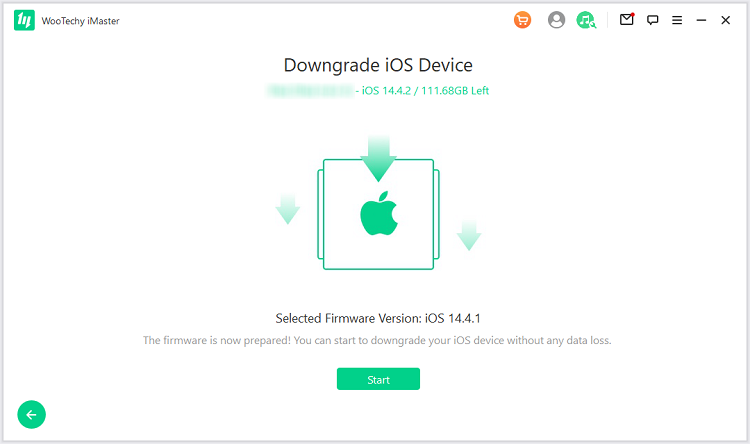 Step 4. The program will take only a few minutes to downgrade your device to the chosen iOS version. After that, click on Done and start using your downgraded device.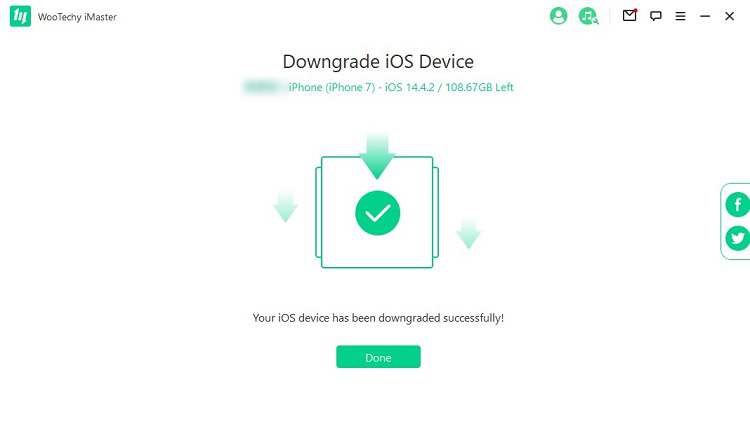 Compatibility
What makes Wootechy iSalvor the #1 ranked iOS downgrading software is its universal computability. It supports almost all iPhone models including the iPhone 12 series.

Similarly, it is compatible with all iPad models.
How Do I Update My iPhone with 3uTools?
In this section, we will answer some commonly asked question of our readers pertaining to the topic at hand. Read them carefully to
Q1. How do I update my iPhone with 3uTools?
Updating your iPhone using 3uTools is a straightforward process. You just need to:
Install and launch 3uTools and connect your iPhone to it.

Now, navigate to Flash & JB > Easy Flash interface and download the suggested iOS version.

When it's downloaded, click on Flash and the program will start updating your iPhone. It will reboot automatically when the process is completed.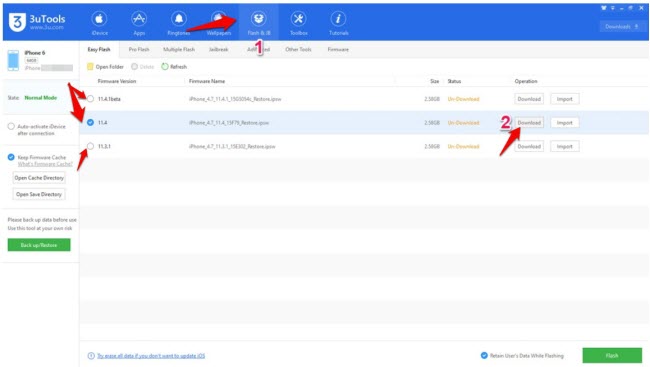 Q2. How can I update my iPhone with 3uTools without losing data?
If you don't want to lose data during the updating process, then check the "Retain User's Data While Flashing" box present at the bottom of the screen before clicking on Flash.
In this way, the program will keep your data on the computer and you can access or restore it whenever you want.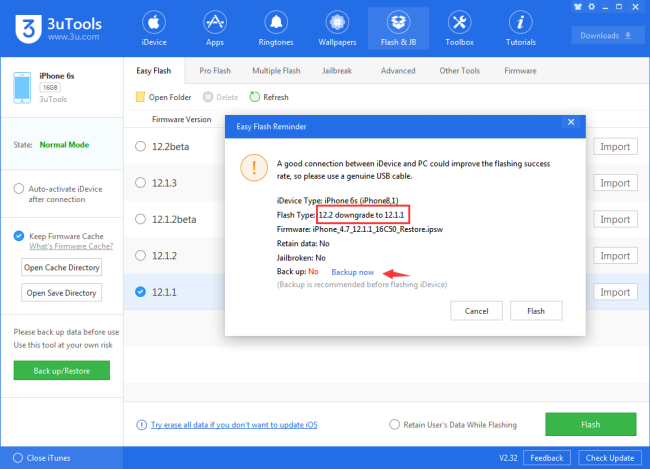 Q3. What is Pro Flash in 3uTools?
3uTools offers three different flash methods, namely: Easy Flash, Pro Flash and Multiple Flash. Pro Flash is a feature which comes in handy when:
You need to query your query iDevice's SHSH.

You want to reserve baseband, jailbreak or activate your iPhone during flashing when it's running below iOS 7.

It also supports downgrading iOS in iPhone 4.
There are 4 flashing modes in Pro Flash (present at bottom right corner).
Q4. Is it possible to downgrade to unsigned iOS?
The answer is No. There's no legal or direct way to downgrade your device to an unsigned iOS. When it comes to unsigned iOS, Apple has maintained strict security protocols to make jailbreaking an iPhone extremely difficult.
However, jailbroken iOS devices, in some cases, can be downgraded to unsinged iOS after downloading unsigned IPSW files. The users would have to go through a lengthy and tech-savvy process as unsigned IPSW files cannot be installed directly like a regular system update.
Conclusion
To wrap it up, this blogpost has provided a comprehensive guide on how to downgrade iOS using 3uTools. After going through the whole article, it's safe to conclude that WooTechy iMaster is the best tool to help downgrade iOS to any version you want, even if the version you want to downgrade is the newly released iOS 15.
So, whenever you need to downgrade iOS, install iMaster and get it done in just a few minutes.