Most iOS device owners for one reason or another may lose interest in their current iOS. For some, it may be bugs in the latest version of their iOS 15 while, for others it may be a change in features which makes it difficult to use their current iOS the way they the love.
Whatever the reason may be for downgrading an iOS, there's a simple step-by-step process which will be examined in this article. However, as the Apple has closed the entrance to downgrading big iOS versions, you may find it difficult to downgrade iOS with iTunes. Don't worry, in this article, you would know how to downgrade iOS without iTunes. In case for now, it means the downgrade from newest iOS 15.4.1 to iOS 14.1.
Back Up Before Downgrading iOS
Backing up your data is the first step you must take before you start downgrading your iOS device. Downgrading your iOS is like a factory reset where you wipe off all the existing data on the iOS device before installing the older iOS. You can do it either with iCloud or WooTechy iMaster.
Back up iPhone with iCloud
Here is how you back up your iPhone using iCloud:
Step 1: Connect your iOS device to a Wi-Fi network.
Step 2: Click on Settings, click on your name, and then click on iCloud. For iOS 10.2 versions or earlier, click on the iCloud icon in your iPhone Settings.
Step 3: Select iCloud Backup. For an iOS 12 version or earlier, click on Backup.
Step 4: Select Back Up now and maintain the connection to your Wi-Fi network until you have completed the backup process.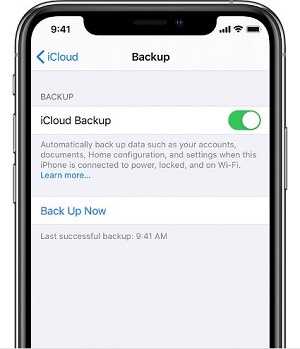 Once the backup process is complete, go to the iPhone Settings on your device, then click on your name, then iCloud. You click on iCloud storage and tap on Manage storage, where you see details for the last backup. With iOS 12 and earlier, click on iCloud in the iPhone Settings, then Storage before clicking on Manage storage.

Backing up your iPhone data to iCloud is really slow. Apart from the limited 5 GB free storage, you data security is not ensured.
Back up iPhone with WooTechy iMaster
If you want to back up your device data without storage limitation, you can use WooTechy iMaster before downgrading iOS to achieve that with 100% security. Moreover, it won't take you much time and you just need several clicks.
Step 1: Get and open the software. Connect your iPhone to computer and click Back Up iOS.
Step 2: Select a storage location and then click Start to back up data. Soon, your data will be backed up.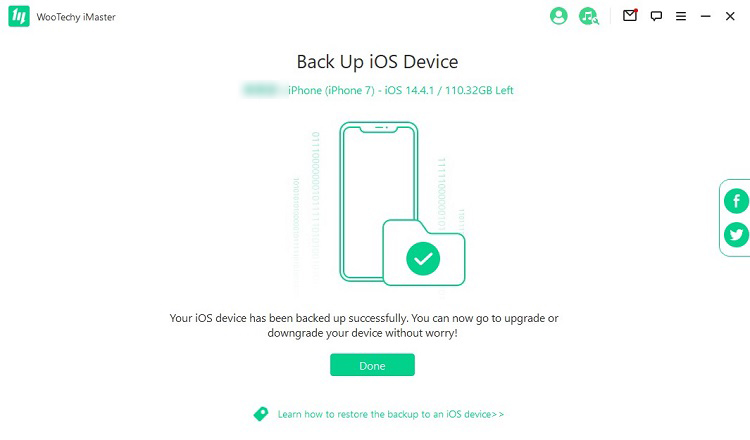 Now that you have backed up your iPhone data, you can proceed to downgrade iOS with WooTechy iMaster tool or other ways illustrated below.
Downgrade iOS Without iTunes
If it is difficult enough to downgrade iOS with iTunes, now imagine doing so without iTunes. Heck, even Apple claims that it is impossible to downgrade the iOS on your device without iTunes. Thankfully, there is some leeway that can be exploited to implement the iOS downgrade without using iTunes. Here are 3 methods to do just that.
1. Downgrade iOS Without iTunes Using Finder
Step 1. Disable "Find My iPhone".
Go to "Settings," then tap your name at the top of the display, after which you tap "Find My." You then tap "Find My iPhone," before disabling the feature by tapping the toggle next to "Find My iPhone." You'll be required to enter your Apple ID and password before this is done. However, you can move to the next step if the device does not respond.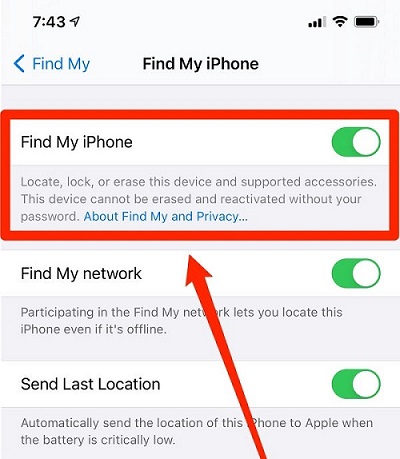 Step 2. Download the Right Restore Image.
Download the right restore image for the older version you intend to downgrade to and your phone model.
Step 3. Connect your iOS Device to Your Computer.
Once the download is over, connect your iOS device to your computer using a USB cable.
Step 4. Open Finder.
If you are running macOS Catalina (10.15 or later) or macOS Big Sur (11.0 or later), you can open the Finder app if it doesn't open automatically to your iOS device. Click on your iOS device's name under "Locations" in the sidebar. You can move to the next step if you can't find it.
Step 5. Trust the Computer.
After choosing your iOS device, click the "Trust" button that comes up. A prompt will appear on the display of your iPhone. Tap "Trust", then enter the passcode of your device to grant your computer rights to access the data on your device.
Step 6. Install the Older iOS Version.
Ensure that you are on the "General" screen. Hold down the "Option" key, then choose either "Check for Update" or "Restore iPhone."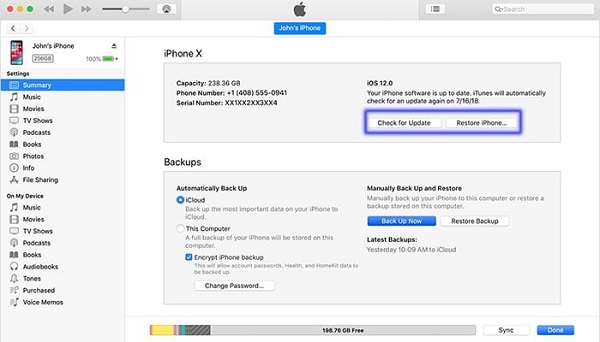 With "Check for Update", you could try to downgrade your device with your data intact. You might encounter some problems later because you're downgrading to an iOS version that might be incompatible with some features on the device.
That is why you might want to choose "Restore iPhone", which starts the process from scratch. You can then restore the device using your iCloud backup.
After choosing an option, a file browser pop-up will appear. You then click on the restore image to complete the process. Keep your device connected to the computer until the process is over.
---
2. Downgrade iOS without iTunes Using WooTechy iMaster (iOS 15 Supported)
If you simply cannot use Finder, because your PC isn't a Mac, then you should turn to WooTechy iMaster. iMaster is also a good choice if you don't want to downgrade iOS without losing any data and without jailbreaking. It is a professional tool for iOS downgrade and upgrade, you can even finish the downgrade process in a few clicks.
Great Features of WooTechy iMaster
Compatible with Windows and Mac, extremely convenient for those without iTunes.

Free to back up your iPhone before downgrade.

One-click to update iOS, if you are not satisfied with the iOS version you just revert to.

Any signed iOS version can be updated or reverted to, including the latest iOS 15/14.
Here are the steps to downgrade iOS:
Step 1: Download WooTechy iMaster, and then launch it.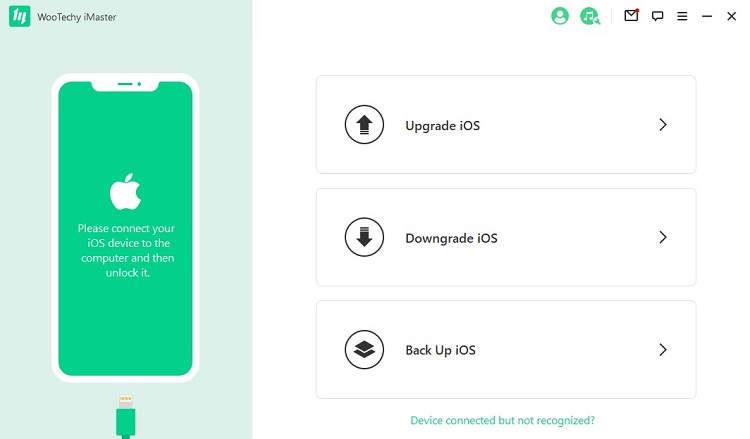 Step 2: Connect your iPhone to the computer via USB cable, and then choose "Downgrade iOS" mode.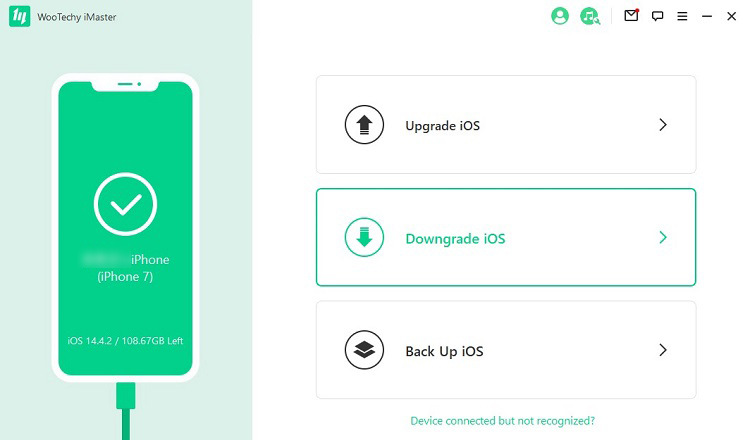 Step 3: Download necessary firmware to your computer. How long it takes mainly depends on your connection speed.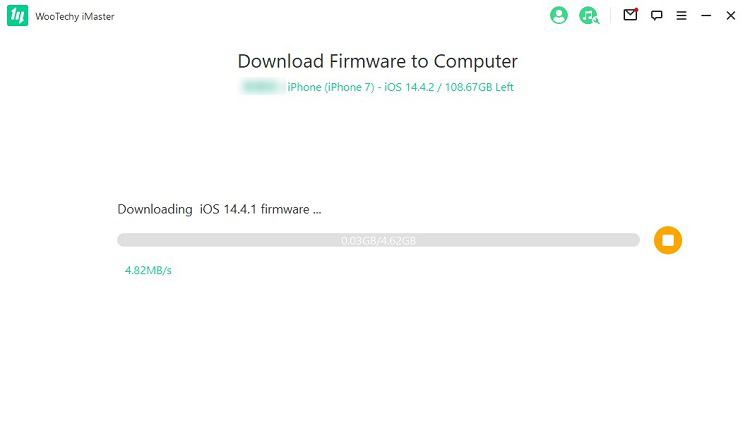 Step 4: Once the process is done, click "Start" to downgrade your device from iOS 15 to iOS 14 or other cases.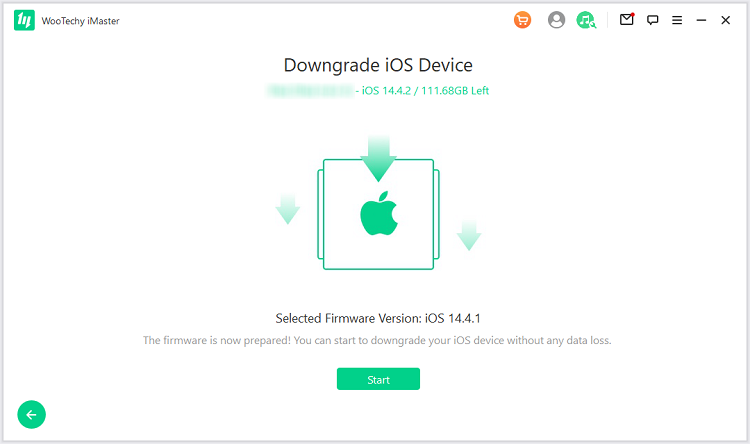 Step 5: Your iOS device will be downgraded. Click "Done" to complete the process.
---
3. Downgrade iOS Without iTunes Using TinyUmbrella (Jailbreaking Needed)
After all that methods above, if you still want to explore other means to downgrade iOS without iTunes, then you will learn how to use TinyUmbrella to do so.
Step 1: Download and install the TinyUmbrella app.
Step 2: Start the Tiny Umbrella app. Connect your iOS device to a computer using a USB cable. The TinyUmbrella app should detect the device automatically.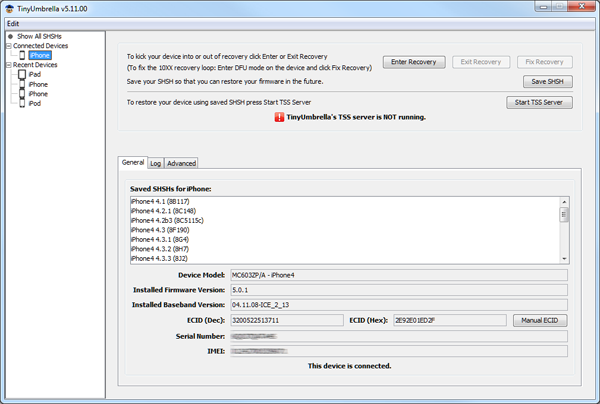 Step 3: Click on the "Save SHSH" button, which allows you to save the 126-bit encryption onto the device.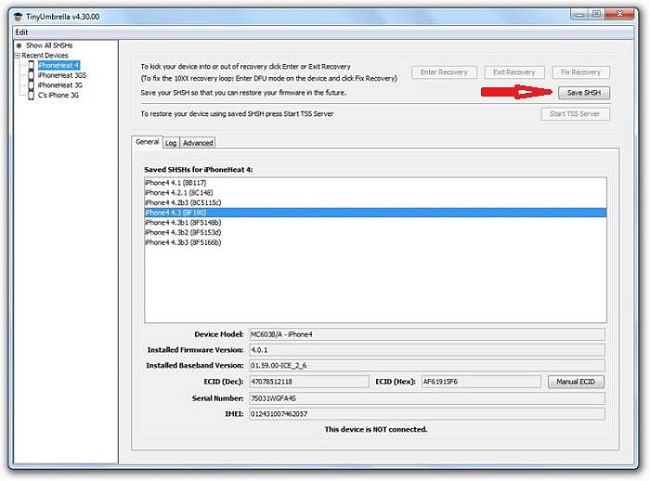 Step 4: There is a button right under the "Save SHSH" blob linked to the TSS server. Click "Start TSS Server" to proceed with the process.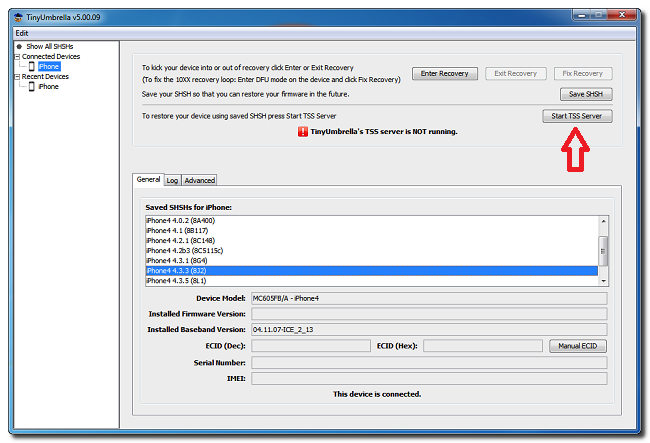 Step 5: You will receive an error 1015 message after the server has finished running the process. You can then move on to the "Exit Recovery" under the recovery devices option:
Step 6: You then proceed to the advance option to uncheck the highlighted box and complete the process.

You will need to save the SHSH blobs after completing the process to downgrade the firmware. You then restart the device to automatically downgrade the firmware.
Restore iPhone from Backup after Downgrading
The next step after the downgrade would be to restore your iPhone.
iCloud backup is a popular backup method and you can even set iCloud to automatically back up your iPhone daily. Then, you can go to iCloud.com to extract the backup files from your iCloud.
Step 1. Open your browser and enter iCloud.com.
Step 2. Type in your iCloud account & password, and then press Enter on your keyboard to continue.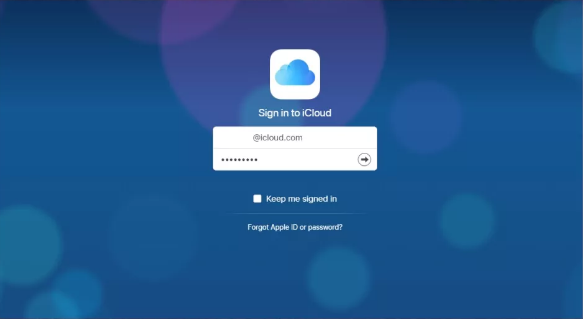 Step 3. You will see the interface as follows. Here, for instance, if you want to recover photos in the iCloud backup file, you should click on Photos in this interface to continue.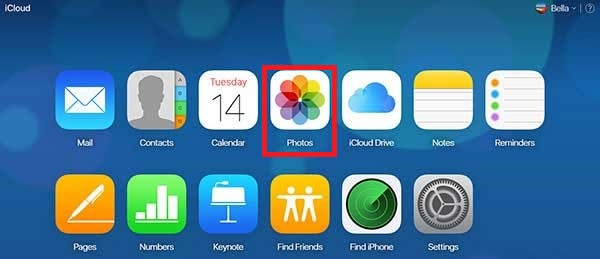 Step 4. You will enter the interface with iPhone photos listed there. Then, you can click on the target photo to select it and then click on the button iCloud download button to download it to your computer.
You'll find your recovered data in a separate gallery. You can then select the files you'd like to recover before clicking on "Restore to Device" to the iCloud backup after the downgrade.
Conclusion
Downgrading your iPhone iOS can be daunting to uninitiated. Thankfully, this article provides vital information on how to go about it. Whatever you do, remember to back up your data before you start the downgrade process.
WooTechy iMaster should be your best option when you want to downgrade iOS without iTunes. You don't even have to mind the backup business, for iMaster will do it for you in a few clicks. And this tool supports the downgrade from the newly released iOS 15 to previous iOS 14, which can not be finished by all other methods in this post. If you stick to the steps described here, the process will be a walk in the park for you.