There is something strange happening on my iPhone device. A few days ago, when I look through my FB with the iPhone device, I noticed that my iPhone screen turned grey suddenly. Even thought I restarted the device, it failed to fix this problem. So can anyone help me to fix this iPhone grey screen of death problem?
Well, have you ever encountered this kind of iPhone grey screen problem like the user above? Actually, iPhone grey screen is an common iPhone issue, which often happen if your iPhone settings get wrong or there are some software glitches on your iPhone device.
But here's good news!
We can help you fix this grey screen on iPhone issue with ease and without causing any effort. This article will fully outline all the possible reasons causing your iPhone grey screen and give top 8 useful methods to troubleshoot the problem in root.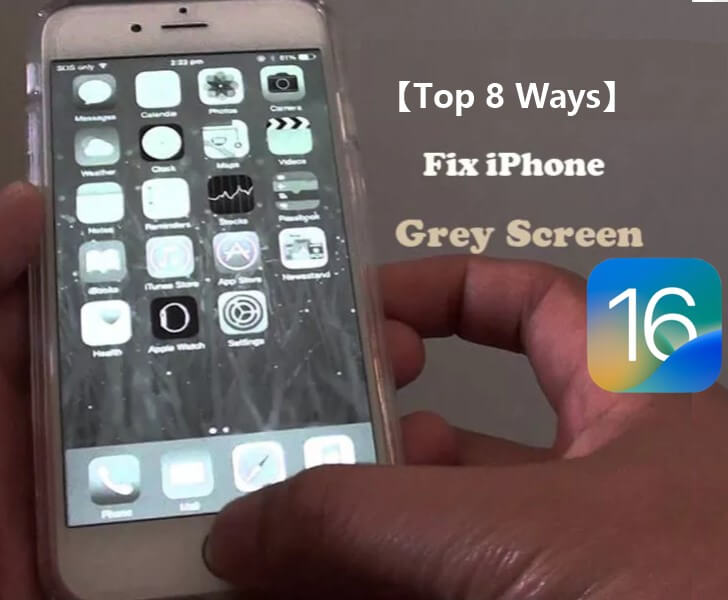 Video Guide: How to Fix iPhone Grey/Black Screen Of Death
Part 1: What Causes iPhone Grey Screen?
Before finding out the solutions to fix your iPhone grey screen of death problem, you should know about the possible reasons for why has your iPhone turned grey (iPhone 8/S/X/11/12/13/14):
You may tap the Home button 3 times accidently, which will initiate the grey mode on your iPhone device.

Your iPhone device set the device to Grey screen mode automatically. Suppose you have set a mode to protect your eyes.

Some system bugs on your iPhone softwares may also cause your iPhone grey screen.

Hardware damages on your iPhone device also can make the iPhone grey screen problem.
Part 2: Basic Methods to Fix iPhone Gray Screen
When you meet iPhone bugs like iPhone gray screen, then you should know 2 basic quick fixs to solve the problem in time on your won.
2.1

Check If the Grayscale Feature Is Enabled

Generally speaking, your iPhone gray screen may be caused by the Grayscale setting on iPhone. Thus you should check your Grayscale setting and see if you have enabled this feature carelessly.
Navigate to the Settings app on your iPhone.

From the dropdown menu, select General.

Select the Accessibility option.

From the Display Accommodations option, tap on Color Filters.

Turn it off to disable Grayscale mode.
This option will ensure that your iPhone will not automatically revert to grayscale unless you specifically allow it to happen. In the event your iPhone grey screen still exists after you have done all this, consider moving on to the next fix.
2.2

Force Restart Your iPhone

Another basic method to fix your iPhone grey screen is to force restart your iPhone device. If restarting iPhone device fails to fix your problem, then force restarting the device can be an available method. Since this method can solve most iPhone stuck problems.

On an iPhone 8 to the Latest iPhone 14: Hold the Volume Up button, then release it. Use the Volume Down button to repeat the same procedure. Then you press and hold down the Side button, an Apple logo will appear (this could take more than 10 seconds).

On an iPhone 7 and 7 Plus: Hold the Power and the Volume Down buttons, then the Apple logo will appear.

On an iPhone 6 and Earlier: Hold the Power and the Home buttons.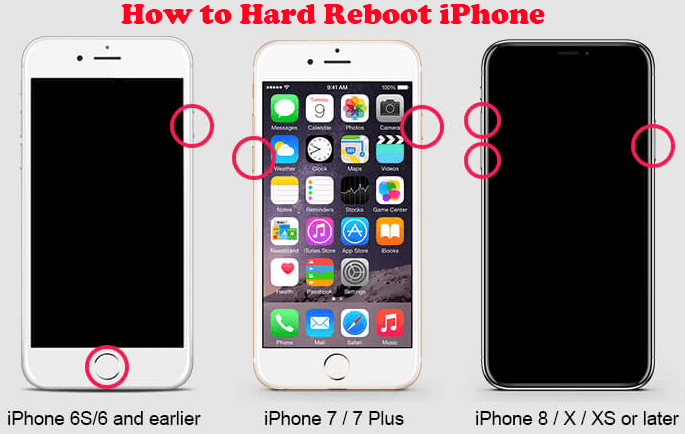 After trying these 2 methods, observe your iPhone device for a while and check if your iPhone screen color can turn back to be normal. If not, try more advanced methods below to fix the iPhone grey screen issue.
Part 3. How Do I Fix the GREY Screen of Death on My iPhone? (High Success Rate)
After making the choices above, your iPhone should enter color mode. If iPhone screen grey and unresponsive still exists after you have attempted all of the previous solutions, it may be a software issue. You can resolve software issues with your iPhone following the steps listed below.
3.1

Fix iPhone Grey Screen with A 100% Success Rate(No Data Loss)

If the above tips didn't get your iPhone out of grey screen, then the culprit is definitely a software glitch. When it comes to fix a software issue on iPhone device, you definitely need an excellent iOS system recovery tool to help you out.

In this case, WooTechy iPhixer emerges as the most advantageous choice. It is a professional tool for resolving iPhone grey screen issues without causing any data loss. It will also help with other difficult iOS problems because it was created using innovative and high-tech methodologies.

Key Features of WooTechy iPhixer: Fix Your iPhone Grey Screen Right Away
Fix all iOS issues such as iPhone grey screen, iPhone screen flickering, iPhone touch screen not working, iPhone blinking Apple logo and more.

With a 100% success rate, it fixes your iPhone grey screen through several clicks.

Support all iPhone models and iOS versions including the latest iPhone 14 series and iOS 16.

The best alternative to iTunes, it brings your iPhone back to normal without iTunes errors like 4013/4014 and data loss.

100% secure, it doesn't invade your privacy and has no virus to fix your iPhone grey screen as fast as you need.

Besides, you can also use iPhixer to enter/exit recovery mode for 100% free without OS limitation.
Easy Steps to Fix your iPhone Grey Screen of Death with iPhixer:
Step 1: Connect your iPhone After Installing iPhixer tool
Launch this software on your computer and immediately connect your iPhone to that computer. To proceed, select the Standard Mode and thereafter press the Next button.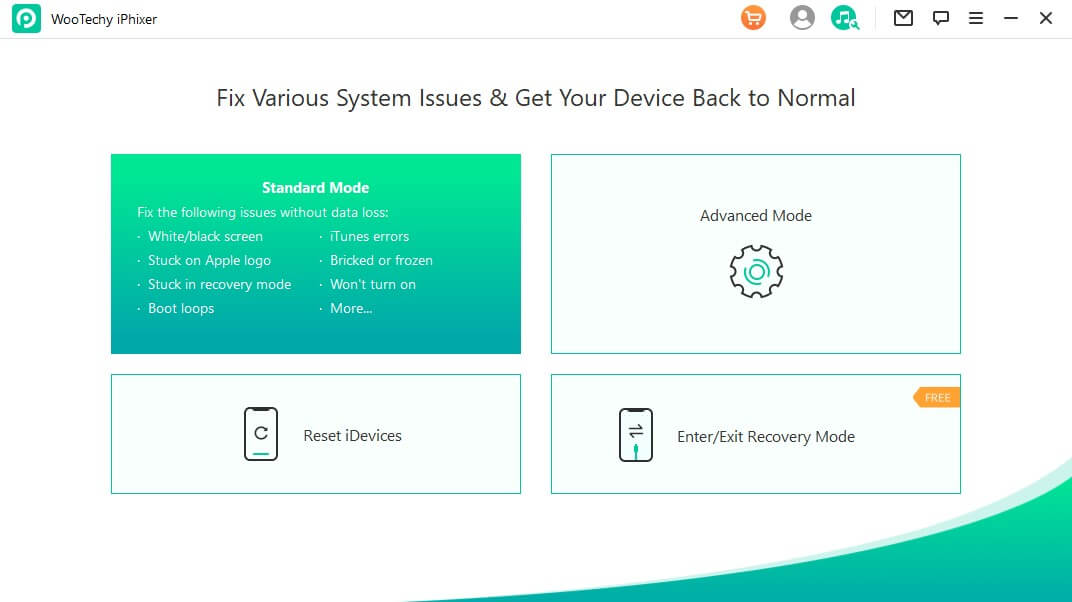 It is worth noting that your iPhone should be unlocked before proceeding to the subsequent step. It is because the program may fail to detect the iPhone if you have not unlocked it. Immediately the program detects your device, click the Next button. You may be promoted to put your iPhone to recovery mode, just follow the instructions.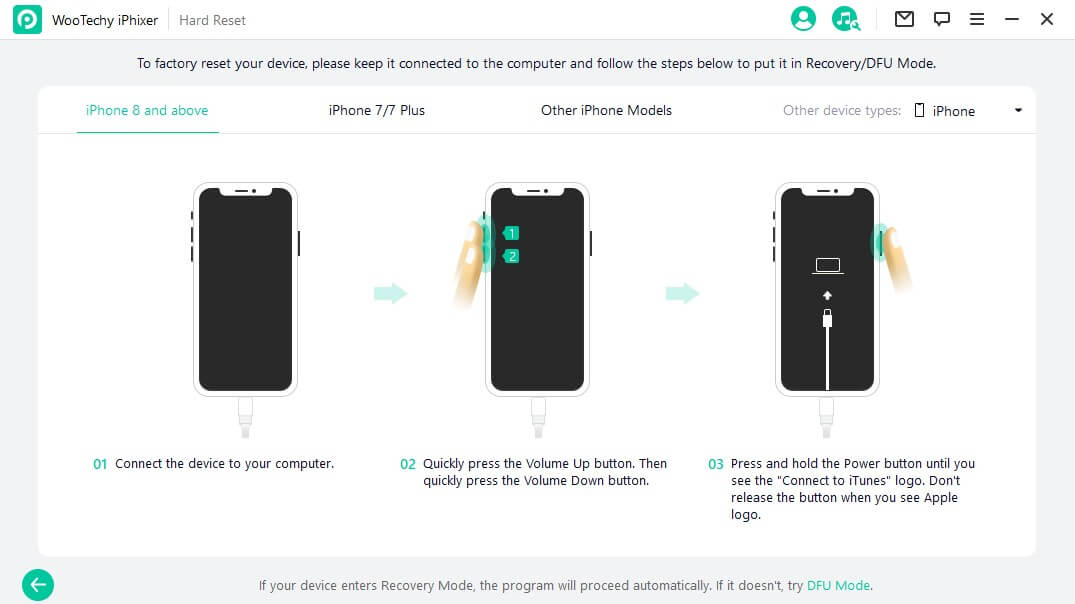 Step 2: Download Firmware
After that, download and install the firmware. The software will display the most up-to-date and appropriate firmware version for that phone. You have the option of selecting your preferred version. It will evaluate the firmware and extract software after a successful download before automatically restoring it.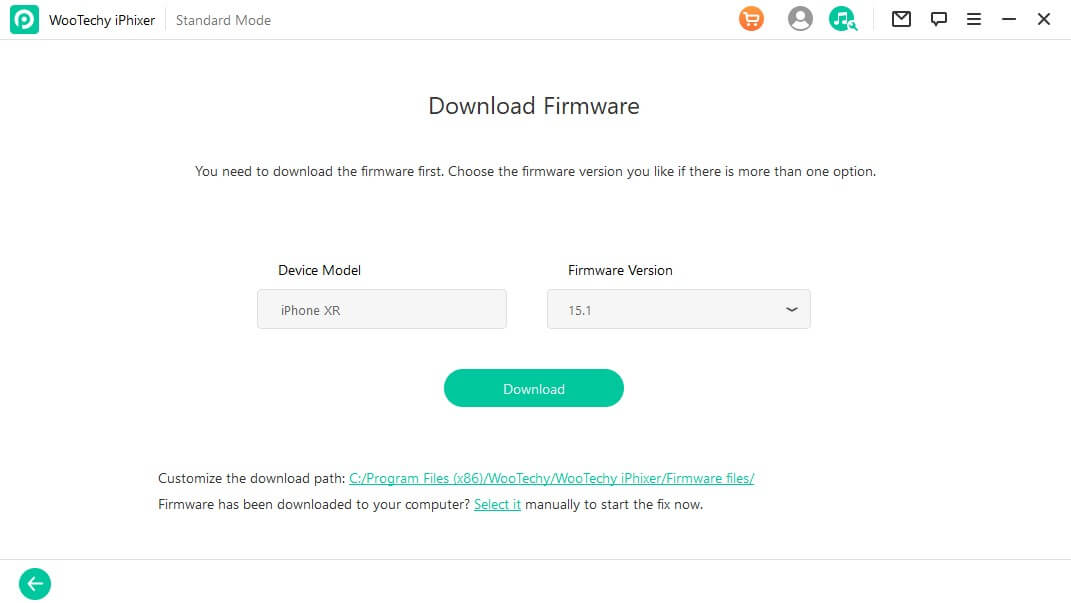 Step 3. Identifying and Resolving the iPhone Issue
To initiate the device's restoration, press the Start button. During this time, ensure the device is not disconnected. Disconnecting it can cause it to brick and stop working. After the process is complete, your iPhone restarts and the iPhone grey screen issue should be gone.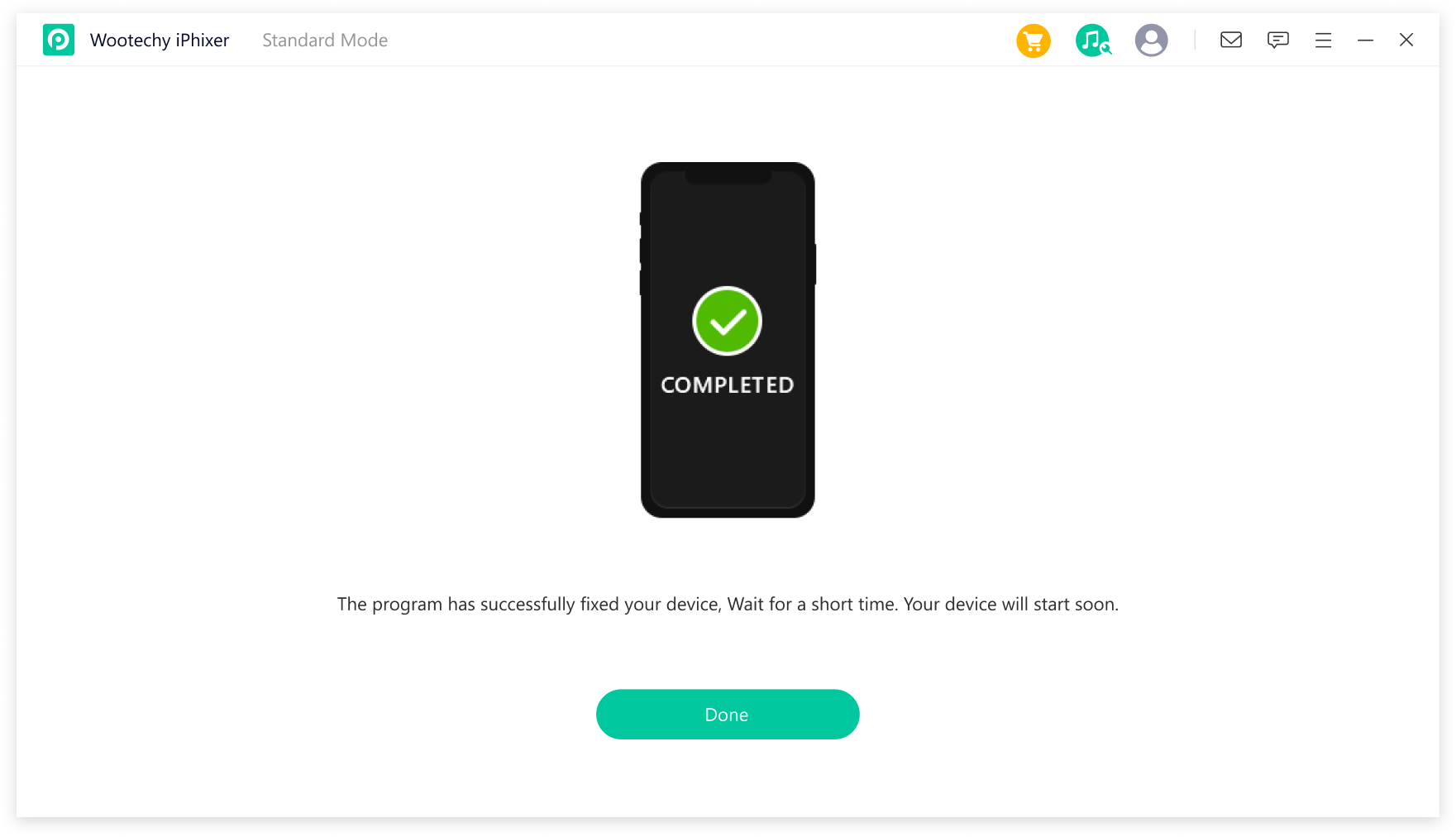 That's this wonderful iOS system recovery tool, which ensures you the highest success rate and fastest speed to fix your iPhone grey screen problem. If you have any other iPad software issues, you can also use iPhixer to fix them done, such as iPad boot loop and iPad ghost touch issues.
3.2

Restore Your iPhone in Grey Screen with iTunes (Data Loss Risk)

You can get rid of your iPhone grey screen using iTunes. Please note that iTunes restoration erases all of your iPhone's data and settings. Yet, the software backs up your iPhone before resetting it. Thus, you can use its backup to get all the data lost during restoration.

Here are the techniques for restoring an iPhone grey screen using iTunes:
You'll need to launch iTunes on your computer. If you are using a Mac, launch Finder with macOS Catalina. After that, connect your device to that computer.

Once iTunes has detected your device, tap its icon displayed on the iTunes window towards the top left. Next, select Summary.

Before choosing Restore iPhone

After the software restores your device, remember to select "Restore Backups" to recover all the backed-up information to that device if you backed them up earlier.
Then check if the iPhone gray screen has beem solved. Honestly, WooTechy iPhixer can help you fix this iPhone grey screen of death issue with the highest success rate. So try using iPhixer to save tons of time for yourself.
Part 4. Other Possible Ways to Fix iPhone in Grey Screen Problem (Low Success Rate)
Aside from using WooTechy iPhixer or iTunes, there are still other available ways to fix your iPhone grey screen of death via repair the software issues. But these method can not ensure the 100% success rate like using iPhixer.
4.1

Update Your iPhone to the Latest Version

Several elements leading to gray screen issues in your iPhone can also be addressed through its updates. By doing so, you make sure the software is updated with the most recent version. Here's how to upgrade your iPhone:
Go to the device's Settings and select General.

Select the Software Update option.

When an update is available, select the Upgrade to iOS 16 > Download and Install option. Installing this update will update your iPhone's software.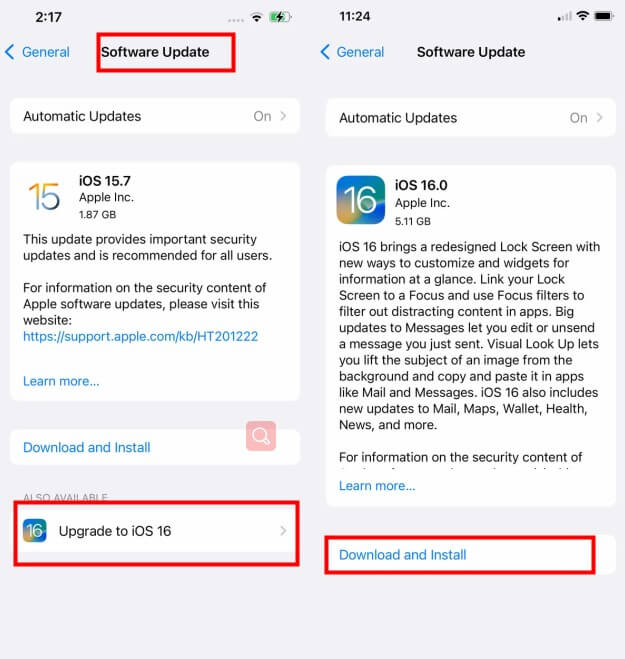 3.2

Reset All Settings

If you upgrade your iPhone device to iOS 16 version, but the iPhone grey screen issue still exists, then you can try reseting all settings on your device, which also can fix your iPhone system issues in some situations.
Go ahead to your iPhone Settings > General > Transfer or Reset iPhone > Reset

Choose the Reset All Settings option.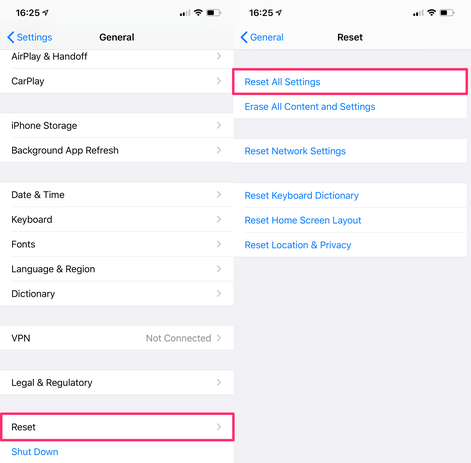 Then check if your can change your iPhone grey screen, if not, try next method.
3.3

Factory Reset Your Device

Sometimes, a factory reset of your iPhone can resolve your grey screen issue and make it more responsive. It is also one of the easiest ways through which you can do it since it does not involve installing anything on the phone or following long procedures.

On the flip side though, the method deletes all information from your phone. Thus, it is paramount to back up data before going through with it.

Here are the steps you should follow to fix your iPhone grey screen death:
Navigate your iPhone's Settings.

Tap the General option.

Tap the Reset option.

Choose the Erase all Contents and Settings option. If you are asked to enter the passcode, comply and tap the Erase the iPhone option.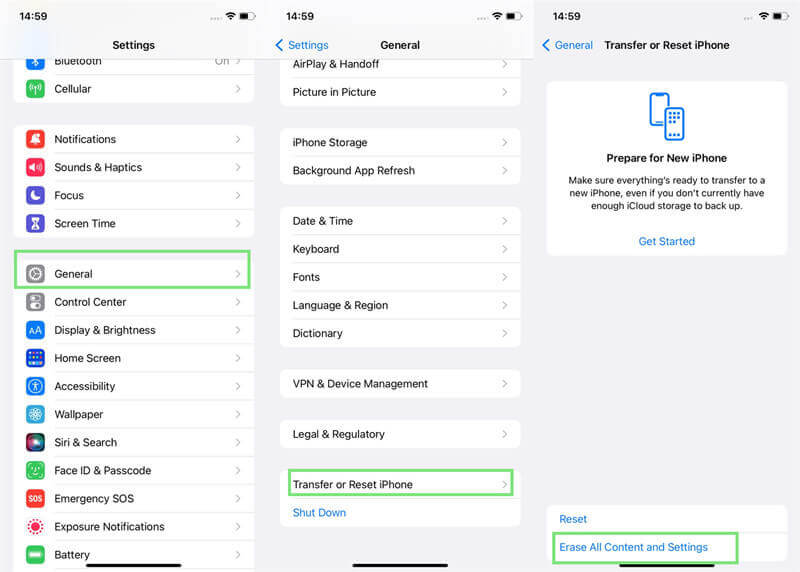 3.4

Go to Apple Support Center

If you have try all the solutions above, but still fail to fix the iPhone grey screen issues, then it is possible that your iPhone has hardware damages. You can think about whether your iPhone has been fallen into water or dropped on the ground.

If the answer is "Yes", then you hand better go to the local Apple Support Center or iPhone repair store to test your iPhone device to get the concrete reasons why does your iPhone screen turn grey.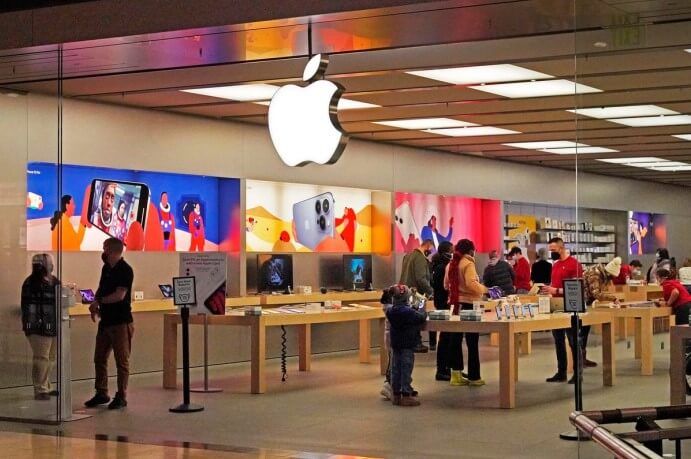 Conclusion
iPhones have a plethora of settings that allow you to configure them to your liking. For instance, its color is one of the methods you can personalize. Before contemplating any invasive remedy, it is crucial to consider your device's settings. It is because you may have accidentally caused the iPhone grey screen issue.
If it didn't occur by accident, then you can proceed to use some of the methods recommended in this article. Using WooTechy iPhixer is one of the effective ways through which you can go about it.
Check more solutions for iOS system problems here!