When you have used an iPhone device for a long time, they may be several issues occuring, for example, iPhone overheating while charging, iPhone blinking Apple logo, is it right? However, nowadays it's reported that many users have encountered iPhone screen vertical lines and have no idea about it.
iPhone screen vertical lines seem to be an old problem that can be traced to early iPhone versions like iPhone 4. It does not necessarily prevent the user from accessing the phone. But the purple, red, blue, or black lines can be irritating to see while using your iPhone.
Halloween is coming, so to keep your good feelings, here helps you fix iPhone vertical lines problem. You can take comfort in this good news: This article will share with your the possible reasons why your iPhone has vertical lines and the solutions about it.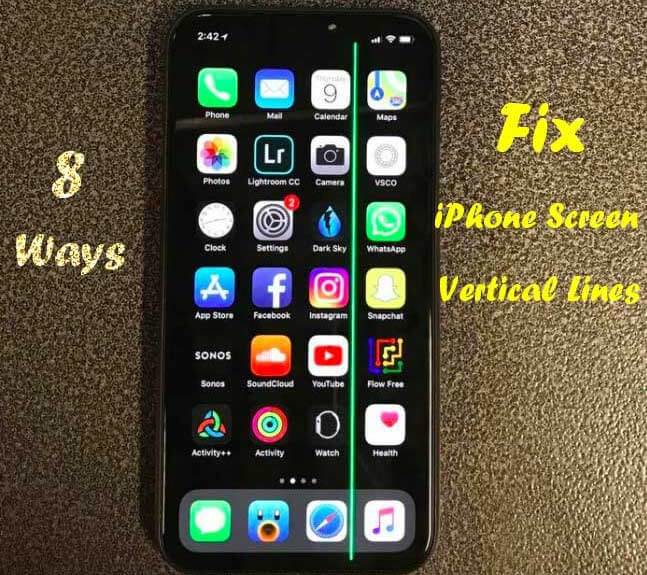 Part 1. Why Is My Screen Showing Vertical Lines?
There are a handful of things that are maybe causing vertical lines on the iPhone. You can identify some of these reasons with hardware damage. Sometimes your iPhone is dropped on a hard surface, exposed to liquid, and so on. These damages can lead to other problems like the flexor LCD cables are no longer properly connected to the logic board.
Or, if two electrically charged objects contact your iPhone, it could lead to Electrostatic Discharge (ESD). Your iPhone also has Integrated Circuits (IC) and their connectors for display functions that may be damaged. However, these hardware problems can have software implications.
Part 2. How to Fix Vertical Lines on iPhone
To prevent the vertical lines on iPhone from getting worse, here are the top 8 possible solutions, among which, the Method 4 -- using a professional iPhone reapir tool can certainly help you fix this done if you don't want to try other methods one by one.
1

Check the Connection

It is essential to check your iPhone's display connections. If there is dirt, debris, or dust on the cables or the logic board of your iPhone, it can cause a faulty connection. Hence, it would be best for you to inspect the connections or have them inspected and cleaned.

You have to disassemble your iPhone to check the connection yourself, but make sure you do so with the right tools. After dismantling it, you can then use a soft brush to clean it up. However, be careful not to pop off the display data cable when reassembling your iPhone. Such a mistake can lead to another spiral of damages to your iPhone.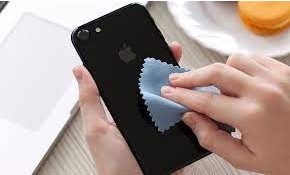 2

Push Down Screen Firmly

One of the causes of vertical lines on iPhone is that the LCD cable may be disconnected from the motherboard. This solution is an excellent way to fix such a problem. You are to push firmly on your screen to connect the cable back to the logic board.
Hold your phone firmly in an inverted position so that you can start from the top.

Place your thumbs on the screen so that the other fingers can guide your phone at the back.

Now, press down firmly across your iPhone.
Ensure that you do not break your phone during this process. And once the pin has been appropriately connected back to the logic board, the vertical lines on iPhone will disappear.
3

Hard Reboot iPhone

The predominant cause of vertical lines on iPhone being hardware also means there are software implications. And because of that, it is necessary to eliminate the possibility of software bugs. And one of the ways to eliminate software bugs is through a hard reboot of your iPhone.

For iPhone 8 to iPhone 14 model:
Hold down the Volume Up button and release it very fast.

Hold down the Volume Down button and release it very fast.

Keep holding down the Side button till the Apple logo shows, then remove your finger.

Now, put on your phone. Keep holding down the side button until the Apple logo shows.
For iPhone 7 and 7 Plus:
Keep holding down the Volume Down, and Sleep/Wake buttons at the same time.

As soon as the Apple logo shows, remove your fingers from the buttons.
For iPhone 6 and models before it:
Keep your fingers on the Home and Sleep/Wake buttons at the same time.

As soon as the Apple logo shows, remove your fingers from the buttons.
4

Fix iPhone Screen Vertical Lines with A Professional Repair Tool (No Data Loss)

If you hard reboot iPhone method is still failed to fic your iPhone screen vertical lines, then it's time to ask some official and professional iPhone repair tools to fix your iPhone software systems.

The first tool I would like to recommend is Wootechy iPhixer, which is an all-in-one repair tool for fixing your iOS/iPadOS/tvOS issues. Also, there will be no data loss after the software repair of vertical lines on the iPhone and any other glitch.

It is a simple tool that you can use at home without the help of an expert.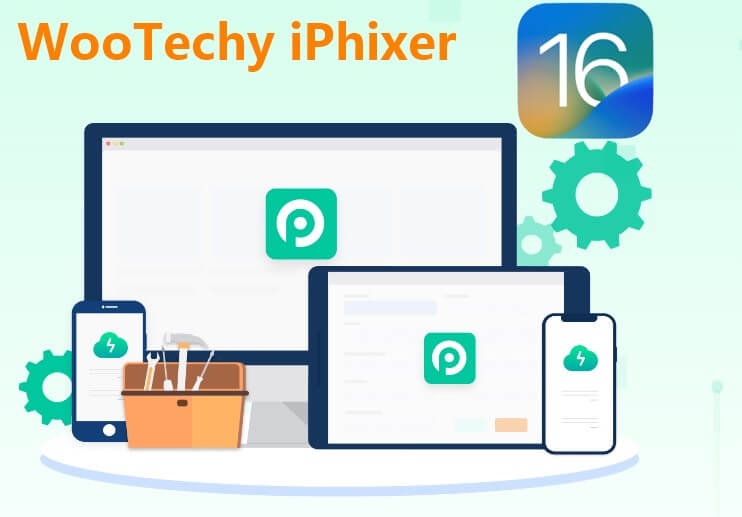 WooTechy iPhixer --Repair iPhone Screen Vertical Lines Issues with 100% Success Rate
Fix all iPhone issues like iPhone screen vertical lines, iPhone stuck on Apple logo, iPhone flashing Apple logo, and firmware file corrupt iPhone without data loss.

Work with all iPhone models and iOS systems including the latest iPhone 14 with iOS 16 supported.

Best alternative to iTunes app, iPhixer can repair the iPhone issue and bring it back to normal in several clicks with the highest success rate while not causing any errors like 4003/4015.

Receive great support from worldwide users because of its proven usefulness and 100% security, which will not invade your data privacy.

Enter/exit recovery mode for 100% free with one click and able to reset your device with different modes.
Install it on your computer. Open the app, then click the Standard Mode because it helps to prevent data loss.

Connect your iPhone to your computer with a lightening cable. Hit on the Next button that appears on your screen.

The app will prompt your computer to download the firmware that will fix your iPhone.

Once the download is complete, select the Start button that will repair your iPhone.
5

Factory Reset iPhone

Like hard rebooting your iPhone to solve your iPhone screen vertical issues, you can also reset your iPhone to factory settings. Hence, this process will remove all your personal information and third-party installations. After which, your iPhone is as good as new as regards its software standardization.
Launch the Settings application on your iPhone.

In the Settings app, click General from the list.

Click on Reset from the screen displayed by your previous step.

To complete the process, pick Erase All Content and Settings, and your iPhone will be as good as new.
6

Restore iPhone via iTunes (Data Loss)

Apple allows its users to save or backup their data on iTunes. Hence, if your iPhone has lines or it became faulty, you can restore your device from iTunes.
Set up iTunes on your computer and connect your iPhone to it with the aid of a cable.

When the device shows in iTunes, select the iPhone.

Pick Restore iPhone from the Summary panel.

Select Restore again to complete the process.
Your device data will be erased, and the newest version of iOS will be installed in place of it.
7

Put iPhone into DFU Mode

DFU (Device Firmware Update) mode of restoring iPhone is a more thorough means of restoration. It accesses Apple iTunes to downgrade your iPhone's iOS without installing the former iOS. You can DFU restore your iPhone, thus resolving iPhone screen vertical lines problem.

For iPhone 8 and models after it
Set up iTunes on your computer and connect your iPhone to the computer using a cable.

Click and release the Increase and Decrease volume one after the other very fast.

Press down the Side button and wait till the screen's color turns black.

Press down the Decrease volume button while your finger is still on the Side button.

Now, remove your finger from the side button after precisely five seconds, then your iPhone will stay black. At this time, your iPhone is into DFU mode.

Pick the Restore button shown in iTunes.
For iPhone 6 and iPhone 7
Set up the iTunes window on your computer and connect your iPhone to the computer using a cable.

Press down the Home or Volume Down button in iPhone 6 and iPhone 7, respectively. Simultaneously, press down the Sleep button for eight seconds.

With your fingers still on both buttons, remove your finger from the Sleep button after precisely eight seconds.

Keep holding down the Home or Volume Down button in iPhone 6 and iPhone 7, respectively.

Select Restore option in the pop-up message, then you will get the instructions for restoring your iPhone.
8

Seek Support from Apple Center

Apple is well aware of the challenge being faced by their customers. Even though your warranty has been voided due to damages, hardware repairs are best done by Apple experts. Hence, you should contact their customer service after the above steps fail to solve iPhone screen vertical lines.

You can do so through their get support service or via their support and service website.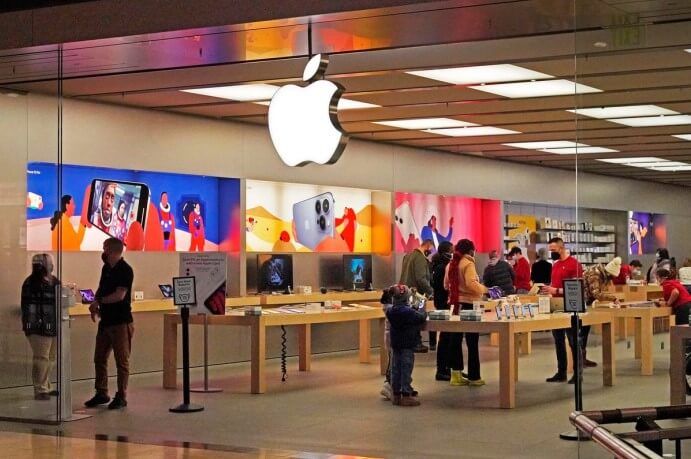 Conclusion
iPhone vertical lines are fixable. And with the solutions listed above, you will be able to correct iPhone screen vertical lines. You can start fixing the problem by applying software solutions because it is best to allow Apple technicians to fix hardware problems.
For your iPhone software issues, you can use WooTechy iPhixer to fix the problems without any hesitation, since this tool is meant to be invented for repairing software problems on iPhone and iPad issues, iPhone/iPad boot loop are also included.