While iPhone devices are regarded as among the best on the market, they can run into some common technical glitches. For example, a common issue includes having your iPhone stuck on hello screen interfaces. This means that your phone is not booting up properly, and it must be solved.
In this guide, we will look at why this happens and what the most effective solutions are to try and resolve your issues. While your new iPhone stuck on hello screen can be annoying, it can also be resolved easily with some simple tricks or the use of some very effective tools. So, what should you do if you wish to try and get your iPhone working again?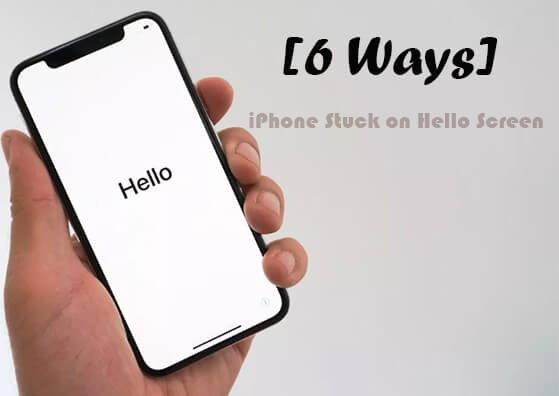 Part 1. Why Does Your iPhone Screen Say Hello?
There are several reasons you might find your iPhone stuck on the hello screen. The most common reasons for this headache include:
Your iPhone has gone through an update and is showing this post-update.

Something has gone wrong with the update, and your phone has become stuck.

A hardware or software file has become corrupted, stopping your iPhone from starting.

You have restored your iPhone using iTunes and something has gone wrong.

The phone has become corrupted or damaged physically and cannot boot up.
Thankfully, there are various solutions to an iPhone 11/12/13 stuck on hello screen.
Part 2. How Do You Fix Your iPhone Stuck on Hello Screen?
1

Remove the SIM Card and Restart Your iPhone

A simple place to begin is to try and remove your SIM Card. This is a common solution. Open the side of your iPhone, take out the SIM card as carefully as you can, and then reboot your phone. You might need a paper clip or similar to open the side section that stores your SIM. Try restarting the phone and if it works, try putting in your SIM again. See if it starts working.
2

Force Restart Your iPhone

The best way to start with an iPhone 11/12/13 stuck on hello screen is to force restart the device. To do this, you simply need to:
Hold in the Volume Up and Volume Down button, quickly pressing and releasing both buttons one after another. Then, hold in the Side button until the Apple logo appears on-screen for iPhone 8 and later.

Press down the Volume Down and Power button together until the Apple logo pops up on-screen for iPhone 7/7 Plus.

Hold the Power and Home button until the Apple logo shows up for iPhone 6 and older.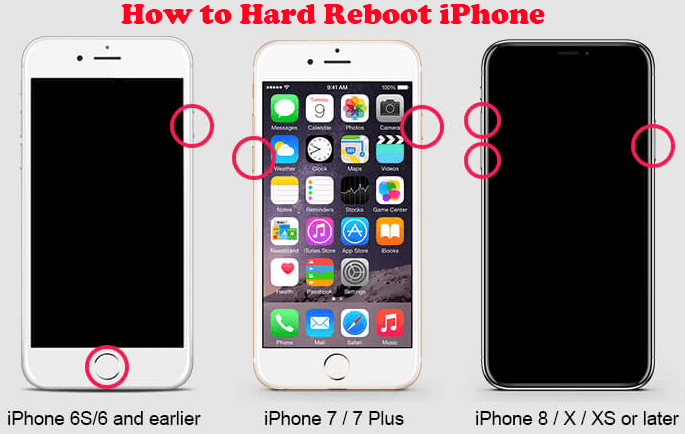 This should reset the phone and force it to restart. In many cases, this can jolt your iPhone out of the hello screen loop.
3

Run Your iPhone Battery Down

Next, try and run down the battery on your iPhone completely. This is simply a waiting game as you cannot boost power consumption with apps if your iPhone is stuck on the hello screen. So, you must wait for your iPhone to turn off and then connect it with your charger. Give it 1-2 hours of charge, and try again.
4

Fix Your iPhone Stuck on Hello Screen with iPhixer

The most effective way to solve your problem with an iPhone stuck on hello screen is to use iPhixer. It can remove all software glitches and bypass hello screen on iPhone. What matters most is that any data will not be affected.

Why can iPhixer fix iPhone stuck on hello screen?
It resolves all iOS/iPadOS/tvOS problems like iPhone stuck on hello screen, stuck on boot loop, and won't turn on without data loss.

It is compatible with all iOS devices and iOS versions including the latest iPhone 13 and iOS 15.

Better than using iTunes to restore iPhone, it avoids any iTunes errors during the fixing.

Offers two modes, iPhixer fixes the issue with the highest success rate.

It has easy-to-use steps and easy-to-operate steps to solve iPhone stuck on hello screen.
How to use iPhixer to solve the problem you are facing:
1. Load up iPhixer and choose the Standard Mode option from the main menu. Connect your iPhone to the computer/Mac you are using.

2. Your device might need to be put into DFU or Recovery Mode. Follow the instructions on-screen or below to do so.

3. Download the firmware update that could fix your device. Choose the version you wish once iPhixer has identified your phone. Once the firmware is downloaded, it will verify and extract the iPhone update.

4. Click the Start button on the iPhixer interface. Once done, click the Done button and your device will start up.
5

Restore Your iPhone with Recovery Mode in iTunes

Another solution if you wish to stick to official options is to use iTunes. An iPhone stuck on hello can be fixed by using the Recovery Mode within iTunes. This will permanently erase your iPhone data, though, so be sure that you have backed up accordingly first.
1. Connect your iPhone using a USB connection to your PC/Mac, and then load up iTunes.

2. Put your phone into Recovery Mode through force restarting iPhone procedures yet continue holding the buttons until the Recovery Mode prompt appears.

3. Once in Recovery Mode, you can select the Restore option that appears in iTunes to begin recovery.
6

Restore Your iPhone Using DFU Mode

Device Firmware Update mode is another choice. However, you should be careful as this will influence your iPhone once it is operated incorrectly.
1. Load up iTunes and connect your iPhone to the PC.

2. Put iPhone into DFU Mode by following the steps below.

iPhone 8 and later: press down and let go of the Volume Up button first, then the Volume Down button. Press and hold the Side button until the screen turns black. As soon as the screen goes black, hold the Volume Down and the Power button for 5 seconds. Lastly, release the Power button yet continue holding the Volume Down button for 5 seconds.

iPhone 7 and iPhone 7 Plus: Hold down the Side and Volume Down button for 10 seconds, then release the Side button but continue holding the Volume Down button for 5 seconds.

iPhone 6 and earlier: press down the Side and the Home buttons for 10 seconds, then let go of the Side button but keep holding the Home button for 5 seconds.

3. If the screen stays black, you have entered DFU mode. Click the OK and Restore button.
Conclusion
Using the above tips, you should find it much easier to solve the issue and get your iPhone running again. Good luck using your iPhone. The above tips should have fixed iPhone stuck on hello screen comprehensively.