When you own an iPhone, you know that you are using a very impressive piece of technology. However, tech problems – while rare – can become more commonplace with older iPhone models. Even the owner of a newer model, like an iPhone 13/14, could run into the same problem. The iPhone boot loop, for example, is one of the common but annoying issues.

Why does my iPhone stuck in boot loop suddenly? Even thought I try restarting the device, it still failed to fix the iPhone boot loop problem. I have no idea on fixing it. Anyone can help me?
So how can you do to fix iPhone keeping restarting loop problem. The iPhone boot loop problem is frustrated, but it can be fixed. Whether you have an iPhone 7 stuck in boot loop or you have a newer iPhone modell, like the iPhone 11/12/13/14 stuck in boot loop, our simple guide should help you solve the issue today.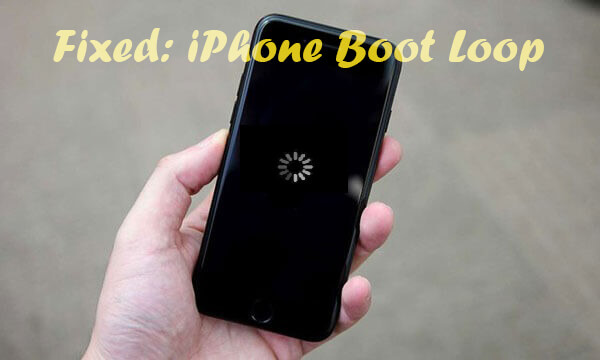 Part 1. Why Is Your iPhone Stuck in Boot Loop?
There are several reasons causing your iPhone boot loop error. Understanding the cause of the problem, though, is very important. The most common reasons for an iPhone boot loop error include:
Software update issues. If you were installing an iPhone update and your phone shut off or crashed, then it could be the cause. This is due to the iOS process being damaged, and your phone is unable to get out of the boot loop.

Loss of data during backup. If you were in the process of backing up data on your iPhone and it crashed or had a poor connection, this could be the reason. This can happen when transferring data from the iPhone to your PC/laptop.

You jailbroke your iPhone. Many people choose to try and use a jailbreak service on their iPhone to install third-party apps and features. This is dangerous when done incorrectly, and can cause your phone to enter the boot loop cycle.
Part 2. The Sure-fire Way to Fix iPhone Boot Loop Without Data Loss
Don't panic it too much. No matter which reason causing your iPhone restart loop problem, here can tell you the correct and useful method to fix it done.
The best way to get started on solving an iPhone boot loop error is to use an official and professional iOS system tool, since software bugs is the mostly possible reason that cause your iPhone boot loop issue.
That's why WooTechy iPhixer come in. iPhixer is developed by experienced teams with an aim to fix all iOS/iPadOS issues including iPhone stuck in boot loop without any data loss. This is a very reliable tool and it can be used for many more purposes.
Key Features of WooTechy iPhixer : Fix iPhone Boot Loop at Once
With 2 modes to solve common and serious iOS problems like boot loop, stuck on restore screen, keeps restarting, firmware file corrupt iPhone and more with the highest success rate and without any data loss.

Compatible with all Apple devices and iOS versions like the latest iPhone 14 and iOS 16.

Bring your iOS devices back to normal with several clicks.

Upgrade iPhone with ease and convenience, bypassing iTunes errors like 4013/4014/4015.

Able to reset your iDevices with Standard Reset and Hard Reset mode no matter whether you remember the screen lock password.

You can freely entering/exiting recovery mode without any limitation.
Video Guide to Fix iPhone Boot Loop with the Highest Success Rate
To Use iPhixer to Fix iPhone Boot Loop, Simply:
Start up iPhixer, and choose the Standard Mode feature. Connect your iPhone to the computer, most likely using a USB device and click Next button.

You might also need to put your device into DFU/Recovery mode. Follow the on-screen details to do so.

You will be asked to download firmware to repair your device via clicking Download button.

Confirm the on-screen details and then click Start. This will begin the process to fix the device without affecting data, including iPhone boot loop. Keep your device plugged in until the successful screen appears. Click Done to start your device.
That's WooTechy iPhixer, one of the smartest iPhone software fixing tools you had better hold. Actually, iPhixer can be used to fix not only iPhone software glitches, but also iPad software bugs, such as iPad boot loop, iPad ghost touch and so on.
Part 3. Fix iPhone Boot Loop If You Can Use Your iPhone
If you still can use the device, then there is any other common fixes to solve iPhone boot loop problem. However, these methods cannot promise the 100% success rate.
3.1 Clean Your App Data
Sometimes, a problematic and unsafe application can be the problem. So, to solve this, open up your iPhone and go to Settings > Privacy > Analytics > Analytics Data. Here, choose any app that is listed repeatedly and uninstall it. After that, check whether your iPhone stuck in reboot loop problem is resolved.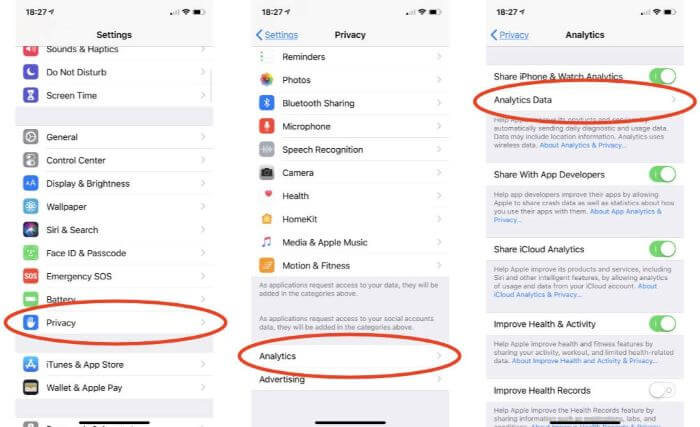 3.2 Update Your iPhone
You should also make sure that your iPhone is updated in case there is a system bug. To do this, simple make sure your device is connected to a power charge and Wi-Fi. Now, go to the Settings > General > Software Update section. If software options are available to install, choose the installation and let it run. This might resolve the iPhone boot loop error for you.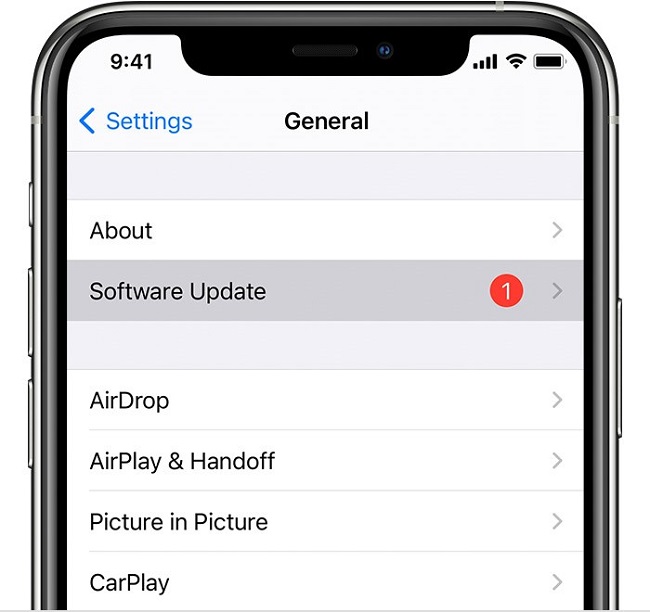 3.3 Reset All settings
To avoid some settings leading to iPhone stuck in boot loop, you can reset all settings. Go to the Settings > General > Reset option list. Follow this, and choose the Reset All Settings option. This will reset all settings such as network options, dictionaries, layouts, privacy settings, and card settings. No data is removed using this option.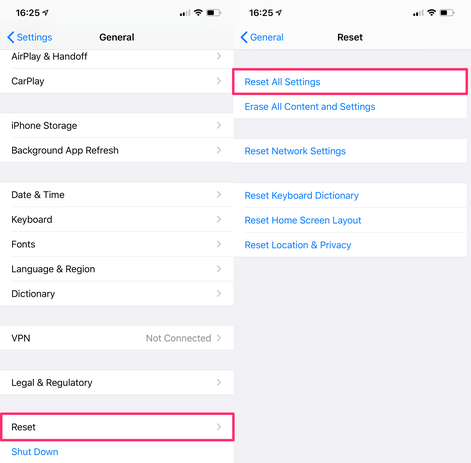 Part 4. Fix iPhone Boot Loop If You Cannot Use Your iPhone
Unfortunately, if you are not allowed to use the iPhone device any more, even can't turn on the device, then you can try the following methods to fix iPhone boot loop problem.
4.1 Force Restart Your iPhone
If iPhone boot loop continues, you can use the quick solution, force restart your iPhone.
For some models, such as the iPhone 8 onward, you typically press the Volume Up button first and then the Volume Down button respectively. Hold the Power button until the Apple logo appears.
Older iPhone models, like the iPhone 7/7 Plus, need you to press the Volume Down and the Power button.
iPhone 6 and earlier owners must hold down the Power button and the Home button at the same time, releasing them when the Apple logo appears.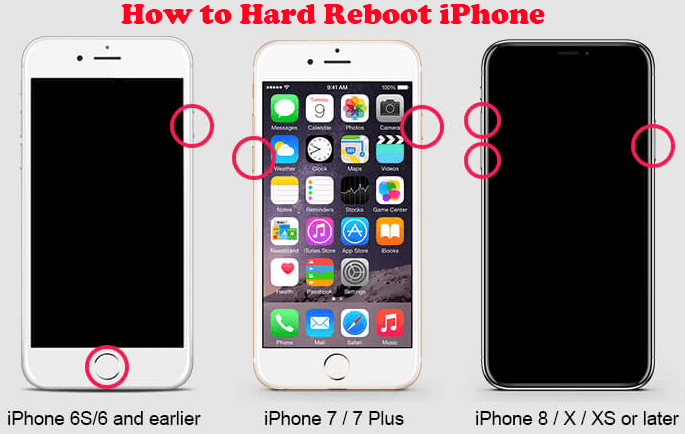 4.2 Update iTunes to the Latest Version
Outdated iTunes version may be not compatible with the newest iOS and thus causing iPhone boot loop after restoring/updating iOS with it. In this case, you have to update iTunes to the latest version. To do this:
On Mac:
Open up the App Store on your Mac device.

Click the Updates button on the App Store interface.

If iTunes has to be updated, the update should appear here.
On PC:
Open iTunes, and click on the Help option on the menu bar. Click Check for Updates.

Follow the installation prompt on-screen and allow the updates to install. After that, restore iPhone again with iTunes to see if the iPhone boot loop issue disappears.
4.3 Restore iPhone from a Backup
Your next option is to restore your iPhone from a previous backup. To do this, you must:
Open Finder or iTunes, depending on what operating system you are using.

Connect your iPhone to the computer using the orignal USB cable.

Select your device from the list, and select Restore Backup.

Look at the backup dates, and choose the most relevant date to you.

Click Restore, and wait for the restore process to complete.

Wait for your device to connect and sync with your computer.
Note: The above steps will overwrite the existing data on your device. But if your device can't be recognized, then you are unable to use this method.
4.4 Put iPhone into Recovery Mode
Another iPhone boot loop solution is to put your phone into iPhone Recovery Mode and then restore it. It should be noted that all data will be removed after the following steps.
Connect your iPhone to the computer of your choice.

Follow the instructions of force restarting iPhone and hold the buttons until the Recovery Mode screen shows up.

Click Restore option.
4.5 Check Hardware
When you arrive here, it means that the above ways fail. The last resort is to have your hardware checked. We recommend you do this with help from the Apple support team, as DIY hardware checks can be hard to correct and can lead to more serious problems with your device.
Conclusion
Yes, it can be tough to fix an iPhone software problem. Yes, it can be time-consuming to try out the various solutions. However, with all these solutions mentioned in this article, you can put in place immediately to fix your iPhone device.
Try out the above, starting with iPhixer, and you can easily solve the issue you are dealing with when your iPhone boot loop problem rears their head.