The issue of an iPhone battery draining fast is a common concern for most iPhone users. It's never convenient having to charge your iPhone battery frequently. It's always stressful to look for a power outlet wherever you go to keep your phone charged.
If your iPhone battery is draining fast and you require solutions, then you're in the right place. In this article, we will discuss why iPhone 6/7/8/11/12/13 battery draining fast, and how to fix it. Stay till the end.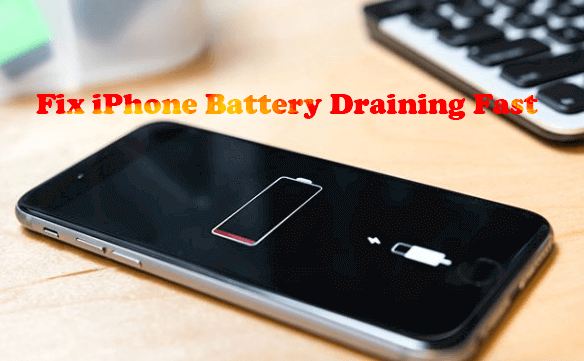 Part 1. 7 Effective Fixes for iPhone Battery Draining Fast
The sentence that "my iPhone battery is draining fast" is commonly seen in communities. Well, your battery could be depleting too quickly due to these two reasons: hardware or software issue. Look at the following methods to get the problem resolved.
1

Check iPhone Battery Health

Apple offered various ways to monitor your iPhone's health, including its overall capacity and performance, with the iOS 15 upgrade. To check the health of your iPhone battery, go to Settings > Battery > Battery Health. Peak Performance and Maximum Capacity are the two primary areas to look at.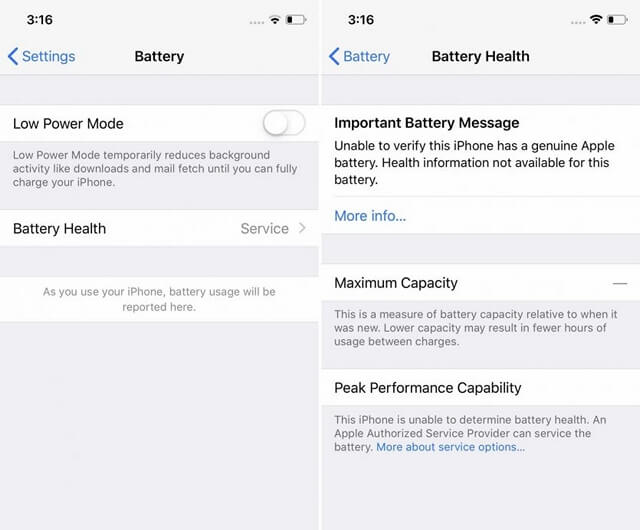 Your Maximum Capacity should ideally be greater than 80%. You'll start suffering lag and sudden shutdowns as it drops below that. While Peak Performance Capability lets you know if your battery is having issues.
If you come across statements like: "At this time, your battery can handle regular peak performance". Or "Built-in dynamic software and hardware algorithms will help counter-performance consequences that may be noticeable as your iPhone battery chemically ages", you're good as well.
If you get other notices such as "This iPhone shut down unexpectedly because the battery was unable to provide the required peak power". Or "The health of your battery has considerably deteriorated." The battery can be replaced by an Apple Authorized Service Provider to restore full performance and capacity". It simply indicates that you may be experiencing battery problems and should consider replacing your battery.
Another thing you can do is to turn on Optimized Battery Charging in the settings. This function, as stated in the chosen area, learns your charging schedule and only charges above 80 percent when you're planning to use the phone, preventing your iPhone's battery from aging.
2

Update iPhone Apps

Running apps that are not up to date could be another cause of the iPhone battery draining fast issue. If you don't have automatic app updates set up, you'll have to manually update your apps whenever the creators release a new version. Making sure all of your apps are up to date will help you save a lot of battery life on your iPhone. Go to the App Store and tap the Account button in the top right corner to update all of your apps.
3

Restart iPhone

Many difficulties with your iPhone can be resolved by simply restarting it, including a fast-draining battery. To restart your iPhone, long-press the button on the right side until the shut-off screen appears. Then swipe sideways to switch off the iPhone. You can wait for a minute or two before you switch your iPhone back on.
4

Fix iPhone Battery Draining Fast with iPhixer

If you have tried several software tweaks to fix your iPhone draining issues without any success, iPhixer could be a good option. iPhixer easily fixes all iOS issues including the "iPhone battery dying fast" and not charging. iPhixer allows you to avoid entrusting your smartphone to a repair shop that would almost certainly clone your data. With iPhixer, you can repair your iPhone battery dying fast issue without losing any data.

Step 1. Connect your iPhone to a PC and open iPhixer. Choose Standard Mode and click the Next button.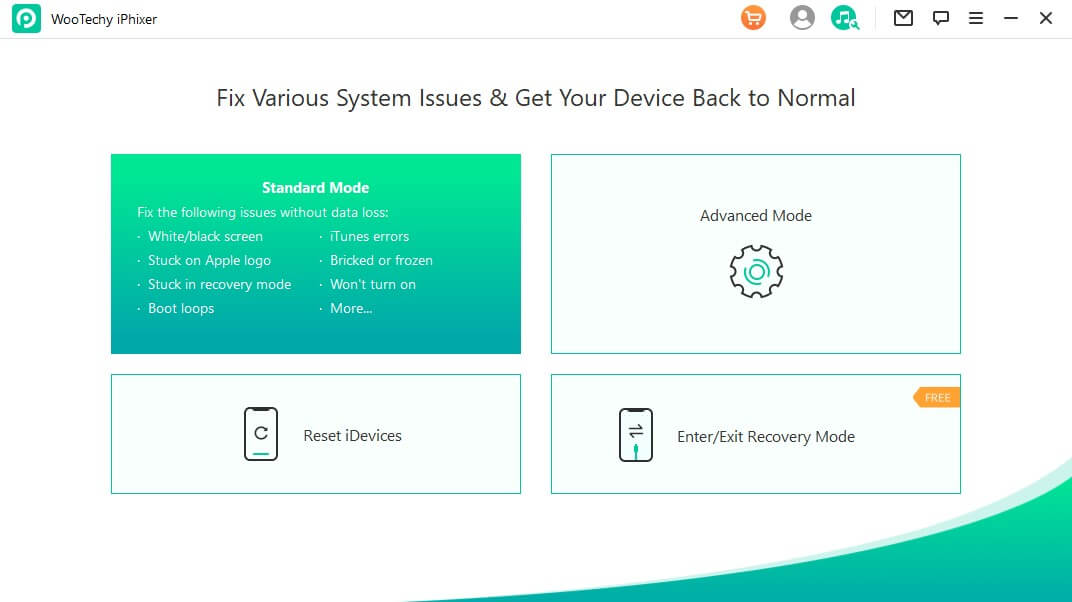 Follow the on-screen instructions to put your iPhone into Recovery/DFU mode.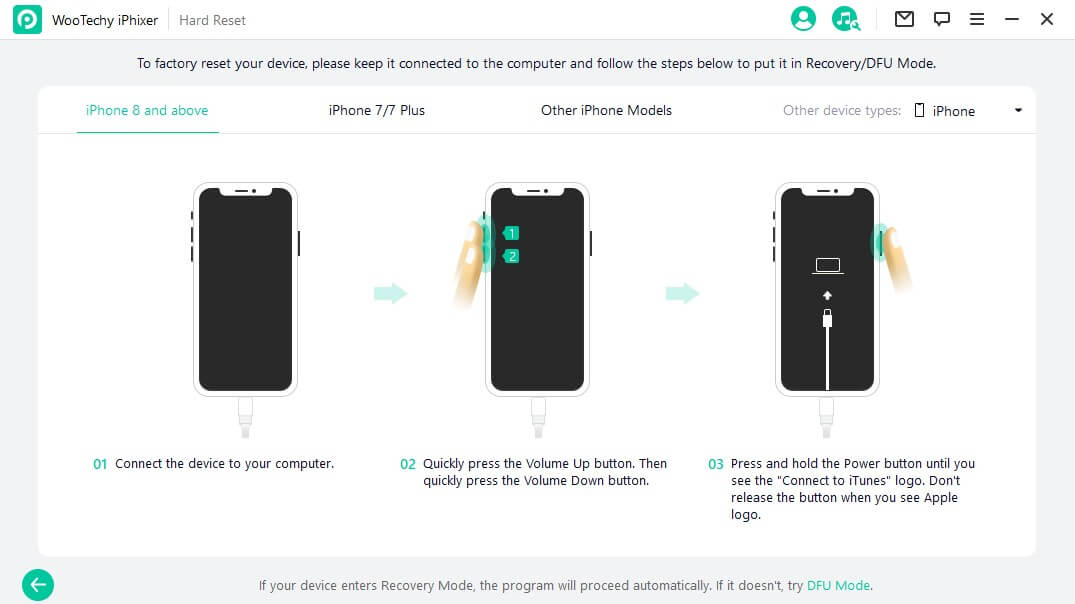 Step 2. Click the Download button to get the firmware for your iPhone. You can also choose the version you like.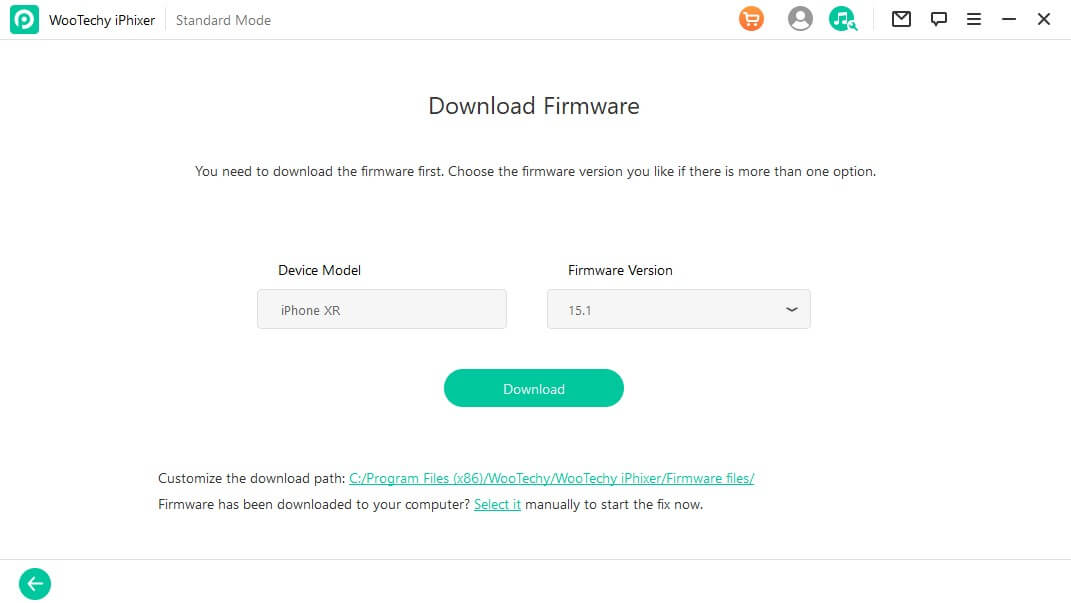 Step 3. Click the Start button and let the tool fix errors causing your iPhone battery to drain fast.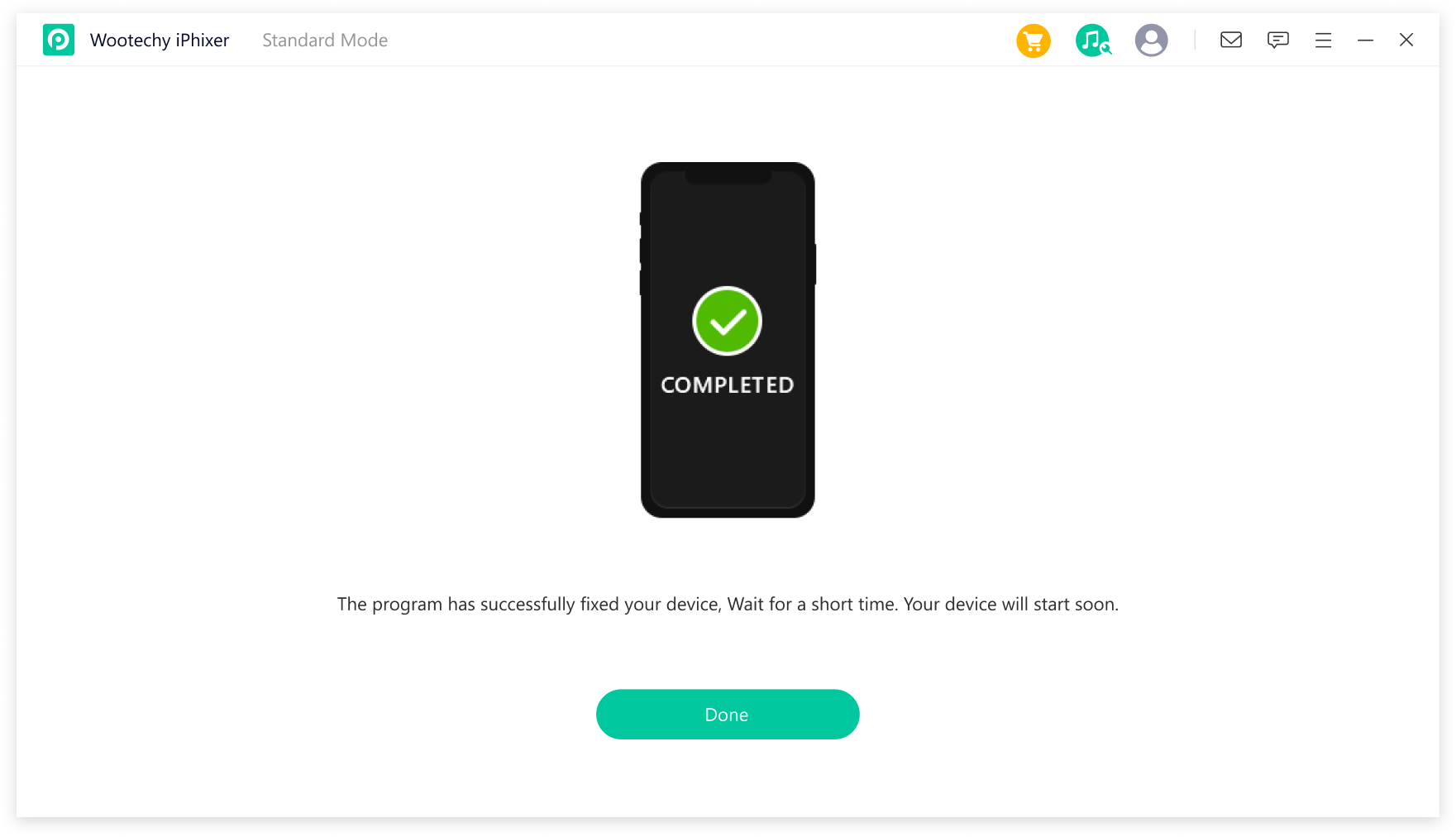 5

Reset All Settings

If you've recently updated to a new iOS and are having battery problems, you should reset all settings. This does not remove any data or material on your phone; instead, it resets location settings, privacy, and network. Once done, you'll have to go back and tweak your settings after your iPhone resets.

Reset your device by going to Settings > General > Reset. Then press the Reset All Settings button.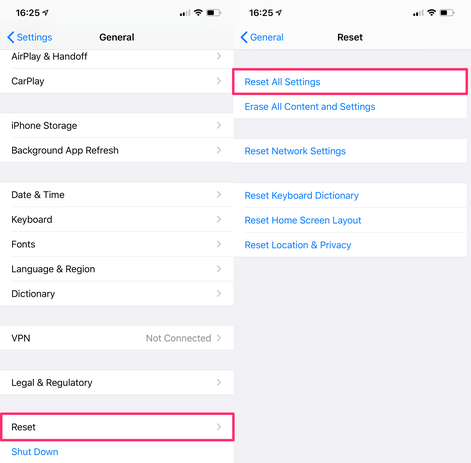 6

DFU Restore Your iPhone

This is another effective way to fix iPhone battery draining fast issue. DFU stands for Device Firmware Update mode. It is a state in which an iPhone can be placed to restore functionality. However, this will delete all data on your iPhone.
Connect your iPhone to your computer and open iTunes.

Put your iPhone into DFU mode.

iPhone 8/X/11/12/13: Respectively press and release the Volume Up and Volume Down button of your iPhone quickly, then press the Side button until the screen turns black. At this time, press the Volume Down button and the Side button together for 5 seconds, then let go of the Side button while pressing the Volume Down button for another 5 seconds.

iPhone 7/7 Plus: Press and hold the Volume down button simultaneously with the Side button for a total of 10 seconds. Let go of the Side button but keep the Volume button pressed for another 5 seconds.

iPhone 6 & earlier: Press down the Side button and Home button together for 10 seconds, then release the Side button while pressing the Home button for 5 seconds.

When the device is in DFU mode, iTunes will notify you that a device in recovery mode has been discovered. Click OK and Restore iPhone to restore your phone.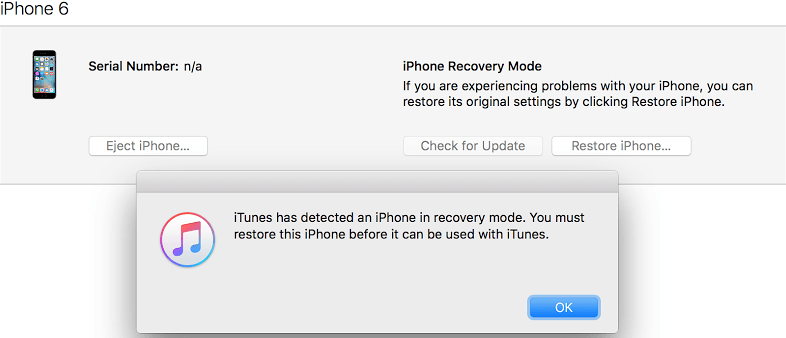 7

Replace the Battery

Your iPhone's battery may have worn out if you're using an older model. To extend the device's usage time, you can replace the battery with a new one.
Part 2. 6 Useful Suggestions to Improve iPhone's Battery Health
For your iPhone's battery health, here are 6 suggestions offered for you.
1

Dim iPhone screen
This is a very simple modification that can significantly extend the life of your battery and also solve an iPhone battery draining fast issue. Keeping your phone screen on full brightness all of the time is inefficient and contributes significantly to battery consumption.
Swipe up to bring up the Control Center on your iPhone. Then reduce the brightness to a level where you can still easily see the screen.
If you set your iPhone brightness to a more normal setting but your iPhone battery is still draining quickly, we have more power-saving alternatives. Please continue to read.
2

Remove widgets
Yes, I understand that widgets are cool, but they may be depleting your battery. Particularly those that update regularly, such as a weather or map widget.
Press and hold the widget, a drop-down menu displays to delete a widget. Remove the widget by tapping the Remove Widget button. Tap Edit Home Screen to remove many widgets at once. All of your apps and widgets will start swaying. To eliminate the wiggly squares, tap the minus in the top-left corner of the widget. You may also erase widgets from your Today Screen by swiping right.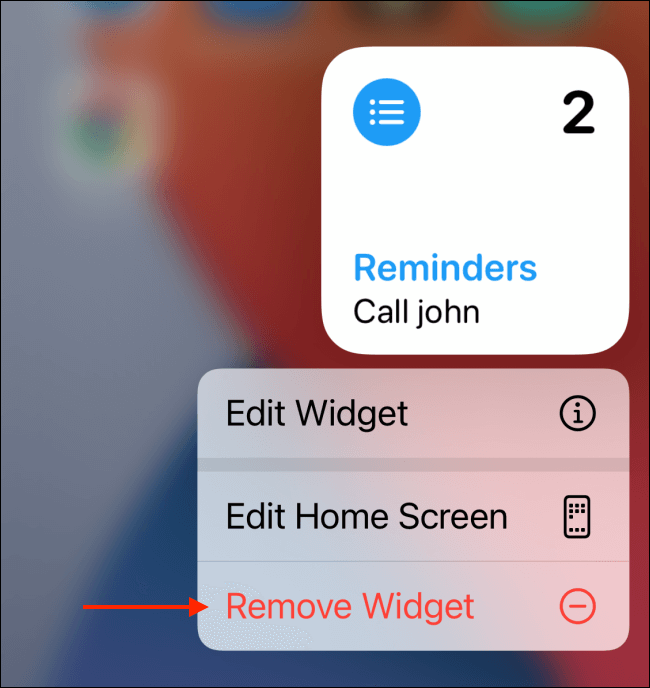 3

Place your iPhone Face Down
Placing your device on your desk serves two purposes. Not only does it prevent you from seeing your alerts and from constantly lifting the phone to engage with it, but it also prevents your battery from draining while the phone is turned upside down.
4

Adjust Location Services
Another feature that could be blamed for your iPhone's low battery life is Location Services. Many apps want to know and utilize your location for a variety of legitimately beneficial reasons, but most of them don't need to track your location when you're not using the app.
You can rapidly browse your apps and decide whether or not they can access your location. Always, While Using the App, Next Time, or Never are the options. If the app will never need your location, select that option. Allowing Location Services just when using the app makes the most sense for most apps.
To access Location Services, go to Settings > Privacy > Location Services.

To save your iPhone battery from draining too quickly, change your location service settings.

To see all of the apps that allow you to access your location, scroll down.

Change the permissions of each with a tap.
You can also turn on and off Precise Location for apps that don't need to know exactly where you are.
5

Turn on Features to Save Battery
(1) Turn on Auto-Brightness
Auto-brightness adjusts the phone's screen based on environmental light. This feature will preserve your battery from draining if you turn it on, but you can also alter it from the Control Center.
Display Accommodations can be found under Settings > General > Accessibility. To keep your iPhone's battery from draining too quickly, turn on Auto-Brightness. Scroll to the bottom of the page to find Auto-Brightness and enable it.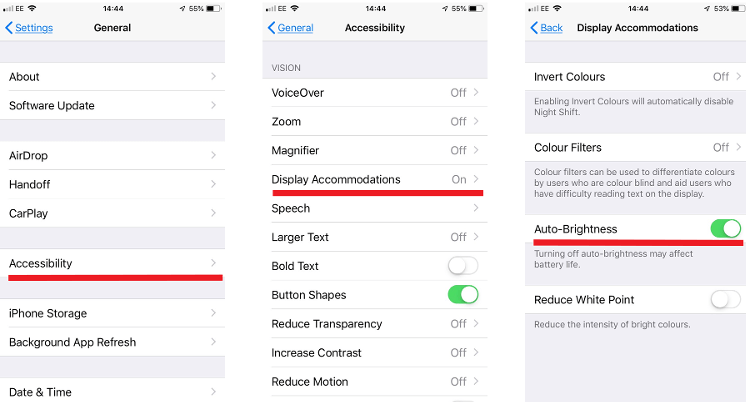 (2) Turn on Low Power Mode
Low Power Mode can save your iPhone's battery life, but not everyone is aware of it. Sure, we'd prefer our iPhone battery life to last indefinitely without it, but when you only have three hours till you can charge your iPhone and the battery percentage is at 30%, Low Power Mode is a lifesaver.
You can switch to Low Power Mode at any time. When this option is enabled, Hey Siri, fetch-mail, and other battery-draining features are disabled.
Go to the Battery section of the Settings menu. To prevent your iPhone's battery from quickly depleting, switch to Low Power Mode. Toggle the Low Power Mode switch on.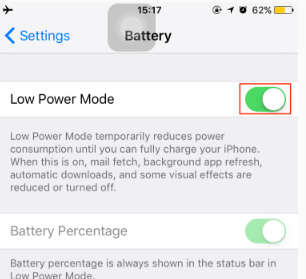 Low Power Mode may be turned on and off from the Control Center after iOS 11. Toggle on and off effortlessly by sliding up the Control Center.
(3) Turn on Reduce Motion
An increase in animations that come with new software features could also be a cause of iOS update battery depletion. You're utilizing animations that use a lot of iPhone battery life if you've been enjoying the cool effects and reactions in the Messages app.
While the Messages app's flashy features are entertaining, they will inevitably reduce the length of time your iPhone can stay alive. The iPhone features animations for everything, not just the Messages app. Switching from one app to the Home screen is accompanied by an animation. Each animation may not consume a large amount of battery power, but the small amount of power consumed by each transition adds up quickly.
To turn on this feature, open the Settings app. Navigate to Accessibility and then click on the Motion option, finally turn on Reduce Motion option.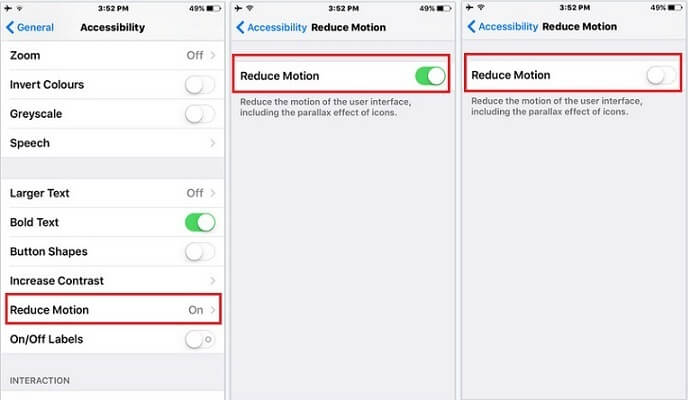 (4) Turn on WiFi
Instead of utilizing your cellular data plan, log into a secure Wi-Fi network if one is available. Furthermore, if you are out and about in an area where there is poor cellular reception, your phone will constantly seek a mobile connection. This causes your iPhone's battery to deplete faster than it may anticipate.
6

Turn off Features to Conserve Battery
(1) Turn off Raise to Wake
The Raise to Wake feature is activated by default on all iPhone models (iOS 10.3 or later). This could be contributing to the iPhone battery draining fast issue, especially if you frequently pick up your iPhone or walk about with it in your hand. Your iPhone's battery will be drained quickly if the screen is always turned on.
To turn off this feature, go to Display & Brightness in the Settings menu. Then toggle off Raise to Wake by scrolling down.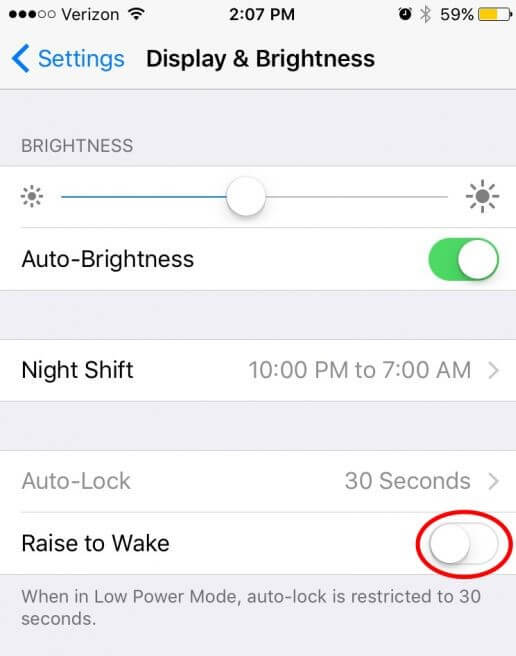 (2) Turn off Background App Refresh
Even when you're not using your apps, background app refresh allows them to check for recent updates and content. This is to save you time when accessing apps by ensuring that the most recent information is readily available. Allowing all of your open apps to refresh and update in the background is a sure bane of the iPhone battery draining fast.
To turn off this feature, go to General in the Settings menu. Then navigate to Background Apps Refresh. Afterward, select the app or apps you want to turn off.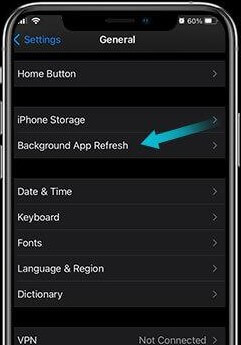 (3) Turn off Push Mail
This feature is most likely switched on if you read emails on your iPhone so you never miss a new email. This feature allows your iPhone to continually connect to your provider, always asking if there are new emails, which in turn drains your battery quickly.
Don't panic, you don't have to entirely disable push mail. However, changing the setting to check at particular intervals rather than all the time would drastically reduce the rate at which your battery drains.
To turn off this feature, head over to Settings > Mail > Accounts. Then find the Fetch New Data option. To keep your iPhone's battery from draining too quickly, turn off the Push mail settings. Afterward, scroll to the bottom of the page and choose "Every 15 Minutes" or another option under Fetch.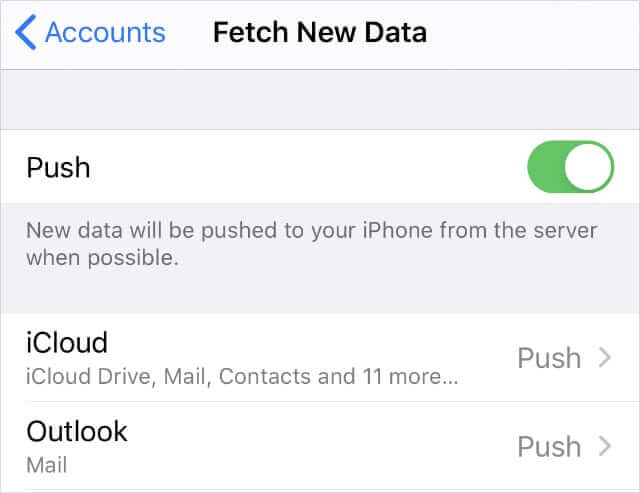 Conclusion
Once you've figured out what's causing your iPhone battery to drain quickly, you'll be surprised at how simple it is to fix the problem. If the problem is obvious, any of the methods listed above will address it. If you believe that a system issue on your iPhone is causing the battery to deplete quickly, we recommend utilizing iPhixer to repair the device without losing any data.