iPhones are one of the world's most popular cellular devices. This is because of their stellar reputation. People know Apple phones are reliable, secure, and high-quality. However, sometimes your iPhone can malfunction, even if it just came out of its box.
The iPhone green screen is one issue that people have been complaining about. If you are dealing with an iPhone green screen, don't panic though. There are several ways to fix this problem for good. We'll show you how to solve your iPhone problem and tell you why your iPhone screen is turning green.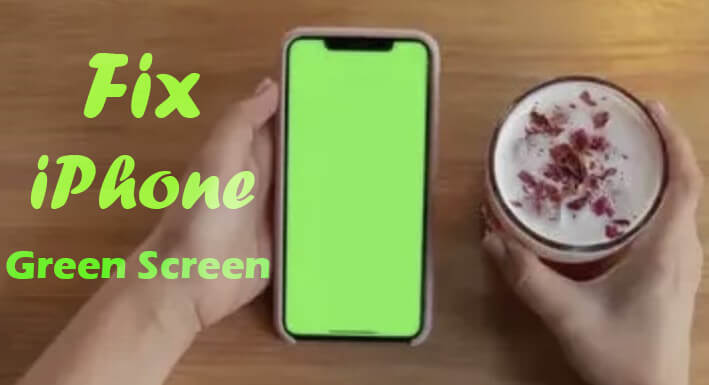 Part 1. About the iPhone Green Screen
Q1: Which iPhones Does the Green Problem Affect?
The iPhone green screen does not affect every iPhone. This issue is mostly seen in the iPhone X models. However, it's also possible to get the iPhone green screen of death. iPhone 6/7/8 can also develop a green flickering tint to their screen. So, keep this in mind.
Q2: Under What Circumstances Does the iPhone Green Screen Occur?
iPhones can develop a green tint or go completely green under the following circumstances:
When your phone hasn't been updated. If you have not updated your phone to the latest software, this could create a glitch in your iPhone and cause your screen to turn green. In this case, download the latest update for iOS and update your phone fully to solve this issue.

When your phone is on Night Shift mode. If you leave your phone in Night Shift mode all the time, this could also cause it to have a green tint or go green. Make sure to disable this mode in your Display & Brightness settings. This way the green color goes away.

When your phone is on Dark mode. Alternatively, if your phone is on Dark mode, this could be another situation that is causing the green screen issue. Go into your Settings and press Display & Brightness, then turn off Dark mode.

When your phone brightness is too low. Finally, if your phone is set at a low brightness, this could also be causing your green screen issue. Make sure to increase the brightness in your settings. We'll go over how to do this in detail in the next part of the post.
Q3: Why Does the iPhone Green Screen Appear?
We talked about some of the situations that cause the iPhone green screen but what specifically causes this problem? Part of it has to do with software issues. If your phone isn't updated with the latest software this could create a bug or glitch in your iOS system.
Alternatively, having your screen settings improperly set can also create this issue and mess with your iPhone software. For instance, if you don't have your brightness up enough or you keep your phone locked in darker modes then your screen might glitch.
This issue can also appear randomly when you are locking and unlocking your phone. But, in the worst-case scenario, the iPhone green screen can be due to screen damage. If you drop your phone a lot this can cause your screen to green out.
Part 2. How to Fix iPhone Green Screen
In this final section of the post, we'll discuss the exact ways to fix your iPhone green screen of death. So, read carefully!
1

Force Restart iPhone

This is relatively easy and effective to do, especially when the iPhone screen flashing green is due to software bugs.

To force restart your iPhones 8 and above, press on your Volume Up button, then press on the Volume Down button. Press each button quickly and release them. After, press the Power button and hold down this button until you see the Apple logo pop up. Wait for your phone to boot back up and see if the green tint is gone.

To hard reboot iPhone 7/7 Plus, simultaneously press down the Volume Down and the Home button until the Apple logo appears.

To force reboot iPhone 6s and former, press down the Power and the Home buttons together until the Apple logo is visible.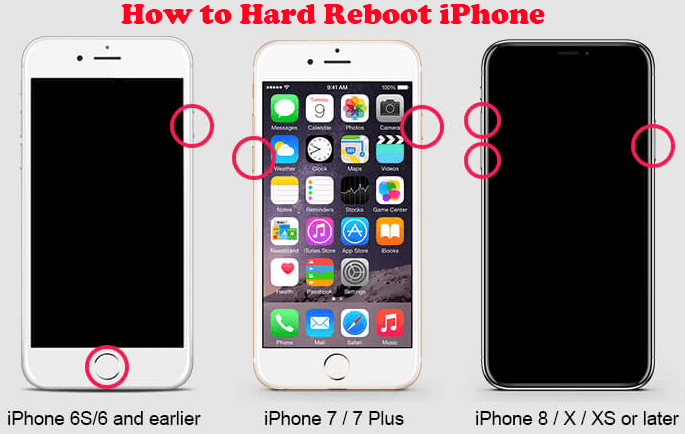 2

Adjust iPhone Display Settings

iPhones can also get a green screen when the display settings are not properly set. So, you'll want to go into your iPhone's Settings.

Hit the Settings app, go into the tab that says Display & Brightness. Then see if you can increase the brightness of your phone. Slide the bar up and see if this gets rid of the green tint.

If it doesn't, go down the page and see if Night Shift or Dark mode is enabled. Turn these modes off if they are. And enable True Tone.
3

Reset All Settings

If the previous step did not work, then try resetting all your settings.
Click on the Settings icon on your home screen. Here, press General. Then you want to go down to Reset.

Finally, press the Reset All Settings or Erase All Content and Settings option.

Make sure your iPhone is backed up before you click the latter option so you don't lose all your data!
4

Fix iPhone Green Screen with WooTechy iPhixer

In most cases, iPhone green screen is attributed to software glitches. In this way, you have to use professional iOS repair tools. WooTechy iPhixer is an option you can try out. The iPhixer software is easy to download and install on your computer.

Key Features of iPhixer:
Fix all iPhone screen issues such as green screen of death, black screen and white screen with no data loss.

With a high success rate, you can rely on iPhixer to bring your iPhone back to normal with several clicks.

Support all iPhone models and iOS versions including the latest iPhone 13 and iOS 15.

100% safe, it has east-to-follow steps and a user-friendly interface.
Plug your iPhone into your computer with a USB. When the software is open, click on Standard Mode to get started. This will help fix any screen issues like the green screen without any data loss.

Once in standard mode, let iPhixer detect your phone. If your phone can't be detected, the iPhixer will show you how to enter recovery or DFU mode.

After your phone has been recognized, download the firmware that fits with your iPhone model. The downloaded firmware will fix your phone after you click the Start button.

Keep your phone plugged in and wait for your iPhone issues to be solved. Then you can restart your phone and use it again.
5

Update iPhone

Some users report iPhone green screen of death problem after updating their iPhone to iOS 13/14. In such a situation, updating your device to the latest iOS version might work.
To update your phone, go to your Settings app. Click on the word General.

Once you are in the General setting, then hit the Software Update button.

The update should download and then your phone will restart and go back to normal.

If you cannot operate your iPhone, update it via iTunes.
6

Restore iPhone with iTunes

If none of the other options are working, and you can't get your iPhone to function normally, then try this last solution.
Make sure that iTunes is downloaded onto your computer. Then plug your iPhone into your computer with a USB.

After your phone has been plugged in, open up iTunes. And look for your device. It should be under the left-hand menu. Click under the image of your iPhone then go to the Summary tab.

Once in Summary, hit the button that says Restore iPhone and wait for your iPhone to restart. All your information will be deleted so ensure that you have a phone backup to save your data.
Conclusion
The iPhone green screen of death is not something that anyone wants to deal with. Luckily, we have compiled all the information you need to know right here in our post. Look over each step carefully to make sure that you can properly fix your iPhone.
If you still can't fix your iPhone green screen, then there could be a hardware issue with your iPhone. This is caused when you drop your iPhone too much or the hardware has aged. In this case, bring your phone to a repair shop.