I have upgrade my iPhone 12 to iOS 16, but bad things happen: the iPhone screen turns green. Since this is the first time I have enconutered iPhone green screen issue. Does anyone have the similar experience? Hope someone can help me fix my
iPhone 12 green screen
problem.
Apple company have paid more attention to improve iPhone's screen dispaly, but there are still some common glitches occuring from time to time, which annoys users so much. Those glitches appear more rampently after one upgrade iOS 16 system.
However, it's inevitable that some bugs will occurs after ungrading iOS 16. Sometimes your iPhone can malfunction, even if it just came out of its box. The iPhone green screen is one of issues that people have been complaining about.
If you are looking for ways to deal with an iPhone X/11/12/13/14 green screen issue, don't panic though. Here will tell you why your iPhone screen is turning green and proven 8 useful ways listing below to fix this problem with ease and convenience. Keep reading and check them out.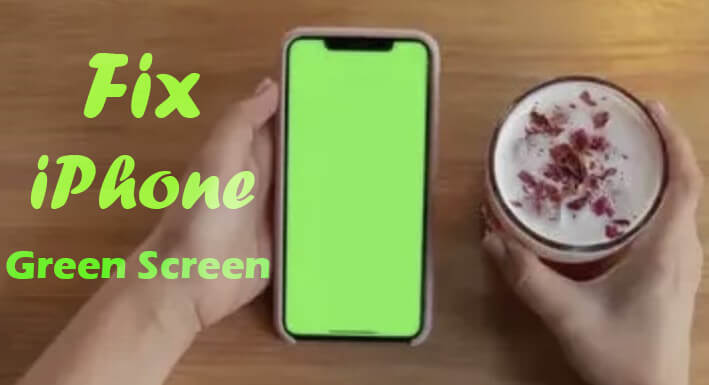 Part 1. Why Does My iPhone Screen Turn Green?
There may be any other reasons resulting to iPhone green screen issues, which can be divided into hardware and software reasons. Different device will have different reasons for iPhone grey screen.
Physical Damage: If your iPhone have experienced hardware damages like screen broken, dropping from the high place, which can also cause your iPhone screen to turn green.

Water Damage: If your iPhone is wet or was fallen in to water, then the screen may turn green.

Improper Settings: Your iPhone green screen issue may be due to some ircorrect. You can correct it by reset all settings.

Software or System Bugs: Generally speaking, your iPhone screen may turn green or grey color if you don't upgrade your iPhone device or update apps in the correct way.
Good news! No matter which reason causes your iPhone green screen, here can give you the correct and and practical methods to fix the iPhone problem done.
Part 2. How Do You Fix A Green Screen on An iPhone?
In this section of the post, we'll discuss the exact 8 methods to fix your iPhone green screen of death, which definitely can help you solve the iPhone software error you are facing with.
If you don't want to try the whole methods one by one, then you can navigate to the 6th method-- using a great iPhone repir tool, you can find out the surprise, which can help you fix this iPhone green screen problem with 100% success rate.
1

Restart Your iPhone

The first simple solution to iPhone 11/12/13/14 green screen problem is to restart your iPhone. Generally, your iPhone screen turns normal after the device is rerestarted. Here's how to restart iPhone based on different models:
For iPhone X/11/12/13/14, press down one of your Volume button and the Side button until the power slider appears. Then slide it to the right to turn off your device. Press and hold the Side button to turn it on.

For other iPhones, press down your Power button till the power slider is shown. Then drag it to power off your iPhone and power it on again by holding the same button.
2

Force Restart iPhone

If restarting iPhone failed to fix your iPhone green screen issue, then force restart iPhone. This can be useful especially when the iPhone screen flashing green is due to software bugs.
To force restart your iPhones 8 and above, press on your Volume Up button, then press on the Volume Down button. Press each button quickly and release them. After, press the Power button and hold down this button until you see the Apple logo pop up. Wait for your phone to boot back up and see if the green tint is gone.

To hard reboot iPhone 7/7 Plus, simultaneously press down the Volume Down and the Home button until the Apple logo appears.

To force reboot iPhone 6s and former, press down the Power and the Home buttons together until the Apple logo is visible.
Then check your iPhone screen, see if the it will turn green again.
3

Adjust iPhone Display Settings

iPhones green screen issue can occur when the display settings are not properly set. If you leave your phone in Night Shift mode all the time, this could also cause it to have a green tint or go green. Alternatively, if your phone is on Dark mode, this could be another situation that is causing the green screen issue.
Hit the Settings app, go into the Display & Brightness tab. Then see if you can increase the brightness of your phone. Slide the bar up and see if this gets rid of the green tint.

If it doesn't, go down the page and see if Night Shift or Dark mode is enabled. Turn these modes off if they are. And enable True Tone.
4

Reset All Settings

If you don't know which setting that cause iPhone screen flickering green, then try resetting all your iPhone's settings. This wiil remove all wrong settings and data leading to the iPhone green screen issue.
Click on the Settings icon on your home screen. Here, press General. Then you want to go down to Transfer or Reset.

Finally, press the Reset > Reset All Settings or Erase All Content and Settings option.
Make sure your iPhone is backed up before you click the latter option so you don't lose all your data!
5

Restore iPhone with iTunes (Data Loss)

If none of the other options work, and you can't get your iPhone to function normally, then try this last solution, which is restoring your iPhone with iTunes. But you should be noted that this will erase all data on your device.
Make sure that iTunes is updated onto your computer. Then plug your iPhone into your computer with a USB and open up iTunes.

Follow the force restarting iPhone steps to put your iPhone with green screen into recovery mode so that it can be recognized by the tool. Remember keeping pressing the final button(s) until the recovery mode screen appears.

Hit the Restore button shown on the notification and wait for your iPhone to restart. All your information will be deleted so ensure that you have a phone backup to save your data.
6

[100% Success] Fix iPhone Green Screen Without Data Loss

In most cases, iPhone green screen is attributed to serious software glitches. In this way, you have to use professional iOS repair tools. WooTechy iPhixer is an greatly official and professional tool that you can try out to fix the iPhone error you meet.

No matter what causes your iPhone green screen of death, iPhixer can restore your iPhone back to normal with the highest success rate and the fastest speed, moreover, there is no data loss. In addition, there is no technical operation, you can easily handle and finish the whole process and enjoy a working-well iPhone quickly as before.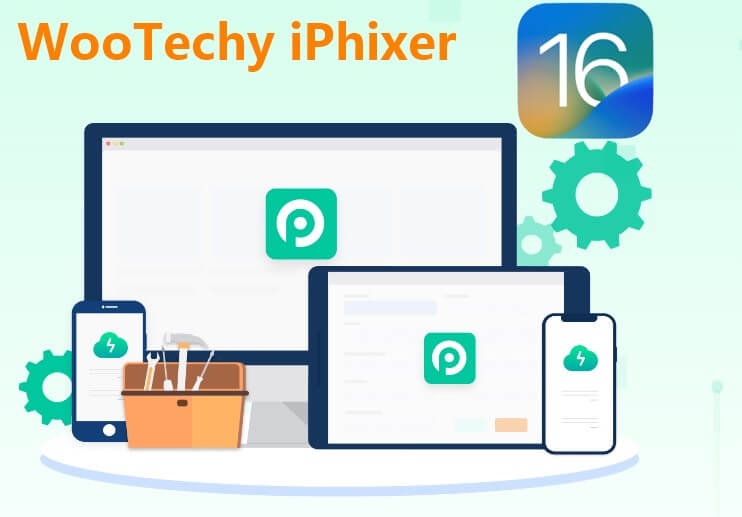 WooTechy iPhixer -- One-Stop Solution to Fix iPhone Green Screen
Fix all iPhone screen issues such as iPhone green screen of death, iPhone blinking Apple logo, pink line on screen, firmware file corrupt iPhone, screen flickering.

Support all iPhone models and iOS versions including the latest iPhone 13/14 and iOS 16.

Unlike iTunes, it restores your iPhone in several clicks while causing no data loss and other errors.

100% safe, it is easy to use with a user-friendly interface. Moreover, it has other functions such as resetting iPhone with or without password.

With a single click of mouse, you can enter or exit Recovery Mode for 100% free without any limitation.
Plug your iPhone into your computer with a USB. When the software is open, click on Standard Mode to get started. This will help fix any screen issues like the iPhone green screen without any data loss.

Once in standard mode, let iPhixer detect your phone. If your phone can't be detected, the iPhixer will show you how to enter recovery or DFU mode.

After your phone has been recognized, download the firmware that fits with your iPhone model. The downloaded firmware will fix your phone after you click the Start button to initiate fixing the iPhone green screen problem.

Keep your phone plugged in and wait for your iPhone issues to be solved. Then your iPhone will restart automatically and you can use it without screen issues.
When your iPhone succeed in rebooting again, you can check it, the iPhone screen color should be normal. Honestly, iPhone green screen is a common iPhone software issue. iOS system recovery tool like WooTechy iPhixer definitely can help fix this done.
Aside from fixing iPhone software glitches, you can also use iPhixer to solve all types of iPad software glitches, such as iPad boot loop, iPad touch screen not working and so on.
7

Update iPhone to the Latest iOS 16

If you have not updated your phone to the latest software, this could create a glitch in your iPhone and cause your iPhone 12/13/14 green screen issue. In this case, download the latest update for iOS and update your phone fully to solve this issue.
To update your phone, go to your Settings app. Click on the word General.

Hit the Software Update button. Then click Upgrade to iOS 16, and tap Download and Install button. Wait for the process to be complete.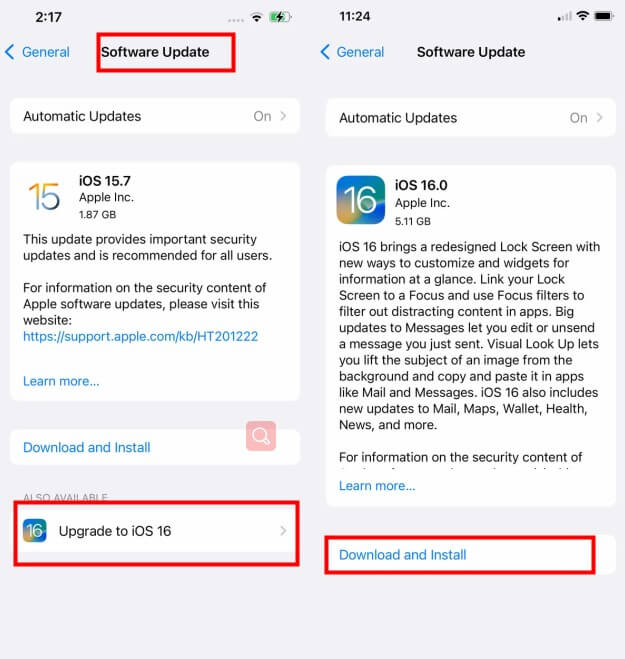 8

Go to Apple After-sale Service

If unluckily, all those 7 methods stil fails to fix your iPhone green screen problem, then you need to think about if your iPhone experiences phisical damages, since this damage may cause your iPhone hardware corrupt.

In this case, thing will be more terrible. It's recommended that you send your iPhone device to the Apple Support Store or local iPhone repair tool to fix your iPhone device totally. Although we won't use this method, it seems to be a vailable way.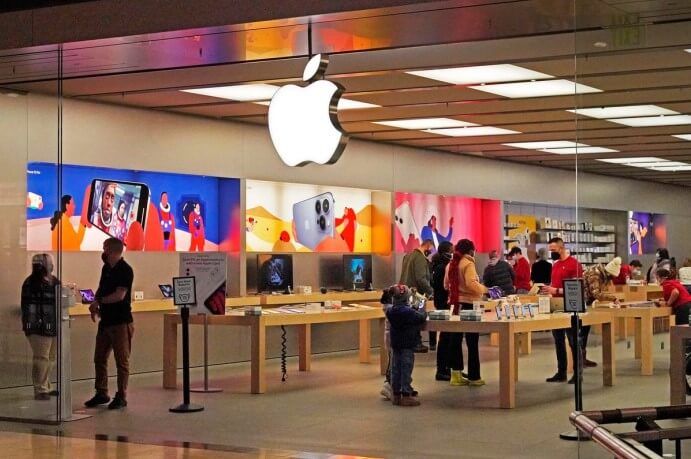 Part 3. FQAs About Your iPhone Green Screen Issues
Now you have knew the full guide to fix iPhone green screen error, suppose the issue must be solved. To help you further understand this issue, the following lists some questions and answers you probably want to know about iPhone X/11/12/13/14 green screen issues.
Q1: Which iPhones Does the Green Problem Affect?
The iPhone green screen does not affect every iPhone. This issue is mostly seen in the iPhone X models. However, it's also possible to get the iPhone X/11/12/13/14 green screen of death. iPhone 6/7/8 can also develop a green flickering tint to their screen.
Q2: Under What Circumstances Does the iPhone Green Screen Occur?
iPhones can develop a green tint or go completely green under the following circumstances:
When your phone hasn't been updated.

When your phone is on Night Shift mode.

When your phone is on Dark mode.

When your phone brightness is too low.
Q3: Why Does the iPhone Green Screen Appear?
So what specifically causes iPhone green screen problem? Part of it has to do with software issues. Software bugs or glitches could happen in your iOS system.
Alternatively, having your screen settings improperly set can also create this issue and mess with your iPhone software. For instance, if you don't have your brightness up enough or you keep your phone locked in darker modes, then your screen might glitch.

This issue can also appear randomly when you are locking and unlocking your phone. But, in the worst-case scenario, the iPhone green screen can be due to screen damage. If you drop your phone a lot, this can cause your screen to green out.
Then your phone will restart and go back to normal. If you cannot operate your iPhone, update it via iTunes.
Conclusion
The iPhone green screen of death is not something that anyone wants to deal with. Luckily, we have compiled all the information you need to know right here in our post. To fix your iPhone green screen with the 100% success rate, using WooTechy iPhixer software can be your best choice.
If there is a hardware issue with your iPhone like dropping your iPhone too much or the aged hardware, bring your phone to a repair shop.