One of the best things about Apple is they support their phones with the latest software updates years later after release. So, you sort of are getting most of the new features and look without even having to buy a new iPhone. However, sometimes the updating process can get stuck. This guide will be all about what you can do on the iPhone stuck on preparing update.
First of all, check your internet connection. Updates cannot be completed with a poor or disconnected internet connection. Restarting your whole device is also a classic yet effective way to solve any update issues. Lastly, you can try using a troubleshooting app like iPhixer to solve the issue automatically.
Understanding the issue at hand and applying the right solution is your only option to fix this issue. So, here I talk more extensively about how you can use these methods to resolve your update issue and a few others as well.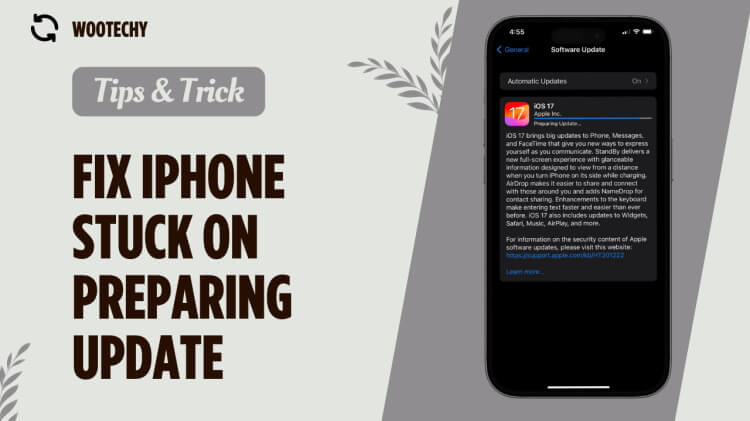 Part 1. How to Fix Your iPhone Stuck on Preparing Update
Dealing with an iOS 16/15 stuck on preparing update can be annoying. Not only that it can be quite confusing since you do not know how long it might take. Is anything even happening in the background? Well, there are 6 things you can do to get rid of the issue. Let's check them out.
1

Check Your Network Connection

Yes, we know this is a very basic thing. But it has happened to even the best of us. Sometimes, the iPhone is fine. It might be the network that is the issue. Your first instinct should be to check whether your internet is working. Try restarting your router. This should help reset things back to normal. You also need to be connected to a strong WIFI network.
2

Try Force Quitting the Settings App

Force quitting the setting app can help solve iPhone stuck on preparing update too. Since you will be updating the phone from the setting app, there is a chance it glitches out.

You can do it by double-tapping the Home button and swiping the setting upwards. If your phone does not have a home button, just swipe from the bottom of the screen to bring up the multitasking tray.
3

Force Restart iPhone

The iPhone preparing update screen can be quite stubborn. In some cases, your only option could be to just force restart the whole phone altogether. Force restarting your phone is a good trick to deal with software crashes and bugs.

There are different ways to force restart your phone:

iPhone 8 and later
Press and release Volume Up button.

Press and release the Volume Down button.

Press and hold the Power button till the Apple logo appears.
iPhone 7/7 Plus
Hold the Volume Down button and Power button. Release them when the Apple logo appears.
iPhone SE, iPhone 6S/6S Plus and earlier
Press the Power and Home button simultaneously. Release them when the apple logo shows up.
4

Delete Previous Update Files

Here is a cool little trick a lot of people might not know. You can delete your iPhone's previous update files if your iPhone is stuck on preparing update and then restart the downloading. This will give it a sort of a fresh start. To do this follow these steps:
Go to Settings > General > iPhone Storage.

Select the iOS update file.

Tap on Delete Update.
5

Fix iPhone Stuck on Preparing Update with iPhixer

You can also fix the issue with a dedicated and feature-rich tool like WooTechy iPhixer. When the above fixes fail, the iPhone stuck on preparing update problem can be a result of software glitches. In this way, your best choice is to use professional iOS system recovery software. iPhixer makes it super easy to deal with any iOS/iPadOS/tvOS problem without data loss while getting any iOS version you like including the latest iOS 16.

Key Features of iPhixer:
Resolve all iOS update problems such as iPhone stuck on preparing update, iPhone stuck on update requested and iPhone freezing during update without data loss.

Support all models of iPhone/iPad/iPod touch/Apple TV and iOS versions.

With a high success rate, iPhixer brings your device back to normal via a few clicks.

Provide more features like entering/exiting recovery mode for free and reset iDevices.
Here's how you do to fix iPhone stuck on preparing update:
Download the app on your PC. Start up the app and click on the Standard Mode.

Now, connect your device to your PC via USB. Once the application detects your iPhone click Next.

The program will detect your device model and provide some available firmware versions to download. Pick your preferred one and then click Download.

After the firmware has been successfully installed you will see a Start button to fix your device. Click it and the application will fix your issue automatically.
6

Putting iPhone in DFU Mode

DFU mode can be used as a last-ditch effort to try to fix iOS 16/15 preparing update issues. It will erase all your data though. So, keep that in mind. Yet it should help repair some software bugs.
You will need to launch the latest version of iTunes and plug in your iPhone.

Put iPhone into DFU mode based on the instructions below.

iPhone 8/X/11/12/13/14: Press and release Volume Up button, then the Volume Down button. Press the Side button and wait the screen turns black. Press the Volume Down and Side buttons for 10 seconds, finally let go of the Side button.

iPhone 7/7 Plus: Press the Side and Volume Down button for 10 seconds and then release the Side button.

iPhone 6 and earlier: Press the Side and Home button for 10 seconds, then release the Side button while continuing pressing the Home button for 5 seconds.

Click OK to restore your device.
Part 2. FAQs About iPhone Preparing Update
Q1: How Long Should an iPhone Say Preparing Update?
This can depend. The time does not only depend on the size of the file, or the processor of the phone. Your internet is also a matter here. If you have one of the later models with fast internet, it should not take that much time. Having said that, about 30 minutes is the average.
Q2: Why Is Your iPhone Stuck on Preparing an Update?
One of the most common reasons could be a server issue. This can especially be a problem when a lot of people are updating their iPhones when a new software version is launched. Any sort of hardware or software problems can be a cause as well.
Conclusion
There can be multiple being your iPhone stuck on preparing update. All you have to do is diagnose the cause and apply the appropriate solution. However, if that is too much for you then you can always try a simple and easy troubleshooting application like iPhixer to do it for you. And if you ask us, that would be the safest solution.