When you are using an Apple device, you will be using their in-house operating system, iOS. The problem with iOS is that while it is very user-friendly, when something goes wrong, diagnosing the issue is a nightmare. For example:

I'm unable to verify update on iOS 15 or iOS 16 successfully. I don't know why it happens on my iPhone device, so what can I do? Anyone helps me?
Thankfully it can be solved with a few different tools. To get you started, all that we recommend you do is get involved with the following tips and tricks. Follow this simple guide, and your unable to verify update iOS headaches will become a piece of cake.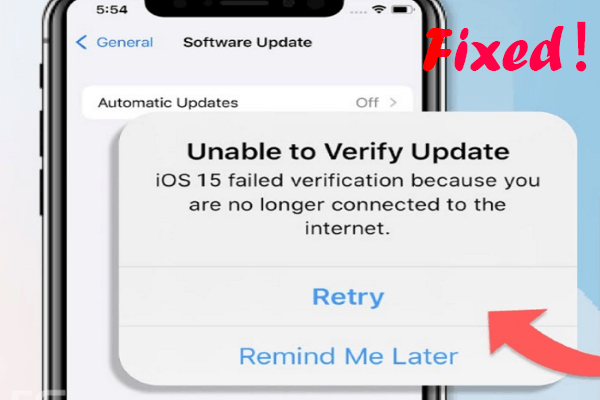 Part 1. Why Is You Unable to Vertify Update iOS 15/16?
There are various reasons and some of the most common ones why iOS 15/16 unable to verify update include:
Your Apple device failed verification because you are no longer connected to the internet.

Your Apple device could not verify update iOS 15 due to a security issue that was found during installation.

A glitch was found within the update downloaded and thus it might need to be re-downloaded to be used.

You ran out of storage space and thus the iPhone got stuck on verifying update and was not able to complete to its full.

The update was download from the incorrect source and thus cannot be verified with Apple.
Part 2. Basic Checks Before Fixing Unable to Verify Update iOS 15/16 Problem
If you are having problems where you are unable to verify update iOS 16/15 properly, then we recommend that you try these simple pre-fix solutions before doing anything else.
1. Make sure that your iOS device is running on a fully battery. Often, an update can fail when the battery simply runs out during the session, or reaches a low power level and cannot continue.

2. Be sure that you have a full connection to your WiFi. A common reason why your iOS 16/15 is unable to verify update simply comes down to the fact it is not connected to a secure internet connection.

3. Take the time to ensure you are connected to a private Wi-Fi. Failed verification because you are no longer connected to the internet is one thing; being secure to unsafe public WiFi is another.

4. Delete some excess storage from your device, such as apps you no longer use or larger files. This can help to clear the space that your Apple device needs to work as it should be, and thus finish the update.
Try out the above solutions, and it becomes much easier to ensure that your iOS is going to work exactly as it should. This can remove at least a few of the most common reasons for unable to verify update iOS 15/16. However, other solutions might need to be considered as well.
Part 3. What Do You Do If Your iPhone Is Stuck on Verifying Update?
1

Follow the On-Screen Instructions
A good place to start when you are unsure is to simply follow the instructions shown to you on-screen and click Retry option. When you fail an iOS update, your device will automatically make some recommendations as to what you could try to fix the issue.
Therefore, you may as well try out these solutions as, more often than not, they can be the solution to lift the problem and get your iOS device updating as it was supposed to.
2

Force Restart iPhone
The next solution is to try and force restart your iOS device in case of iPhone stuck on verifying update. There are various ways to do this owing to the different iPhone models.
To force restart an iPhone 8/X/11/12/13/14, hold down and release the Volume Up button and Volume Down button respectively. Then press the Power button and release it when the Apple logo appears.

To force restart an iPhone 7/7 Plus, press the Power and Volume Down buttons simultaneously until the Apple logo is shown on the screen.

To force restart iPhone 6 and below, press the Power and Home buttons together. Then let go of them when you see the Apple logo.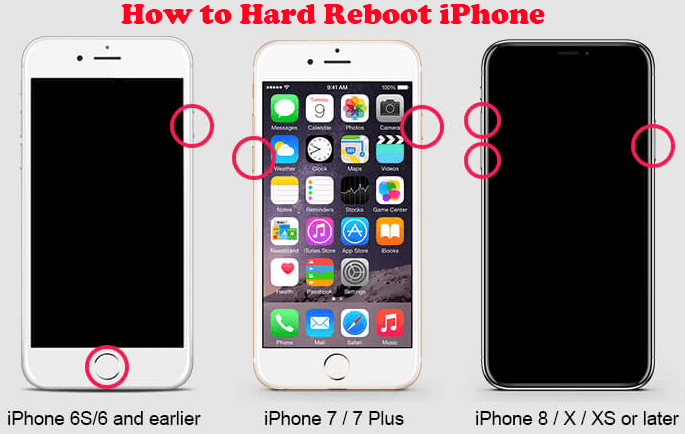 3

Reset Network Settings
Head into the network settings of your Apple device and reset your connection. This will mean typing back in your WiFi password, but it is a worthwhile solution as sometimes simply connecting and reconnecting can be enough to help jolt the system back into action, so as to fix unable to verify update iOS 16/15 that no longer connected to the internet issue.
Click Settings > General > Reset > Reset Network Settings.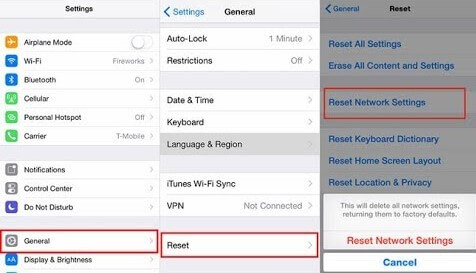 4

Disable VPN/Proxy Connections
A common issue for many users of an iOS device is trying to install updates on a VPN. Try turning off your VPN and/or your proxy server. Do this and you can find that you can easily get connected with iOS and verify your update.
This is one of the easiest ways to get started when you want to verify your update, as trying to manage the installation on a VPN or proxy is often going to fail.
Navigate to iPhone's Settings > VPN, then turn off it.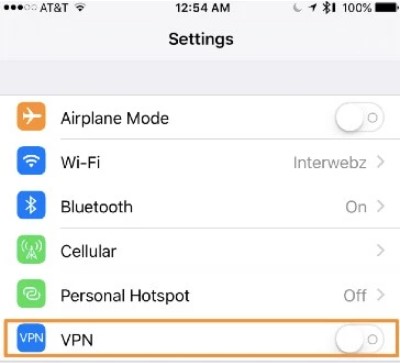 Now check if the issue of unable to verticy update iOS has been removed by this solution.
5

Check the Apple Server Status
Another common issue is that Apple has had some form of breakdown on their end. Simply run a web search for "Apple Server Status" and you can quickly find out via the official Apple website whether or not they are going to be available.
This is the easiest way to find out if any problems exist within the servers, and should help you to quickly and easily check out the server status. If the problem is on the Apple server end, you simply have to wait until they solve the issue for you.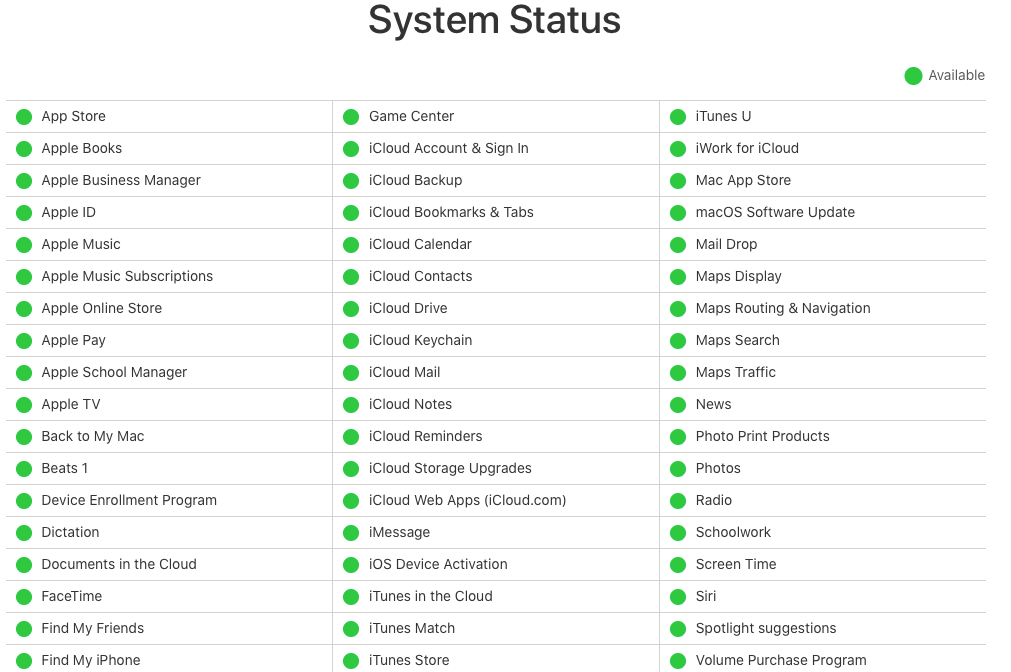 6

Delete and Re-download the Update
If you are still unable to verify the iOS 15/16 update and your iPhone is stuck on verifying update, then you have to try deleting and downloading the update again.
Tap on Settings > General > Storage and find the update on the list.

Click the iOS update and choose Delete Update.

Then re-access to Settings > General > Software Update and download the update.
7

Clear iPhone Storage
If your iPhone storage is too overwhelming with the data, there is possible to unable vertify update iOS. To make it work well, you should clear your iPhone Storage before vertifying update iOS 15/16.
Go to your iPhone Settings > General > iPhone Storage, then you can see the remaining storage of your iPhone.

Select the unecessary data, click Delete icon to greatly free up your iPhone storage.
Now you can try vertifying update iOS again to check if the error has been done.
8

Check Date & Time
If you need to vertify update iOS 15/16, you should make sure your Date & Time settings are correct, which need to follow the local region, or it will affect your iPhone's normal operation.
Navigate to Settings > General > Date & Time, then turn on Set Automatically button.

Then reboot your iPhone device and try vertify update iOS 15/16 again.
9

Update iPhone with iTunes [Data Loss]
If you still cannot verify update iOS 16/15, then you can update your device using iTunes. As the official desktop app for Apple devices, this can easily lift the problem for you. So, to start off, all that you need to do is:
Connect your device that is unable to verify update iOS 16/15 properly to your computer, and boot up iTunes.

Click on the Device icon in the top left-hand corner of iTunes, and choose your problematic device.

Once it loads up, you simply need to click the Summary button, and click Check for Update.

If the update is needed, then iTunes will download it and install the update for you.
Cons
Unknown iTunes errors could happen and you are still unable to verigy update iOS 15/16, and the time takes much longer than you expect.
10

Fix Unable to Verify Update iOS 15/16 with 3 Clicks [Zero Data Loss]
If you want a more definitive repair solution, then you might wish to try out a device known as WooTechy iPhixer. This tool is the best alternative to iTunes as it can fix the underlying software bugs causing unable to verify update iOS 16/15 without data loss
Moreover, you are also able to update your device to the iOS version you like without any stuck issues. Any error will not be caused and your privacy are higly protected when using this all-in-one software.
Shining Features of WooTechy iPhixer:
Solve all iOS problems like iPhone unable to verify update iOS 15/ 16, iOS downgrade stuck, iPhone keeps scrolling up and more without losing data.

All iPhone models, like iPhone 4 to iPhone 14 and iOS versions including the latest iOS 16 are supported.

Upgrade iOS and downgrade from iOS 16 beta to iOS 15 without having to jailbreak and with not limitation.

Using iPhixer to update your device, you don't need to connect your iPhone to the internet, thus avoiding the error fundamentally.

Apart from that, you are supported to enter/exit recovery mode for 100% free, which is the biggest benefit for all users.
To use iPhixer to help verify iOS 16/15 and install your update:
Step 1 Connect your iPhone device to your PC, and then boot up iPhixer once connected. Choose the Standard Mode feature, and click Next. Ensure your device is unlocked at this point.

Step 2 Select the Download option to begin getting the software.

Step 3 Click Start, and wait for iPhixer to start going through the entire update and repair process as intended.
Once finished, your iPhone unable to verify update iOS 15/16 error is successfully fixed, and you can succeed in vertifying update any iOS versions you want. That's all due to WooTechy iPhixer.
Conclusion
Be sure to try out the above solutions, and you should find it much easier to solve your Apple headaches. Despite being regarded as the best in the business, it is still very easy to run into problems with Apple software.
The above 10 tips and solutions especially WooTechy iPhixer iOS repair software, though, should fix the issue of unable to verify update iOS 15/16 easily.