iOS 16- The Newest iOS Update
With a large presentation, Apple launched this year's WWDC and unveiled its newest iOS update and new features. The iOS latest version, which is the iOS 16 public beta, is now available for anyone with the courage to try it after a month. Here is something new in iOS 16: enhanced HomeKit, clearer notifications, more personalization, and extra tiny features.
1

Release Date of iOS 16?

The release of iOS 16 is expected for mid-to-late September. The release of iOS 16 is scheduled for mid-to-late September. The new iPhones are delivered, and the eligible older iPhones are updated.

The beta versions of the newest iOS update, iOS 16, are available for testing from this summer, meanwhile, for anxious fans. Members of the Developer Program can now access the Developer Beta. The Public Beta is already accessible for download by anybody else.
2

How to download and install iOS 16

Consider iOS 16 download for the public beta if you want to get in the iOS action early and do not want to spend any money. There is no cost to join, but some of your current apps might not function properly with the operating system, and you could lose data. Finding bugs developers have not yet seen is the goal of a public beta. This can be a fun side project if you like iOS, especially if you have an older iOS device that you can afford to upgrade with potentially unstable software. For the iOS 16 install guide, follow the steps below.

Go to apple.com

Sign in with your Apple ID

Choose the device you want to download the beta for<

The beta profile has been downloaded

Open Settings, and you will see a message on the top prompting you to install the beta.

Accept, then let the device restart

Now that you have a beta profile go to Settings -> General -> Software Update. Download the iOS 16 beta

Public Betas are often excellent and secure but sometimes troublesome. Backing up your iPhone before installing it is a brilliant idea. Use iTunes to create an on-disk backup by connecting your Lightning cable.
3

Devices that support iOS 16?

From the iPhone 8 model onward, all iPhones (2017 and later). Here is the complete list of devices that will receive it:

iPhone 8 and 8 Plus

iPhone X

iPhone SE (2020)

iPhone XS and XS Max

iPhone XR

iPhone 11, 11 Pro, and 11 Pro Max

iPhone 12 mini, iPhone 12, 12 Pro, and 12 Pro Max

iPhone 13 mini, iPhone 13, 13 Pro, and 13 Pro Max

iPhone 14 series

Apple is renowned for providing support for its products long after release. Even the iPhone 6s, which was six years old at the time of the most recent upgrade, could run iOS 15.

However, iOS 16 is about to remove two outdated iPhones and announce that they are no longer supported. The iPhone 6s and 7 are no longer supported; however, all iPhones starting with the iPhone 8 may run iOS 16.
4

Update issues in iOS 16 and how to solve them with WooTechy?
Unable to install iOS 16
Some customers are unable to install iOS 16/15 update. However, they cannot use Apple's bug fixes, enhanced security measures, and new features. Instead, they need to understand why their iPhone cannot install an update. For example, you can find 9 remedies for iOS not updating.
This issue might be because of the following factors:
The battery is low, and the storage is whole.
The network is down, unstable, or impaired by other services like VPN.
Software glitches
Hardware compatibility
Fix the unable to Install update issue with WooTechy iPhixer:
Software bugs can sometimes be removed more thoroughly than rebooting a device and resetting the network. The latter is frequently the cause of an iPhone's inability to install iOS 16 or 15. You can use WooTechy iPhixer, a repair tool, online without consulting a professional.
Step 1 Launch the tool after downloading and installing it on your computer, and attach your iPhone to it using the proper USB cord.
Step 2 Select a repair mode, ideally the Standard Mode, because it avoids data loss. Select the Next option found at the screen's bottom.
Step 3 Launch the tool after downloading and installing it on your computer, and attach your iPhone to it using the proper USB cord.
Step 4 Click Download when the app prompts you to download the firmware needed to fix your iPhone.
Step 5 The software will be extracted after the download is complete. When you click the Start button, your iPhone will be fixed once the proper iOS is successfully installed.
Some other issues:
Some faults are highlighted in Apple's iOS 16 beta change log, and testers report more troubles with the firmware. The following difficulties are reported: unusual battery depletion, installation, and download issues, Face ID issues, Wi-Fi issues, Bluetooth issues, crashes, latency, and issues with both first- and third-party applications.
How to Downgrade iOS 16 to iOS15?
On your iPhone, you can revert to iOS 15 if you do not like how the iOS 16 beta performs. For example, iOS 15.6 is now being signed by Apple. However, you cannot downgrade your iPhone to an iOS version earlier than iOS 15.6 since the firm has discontinued signing on iOS 15.5 and prior versions of iOS.
The Wootechy iMaster is an excellent tool you need if you want to downgrade or upgrade your iOS device and meet all of your needs without losing any data.This tool guarantees no data loss and the absence of error codes, which you constantly experience on iTunes, in addition to enabling you to downgrade or upgrade your iOS to any version supported by Apple.
The following steps will let you downgrade the iOS 16 with Wootechy iMaster.
Step 1 On your computer, download, install, and launch Wootechy iMaster. Next, use a USB cord to link your iOS device to the computer. After the software has detected your device, select Downgrade iOS mode.
Step 2 Select your preferred firmware version and download it to your PC.
Step 3 Your iOS device is now prepared for the iOS downgrade. Tap Start to enable the application to downgrade your iPhone immediately.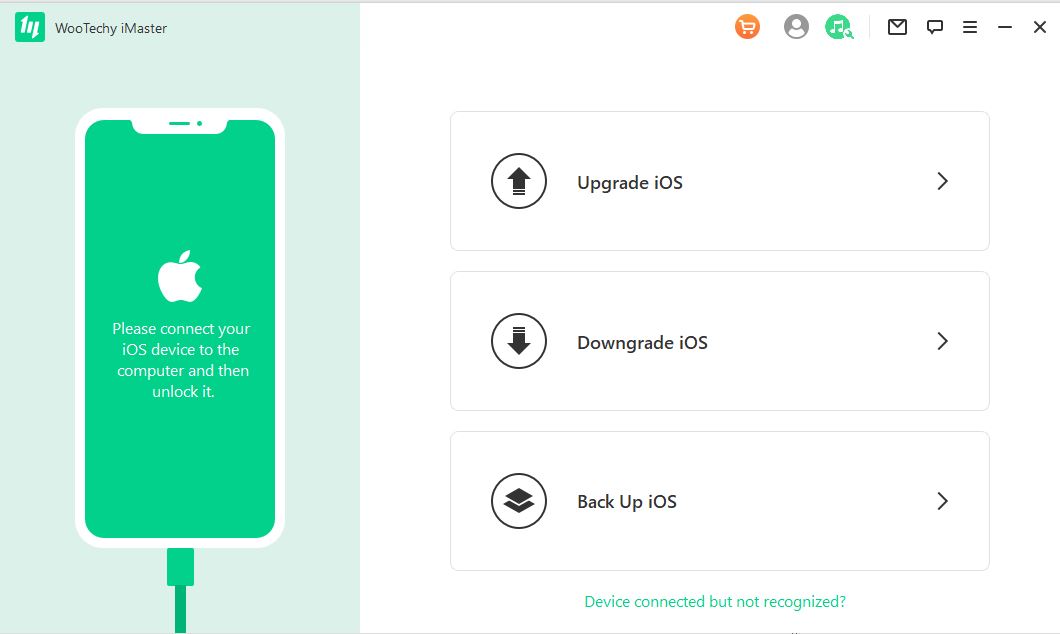 FAQs
Q: What is the cost of iOS 16?
IOS 16 will be a free upgrade for all compatible iPhone devices.
Q: Are WooTechy iPhixer and iMaster safe?
Downloading it on a Mac or Windows computer is, in fact, completely secure. Well-known security programs like Norton and McAfee have approved it. Additionally, it works with all iOS/iPadOS/tvOS devices and versions, so your computers and other gadgets won't be harmed.
Conclusion
Since you are using an early newest iOS update on the version of iOS 16, you will encounter many issues. For example, you might notice that some of your apps stop working or that you lose data because developers have the software to test it out with their apps.
But you do not have to worry because the iPhixer and iMaster tools of WooTechy are the safest and best solutions to these problems. So before enrolling, make sure that you are at ease with that. Or set up the development version on a different iOS device from your main one.