If you go look in iPhone forums, you'll see that iPhones bricked due to update issues is not that uncommon. Even though it comes from a company that boasts its tightknit and pristinely polished software, iPhones are no stranger to update issues.
To solve the iPhone bricked after update issue, you must first understand why this problem occurs to apply the exact solution that will fix the problem. So, let's take a deeper look into why it occurs and what you can do about it.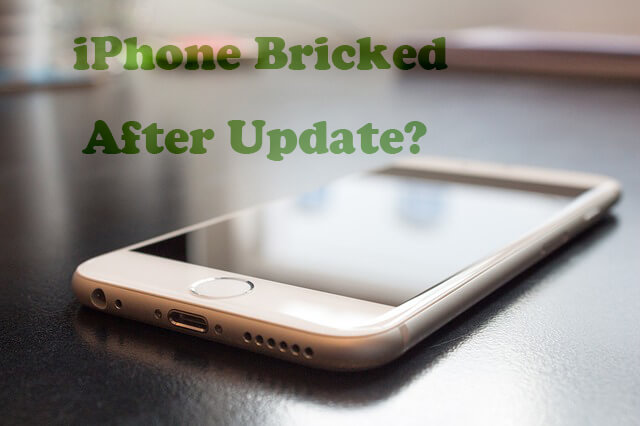 What Happens When Your iPhone Is Bricked?
When a smartphone doesn't respond typically, then it's known as being "bricked". The causes of the device not working can be anything.
Mostly, an iPhone gets bricked if it can't perform the boot operation, resulting in not responding to any input. Any kind of hardware or software-related issue can trigger it, and the iPhone can end up being bricked.
This problem often occurs when the iPhone gets a new update, and the users try to upgrade it to the latest version. But sometimes, the latest version can be unstable. So, if this upgrade breaks the baseband bootloader or has caused damage to the device's firmware, then it's likely that your iPhone will get bricked. There's a chance of your iPhone getting bricked if you have very little storage space left on your device. It can also occur due to malware attacks.
These attacks are so vicious that they can brick your iPhone. It leaves your device in a non-responsive state, which can also lead to the blue screen of death. But in most cases, it leaves your phone with an idle black screen or the constant Apple logo on display.
The most common things that happen when an iPhone gets bricked are:
After finishing the update, the device doesn't turn on.

If it turns on, it'll stay stuck on the Apple logo.

Sometimes it can show the idle black screen.

It can also show the blue/red screen of death in some cases.

Can get stuck on the "Connect to iTunes" logo.
How Do You Fix iPhone Bricked After Update?
Most people think that a bricked iPhone is of no use anymore. The thing that they don't realize is that an iPhone bricked fix is possible. You can bring it back to its active form in many ways.
1

Force Restart iPhone

A quick force restart can do away with most mobile phone issues including iPhone bricked after update. It basically refreshes your phone system and that can fix most of your issues. Here are the steps required for this procedure:
iPhone 8 and newer: Press and let go of the Volume Up button. Then the same goes for Volume Down button. After that, hold the button on the Side. Keep holding until you see the Apple logo. If the logo appears, then it means that the iPhone restarted successfully.

iPhone 7/7 Plus: Hold the Volume Down and Side button and keep holding them until you see the Apple logo.

iPhone 6s and earlier: Press the Home button. Then simultaneously, press the Power button. Hold the buttons to make the logo pop up.
2

Fix iPhone Bricked After Update Without Data Loss

If the force restarting iPhone doesn't work, then you have to take help from professional iOS system recovery software. WooTechy iPhixer is a great medium that can fix iPhone bricked after update without data loss. If you are afraid of doing something wrong and permanently damaging your phone, then it has got your back.

iPhixer -- All-in-One Solution to iPhone Issues
Fix all iPhone update issues without data loss such as iPhone bricked after update iOS, frozen during update, iPhone won't turn on after update, upate failure, unable to verify update iOS and more.

Compatible with all iPhone models and iOS versions like the latest iOS 16, so you can use it fix fix your any bricked iPhone.

Apart from solving the problem, iPhixer can also update your iPhone to the latest version with a high success rate and fast speed.

Without using iTunes, iPhixer updates and restores your iPhone back to normal quickly without causing data loss and unknown iTunes errors.

Provide other functions, for example, resetting your iPhone with/without password, freely entering/exiting Recovery mode through one click.
You can just follow the simple instructions on your screen and let the software handle all the rest. Here's a simple guide on how you can use WooTechy iPhixer to fix iPhone bricked after update issue.
Step 1: Download iPhixer and Connect the Device
Get and open the iPhixer on your computer. Next, connect the iPhone to your Windows or Mac computer. Select the Standard Mode. Then, click Next to proceed.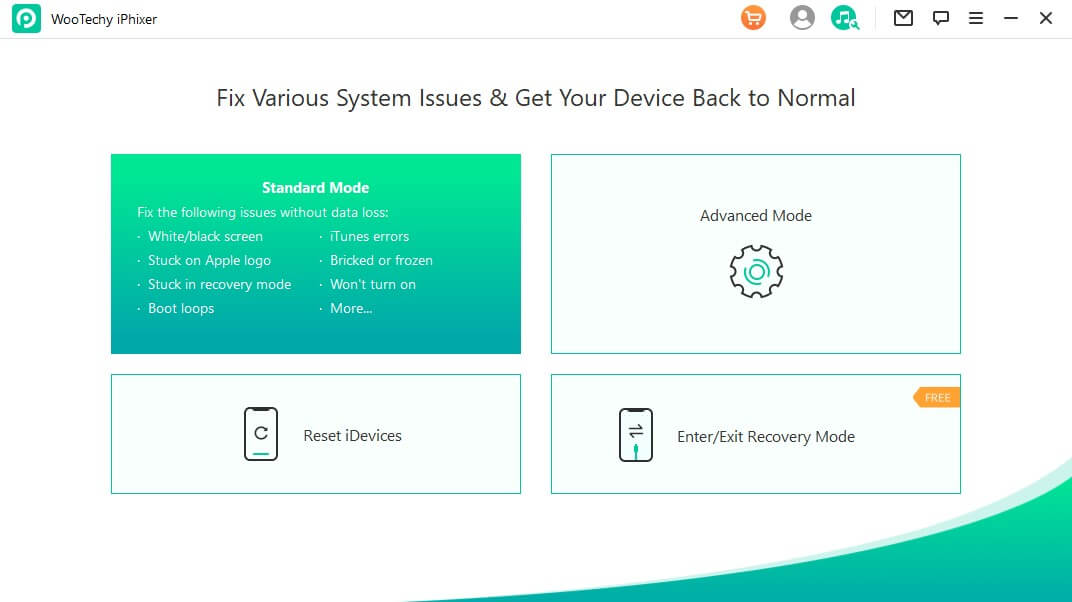 Step 2: Detect Device
Since your iPhone is bricked and unresponsive, it can't be detected by any software including iPhixer. So follow procedures below to enter the mode of Recovery or DFU that get your device recognized.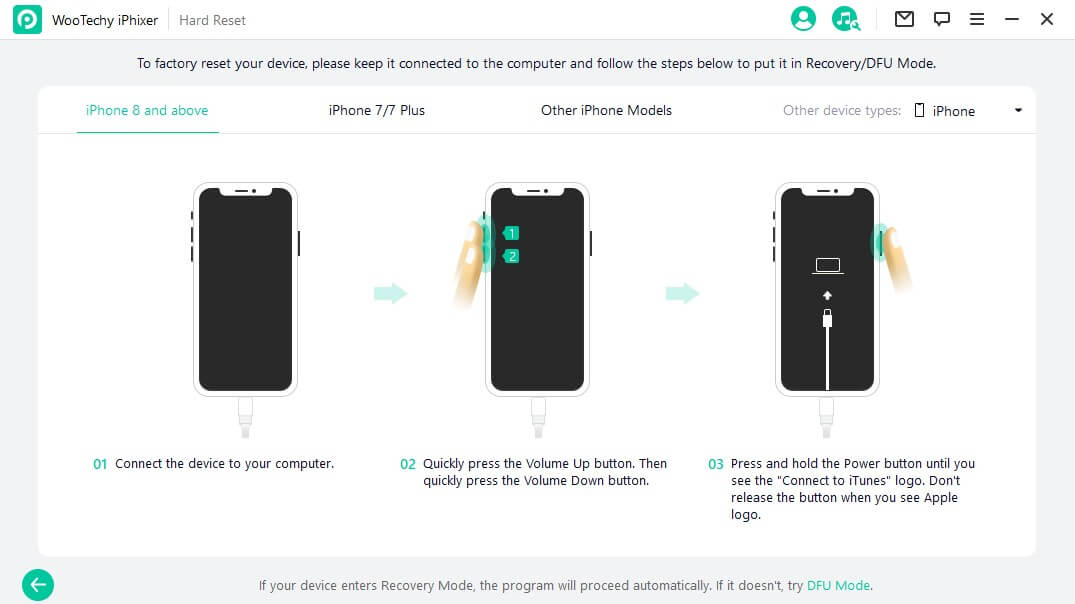 Step 3: Download the Firmware
Download the firmware for your device. The firmware is suitable for your iPhone and system version. After downloading, the verification process will initialize.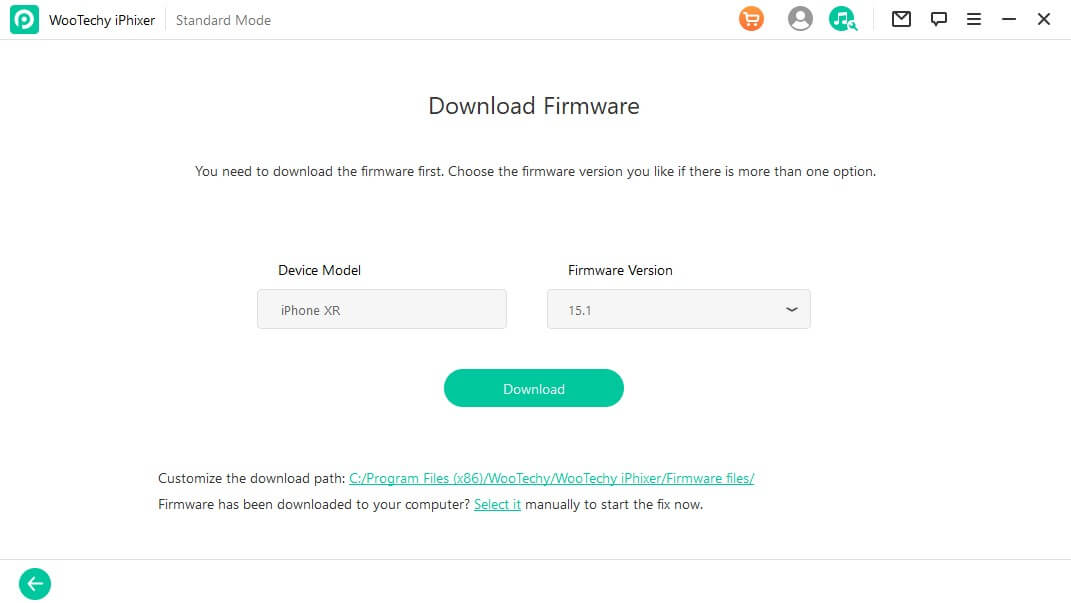 Step 4: Fix iPhone Bricked After Update Issue
After that, tap the Start button so that the repair can begin. Be careful that you don't disconnect the device in the middle of the process. After completing the procedure, the device will restart automatically and you can use it normally.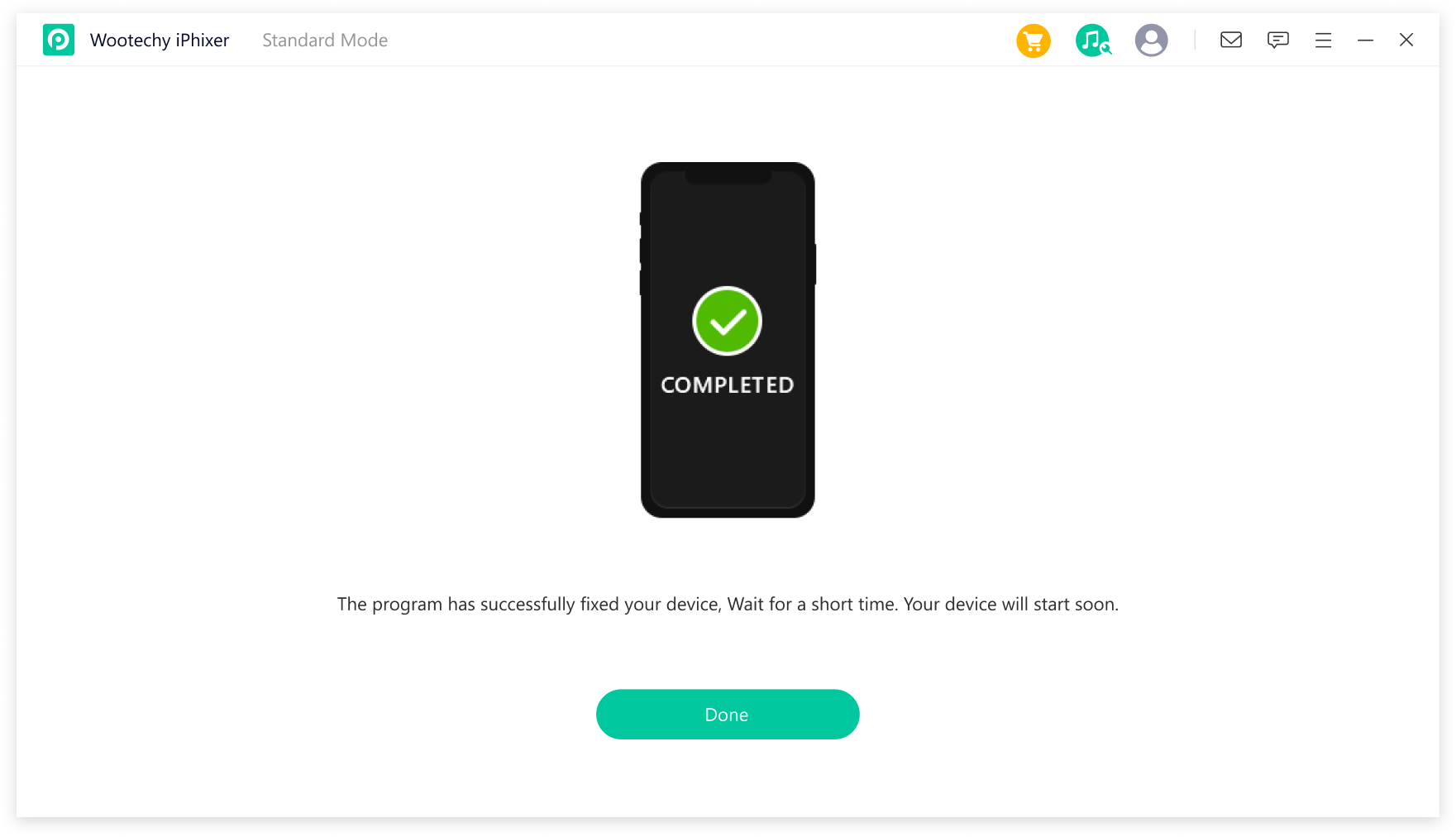 See, your iPhone bricked after update issue is easily fixed and you can use your iPhone without any hassel now.
3

Reset iPhone through iCloud Find My Feature (Data Loss)

When your phone is bricked, you can also try to reset it using iCloud and then set it up as new. But you will need to have find iPhone turned on and an internet connection. Moreover, all data on your device will be removed forever.

Step 1: Locate Find My iPhone option on iCloud.com. Then, select the device whose data you want to erase. Or you can get into the current devices list. From there, select a new device. Now, click Erase iPhone.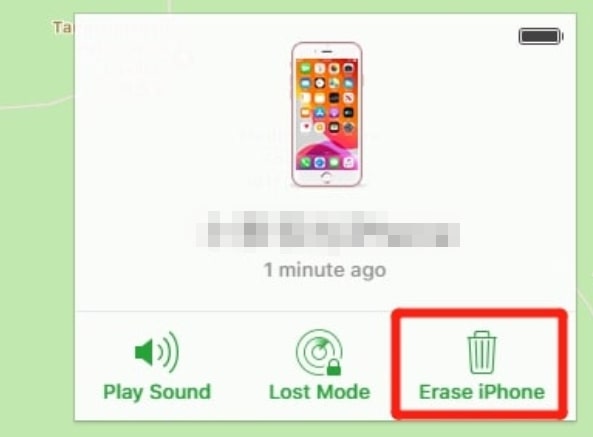 Step 2: Enter the Apple ID password. The remote erasion will now begin. Follow the on-screen instructions to proceed further. Also, if the device is currently offline, the procedure will start when the device comes online.
4

Restore iPhone with Recovery Mode (Data Loss)

If your iPhone refuses to boot, then putting it into recovery mode and reinstalling the OS can be a good option to try. In case of any software issues plaguing our phone, this will instantly do away with it. But, you will sadly lose your data in this process. Here's what you should do.

Step 1: Turn off your iPhone. Connect the iPhone to your PC and turn on iTunes.

Step 2: Then put your phone into recovery mode.
iPhone 8 and Newer: Press and release the Volume Up button, then the Volume Down button. Finally hold down the Side button.

iPhone 7/7 plus: Press down the Side button and Volume Down button simultaneously.

iPhone 6s and Older: Press and hold the Home button and the Side button at the same time.
Step 3: Let go of the buttons when the "Connect to iTunes" notification comes up.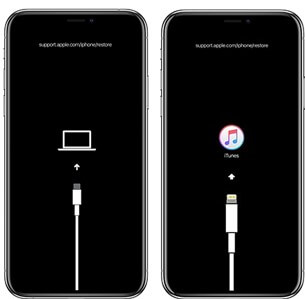 Step 4: After that, a prompt will pop up telling you that your PC has detected your iPhone and currently it's in the Recovery Mode.
Step 5: You will see to options "Update" and "Restore". Click Restore to fully restore your device.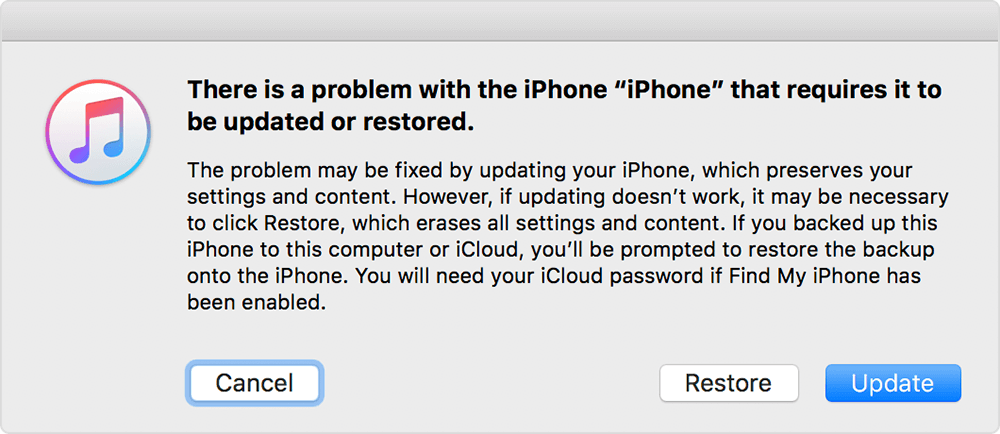 5

Restore iPhone in DFU Mode (Data Loss)

Using the DFU mode of iPhone is kind of like using the BIOS mode in your PC. The DFU mode downgrades your iOS and further reloads the device's software. Similarly, it erases all data on your iPhone. So, as the final resort, you can try out the steps below to fix iPhone bricked after update problem.

Step 1: Update iTunes to the newest version and connect it to the PC. Launch iTunes.

Step 2: If you've got your iPhone bricked, to put them into DFU Mode, follow the steps that are suitable for your device from the list given below:
iPhone 6/6s: Hold the Power and Home button together for 8-10 seconds. Then, release the Power button. Keep holding the Home button for 5 seconds.

iPhone 7/7 Plus: Hold the Power and Volume Down button for 8-10 seconds. After that, just hold the Volume Down button and keep holding it for another 5 seconds.

iPhone 8/X and others: Press and let go of the Volume Up and the Volume Down buttons respectively, then hold the Side button until the screen is black. At this time, press the Volume Down button and the Side button for 5 seconds. Then remove your finger from the Side button yet continue holding the Volume Down button for 5 seconds.
Step 3: After you've gone through all these, the display will show a message saying, "iTunes has detected an iPhone in Recovery Mode".
Step 4: Press OK and then tap on the Restore iPhone option.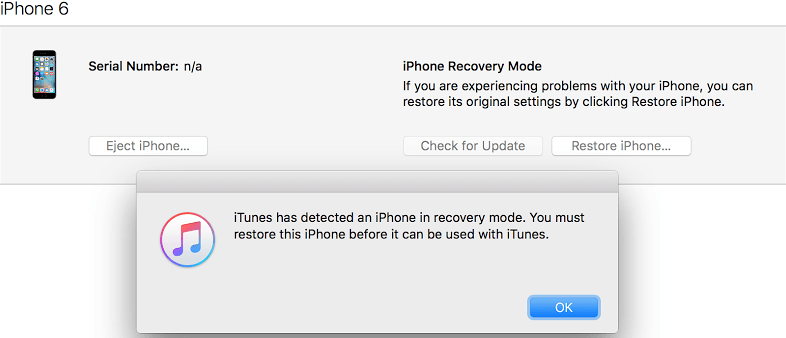 Last Words
Updating is a must if you own an Apple device. The urge to have access to the latest upgrades to iOS is irresistible. But in all this, you should not get carried away. The updating process is quite sensitive, and you must be careful while doing it too. There's a chance you'll get your iPhone bricked after update if you don't pay attention.
If you encounter this problem unfortunately, you can use the above methods to fix it. To fix your iPhone bricked after update without data loss and a high success rate, you can't miss out WooTechy iPhixer. It is really useful in fixing various iPhone update issues.