Why is my new iPhone stuck on install now? I just purchased the iPhone 13 device, but it gets stuck when I upgrade the iOS 16 system. Now matter how many times I tried to install the iOS 16, it still failed. So what can I do to fix this problem.
New iPhone stuck on software update seems to be a well-known issue. Even the Apple support team has taken note of it. The most typical scenario is when you set up your new iPhone S/X/11/12/13/14 or transfer data & settings from the existing iPhone simultaneously.
When one's new iPhone 13/14 is stuck on install now, the delight of getting a new device becomes sour. A common fix for some users is returning the device to where they purchased it, but if you don't want to waste the time and money, this article shows 4 effective methods for addressing iPhone stuck on install now.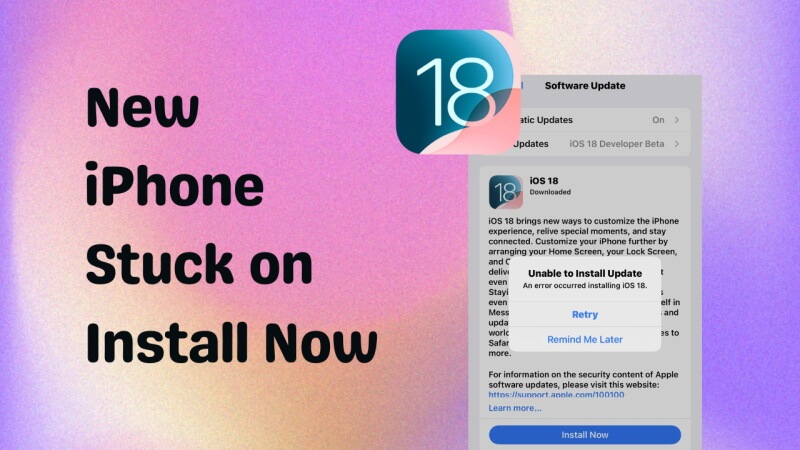 Video Guide to Fix iPhone Stuck on Install Now Problem with 100% Success Rate
Part 1. How Long Should A Software Update Take on A New iPhone?
How long does Apple update take? Normally, It takes iOS about 20 to 40 minutes to install an iOS. Approximately a file of 5GB is needed to be downloaded and installed, which might take a moment. However, the specific time for your device is dependent on the speed of your internet connection and the available storage.
In case you are wondering how long does iOS 16.3/16.5 take to install and download, for your information, noramlly it takes 15 minutes - 1 hour to download and install the software. Why is the software update taking so long on my new iPhone 13? It could be poor Internet connection or maybe the size of the software is bigger than before so you need more extra time.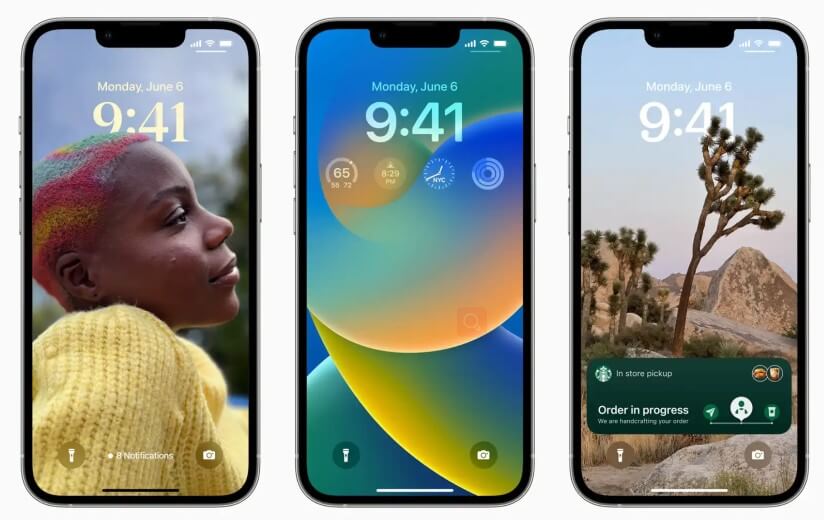 1.1 Should I Update to iOS 16 or Wait?
It's recommended to update to iOS 16. Released on September 12, 2022, the lateset iOS 16 brings mant new practical features for iPhone device, such as reimagined lock screen, edit and unsend messages, live text to video and so on, which can greatly improve the use experience for iPhone users.
1.2 How to Upgrade iOS 16 Version?
Go to your iPhone's Settings > General > Software Update.
Click Upgrade to iOS 16 button shown up on the screen.
Then select Download and Install, or you'll be directed to update your iPhone to iOS automatically. Enter your passcode if prompted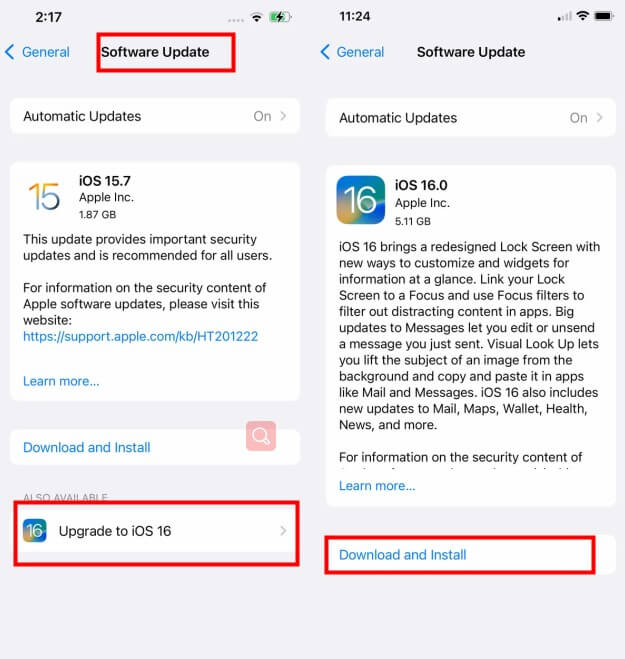 Part 2. Why Is My New iPhone Stuck on Software Update?
There will be several reasons if your new iPhone won't update during setup. In order to make you understand this error better, the following lists all the possible reasons for why won't your phone update.
One of the most common reasons for the new iPhone stuck on install now is the internet connection. If the connection is bad or slow, the installation process will be stuck.

Besides, your device may be running out of storage because you have restored some data from your recovery. In such a case, the new iPhone 13 software update could get stuck on install now.

Apart from these two reasons, a low battery percentage is another viable cause of an iPhone stuck on install now. Your device may be preventing the installation process from continuing because your battery is low, significantly below 50%.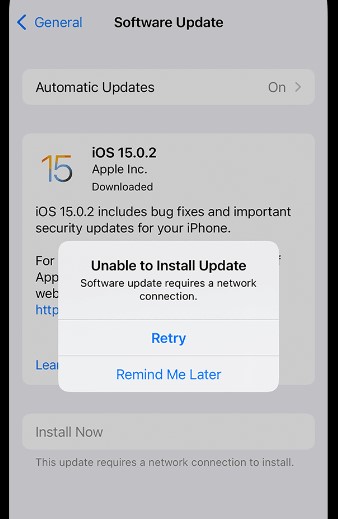 Part 3. How to Fix New iPhone Is Stuck on Install Now in Root?
Below are the 4 effective solutions that will help you solve iPhone stuck on install now with 100% certainty.
3.1 Fix New iPhone Stuck on Install Now with WooTechy iPhixer (No Data Loss)
The best method to efficiently fixing your new iPhone stuck on install now is WooTechy iPhixer. This tool can help remove the glitches that lead to the problem and further repair your device's system without data loss.
And no matter your iPhone/iPad/iPod is stuck on the spinning circle, update screen, Apple logo, recovery mode, etc. iPhixer is reliable to repair the device. It has a high success rate of fixing devices. What's more, it supports all iOS versions including the latest iOS 16.
Aside from fixing iPhone stuck on update issue, you can also use this tool to address all kinds of iPad problems, such as iPad boot loop, iPad black screen.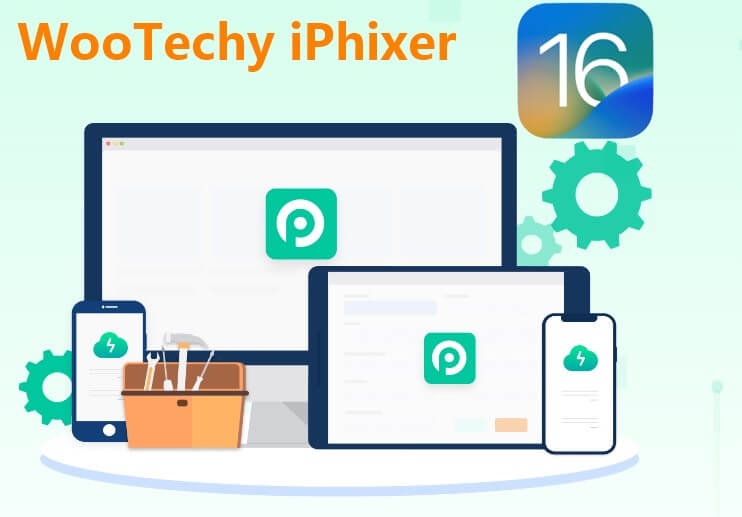 WooTechy iPhixer: Fix New iPhone Stuck on Software Update with 100% Success Rate
75.000.000+
Downloads
Fix all iOS stuck on update issues like iPhone software update stuck on install now, iPhone flashing Apple logo, unable to verify update iOS, iPhone stuck on preparing update, iPhone dead and more with several clicks.

Apart from fixing the issue, iPhixer can quickly update your iPhone with the proper software installed without the stuck issues.

With a user-friendly interface and easy-to-use steps, iPhixer is a 100% safe and professional program, no privacy invaded.

Unlike using iTunes, it restores your iPhone back to normal without causing any other errors.

Besides, you are also allowed to freely enter/exit recovery mode for without any data loss.
Follow These Steps to Fix Your New iPhone Stuck on Install Now:
Step 1 Firstly, download and install the iPhixer application. Launch the application on your Windows or Mac computers, then connect your device to your computer. Select the Standard Mode from the repair mode options available on your screen.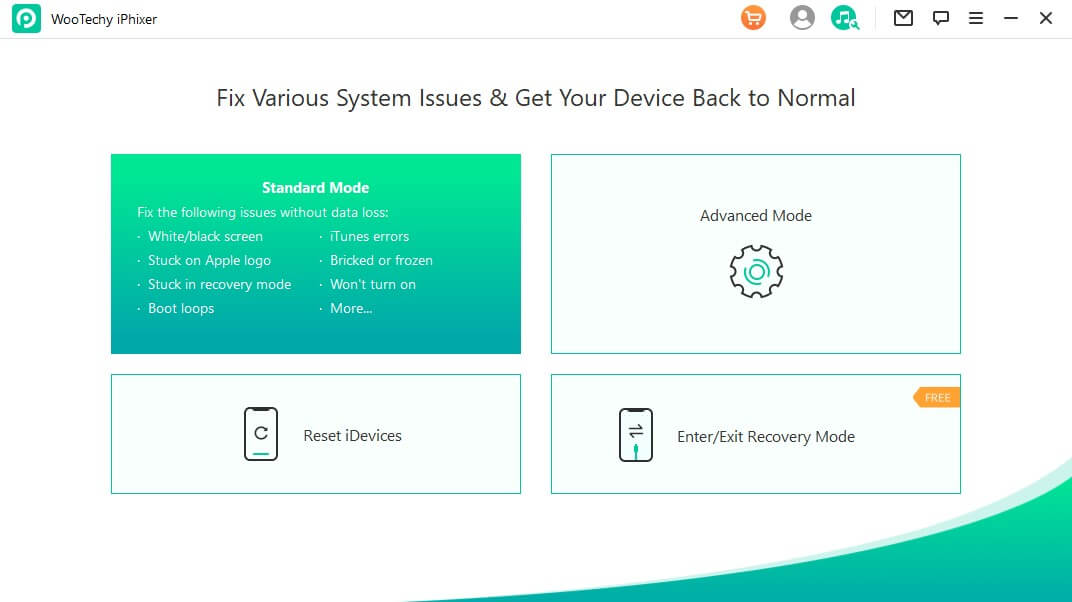 Step 2 Tap on the Next button on your screen. The model of your phone will be displayed on the screen.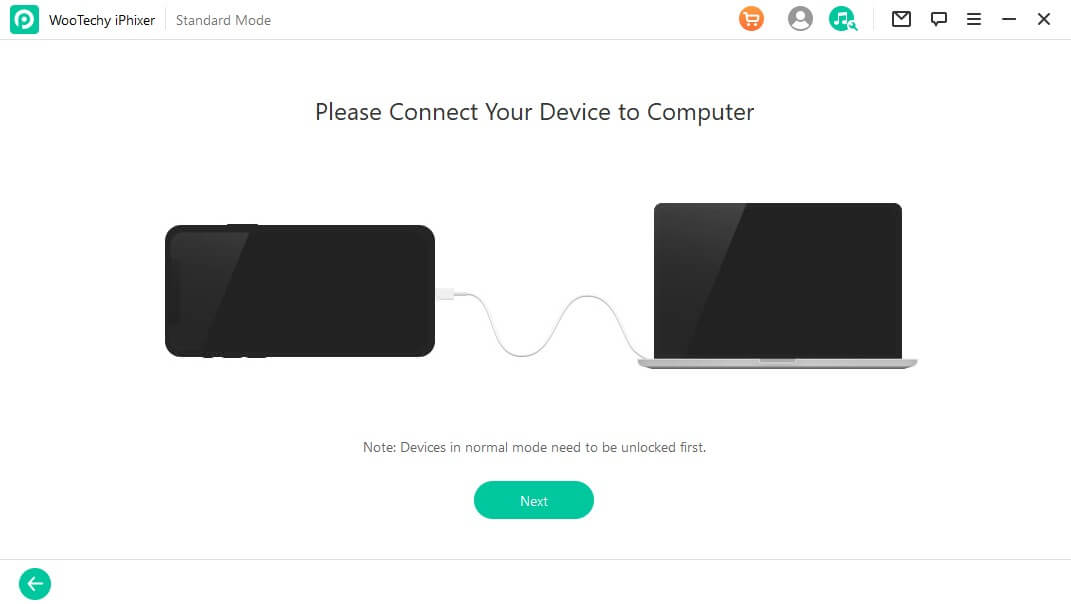 Step 3 It will start downloading the software that matches your iPhone model and system version after clicking the Download button.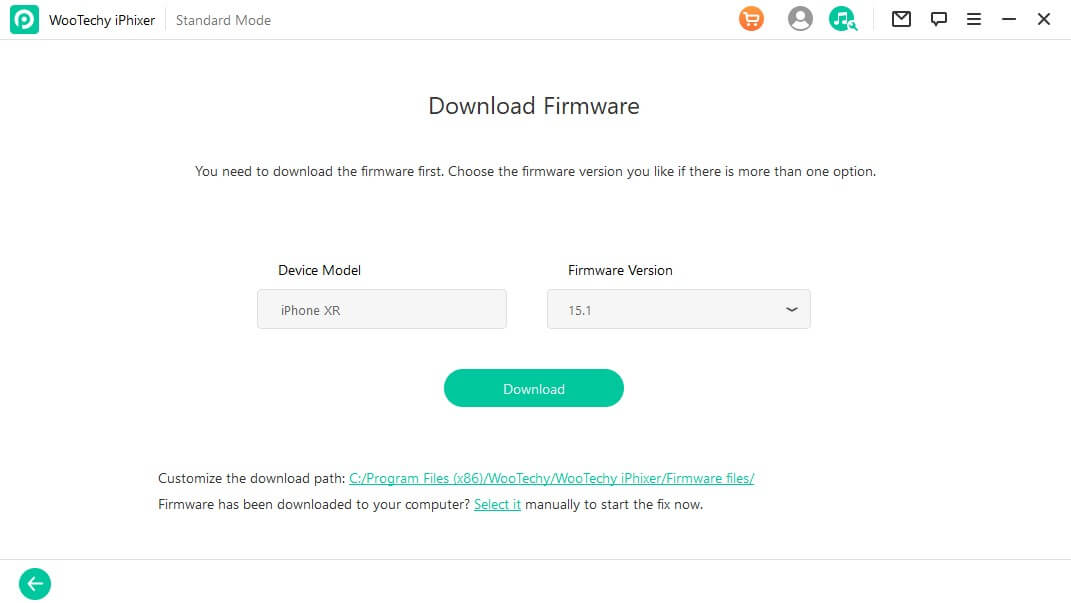 Step 4 Upon the completion of the download, click the Start button to fix your iPhone. After that, your iPhone will restart automatically and the iPhone stuck on install now problem shoud be solved now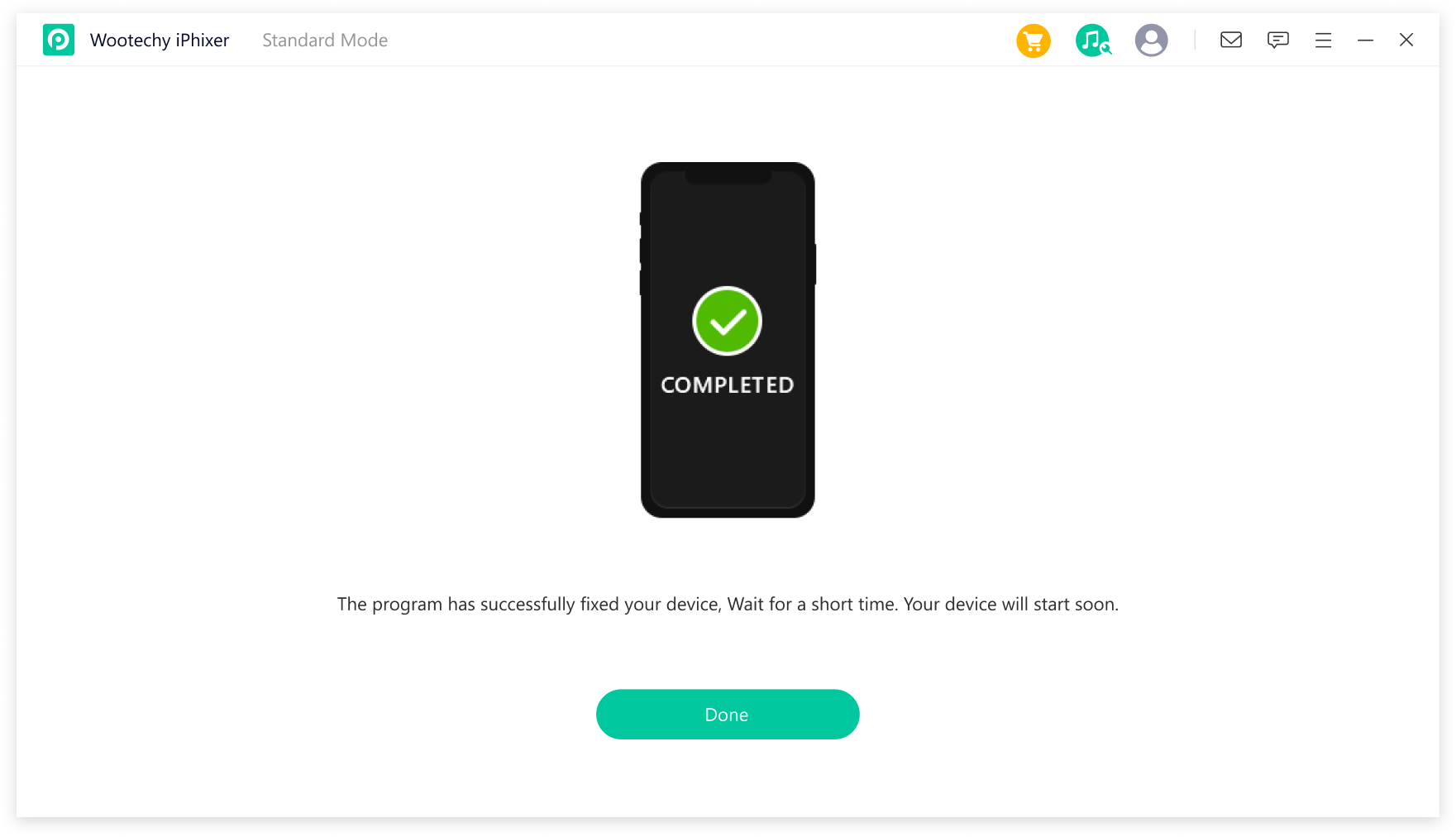 Note
Now you can try updating your iPhone device once more, you should can succeed updating your device to the latest iOS system.
That's due to this wondeful iPhone repair tool - WooTechy iPhixer. If you want to keep your iPhone device for a long time, then you definitely can hold this amazing tool, in case you will need it one day.
3.2 Set up Your iPhone Again to Troubleshoot Stuck on Install now
If your new iPhone is stuck on install now, then you may need to set it up as a new device. Just proceed to set up your iPhone as a new one without syncing your old iPhone data. After that, go to Settings and reset your iPhone to the factory settings.
When it is over, set up your iPhone again to see if the new iPhone software update stuck problem is resolved. Remember to sync the content in your old device this time.
3.3 Hard Reset iPhone to Solve Stuck on Install now Issue
Restarting any device can prove definitive in fixing any software bug of that device. It's rather useful for you to hard reset iPhone 13 or earlier iPhone model when iPhone stuck on install now.
For iPhone 8 and above: Press and release the Volume Up button swiftly. Press and release the Volume Down button swiftly. Use a finger to press and hold the Side button on your iPhone until the Apple logo appears.
For iPhone 7/7 Plus: Begin by holding the Side button. With your finger still on the Side button, press on the Volume Down button. Wait till the screen goes off and the Apple logo appears.
For iPhone 6 and before: Hold the Home and Power button concurrently until the screen goes off and the Apple logo appears on the screen.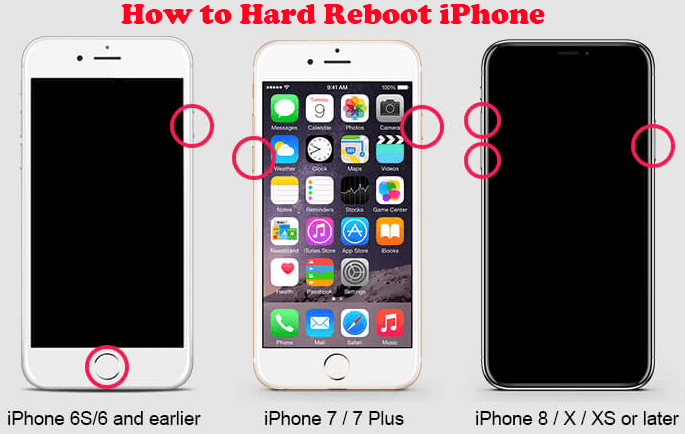 3.4 Restore iPhone Stuck on Software Update via iTunes (Data Loss)
Restoring your iPhone with iTunes erases all the data and settings on your device. However, if you have it backed up, you can access the data later. By erasing your data and settings, any software glitch causing a new iPhone stuck on install now will be removed.
Connect your iPhone to a computer using a cable. Open the iTunes app on the computer.
At the top left corner of the iTunes app, you will find the Device icon. Tap this button.
Next, click on the Summary tab.
Then click Restore iPhone to begin restoring your device. Finally, the iTunes app will direct you on the remaining instructions to follow.

FAQs about iOS Software Update
Q1: How long should preparing update take?
The time it takes to prepare an update can vary depending on several factors, such as the size of the update, the speed of your internet connection, and the processing power of your device. In general, preparing an update shouldn't take more than a few minutes to an hour.
Q2: What does preparing update mean?
"Preparing update" refers to the initial stage in the update process where your device is getting ready to install a new software update. It involves tasks like checking available storage space, backing up data, and ensuring the device is ready for the update.
Q3: Why is my iPhone stuck on preparing update?
If your iPhone is stuck on "preparing update," it could indicate an issue with the update process. Some potential reasons for this could be a poor internet connection, insufficient storage space on your device, a software glitch, or a problem with the update file itself.
Q4: Why is my iOS update paused?
iOS updates can pause for various reasons. One common reason is when your device is running low on battery power. Additionally, if you're updating your iOS device using cellular data, the update might pause if you switch to a Wi-Fi network or if you lose your internet connection.
Q5: What does "Update requested" on iPhone mean?
It means that you have initiated a software update for your device, and it is in the queue to download and install the update. This message typically appears on the Software Update screen, indicating that your iPhone has successfully communicated with the update server, and the process of fetching the update files is about to begin.
Conclusion
To prevent the new iPhone stuck on install now, ensure your internet connection is fast, get enough storage, and keep your device charged above 50%.
And suppose other software malfunctions are responsible for your new iPhone being stuck on install now or under any other conditions, the solutions mentioned above like the use of WooTechy iPhixer will help fix new iphone won't update during setup issue with no data loss.
Just click the Download Now button below, you can have this wonderful iPhone repair tool for yourself.