Why is there a pink line on my iPhone after I dropped my iPhone on the ground carelessly. The iPhone screen isn't broken and I still can touch and click the screen, but the pink line is pretty annoying, and I wanna remove it. Any smart guy has good ideas to help me fix it?
Actually, the pink line on iPhone screen is a well-known iPhone issue among users. The line goes from top to bottom, a straight vertical line. In some cases,it also appears as a horizontal line on iPhone screen, too.
The iPhone pink line on screen might be caused by software or hardware-related problems. Most of the hardware-related issues are connected to external impact, things like dropping your phone, for example. The software issues are more varied, but they are also generally easier to be fixed.
I'll explain the necessary 8 practical fixes to remove iPhone pink line on screen for both software and hardware.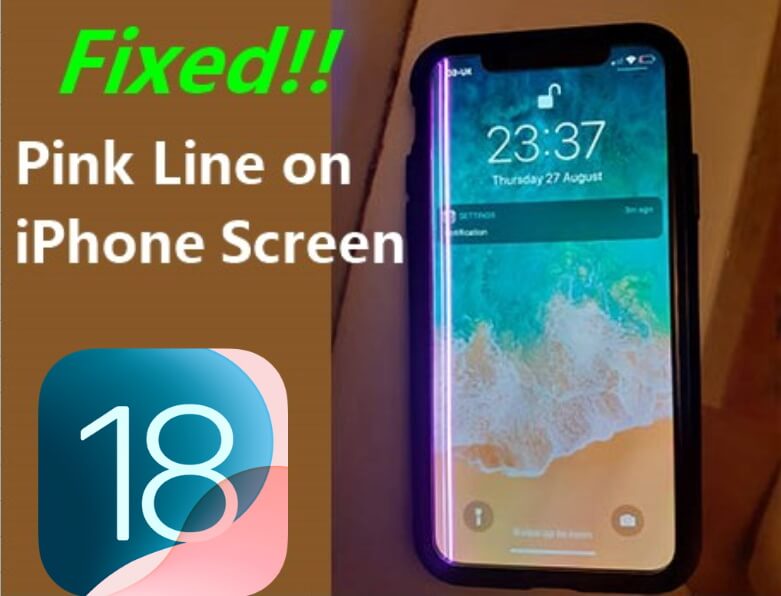 Part 1. Why Is There A Pink Line on My iPhone
The real question is "why is there a line on my phone screen" as it could appear to be any color. Pink line down iPhone screen can be caused by several reasons, there might be something wrong with your iPhone, which can be divided into software and hardware issues:
Your iPhone got liquid damage or physical damages, which can lead to pink line on iPhone screen.

Your device is too hot due to long-time use, or too cold for being exposed in cold environment for a long time.

The charging cable you use is not compatible with your iPhone device, then causing iPhone pink line on screen.

Some errors on your software, making your iPhone get stuck.

Most people has pink line on iPhone screen after dropping,and the dropped iPhone won't turn on as well.
No matter what causes your iPhone pink line on screen, the following will give you the right solutions to help you out, just check it.
Part 2. How Do I Get Rid of the Pink Line on My iPhone Screen? (Software Issues)
Here are several ways you can fix the iPhone pink line on screen. Some of these fixes can and will delete your data, so I highly encourage you to back up your important iPhone data on iCloud before proceeding to avoid any data loss.
1

Remove Pink Line on iPhone Screen with 100% Success Rate (No Data Loss)

At most cases, pink line on iPhone screen problem is caused by unknown software errors, so it's hard to pinpoint a exact way to fix it. You have to try them one by one until your problem is resolved. To save your time and energy, a great tool named WooTechy iPhixer comes in first.

It is an all-in-one program for solving all software-related issues of iPhones including removing the unwanted glitches -- vertical/horizontal lines on iPhone screen, no matter what color the line is. Above all, it saves you from backing up data before resolving the iPhone pink line on screen problem and keeps all data on your device intact.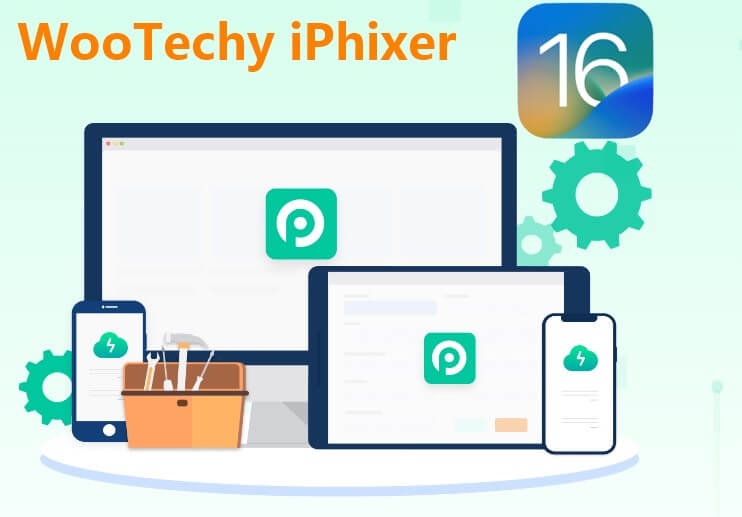 Powerful Features of WooTechy iPhixer: Fix Pink Line on iPhone Screen Directly
75.000.000+
Downloads
Fix all iPhone issues ranging from various iPhone screen problems to iPhone stuck bugs, including pink line on iPhone screen, bottom of iPhone screen not working and iPhone blinking Apple logo without losing any data.

Fully compatible with all iPhones (iPhone 4 to iPhone 14) and iOS versions including the latest iOS 16.

Better than iTunes, it restores iPhone back to normal with a faster speed and without causing other errors.

100% reliable, it has the 100% success rate and easy-to-follow steps shown below to solve the problem.

What's more, you are able to enter/exit recovery mode for without any data loss for free as well.

Offer great customer service(24/5) to solve your problem and have 30-day money guarantee.
4 Simple Steps to Fix Pink Line on iPhone Screen with iPhixer
Step 1 Download and open iPhixer on your computer. Use a suitable USB cable to connect your iPhone to the said computer. Then select the Standard Mode option.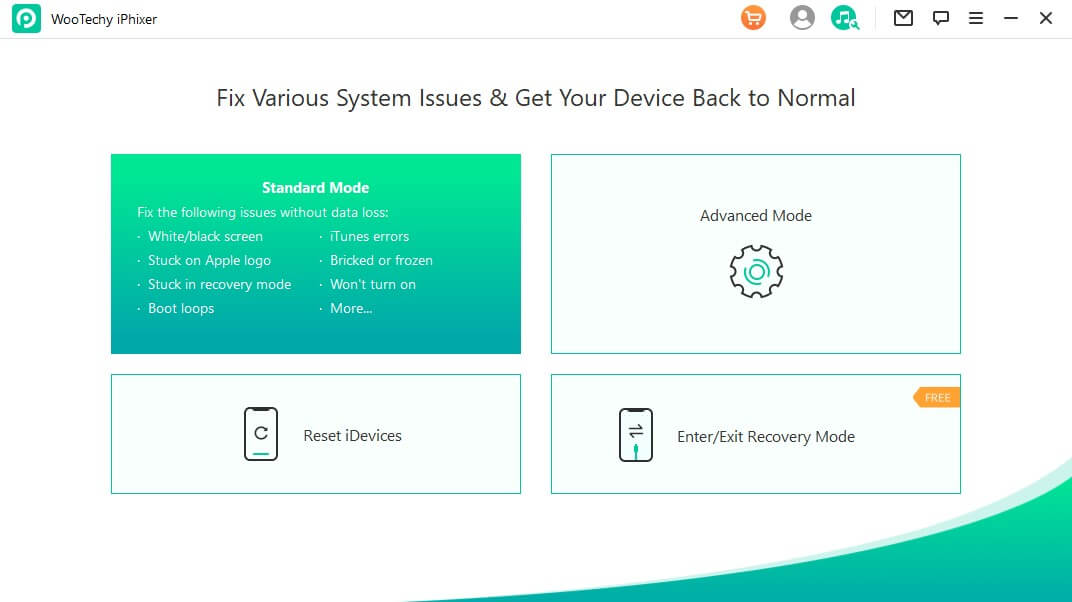 Step 2 Put your device into recovery mode by following the on-screen prompts.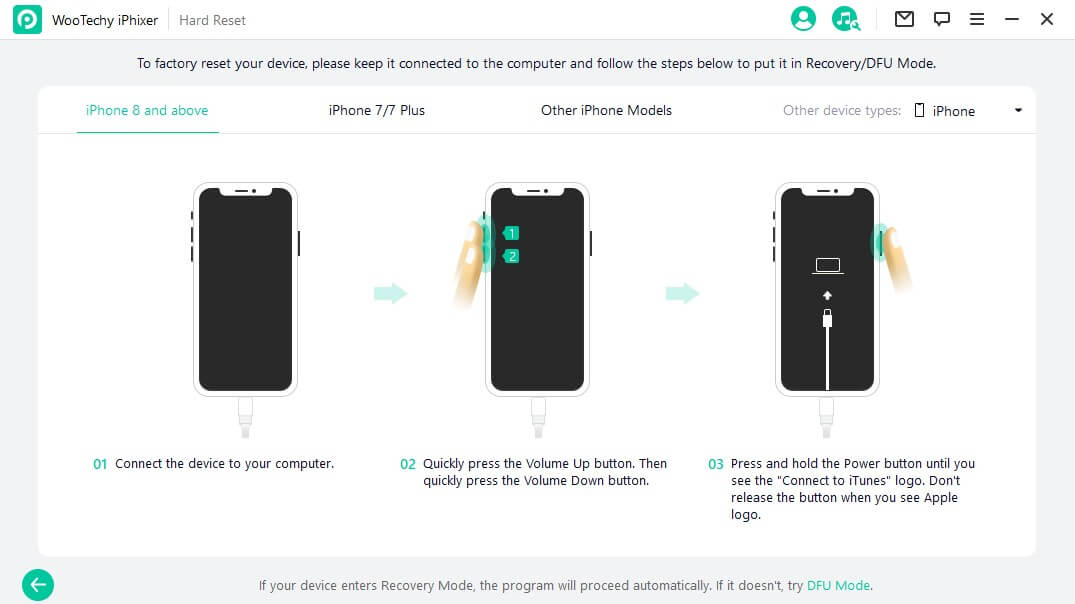 Step 3 The computer screen will then ask you to download the firmware. Download it and let it finish working.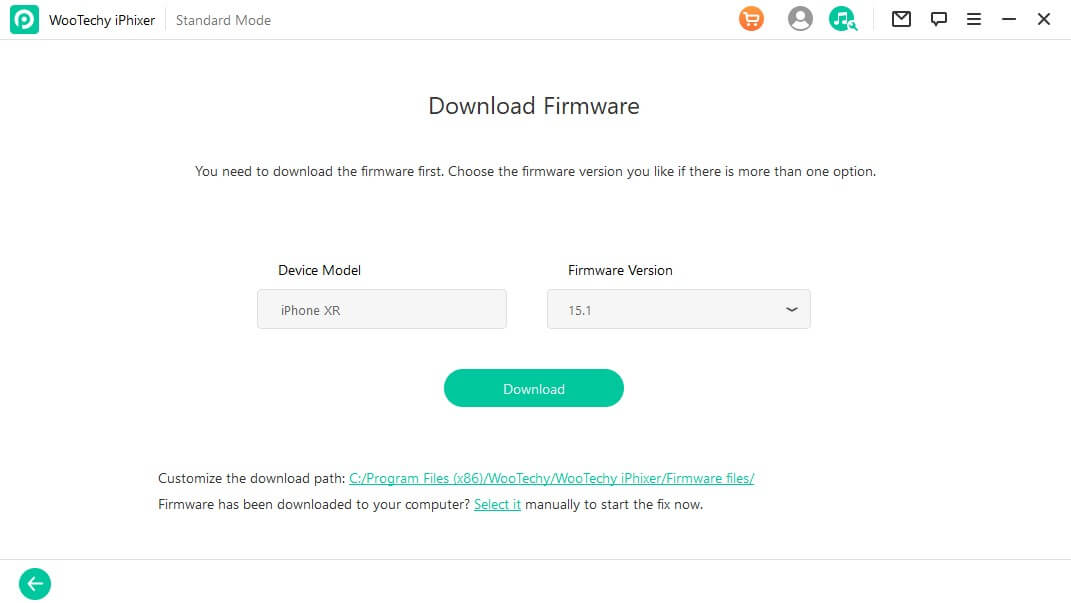 Step 4 Click Start option to let the software fix the pink line on your iPhone screen completely.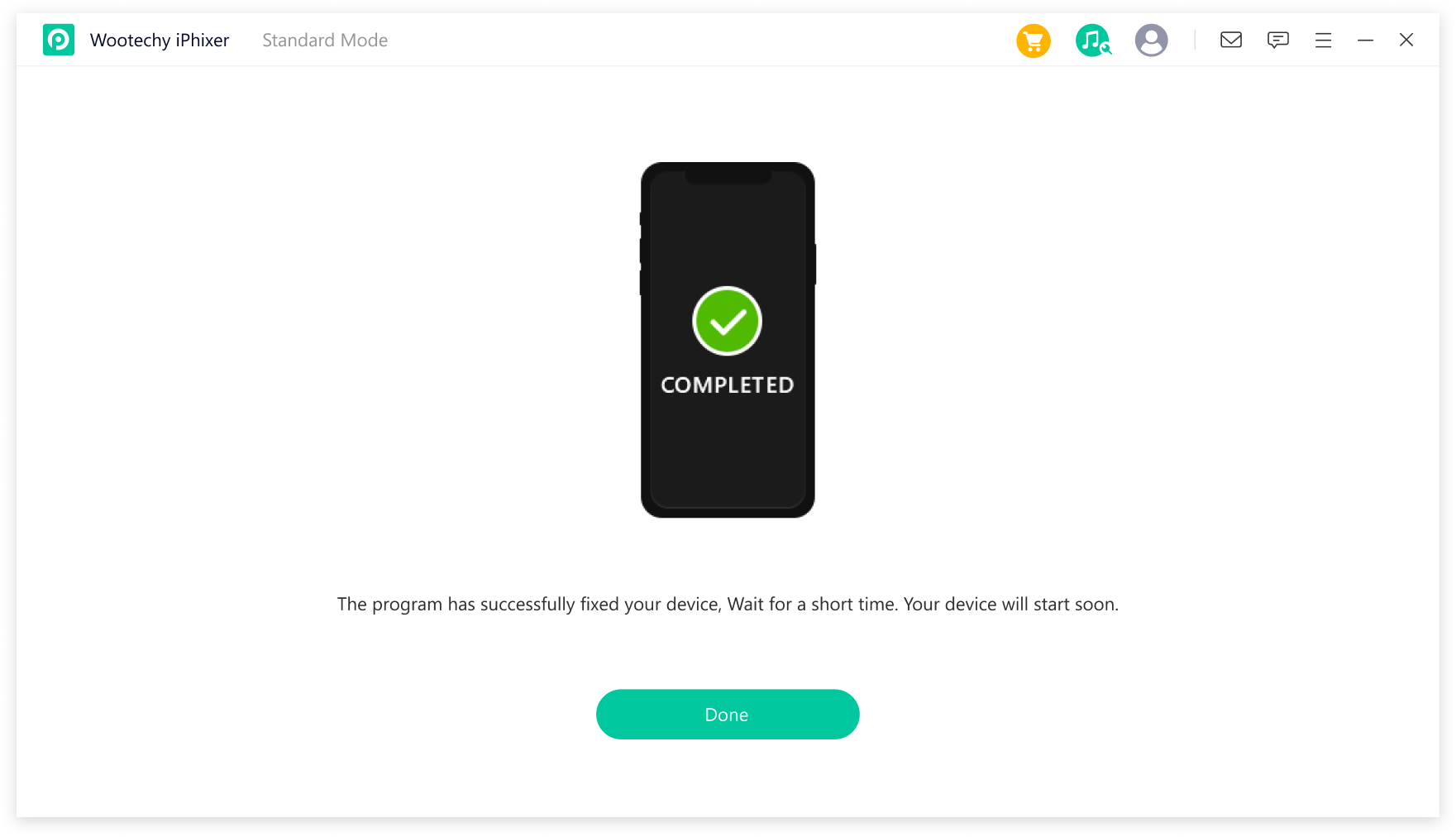 That's WooTechy iPhixer. What's an easy-to-operate tool. After the whole process to complete, you can open your iPhone device, the pink line on iPhone screen problem should be gone.
Besides fixing iPhone device software issues, iPhixer can also work to fix the similar problems on iPad, such as pink line on iPad screen, iPad boot loop.
2

Force Restart iPhone

Force restarting is the cooler version of the regular restart. It can fix almost all regular issues without a hitch like the pink line on phone screen for users. There are different operations to force restart device depending on the iPhone models.
Force reboot iPhone 8/X/11/12/13/14: Press and release the Volume Up button and Volume Down button respectively. Then press the Power button and release it when the Apple logo appears.

Force reboot iPhone 7/7 Plus: Press the Power and Volume Down buttons simultaneously until the Apple logo is shown on the screen.

Force reboot iPhone 6/6 Plus: Press the Power and Home buttons together. Then let go of them when you see the Apple logo.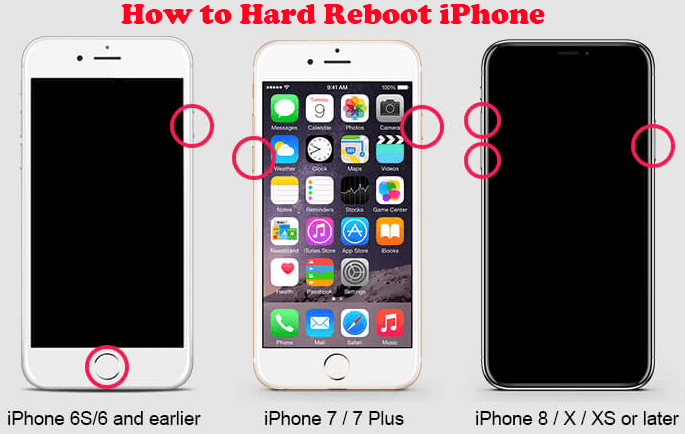 3

Reset iPhone Completely

You can try doing a full reset on your iPhone to remove the pink line on iPhone screen error. But this method is a bit troublesome as it will erase all data on your iPhone.

Here's how you do it:

Step 1 Back up your phone on iCloud.

Step 2 Click the Settings icon from the home screen. Select General from the main settings menu that shows up.

Step 3 Go all the way to the bottom and tap Transfer or Reset iPhone. Now you will see a lot of options here. Select Erase All Content and Settings.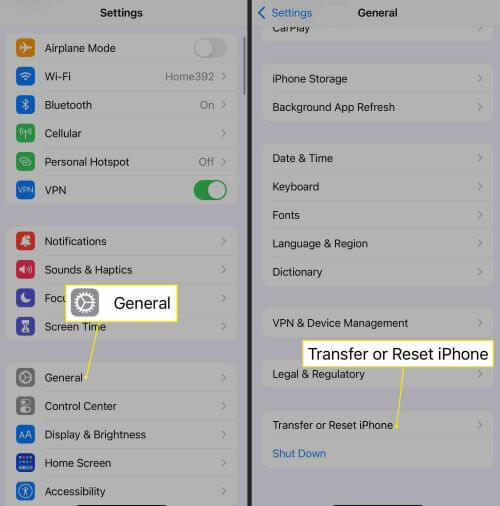 Step 4 Now it will ask you for the device password. Give that and wait for the reset to finish.
Step 5 Once your iPhone finishes resetting, the pink line should be gone. Now you can re-sync your data from iCloud.
4

Update iPhone to the Latest iOS 16

If your iPhone 11/12/13 is still running the old iOS system version, then the pink line on iPhone screen problem will happen from time to time, since the old iOS 13/14/15 systems can't support your iPhone softwares' normal operations. In this case, you had better update your iPhone device to the latest iOS 16 system.

Please make sure your iPhone has enough stoage to downlaod and install the iOS 16. Here are simple steps to upgrade iPhone to iOS 16 to fix iPhone pink line on screen:
Just go to your iPhone's settings, click General > Software Update button.

Then tap on Upgrade to iOS 16 option and click Download and Install icon to start the upgrading process.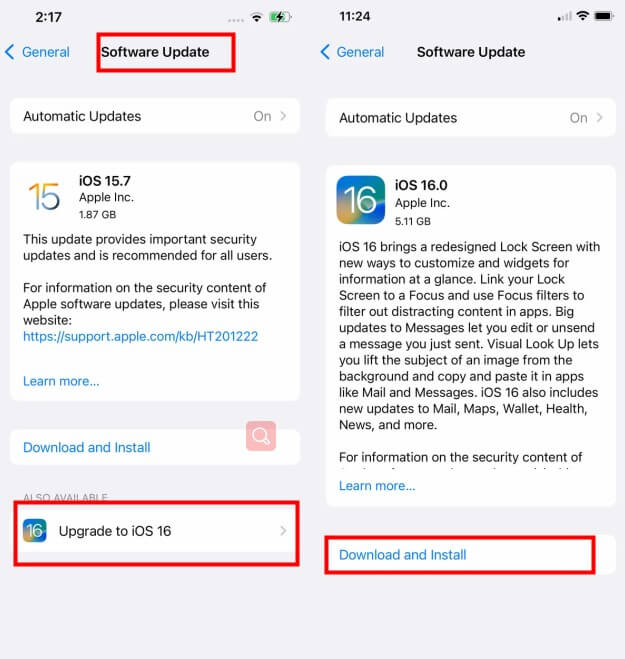 5

Restore iPhone Using iTunes (Data Loss Risk)

Restoring your device with iTunes is another way of getting rid of display glitches -- pink line on iPhone screen, in this case. However, it will also remove all data on your device after the following instructions.

Step 1 Connect the Phone with your computer and start up iTunes.

Step 2 Press and release the Volume Up and then the Volume Down button of iPhone X, then keep pressing the Sleep/Wake button until the recovery mode screen pops up.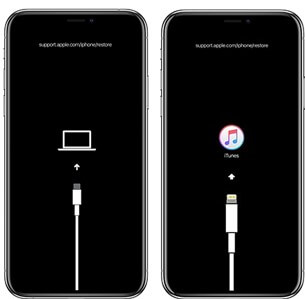 Step 3 Select Restore option on the message shown.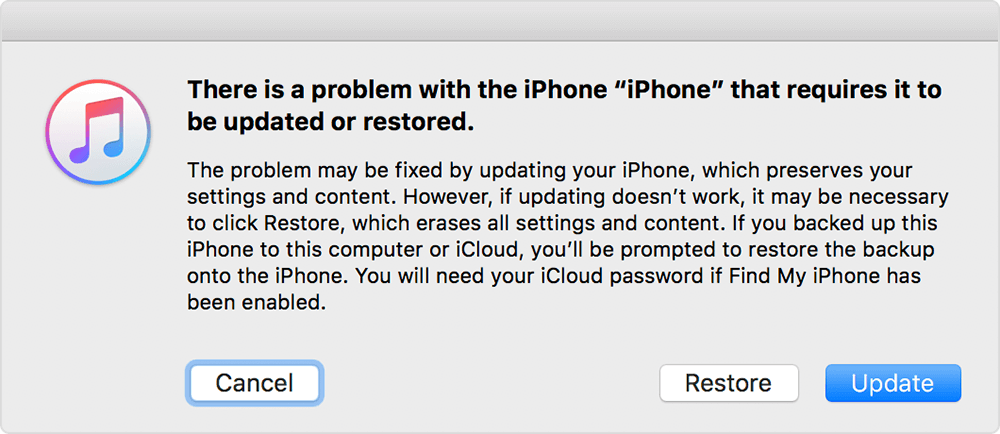 Cons
Although restoring iPhone with iTunes can fix some kinds of iPhone software problems, but it cannot promise the 100% success rate.

What's worse, this method will cause some data loss on your device, so you need to think about it twice first.
6

Restore iPhone in DFU Mode

DFU mode is the last resort to fix pink line on iPhone screen caused by software issue. You will need the help of iTunes to do it. The pink line on iPhone X screen and up can be a bit troublesome because DFU on these phones requires excellent finger gymnastics.

You have to begin by downloading the iTunes app on your PC. If you already get it then update it to the latest version. Now, connect your phone to you PC.
Then follow these steps to fix iPhone pink line on screen.
Step 1 Press and release the Volume Up and Volume Down button in quick succession.
Step 2 Press and hold the Side button until the screen turns black.
Step 3 At the same time, press and hold the Volume Down while continuing with the Side button.
Step 4 Remove your finger from the Side button after 5 seconds.
Step 5 Keep holding the Volume Down button for around 5 seconds. When your iPhone keeps turning black, then your iPhone is in the DFU mode. And a message will be shown on the iTunes screen.
Step 6 Select OK option from the message and further click Restore iPhone from your iTunes.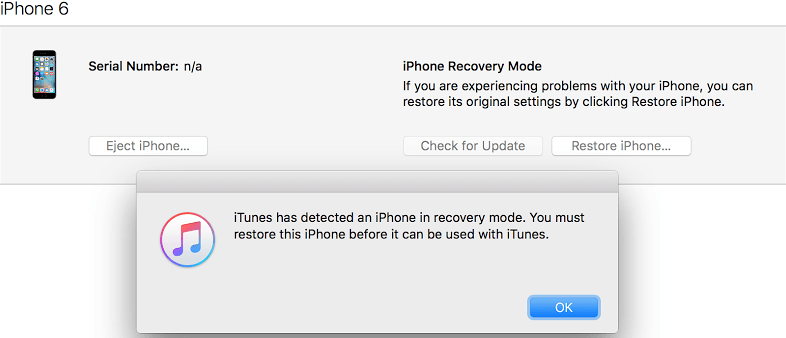 Part 3. How Do I Fix the Pink Line on My Phone Screen? (Hardware Issues)
In most situations, the pink line down iPhone screen is caused by software issues, which can be fixed done with the 6 methods mentioned above with a high success rate. If your pink line on iPhone screen issue is due to hardware issues on iPhone, however, then here are still 2 methods left for you to fix it.
1

Press Firmly on the Screen

If you notice a pink line appearing on your iPhone screen suddenly after you dropped the iPhone on the ground carelessly, it's possibly that the LCD cable is disconnected from the logic board, leading to the pink line pink line on iPhone screen.

In this case, you can press firmly on the screen to try reconnecting the LCD cable to the logic board again. But remember to be careful.

Just hold and press screen where the pink line appears with your hands firmly. You can try this method for several times or in multiple positions until the the pink line on iPhone screen is gone.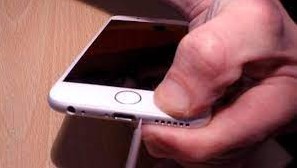 2

Contact Apple Store

The iPhone pink line might be a hardware issue if none of the methods above managed to fix it. The most likely culprit would be the display. You will probably need to get a replacement for that.

If your iPhone still has a warranty, you can take it to an Apple store. They will hook you up with a new one. If not, you can opt for repairing. But, usually repair costs from Apple are not usually worth it and buying a new phone would be much more of a viable option.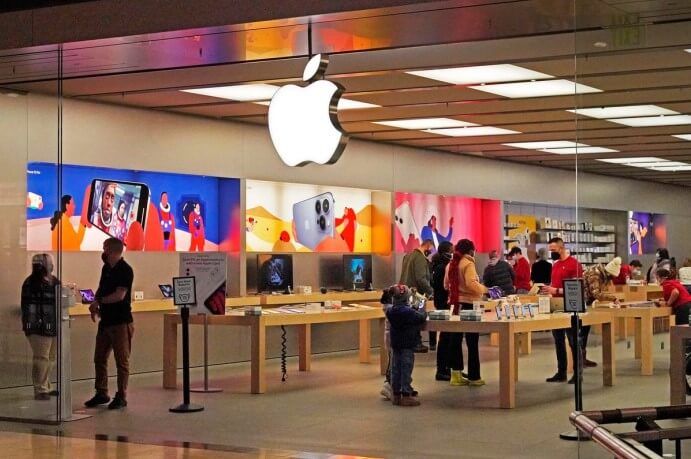 Conclusion
I believe that the provided steps should clear out all the ways you can deal with your pink line on iPhone screen issue. If the software is the culprit, then you can easily get it fixed using the iPhone issue repair tool -- WooTechy iPhixer app which lets you handle all of the processes automatically.
But, if none of the methods work then it's more likely you have a hardware issue. In that case, contacting apple customer support is the only option.