If you're not a regular iPhone user, then handling it might be a hassle for you but you do not have to worry anymore because we will guide you how to turn off screen time on iPhone without passcode or what to do if you ever forget screen time password. Screen allows you to control how you spend your time on your Apple device. It also sets time limits for your apps.
IPhone is not so cruel after all. There are many ways that will help you to remove or reset your screen time passcode. Continue reading this article to learn how to do it without losing your data in several situations.
Part 1. Is It Possible to Jailbreak an iCloud Locked iPhone?
Before moving to any critical step to recover your forgotten screen time password, you must always try out the default method first. If you ever come across a situation when you can't remember screen time passcode. First of all, if you are new to iOS 12 then you must know that your screen time passcode is your previous restrictions password. If you had a restriction passcode on iOS 11 then it will be directly transferred to the Screen time in iOS 12.
If you ever forget it there are some options you can opt for:
1. Try the most common passcodes or the ones you remember using previously on your iOS devices.
2. In another case, you might have to erase all your data by setting up your device as a new one by going to Settings > Reset > Reset All Content and Settings. Just remember that this step will erase everything in your backup too.
Part 2. Remove Screen Time Passcode from iPhone - No Data Loss(iOS 15 Supported)
When it comes to screen time passcode removal, WooTechy iDelock will be your best option. One of the main reasons to use it is that all your data will be saved in the process and you won't lose anything on any of your iOS device.
Below are a few reasons that will convince you to use WooTechy iDelock to remove your screen time without passcode whenever you can't remember screen time passcode.
Features of iDelock:
1. It is an all-in-one iOS unlocker and decrypter, which makes it quite efficient for the task.

2. You can easily pass through all kinds of issues concerning your Apple ID/iCloud account, screen time password and other such things.

3. You can very easily trust this app and let it do wonders by solving your issues.

4. It is very easy to use and supports all iOS versions including the iOS 15.
Watch the video to remove screen time passcode without losing data
Follow the steps given below to use iDelock for removing your screen time passcode.
Steps 1: The very first thing you need to do is launch the WooTechy iDelock on your desktop computer or laptop and Select "Unlock Screen Time Passcode" mode.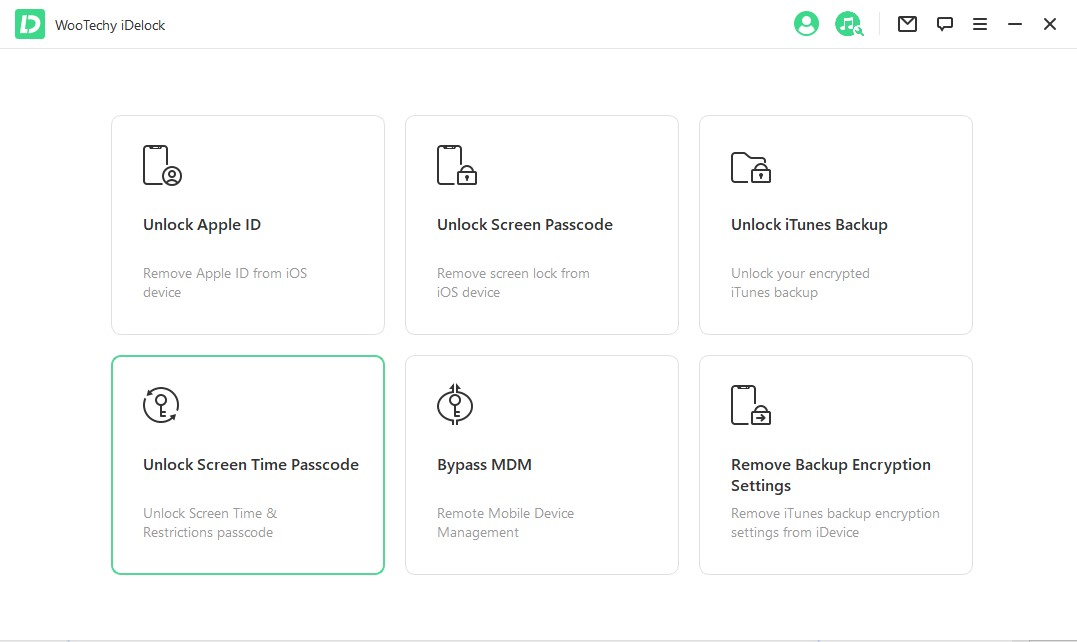 Steps 2: Steps 2: Now, connect you iOS device to your computer with a USB cable. (If you see the connection has not been detected yet, then click on "Your Device can't be recognized" to fix the issue.) Also, if you're using this PC for the first time, unlock your iOS screen to tap "Trust" from the pop-up alert.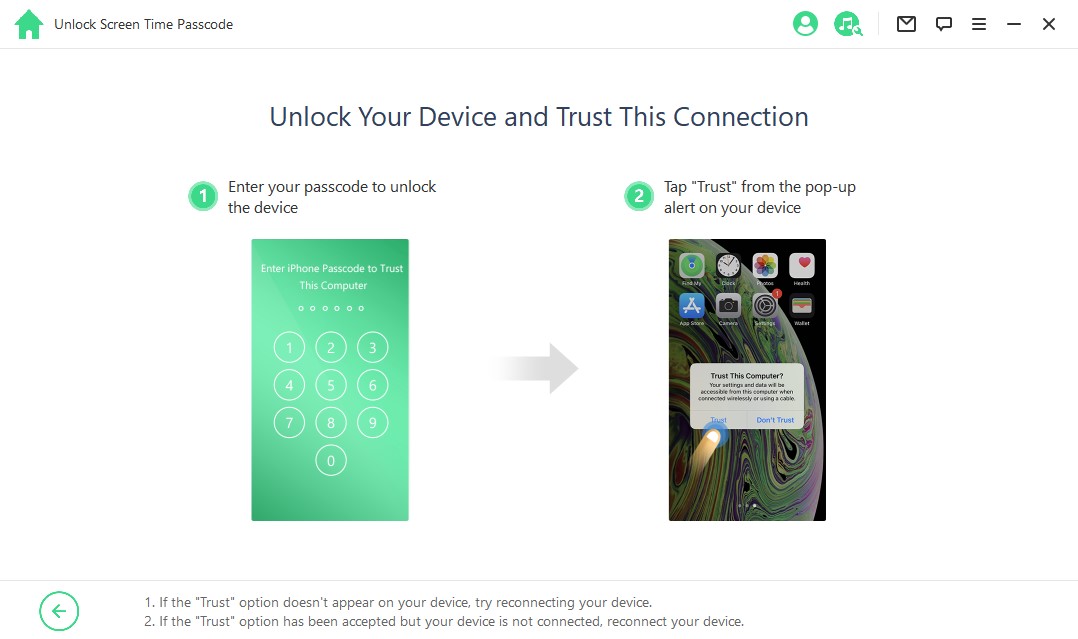 Steps 3: Select "Start to Unlock" to proceed forward.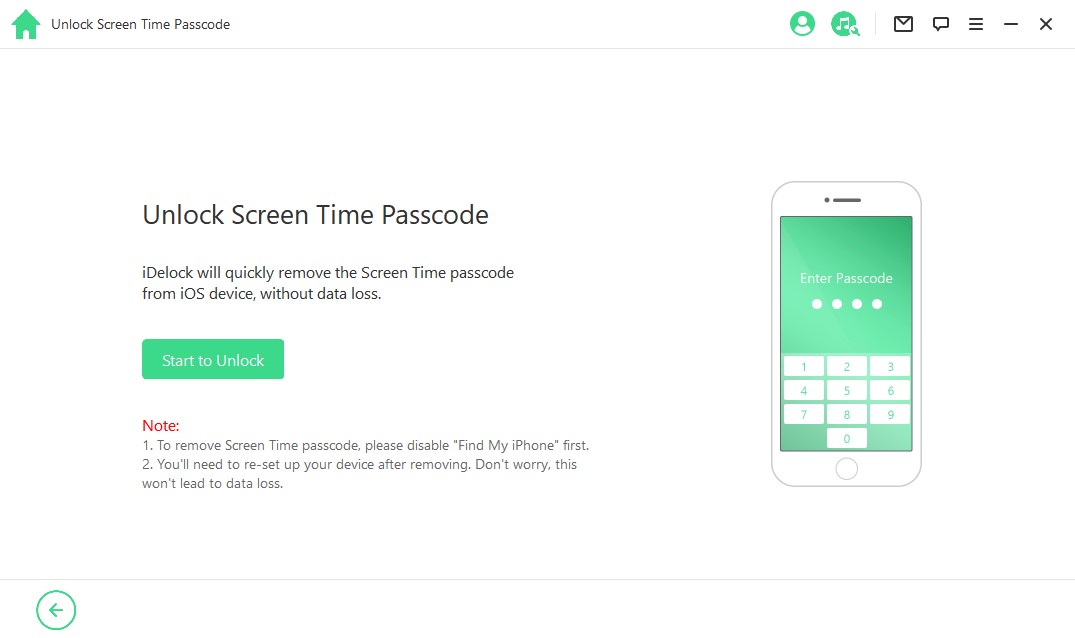 Steps 4: To unlock your screen time passcode, iDelock requires "Find my iPhone" to be disabled. If by any chance it is enabled, then disable it first and then tap "Continue" to move towards the next step.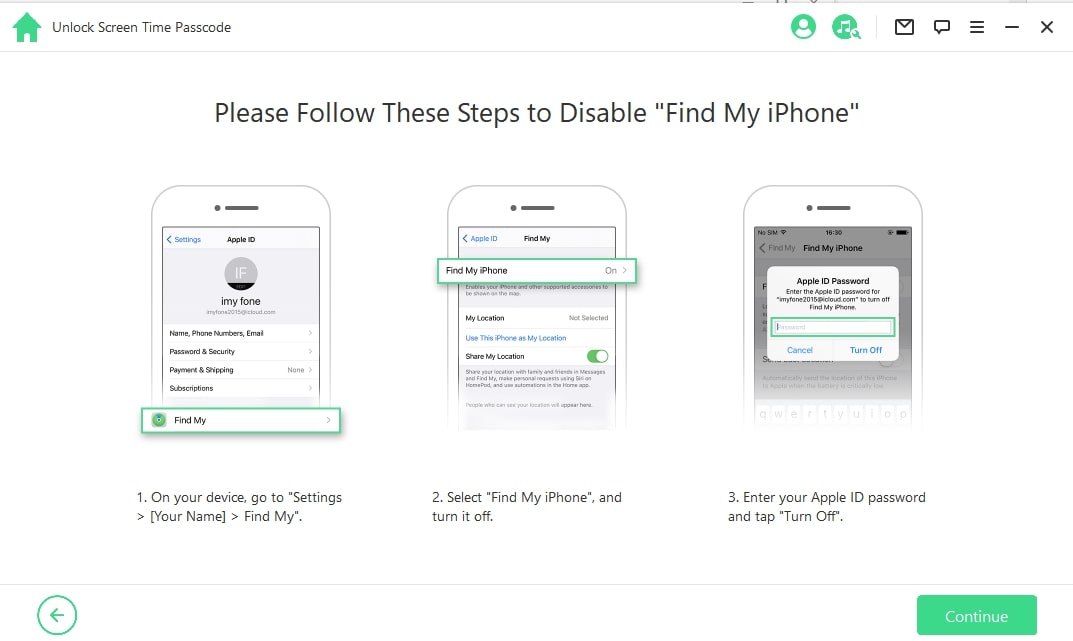 Steps 5: If it is automatically disabled on your iOS device, then iDelock will start removing the Screen Time Password by itself.
Steps 6: Once iDelock removes it, you must re-set your device by following the instructions on the screen to make sure that the passcode is entirely removed.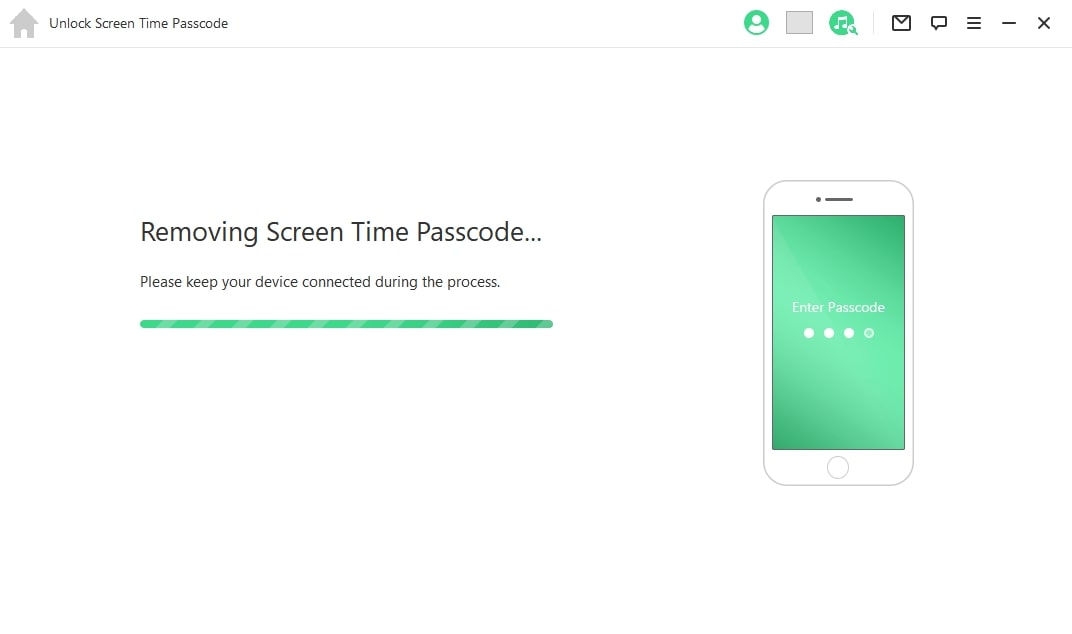 Part 3: Remove Screen Time Passcode from Pinfinder [below iOS 13]
Pinfinder is a free program which is generally used to backup iTunes on iOS devices below iOS 13. It also allows to find out the restrictions of screen time passcode that was set previously on the Apple device. You can very conveniently run it on your Windows, Max or Linux Systems and it is also safe as it does not transfers your data to any other site. It can be a really good option to recover your screen time or restriction passcode if you are using a device that is below iOS 13. Pinfinder supports Apple devices running on iOS 7 to iOS 12.4.
You can follow the steps given below to use it for your convenience.
FOR WINDOWS:
Steps 1: As for the beginning, you must backup your device to your computer using iTunes because your iCloud back won't function here. It can even be your child's phone where the passcode was set through the guardian's phone, but backup is important.
Steps 2: Click on the Backup button to let your device back up. Then you'll have to check the option of "Encrypt Iphone Backup" if you're using iOS 12.
Steps 3: Now, download the latest launched version of pinfinder for Windows.
Steps 4: Extract and Run the program on your Windows and within a matter of few minutes you'll see your Restrictions passcode appear on the screen.
Note: Pinfinder can only recover your restriction passcodes from encrypted backups till you are aware of the password used for encrypting the backup with iTunes.
FOR APPLE MAC OS:
Steps 1: As for the beginning, you must backup your device to your computer using iTunes because your iCloud back won't function here.
Steps 2: Download latest launched version of pinfinder for MAC
Steps 3: Run the program and accept the warning and within few minutes you'll see restrictions passcode on your screen.
Note: While using MAC OS X Mojave (10.14) you'll have to allow terminal programs to approach the backup data by iTunes.
Part 4: Remove Screen Time Passcode via iTunes Restore
Screen Time Passcode can be restored via iTunes by using Pinfinder because it doesn't allow iCloud backup to work in its software. It is free and quite easy to use for all the Apple users. You can easily Run this program on your Windows PC, Apple MAC or linux. After following the steps given above in part 2 you can very conveniently remove or recover your lost screen time password within a few minutes by running the program.
Bonus: Methods You Can Try to Hack Screen Time Passcode [May Not Work]
Method 1: Utilize the Messages App to Watch YouTube
A loophole in iPhone allows kids to switch to YouTube where there might be inappropriate videos available too. You can block this site in Screen Time on your iPhone to prevent any content to be loaded by YouTube. Go to the settings > Screen Time > Content and Privacy Restrictions Content Restrictions > Web Content and tap on Limit Adult Websites. Add the Website under Never Allow to get it blocked on your iPhone.
Method 2: Uninstall and Reinstall Apps
Go to Settings > Screen Time > Content & Privacy Restrictions > iTunes & App Store Purchases on your iPhone to prevent your children from uninstalling or installing any new apps on your iPhone. Screen Time will allow you to avoid this hassle as you can turn of all three options shown in the settings.
Method 3: Record your screen to find Passcode
Children can also record your screen to find out the Screen Time passcode but you can fix this issue by disabling this feature by going to your settings > Screen Time > Content & Privacy Restrictions > Content Restrictions and tap on Screen Recording on your iPhone. Now tap on don't allow to disable this feature on your iPhone.
Final Words
It is important to remember your screen time passcode because it helps solve many issues on your phone. But, if in any case you miss it out, and then follow the above given guide and recover it easily by using amazing help provided by WooTechy iDelock. It provides the best methods and recovers your screen time password in the shortest time period. We hope it helps you the way it helped many of us to recover and remove our screen time passcodes. This tool now is compatible with iOS 15. Just give it a nice try!