We all know how frustrating it can get to get locked out of your device. After all, mobile devices are very important in today's times. They store some critical data and memories that we do not want to lose under any circumstances. In this article, we will walk you through the steps you can take to minimize the hassle and regain access to your device as soon as possible by signing out or deleting your Apple ID if you forget the password or any other reason the device locks you out.
Part 1: Remove Apple ID from iPhone without Password via Unlocking Tool (iOS 15 Supported)
Regaining access to your device can be a long dreadful process along with the loss of your important data, but with WooTechy iDelock, it is merely a process of few simple steps. WooTechy iDelock is software that allows you to remove not only your Apple ID without a password but can also remove screen lock without any loss of data or risk to the device. It is fast, simple, safe, and gets the job done right.
You can easily download it from the website. The best part is that it supports both Mac and Windows. Besides, it is compatible with all iOS versions, including the latest iOS 15. It is as simple as connecting your device to a computer with this software and following simple instructions. Let's find out in detail that how you can remove Apple ID from iPhone using WooTechy iDelock.
Watch Video Tutorial of how to remove Apple ID from iPhone without password in 2021
[Video Transcript]
Connect your device via USB cable and register your account on WooTechy iDelock
After successful installation, when you launch the app, it will ask you to register your account. It is free and can be done using your existing email address. Once you register your account, connect your device via USB cable and wait till it recognizes it. Be sure to have your device unlocked and click on 'Trust this device' when it asks so. Otherwise, your device will not let the app perform any actions on the device.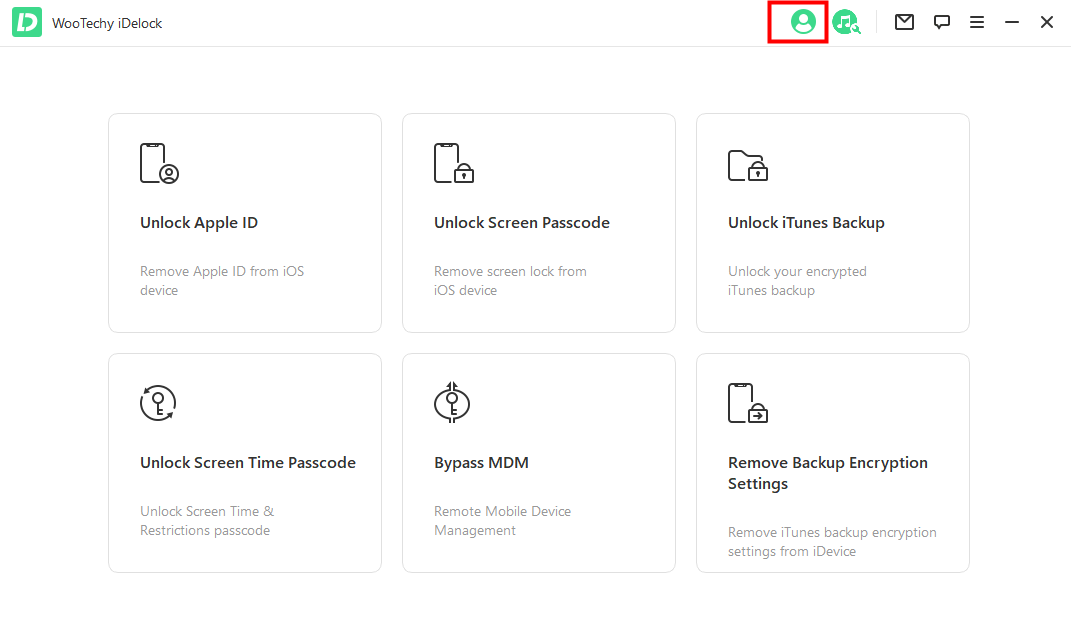 Remove Apple ID
As aforementioned, iDelock does more than removing Apple ID accounts. So, you must choose the 'remove Apple ID' option first. Once you are through, select 'Start unlocking', and the app will start working on removing the Apple ID.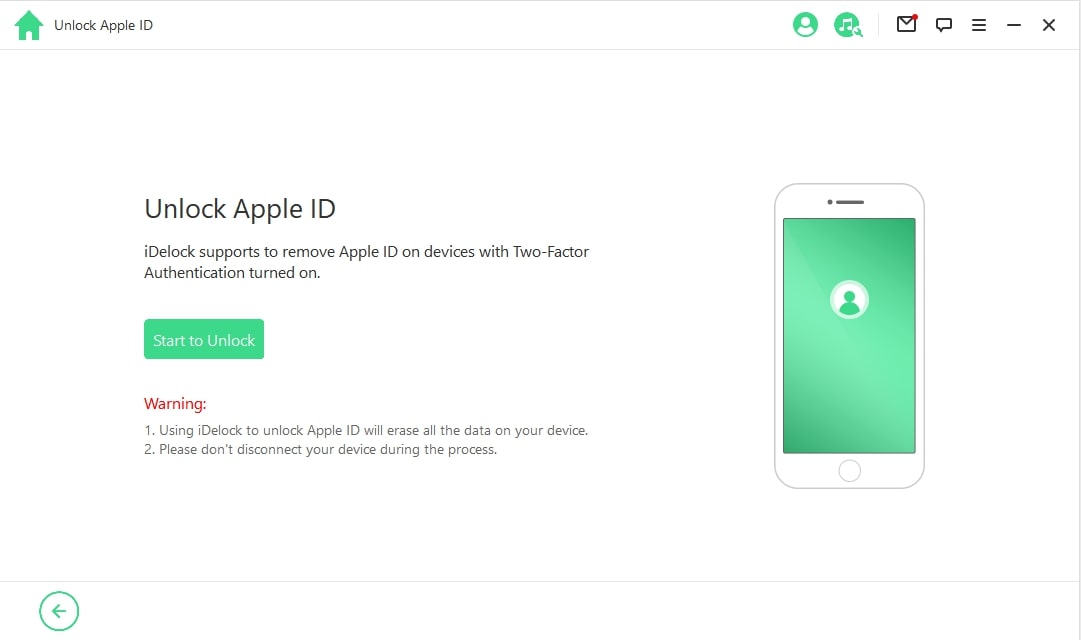 Unlock the device successfully
If the 'Find My iPhone' setting is disabled on your device, then your unlock will be successful shortly. However, if it is enabled, you will need to carry out a few extra steps.
You will need to go to the settings and navigate to 'Reset all settings'. Once it is complete, you can go back to iDelock to continue unlocking the Apple ID lock on your device. It does not consume much time, and soon, your device will be ready to be signed in with another Apple ID.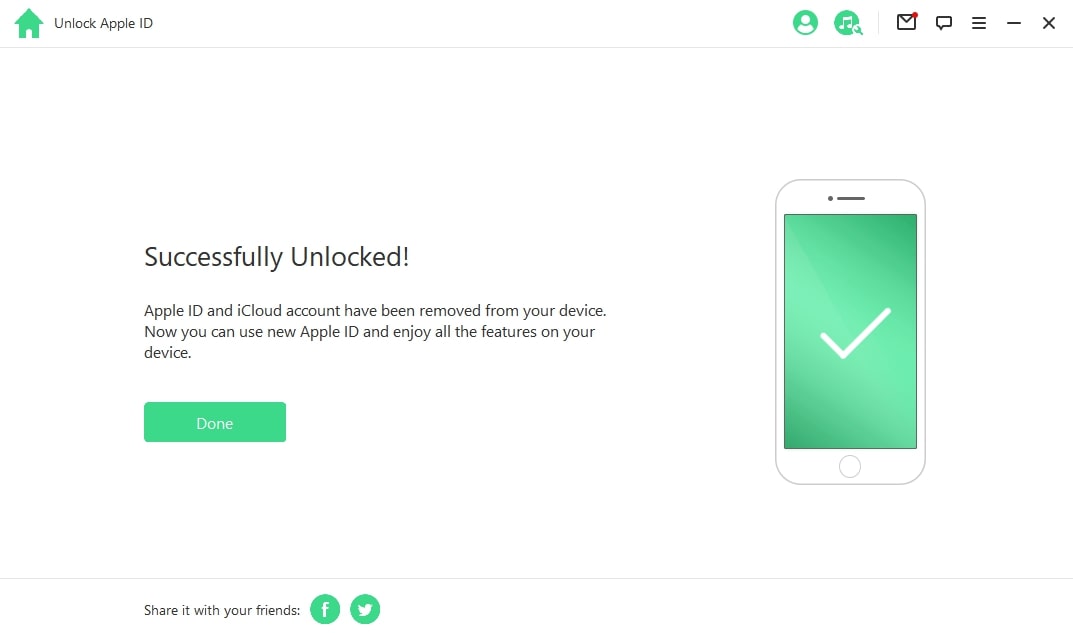 2

FAQs about Removing Apple ID on iDelock
Q1. Can iDelock Support to remove Apple ID on iOS 15?
Yes, with WooTechy iDelock you can remove Apple ID or enjoy other features on the latest iOS 15 as well.
Q2. What kind of locks can WooTechy iDelock remove?
WooTechy iDelock can help you unlock four types of locks in a single app. With WooTechy iDelock, you can remove the following locks:
Apple ID account

Remove Apple screen lock (Pin, Password, Touch ID, or Face ID)

Unlock iTunes Backup

Remove iTunes Encryption Settings
Q3. What kind of locks can WooTechy iDelock remove?
With the help of WooTechy iDelock, you can remove the Apple ID from the device forever as long as you don't erase all content and settings and update or restore via iTunes after removal.
Part 2: Remove Apple ID without Password Using iTunes
Using iTunes to remove the Apple ID can also be simple but brings several issues with it, such as:
Permanent loss of data such as photos, videos, or any other documents stored in your device or iCloud.

App Store, Apple Books, and iTunes purchases will be deleted permanently from your device. The subscriptions will be canceled automatically at the end of the billing cycle.

You will not be able to use all services linked to your Apple account, such as iCloud, iTunes, iMessage, and FaceTime.
Remove Apple ID without Password using iTunes
Removing Apple ID via iTunes is very simple and easy if you follow some simple instructions:
Connect your iPhone or any other device to your Mac with the iTunes app.

Open Apple, navigate the device, and select it.

After selecting the device, navigate to 'Account' in the top toolbar. Then select 'View My Account' from the menu.

Once you are through, you will see a complete list of devices that your account is associated with.

Click on 'Manage my devices'. This is where you can view and remove accounts from your device.

At this point, you can are one click away from removing any from this list. Remove your account from the device by simply clicking 'remove' to disassociate the account from the device. If you cannot remove a device, possibly because you do not remember the password, you will have to sign out from the Apple ID and wait for the next 90 days to sign in with another Apple ID.
However, be sure to keep in mind the aforementioned consequences of removing or deleting the Apple ID from your device.

Part 3: Contact Apple Support to Seek Help about Apple ID
In case you are stuck and want a professional to solve your problem, you can always contact Apple Support. Rest assured, they will be more than happy to assist you in solving your problem. There are several ways to seek help from Apple Support for any questions regarding your Apple device. Some of the methods are as follows:
Walk in the Apple Store
It is as simple as it sounds. Stop by any Apple store and get assistance regarding your problem.
Request Online
Enter your product information and the problem, and either the system will guide you, or a representative will contact you.
Make a phone call
Call the local technical support to get help. Worldwide support telephone numbers are listed on the official site.
Request for an appointment at the Apple Store
Navigate to the appointment section on the official site and book an appointment on the site to save your time if you plan on visiting the store for guidance.
Part 4: Some Tips You Might Need about Apple ID Security
Apple ID security is vital as it contains your personal information and data. Apple takes the security of the users' information very seriously, but there are some things they expect from the user too. Here can some tips that you might need about Apple ID Security to protect yourselves and your account from any potential danger:
1. Use strong passwords
Apple requires the users to set a strong password with a combination of Uppercase, lowercase, and numbers. Although this makes a password pretty strong, you should still be careful what you are keeping as your password. For example, it shouldn't contain your first or last name as well as your birth date as it is predictable and can be easily guessed.
2. Activate Two Factor authentication
With two factor authentication turned on, Apple will verify each login by sending a verification code on your trusted device to ensure no one can gain unauthorized access to your account.
3.Tricky security questions
Just like your password, choose tricky security questions that cannot be easily guessed. Some of the questions to be avoided are the name of your hometown? Or the name of your parents. Questions such as these can be easily guessed and help someone gain access to your account. Choose questions that are more personal and whose answers are known to you and the people you trust
Part 5: Common FAQs about Apple ID You Might Not Know
Q1. What happens when I remove a device from my Apple ID?
This action will result in a permanent loss of data such as photos or videos, and you will not be able to use Apple-exclusive apps such as Appstore, iTunes, etc.
Q2. What happens if I use the same Apple ID on two devices?
Both the devices will be synced and will mirror any changes made on any of the two devices.
Q3. Will I lose everything if I change my Apple ID?
You will lose everything on your iCloud of that Apple ID but not the data stored in the device. etc.
Q4. Why is it saying my Apple ID is being used somewhere else?
It means your Apple ID is logged in to some device. If you don't recognize this device, you should change the password as soon as possible to avoid any danger or threat of data theft.
Q5.Does Apple notify you of suspicious activity of Apple ID?
No, Apple doesn't notify you of suspicious activity. Apple takes no responsibility if a user shares his personal information with someone claiming to be an Apple representative while reporting any suspicious activity.