Mobile Device Management, commonly referred to as MDM, is the process of monitoring the activity of the devices when dealing with sensitive business data. This can warn or prevent the user from accessing certain websites or applications where there is a risk or threat to the security of the data. This can restrict you from completely utilizing the features of your iPhone and can hurt your experience. This article covers certain ways by which you can remove MDM restrictions on iPhone and fully utilize your Apple device.
Part 1: How to Remove MDM Profile on iPhone
Removing MDM restrictions can be easy and simple if you know your Apple ID and password. Let's find out how you can remove such restrictions in this case.
These are the following steps you can take to remove the MDM profile from your iPhone if you know the username and password:
Step 1: Open the 'Settings' app on your device.
Step 2: Navigate and open the 'General' section from the menu on the left.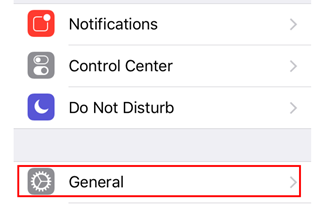 Step 3: Scroll down and tap on the 'Device Management' option. It should take you to the screen showing the list of all devices or organization has access to your device.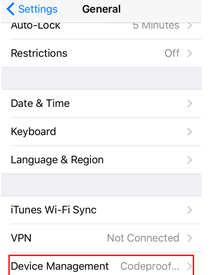 Step 4: Next, from the list, tap on 'MDM Profile' that you wish to remove from your device.
Step 5: Click on 'Remove management'. It would ask for authentication where you will need to put your password.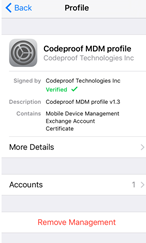 Step 6: Once you have entered the password correctly, the restrictions will be removed, and your device will be all free and cannot be controlled by a remote person anymore. Right after this, you can utilize all the features of the device without any restrictions.
Part 2: Remove MDM on iPhone without User Name and Password - WooTechy iDelock(iOS 15 Supported)
As aforementioned, removing MDM on iPhone can be easy and merely just a process of completing a few steps if you know the user name and password. On the contrary scenario, it can be a real hassle to remove MDM on iPhone without a user name and password to regain full access to all the features of your device.
To make this easier and less dreadful, WooTechy iDelock. iDelock is a fast and easy software to bypass the MDM restrictions. It is readily available for download from the website and supports both Mac or Windows, and gets the job done just right. It is extremely user-friendly software. It does not require any prior knowledge. All you have to do is simply follow some easy instructions on the system on which you have installed the software. What's more, it now supports the newly released iOS 15!
Let's walk through the specific steps you need to take in order to bypass the MDM restrictions using WooTechy iDelock.
Step 1: Connect your device via USB cable and register your account
After successful installation, when you launch the app, it will prompt you to register your account. It is completely free. Further, it can be done using your existing email address. Once you have registered your account, connect your device via USB cable and wait for it to be recognized. Be sure to have your device unlocked. Click on 'Trust this device' when it directs so. Otherwise, your device will not let the app perform any actions on the device.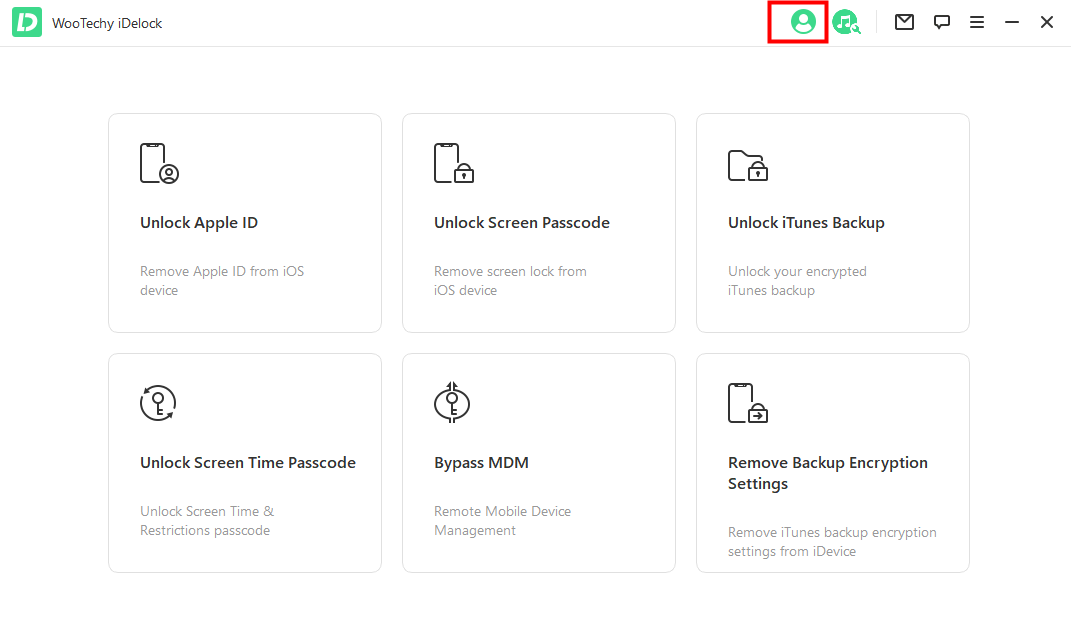 Step 2: Select "Bypass MDM" mode
WooTechy iDelock does more than bypassing MDM restrictions, so make sure to choose the 'Bypass MDM' option and proceed. Once you are through, select the 'Start to Bypass' option, and the app will start working on removing the MDM restrictions.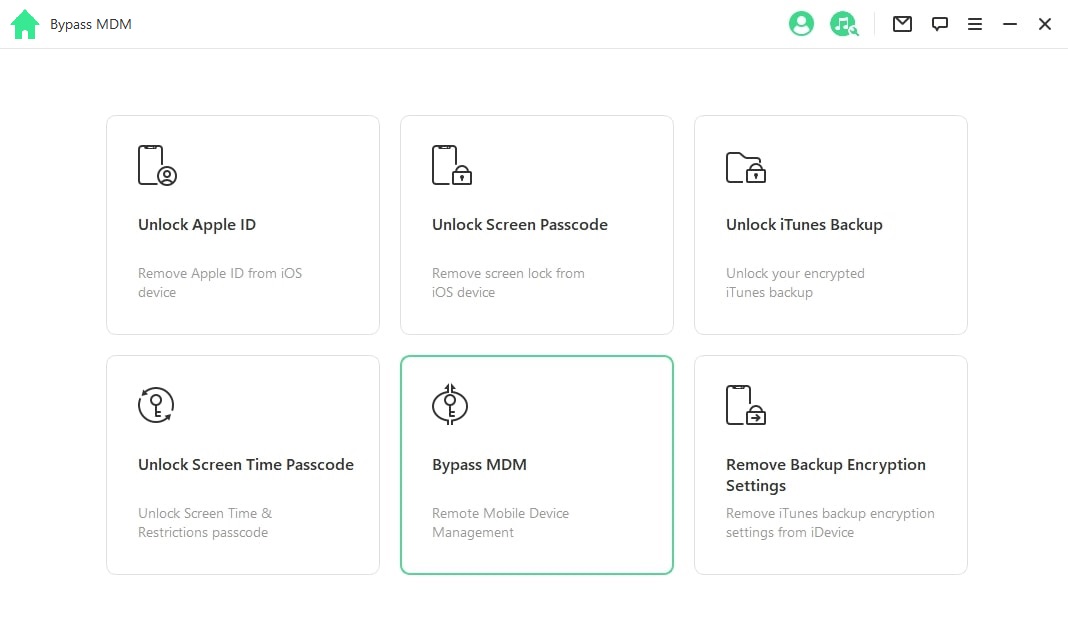 If your device is locked out of the MDM lock screen, this click on 'Start to Bypass' will immediately start the process.
Step 3: If your device is not on the MDM lock screen, reset it
If your device is not locked out of the MDM lock screen, you will have to follow some extra steps. You will need to reset your device and disable the 'Find my iPhone' feature. This may result in a permanent loss of data, so it is advisable to backup your important data and photos. Once you have reset your device, it will restart and bring you to the first screen, where you will have to choose language, region and select a Wi-Fi connection. Once you are done with that, it will lead you to the MDM screen. At this point, make sure your device is connected to the system, and the software should start the process of bypassing the MDM lock. Make sure to select the "Don't Transfer Apps & Data" when setting up your iPhone for a successful MDM bypass.
This should take a short while, and the bypass will be successful, and your device will ready to use without any restrictions.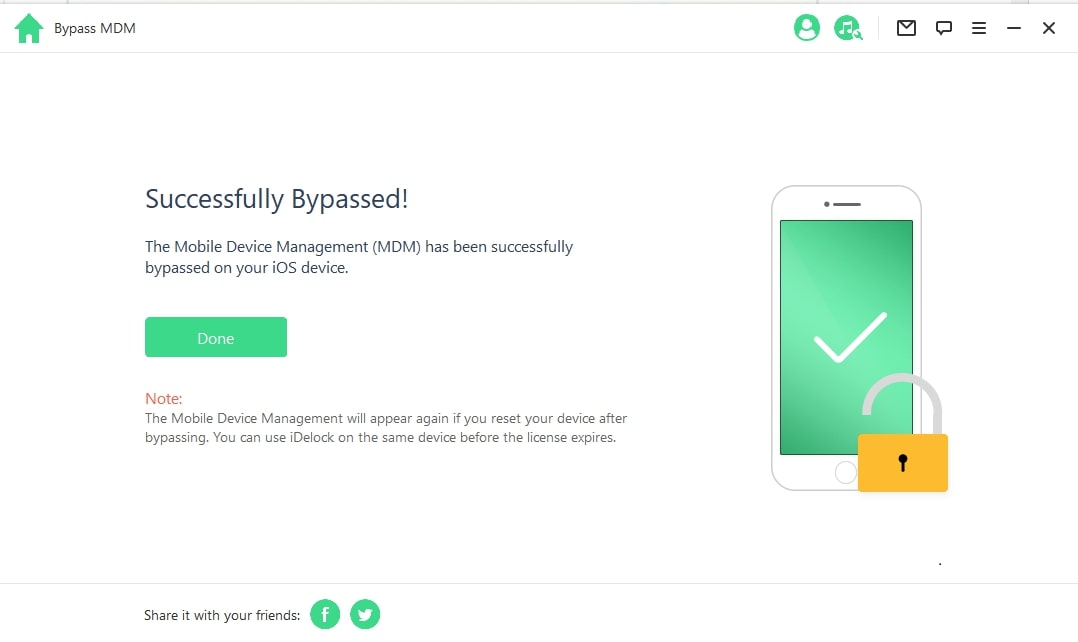 One key thing to remember is that if you reset your device, the MDM restrictions will apply again, and you will need to repeat this process to use your device free of any restrictions.
Part 3: Comparison between 2 Methods
The graph below is a clear visual representation of the comparison between the efficiency and effectiveness of bypassing the MDM restrictions using the two methods mentioned in the article.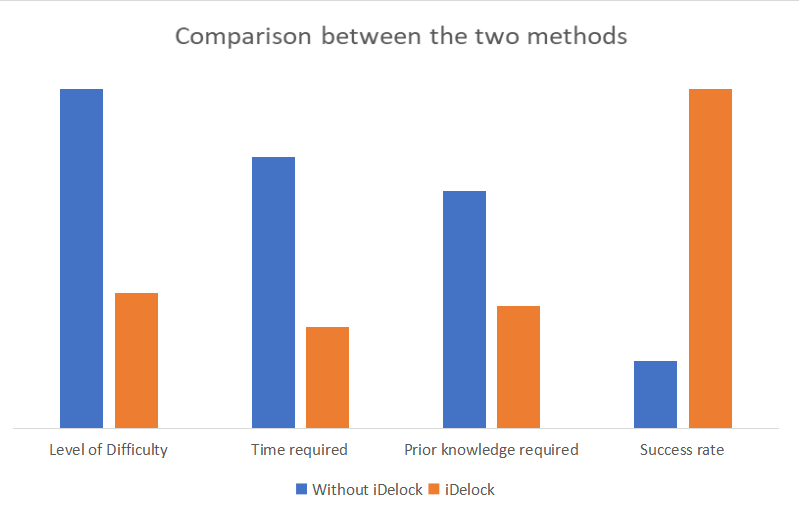 As we can see and have talked about the steps required by each of the software, we can conclude that WooTechy iDelock is a much easier, faster, and efficient way to bypass MDM restrictions on your Apple device. The steps required by WooTechy iDelock in comparison to the other method are simpler and do not require any prior knowledge of the device. The user just needs to follow the on-screen instructions by the software, and the complex actions are automatically performed by the software faster than the usual method.
In comparison to the regular method, WooTechy iDelock also guarantees much higher success and satisfaction rates to its users. Also, Bypassing the MDM restrictions using WooTechy iDelock does not require any username or password. Thus, it is far more user-friendly and convenient for users.
Part 4: FAQs about Removing MDM on iPhone
Q1: How do I know if my iPhone has MDM?
To check if your iPhone has MDM restrictions, you can go into settings and navigate to the 'General' tab. Scroll all the way down and click on 'Device Management'. Over there, it should show you if your iPhone has MDM and, if yes, which organization has placed those restrictions. If you don't recognize it, it is advisable to remove it as soon as possible to avoid any potential data theft.
Q2: Will iDelock work on iPad for removing MDM?
All models of iPad Air, iPad mini, iPad Pro, and iPad with all iOS/iPadOS versions, including the last iPadOS 15 version, are supported by iDelock and can remove MDM restrictions on your Apple device.
Q3: What happens when you bypass an iPhone?
After you bypass an iPhone, it is ready to be used as a brand-new phone. You can log in with your own Apple ID and utilize all the features of the phone without MDM restrictions. Bypassing the phone basically deletes all the information stored on the device, including the account and the data on the iCloud. Therefore, it is strongly advised to create a backup before bypassing an iPhone to prevent any data loss.
Q4: Difference between MDM configuration profiles and MDM remote management?
MDM configuration profiles are the base behind the MDM restrictions. The MDM restrictions are placed and managed by these profiles. They are known to be the driver of the whole MDM system. Whereas MDM remote management, as the name suggests, is managing the MDM systems from a remote location. With MDM remote management, these device's settings and other related things can be controlled and managed remotely without the restriction of a specific location.
Conclusion
MDM is a safe security software if you are handling sensitive data, but it can also be very annoying and not entirely safe for the user as someone has access to the information of their device. In this case, if the user wants to bypass the restrictions, WooTechy iDelock can come really handy and can easily bypass these restrictions without any hassle for a better experience of the device. It now also supports the iOS 15. Just download and give it a nice try!