iPhone Is Disabled and Can't "Trust Computer"? This guide will teach you 3 ways to solve the issue easily.
When you plug an iPhone to a computer that you haven't connected with before, iPhone will prompt whether you want to Trust the iPhone with the computer. But because your iPhone is disabled, you won't be able to "trust" both devices.
But do not fret if you're facing this issue as this post will show you several ways to Trust a computer with a disabled iPhone.
Part 1: Is It Possible to Bypass "Trust This Computer" When iPhone Is Disabled?
Yes, it is possible to bypass the Trust This Computer prompt on a disabled iPhone. One way is the use of iCloud's Find my iPhone feature to reset the disabled iPhone. Afterward, the iPhone can be connected to any PC. Of course, the iCloud option will cause loss of data which can be permanent if you don't have a backup of your device saved somewhere.
There are also other ways to get a disabled iPhone to Trust your computer, including the use of a third-party iPhone lock unlocking app such as WooTechy iDelock.
Part 2: Get iPhone Out Of Disabled Mode with Find My iPhone
The Find My iPhone feature helps to track and reset an iOS device. The feature can prove useful in the event that you lose your iPhone somewhere or to theft.
We'll teach you how to use Find My iPhone to get your iDevice out of disabled mode. Afterward, you can then connect your device to a PC easily. To make this work, first ensure the iPhone has an active internet connection and the Find My iPhone feature is activated on it.
You also need to have the login credentials of the iCloud account associated with the device and answers to your security questions. With all these in place, follow the steps below to get your device out of disabled mode.
Visit iCloud.com on any device, be it PC, Android smartphone, or any other iPhone device. On an iPhone device, you can use the Find My iPhone app. You should see a page like the one below through which you can log into your iCloud account.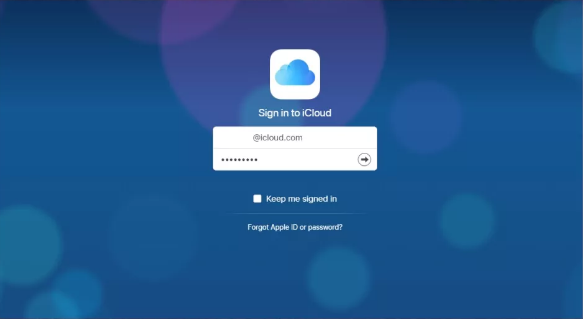 Once you're in, click on the Find iPhone option.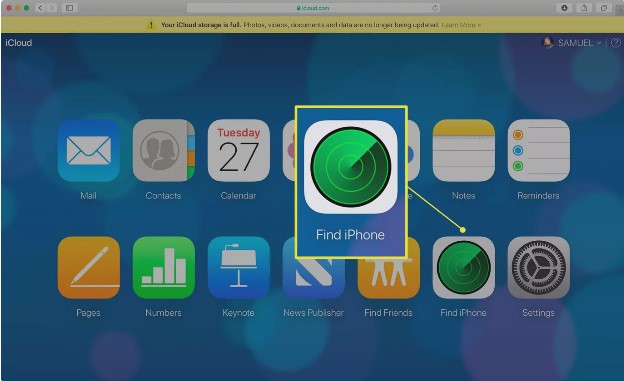 Locate the affected device's card and click on the option that says Erase this iPhone.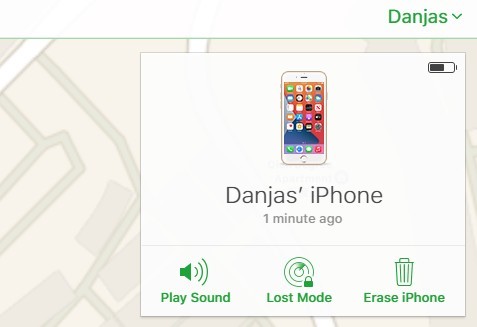 Afterward, you will be prompted to provide answers to your security questions just to confirm the reset request is intentional.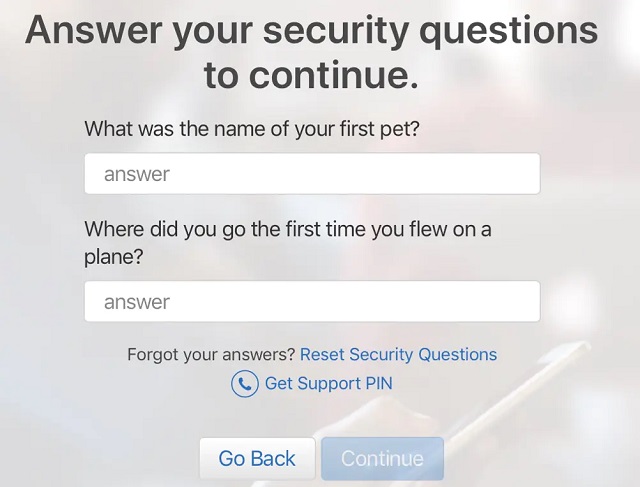 After completing this process, your iPhone device will be re-enabled. Now that your iPhone is enabled and with no passcode, you can then go ahead and connect your computer and Trust This Computer.
But in case you can't remember your Apple ID login credentials or the answers to your security questions, you can use iDelock as an alternative.
Part 3: (iOS 15 Supported) Enable Disabled iPhone with WooTechy iDelock
WooTechy iDelock
is an all-in-one iOS device tool designed for unlocking various iOS locks such as screen time passcode, MDM management profile lock, and screen passcode. Before seeing how the tool can help, here are some features the iDelock has to offer.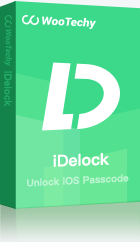 Great Features of iDelock
Helps to remove or bypass various iOS device security locks.

Compatible with almost all iPhone models and all iOS versions, including the newest iOS 15.

Can be installed on Windows OS.

Takes little disk space and system resources.
If you wish to enable a disabled iPhone using this iDelock, follow these instructions:
Download, install, and open iDelock on your computer. The next step is to choose the Unlock Screen Passcode option on the screen and then click Start.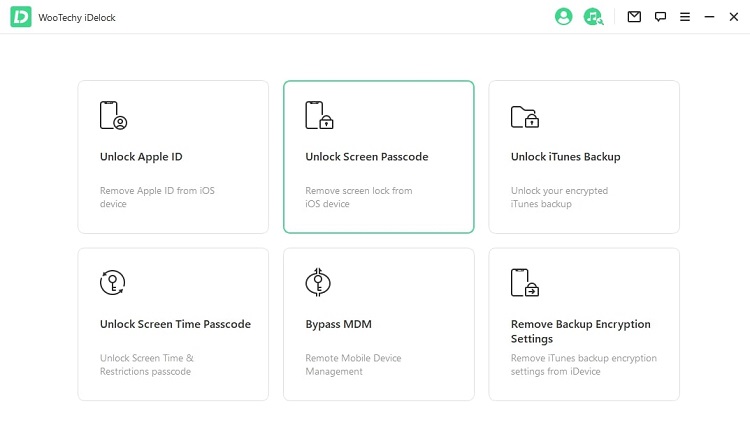 Connect your disabled iPhone to your PC, ensuring you follow the on-screen instructions. Note that you can manually put your device in DFU/Recovery mode if iDelock can't detect your device.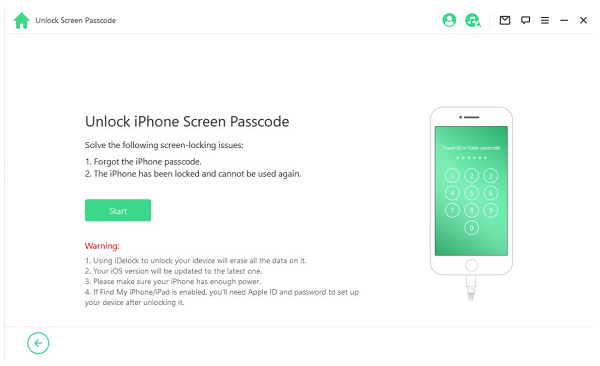 You'll be presented with a firmware package to download. Go ahead and click Download or choose any other download option provided on the screen.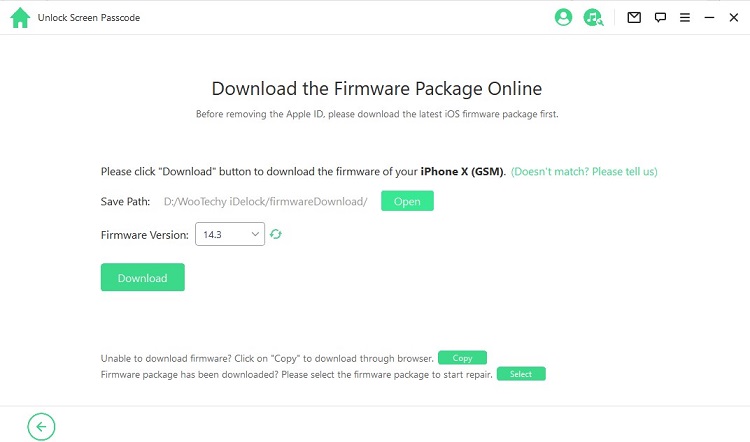 After the firmware download is complete and verified, click Start to Extract. When the extraction is done, click Start Unlock. Agree to the terms by entering 6-digit zeros.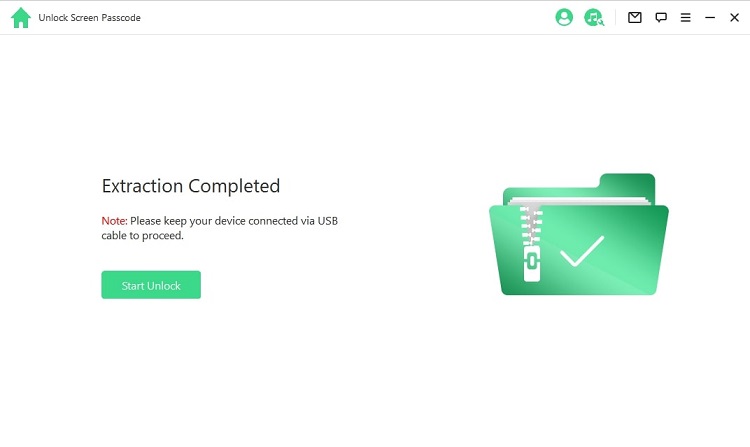 Relax and wait for the process to complete.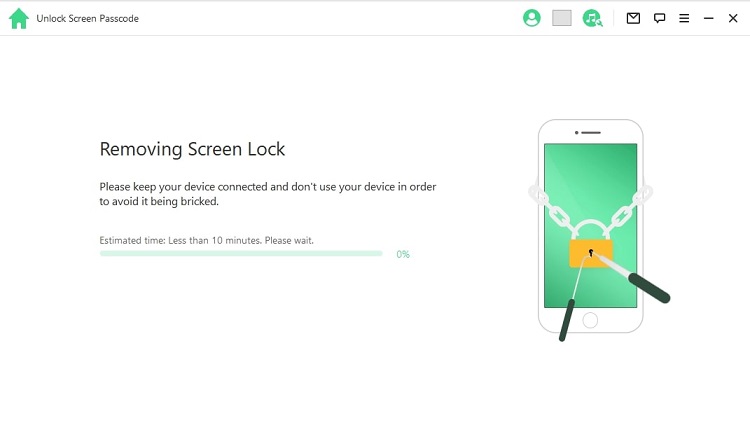 Part 4: Reset Disabled iPhone with Recovery Mode
You can use iPhone's Recovery mode to re-enable a disabled iPhone device and afterward connect and Trust the iPhone with your computer. Follow the steps below to do this.
Start by connecting your disabled iPhone to your computer. Then go on to open up the latest version (download it if you don't have it) of iTunes on your PC.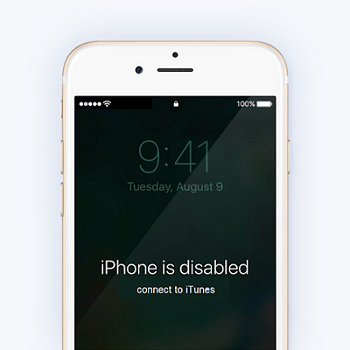 Afterward, put your iPhone into recovery mode. How you get your iPhone into recovery mode will depend on your iPhone model. For iPhone 8, here's how to do it.
With your iPhone connected to your PC, press the Volume Up button, press the Volume Down button, and then hold down the Side button until the iTunes logo appears on your iPhone screen.
Now on your PC iTunes, you should see a screen that looks like the one in the image below. Click on Restore, follow subsequent onscreen instructions, and wait until the process is completed.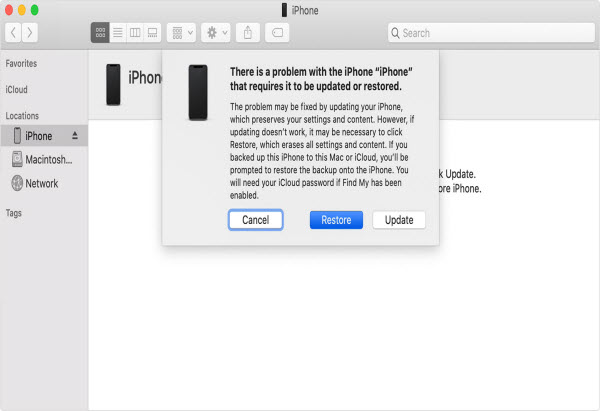 How to Trust Computer When iPhone Is Disabled Related FAQs
1. If I have a disabled iPhone, how do I "Trust This Computer"?
You can
Trust This Computer
on a disabled iPhone by using the
Find My iPhone
with iCloud or with Recovery mode and iTunes. WooTechy iDelock is an all-in-one tool that can also help you first re-enable your device so you can trust it with a computer.
2. How can I unlock a disabled phone without a PC?
If you do not have a computer, you can use another device that has the Find My iPhone app to unlock the disabled phone without using a PC. Open the app and sign in to your iCloud account. Next, locate the affected device and choose the Erase option to reset the phone and its passcode.
3. How can I restore my iPhone without a "Trust This Computer" prompt?
Restore a disabled iPhone by using Recovery mode and PC iTunes. When your iPhone is reset, you can then put the device into use, including trusting it with a computer.
4. How do you unlock an iPhone without iTunes or iCloud?
You can use a third-party app like WooTechy iDelock to unlock an iPhone without the need for iCloud or iTunes. You just have to download iDelock on your PC and run the tool.
Conclusion
With the above 3 ways, including the use WooTechy iDelock, you should be able to re-enable a disabled iPhone and trust it with a computer afterward. You can trial for free iDelock. Don't forget to drop your feedback about the methods explained in this post or questions about WooTechy iDelock. Now this tool is compatible with iOS 15, which expands the range of its operation. So why not give it a try!