Schools often provide iPads to students and teachers, enhancing productivity and learning experiences. However, the Mobile Device Management (MDM) system on these devices can impose restrictions.
So if you have graduated from the school or acquired a second-hand iPad with a school MDM on it, you would want to jailbreak the iPad so that you can use it without any restrictions. This article takes a look at how to jailbreak a school iPad. Read on.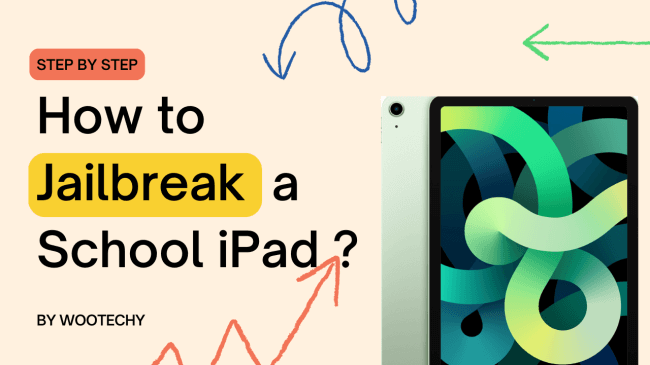 How to Jailbreak a School iPad
Can you jailbreak an iPad that belongs to the school? Then answer is Yes! While MDM enhances device management, it often restricts users. This guide explains how to jailbreak a school iPad, starting with the crucial step of removing MDM.
Precondition: Remove MDM From the School iPad [iOS 17 Supported]
Jailbreaking a school iPad is more difficult than jailbreaking an iPad. As there is MDM lock on the school iPad, it is impossible for people without perfessional knowledge to jailbreak the device as they wish. So the first step to jailbreak a school iPad is to remove MDM from it, which can only be done with a professional unlocking tool.
Of all the third-party tools out there with which you can remove an MDM lock, the WooTechy iDelock stands out. It is an amazing MMD bypass tool that can be used to remove different iPad/iPhone/iPod Touch locks and unlock school iPad without passcode in several clicks. Check some of the prominent features of this tool below.
Outstanding features of iDelock
Bypass MDM (Mobile Device Management) with 3 clicks.

No matter you are locked out of the MDM screen or your device is supervised and managed by other organizations, iDelock can unlock a school iPad easily.

Remove various iDevice locks: Apple ID, screen lock, Screen Time & Restrictions. And iDelock can also reset locked iPad without passcode.

No need for username and password and the administrator won't notice.

Work on all versions of iPadOS, including the most recent iPadOS 16/17.

Offer free preview before purchase and 30-day money back guarantee.

You need to be aware that your iPad will be reset if you use the iDelock. Your iPad will now be like a new one, and you will no longer have data such as your videos, data for apps, images, etc.
Follow steps below to delete MDM from school iPad:
Step 1: Open the WooTechy iDelock on your PC, and select Bypass MDM from 4 options given on the screen.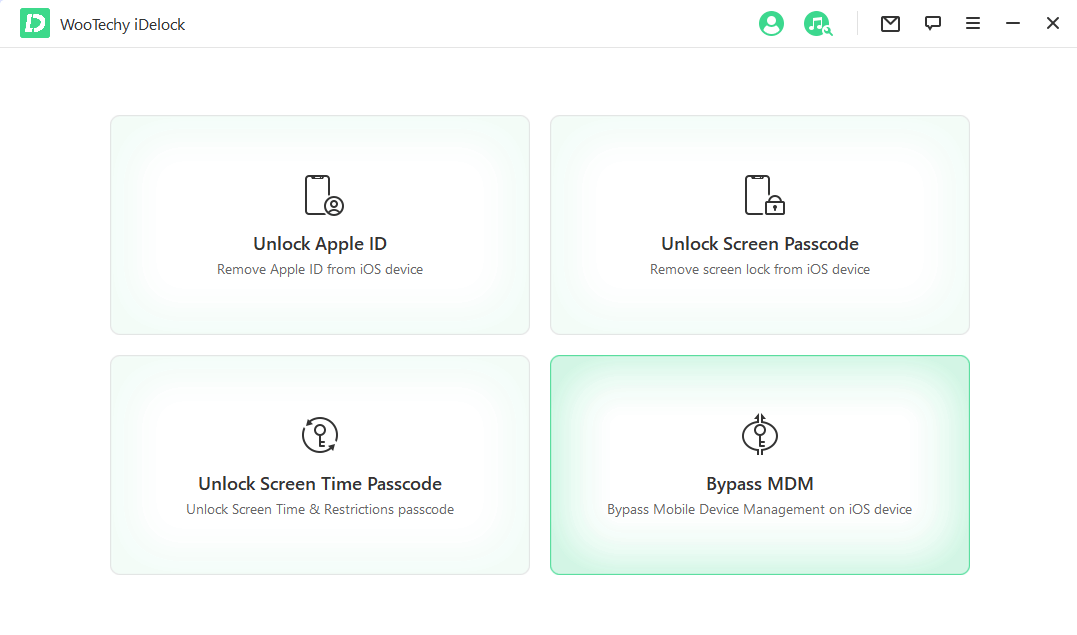 Step 2: Then, connect your iPad to your PC using a USB cable. Ensure that it is well connected, and the device should remain connected to the PC until the process is done.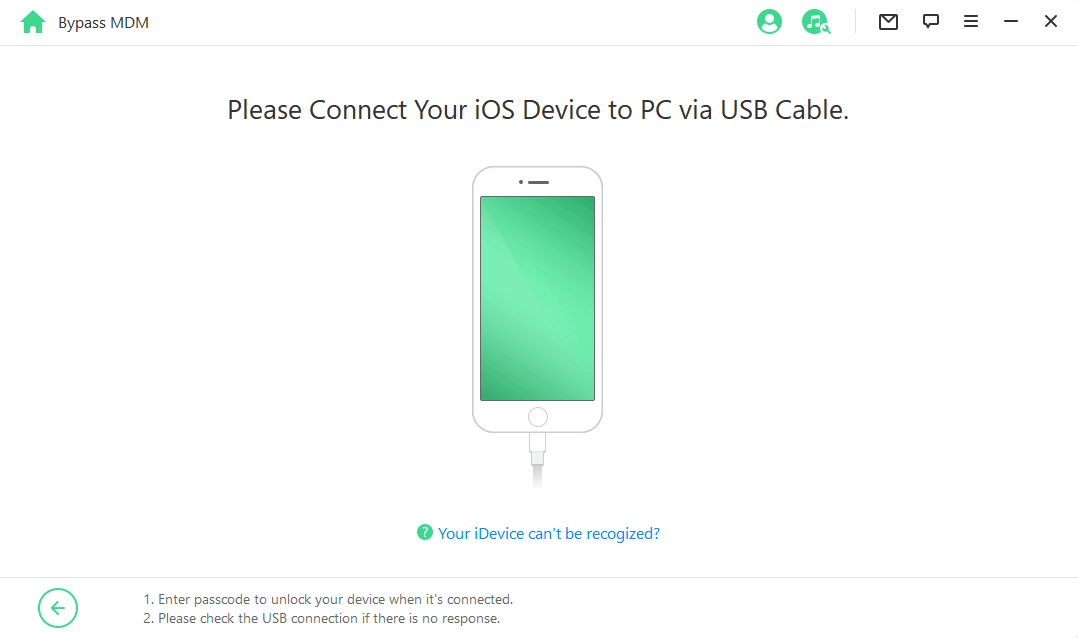 Step 3: Now, you have to choose a proper option based on your situation. If you are locked out of the MDM screen now, you need to choose Bypass MDM.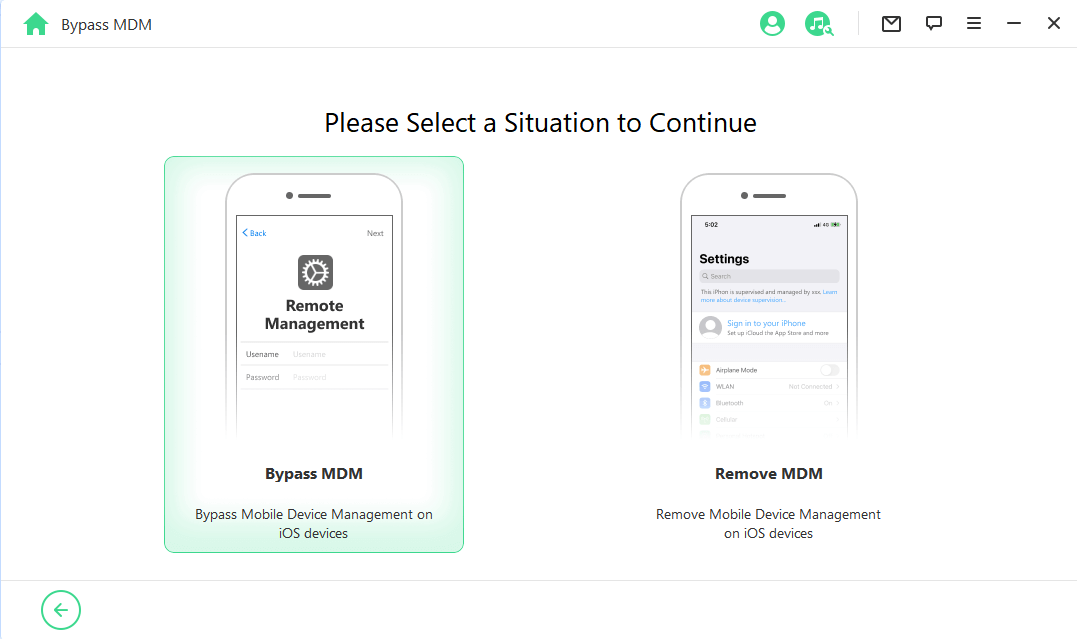 On the next screen, click on Start to Bypass to begin,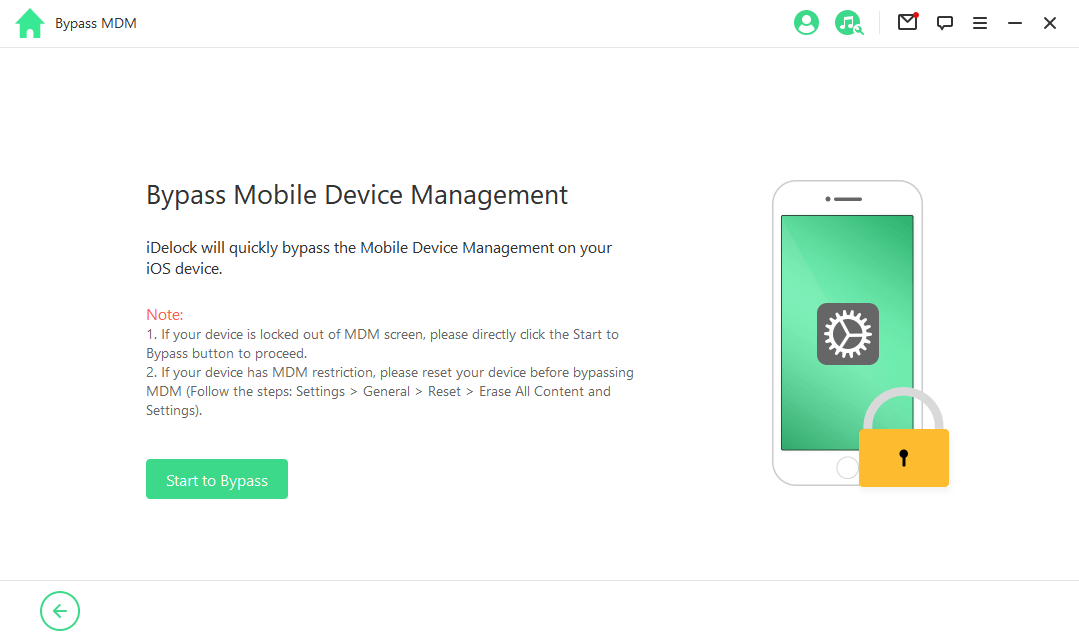 After several minutes, the MDM on your device will be bypassed successfully.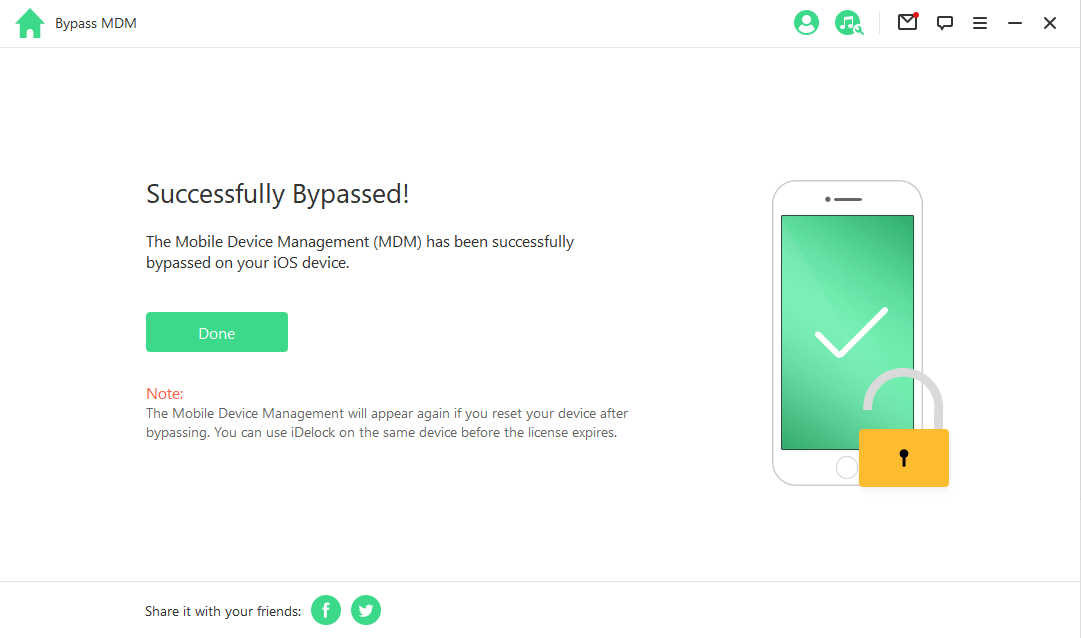 If your device is supervised or managed by other organizations, you need to choose Remove MDM. Then, click Start on the next interface.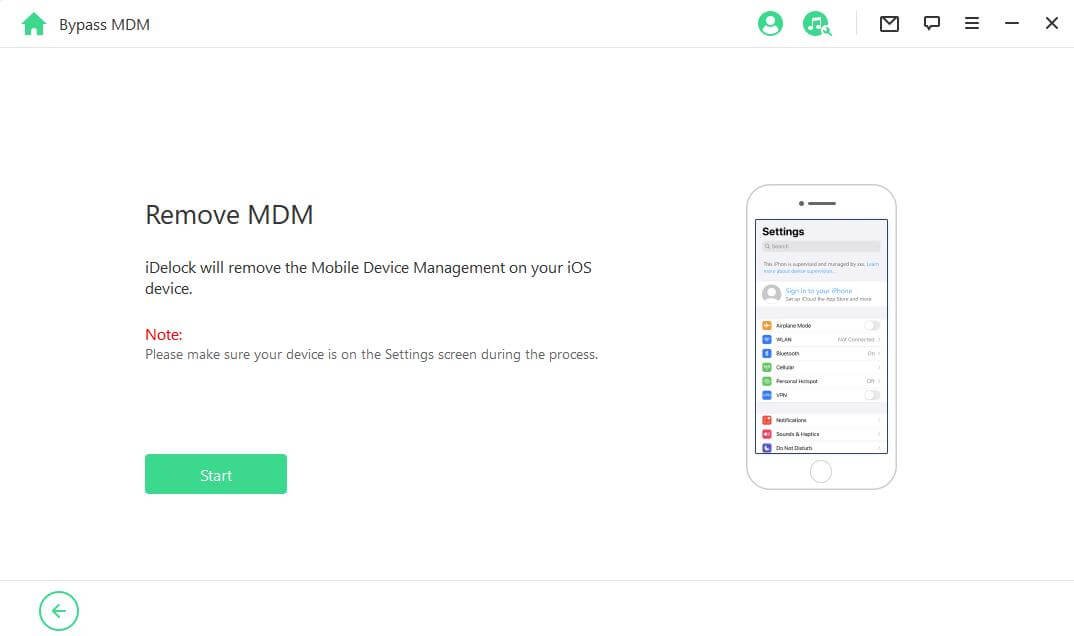 Within 10 minutes, the MDM will be removed and successfully unlock school iPad. Now you can continue the process to jailbreak an iPad.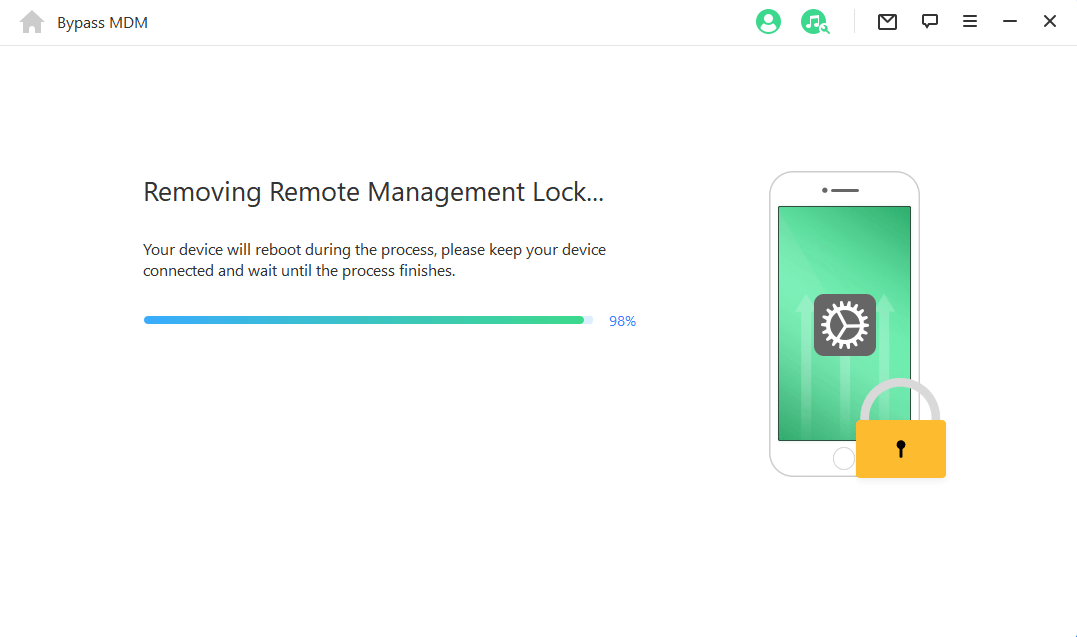 Jailbreak the School iPad with evasi0n 1.4
It makes a whole lot easier to jailbreak iPad after removing the MDM using WooTechy iDelock, you can now start the processing of jailbreaking iPad. There are so many tools that can finish this goal, while we only introduce one of them. You are free to choose other methods as you like.
To do this, you need to back up your iOS using iTunes at first. Next download evasi0n 1.4. This is the reputable software for jailbreaking iDevices. The download is available for Mac, Windows, or Linux. Please note that this software is only compatible with iPadOS 6/7/8/9/10/11/11.3/11.3.1 firmware so it's a great choice for jailbreaking old iPad. After downloading, follow the steps below to finish the jailbreak.
Launch the software on your PC and connect your phone to the system using a USB.

Once your device is detected, click on the Jailbreak button and wait for some time. Your device will reboot for several times all through the process.

Next, the software will ask you to unlock your device. Click on the Jailbreak icon located on the home screen and allow your device to continue the process. Once completed, click Exit.

Once the jailbreak is complete, open the Cydia app on your Home screen. Wait for it to initialize, and then you have full access to your jialbroken iPad.
Jailbreak the School iPad with Checkra1n
If you have an iPad running iOS 12-13 and you want to jailbreak it, Checkra1n is a great choice. The tool supports newer iPad models and is continually adding more. Specifically, it can be used on the iPad 5th generation, iPad Air 2, iPad mini-4, and iPad Pro 1st generation. Here is how you can use it:
Go to Checkra1n website to download the jailbreak tool. Note that it is only compatible with Mac OS X and Linux OS. If you're using a Mac, click "Download for macOS." If you're using Linux, click the appropriate download link.

Follow the installation instructions to install Checkra1n on your computer.

Connect your iPad to your computer using a USB cable.

Open Checkra1n. The tool should detect your connected iPad.

Click "Start" to begin the jailbreaking process.

Click "Next" to put your iPad in recovery mode. If you see instructions on how to do this manually, follow them and put your iPad in recovery mode.

Follow the instructions on the next screen to put your device in DFU mode, and then click "Start" to install Checkra1n on your device. When the process is complete, you will see the Apple logo and the Checkra1n logo on the screen.
FAQs about Jailbreaking a School iPad
Q1. How does MDM work on school iPad?
MDM on Apple devices allows school administrators to establish an MDM profile to manage iPads and iPhones. Administrators have the discretion to determine the specific limitations they wish to impose on iPads. Once the profile is established, the device can be remotely controlled. Typically, the IT department of the school oversees the profile, which is challenging for users to eliminate without providing login information.
Q2. Why should you remove MDM first before jailbreaking a school iPad?
If you want to jailbreak an iPad, you should remove MDM profile on the iPad first. This is because the MDM profile gives administrators control over the device, including restrictions on app installations and device settings.
If you attempt to jailbreak the iPad without removing the MDM profile, the jailbreak may not work correctly, and it could cause issues with the device's functionality. Additionally, the MDM profile may automatically reinstall itself, undoing any progress made in the jailbreaking process.
Therefore, removing the MDM profile before jailbreaking the device is crucial to ensure that the jailbreak works correctly, and the device is not vulnerable to any potential security risks or functionality issues.
Conclusion 
Before jailbreaking a school iPad, you need to have the MDM lock removed first. This can be done using WooTechy iDelock. A third-party software that is easy to use, and it doesn't require prior technical knowledge. With just a few clicks, you can get rid of the MDM lock using the iDelock.
After this, you can take a step further to jailbreak a school iPad by follow the steps listed above. Good luck! And if you are interested in iDelock tool, just download and give it a try!