Most educational institutions and small companies use Mobile Device Management Software to have more control over iOS devices. With this MDM, the administrator can place many restrications that may prevent you from using the device smoothly. That's why many users want to remove the MDM. However, most individuals use the jailbreak to remove MDM from their device, but it is not the only option.
There are several tools and software that can be used to remove remote management without jailbreak. In this guide, we'll discuss the risks of using the jailbreak option to remove MDM software and also introduce how to remove MDM without jailbreak. Keep reading.
Part 1: Can I Jailbreak to Remove MDM?
Jailbreaking your iOS devices allows you to get unauthorized access to the devices so you can have more control over them. Below is the guide on how to jailbreak your iOS devices for removing remote management.
Requirements of Jailbreaking Your iDevices
SSH

Checkra1n software

PC
The following are steps of removing MDM by Jailbreaking your iOS devices.
Download and install Checkra1n software by visiting the official website. The icon of this software will appear on the home screen of your PC.

You will have to connect the port of your iOS device to iProxy so as to install SSH. Complete this process and ensure the SSH is well installed on the device.

Run "cd ../../" to complete the procedure.

This step will give you access to the root directory of your iOS device.

Now run "cd /private/var/containers/Shared/SystemGroup/". You can find the MDM files in this particular folder. This procedure will enable you to permanently delete all the MDM profile on your device.

After deleting the profile, you need to reboot the device.

Now move to Remote Management and install a profile. There will be no limitations on this profile and you can enjoy all the features of this device without Mobile Device Management configurations.
Part 2: Why It Is Not Recommended to Remove MDM via Jailbreak?
Jailbreaking is not the best option in most cases as it comes with several drawbacks. The standard lock design of iOS allows it to be strongly protected, so there will be various obstacles during the jailbreaking process. In other words, your device will be more vulnerable to attacks and is likely to suffer from various problems if you choose to jailbreak it. That's why we say that using some professional tools to remove MDM configuration on your device is a better option to consider.
Risks of Jailbreaking Your iPhone to Remove MDM:
1. Jailbroken Devices Can't Update the Software
Modifying your iOS devices by jailbreaking can harm the device. Your hacked iOS device will not receive any future software updates, including the system firmware update. That's to say, you'll miss out regular updates by the officials and can't enjoy all the new features.
2. Jailbreaking Can Brick Your iPhone
The process of Jailbreaking your device may look easy but it can brick your iPhone. During the jailbreaking, your device will be very vulnerable as the process aims to remove all the limitations, or protections to some extent, from your device. So all the hidden virus and malware will find their way out and be dangerous. In most cases, people get nothing but a bricked device in the end.
3. Jailbreaking Is a Violation of Warranty Service
You will not get any help from customer care service if the device is jailbroken. Once your device malfunctions during the jailbreaking process, you'll have nowhere to seek free and professional help as Apple disapproves this operation. Thus, you may need to pay much money on fixing the device.
4. Jailbreaking Can Cause Security Issues
Apple is continuously working to make iOS devices more secure and safe. So if you jailbreak your device and remove the protection, it will be quite easier for hackers to steal data from it. They can even distribute different viruses, malware, or spyware to disturb the network and damage your iOS device.
Part 3: Remove MDM Without Jailbreak
The risks of jailbreaking your device make it not the best solution to remove the MDM profile. There are some tools for removing this configuration without jailbreaking your iPhone. WooTechy iDelock is among the most secure tools that help you remove remote management easily and quickly. This is an user-friendly tool with a wide range of exciting features.
Why choose iDelock to remove MDM
iDelock can be used for removing MDM, Apple ID, screen lock and iPhone locked after update.

Remove MDM without jailbreak, username and passwords.

No matter you are locked out of the MDM screen or your device is managed and supervised by other organizations, iDelock can help remove it easily.

Compatible with all iDevices and iOS versions including the latest iOS/iPadOS 16.
How to Use iDelock to Remove MDM
Step 1: Launch iDelock on your computer and then choose Bypass MDM option.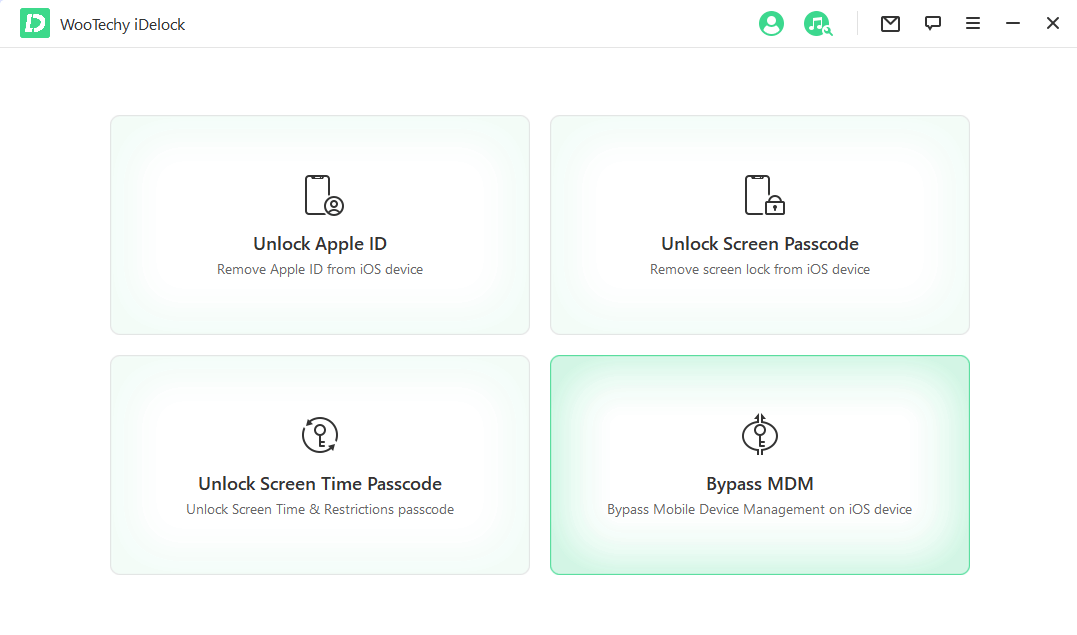 Step 2: Use a USB cable to connect your device to the computer and trust it.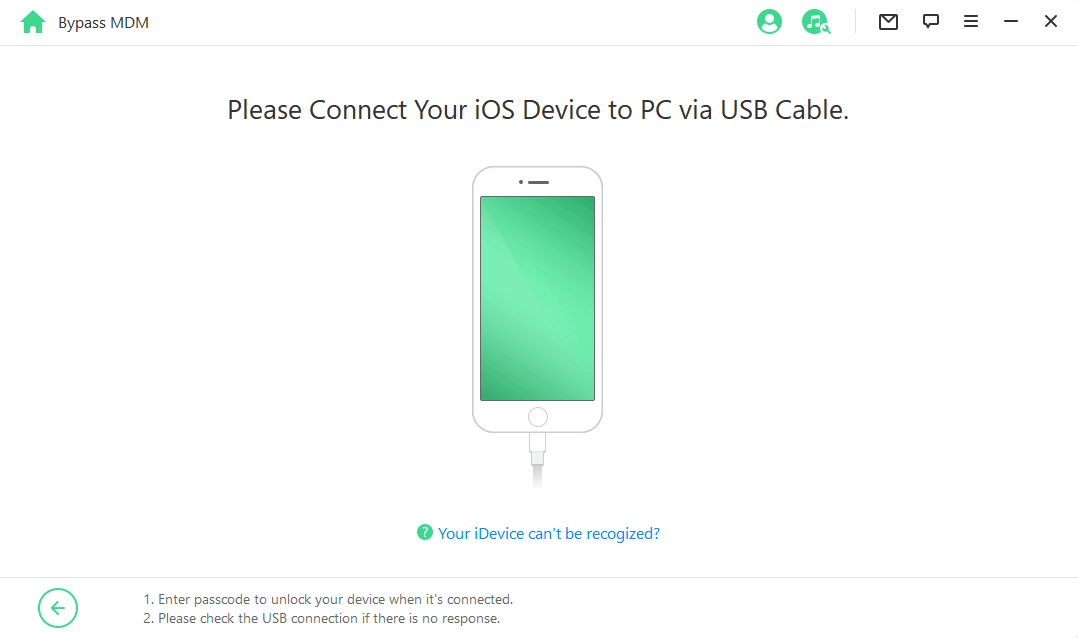 Step 3: Based on your situation, choose the option that suits you. If you are locked out of the MDM screen, choose Bypass MDM.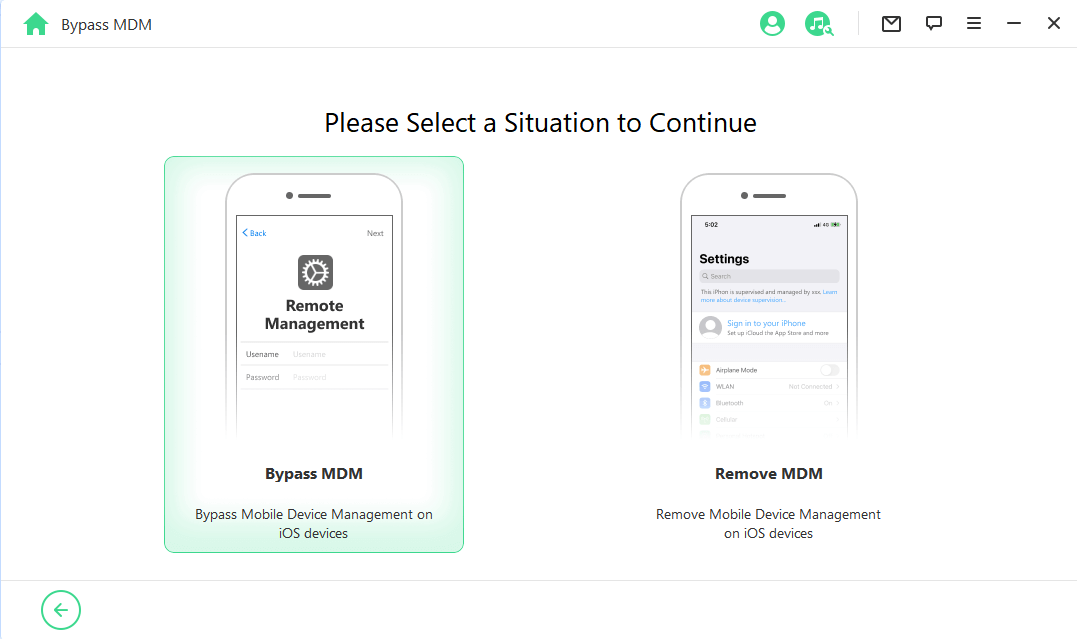 After that, click Start to Bypass to proceed.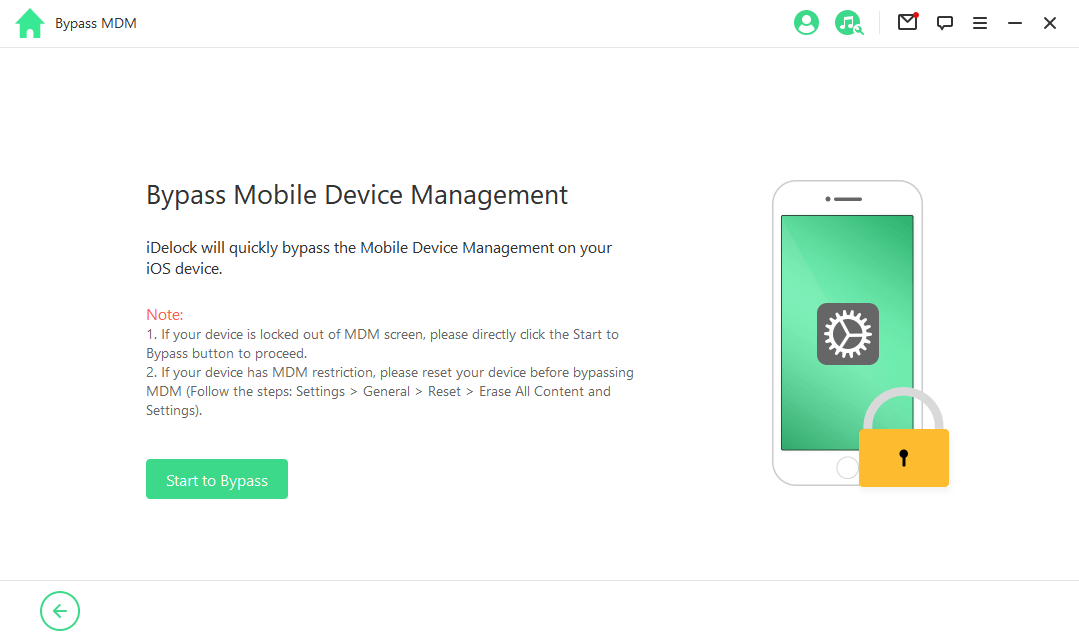 iDelock will begin bypassing the MDM on your device. Please wait patiently.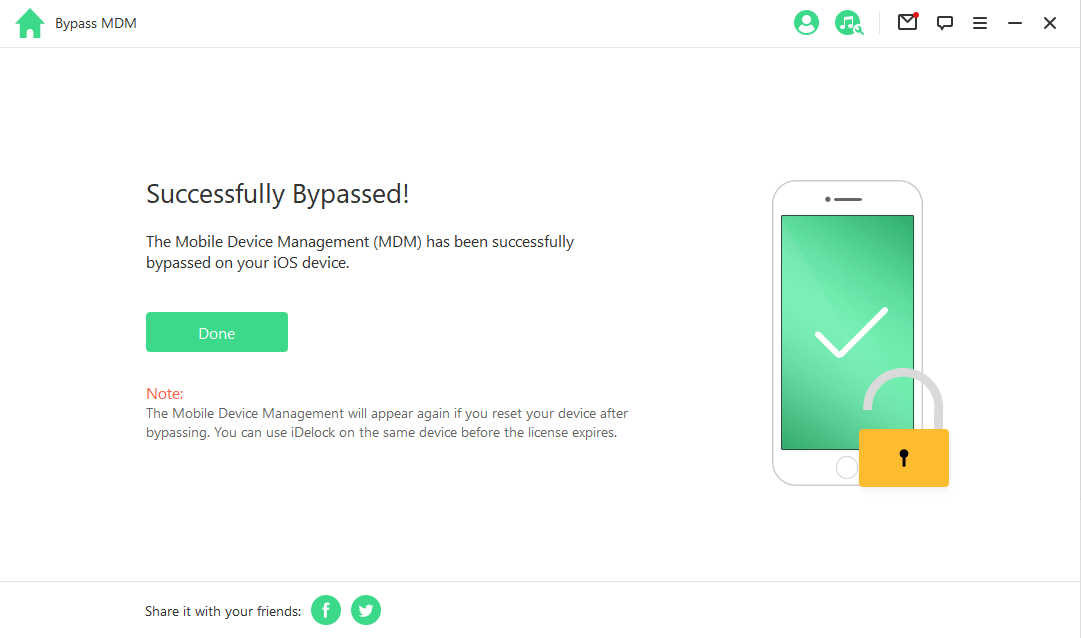 If your device shows a message that it is managed and supervised by other organizations, then you need to select Remove MDM.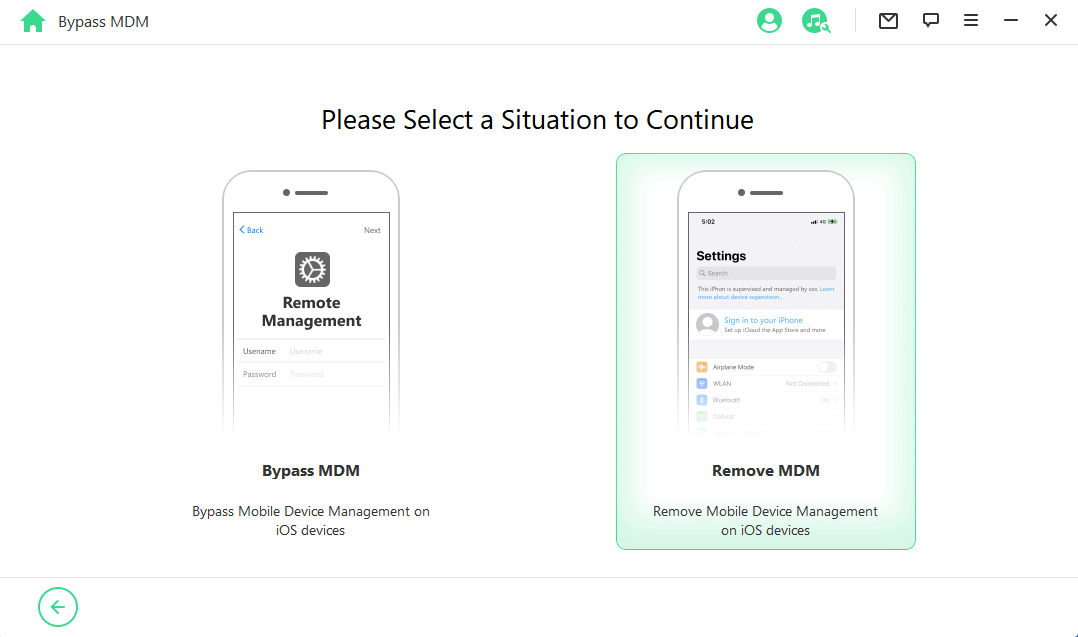 Click Start and iDelock will begin the removing process immediately.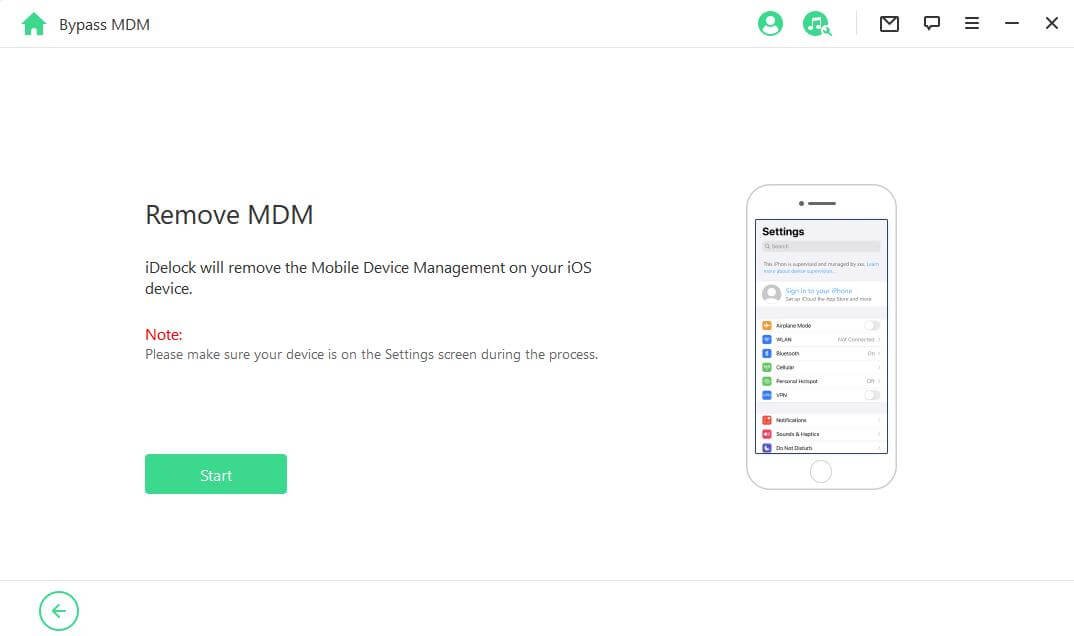 With no more than 10 minutes, the whole process will be complete and there won't be any MDM on your device.
FAQs About Removing MDM Using iDelock

What kind of locks can WooTechy iDelock solve?

Wootechy iDelock can help you unlock MDM, Apple ID password, screen password and Screen Time passcode.

How to find out if your iOS device is supported or not?

Download and launch the free trial of Wootechy iDelock and select the required mode after connecting your device. You will be notified there if your device is supported or not.

What is the limitation of the free trial version?

Yes, there are some limitations to this version. You can only check it out if your device is supported or not. You will have to purchase the full version to enjoy all the features.

Summary

Jailbreaking your iPhone to remove the MDM profile can cause several security threats as it is not a safe and secure way to remove the remote management of your device. To ensure the safety of your device and the high success rate, you can use WooTechy iDelock to delete the MDM configuration without jailbreaking your iOS device. Amd this tool now supports the iOS/iPadOS 15!

We aim to provide you the best solution for any questions about iOS devices. Let us know if you are facing any trouble regarding removing the MDM configuration from your iPhone.