If you were given an iPhone, iPad, or any other iOS device in your workplace or school, chances are the iOS device is enrolled in Apple's Mobile Device Management (MDM). Due to the restrictions and tracking associated with MDM-activated devices, many users often want to bypass MDM profile and get unrestricted access to their devices.
Are you one of these iOS users? Read on to learn about 4 Best MDM Bypass Tools that will help you.
Before getting into the main article, below is a comparison table for the 4 MDM bypass tools we'll introduce in this article.
The time it actually takes to get MDM profile bypassed with each program depends on the iOS device and the iOS version it's running on.
Part 1: What Is MDM & MDM Bypass?
You might wonder what is MDM and why do we need to bypass MDM on our iPhone or iPad. MDM is a management profile that many small businesses, large corporations, and educational institutions enable on their devices, including iOS devices, to track device use, install certain settings and apps, or put certain restrictions on staff or student devices.
If you have the passcode for MDM profile, you can easily remove the restriction from your iOS devices. However, if you don't have the MDM password, or you cannot get in touch with the account owner, you will need to use MDM removal tools. Check the review on the most used 4 MDM bypass tools below.
Part 2: WooTechy iDelock - Bypass MDM Without Losing Data
iDelock from WooTechy is an all-in-one iOS unlocker designed to help bypass various Apple's security locks. In addition to helping bypass MDM, iDelock can also help deactivate jailbreak a school iPad with a high rate of success. Below are some features of this MDM removal tool that might interest you to get a free trial edition of the app.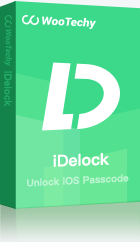 Why Choose WooTechy iDelock?
Remove various iDevice security locks, including MDM, Apple ID, Screen passcode and Screen Time passcode.

Bypass Mobile Device Management no matter you are locked out of the MDM screen or your device is supervised and managed by other organizations.

Compatible with all the iDevices and iOS versions, even the newly released iOS 16.

Simple to operate thanks to its uer-friendly interface.
Now, let's see how to remove MDM profile from any iDevices using WooTechy iDelock.
Watch the video to remove MDM profile easily:
Step 1: Download and install iDelock on your desktop or laptop computer. Then, choose Bypass MDM option.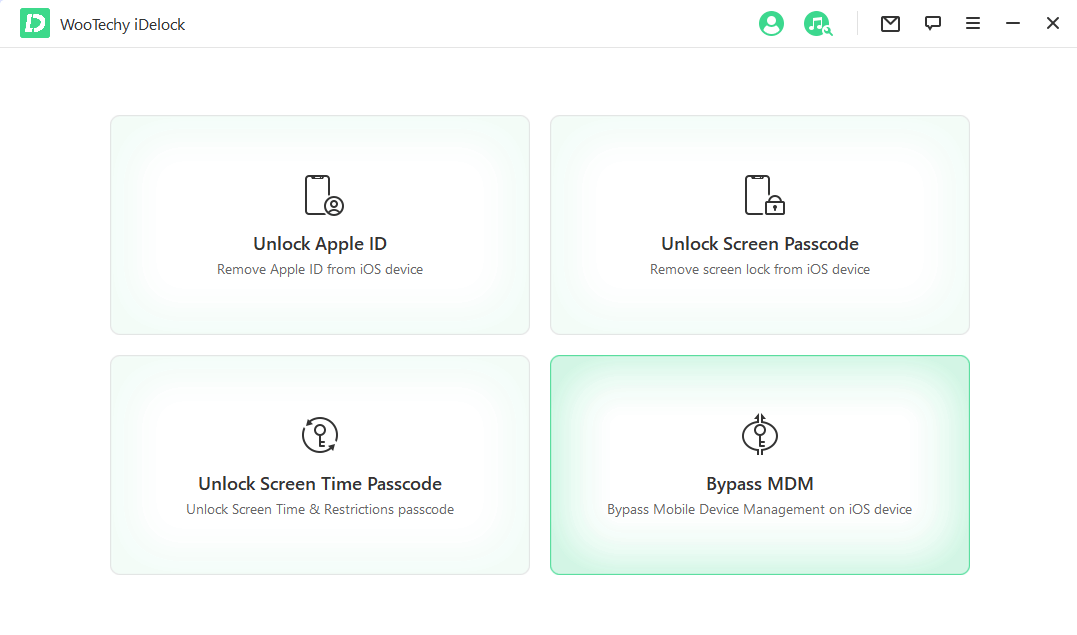 Step 2: Connect your device to the computer via USB cable.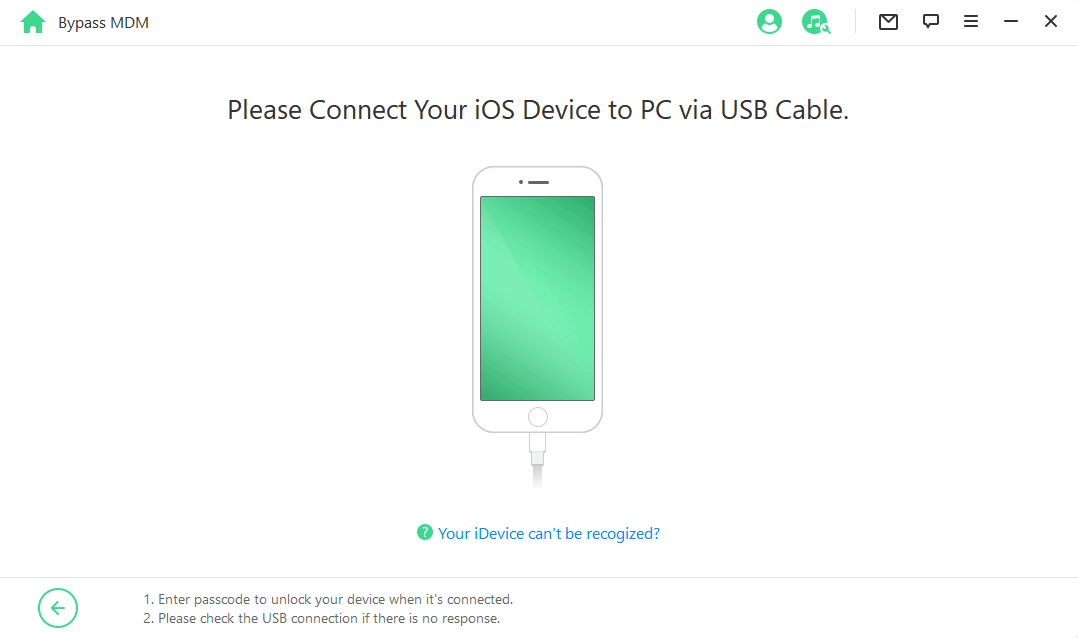 Step 3: You have 2 options to choose based on your situation. If you are locked out of the MDM screen now, choose Bypass MDM.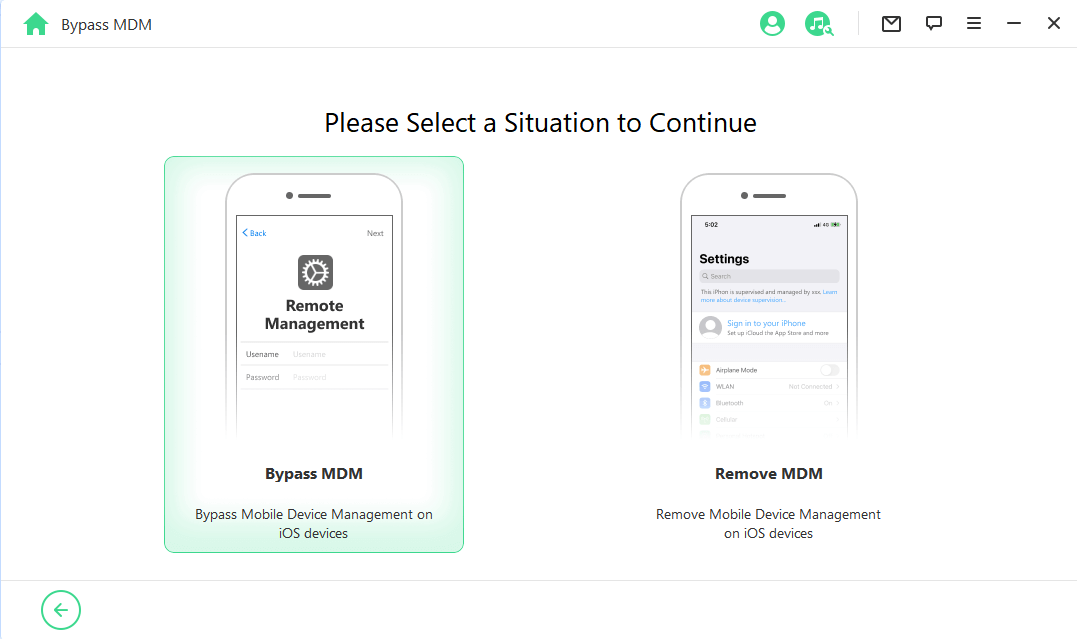 Then, click Start to Bypass to proceed.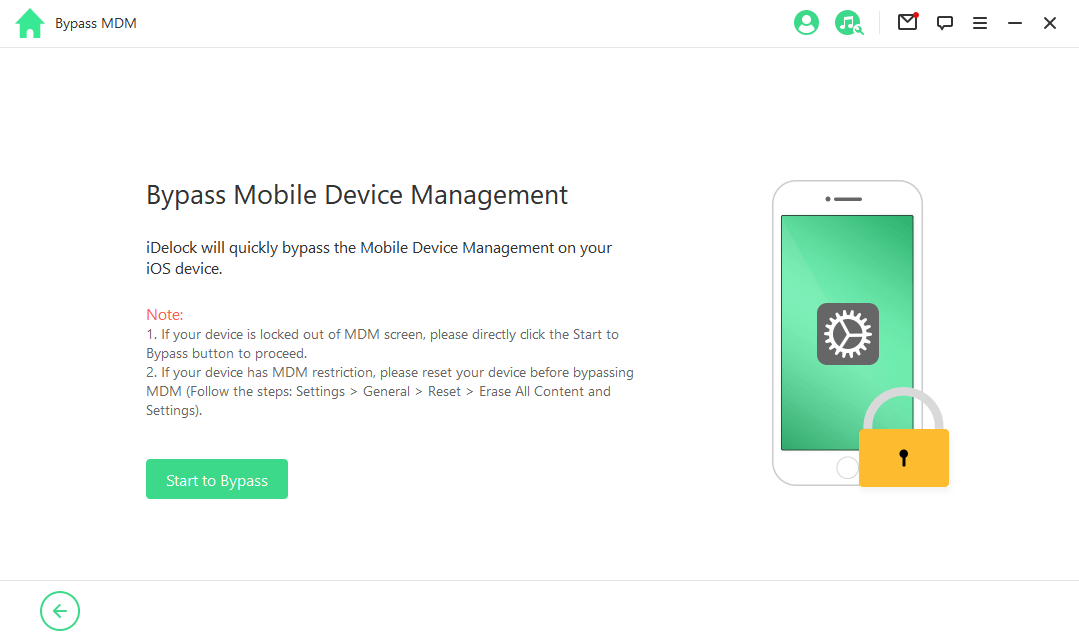 iDelock will successfully bypass the MDM within a few minutes. Then you'll see the successful message on the screen.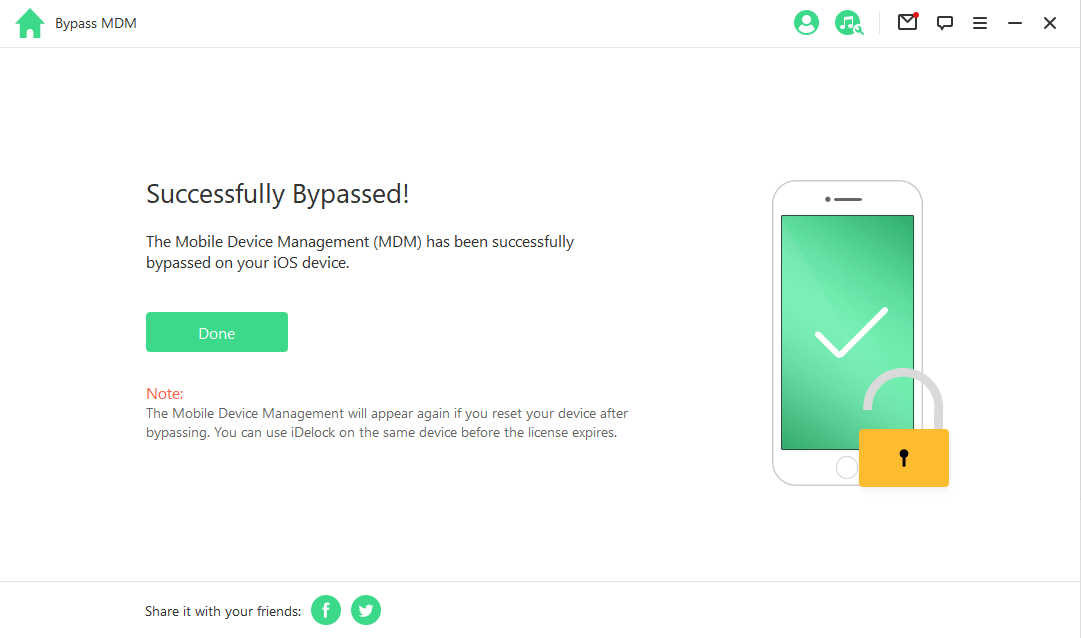 If your device is managed and supervised by other organizations, then you need to select Remove MDM.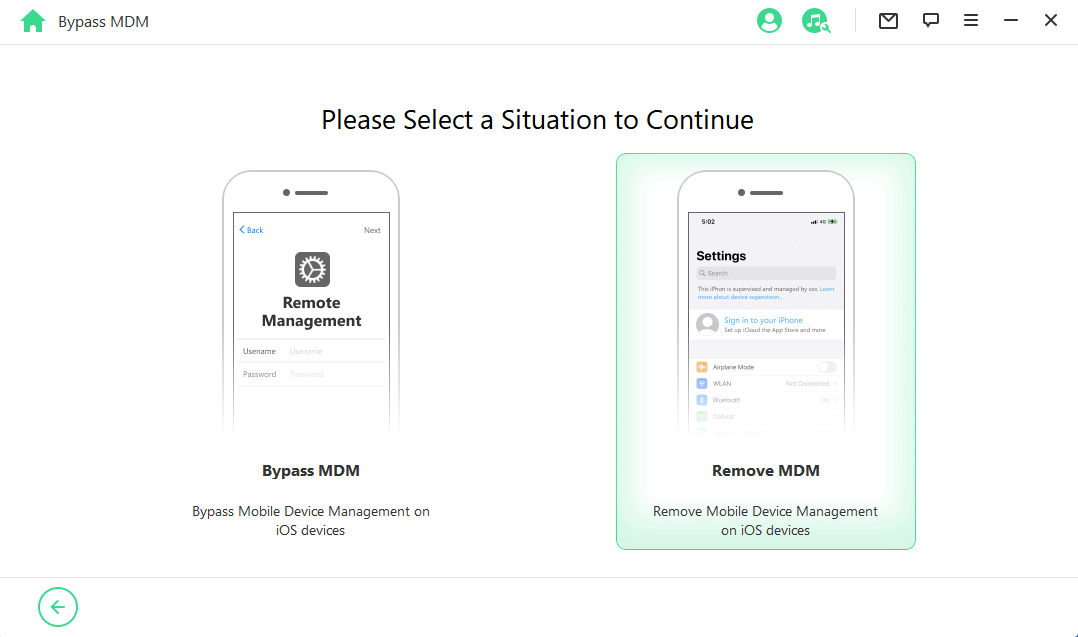 Click Start and iDelock will begin removing the MDM from your device immediately.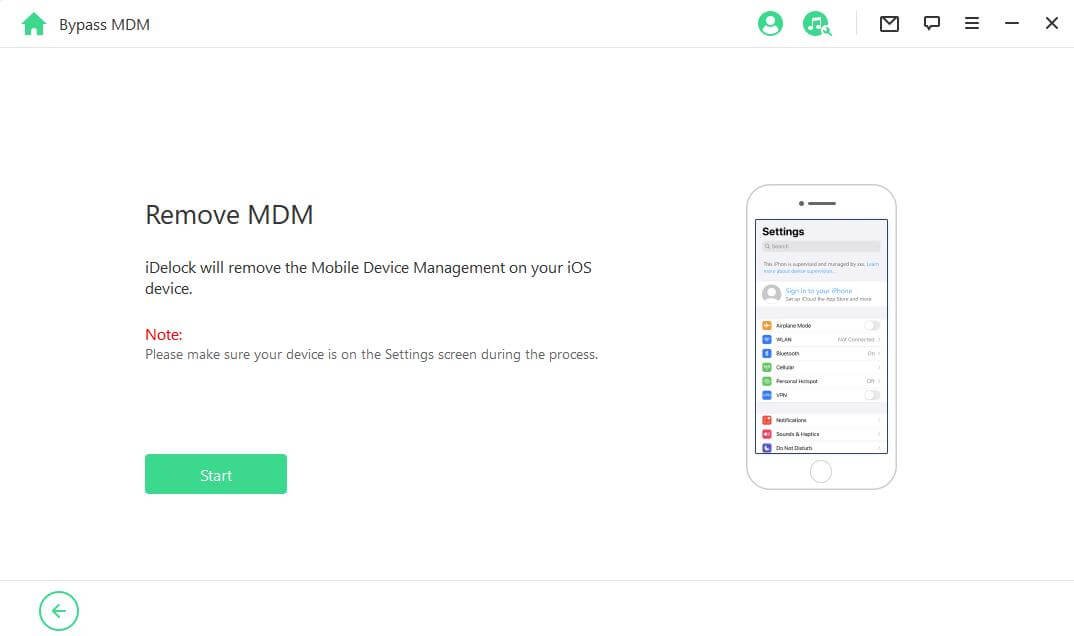 Within 10 minutes, iDelock will finish the bypass and there won't be any MDM on your device.
Part 3: 3uTools - MDM Bypass Tool to Skip MDM setup
3uTools is an all-in-one tool designed to perform jailbreaking, data management, and flashing on iOS devices. Talking about iOS security lock, it can help bypass activation lock, backups, and MDM locks.
Follow the steps below to see how to use the MDM bypass tool to bypass mobile device management MDM on your IOS device.
Step 1: Download 3uTools, ensuring it's either 3uTools V2.36 or V2.39 that you download.
Step 2: If necessary, reset your iOS device to see the iOS device setup screen. On the screen, set your preferred language, select your region or country, choose a Wi-Fi connection, and set a password. Afterward, the MDM activation lock screen will display, which should look like something below.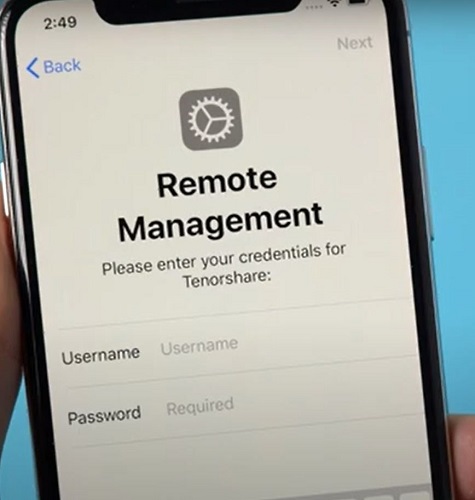 Step 3: Once you're seeing the Remote Management screen, connect your iOS device to your PC with a data transfer cable and double click on 3uTools executable file to open the tool on your PC.
Step 4: Wait a few seconds until 3utools recognize your device. After it detects your device, you should see a screen containing your device information.
Step 5: Click the Toolbox tab located at the top bar and choose Skip Setup from the lists below.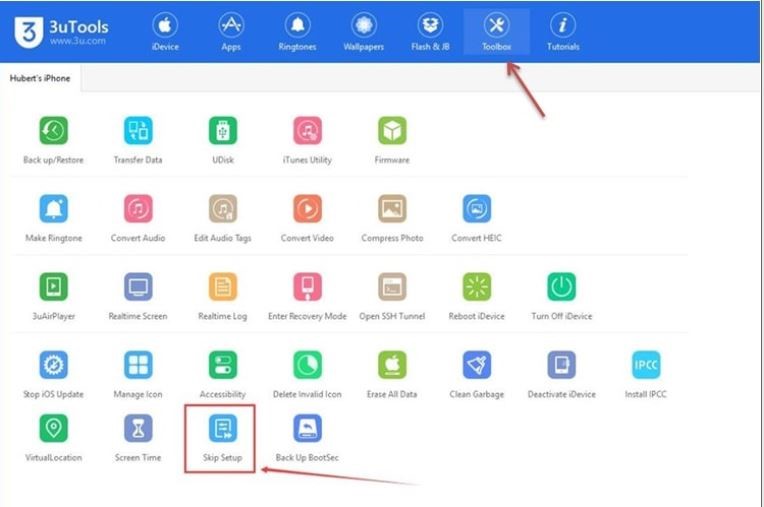 Step 6: From the Pop-Up dialog box, click on Skip Setup Assistant.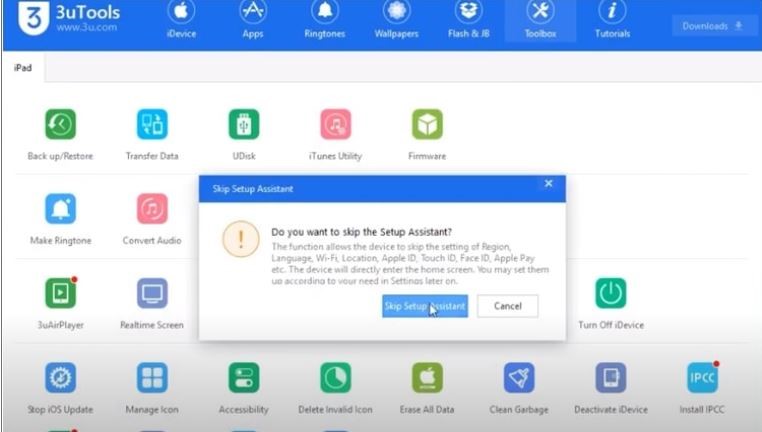 Step 7: Once the MDM has been bypassed, you'll see another success message confirming the setup Assistant has been done successfully.

Keep in mind that this process will only bypass the MDM restriction but will not remove it. Anytime you reset your device, the remote management lock screen will reappear. 
Part 4: MDMUnlocks - MDM Removal Tool Work with iTunes
MDMUnlocks is a paid MDM removal tool designed for iOS devices to bypass the MDM lock. It's the third on our list of 4 best MDM bypass tools. Follow the steps outlined below to make use of the tool.
Step 1: Download MDMUnlocks from the official website. You'll need to pay about $10 to use the tool. Note that you'll need the serial number or UDID of your iOS device to get started with MDMUnlocks.
Step 2: Once your SN/UDID and payment have been authorized, download an MDMUnlocks bypasser tool version that meets your system configurations.

Step 3: Go download iTunes from Apple Store.
Step 4: Restore your iOS device with iTunes. After the restore is complete, iTunes will start a countdown.
Step 5: Once you see the timer, close iTunes and open MDMUnlocks immediately.
Step 6: After MDMUnlocks detects your device, click Bypass MDM on the MDMUnlocks app and wait until you receive a Bypass Done success message.
Step 7: Follow the subsequent onscreen instructions to fully activate your device.
Part 5: iActivate - MDM Bypass Tool with Low Success Rate
iActivate is a MDM removal tool that provides 1-click installation. In this section, we explain the steps required to use the tool.
Step 1: Download, install, and run iActivate on your Mac or Windows PC.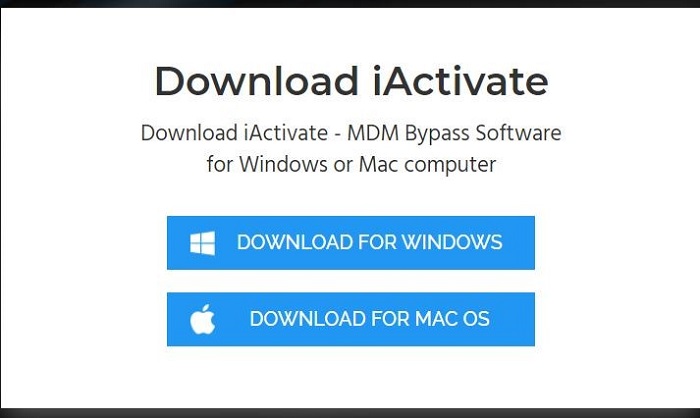 Step 2: Once your iOS device has been detected, iActivate will display your iOS device details, such as IMEI, UDID, iOS version, and Serial. Click Start MDM Bypass and wait until iActivate removes the MDM profile from your device.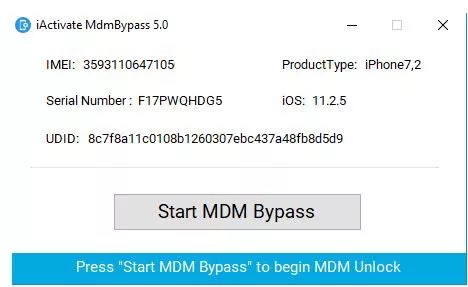 You need to notice that many users complain about the failure when using this tool to bypass the MDM. So think twice before you leap.
Conclusion
This blog exposed you to what Mobile Device Management (MDM) profile means, the limitations it imposes on any enrolled device, and how to bypass it using any of the 4 tools, including WooTechy iDelock, mentioned in this post.
Keep in mind that iDelock is compatible with all the iOS devices and the latest iOS 16. If you have any questions about iDelock or this article, feel free to leave them in the comments.