iOS devices support MDM (Mobile Device Management) that helps install profiles in their system for the management of the devices. This MDM approach is used widely in organizations and even schools for a proper and unified central management. However, many people may want to remove the MDM on their device for some reasons.
In this case, it is vital to opt for a good third-party tool, and 3uTools is one tool available for removing MDM. In this article, a full 3uTools review for removing MDM will be showed. Meanwhile, you can learn about the best alternative to it. Just check it out!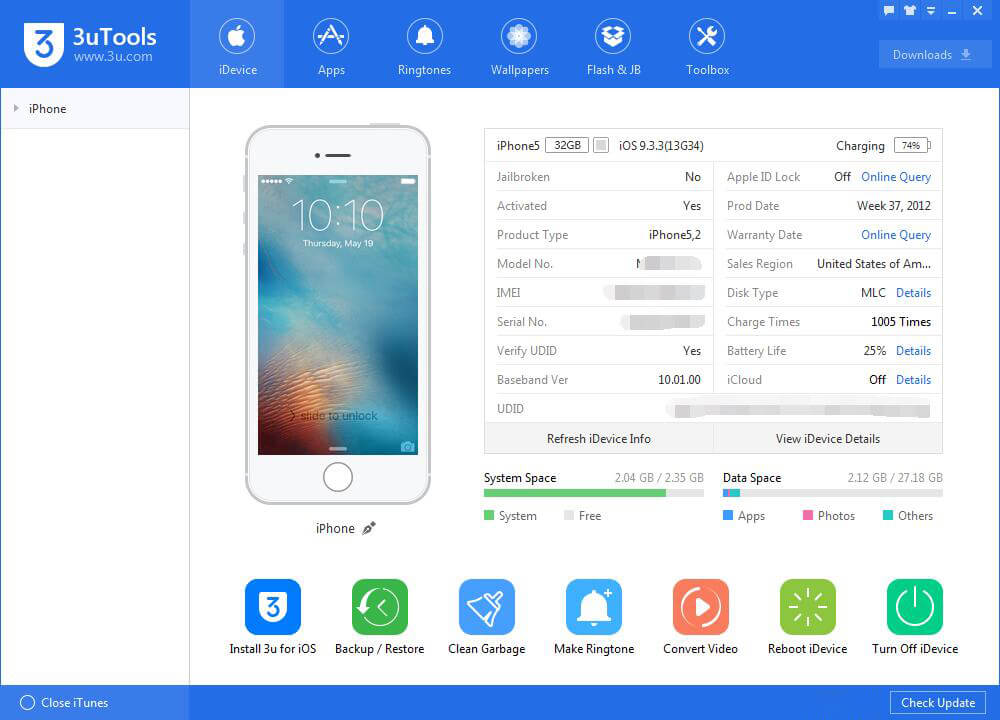 Full Review of 3uTools for Removing MDM
Introduction to MDM and 3uTools
What Is MDM on iDevices?
Also known as mobile device management, MDM is a solution that allows an organization to manage all mobile devices on its own by enabling an activation lock. This solution also makes it difficult for employees or anyone else to sell and use iPhone, iPad, Mac and other Apple devices. Here the MDM administrators sets a password that must be entered on the device before users can modify the security settings. This also helps to prevent phone theft. However, sometimes you might want to bypass the MDM due to reasons known to you and this is where the 3uTools comes in.
What Is 3uTools?
3uTools is a program created to take the iDevices in full control. It helps users to bypass MDM lock, solve iOS issues and monitor the device. As an all-in-one tool, removing MDM is just one of its functions, whose success rate is under doubt all the time. However, you can give it a try. To use this tool for removing MDM lock, all you need is your device, a USB cable, a laptop and the 3uTool installed in your system.
How to Use 3uTools for Removing MDM?
You need to manually take your device into the MDM lock screen. To do that, go to Settings > General > Reset > Erase All Content and Settings. Then, wait for about 10 seconds for your device to manage the setup. Then connect your device to your computer via a USB cable and follow the steps outlined below.
Launch the 3uTools on your computer.

Connect your device to the computer immediately you are on the Remote Management page, and wait for 3uTools to recognize your device. Your device's details will be displayed on the screen. You should then confirm this information to proceed.

At the top menu, go to ToolBox, Then, choose Skip MDM Lock from its menu and select Skip Now when the confirmation box comes up.

A pop-up window will be displayed for you to confirm if you want to deactivate the device. To proceed, click on Deactivate.

The tool will bypass the MDM lock for you, but it does not remove the MDM setup completely. When your resets the device next time, the Remote Management lock screen will come up again.
This method works for all versions of iOS and ensures that you download the latest version of 3uTools as only the latest version supports the Skip MDM Lock feature.
Pros and Cons of Using 3uTools for Removing MDM
Apple devices are always sophisticated, so every operation to its system should be taken in a careful way. As mentioned above, 3utools has its prominent features as well as downsides. Thus, you are suggested to make a final decision after comparing its pros and cons in this part.
Pros
Its interface is easy to understand and navigate, which require no prior experience. 

It has various features that can be used after downloading. 

It is a free tool to use.
Cons
It is not available for Mac.

The hidden cost is high as it may damage your device in a irretrievable way.

The success rate is not high compared to other professional tools.

There is a risk of privacy leakage.
The Best Alternative to 3uTools - iDelock
As you can see above, the safety and success rate of 3uTools are not satisfying. That's because 3uTools is not a professional tool for removing iDevice locks. Its functions cover widely but not deeply. In this case, if you need a tool designated for unlocking iDevice, the best alternative to 3uTools in the market at the moment is WooTechy iDelock.
This amazing software is created primarily to remove various iDevice locks. It comes with 4 unique and district features that can satisfy all your needs for unlocking the device. In addition, Wootechy iDelock requires no technical expertise to use. Just at your comfortable home, you can use this software to unlock your device in seconds.
Features of iDelock for iPhone/iPad Unlocking:
An all-in-one solution for unlocking iOS devices, including iPhone/iPad/iPad Touch and compatible with the latest iOS 17.

Unlock different screen passcodes (4-digit/6-digit passcodes, Touch ID, and Face ID).

No need for administrator's user name or password to remove MDM.

Remove Apple ID without password when got locked out of iPhone.

Get rid of Screen Time restrictions without losing data if forgot Screen Time passcode.

No need to be a tech-savvy for its user-friendly interface.
Here is how to bypass MDM with WooTechy iDelock
Step 1: Launch WooTechy iDelock on your PC and then select Bypass MDM. Next, use a USB cable to connect your device to your PC and then trust the computer.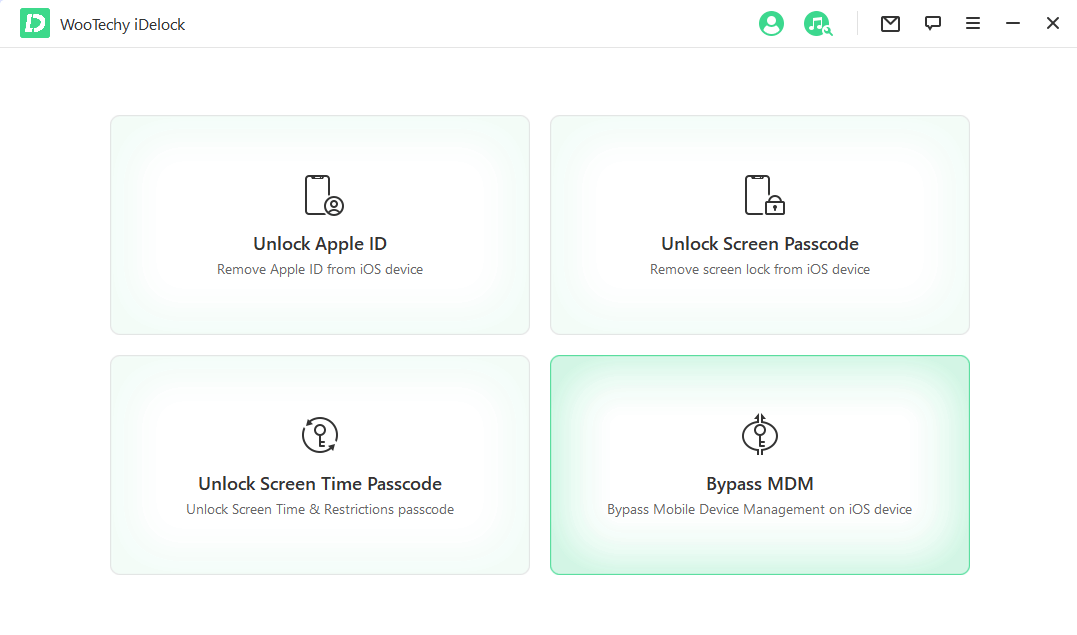 Step 2: Directly click on the Bypass MDM to start the process if your device has been locked out of the MDM lock screen.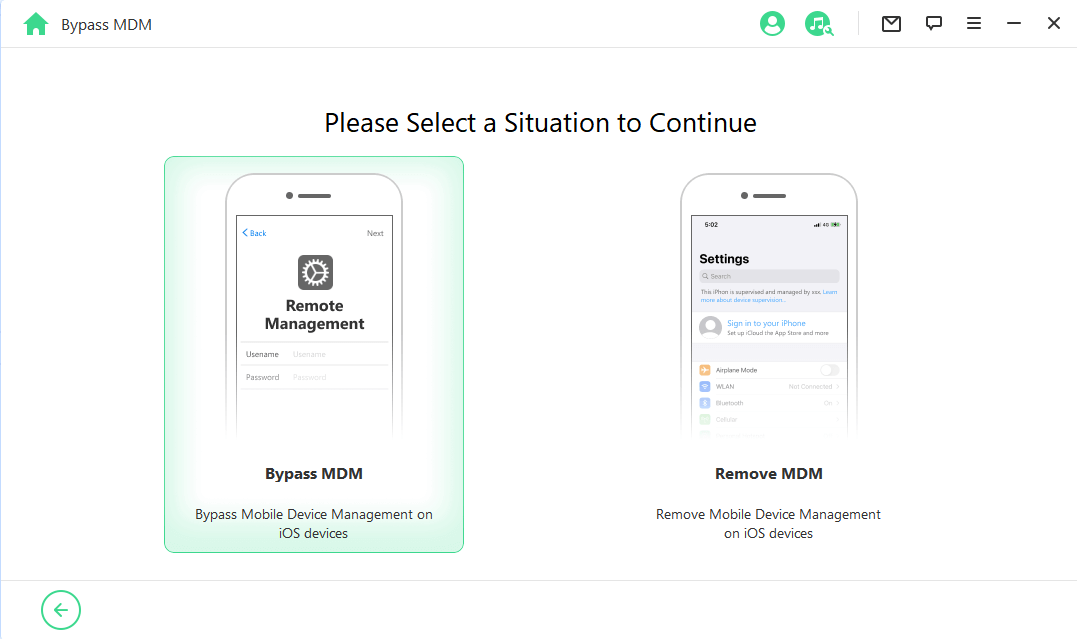 Then, click on Start to Bypass and iDelock will begin bypass the MDM on your iPhone.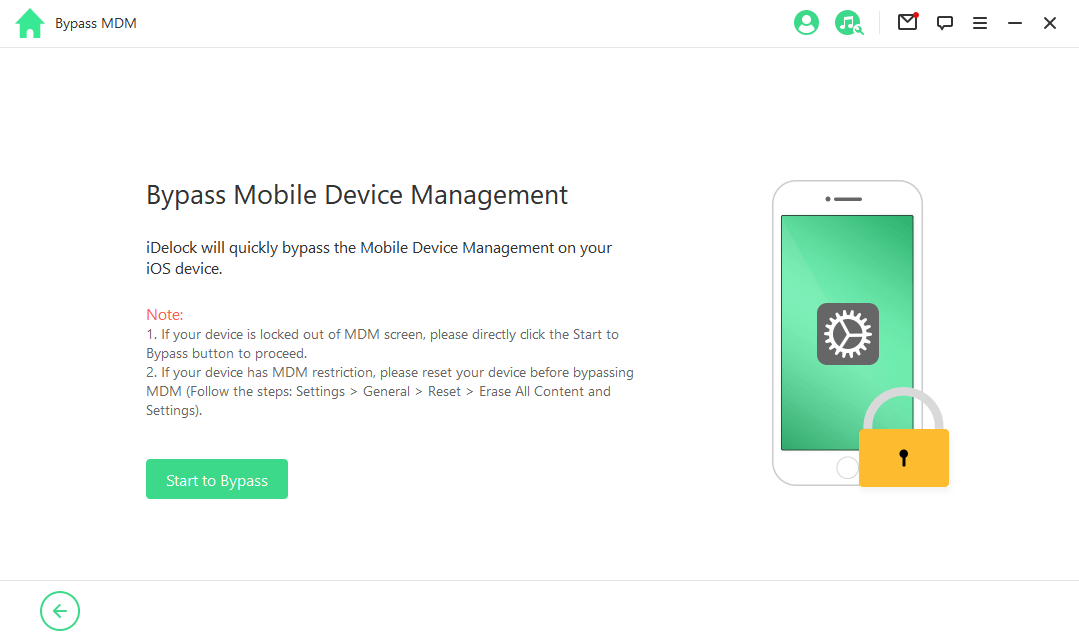 The whole process won't take more than 10 minutes. Please wait for the successful message.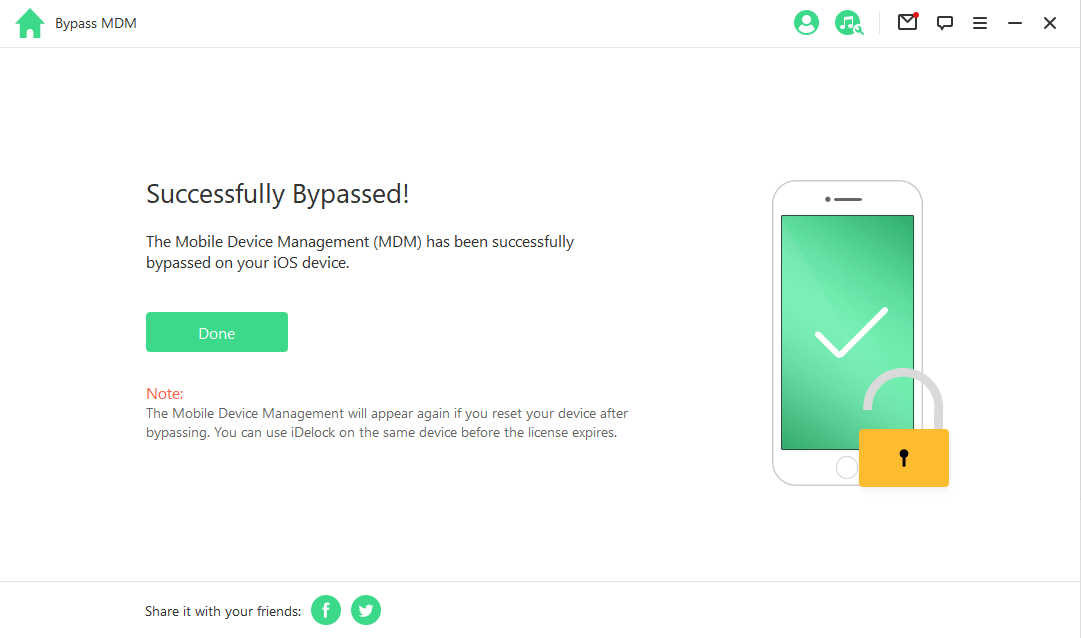 If your device shows it is supervised and managed by other organizations, please choose Remove MDM.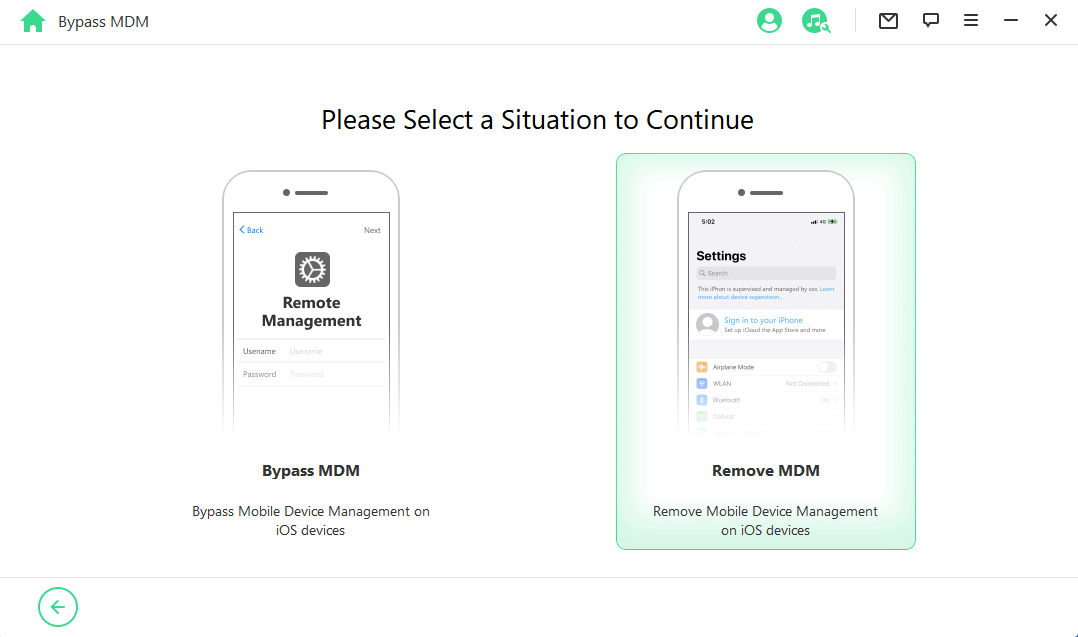 Click Start and the program will start the removing process.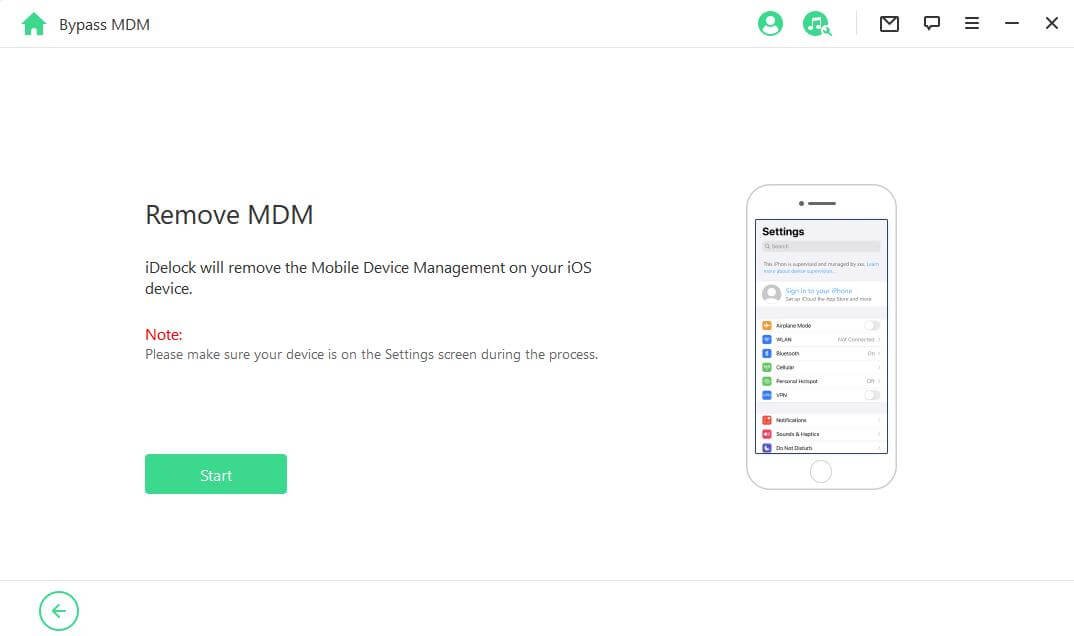 Why opt for iDelock?
iDelock provides round-the-clock customer support to ensure you have a hassle-free experience whenever you need it.

Unlocking process is not only efficient but also incredibly fast, ensuring you regain access to your iOS device promptly without sacrificing accuracy.

iDelock offers a comprehensive solution with 4 different modes for unlocking. No need to juggle multiple products; iDelock delivers all these benefits in a single, convenient package.

Offer 30-day money back if you have second thought.
Conclusion 
Although 3uTools is a good tool to remove MDM on your device, you are advised to use WooTechy iDelock to bypass MDM for the consideration of privacy safety and success rate. You need no technical skill to get started with this amazing tool. Just download and give it a try!