Screen Time is helpful if you want to set screen usage limits, and it can benefit parents concerned about restricting their children's screen time. To activate or deactivate Screen Time, you must enter a Screen Time passcode dissimilar from the screen lock. But forgetting your Screen Time passcode can make recovering device access difficult.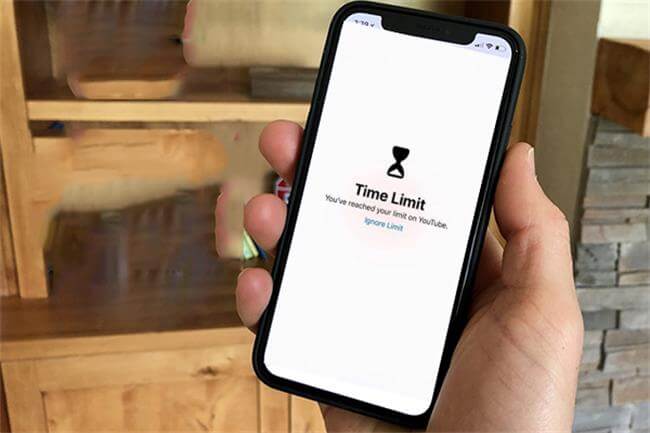 What if you forgot the Screen Time passcode? This guide will show you how to recover your device and reset your Screen Time passcode. If you forgot your Screen Time passcode, read to learn what to do.
Part 1: What is Screen Time?
Screen Time displays the time spent on an iPhone, iPad, or iPod Touch. You can see your device usage after setting up Screen Time. The Screen Time passcode restricts access to specific iPhones, iPad, or websites.  
This software allows you to control your screen time by setting time limits, blocking apps, and keeping a very close eye on how much time you spend on your screen.
What is Screen Time Passcode?
Screen time passcode is essential for monitoring device usage and enforcing restrictions.
Screen time passcodes restrict device features.
Screen time passcodes prevent unauthorized access.
This helps parents restrict screen time and block unwanted content.
This restricts device use, especially by youngsters, blocks inappropriate content, and prevents setting changes.  
Part 2: Remove Screen Time Passcode
If you have an iOS smartphone and want to remove the screen time passcode, WooTechy iDelock is the best choice. This tool lets you completely erase the screen time password immediately.
It is one of the best on the market, highly effective and simple. In addition, it can retrieve iPhone backup passwords and remove iTunes backup protection settings.
1

Use Screen Time Passcode Unlocker - iDelock (No Need for Apple ID or Passcode)

WooTechy iDelock is a powerful and effective iPhone passcode unlocker that may help you unlock your smartphone quickly and permanently. It can unlock iPhone, iPad, or iPod Touch when you forget your passcode, or if your device is disabled or frozen, you buy a used iPhone with a locked screen, and more.

It supports all iPhone models, including its iPhone 14, and all iOS versions, including iOS 16. iDelock unlocks without losing data. It supports 4-digit, 6-digit, Touch ID, and Face ID passcodes.

WooTechy iDelock's user interface is simple and attractive, and the app includes several helpful features.

Instantly bypass Screen Time limits.

No technical skills are needed for the simple processes.

There will be no data loss; the system is 100% secure and trustworthy.

Remove Apple ID/screen passcode and MDM easily.

All iOS and iPad OS devices are supported.

There are only a few basic actions to do, and no specialized knowledge is expected or required. Stay with us to learn more.
Use iDelock to remove the screen time passcode:
Step 1: Launch iDelock after its installation. To begin, select Unlock Screen Passcode from the menu.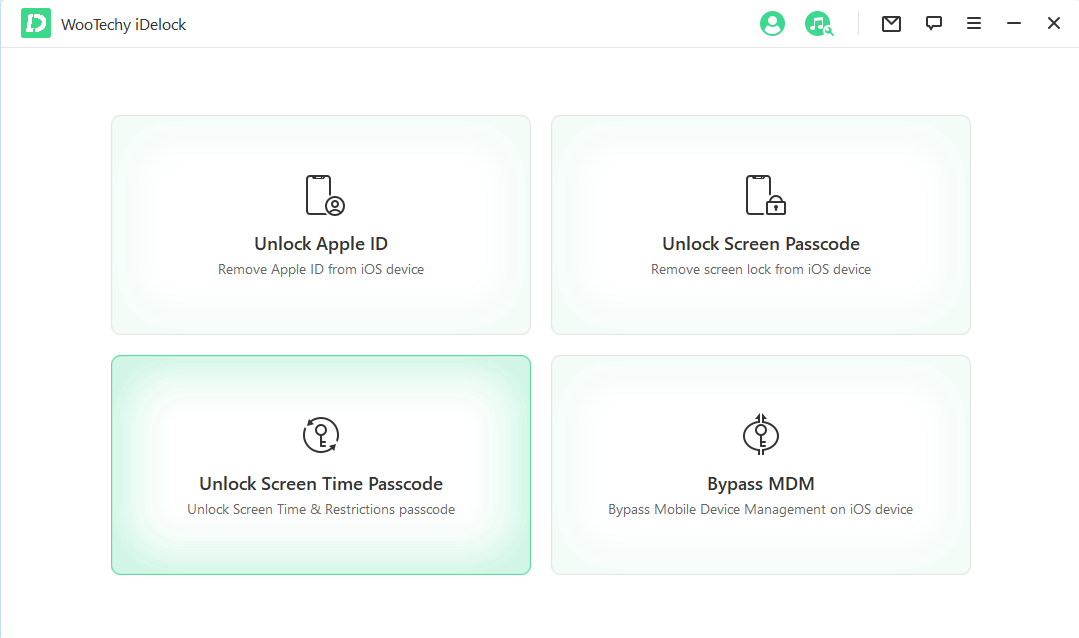 Step 2: Attach the iPhone or iPad to the PC with a USB cable. Once your gadget has been identified, proceed by clicking Next.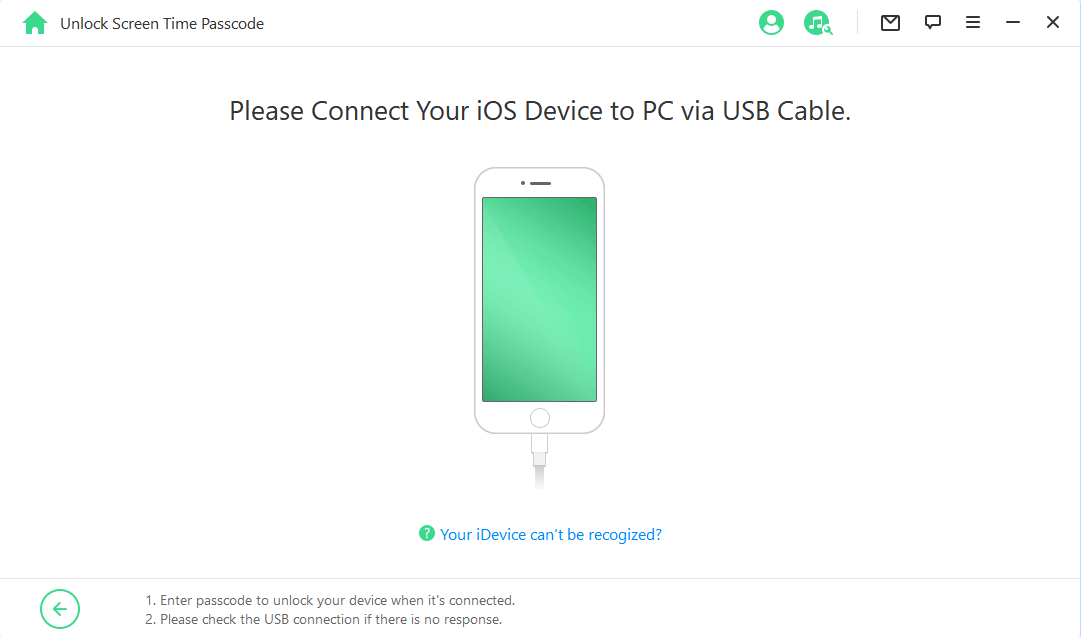 Note
If iDelock doesn't find your device, you may need to boot it into DFU or Recovery mode.
Step 3: Remove screen time passcode by following the on-screen instructions. In this part, you have two options. Choose based on your situations.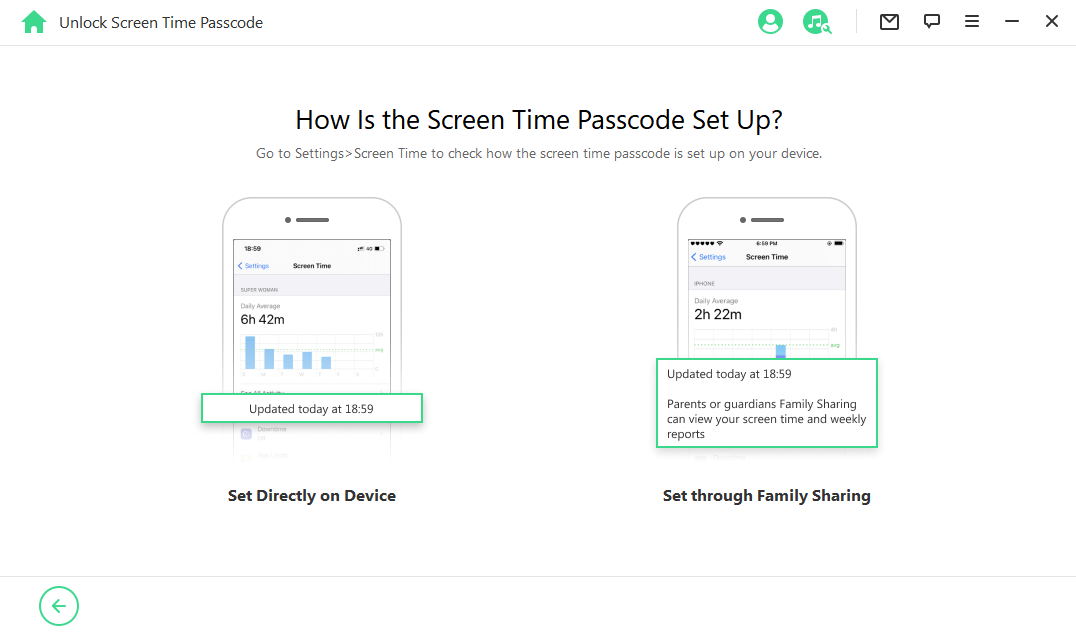 Case 1: Screen Time passcode is set directly from Settings
If your screen time passcode is set directly from Settings, choose first option, Click "Start" and it will automatically be removing the passcode for you.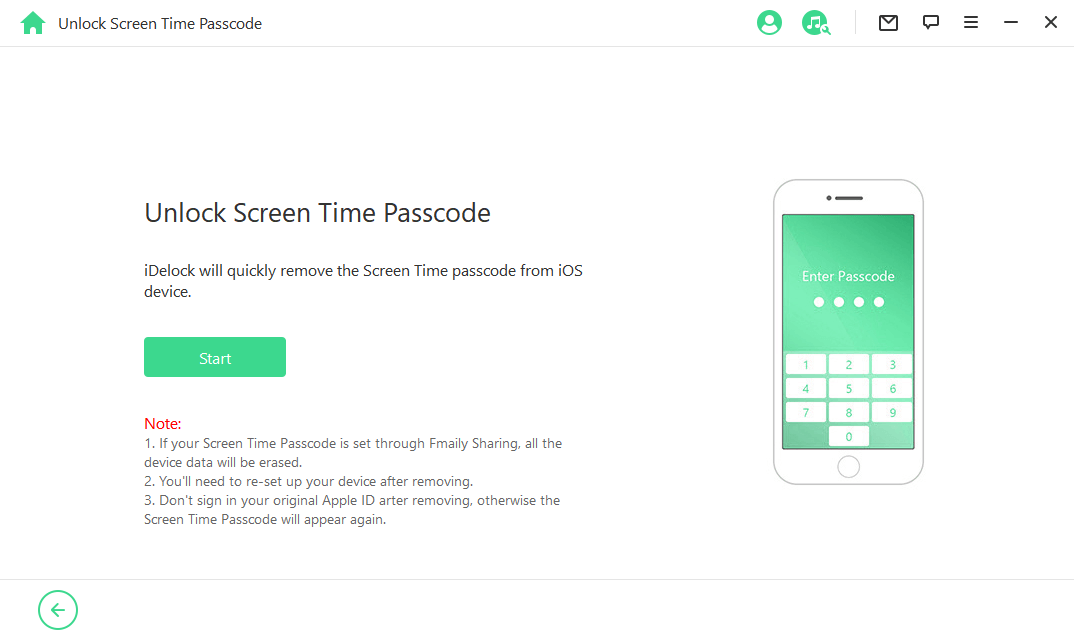 Case 2: Screen Time passcode is set from Family Sharing
In this case, you need to choose the second option. If Find My iPhone is disabled, iDelock program will remove the passcode instantly.
If the Two-Factor Authentication is enabled, then you need to check and confirm your device status. After that, click on Next.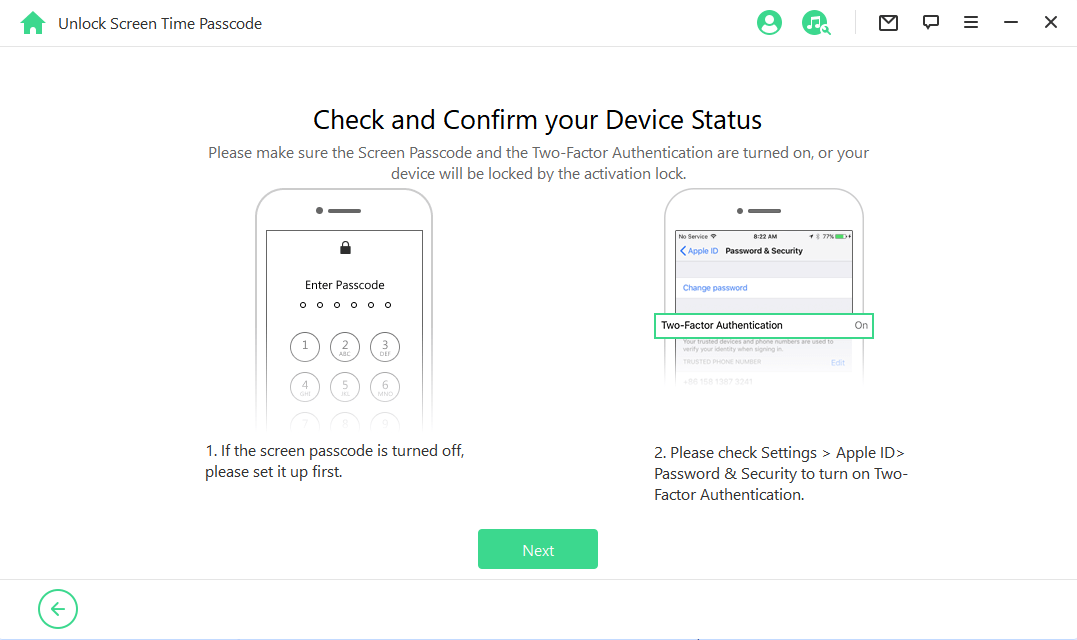 Step 4: Then a pop-up window will appear. After reading the warning, select Unlock and input 000000.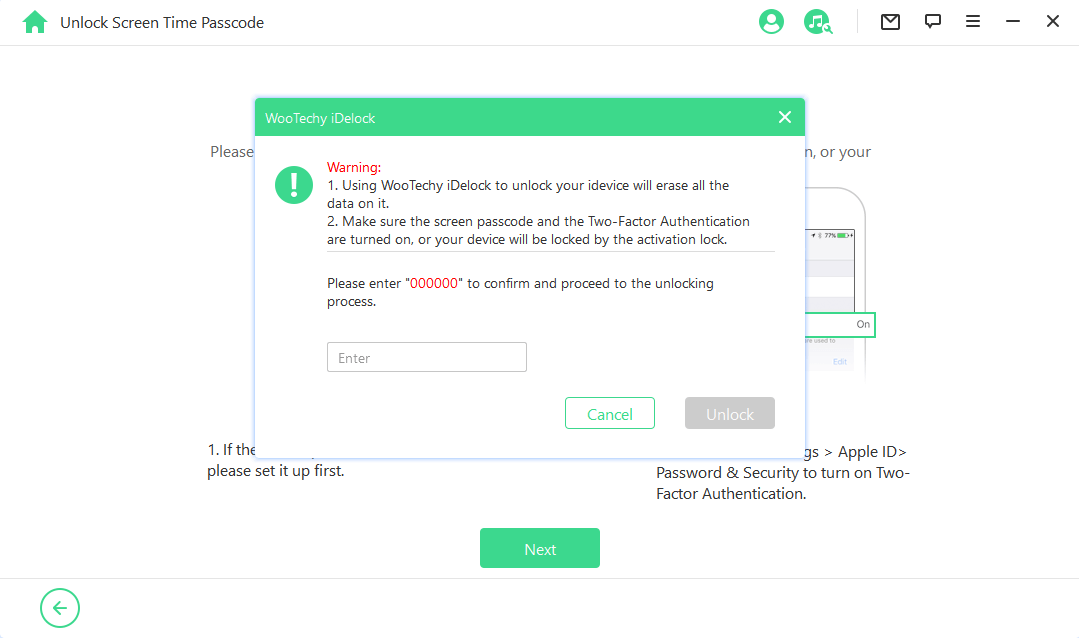 Step 5: Finally, wait a few minutes for iDelock to finish the unlocking process. Once the phone has been unlocked, it can be used by anyone.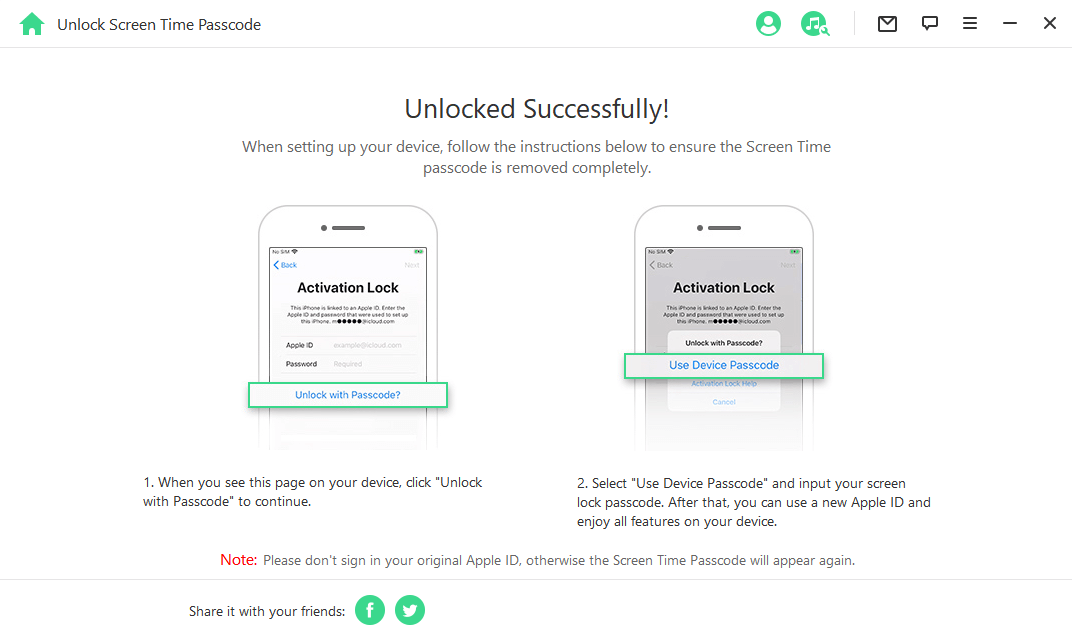 2

 Remove Screen Time Passcode via Settings

Apple's "Factory Resetting" process can decrypt the screen time passcode.

Open the "Settings" option on the phone.

The "screen time" section can be found in the subheading. Just click on the link.

There will be a "Settings" menu with a "Change Screen Time Passcode" option. Follow this path.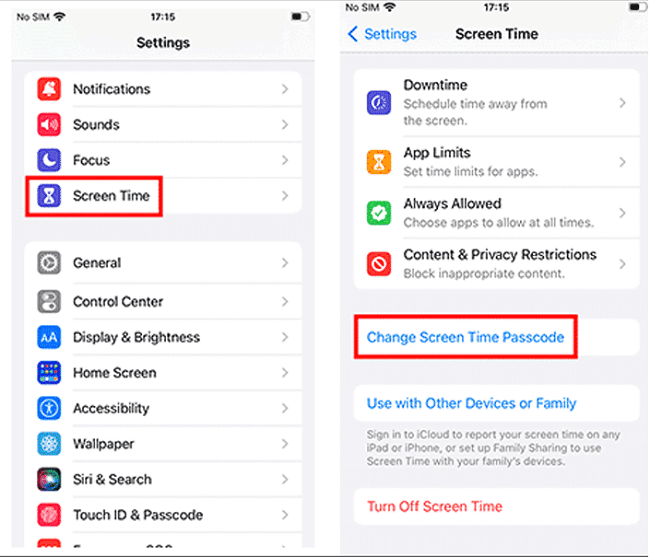 If you already have a passcode for screen time, you can use that to enter the choice. Your only option now is to pick "Forgot Passcode" because you have lost the password.
After setting up a password for screen time, you'll need to enter the 'Apple ID' you used to create it to launch the program.
You can only do those things with an Apple ID.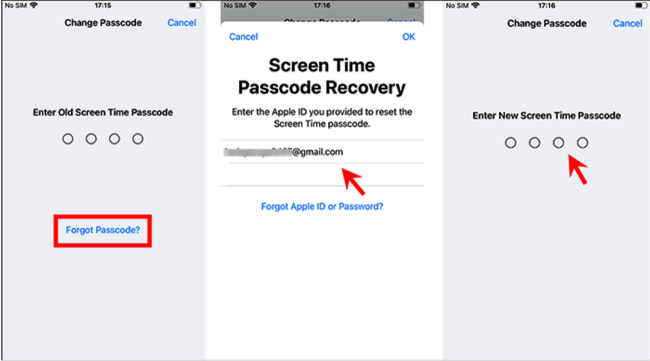 In this way, you can change or reset the screen time passcode.
Part 3: Reset Screen Time Passcode
Screen Time passcodes can be reset with your iDevices or by resetting your device to factory settings. However, restoring the factory settings will delete all data on your device, so ensure you have a backup before starting. The following methods will show you how to reset screen time passcode:
1

Reset Screen Time Passcode via iCloud

This will work on any iOS device, including the iPhone, iPad, and iPod.

Choose "Screen Time" under the Settings menu.

Choose "Change Screen Time Passcode" and repeat the process.

Click Forgot Passcode.

To access Screen Time, sign in with the Apple ID and password you used to create the passcode.

Put in your new Screen Time passcode, then put it in again to ensure it's correct.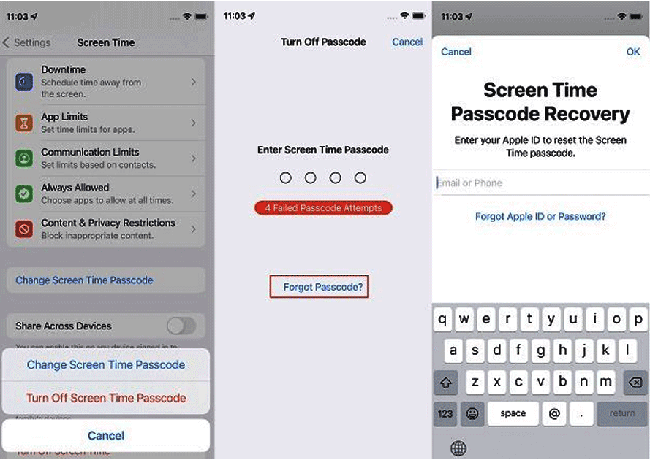 2

Reset Screen Time Passcode by iTunes

A screen time passcode can be reset through iTunes or Finder but doing so will delete all your data. Before proceeding, we recommend performing an iCloud backup. However, the steps are as follows:

Start iTunes on your computer.

Connect your iDevice to your computer via a USB cable and run iTunes/Finder.

Choose your device's home screen name and then navigate to the Location menu.

Click the "Restore iPhone" button.

If prompted, select the Don't Back Up option from the dialogue box that appears.
Now you can choose your iPhone's backup method and begin restoration.
Your iPhone will prompt you to either set it up as a fresh iPhone or restore it from a backup during setup.
Choose "Setup as new iPhone" if you're starting fresh.
Once you've finished setting up Screen Time, you can change the password.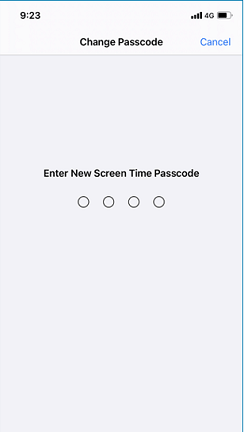 Part 4: How to Keep "I forgot my screen time passcode" from Happening?
Forgetting a Screen Time passcode might irritate you by limiting your device's functionality and content. Here are some suggestions for avoiding this situation:
Set easy-to-remember passcode
Pick a passcode that is easy to remember but not easy to detect. Avoid common digits like "1234" or "0123".
Write it down
If you have problems remembering passwords, write down your Screen Time passcode and keep it safe.
Try Default Passcode
If you did not change the device passcode, try the default one, "0000".
Maintain a device backup
If you forget your Screen Time passcode, you may restore your settings and use your device without it.
Biometric authentication
Several current devices support fingerprint or facial recognition. These approaches are secure and more manageable than passcodes.
Use iCloud Keychain
Apple's iCloud Keychain was made especially for this, as it can generate, store, and synchronize whatever passwords you choose. But it would be best not to rely on it as your sole password repository.
Choose a secure, easy-to-remember passcode. Secure your passcodes using biometric authentication or a password manager tool.
FAQs about Forgotten Screen Time Passcode
Q1: What would happen when I forgot your screen time password?
Forgetting your Screen Time passcode on your iPhone or iPad can limit your access to restricted apps and features. Forgetting your Apple screen time password will prevent you from accessing your Apple account and its benefits. When prompted, enter your Apple ID and password on the iOS device's login page to reset your screen time password.
Q2: How many failed screen time passcode attempts do I get?
Each failure adds minutes to your wait. Re-enabling Screen Time may require your device passcode after many attempts.
The problem is that many iPhone owners forget their Screen Time passcode and can't get back into their phones after 10 failed attempts. iDelock is the most reliable tool for bypassing Screen Time's passcode protection without erasing the user's data in the process.
Q3: Can I turn off screen time on my iPhone without a passcode?
You can turn off screen time on your iDevice without a password. You can disable Screen Time without entering a password using a third-party program like iDelock. As the complete edition of iDelock can unlock your Restrictions password, the trial version is your only option.
Conclusion
Screen Time helps you put down your phone and focus on what counts. Screen Time forcing you off your smartphone when needed can be frustrating.
If you forget the screen time passcode as I did or lose it, you can reset it as discussed in this guide. I highly recommend WooTechy iDelock to reset the screen passcode with a simple and user-friendly interface. iDelock is a highly trustworthy screen time passcode remover. It unlocks any iPhone in seconds without losing data.