If you have an iPad that is owned by an organization, such as your employer or your school, then it most likely has an MDM profile setup. Luckily there are some ways that enable you to use the device without any limitations. In this article, you are going to learn how to remove device supervision from iPad and iPhone and also unlock all the features and settings of your device. Keep reading.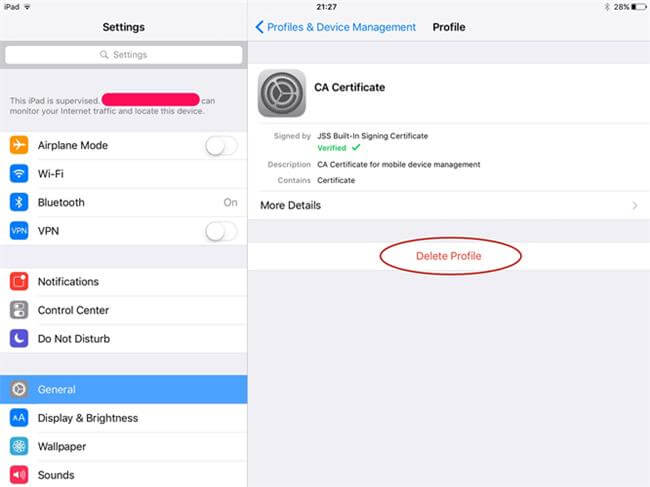 Part 1. How to Remove Device Supervision from iPad/iPhone Settings
I know it's always frustrating when you find out that the iPad is supervised by another computer owned by your company or you just simply want to remove school supervision from iPad. The first and simplest way to turn off device supervision on iPad is to do it through Settings. It may not be as difficult as you think to remove remote management from iPad. However, keep in mind that this method requires the MDM password. For this reason, you will be able to complete it only if you know it or you have reached out to your organization's IT department and the MDM administrator.
The steps to remove device supervision from iPad/iPhone through settings are the following:
Go to Settings > General > Device Management.
Then, tap the name of the MDM profile to see the available options. After that, tap the Remove Management option.
When asked, type the password and follow the onscreen prompts to completely remove the restrictions on your iPad.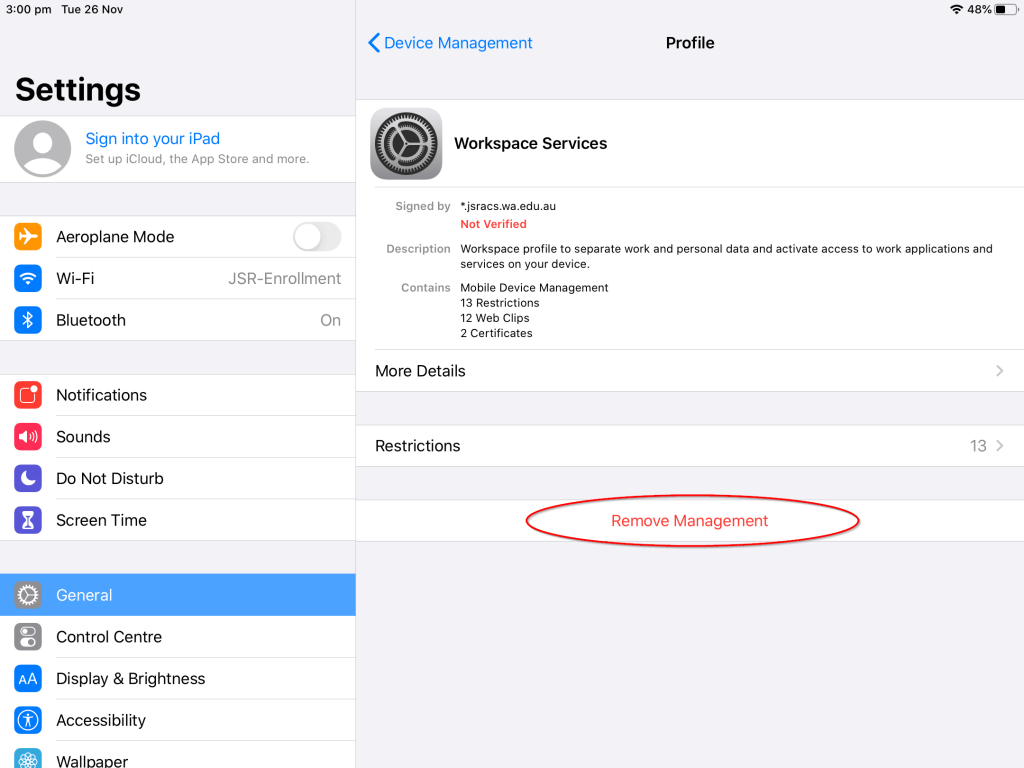 With this, you can easily remove device supervision from your iPhone and iPad.
Part 2. How to Get Rid of Device Supervision by Contacting the Administrator
In addition, an easy way to get rid of supervision on iPad is to directly ask the help from the MDM administrator.
On one hand, they will be able to provide you with the password to remove the MDM profile from the settings. Then, you can follow the method we have explained above and unlock all of your device's features and settings. On the other hand, they can remove the supervision from their devices. In any case, to remove the device supervision from your iPad directly, you will need to contact the administrator of your organization.
However, if you don't want to cause trouble for else, then you can remove device supervison on your own as long as you have the password. The steps to take off device supervision on iPad are as follows:
Download and install Apple School Manager or Apple Business Manager on your Mac, depending on your situation, or visit their respective websites: https://business.apple.com/ or https://school.apple.com/.
Log in to the application using your management account.
In the application's sidebar, navigate to the "Devices" section and find your iPhone or iPad.
Choose the "Release Device" option for your device.
A prompt will appear with some warnings. After reading them, tick the box to confirm, and click the "Release" button. The device supervision will be removed successfully.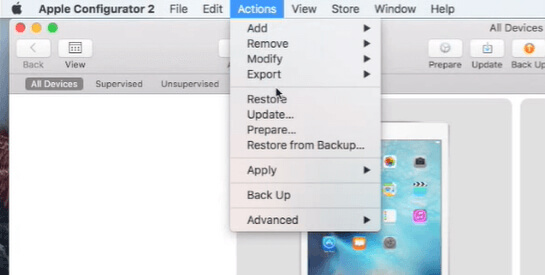 Part 3. How to Remove Device Supervision From iPad/iPhone Without Passcode Using WooTechy iDelock
Nevertheless, there are many cases where there isn't an administrator or they aren't available to help you. In these cases, it becomes difficult to remove device supervision on iPad and iPhone. However, you can benefit from using a dependable software that can unlock your iOS device no matter if there are restrictions.
One of the most reliable computer software that can help you for this purpose is WooTechy iDelock. This application is an all-in-one tool that provides you with several powerful features to unlock your iPad/iPhone/iPod touch, including device supervision removal. With iDelock, you will be able to enjoy all the features of your device within a few minutes. And the great thing about it is that you don't need to know the MDM password to complete the process.
75.000.000+
Downloads
The steps for using WooTechy iDelock to remove device supervision from your iPad and iPhone are the following:
Watch the video to remove device supervision on your iPad easily:
Step 1 Get WooTechy iDelock and install it on your computer by following the installation instructions. Once the process is done, launch the software. On the home screen, you will see all of iDelock's services. Click the Bypass MDM button to begin.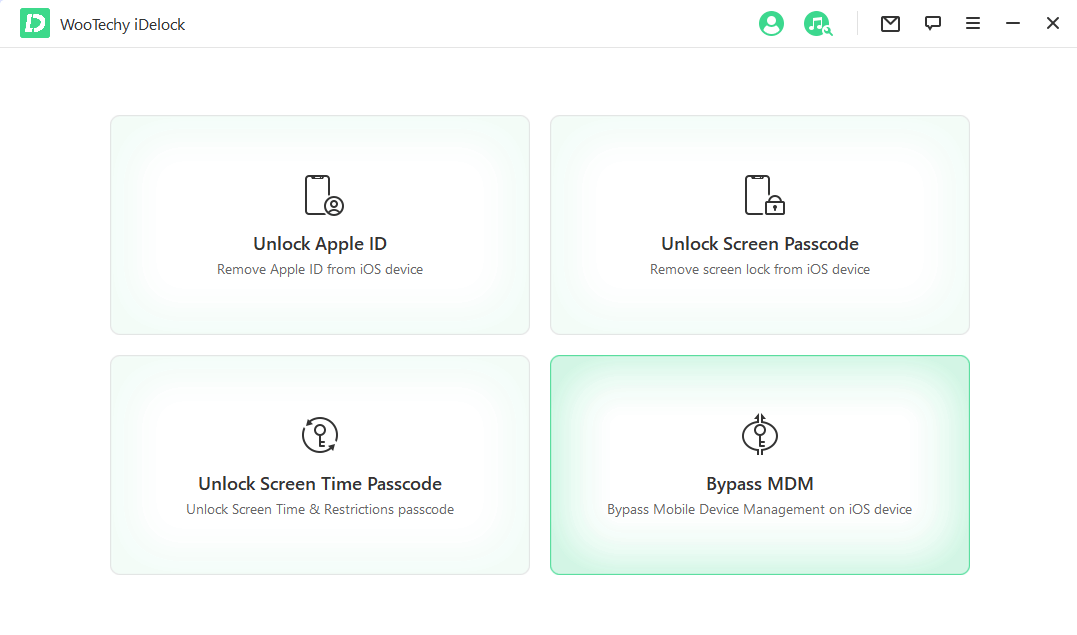 Step 2 In the next step, you must connect your device to your computer with a USB cable.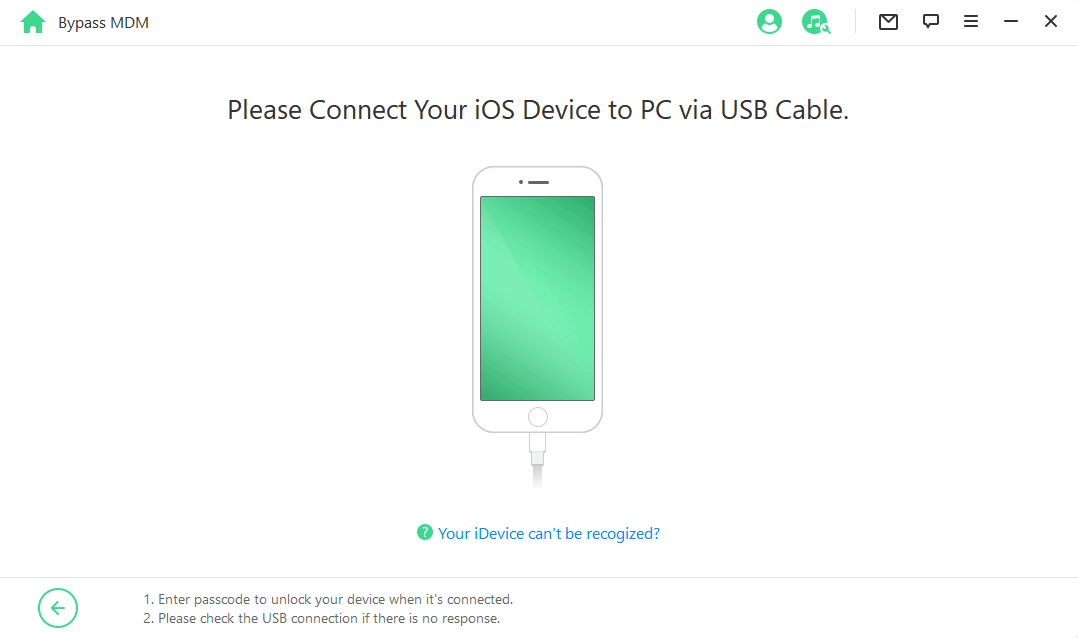 Step 3 When you reach this stage, there are two possible cases that you might encounter:
If the iPad has been locked out of the MDM lock screen, you simply click Bypass MDM to start.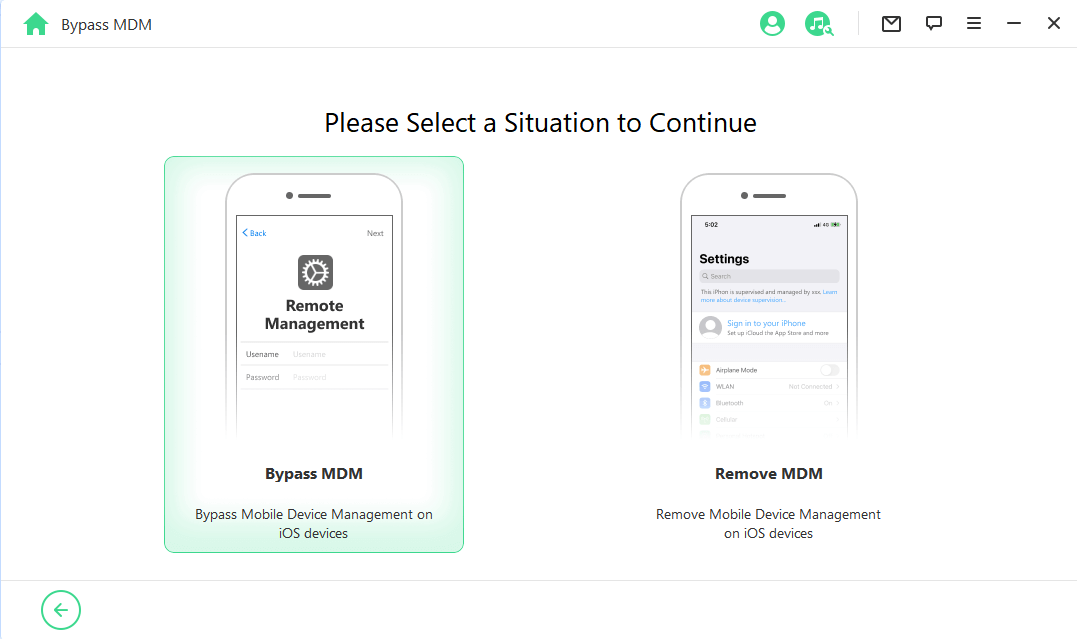 Then, click Start to Bypass button to allow iDelock to remove iPad/iPhone supervision. You also need to confirm that the device is locked out of the MDM screen again.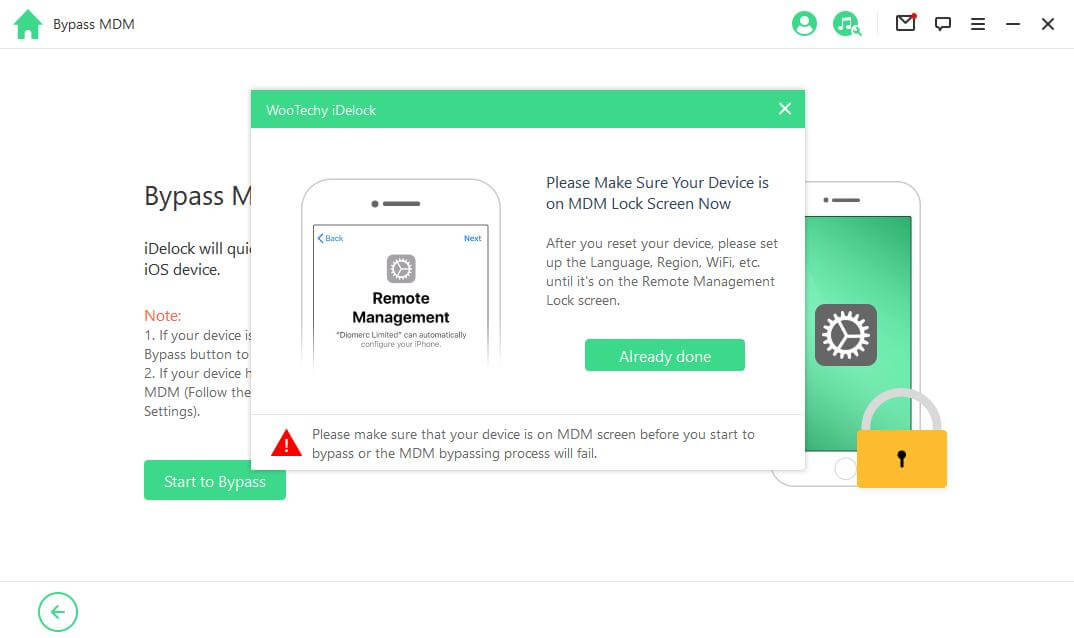 After a few minutes, the device supervision will be removed from your iPad.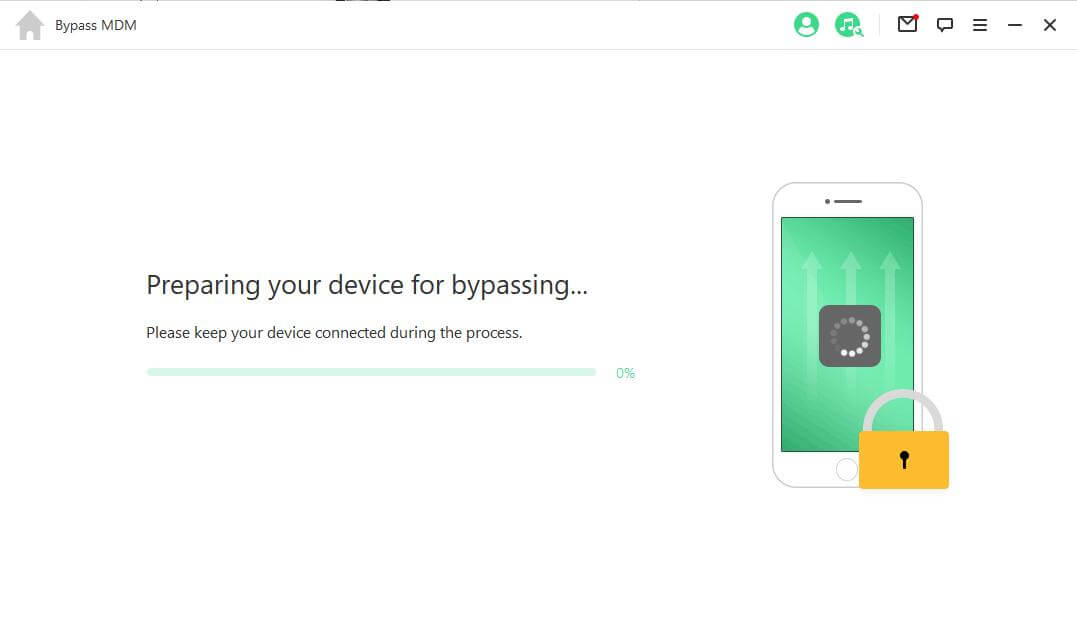 If your iPad/ iPhone is supervised and managed by other organization or school, choose Remove MDM.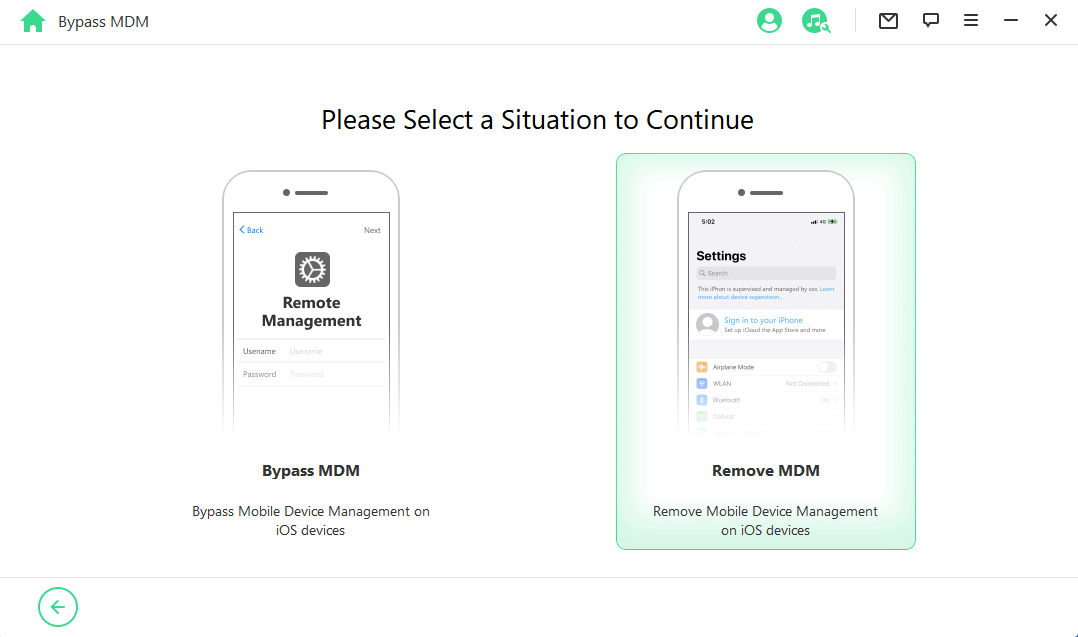 After that, Click Start to remove the device supervision on your iPad.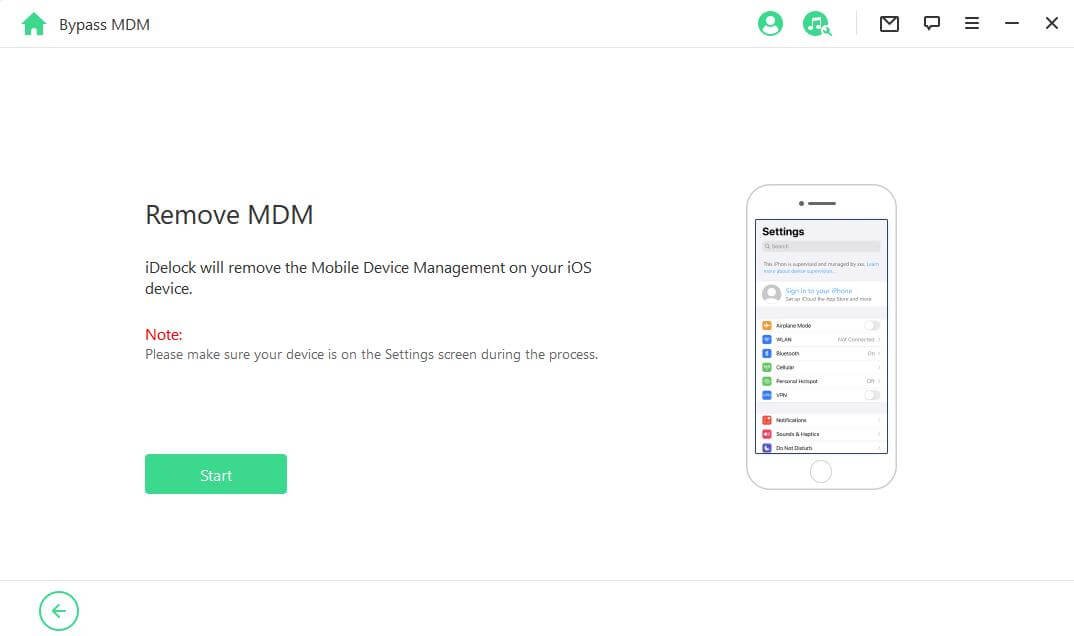 Wait patiently until the process finishes. Then, set up your device as usual.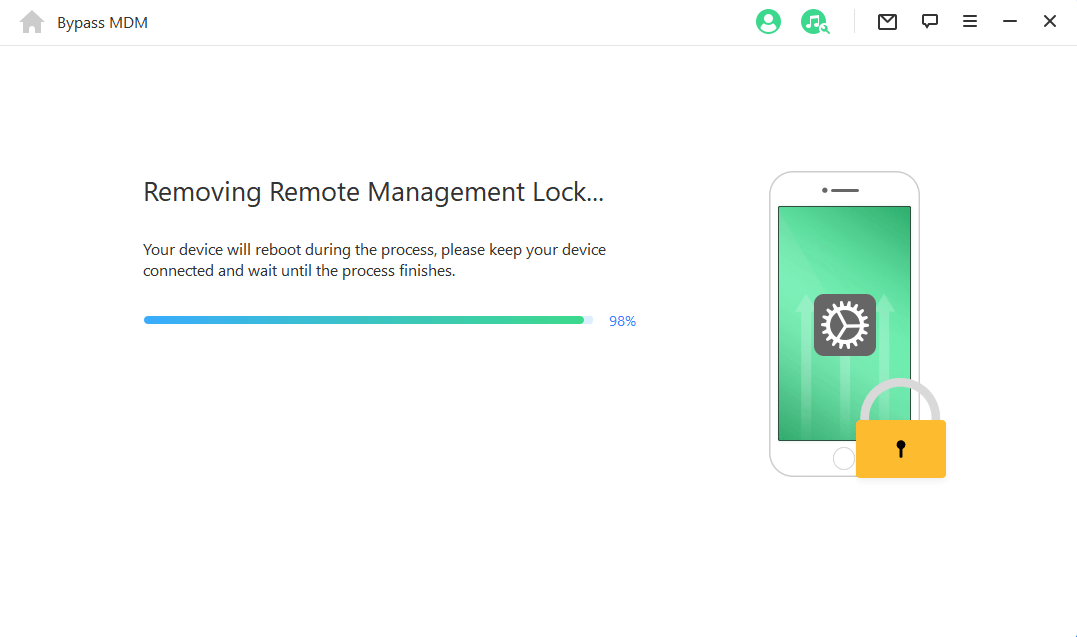 Part 4. How to Remove Device Supervision From iPad/iPhone with Apple Configurator 2?
Many companies opt to supervise their iPhones and iPads using Apple Configurator 2 to efficiently manage their devices. Because  Apple Configurator 2 is only accessible to administrator, so you need to have the administrator's account and password. The process of removing device supervision is straightforward with Apple Configurator 2.
Follow these simple steps to achieve it:
To get started, download Apple Configurator 2 on your Mac if you haven't already. Once installed, launch the application.
Connect your iPhone or iPad to your Mac using a USB cable. Apple Configurator 2 will detect the device automatically.
In Apple Configurator 2, click on your device icon from the list of connected devices.
On the top menu, find the "Actions" option and click on it. Then, select "Advanced" from the drop-down menu.
Within the "Advanced" section, locate and choose "Erase All Content and Settings." Confirm the action to factory reset supervised iPad, removing the supervision in the process.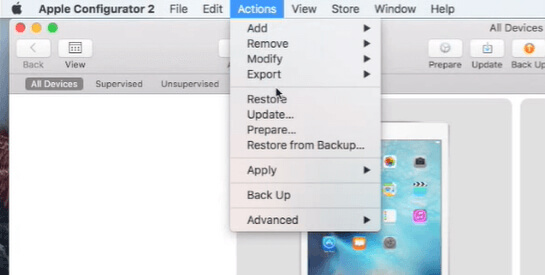 FAQs about Removing Device Supervision from iPad/ iPhone
Q1: What is Apple device supervision?
Apple device supervision is aimed at providing companies and schools with restrictions and control over the Apple devices that the organization owned, making it more easier to monitor the employees and students' digital movement.
Q2: How to check if my device is supervised?
If your iPad is supervised, then you can see a sentence on top of your Settings App, saying "this iPad is supervised. XXX can monitor your Internet traffic and locate this device)".
Q3: Can factory reset remove MDM?
Factory reset means all of your data will be erased including MDM. However, you will need the password to proceed.
Q4: How do I permanently remove MDM from my iPad?
You can follow the steps below to permanently remove MDM from iPad:
To remove management from your iPhone/iPad, navigate to the General section in the settings and scroll down until you locate the VPN & Device Management option. Tap on this option and then select MDM Profile. Finally, choose to remove the management from your device.
Conclusion
You can always remove device supervision from iPad or iPhone if you have the MDM passcode, while WooTechy iDelock makes it possible to get rid of device supervision on iPad without knowing the passcode. Just download the software and remove the MDM restriction from your iPad right now!