Mobile Device Management (MDM) is an excellent feature that enables organizations and administrators to manage the device remotely. It seems perfect when an organization owns the device, but it becomes problematic when people buy second-hand devices with MDM restrictions. If the device is sold without removing the MDM, then it is a problem for the buyer. If the buyer resets the device, he can not use the device without entering the credentials. However, you don't need to worry anymore because we are going to share some MDM bypass tools and methods on how to bypass MDM on iPhone and iPad.
Comparison Chart to Help you Bypass MDM Fast
We have introduced 4 methods to bypass MDM. All of them have some pros and cons, so we will compare them from different aspects, so you can better choose the want that suits you.
| | | | | |
| --- | --- | --- | --- | --- |
| Methods | WooTechy iDelock | iOS 13 Bug | Fiddler | Sliver |
| Ease of Use | Easy | Medium | Difficult | Difficult |
| Time Required | 2-5 Minutes | 10 Minutes | 5-10 Minutes | 4-5 Minutes |
| Supported iOS Versions | All iOS Versions | iOS 13 Only | iOS 11.X | iOS 12.2 - 13.6 |
Why You Should Bypass MDM?
Regaining Control: MDM, often used by organizations to manage devices, can limit your control over your own device. By bypassing MDM, you regain autonomy, enabling you to customize settings and install apps as you please.

Privacy Enhancement: MDM can potentially track your location, monitor app usage, and access personal data. Bypassing it helps safeguard your privacy by eliminating such intrusive monitoring.

Improved Performance: MDM can impose restrictions and background processes that affect device performance. Bypassing it can lead to smoother and faster device operation.
Part 1: The Best Way to Bypass MDM on iPad/iPhone Without Data Loss - WooTechy iDelock
Sick of someone else monitoring your device and constantly checking your digital movements? Trying to find a way to remove MDM without knowing? Then WooTechy iDelock is the best tool to bypass MDM on iPad and iPhone without losing data. You don't need to the User ID and password, just with a few clicks, then you are free!
It is such a magic tool that can not only remove MDM on iPhone, but also Apple ID lock, screen lock and Screen Time lock. With it, you don't need any technical technology and can bypass the MDM or even jailbreak a school iPad without hassle at home.
Most importantly, it works on all iPad/iPhone models and iOS versions, even the lastest iOS 16, so you can use it without any compatibility problems.
Features of WooTechy iDelock:
Bypass MDM within a few clicks. The whole process won't take more than a few minutes.

No matter you are locked out of the MDM screen or your device is managed and supervised by other organizations, iDelock can remove it easily and quickly.

No Need to Use iTunes saving users a lot of trouble.

Not only iDelock can remove device supervision from iPad and iPhone, it can also unlock Apple ID, unlock Screen passcode and Screen Time restrictions without password.

No expertise and experience are required thanks to its beginner-friendly interface.

Compatible with all iOS versions, including the latest iOS 16. You can also use the free trial version to check the compatibility of your device.
Watch the video to bypass MDM easily
How to Use iDelock MDM Bypass Tool:
Step 1: Download and install WooTechy iDelock. Open the application. You will see four options for various purposes on the screen. Click on Bypass MDM.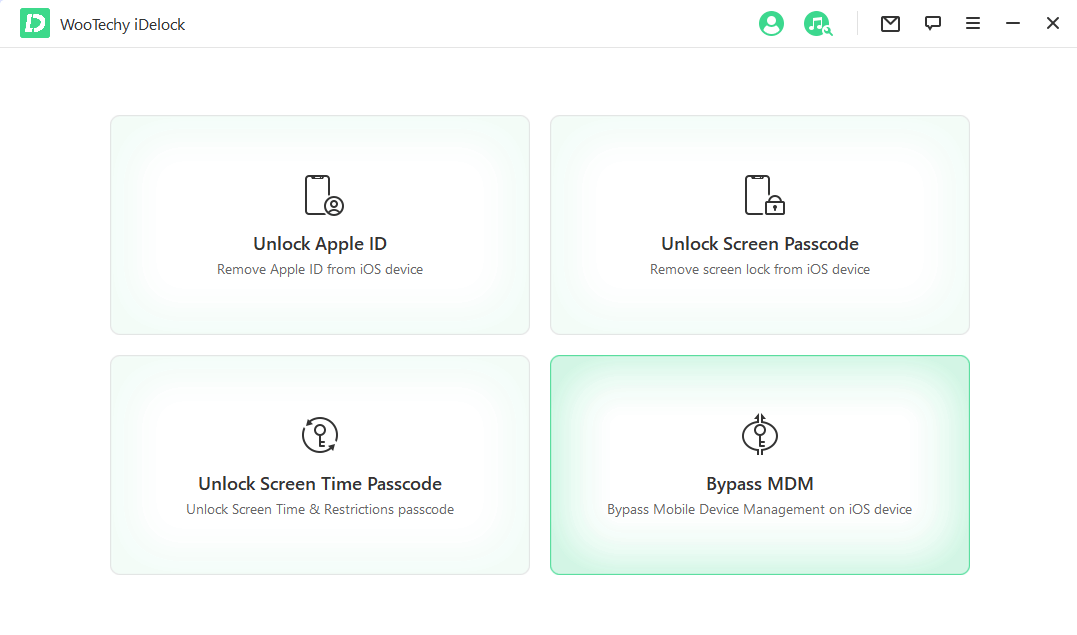 Step 2: Connect your iPad/iPhone to your computer via USB cable and trust the computer.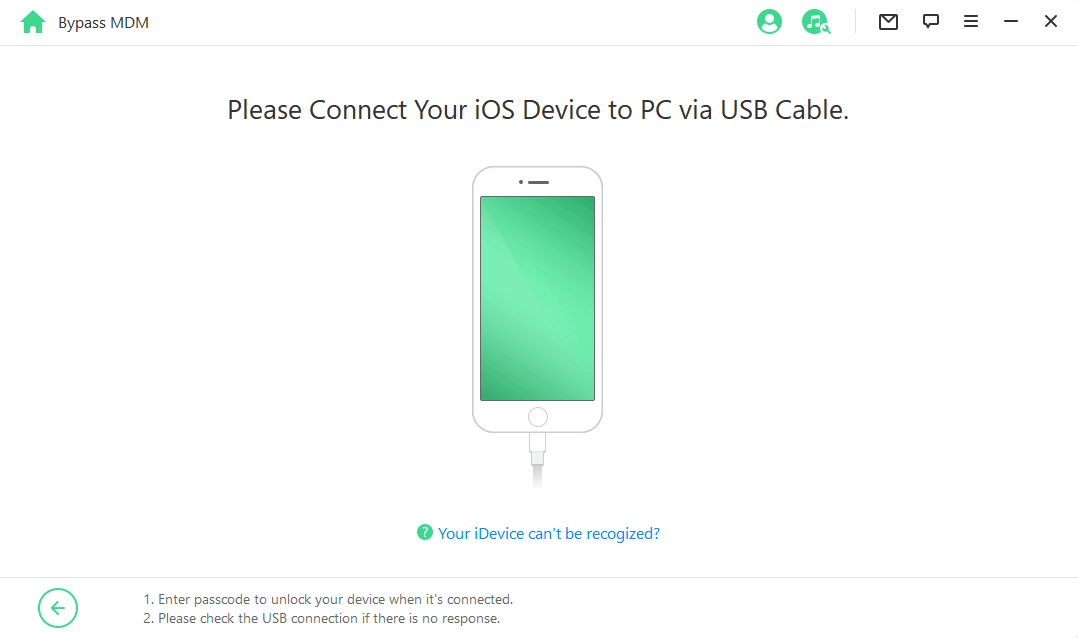 Step 3: Before starting the process, you need to make a choice based on your situation. If you are locked out of the MDM screen now, choose Bypass MDM.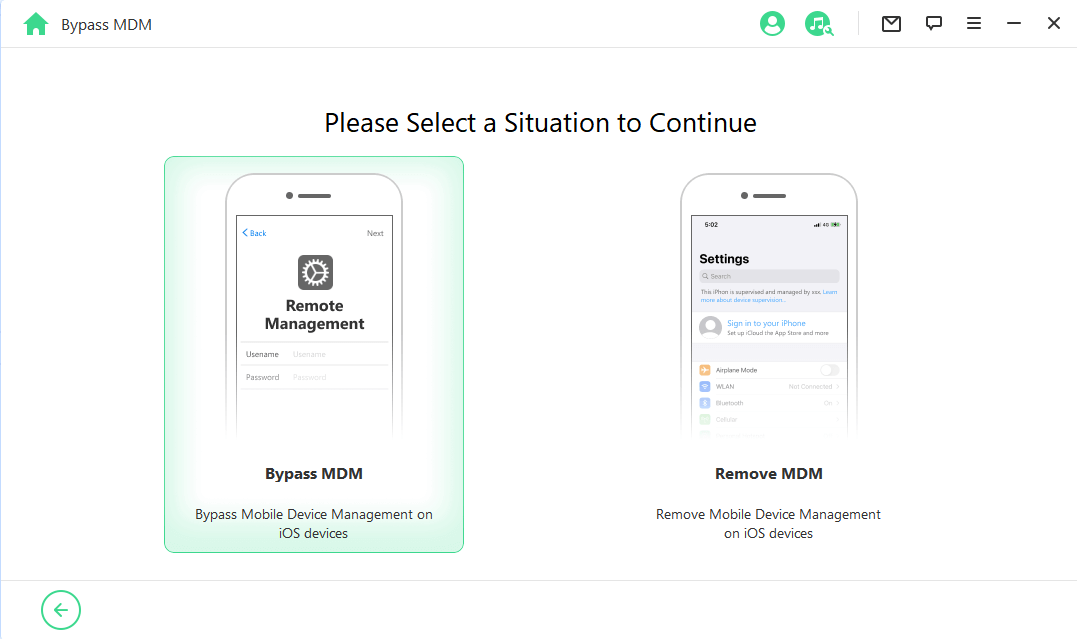 Click Start to Bypass to begin the process.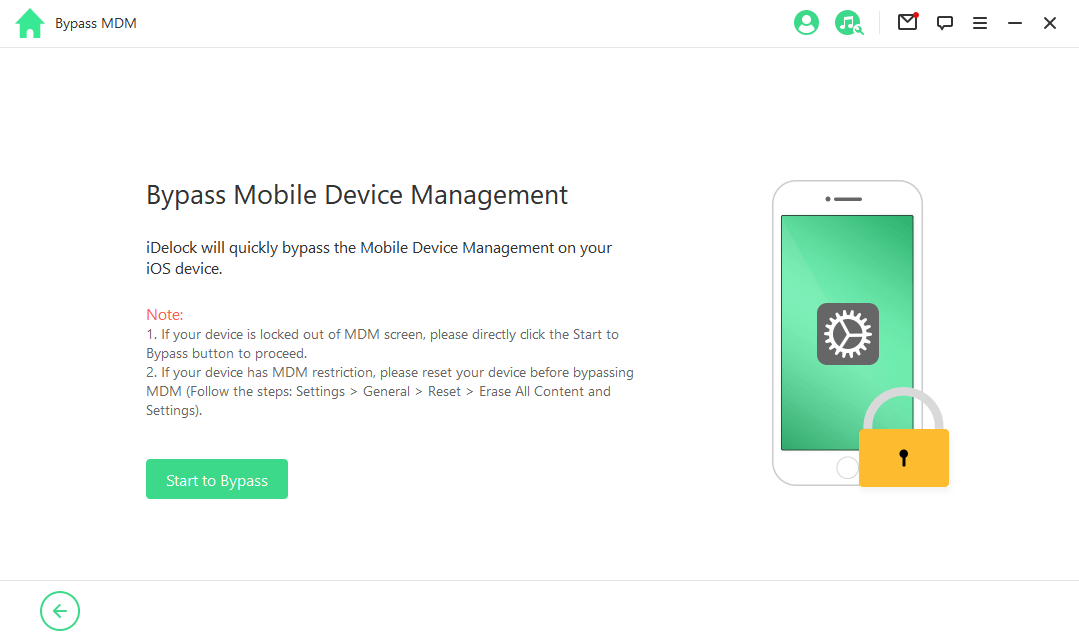 iDelock will finish bypassing the MDM within a few minutes. And you'll see the successful message afterwards.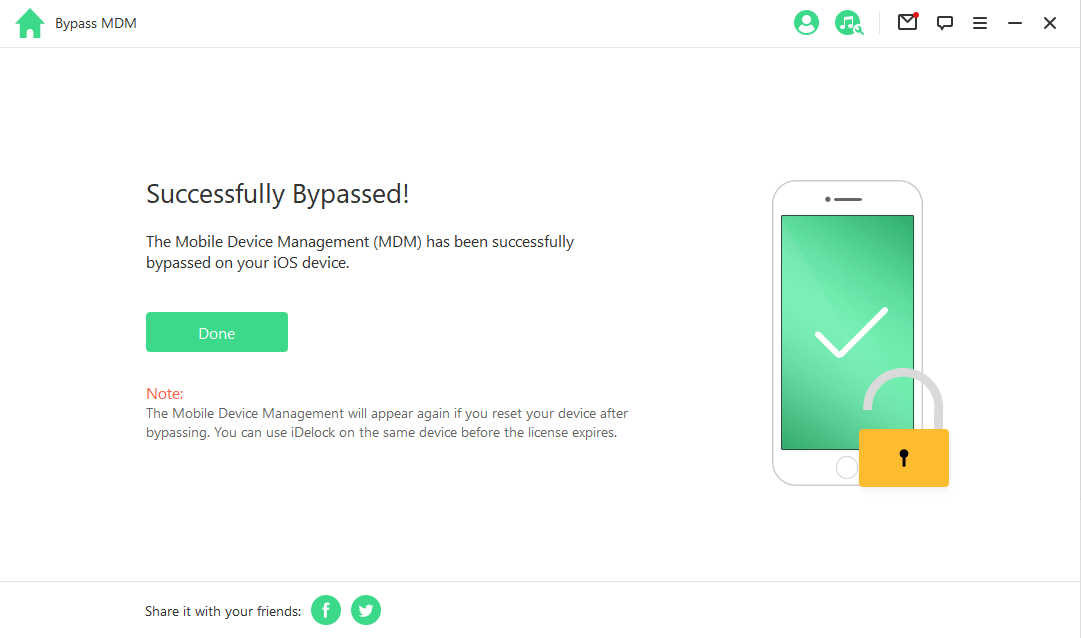 If your device is managed and supervised by other organizations, then you need to choose Remove MDM.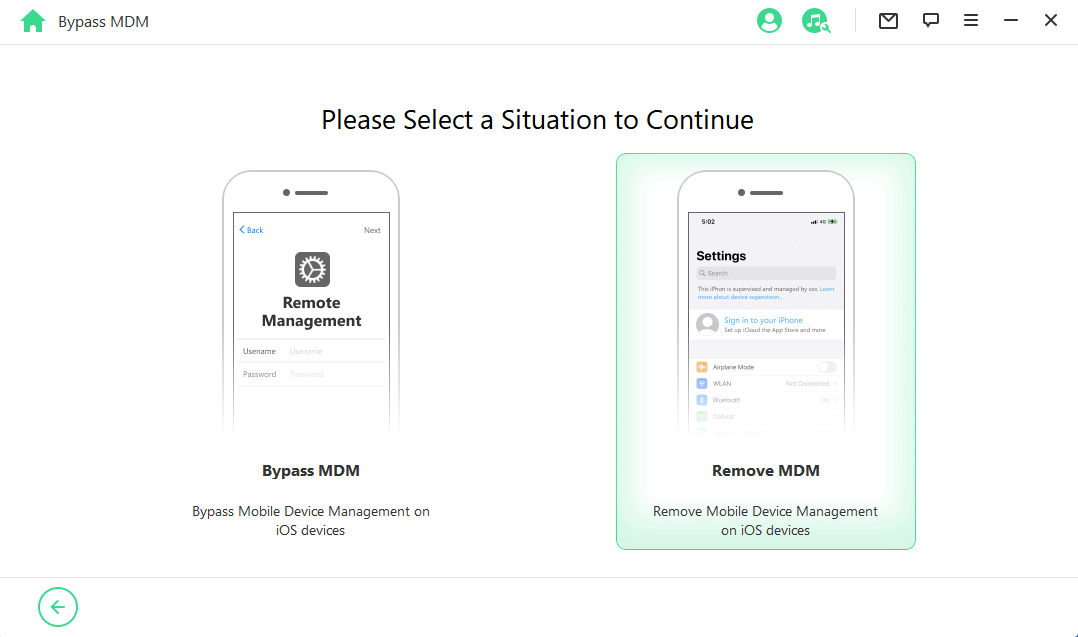 Similarly, click Start and iDelock will begin removing the MDM immediately.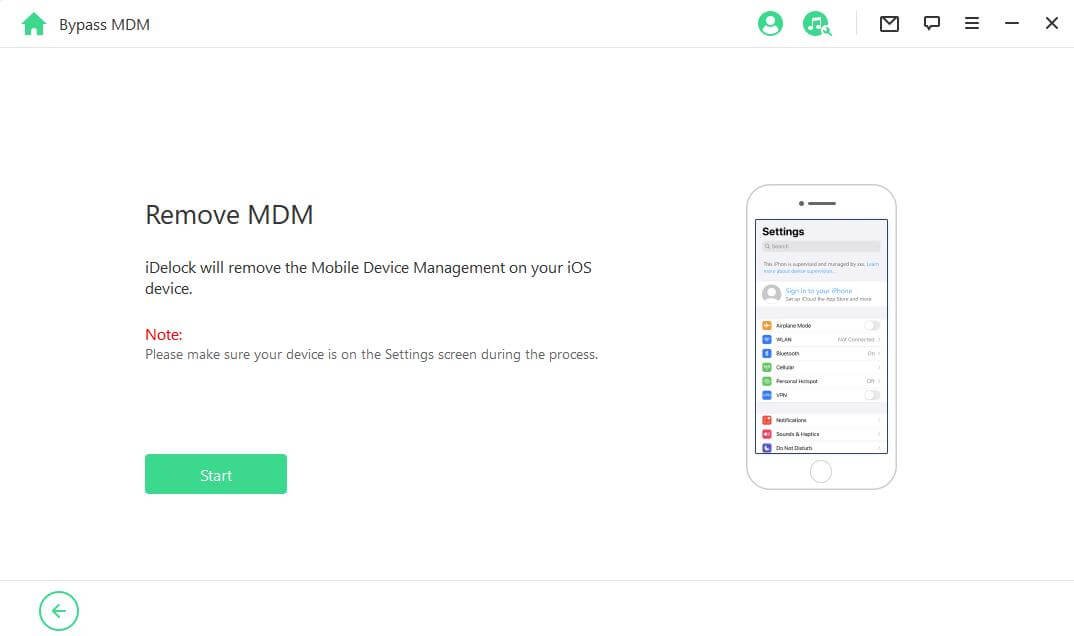 After a few minutes, the MDM on your device will be removed successfully. Please wait patiently.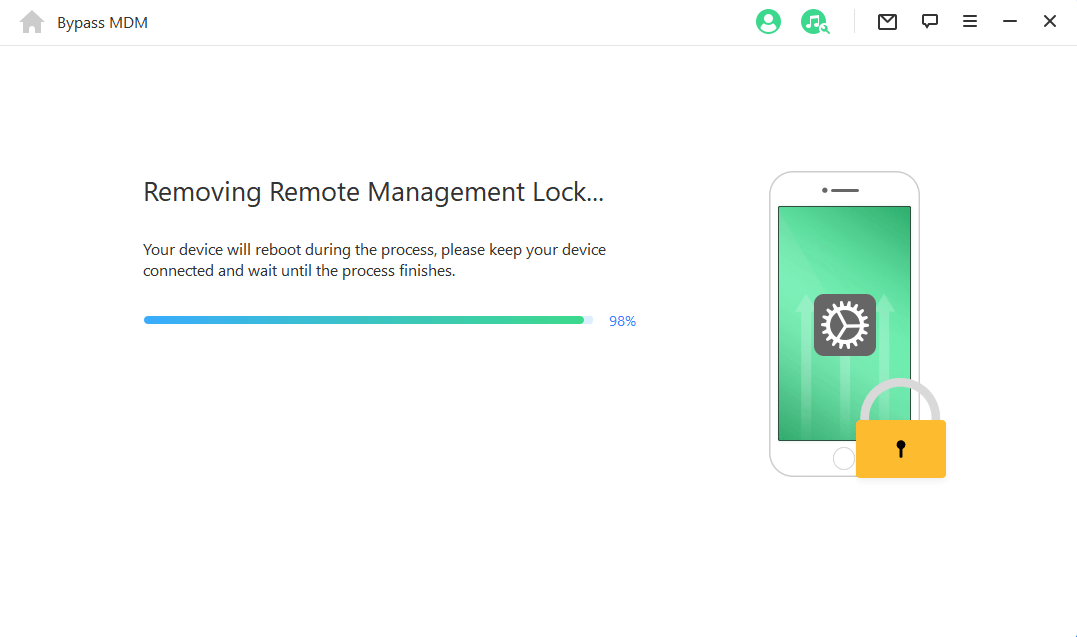 FAQs About WooTechy iDelock
Q1: Will it remove my data?
If your iPhone or iPad is locked out of MDM screen, you will not need to reset your devices. Thus you won't lose your data.
Q2: What if I reset my device again?
If you reset the device again, the MDM screen will reappear. while you can use iDelock to bypass it once more as long as your license doesn't expire.
Q3: How can I know if my device is supported or not?
Generally speaking, all the devices with any system versions are compatible with iDelock. However, if you want to give it a test, you can download the free version of iDelock. Open it and connect your device to the computer. After that, select Bypass MDM. If your device is not supported, you will get the message saying your device is not supported.
Part 2: Bypass MDM on iPad/iPhone Through iOS 13 Bug (Free Method for iOS13)
If you don't want to buy any third-party tool, this is a good method that can help you bypass MDM free without any hassle. However, this method works for iOS 13 only. It is because there is a bug in this iOS version, but it is rectified in the later versions. So, you can take advantage of this bug to delete MDM device management on iPad, as well as iPhone.
Steps to Bypass MDM on iPad or iPhone Via iOS 13 Bug
Step 1: If your device is locked out of the MDM screen, you can start the process. If not, go to Settings > General > Reset > Erase All Content and Settings. Your device will restart and everything will be erased.
Step 2: Once the device restarts, you need to select the language. Then, you will be asked to connect the device to Wi-Fi. Don't join any network at this step. Find the option Connect to iTunes and tap on it, and then tap on Use Cellular Connection. Now, you need to do something wired, take out the SIM card. After that, tap on Back.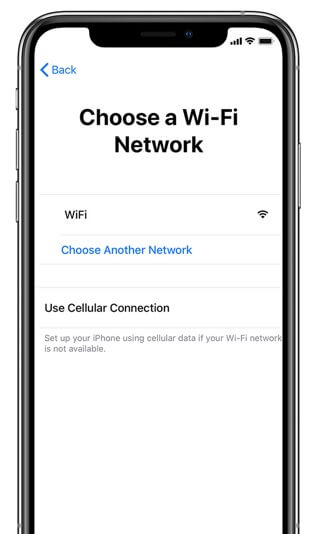 Step 3: You will be back to Choose a Wi-Fi Network. Tap on Skip at the top right corner. Then you will see Data and Privacy. Tap on Continue.
Step 4: The device will ask you to configure Touch ID. Tap on Set Up Touch ID Later. You will have a confirmation dialog box, tap on Don't Use.
Step 5: You will be asked to enter the passcode. Tap on Passcode Options > Don't Use Passcode and confirm your action. In the next screen, choose Don't Transfer Apps & Data.
Step 6: You will see the MDM screen. It will take some time to load and show the message. Once you see the message on the screen, insert the SIM card.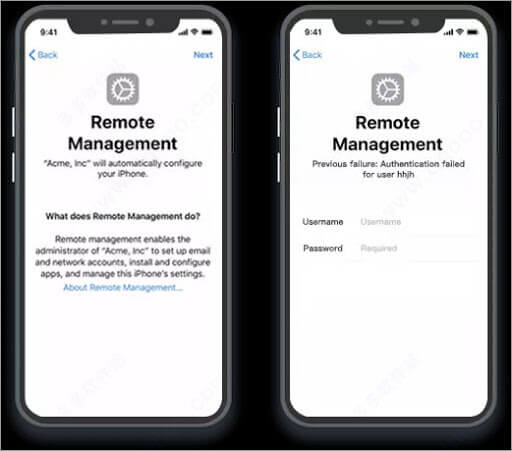 Step 7: Tap on Back and go all the way back to the Choose a Wi-Fi Network screen. Now, follow all the steps from Step 3 to Step 7. Once you see the MDM screen, wait for the message to appear, and tap on Back. Go back to Choose a Wi-Fi Network Screen again. You need to do this three times, and you won't see the MDM screen the third time.
Configure your device as usual, and you can use it without any hassle. The only problem with this method is that it works only for iOS 13, and it does not always work. So, if it does not work in your case, iDelock is always available.
Part 3: Bypass MDM Free on iPad/iPhone Using Fiddler (Free Method For iOS 11.X)
Fiddler is a web debugging tool, which can be used to bypass MDM for free. You can download it for free and solve your problem within a few clicks. However, it only works for iOS 11.X and the steps of using are the most complicated among all others.
Steps to bypass MDM on iPad/iPhone using Fiddler
Steps 1: You need to reset the phone before using Fiddler. If you are not locked out of the MDM screen, then go to Settings and erase all content and settings. You can also reset your device using iTunes. Connect your device to the computer and choose Restore iPad/iPhone under the Summary section. Remember to not update the iOS, or you can not use this tool any more. Once your device restarts, configure it but do not connect it to Wi-Fi.
Step 2: Open Fiddler. Go to the Tools menu and click on Telerik Fiddler Option. Open the HTTPS tab and make sure Capture HTTPS Connect is checked. Click on OK.
Step 3: Open iTunes. Your device must have a SIM card. You will see available connections on the Fiddler screen. You need to look for albert.apple.com. Once you find it, click on it. Under the Inspectors tab, click to decode.
Step 4: Go to the TextView tab and search for the flag. The flag will be set to 1, and you need to set it to 0.
Step 5: After changing it to 0, click on Run to Completion.
This method is free, but it only works on selected iOS versions. Moreover, it is difficult to finish the whole process, so you need to follow every step carefully.
Part 4: MDM Bypass Free on iPad/iPhone Using Sliver (Free Method for iOS 12.2 - 13.6)
Sliver is a free application that you can use to get rid of MDM. It is completely free, and you can bypass MDM restrictions on iPhone and iPad within a few steps. However, this method only works on iOS 12.2-13.6 and it is also difficult to use because of the terminal interface.
Steps to bypass MDM using Sliver
Step 1: Download Sliver from the official website. Double click on it to launch. Before opening, it will be verified. Click on Stop to abandon the verification.
Step 2: Drag the Sliver into the Applications. Right-click on the Sliver and click on Show Package Content. You will see a Content folder. Expand the folder.
Step 3: Open the terminal window. Type chmod - R 755. Drag and drop the resource folder that you will find after expanding the Content folder.
Step 4: Connect your device to the computer using a USB cable. Open Sliver. You will have 4 options: A7 Bypass, A6 Bypass, A5 Bypass, and More Options. Click on More Options.
Step 5: You will again have four options; click on MDM Bypass > Relay Device Info > Got It.
Step 6: Click on Bypass MDM. Sliver will start bypassing the MDM. The device will restart two times, and then you can configure the device like a new device.
Final Words
MDM has some restrictions for the users to use it seamlessly. And if you want to bypass MDM on your iPad and iPhone, you can use any of the four methods we have discussed. Here we recommend WooTechy iDelock because it is a simple, quick, and user-friendly tool that works on all iOS versions including the iOS 16. Now, you can easily get rid of the problem without any help and hassle. Just download and give it a try!