Forgot your iPad passcode, and you're looking for a way to bypass the passcode? Every device possesses a security system to keep strangers away, and sometimes, this security system can throw you in a whirlpool of confusion. Here's what we mean: If for any reason you forget the passcode on your iPad, you can be locked out of your device and this can be a very unpleasant experience.
Luckily, it doesn't have to end at that because you can use an iPad passcode removal tool. In this article, we have put together the five best iPad passcode bypass tools. Keep reading.
5 Best iPad Passcode Bypass Tools
WooTechy iDelock
The most professional and exceptional iPad passcode bypass tool is WooTechy iDelock . It is multifunctional and can remove different kinds of iDevice locks such as Apple ID, screen lock, MDM, and screen time & restrictions passcode that Apple users have to deal with. More so, it can easily and swiftly remove iTunes backup encryption settings.
The best part of it is that this versatile tool can unlock these various locks with a high success rate. You don't need to know any technical knowledge. With just a few clicks, you can finish the whole unlocking.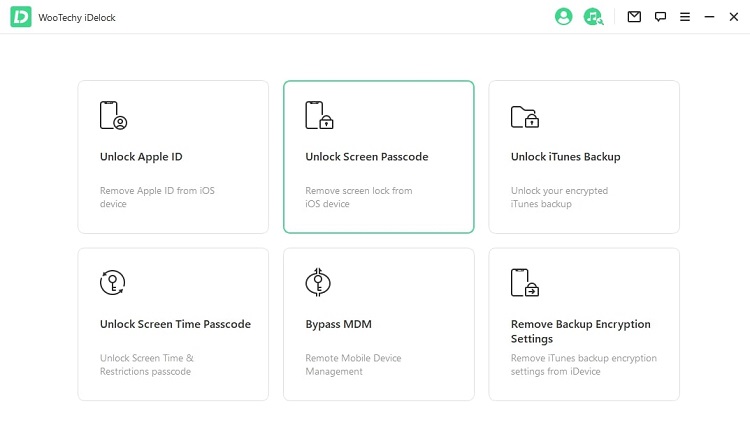 Pros
It can remove different kinds of iDevice locks like screen passcode, Apple ID passcode, screen time passcode, MDM and so on.

It is a super easy tool that requires no technical knowledge to use.

It is compatible with all iPad models and iPadOS versions.

The Support Team is available at any time you need them.
Cons
It offers a free version but requires payment to enjoy all the extra features.
Here is how to use iDelock to bypass iPad passcode:
Start WooTechy iDelock on your computer and select Unlock Screen Passcode mode to start. Then, connect your iPad to your computer through a USB cable to proceed.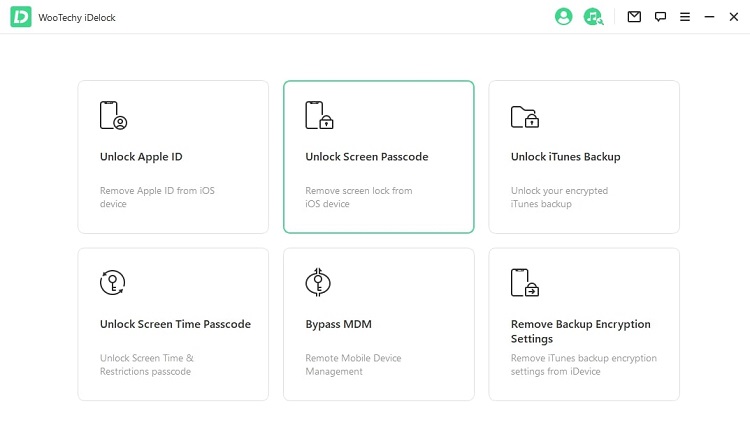 Choose the firmware version provided to download. If the process fails, choose Copy to download the firmware package in a browser. After downloading, click to extract and wait for it to complete.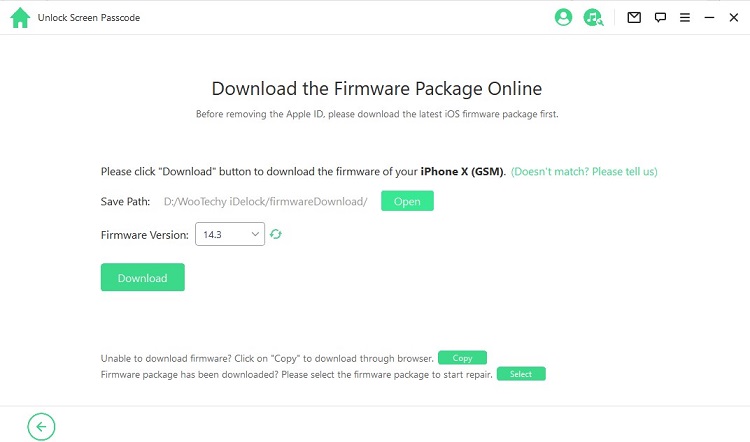 Click on Start Unlock to begin. You'll see a pop-up window then. Read the notice carefully and type in 000000 to confirm that you agree to unlock your iPad.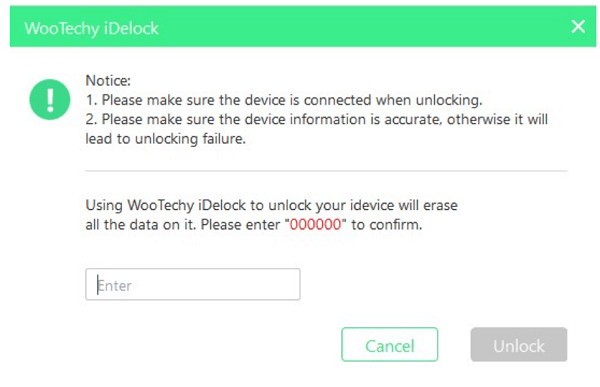 After a few minutes, your iPad will be unlocked.
iMyFone LockWiper
Another easy iPad passcode bypass tool on our top five list is iMyFone LockWiper. This tool has lot of useful features that can easily unlock your disabled iPad and help you gain access to your iPad in a few minutes.
If you need a software for bypassing your disabled iPad, this tool will come in handy. However, keep in mind that no data loss is not guaranteed. Thus, you need to be cautious if you have no way to get your data back when trying other features of this tool.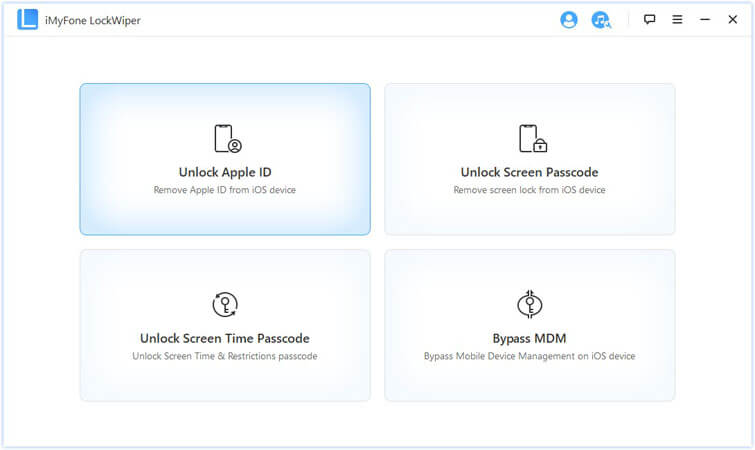 Pros
It can unlock various iDevice locks besides iPad passcode.

It can unlock your device in just a few clicks.

It has a user-friendly interface.
Cons
It requires a paid version that is costly.

It will erase all data on your device.

Some unlocking processes are much more complex than the guide describes.

It won't recognize your device if iTunes is not properly installed on your computer.
AnyUnlock
AnyUnlock is another iPad passcode removal tool that's just as effective. This software works well on all iPad models and iPadOS versions, removing different kinds of locks on them with ease. However, according to some reviews, the success rate of unlocking is not high compared to other competitors.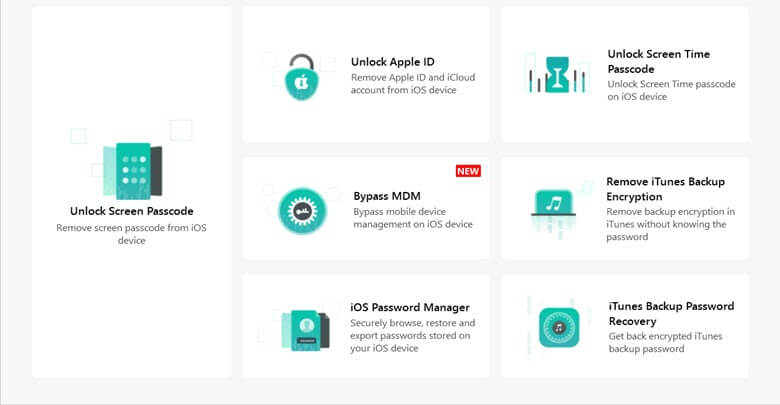 Pros
It can unlock 4-digit and 6-digit passwords, Face ID, and Touch ID.

It is versatile and can work on both Windows and Mac OS.

It doesn't require technical knowledge to use.
Cons
It'll erase all files on your device in the unlocking process.

The success rate of unlocking is not competitive in the market.

Not compatible with all iPad models and iPadOS versions.

You can individually get into the DPU mode of your computer using this tool, while it always triggers a malfunction.
iToolab UnlockGo
iToolab UnlockGo is a versatile iPad passcode removal tool that can save the day if you ever need to bypass your iPad passcode. It's compatible with Windows and iOS devices and can remove passcodes in minutes. Unfortunately, this tool doesn't support all iPadOS versions.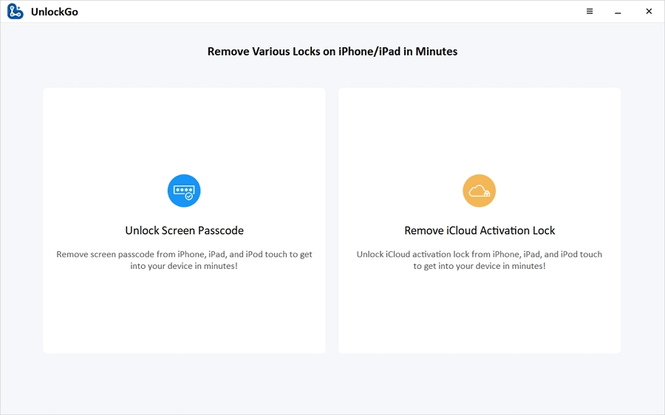 Pros
Unlock different kinds of iDevice locks without password.

No technical knowledge is needed to use this tool.

It supports macOS and Windows.
Cons
The price of the full version is relatively high.

It is not compatible with all iPadOS versions.

It deletes all the data stored on your device.
UkeySoft Unlocker
UkeySoft Unlocker is an effective iPad passcode removal tool developed by UkeySoft Software Company. This third-party iOS/iPadOS bypass tool is user-friendly and does not need any technical skills to operate. However, the supported version is limited and the price of this tool is the highest among other 4 tools in this article.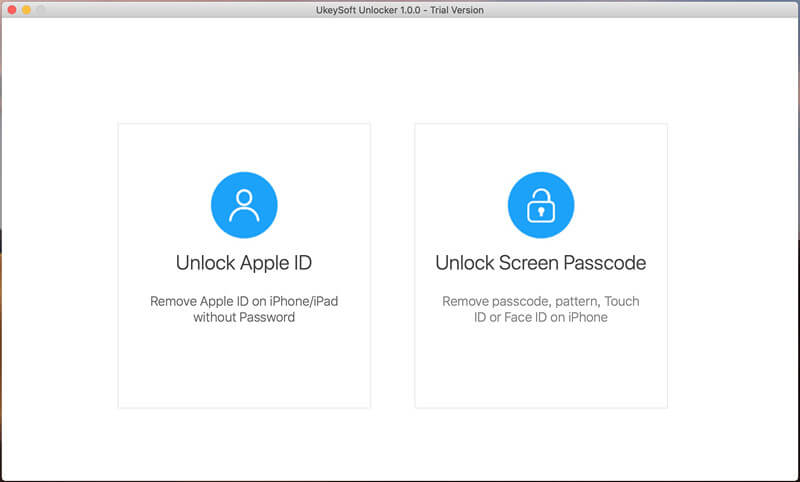 Pros
Remove 4-digit/6-digit passcode, Touch ID & Face ID on iPhone/iPad.

It is easy to use and does not require any technical skills.

It supports macOS and Windows.
Cons
It has the highest price in the industry.

There's no guarantee of no data loss.

It does not unlock inactive devices.

There is a limit of supported device models and iOS/iPadOS versions.
Conclusion
iPad passcodes are designed to keep unauthorized access away from the device. Forgetting your iPad passcode can be very frustrating as you won't be able to get access to your device. Fortunately, you can use any of the above five iPad passcode bypass tools to remove iPad passwords and regain access to your device.
Preferably, why not try WooTechy iDelock? This versatile iDevice unlocker and decrypter is easy to use thanks to its friendly user interface. Also, it is compatible with all iPad models and iPadOS versions. WooTechy iDelock provides a permanent unlocking to your device, and you can do the unlocking at home, work, or wherever you are(fast and very easily). Just download and give it a try!