Are you being in the trouble of that the iPad passcode is forgotten and you fail to restore the iPad? Or you just not really want to try iTunes Restore method, as iTunes can be painful for you to solve the problem? If yes, then in this article, we will be discussing a few ways that will help you to unlock your iPad Passcode, without restore. You can always come to WooTechy regarding any of the iOS issues and we'll be there to help you. So, continue reading to learn how to bypass the passcode on the iPad.
Part 1: Can I unlock a locked/disabled iPad without losing data?
If you've forgotten your password then there's a piece of bad news that you won't get it back until your memory brings it to you. However, such situations always bring in bigger tensions such as losing your data. This is the very first question that strikes the mind of a person who has recently forgotten his iPad passcode. The first answer to this question is that once you don't remember your passcode, then your iOS device is disabled/locked. However, as for the other part of the question, we do have good news for you. You can still restore your data from a disabled phone!
Losing your special messages, pictures, and videos on your iPad worries you the most in such situations but you must stay calm because they are still safe. But for this step, you must have a backup of all your data to a computer or Mac. You can very easily get back all your data without unlocking your iPad but if in case you do not have a previous backup of your iPad to PC or Mac, then this method is also of no use to you. So, all those who have still not faced this situation yet must be prepared for the worst beforehand.
Part 2: Quickest ways to unlock iPad passcode without restore [iOS 15 Supported]
Wootechy iDelock is an all-in-one tool that assists in removing several iOS locks and also helps with unlocking iTunes Encryption. WooTechy iDelock comes with an easy to use user guide that helps Apple users to deal with any kind of unwanted issues in an iOS device. It is convenient and the quickest tool that you can use and get your desired results in a matter of few minutes. Here are a few features that will further highlight that why is iDelock highly recommended by the usual users.
Features of iDelock:
1. It helps in removing all types of locks from your iOS device, including Apple ID lock, screen lock, screen time lock, MDM lock, etc.

2. No technical knowledge is required for the solutions .

3. It can work for permanent period.

4. It can also solve the backup problem and fix your iTunes.

5. It is compatible with all iOS versions including the newest iOS 15.
You can follow the step by step guide given below to use iDelock for your convenience and to unlock your iPad passcode:
Steps 1: Launch Wootechy iDelock on your PC or Mac and choose "Unlock Screen Passcode" mode from the screen. Tap on the "Start" button to proceed forward with the procedure. Now you must remember that all your data on your device will be completely erased after the removal of the passcode so you must have a backup before opting for this process. Also, do not disconnect your device from the computer at any point during this period.
Now you can connect your iPad to your PC via USB cable and then click "Next" and wait till your device information starts loading.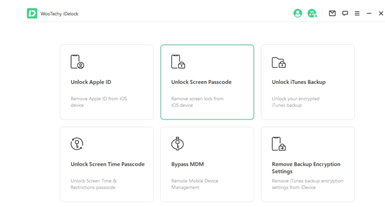 Steps 2: Now, as the program detects the model of your device, you have to choose the firmware version given there and "Download". You can click "Copy" if the firmware fails to download and get it done in a browser. Wait patiently until it downloads and then verify the firmware package. You can now "Start to Extract".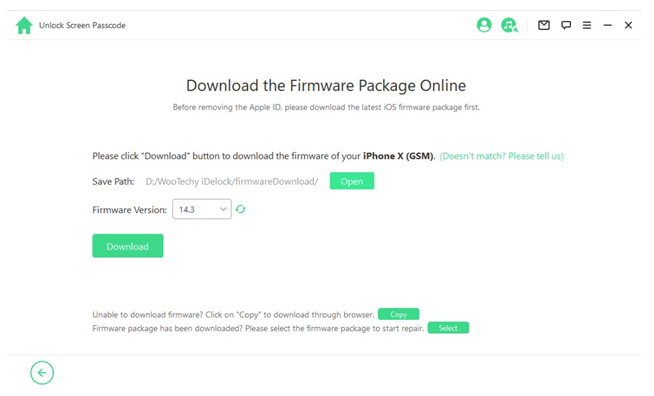 Steps 3: Choose "Start Unlock" to begin with your main objective and keep your device connected to your PC in this entire process. Read the notification and enter 000000 to reconfirm that you agree to unlock your disabled iPad. Now click on "Unlock".
Your device will soon enter the recovery mode and if it doesn't you'll be preceded to the manual guide. In a matter of few minutes, then your device will be free from passcode/lock.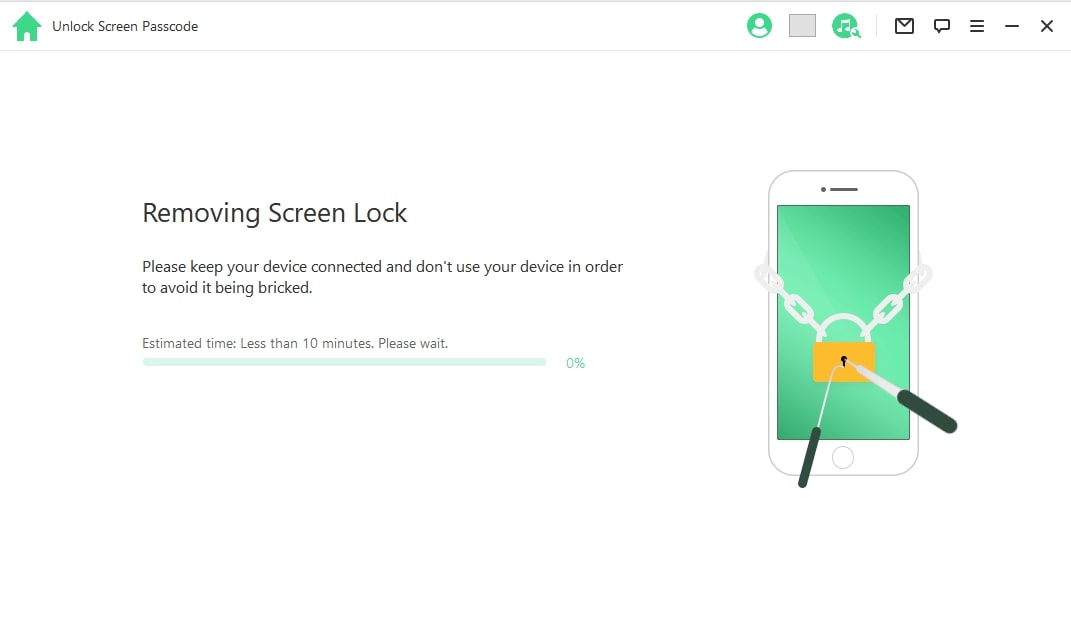 Part 3: Bypass iPad passcode using Siri
Steps 1: Long hold the home button and Siri will be activated. Ask Siri about what time is it to open the iOS clock functionality and give you the current time.
Steps 2: Tap on the clock icon and open the "World Clock" application.
Steps 3: Add a new clock on "World Clock" by tapping on the "+" icon.
Steps 4: Search for anything you like via search bar and select the talking and choose "Select All", which will leads to more options. Tap "Share".
Steps 5: Tap on the "Message" in the options and select the "To:" field. Type something randomly and tap on "+" icon, which will lead to adding a new contact.
Steps 6: Choose "Create New Contact" and select "Add Photo". Then select "Choose Photo" from the prompt.
Steps 7: Then you will see "Photo" App open. Choose an album and wait. Once your album opens, press the home button and the iPad will be unlocked.
Cons of

1.This method only works for iOS 8/9/10 devices.

2.This won't remove the passcode from your locked iPad.

3.You should have enabled Siri in your locked iPad.
Part 4: Remotely bypass iPad without Passcode via iCloud
If you even fail to bypass the iPad without passcode via Siri, then you can try it via iCloud. iCloud is an effective tool to help you in fixing your issues related to iOS devices such as iPad and iPhone, etc. Apple's iCloud service can help you to remove your iPad passcode even without a computer. You need to link your iPad to your iCloud account and enable the "Find My iPad" option via iCloud.com. You can very conveniently use this method without feeling the need of using a PC/Mac to resolve your issue.
Follow the steps given below to remove your passcode remotely via iCloud.
Steps 1: Visit iCloud.com from any mobile phone or device and Login there with your Apple ID and password.
Steps 2: Choose "Find My iPhone" and then click on "All Devices" and then choose your device.
Steps 3: Now choose "Erase iPad" from the provided list of options and your files will begin to wipe.
Cons of

1. This method will only be applicable if you remember your Apple ID and password.

2. The Find My feature has been enabled in your locked iPad.

3. Your locked iPad has been connected to the internet.
Part 5: Unlock iPad passcode via contacting local Apple Store
You can contact Apple support whenever your iPhone is disabled or locked. If there's a time when you forgot your passcode and you will keep entering the wrong one, again and again, your device will be disabled soon. As per the solution given by Apple support, you have to erase your iPad that will ultimately delete your data including your passcode. Therefore, your iPad must be backed up before this step so you can always save your data by restoring it.
Final Words
We hope that this article helped you to recover your iPad passcode and you learned how to bypass the passcode on iPad via various methods. We aim to provide our best services and guidelines to our readers so they can resolve their issues regarding their iOS devices very conveniently while sitting at their home. Among the methods, we recommend WooTechy iDelock which can solve the various iDevice issues for all iOS versions including the latest iOS 15 in just a few clicks. Download it for free and have a try!