While a mobile device management (MDM) system is very useful for organizations to handing out corporate devices to their employees, it can cause you a lot of trouble. There are numerous instances when you purchase a used iPhone or iPad only to find yourself stuck in an MDM lock. Luckily, some applications can bypass the MDM restrictions. For example, the iBackupBot is effective in removing MDM.
In this article, you are going to learn everything about iBackupBot and its features that have made it so popular. Furthermore, you are going to discover its best alternative that will change the way of unlocking your Apple devices. Keep reading.
Full Review of iBackupBot for Removing MDM
1. What Is iBackupBot
iBackupBot is a tool that you can download and install on your Windows or Mac computer to manage your Apple devices, such as your iPhone, iPad, or iPod. This tool allows you to back up your data, which includes text messages, notes, call history, contact favorites, sounds, and even your widget settings. In addition to this, you can use this application to transfer the photos from your Apple device to your computer. However, one of the best features of this well-known app is that it can remove MDM restrictions.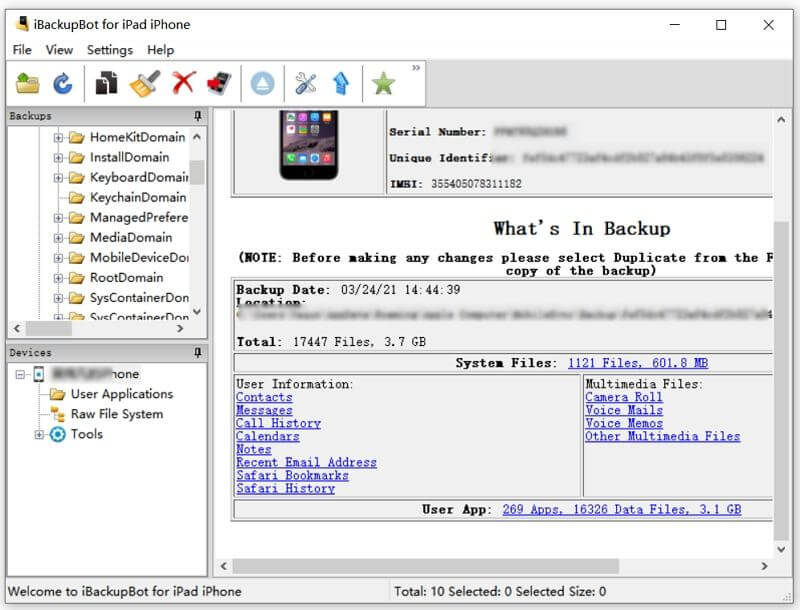 2. How to Use iBackupBot to Remove MDM
Since the bypassing of the Apple MDM is one of the primary reasons to download and install iBackupBot, it is essential to take a look at the process. Below, you will find a step-by-step guide on how to complete this task using iBackupBot. Before you do anything else, connect your device with the computer via a USB Cable. Once you have connected it, on your device tap Settings > General > Reset > Reset All Settings to reset your device's settings.
The first step to using the iBackupBot for removing MDM is to get the application. You can find the latest version online and install it by following the instructions on your computer screen.

Only after the rest of the settings has been completed, you can click the iBackupBot icon to launch it. Wait for the app's home screen to load and click the Backup Now button to back up the data on your Apple device.

Then, head over to your computer's System Files and locate configuration profiles. Among those, you need to spot the profile that has MDM restrictions. An easy way to understand which one it is is to look for specific true/false instructions on some commands. When you have determined which profile has the restrictions, right-click on it and click the Delete option.

Lastly, restore a full backup on iBackupBot to retain your data. The MDM restrictions are now lifted, which means that you can use your device to its full potential.
3. Pros and Cons of iBackupBot
As you can see, while the iBackupBot can remove MDM restrictions, it requires a lot of steps and the technical knowledge. To find out whether iBackupBot is worth it, let's take a look at its pros and cons.
Pros
A well-known application that has been around for years.

Remove MDM restrictions from your device.

Maintain backups of your data so that you will not lose any data.
Cons
The user interface is intimidating to first-time users.

You need some technical knowledge to complete the removal of MDM restrictions.

No update for a long time, which makes it unreliable and unsafe to use.

The success rate for removing MDM is actually low based on the user reviews.
Part 2. The Best Alternative to iBackupBot for Removing MDM
If the above process for removing MDM using iBackupBot seems intimidating and unreliable, we have some good news for you. There is a more professional unlocking tool that makes the task simpler than ever before. WooTechy iDelock is an all-in-one tool that can remove various locks on your Apple device,especially the MDM restriction. In more detail, with this tool you will enjoy all these features:
Why Should You Choose WooTechy iDelock:
Remove the MDM, Apple ID, screen lock, Screen Time passcode.

Extremely high success rate promised by advanced technology.

Very user-friendly interface that requires no technical knowledge.

Supports all iPhone/iPad models and iOS/iPadOS versions, even the latest 15 version.
As you can see, WooTechy iDelock provides you with numerous options to unlock and access every feature on your Apple device, giving you more choices compared to iBackupBot. To find out their difference, let's take a look at the process for bypassing MDM with iDelock.
Step 1: Install and launch WooTechy iDelock on your computer. Once the app has booted, you can see all of the available features. Select the Bypass MDM option. Use a USB cable to connect your device with your computer.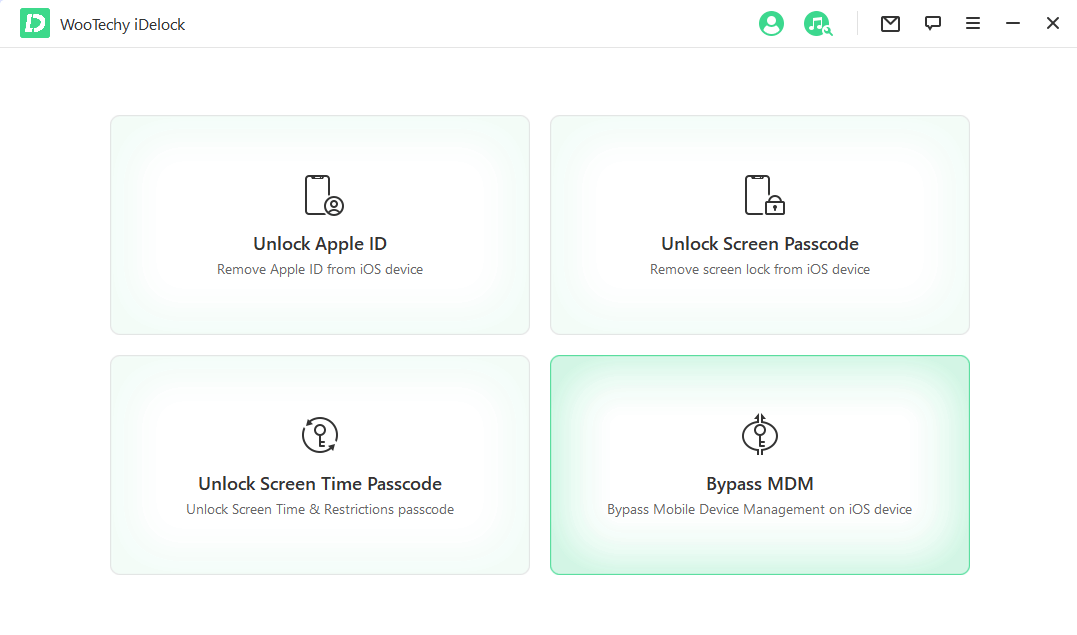 Step 2: During this step, there are two possible scenarios.
If your device is locked out of the MDM lock screen, you can proceed to the bypassing process by clicking the Bypass MDM button.

If your device is supervised and managed by other organization, select Remove MDM.

Click Start to continue. Then, iDelock will start the process immediately.

This should take a short while, and the bypass will be successful.
This process makes it easy to understand that everyone can use WooTechy iDelock to remove MDM in just a couple of minutes, even if they don't have any technical knowledge.
Conclusion
If you are looking for a dependable application to remove MDM from your device, then you need to check out iBackupBot and WooTechy iDelock. You can tell that WooTechy iDelock is easier to use as it allows even novice users to complete the task in a few minutes. If you are interested, just download the iDelock to have a try!