Question
So many Apple discussion panels you will find online are filled with questions like; "My Apple ID has been locked for security reasons. Do you guys have any idea of how to unlock it? Please help."
This question has been asked repeatedly by a lot of iDevice users, and for a while now, it has been a topic for contention. This article provides a detailed guide on 4 Top Ways to Unlock Apple ID with/without Password.
Part 1. Why Has Your Apple ID Been Locked or Disabled?
Apple increased the level of locking Apple IDs in March 2017 as a result of some threats to Apple's iCloud security. If Apple believes that an Apple ID is at risk of unauthorized access, they automatically lock the ID. This action is partially triggered by what is seen as unusual user activity.
Several reasons can contribute to your Apple ID being locked. They include:
If someone attempts to hack into your Apple account

If you enter an incorrect password too many times.

If you give the wrong answers to your security question.

Using different tools to access the iCloud data on a particular account within a short period.

Making use of third-party tools that are based on open-source iCloud code.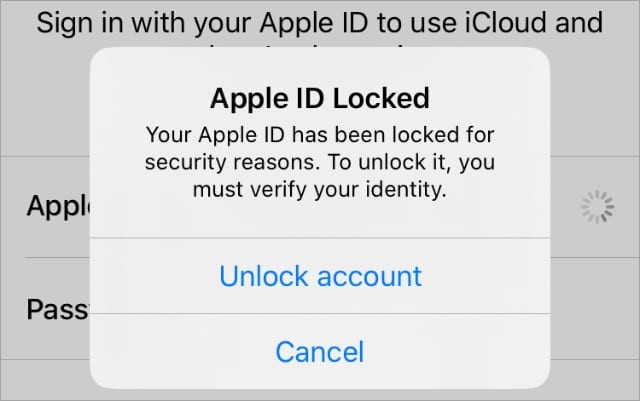 When your Apple ID is locked, you will be unable to access your iCloud email, FaceTime, iMessage, and you will not be able to use the App Store or iTunes. One of the following messages will be displayed when the Apple ID is locked
This Apple ID has been disabled for security reasons.

You can't sign in because your account was disabled for security reasons.

This Apple ID has been locked for security reasons.
Part 2. Common Methods to Unlock Apple ID
Your Apple ID being locked is not the end of the world because, as already stated, there are several easy ways with which you can unlock your Apple ID and regain access to your account. We will be looking at some of the common methods for achieving this.
Part 2.1 Unlock Apple ID with Two-Factor Authentication
If you use the two-factor authentication, you will need a trusted device or phone number to be able to reset your Apple ID passcode and unlock your account. The trusted devices include devices such as iPhone, Mac, Apple Watch, or iPad. If the two-factor authentication is enabled on your device, then follow the steps below to unlock your Apple ID
Open the "Settings" app on your device.

Then tap "[Your Name] > Password & Security > Change Password".

If your iCloud is logged in and your password is enabled, you'll then be requested to enter the password of your device.

Then follow the instructions that appear on the screen to change the password of your account.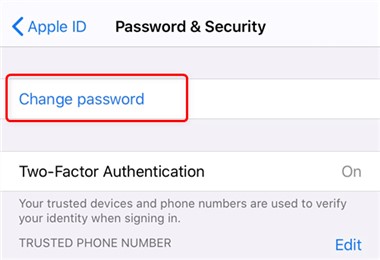 If you are using a Mac
Go to "Apple Menu > System Preferences".

If you use macOS Mojave/High Sierra/Sierra, click on "iCloud > Account Details" while for a macOS Catalina click on "iCloud > Password & Security".

Click on "Forgot Apple ID or Password" if you are asked to enter your Apple ID password. Then follow the on-screen instructions.

For a macOS Mojave/High Sierra/Sierra, click on "Security > Reset Password/Change Password" or else, click on "Change Password" for macOS Catalina. You will be asked to enter the password used in unlocking your Mac before you can reset the password of your Apple ID.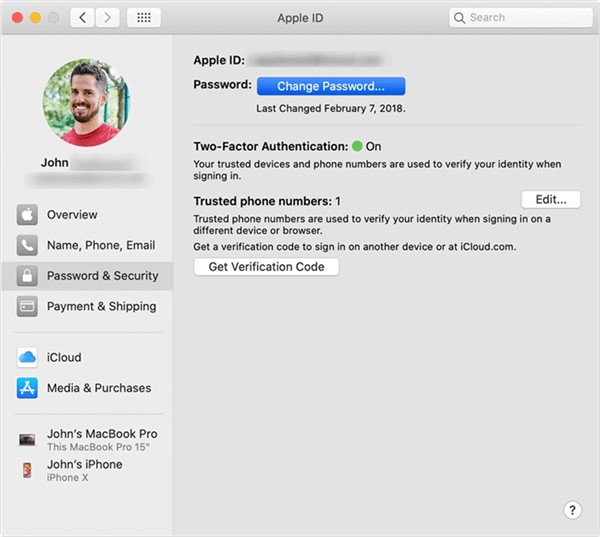 ---
Part 2.2 Unlock Apple ID Using Recovery Key
If you have a recovery key, then you can unlock and regain access to your account with it. The steps on how to unlock your Apple ID with the Recovery Key are given below
Open your Apple ID account and then on the page click on "Forget Apple ID or Passcode".

Then enter your Apple ID. After entering the Apple ID, select the option to reset your password, and then choose "Continue".

Then enter your recovery key.

Choose a trusted device. A verification code will be sent to your trusted device.

Enter the verification code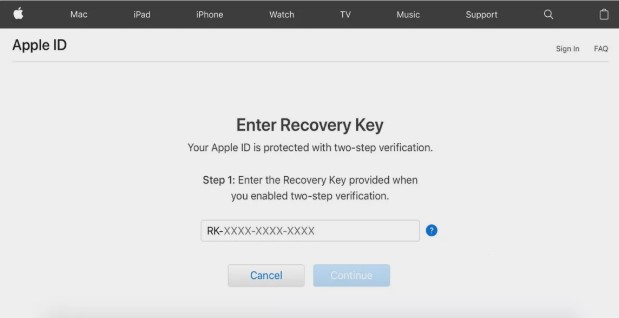 Then create a new password, and then choose "Reset Password".
You will be requested to log into your Apple ID again with the new passcode after your password has been reset. You may also need to update your device password settings.
---
Part 2.3 Unlock Apple ID through Account Recovery
This method is designed to help you regain access to your Apple ID account when you don't possess enough information to help you reset your password. It should only be used as a last resort when you can't reset your password. The steps involved include
Go to the iforgot website.

Enter your Apple ID account, and then click "Continue".

Then enter the trusted phone number. Then enter the verification code that will be sent to the number.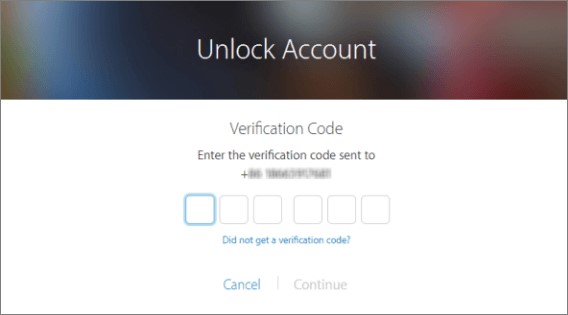 Click on "Forgot Password"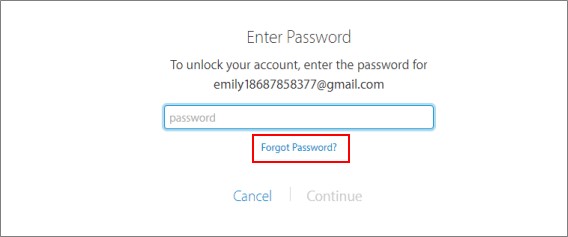 Then to begin the process, click on "Continue".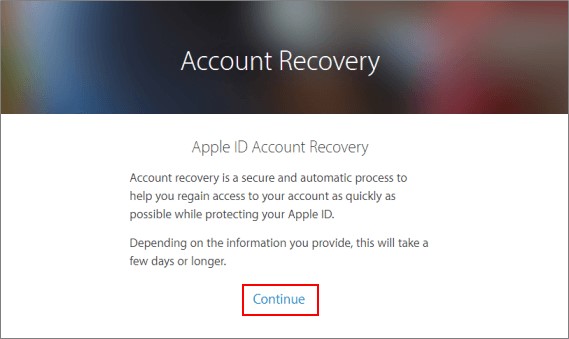 This process might take a few days or more, but it is necessary due to the safety of your information. You will get a confirmation email after placing your request for account recovery. The email will contain the date and time you can expect to have access to your account again. You shouldn't use the device during the waiting period as this could cancel the account recovery. Also, turn off devices that are signed in with your Apple ID to avoid delays during this period until the recovery is complete.
When your account is ready for you to regain access, you will get an automated phone call or text with instructions from Apple.
Enter your Apple ID on iforgot.apple.com

Confirm the phone number for the account recovery, then you will get an Account Recovery code via phone call or text from Apple.

Enter the code, then click on "Continue".
You can then choose a new password, verify the trusted phone number, and sign in regularly.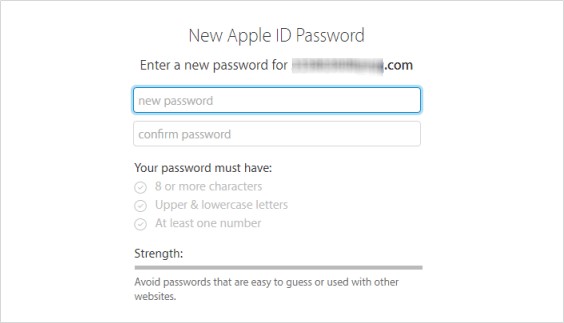 Part 3. (iOS 15 Included) The Easiest Way to Unlock Apple ID without Password
The easiest way to unlock your Apple ID without password is by using the WooTechy iDelock software. It is an all-in-one software with which you can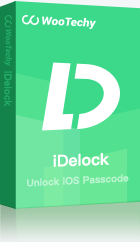 Great Features of WooTechy iDelock 
With a few clicks, unlock Apple ID whether Find My iPhone is on or not.

Make your iPhone usable whether it be locked, disabled or broken. 

Easily remove 4-digit/6-digit password, Face ID, or Touch ID.  
It supports and is compatible with the latest iOS 15, and you do not have to worry about being tracked after erasing your locked iPhone. The steps for unlocking your iPhone with the WooTechy iDelock software are:
Choose "Unlock Apple ID" after launching WooTechy iDelock.
Use a USB cable to connect your device to your PC and choose "Trust" if the iPhone is yet to be trusted.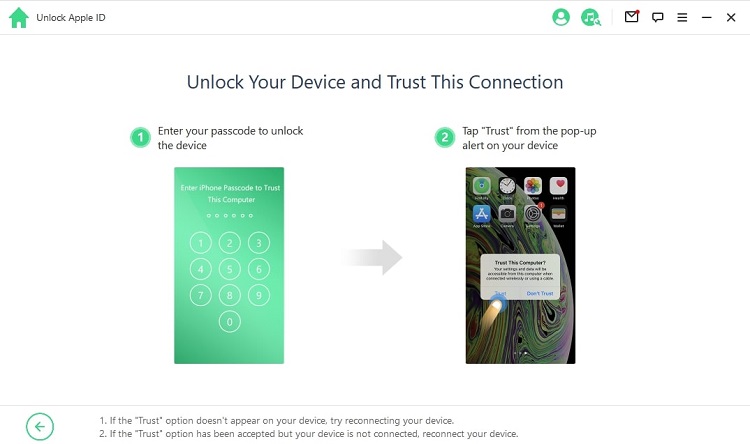 Then click on "Start to Unlock".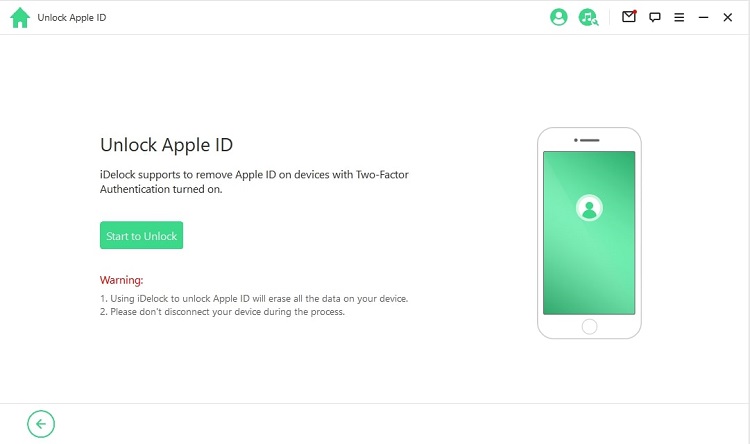 If Find My iPhone is not enabled on the device, the iDelock software will begin unlocking the device immediately.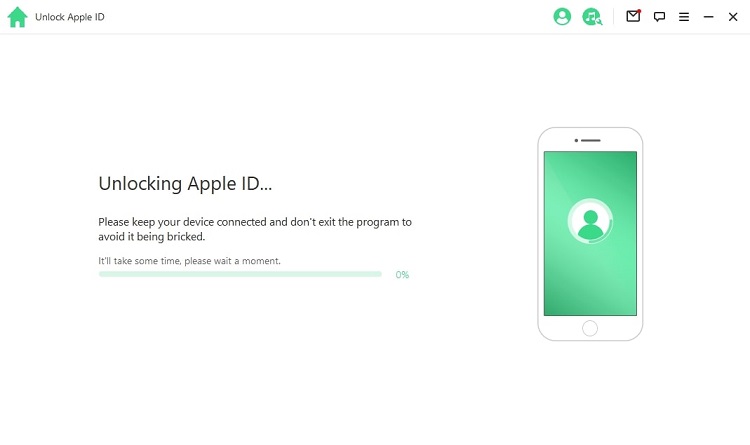 Within a few seconds, iDelock will unlock the device.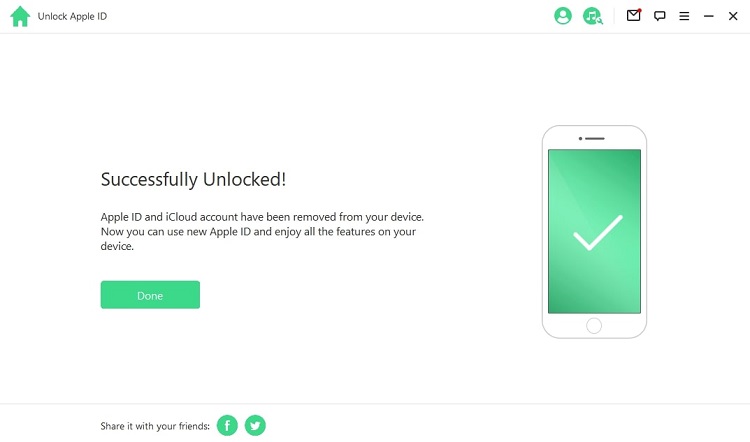 If Find My iPhone is enabled go to "Settings > General > Reset All Settings" and the device will begin restarting. Then iDelock will start unlocking the Apple ID.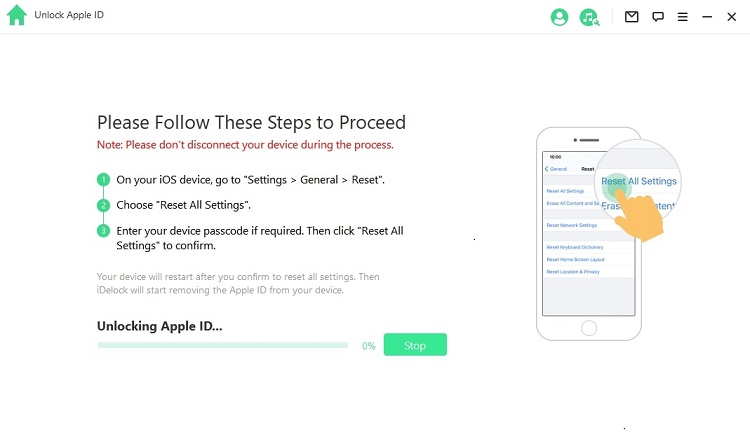 When the process is complete, you can then set up another Apple ID on your device.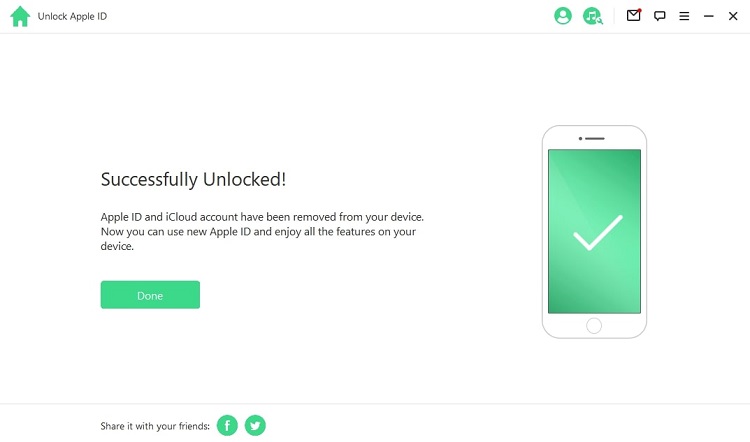 Part 4. AQ about Unlock Apple ID
1

: How Can I Unlock My Apple ID without Email or Security Questions?
WooTechy iDelock allows you to unlock your Apple ID without any email or answering any security questions.
2

: Is There Any Way to Remove Apple ID without Password?
You can remove your Apple ID without password by restoring your phone. You can also use the WooTechy iDelock to do that too.
3

: How Do I Get Rid Of Someone Else's Apple ID on My iPhone?
If you are in contact with the person, then you could ask the person to sign in to icloud.com and help you erase your iPhone from the iCloud account. You could also perform a factory reset while the iPhone is in recovery mode.
4

: Why Is My iPhone Asking for Another Apple ID Password?
Requesting for another Apple ID password is usually caused by apps/purchases updates that were done using the other ID.
Conclusion
You can quickly unlock your Apple ID using all the methods listed above. However, if you want the best result with 100% success rate, you should opt for WooTechy iDelock. This tool is perfect for everyone and requires no prior technical knowledge.