Have you ever used Indian voice changers? You can make your videos more interesting if you are targeting Indian listeners. The biggest worry is about the possibility of getting an Indian voice changer, right?
However, there is nothing to worry about because there is a wide variety of Indian accent voice changers like WooTechy SoundBot that are perfect for your task. 
This article helps you understand some of the best Indian voice changers and their pros and cons. Let's get started.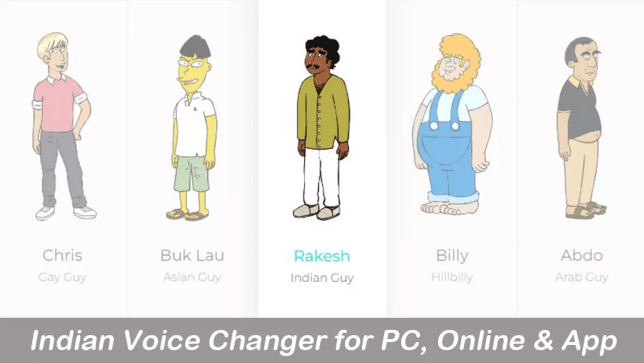 Part 1. What's the Indian Voice Look like?
Indian voice has distinctive qualities. Its music, tone quality, intonation, and dialects are all distinctive. It's a familiar sound utilized millennia in Indian music and literature and may be heard in many other traditions.
Indian speech typically places a premium on melody. The tabla, dhol, and other Indian percussion instruments are common accompaniments, and the music is often melodic and lyrical. Vibrato, a technique where the singer wiggles their vocal chords to make their voice sound like it's shaking, is another characteristic of this style.
The Indian voice is also characterized by its use of improvisation. This is a technique where the vocalist spontaneously creates or changes a melody or phrase to express themselves more creatively. This is often used in Indian music and literature to create a unique sound.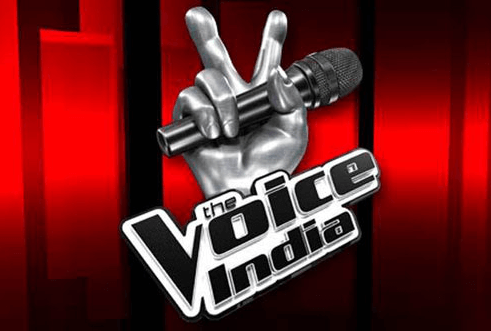 Part 2. How Can I Do Indian Voice?
Many people find the Indian accent the most perplexing of all English dialects. Indians theoretically conform to British English using dictionaries such as Oxford and Longman. However, when discussing spoken English, Indians employ several vocabularies unique to Indian English and not included in either British or American dictionaries.
It can be difficult to imitate their speech since they emphasize consonant and vowel sounds and use varying intonation. However, various technologies have been developed to ensure faster and easier Indian voice changers. We will discuss some of these softwares below;
1. WooTechy SoundBot -- Highly Recommend
The WooTechy SoundBot is a simple AI voice-editing app that gives you an Indian accent. It can be altered in pitch, tempo, and volume and has a high-quality sound system.
In addition, it comes with its own sound effects library, so users may spice up their shows with various amusing extras. This SoundBot Indian voice changer can help change your voice to Indian accent in real time.
75.000.000+
Downloads
Over 500 sound effect: You can use SoundBot to gain access to a wide variety of sound effects, any of which can be incorporated into your free Indian voice changer.

Automatic voice guidance systems: cognizes verbal instructions and acts accordingly by completing the requested tasks.

Making films and recording productions: With SoundBot, you have access to a robust system for making films and voiceovers.

Sound levels can be adjusted individually: Users control many sonic parameters, including equalization, bass, and treble.
How to Use SoundBot to change voice sound like Indian accent
Step 1: Click the Free Download button from WooTechy SoundBot official site and install this tool on your computer.

Step 2: Choose Microphone as your input device, and choose Headphone as your output device.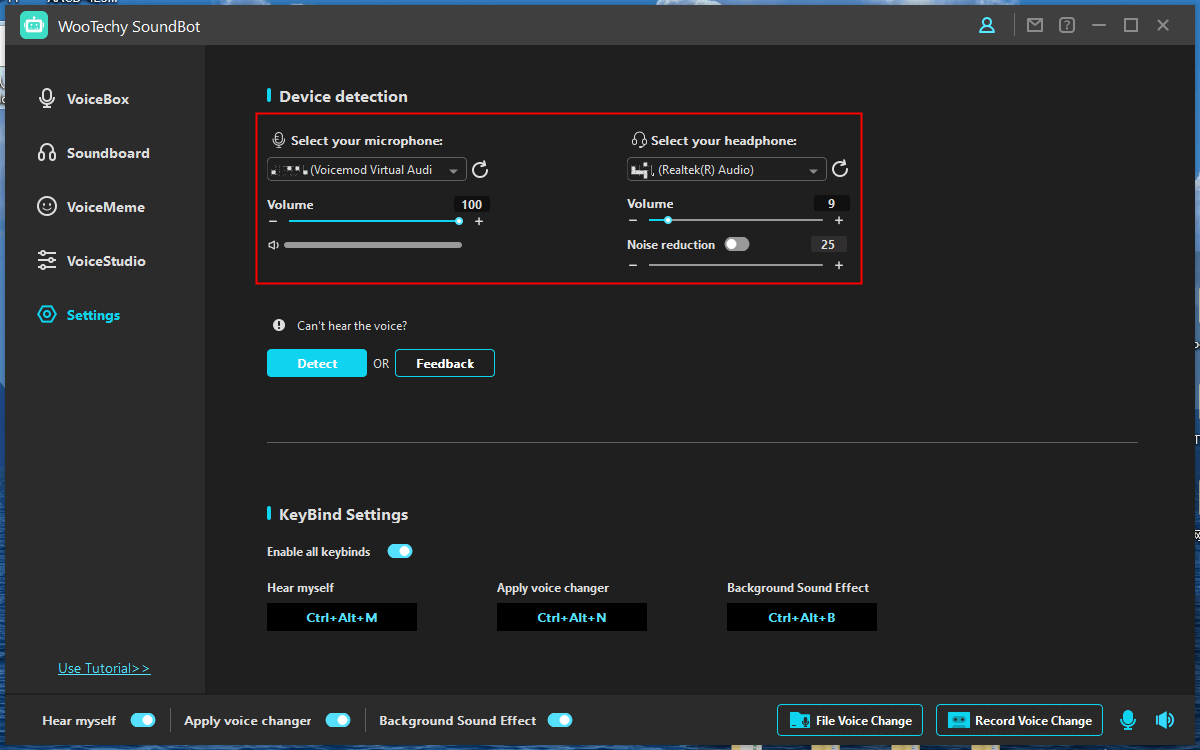 Step 3: Confirm voice sound effects, pick your preferred Indian sound effects from the VoiceBox option.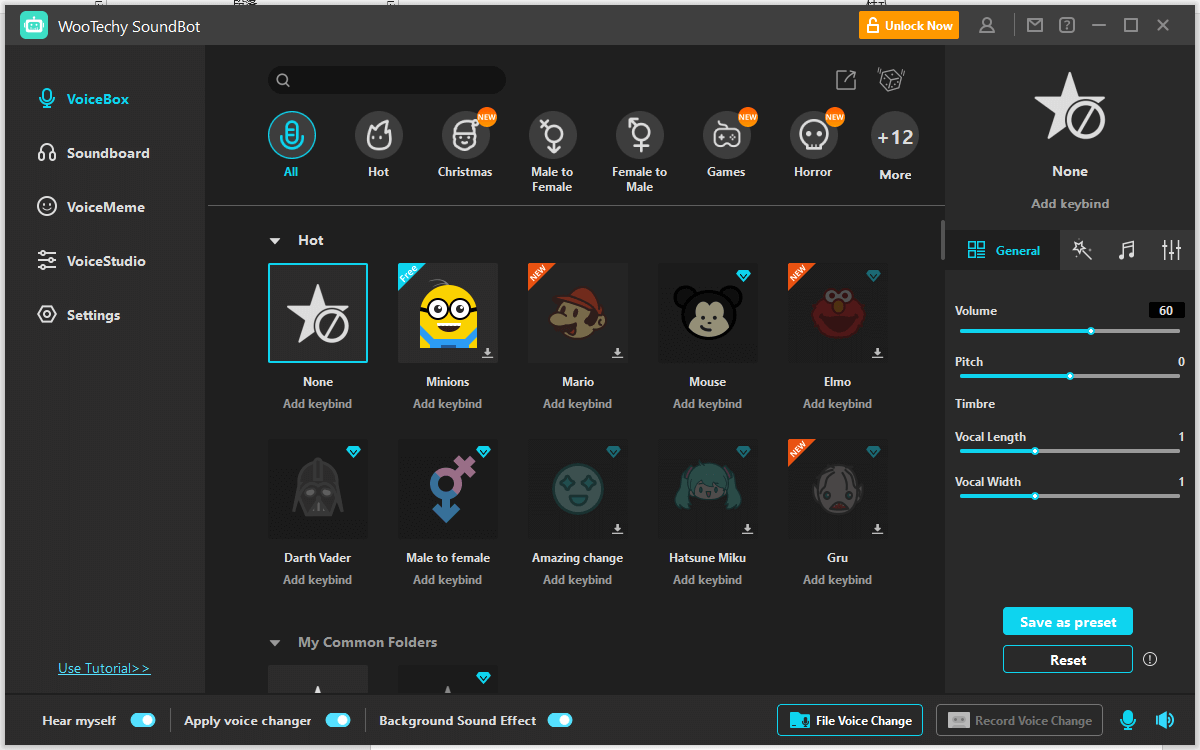 Note:
You can make a customized voice:
Select the VoiceStudio option.
Adjust the Reverb, Pitch settings to get a preferred Indian voice.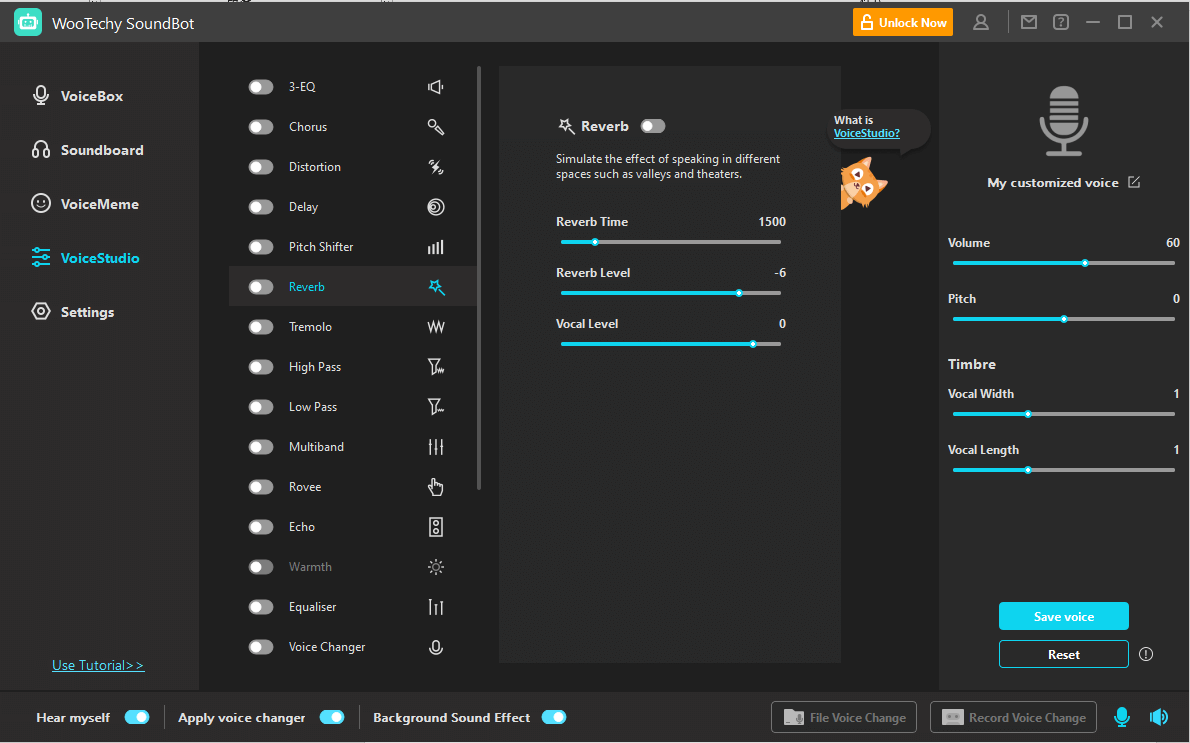 2. MagicVox Voice Changer
The MagicVox Voice Changer is a piece of software that modifies one's voice in real-time. It's perfect for gaming, streaming, and many other things, thanks to its extensive voice effects, ranging from robotic to Indian voice changer discord.
Because of its user-friendliness and extensive personalization choices, it's perfect for making unique audio effects. The software is cross-platform and gives a quick and easy way to change one's voice.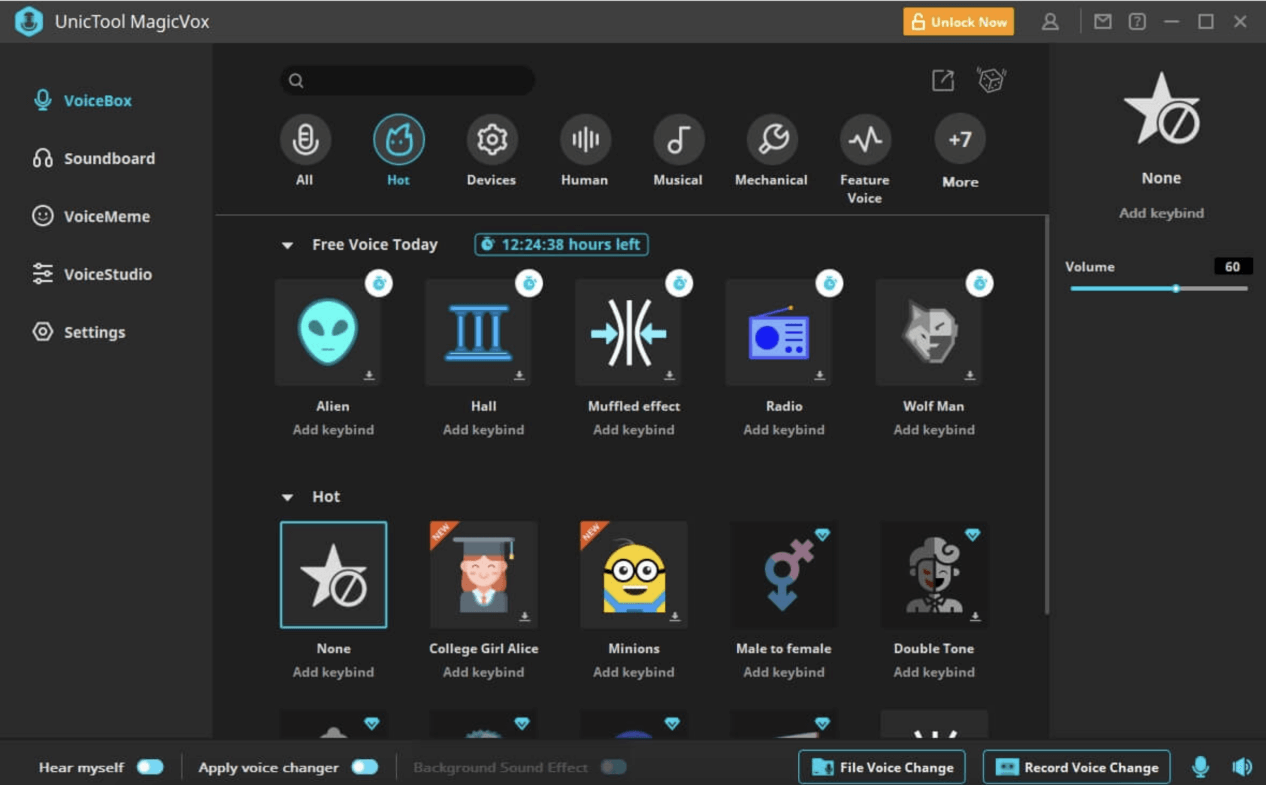 Pros
One hundred or more stock voice filters.

Assorted game sound effects.
cons:
There are limits to the free version.

Limited Indian voice effects are available
3. Clownfish Voice Changer
When it comes to real-time voice changers for PC, Clownfish  is among the easiest, most accessible, and user-friendly options. It can be used on numerous real-time platforms to create a thrilling recreation.
It works with any program that can access the microphone after installation.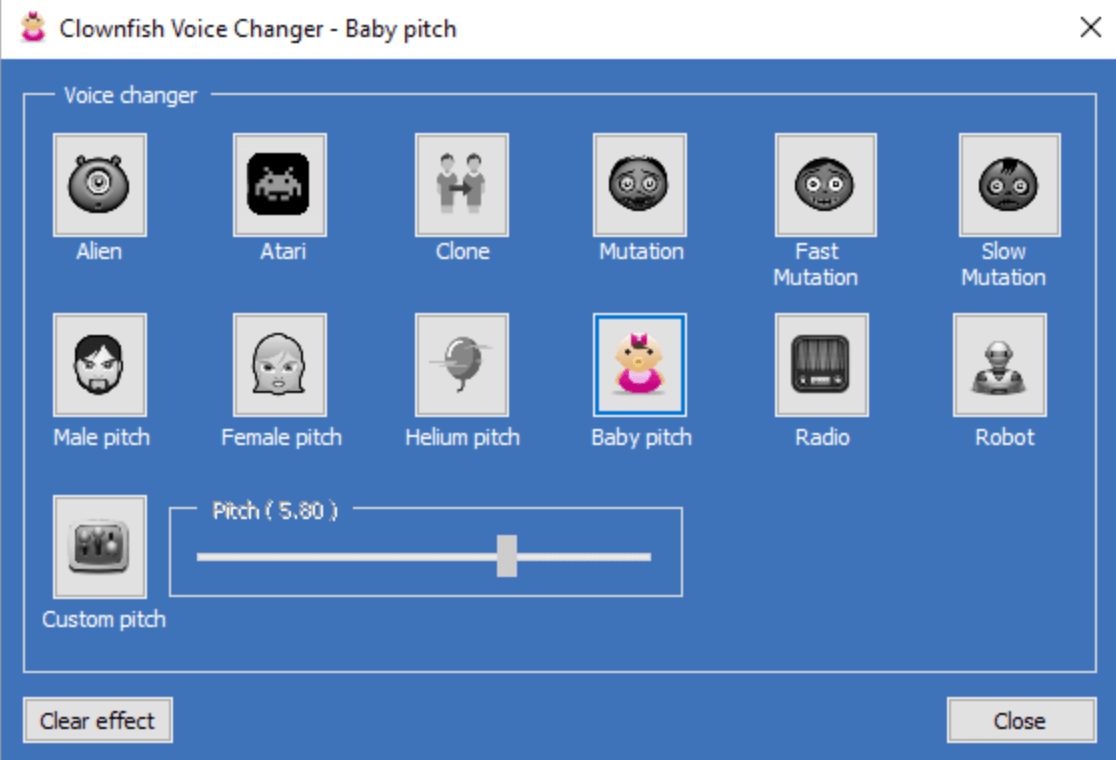 Pros
It has a built-in audio player that may be used to create customized sounds.

This program will read any text in the voice of your choice.
cons:
There are only 14 pre-programmed AI voices to choose from.

Complex steps are inconvenient for newbie users.
Part 3. How Can I Get Indian Text to Speech?
Do you want to get Indian text-to-speech? There are various Indian accent generators that you can employ to ensure you convert your text to speech. Here are some of the best Indian accent generators to use;
Narakeet
Narakeet is an online service that converts Indian text into spoken audio, allowing users to quickly and easily create narrated videos. Designed for users worldwide, it is compatible with more than 80 languages and 500 different voices.
Pros
Narakeet is easy to use and requires no technical experience to create videos.

Offers a wide range of customization options, allowing users to create unique videos that match their brand.

Fast turnaround time, allowing users to create videos for their business quickly.
cons:
Expensive for those on a budget.

Narakeet's library of images and music is limited.

Does not offer a way to collaborate with other users on projects.
Play.ht
Create lifelike Text to Speech (TTS) audio with Play.ht, an online AI Voice Generator, and the highest quality synthetic voices. Instantly transform the text into high-quality speech in MP3 or WAV format.
Pros
Offers a wide range of voices and accents to choose from.

Allows users to download their text-to-speech output as an MP3 file.

Has an easy-to-use interface.
cons:
Does not support all languages.

Does not have a free version.

Does not offer any customization options for the text-to-speech output.
TTSMP3
You can quickly and without cost transform your written Indian English into polished audio using TTSMP3 Ideal for distance education, presentations, videos shared on YouTube and making websites more accessible.
Pros
Easy to use

High-Quality Output

Variety of Voices
cons:
Limited Platforms

Limited Customization Options

Expensive
Conclusion
Are you looking for an Indian voice changer online? There are so many options available for you to choose from. However, we highly recommend WooTechy SoundBot for your Indian accent voice changer services, which can help you get real-time Indian voice.