In the horror or scary voice genre, there are many popular characters. One such famous character is Pennywise. Pennywise is also known as the dancing clown or "It". Since "It" came into the limelight in 1986, the dancing clown has enjoyed several recognition and adaptation in the entertainment industry.
Regardless of its popularity, the dancing clown is always a good fit for scaring an unsuspecting party. The need for the best pranking methods is heightened during Halloween, but it is always a good time for some great prank.
Hence, this article will show you everything you need to know about Pennywise. Additionally, it will show you how to use the best Pennywise voice changer to change your voice.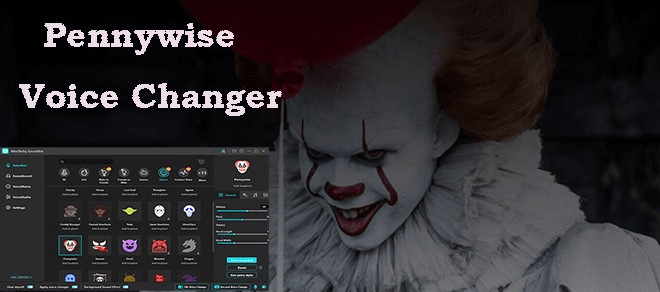 Part 1. Everything About Pennywise
Pennywise was introduced in 1986 by Stephen King but not exactly as a Clown. It was intended to be an evil shapeshifting monster. However, its prankster form is the most popular because King believes Clowns scare children more than anything else in the world. It has been popularly asserted that Pennywise is a cause of Coulrophobia – the fear of clowns.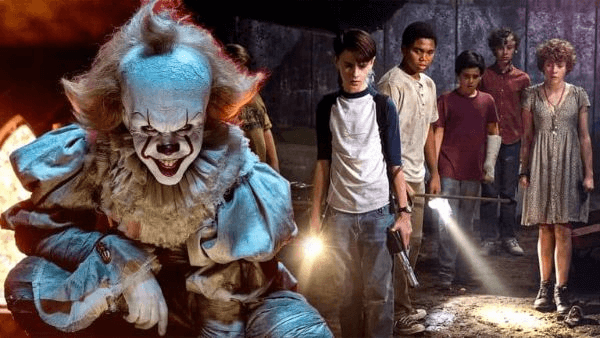 One of the popular facts about the character is that it can eat anything, especially children. Children are preferred because Pennywise enjoys the taste of a scared child. Hence, the weaknesses of the dancing clown are courage and heart. These are the common features of other characters that survive "It".
Apart from being a shapeshifter, Pennywise has several superpowers. It can read the mind, change the weather, control imagination, create fake smells and sounds, etc. The dancing clown has to take a different form in different universes, except in Deadlights, where it came from. However, whichever form he changes to has its limitation. Its limitation is that it has to obey the physical laws of whichever form it takes. Like all characters, Pennywise has an arch-enemy called Maturin. Maturin is a benevolent turtle from another Macroverse. Although none of the screen adaptations of Stephen King's book has featured Maturin, it is expected to be a highlight to watch out for by the audience.
There have been several screen adaptations and the introduction of Pennywise. For instance, it appears in another novel by Stephen King in 1987 - Tommyknockers. However, about three characters have played the role of Pennywise. Their names are Tim Curry, Bill Skarsgård, and M. M. Faruqui (Lilliput). Against popular opinions, several other pointers show that Pennywise is not dead. A notable example is the "Pennywise Lives" that was spotted in Dreamcatcher (2001). It is expected that the character will make a return to the cinema very soon. Hence, the streamer announced in March 2022 that there will be a prequel set in the "It" universe.
Part 2. How Do I Change My Voice to Pennywise?
Want to sound like Pennywise to prank your friends? You can change your voice to Pennywise by using a voice changer tool. Then, with the aid of your digital device, you can create live or prerecorded sound.
1. Use Pennywise Voice Changer -- WooTechy SoundBot
If you peruse the internet, there are several Pennywise voice changers. However, a good percentage of online options are not the best use of your time and resources. Hence, we want to introduce to you WooTechy SoundBot. It is a voice changer for making scary voices like Pennywise, Venom, Titans, etc.
Stunningly, you can use it for both live or prerecorded sounds. WooTechy SoundBot has become a top-ranking Pennywise voice changer for its simple and user-friendly interface. Here are some other features of the app.
SoundBot – Perfect Pennywise Voice Changer
75.000.000+
Downloads
You can use SoundBot to change voice to Pennywise on any live streaming and gaming app such as Discord, Skype, Zoom, Fortnite, Valorant, and more.

You can use the keybinds to play Pennywise effects without disrupting the flow of ongoing audio.

You can import or use SoundBot to record your voice or upload audio file and export it as a Pennywise voice, then share it on your social platforms or use it for your video.

Change voice to Pennywise under various scenarios ranging from entertaining prank to live chat.
Change your voice to Pennywise using WooTechy SoundBot
Download the software. Install and open the app to set it up. Pick your microphone and headphone as the input and output devices.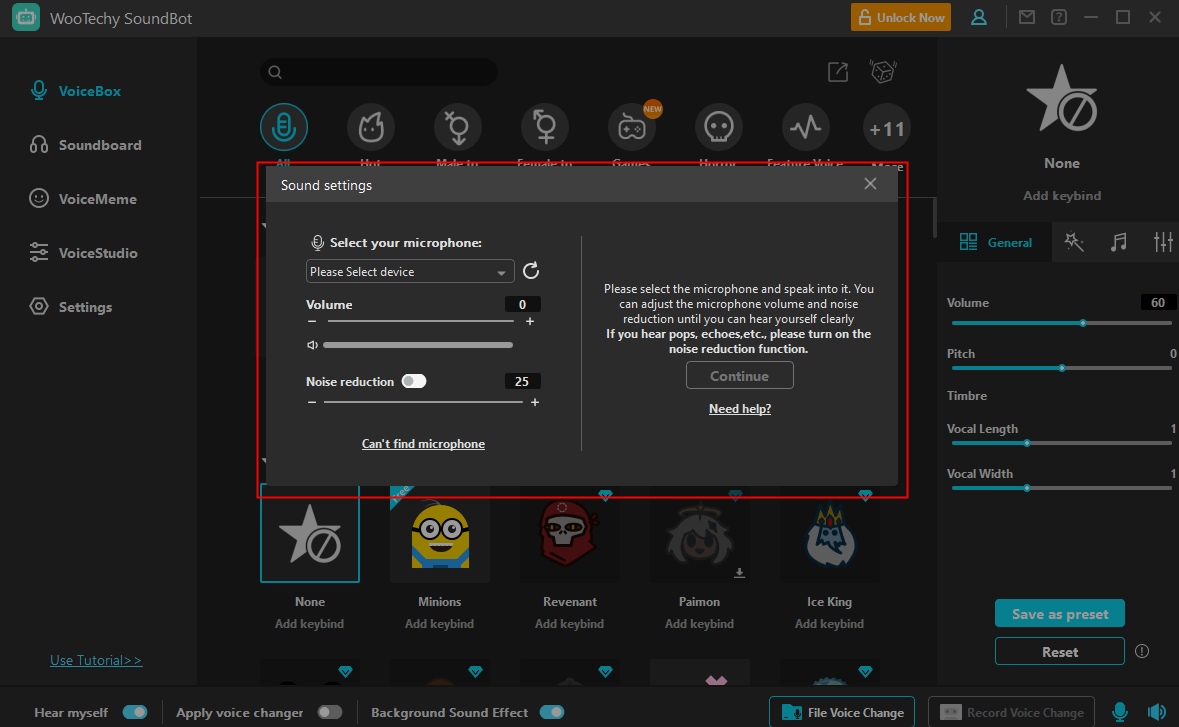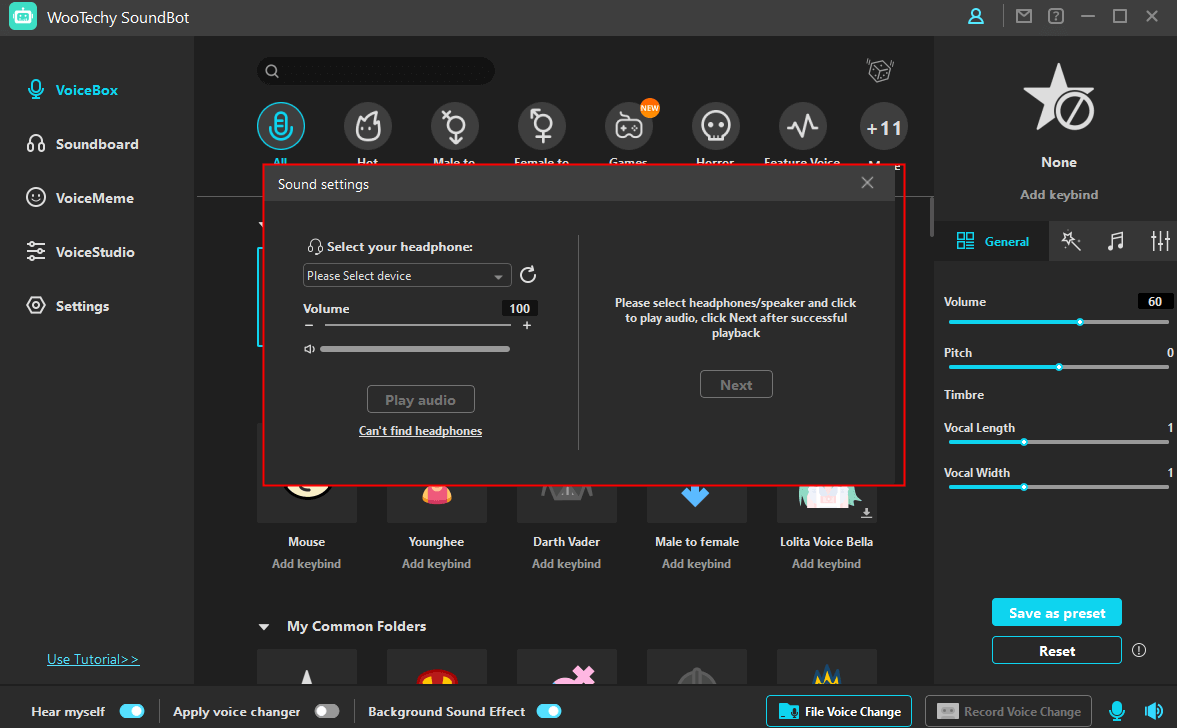 Go to VoiceBox tab and locate Pennywise voice under the Horror option. Speak into the input device and enjoy the sound.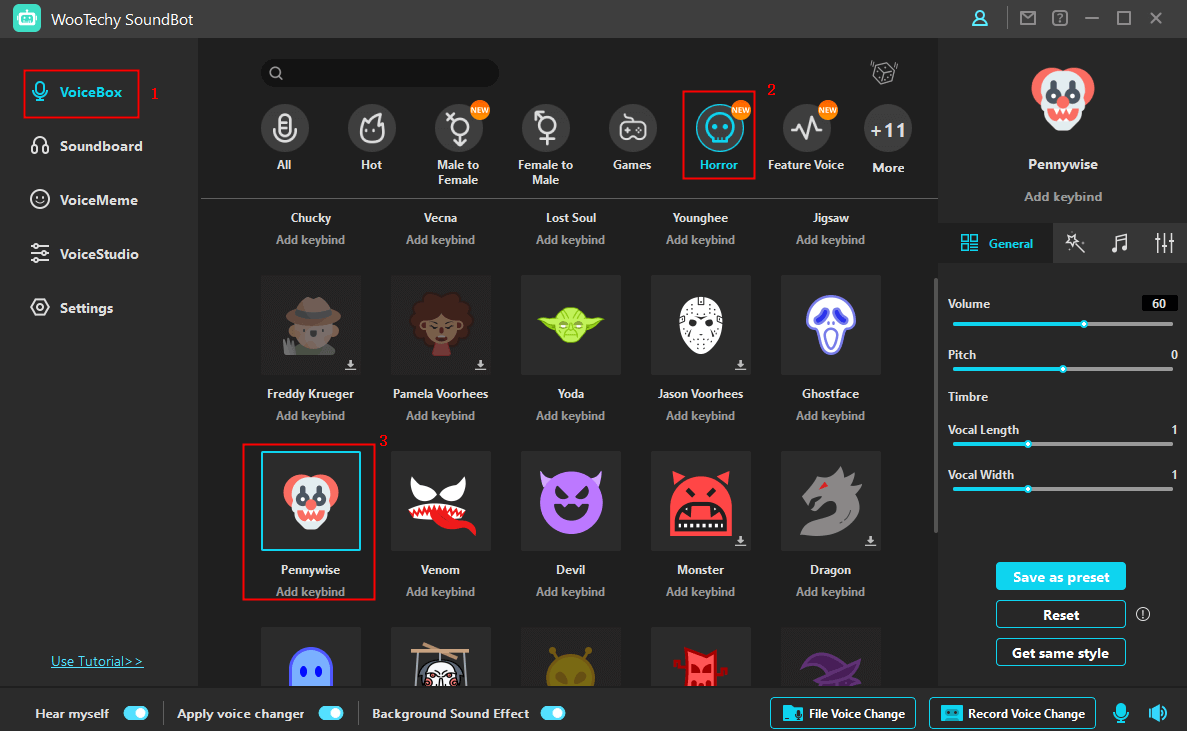 Note
To change your voice to Pennywise to a specific program, just make sure that the SoundBot is running in the background and set
Voice Changer Virtual Audio Device
 as the program's audio input.
2. Best Pennywise Voice Companion -- Pennywise Soundboard
You can have an amazing time using WooTechy SoundBot. Aside from changing your voice to Pennywise's voice, you can use the real-time effects to spice up your experience. These effects can really send a fright down the spine of your gaming partners. There are over 400 sound effects including Horror background effects on SoundBot's Pennywise Soundboard.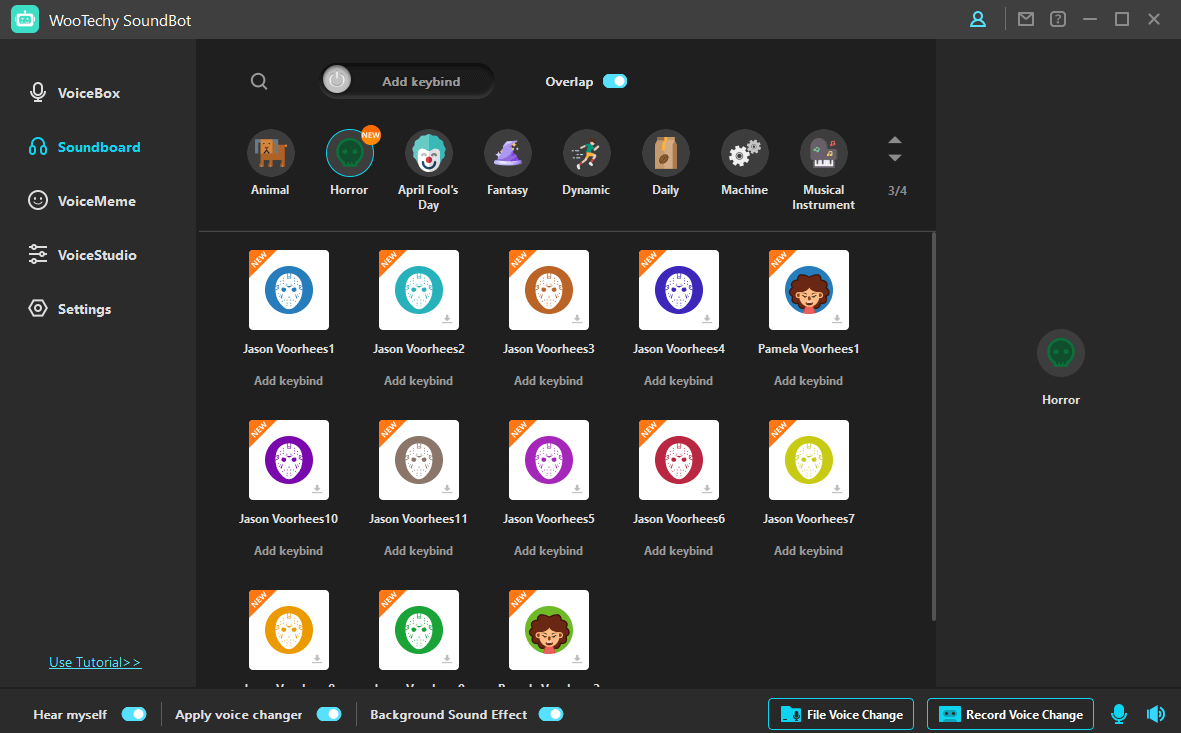 You can even use different playback options for your Pennywise recording. For example, you can use the mute, cycle, overlap, or replay options. Additionally, you can introduce different sound effects at intervals using keybinds.
Conclusion
If you want to make your next prank more real and scary, you should consider our Pennywise voice changer. Besides voice-changing features, you can use its many effects to create unique experiences during live interactions. Moreover, WooTechy SoundBot is reliable because it has enjoyed positive feedback and manyrecognitions from users and online platforms.