Morgan Freeman's voice is a staple of American pop culture, instantly recognizable for its deep and calming tone. From his iconic roles in films like "The Shawshank Redemption" and "Million Dollar Baby," to his narrations in documentaries and commercials, Morgan Freeman voice has captured the hearts of audiences around the world.
Now, thanks to advances in technology, it's possible to replicate his voice using a Morgan Freeman voice generator. But before we delve into the technology behind this innovation, let's take a look at the man behind the voice and how he became an icon in his own right.
Part 1: An Overview of Morgan Freeman Voice
Morgan Freeman's voice is renowned for its rich, deep and authoritative quality, which draws listeners in with its warmth and versatility. Freeman's path to becoming an icon began in the 1960s, when he started as a stage actor in New York City. In the late 1980s and early 1990s, his roles in films such as "Driving Miss Daisy" and "Glory" brought him critical acclaim and established him as one of Hollywood's most respected actors. He further cemented his legacy through his distinctive voiceover work, which is often described as wise and reassuring, and has narrated numerous documentaries and commercials, making him a beloved figure in the world of entertainment.
Part 2: The Best 3 Morgan Freeman Voice Generator in 2023
In this part, we'll be taking a look at the 3 best Morgan Freeman voice generators available in 2023, providing an overview of each, their pros and cons, and a step-by-step guide to using them.
Morgan Freeman Voice App 1: Wootechy SoundBot [PC]
SoundBot from Wootechy is a powerful AI voice generator that allows you to create a Morgan Freeman-like voice for you in real-time or change the voice in audio files. Whether you want to do a voiceover, make a video, or prank your friends, with a wide range of customization options of Wootechy SoundBot, you can fine-tune the voice to match your needs perfectly.
Key Features of WooTechy SoundBot
75.000.000+
Downloads
400+ Sound Effects: including animal sounds, nature sounds, Robot sounds, Cartoon character sounds ect...

125+ Voice Filters: apply a range of voice filters to your recordings to change your voice in real-time, such as echo, reverb, distortion ect...

AI Voice Change: transform your own voice or the voice of someone else to match the style and tone of a famous actor, politician, or celebrity like Donald Trump, Joe Biden or Taylor Swift.

400+Voice MeMes: add humour and personality to your recordings including popular internet memes and catchphrases, such as "I'm really rich" from Donald Trump and "WTF."

Customization Options: adjust a range of settings to fine-tune your AI-generated voice, including tone, speed, and pitch.

Export formats: export your files in a range of formats, including WAV, MP3, and AIFF.
Steps to Generate Morgan Freeman Voice
Step 1: Download Wootechy SoundBot on your computer for free. Run the application.
Step 2: Finish the Microphone setting following the on-screen instructions.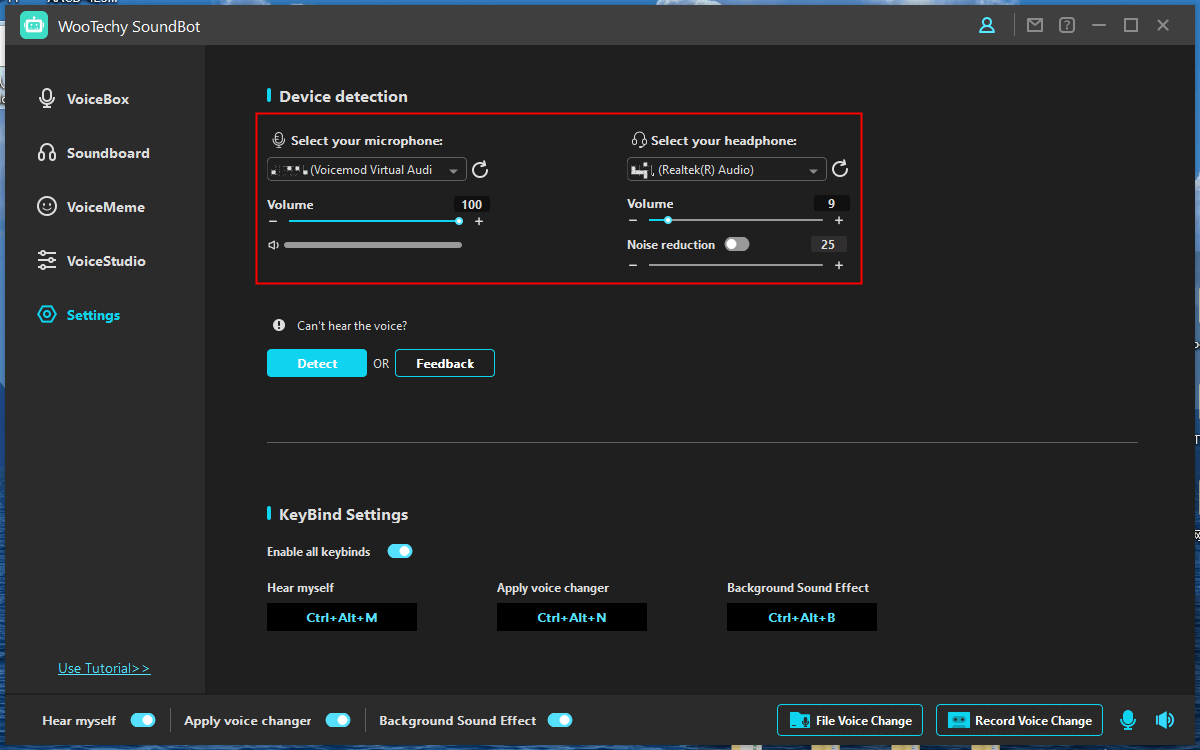 Step 3: Now, you should see different features in the left bar, choose the "AI Voice Change" tab. There are a large number of celebrities' voices. Find "Morgan Freeman Voice" and click "Use the Voice" to initiate the conversion process.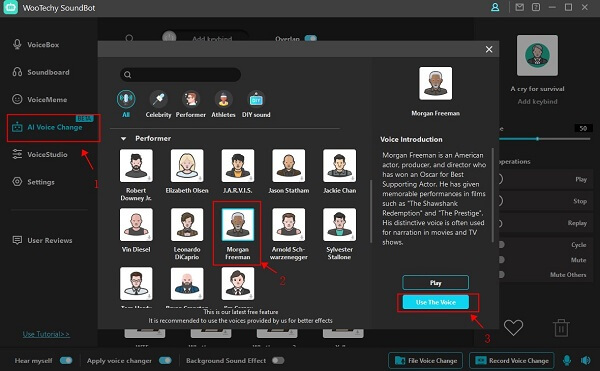 Step 4: Click "Start Speaking" to change your voice sounds like Morgan Freeman in real time. Once done, you will get a prompt that "The voice change is complete, start once again." And you can start a new voice change.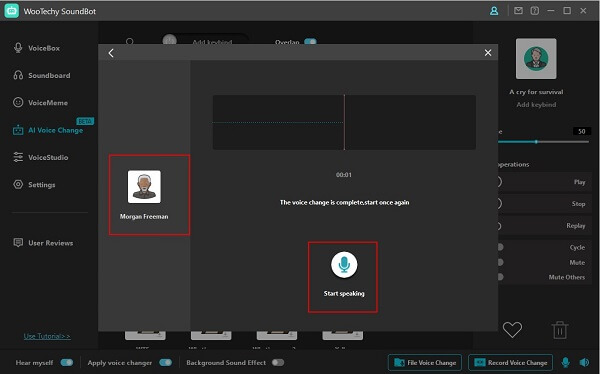 That's it! With these simple steps, you can use Wootechy SoundBot's AI voice change feature to apply Morgan Freeman's iconic voice in real-time, you can also export the voice in audio files.
Pros
Support changing voice in real-time.

Updated weekly with new sound effects.

Realistic voice generation.

Versatile features.

A wide range of customization options.
Cons
Not comparable for mobile use, requires a computer.
Morgan Freeman Voice App 2: Celebrity Voice Changer App [Mobile]
Celebrity Voice Changer - Funny Voice FX Cartoon Soundboard is an app available on both the App Store and Google Play that allows users to transform their voices into various celebrity voices, including Morgan Freeman, Arnold Schwarzenegger, and more. This is paid software and costs $14.99. Even though, it is a fun and entertaining app for users who enjoy playing around with voice transformations and celebrity impersonations.
Pros
Easy to use with a simple and intuitive interface.

Features a soundboard with funny sound effects and clips.

Can be used on the mobile end.
Cons
Limited sound effects and template. (Only focus on celebrities voice changing.)

Some celebrity voices may not be very accurate or convincing.

Lack of accuracy or convincing for the generated AI voice.

With ads and watermarks.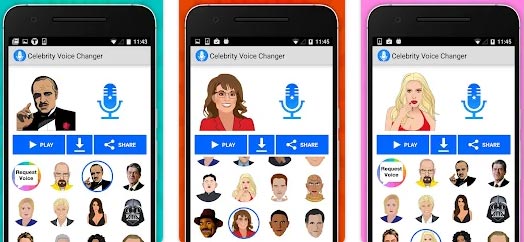 Morgan Freeman Voice App 3: Topmedia Text to Speech [Online]
TopMedia Text to Speech is a web-based text-to-speech tool with a free version and a premium version that allows users to generate audio files from written text in a variety of voices, including Morgan Freeman's voice. By using advanced artificial intelligence technology, the tool can accurately replicate the iconic sound of Morgan Freeman AI voice, making it a great option for those who want to create voiceovers or narration in his style.
To use the tool, users simply need to enter the text they want to convert, select Morgan Freeman's voice from the voice options, and click the "Convert" button. The resulting audio file can then be downloaded and used in any project or application. While the tool may not offer as many features as some other voice generator apps, it can be a simple and effective way to achieve a Morgan Freeman-like voice.
Pros
No need to download any software or applications.

Supports multiple file formats, including MP3, WAV, and OGG.

Fast conversion speed, allowing for quick turnaround times.

Cost but effective.
Cons
Limited customization options

Text input is limited to a certain number of characters per conversion.
Part 3: Another App about Morgan Freeman Voice
Morgan Freeman Here App is not a Morgan Freeman voice generator but a tool designed to provide users with access to Morgan Freeman's iconic voice for navigation, weather updates, and other daily tasks.
The app provides users with Morgan Freeman's voice for turn-by-turn navigation. Users can select different voice options, including the classic Morgan Freeman voice or a more playful version. It also provides daily inspirational quotes and messages from Morgan Freeman to help users stay motivated and inspired throughout the day.
For those who like Morgan Freeman voice asking people, this is also worth knowing.
Final Verdict
There are a number of Morgan Freeman voice generators available on the market today, each with its own unique features and capabilities. After considering the various options, we recommend Wootechy Soundbot as the best choice for generating a Morgan Freeman-like voice.
With its advanced AI voice change technology, easy-to-use interface, and wide range of customization options, users can achieve a highly accurate and customizable replication of Morgan Freeman's iconic voice. While other tools may have their own benefits, Wootechy Soundbot stands out as the most comprehensive and reliable option for creating high-quality voiceovers, narrations, and more.