When it comes to creating a unique and memorable experience, there's nothing quite like altering your voice to sound like Ghostface from the hit horror movie franchise, Scream. There are so many people drawn to look for the Ghostface voice changer to get the most realistic Ghostface voice.
Ghostface Voice Changer is a popular voice changer app that enables users to create a terrifying ghost-like voice effect. However, which Ghostface voice changer is the easiest to use but still gives the most realistic ghost voice? Keep reading and get test results.
Part 1: Ghostface Voice Changer Explained
It's a sound that has been etched into pop culture history thanks to the success of the Scream movies. When we hear that deep, distorted voice, we know exactly who we're dealing with - a masked killer who's on the hunt for his next victim. And there are some scenarios used for changing their voice to Sound like Ghostface. For instance:
Halloween Parties - If you're attending a Halloween party, the Ghostface voice changer can help you create a spooky atmosphere and scare your friends.
Haunted Houses - Many haunted houses and Halloween attractions use the Ghostface voice to create a frightening experience for visitors.
rank Calls - With the Ghostface voice changer, you can pull off some hilarious pranks on your friends and family. Just make sure they know it's you!
Social Media - If you're creating content for social media, using the Ghostface voice can help you stand out and attract attention.
Cosplay - If you're dressing up as Ghostface for a cosplay event or convention, using the voice changer can help you stay in character and make a bigger impact.
Film Projects - If you're working on a horror film or other type of project, using the Ghostface voice can help bring the character to life and make the experience more authentic.
Voiceover Work - If you're a voiceover artist, the Ghostface voice can be a valuable addition to your repertoire and help you stand out from the crowd.
Part 2: Use the Best Ghostface Voice Changer to Get Your Unique Ghostface Voice
Firstly, it's worth noting that the Wootechy SoundBot is one of the most powerful tools that allow you to transform your voice in a variety of ways. With this device, you can change the pitch, tone, and other aspects of your voice to sound like a range of different characters, including the voice of Ghostface, celebrity voices (Donald Trump, Joe Biden, Taylor Swift ext...), Female to Male and so on. Check the key features of SoundBot here.
What Else Can SoundBot Do Except for Ghostface Voice Changing?
75.000.000+
Downloads
Real-time voice changing: You can change your voice in real-time during online calls, games, and recordings.

A wide range of voice effects: Wootechy SoundBot offers 120+ Sound Filters and 200+ Sound effects, including male, female, robot, alien, Carton, and more.

Plenty of Voice Memes: SoundBot in-built 400+ Voice Memes, meanwhile you can also edit or generate your unique Meme.

Customizable settings: You can adjust the pitch, speed, and volume of your voice to create a customized effect.

Compatibility: SoundBot is compatible with the most popular communication and gaming platforms, such as Skype, Discord, and Twitch.

Other Features: It also supports transferring your voice file to different forms.
Follow the steps to use the Ghostface Voice Changer:
Step 1: To get started, you'll need to download the Wootechy SoundBot onto your computer. Once you've done this, you'll be ready to begin using the device to change your voice. Running the App, you will get an instruction to adjust your microphone.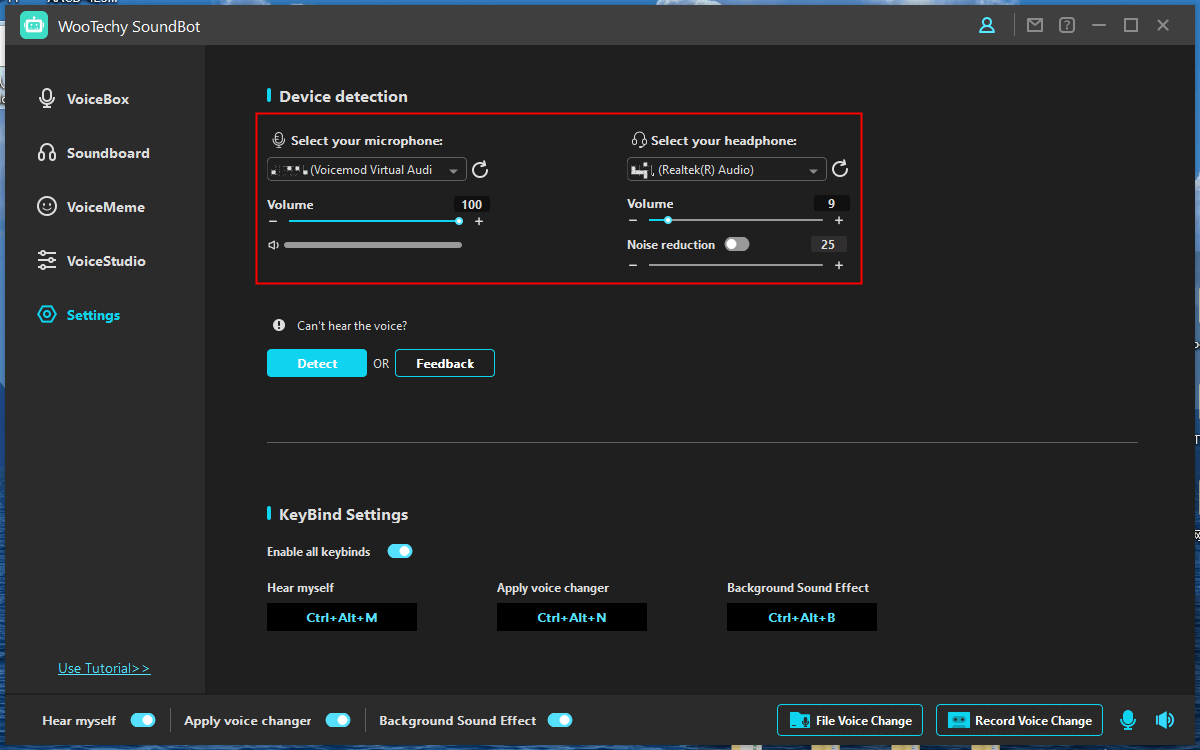 Step 2: To achieve the Ghostface voice, start by selecting the "Voice Box" feature in the Wootechy SoundBot app. Search Ghostface Voice in the bar, then click "Get Same Style".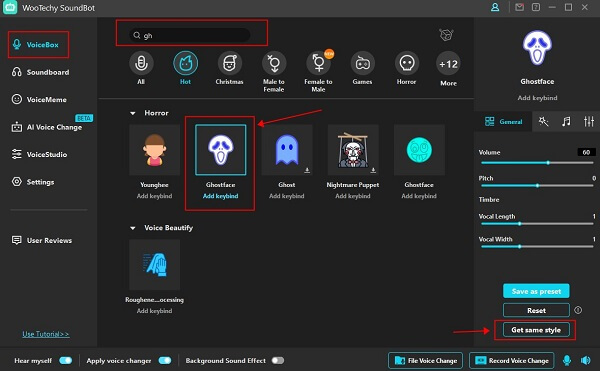 Step 3: Once done, you will be navigated to the "VoiceStudio". From here, you can adjust the pitch of your voice based on your preference to a level that sounds similar to the deep, distorted tone of Ghostface, until you've achieved a sound that's as close as possible to the iconic Ghostface voice that you want.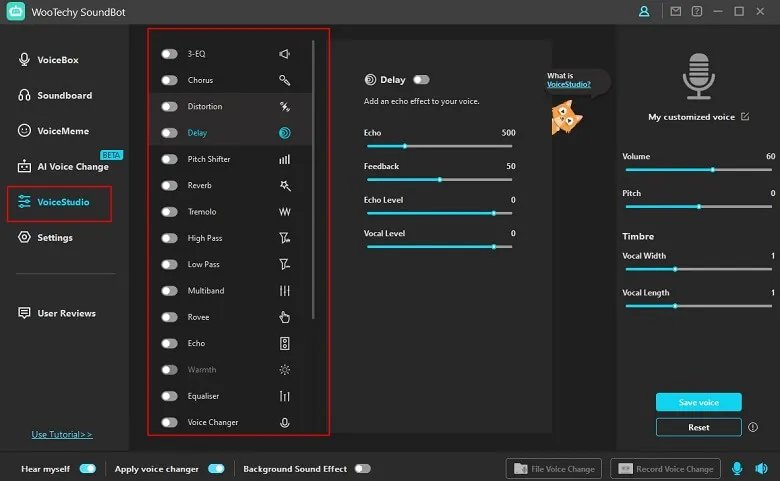 Step 4: Moreover, You may also want to play around with other features of the SoundBot, such as the "Robot" or "Alien" settings, which can help you achieve a more distinctive and unique sound.
But for me, the most I'm interested in is its AI Voice Changer Feature. Here you can change your voice sounds like different celebrities. You can even DIY your voice here.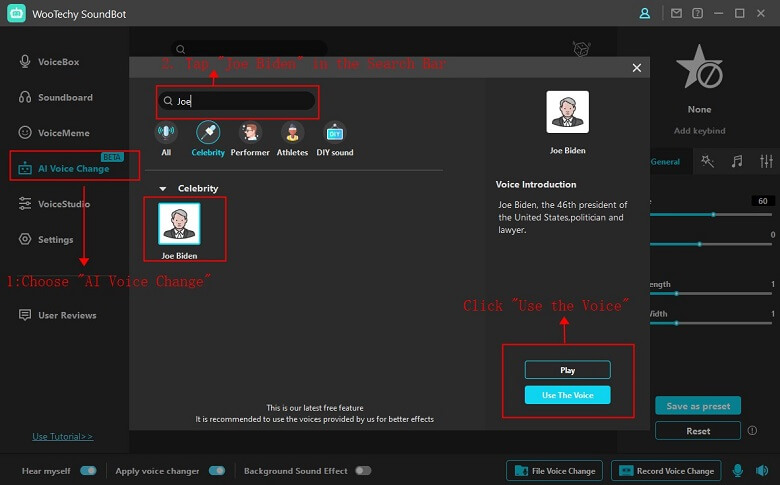 Once you've dialed in the perfect Ghostface voice, you can use the Wootechy SoundBot in a variety of different settings. Whether you're pranking your friends, creating content for social media, or simply having fun experimenting with different voices, this tool offers a fun and easy way to unleash your creativity and transform your voice into something truly unique.
Part 3: Other Way to Get Ghostface Voice
How to change your voice without installing software? Well, using a physical voice changer is another way to get Ghostface Voice. I tested and found that Remall Audio Mixer is the best Physical Voice Changer, which allows you to modify the pitch, tone, or other characteristics of the voice via the connection with a USB. You can autotune your voice to close to the Ghostface voice. There are also some informative features here.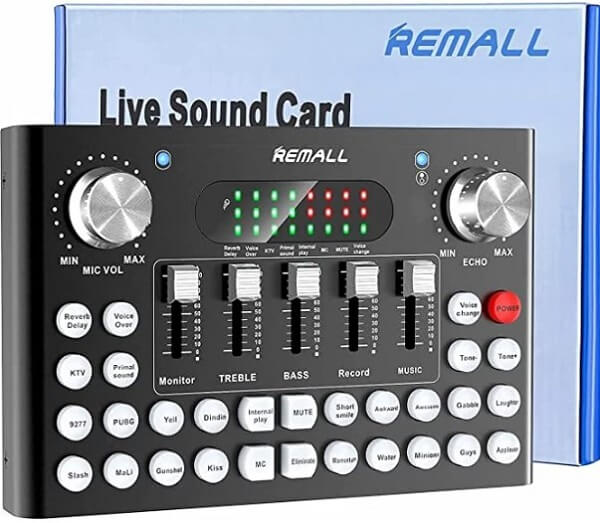 DSP Noise Reduction Technology: Uses the latest upgrade technology chipset DSP noise reduction inside, better than other V8 Sound Card sound card mixer voice changer Excellent sound quality.
Multiple Sound Effects: 6 modes selectable, 12 electronic effects optional, 12 funny sound effects, 7 different games, including "male voice", "female voice", "children's voice" and "monster voice".
Easy to operate: This product is easy to operate. Connect an earphone with a microphone and a smartphone to the main unit, and press the "mode" button to start it.
[Precautions for use]
If your phone has a protective case, it may cause poor contact. So you need to remove the protective case.
Final Words
In conclusion, if you're looking for a Ghostface voice changer to make your voice sound like Ghostface, Both hardware and software options are available.
But for software, the Wootechy SoundBot is the most excellent tool to have at your disposal. With its powerful features and intuitive app, you'll be able to achieve a range of different voices and sounds that are sure to impress and entertain. So go ahead, download this Ghostface voice changer app, and start experimenting today!