Are you looking to make your voice a little more entertaining when you play games or stream videos online? Or perhaps you want to practice with various voice styles because you are a content creator? Whatever your motivation, a decent voice changer for PC can open up countless opportunities for you. The top 10 voice changers for PC in 2023 and their pros and cons are all included in this blog post. Let's get started and see which one best fits your requirements!
1. Wootechy SoundBot
The revolutionary voice changer for PC from WooTechy, SoundBot raises the entertainment value of your live chats, conversations, and gameplay sessions. SoundBot's advanced technology for AI voice change enables you to alter your voice in real time and experiment with a wide variety of language filters and sound effects to develop your unique persona.
SoundBot has the ability to record your voice and modify it with 250+ filters, and change it into various characters such as robot, celebrity, cartoon, scream voice and so on. It also has a voice recorder and file voice modulator for voice changing. For those who enjoy making content, playing video games, and having fun with their voice, SoundBot is the ideal tool.
Pros
Comparable with most live chat, live streaming and game platforms, such as Fortnite, Discord, PUGB, Skype etc...

250+ Voice Filters and 600+ Sound Effects are available for real-time use.

A wide range of customized options to create your individual voice filters.

Transfer audio file to different forms.

Built-in 200+ Voice Memes.

Change voice with the audio file is also supported.

Update voice weekly, including free voice.
Cons
At the moment, the software is only compatible with Windows operating systems.
The steps to use Wootechy SoundBot
Step 1: Download and launch WooTechy SoundBot.
Step 2: Choose the output and input device by selecting your headphones as the output device and your real microphone as the input device.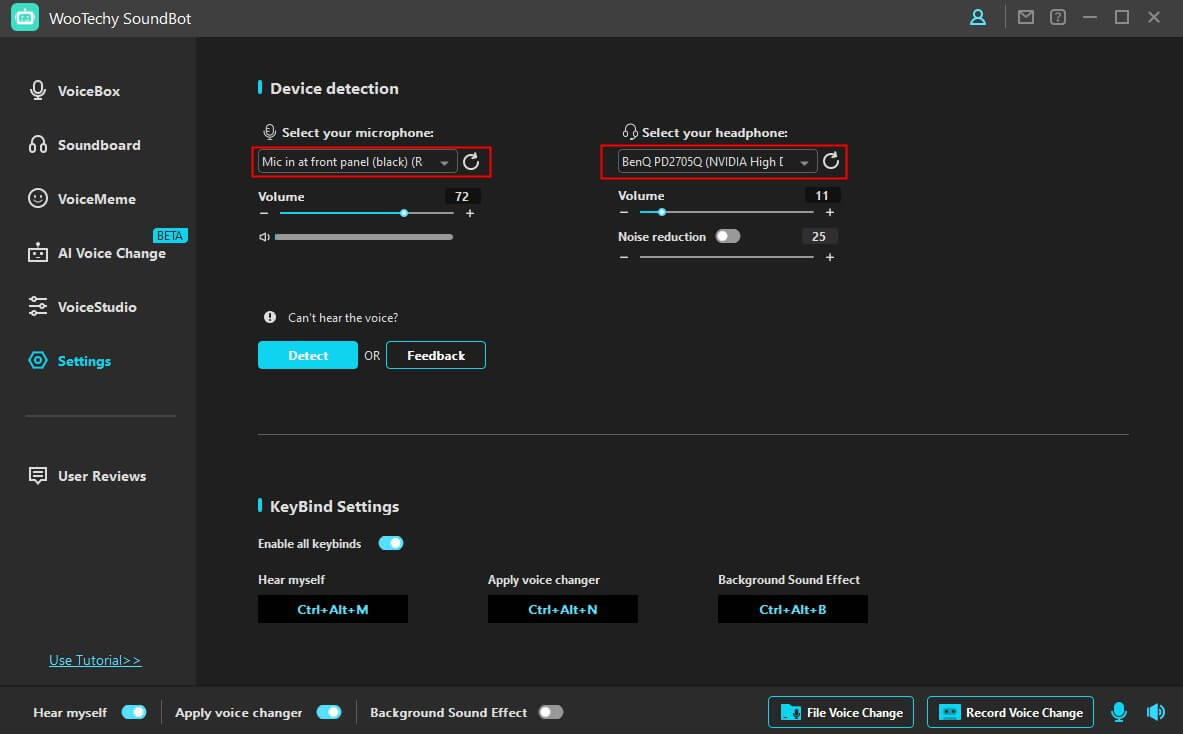 Step 3: Check the voice-changing effects by clicking on each voice filter and speaking into your microphone to hear how your voice has changed.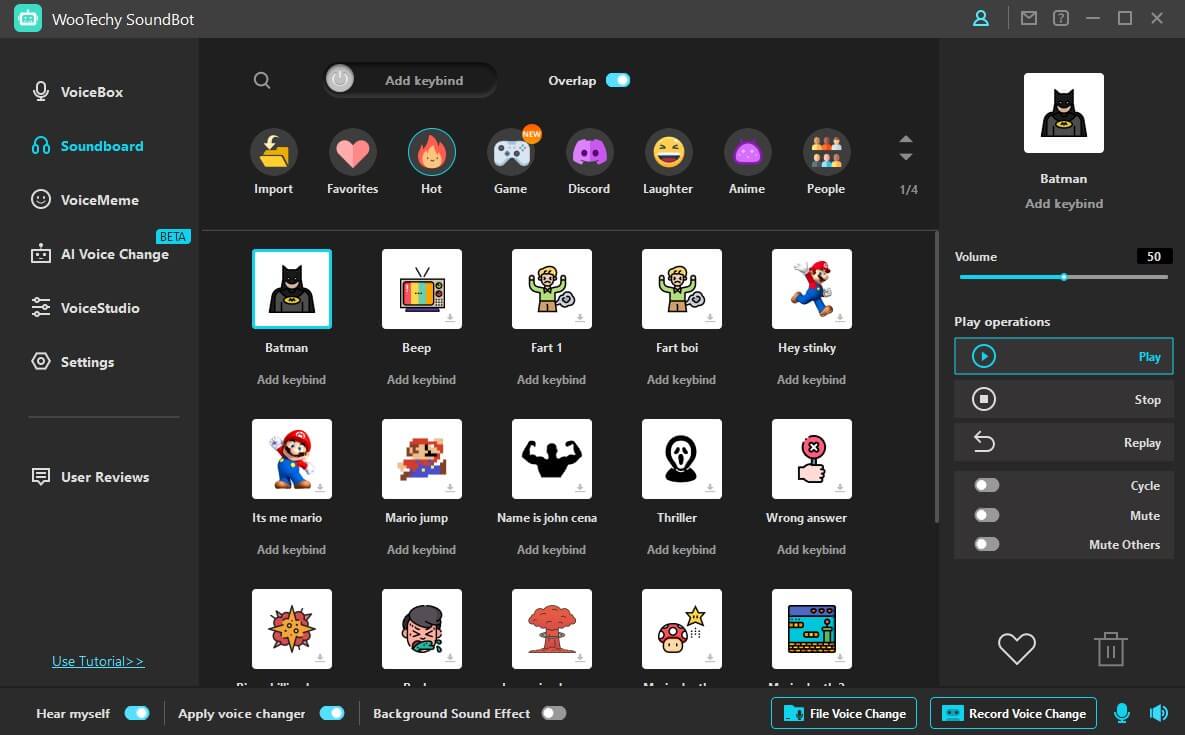 Step 4: Change your voice in different platforms such as Fortnite, PUBG, Discord, Skype, and Twitch by opening the platform and heading to its Voice Settings. In the Input Device, choose the Microphone (Voice Changer Virtual Audio Device (WDM)) to apply the voice filter in real time.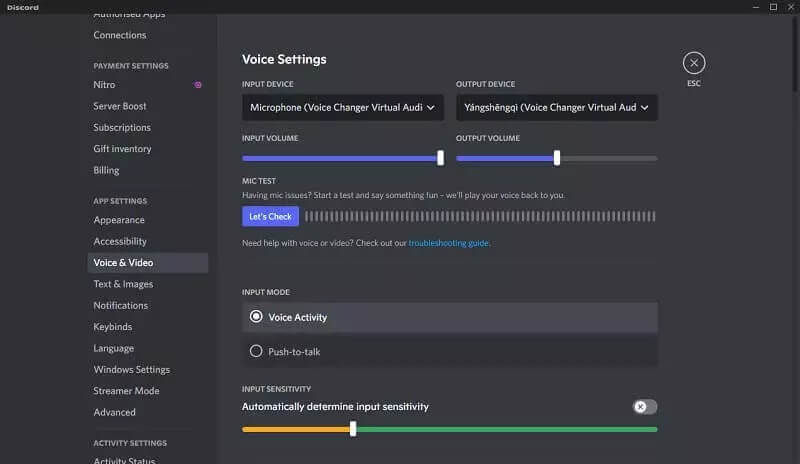 Step 5: There are 250+ Voice Filters and 600+ Sound Effects that can be chosen such as male to female, celebrity, cartoon, ghostface voice or character Voices. Find your favorite and have a try!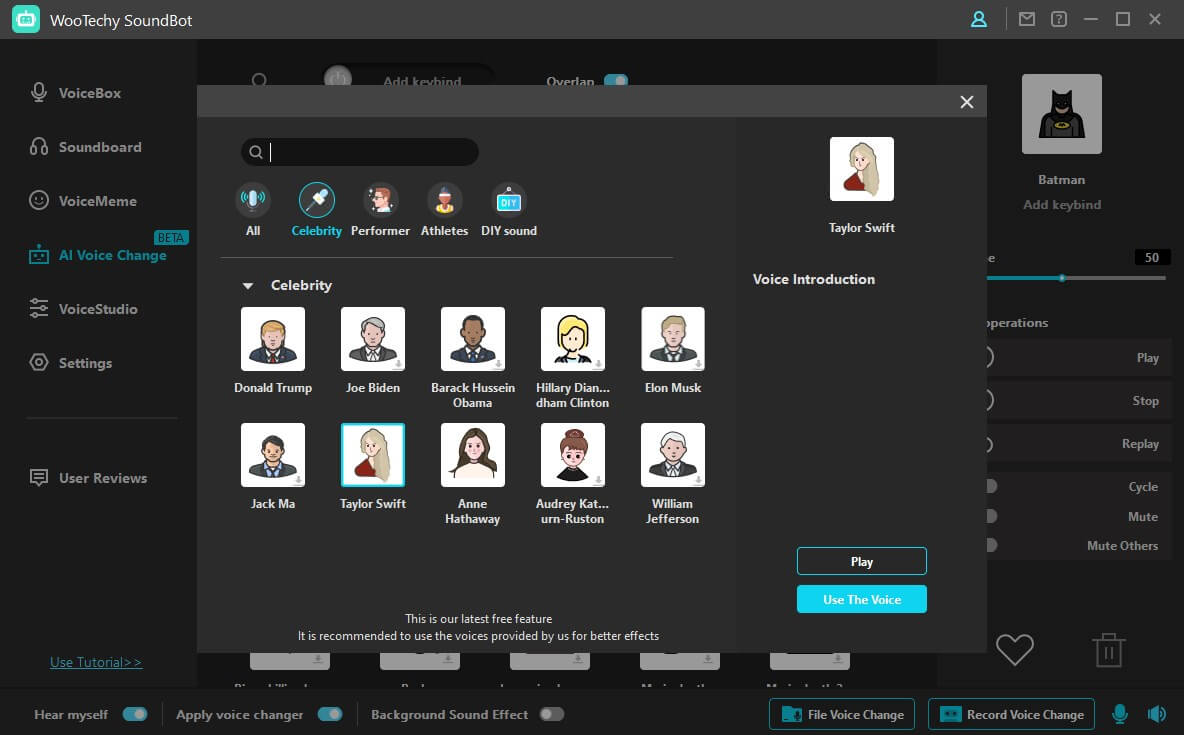 2. Adobe Audition
Professionals who require advanced audio editing features can use the versatile PC voice changer Adobe Audition. It offers a variety of tools that can help with tasks like audio mixing, mastering, podcast recording, and noise reduction and is mainly intended for audio and video editing. Adobe Audition's extensive feature set makes it simple for users to remix, edit, and create multitrack audio files.
The app also offers different sound effects, white noise elimination, and other features that help to improve the audio recording quality. Overall, it is a strong tool that provides audio pros with a full range of features. But it is more suitable for professionals.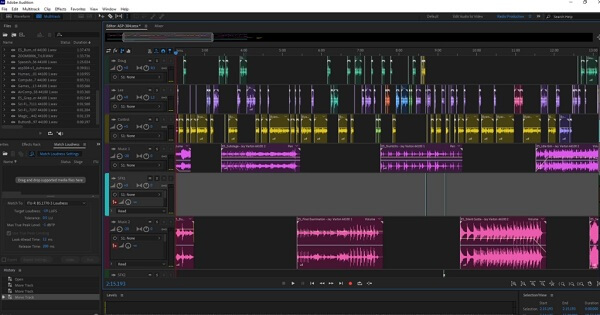 Pros
Offers a wide range of advanced audio editing features.

Seamless integration with other Adobe Creative Cloud products.

An ideal choice for Adobe users.

A versatile and powerful tool for audio professionals.

Can handle basic editing to advanced sound manipulation.

Well-established software with a long history.
Cons
The interface can be confusing for some users.

A simple audio editor interface can make it hard to perform basic tasks.

The multitrack mixing interface is hidden and requires effort to access.

The steep learning curve for some users.

It may be more expensive than other audio editing software options.
3. Wondershare DemoCreator
To assist users in producing interesting videos, presentations, tutorials, and training materials, Wondershare DemoCreator is a complete video editing platform. Users can simply edit video, audio, or any other effects in different tracks and add creative video effects to their videos thanks to the user-friendly interface. The app also has an easy-to-use audio editing feature that enables users to combine sounds and applies special effects. Additionally, users can quickly look for, download, and edit SFX in their directories.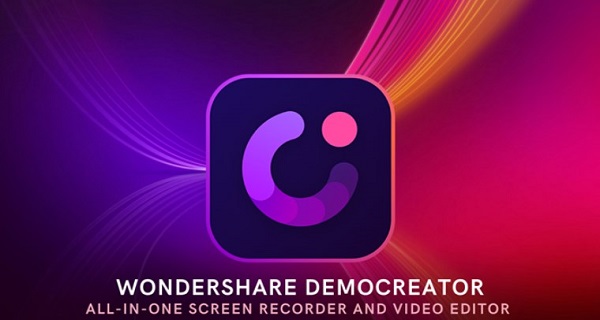 Pros
Offers a range of powerful features for creating exceptional presentations, tutorials, and training courses.

Easy-to-use interface with intuitive video and audio editing components.

Ability to record and report computer bugs to developers.
Cons
The free version includes a watermark on the front of the videos.
It may not have as many advanced features as other paid video editing software.
4. Voxal Voice Changer Software
You can alter and change your voice in any application or game that uses a microphone with the help of the effective real-time voice changer app for PC Voxal. Voxal gives users the ability to create unique voices for video games, voiceovers, and other audio projects thanks to its extensive library of vocal effects, compatibility with numerous software and hardware, and simple user interface.
Pros
Real-time/in-recording mode allows for seamless voice changing without interruption.

Extensive compatibility with popular apps and devices like Skype, Steam, and Discord.

Straightforward user interface that assigns hotkeys for quick access to frequently used features.

A wide range of voices and effects are available, with options for customization.

Low CPU usage ensures that Voxal won't interfere with other running applications.
Cons
Some effects are only available with the paid version of the software.

Certain apps may require restarting after changing the voice with Voxal.

Limited sound effects.

Free to download but a little expensive to use the features ($24.99/mo).
5. VoiceMod
For gamers, content producers, and vloggers, Voicemod is a real-time AI PC voice changer. Using a variety of vocal modifiers, users can make themselves sound like a robot, demon, chipmunk, male to female, or anything else they can think of. The application works with all widely-played games and effortlessly combines with a number of platforms, such as Elgato Stream Deck, Streamlabs OBS software, Twitch, TikTok Live Studio, Audacity, Gamecaster, and Omegle. The voice changer can be used live during streams, users can quickly make voice skins, and avatars for the Metaverse and Multiverse platforms, or users can record with the voice changer on and edit the video afterwards.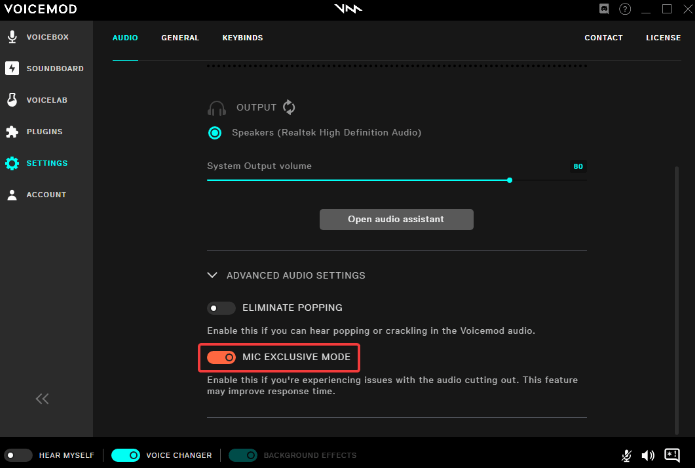 Pros
Allows for real-time voice changing and voice modification of recorded audio.

Provides the ability to transform your voice into various forms, such as a male, female, cartoon character, or creature.

A free version of the software is available that even includes a few essential features.

Enables the adjustment of tune, pitch, frequency, and other voice parameters.

Enables the creation of personal sound effects.
Cons
The free version has limited resources, and users need to purchase the paid version to access all the features properly.

The software is only available for Windows operating systems (Windows 10, Windows 7/8).

Advertisements can be irritating.

Even the official paid version can face bugs and not working errors.

Some users have reported low sound quality.

The software has a tendency to crash during the voice-changing process.
6. Epidemic Sound- More Suitable for music-related
Epidemic Sound is a music tech company with headquarters in Stockholm and offices in New York, Los Angeles, Hamburg, Amsterdam, and Seoul. With over 550 employees, Epidemic Sound enriches the creative process, empowering content creators with a catalog of world-class music and sound effects. They collaborate with creators and music makers to help them grow and connect with their audience.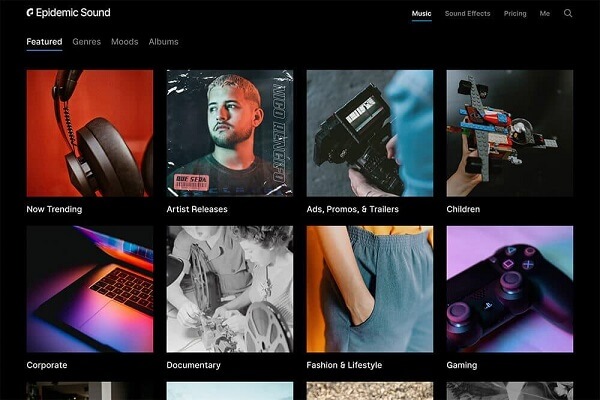 Pros
Established a platform with 13 years in business.

Offers music and sound effects.

Useful for both companies and individuals.

Music can be searched by mood, tempo, or with terms such as "find similar."

Users can download tracks in stems, allowing for instrument removal.

Has human-curated albums for better quality music.
Cons
The interface is not modern.

Content can only be used during an active subscription.
7. SCREAMING BEE Morphvox Pro
The Morphvox Pro from Screaming Bee is a cutting-edge voice changer for pc with the voice-learning technology, audio quality, and noise cancellation. Morphvox Pro raises the bar for voice-changing with its plethora of voices, sound packs, and backdrop features.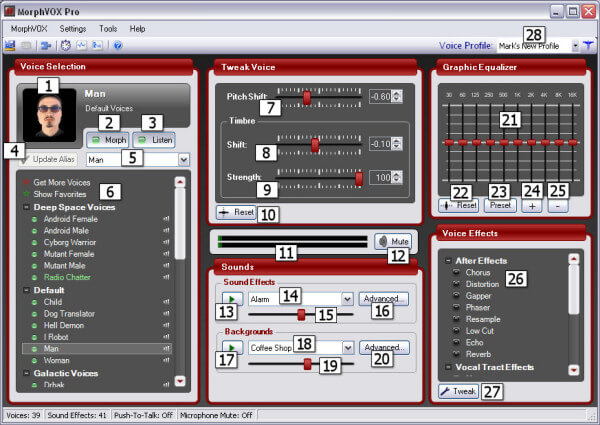 Pros
Morphvox Pro offers many voices that can be tweaked to produce even more voice combinations.

The software comes with free sound packs that can be used as a soundboard while still modifying your voice.

With the "Backgrounds" feature, users can add any background sound.

Morphvox Pro has superb voice-changing algorithms, including ultra-quiet background cancellation.

The software is optimized for online games.
Cons
It's a little uneconomical ($39.99).

It can be challenging and tough to use.
8. Audio Hijack
A professional-grade audio recording app called Audio Hijack allows users to simultaneously capture all system audio as well as audio from any application running on their website. It is commonly used for audio editing, live streaming, internet broadcasting, and podcasting.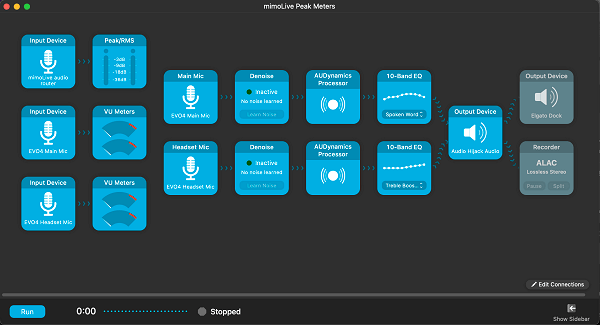 Pros
User-friendly and easy to use.

Offers numerous input sources, including apps like QuickTime Player and Safari, computer system, and microphone.

Automatic timers for starting and stopping recording.

Provides complete control over recordings and can save in various file formats.

Offers powerful features like Magic Boost and Volume blocks to enhance sound levels.

Allows users to adjust and re-route audio using Loopback.
Cons
It may have a complicated workflow that requires tutorials for beginners.
Custom settings may be extensive and cumbersome for some users.
Some features need to be installed for maximum functionality.
High cost compared to other audio recording software.
9. VoiceAI
VoiceAI is a AI voice generator that has been trained on a vast private voice dataset of over 15 million distinct speakers to produce accurate and individualized voice transformations for different applications. VoiceAI's software development kit (SDK) is revolutionizing in-game vocal chat and the RPG experience by enabling players to fully immerse themselves in the virtual world with the voice of their favorite characters.
Pros
Surprisingly effective and seamlessly integrated into various applications without significant impact on user experience.

User-friendly and requires low maintenance.

Provides natural and realistic voice transformations for personalized and engaging experiences.
Cons
Integration with other tools is not that good.

Voice Biometrics is relatively new.

Reporting functions are not very flexible.
10. Clownfish Voice Changer
Clownfish Voice Changer is a voice changer app for PC that enables users to alter their voice at the system level, which has an impact on all apps that use the microphone or other audio recording devices. This application integrates with many well-known platforms, including Skype, Hangouts, TeamSpeak, Discord, and many others, and offers a wide variety of voice effects.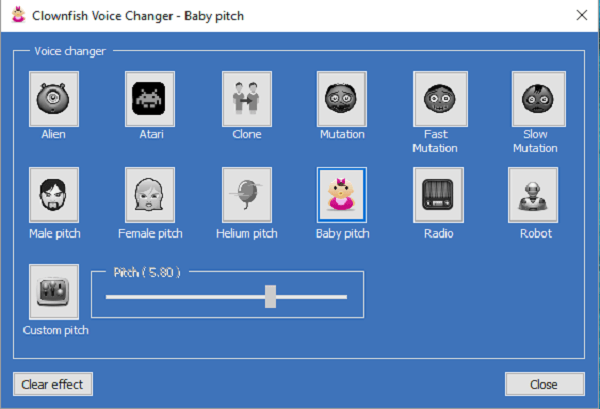 Pros
The quick and simple setup process.

Compatible with all versions of Windows.
Cons
Limited options for female voice changing.

Certain voice accents may be challenging to understand.
Conclusion
We tested most of the voice changing apps in the market and find out the top 10 voice changers for PC with a review of pros and cons. Some perform well in voice changing, and some are best to be used in professional editing. No matter what your prefer for voice change is, I guess this blog may meet your requirements.
A little bit difficult to choose? Well, we most recommend Wootechy SoundBot as it has more than 250 voice filters, more than 600 sound effects, and more than 200 voice memes. Also, you can make use of its AI voice change features to make your voice sounds like a celebrity. Free to download and have a try!