Are you looking for the best celebrity voice generator? You've come to the right place! In this article, we'll review the top 5 celebrity voice changers on the market, from real-time voice generators to text-to-speech voice tools. We'll take a look at their features, step guides, pros, and cons, so you can make an informed decision about which one is right for you.
So, without further ado, let's get started!
The Best Celebrity Voice Generator for PC: Support Real-Time Voice Changing
Wootechy SoundBot is one of the best AI celebrity voice generators on the market. With over 600 in-built sound effects and 250+ voice filters, SoundBot empowers you to change your voice in real-time, even importing mp3 or wav files to generate celebrity voices. With that, you can change your voice to sound like many different celebrities, such as BlackPink Lisa, Donald Trump, Joe Biden, Morgan Freeman, Cristiano Ronaldo, and so on. And the new voice is keeping us updated. Another reason for its popularity is its ability to create the most realistic, lifelike, celebrity-like audio.
In addition to celebrity AI voice, Wootechy SoundBot also supports transforming your voice into countless fun variations such as male-to-female voices, cartoon voices, screaming voices, etc...
Highlights of Wootechy SoundBot

Instant voice changing for live chats, prank calls, or gaming sessions.

Constantly update new voices, keeping the voice-changing fresh and engaging.

Hassle-free voice customization.

Seamless integration with chat, meeting, gaming and live streaming platforms like Skype, Discord, or TeamSpeak.

Customized Keybinds for triggering specific sound effects or voice changes.

Save and export the modified audio for sharing on TikTok, YouTube, or Facebook.
SoundBot has a friendly Interface and is easy to use to change your voice to sound like a celebrity. Now, follow the simple steps to get the celebrity voice AI.
Step 1: Download and launch the SoundBot on your PC.
Step 2: Set the Output and Input Devices. It is highly recommended to select the headphones as the output device, and the real microphone as the input device. This pairing will be better for intake and converting the best quality celebrity voice.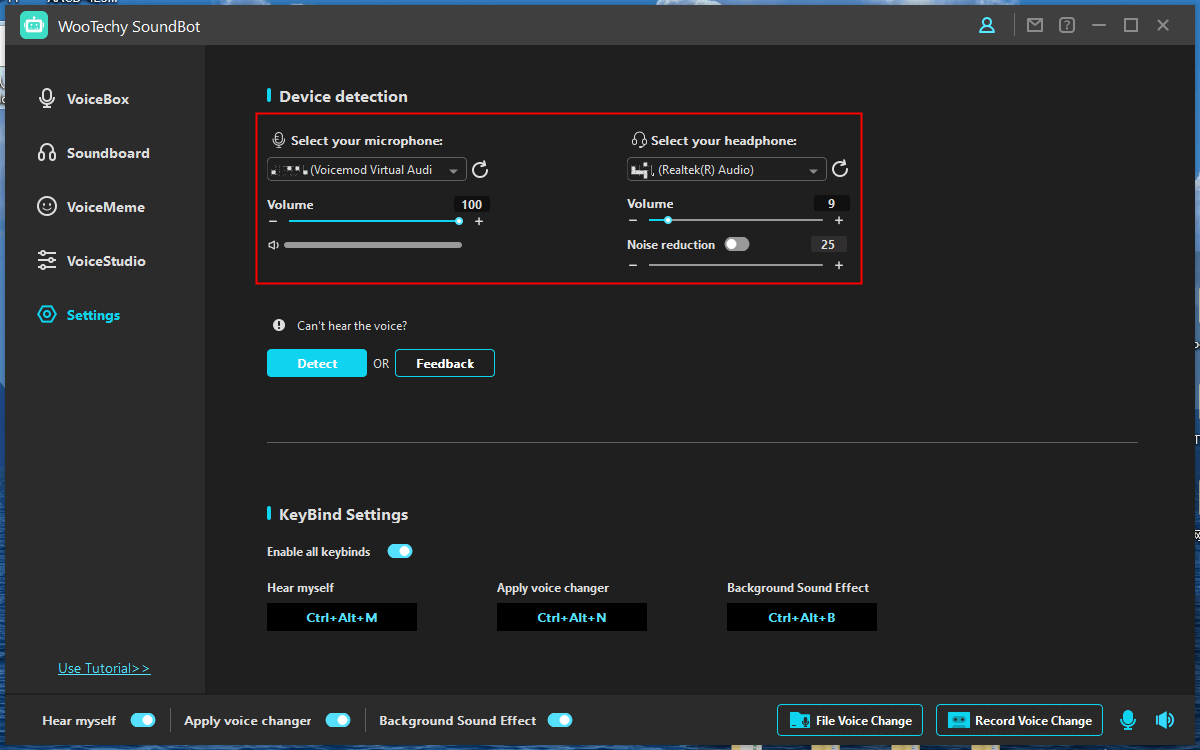 Step 3: Now, you can explore different voice filters and find the celebrity voice you desire. For example, choose "Taylor Swift" and click it. Speak to your Microphone and you will find that your voice is sound like Taylor Swift in real time.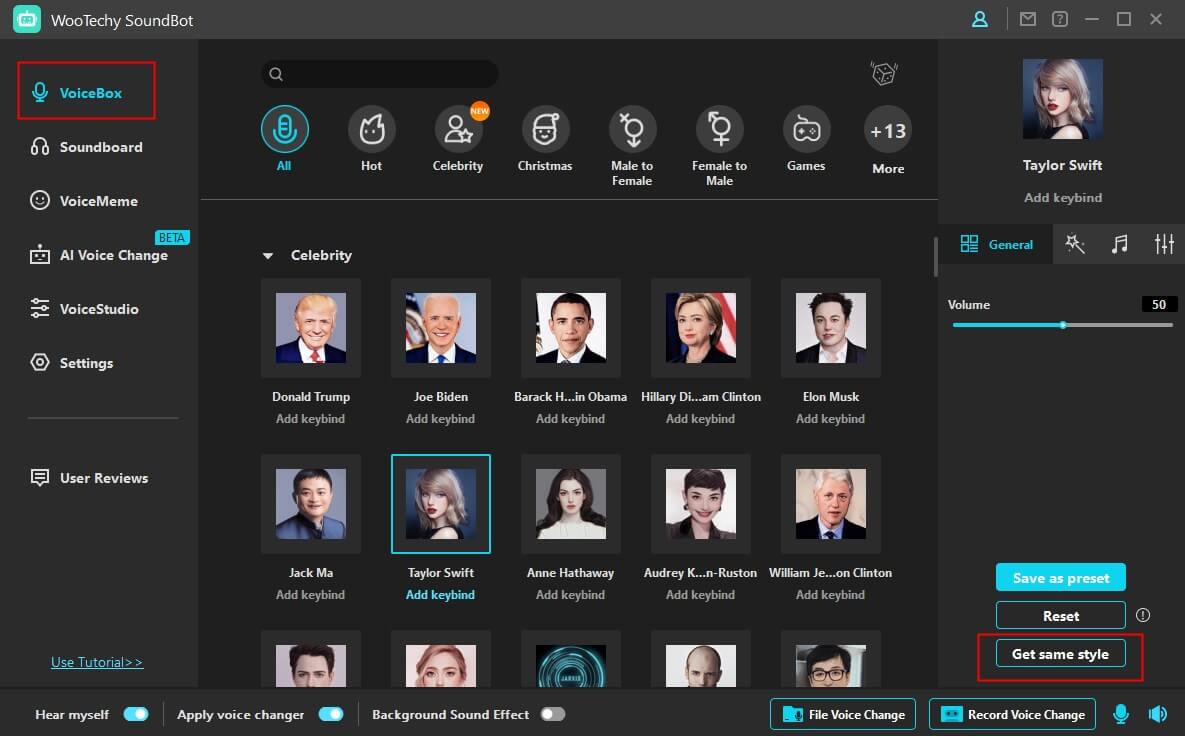 You can also record your own voice or upload an audio file to get the celebrity voice. Then, export the file and add it to your social media.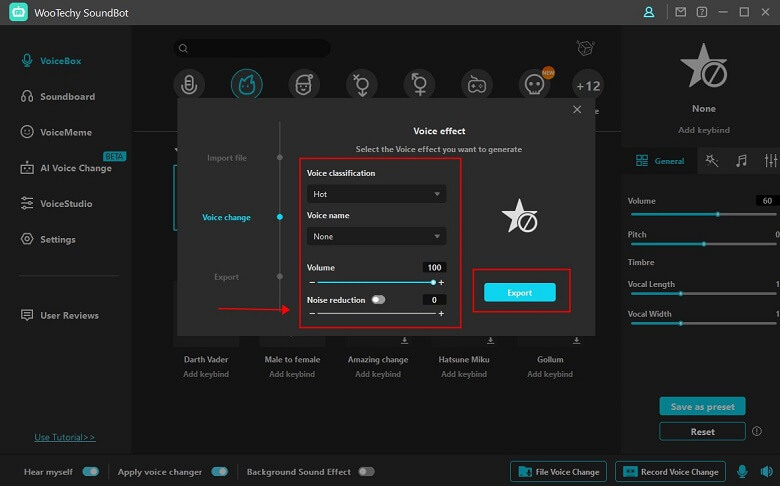 Tip: Use SoundBot on Different Platforms in Real time
If you want to prank your friends or fans on other platforms such as Discord, Fortnite, PUBG, CS: GO, League of Legends, and more. Just simply add one more step: Go to the platform where you want to use SoundBot and navigate to its Voice Settings, choose
"Microphone (Voice Changer Virtual Audio Device (WDM))"
as the input device.
However, as SoundBot has a very rich feature set and utilizes deep learning technology, it is PC-only. Despite this, it is also a great celebrity AI voice generator free as it has free voices every day.
Celebrity Voice Generator for Mac
Voxal Voice Changer for Mac is a software application that allows you to change the sound of your voice, including a celebrity AI voice. It has a variety of features that allow you to change the pitch, tone, and timbre of your voice. You can also use it to add effects such as echo, reverb, and distortion. This tool, it's more for voiceovers.
Pros:

Variety of voices and effects.

Record and save your voice.

Comparable with other platforms.

Cons:

Only 37 voice filters.

Not very affordable.

Old user page.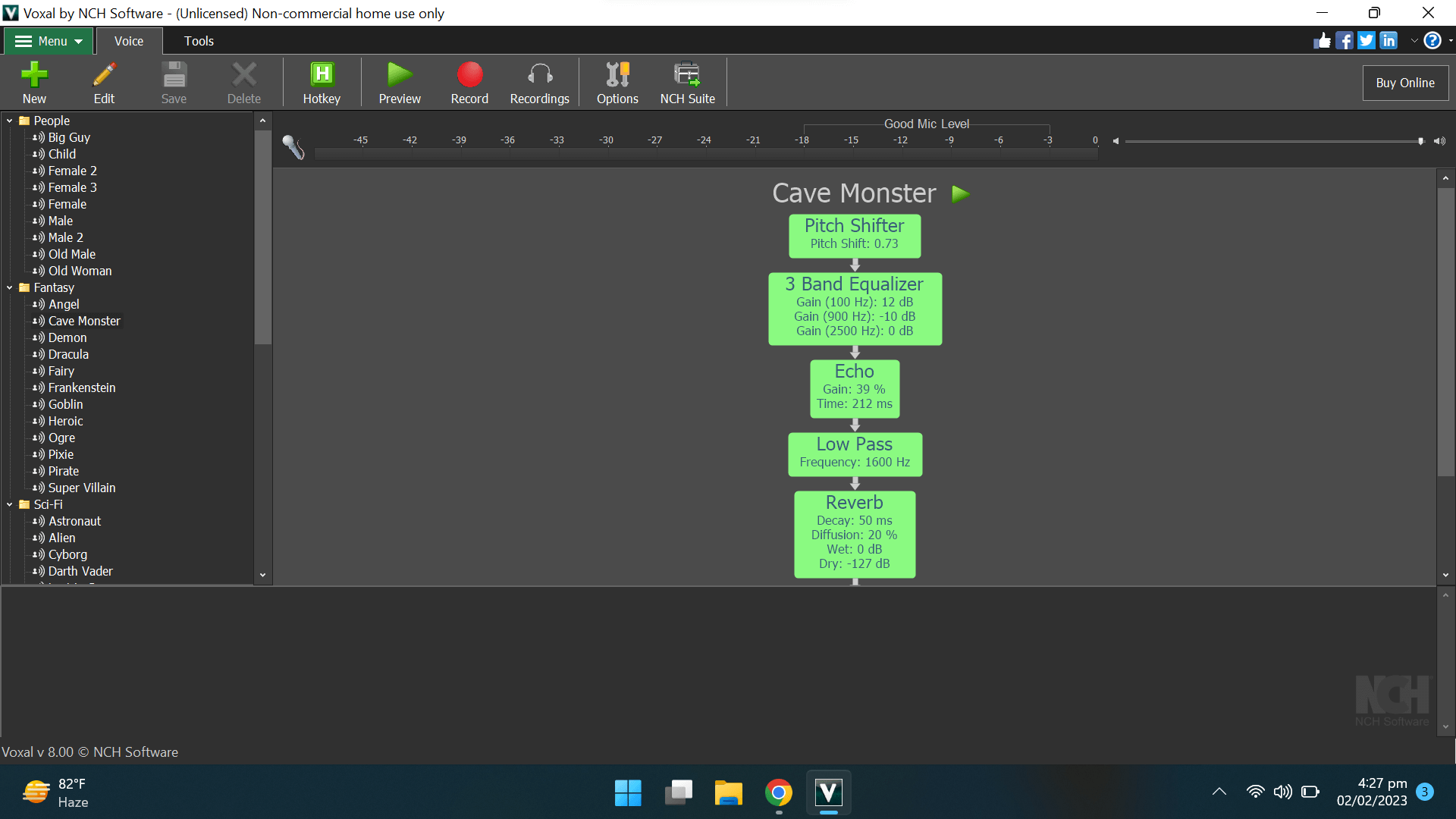 2 Best Celebrity AI Voice Generators for Mobile
In this part, you will find 2 celebrity voice changer Apps for mobile phones.
1. Celebrity Voice Changer AI-Android App
Celebrity Voice Changer AI is an Android app with about 100 voice filters that allows you to change your voice to sound like various celebrities. You can also create your own custom voice by recording your own voice and then using the app's AI to change it to sound like you are a celebrity.
Simply open the app and select the celebrity voice you want to use. Then, record your own voice. The app will then change your voice to sound like the celebrity you selected.
Pros:

Easy to use.

Ability to create custom voices.

Fun and entertaining.

Cons:

Not work on other platforms.

Some voices may not be as realistic as others.

The app can be a bit glitchy at times.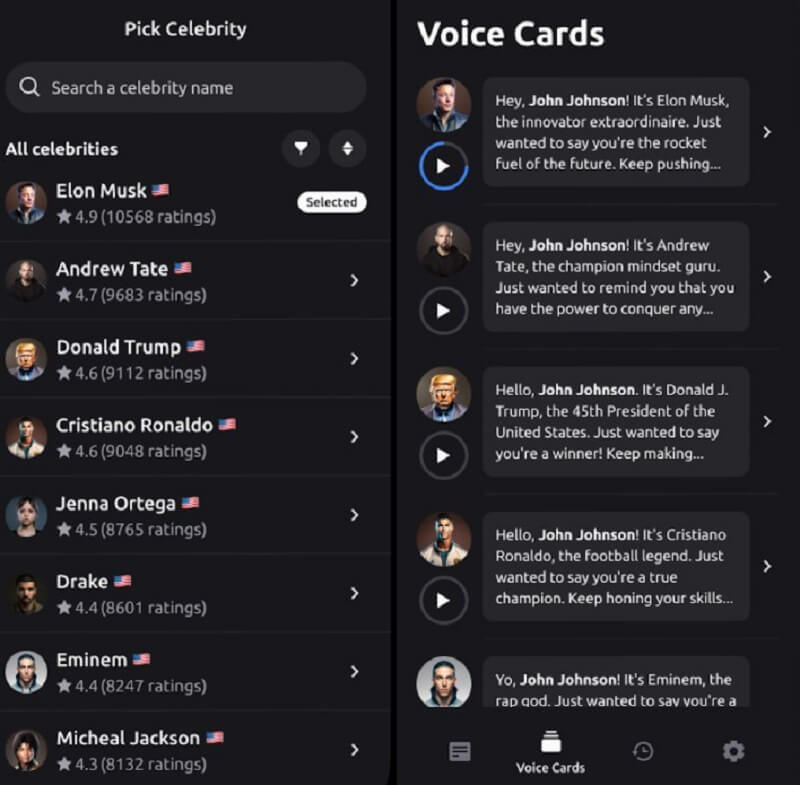 2. Celebrity Voice Changer Parody-iOS App
The Celebrity Voice Changer Parody app, designed for iPhone, is a fun way to change your voice and create hilarious parodies of your favourite celebrities. With about 100 voice filters to choose from, you can be anyone from Donald Trump to Taylor Swift. The app is easy to use and has a simple interface. Just select a celebrity voice, record your own voice, and then share your creation with friends and family. In this app, the converted voice won't be as realistic, but rather on the funny side of things. So follow your preference to choose the most suitable one.
Pros:

Fun and easy to use.

About 100 voices to choose from.

Simple interface.

Ability to record and share your creations.

Cons:

Some features are locked behind a paywall.

Can not be used on other platforms.

Some celebrity voices are not very accurate.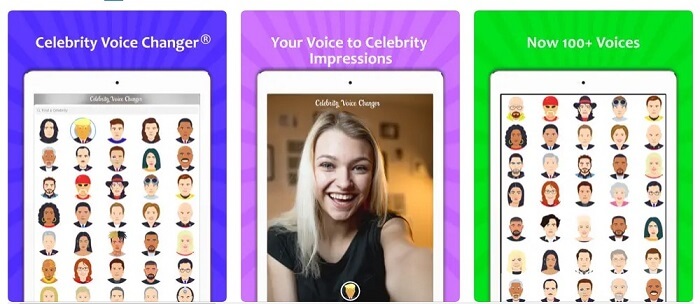 Celebrity Voice Generator Text to Speech Online
Celebrity voice text to speech is another choice to generate text-to-speech audio using the voice of a famous person.
Play.ht is a voice changer online that enables you to convert written content into celebrity-sounding audio files. Like Wootechy SoundBot mentioned above, Play.ht is also customizable, supporting the adjustment of parameters such as volume, reading speed, and pitch to achieve nationalization. With that, you can easily get text to speech celebrity voices.
Pros

Large library of voices to choose from.

Can recognize different languages for the premium subscription.

Cons:

Limited free words.

Not all voices are available in all languages.

Some voices are a little difficult to understand.

Not supporting real-time voice changing.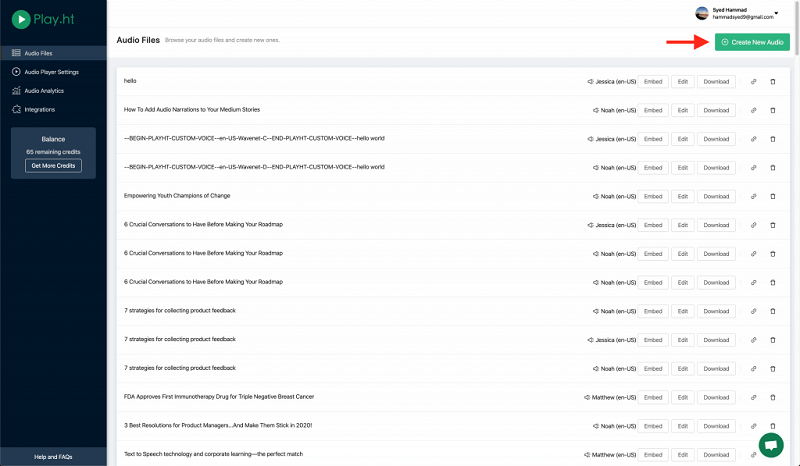 Conclusion
There are many different celebrity AI voice generators available for PC, Mac, mobile phone, and text to speech online. The best generator for you will depend on your individual needs and preferences. However, in terms of overall strength, we would recommend SoundBot from wootechy. It has a large library of voices to choose from, including celebrities, politicians, public figures, and any other type of voice, producing voices that are virtually indistinguishable from the originals. If you are seeking realistic AI voice generation, try it now!